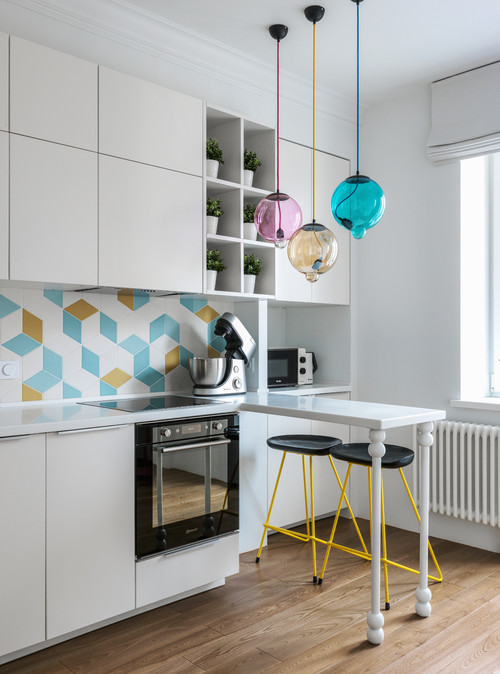 ID# 166002 | Houzz.com – Credit | © Geometrium – Студия дизайна интерьеров
---
White Small Kitchen Ideas with Multicolored Backsplash Tiles
This modern kitchen exudes joy and pleasure! The colorful backsplash tiles with blue and yellow colors lend a whimsical touch to the clean and fresh appearance of the white flat panel cabinets. A comfortable area for eating or sipping coffee is a little peninsula with black and yellow chairs. Above the peninsula, colorful glass pendant lights hang, adding to the room's attractiveness.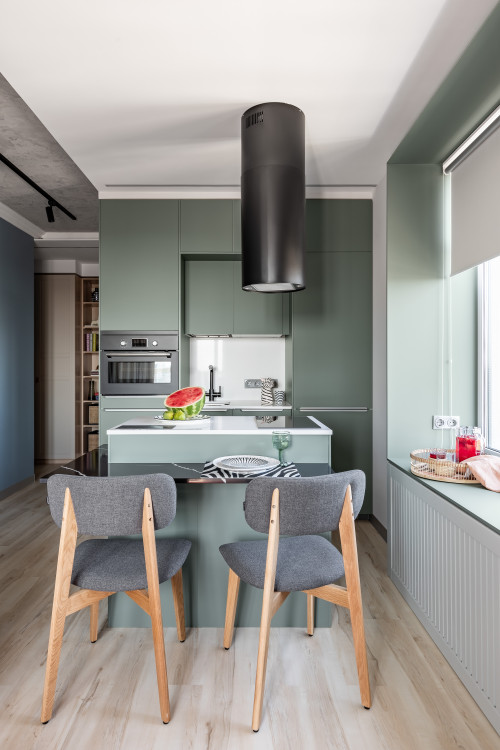 ID# 166022 | Houzz.com – Credit | © AGinterior.ru
---
Sage Green Kitchen Cabinets with White Quartz Countertops
With its eye-catching olive green flat-panel cabinets and natural wood tones, this compact kitchen combines neutral colors!! This kitchen stands out from others because of the use of a gentle olive green color on the cabinets and the installation of a tiny kitchen island with chairs. Aside from offering extra workspace and storage, the small kitchen island with seating also serves as a gathering spot for diners and the cook.
Small Kitchen Ideas
Due to population growth, housing is becoming smaller over time, increasing the demand for small-space solutions. The rooms of the houses also become smaller as they get smaller. A nice illustration of this circumstance is a kitchen. But don't worry, if you utilize the right small space solutions and chic design ideas, the size of your place won't matter. The secret to making a space look larger is a simple design, so utilize light-reflective materials, regular patterns, and chic, contemporary accents. As you explore our stylish small kitchen ideas, you'll be astounded at what you can do to make a small kitchen look and feel wonderful!
Compact yet Stylish Kitchen Designs
Not every house has a large open floor plan. Even if your kitchen is a bit on the tiny side, there are still a ton of kitchen ideas to experiment with. You'll quickly learn that keeping everything close at hand without having to go from the sink to the stove to the refrigerator is simple when planning small kitchen ideas. Additionally, there are a ton of innovative small kitchen storage options available to make the most of every square inch. Choose a designer that has a track record of producing vibrant, functional solutions for compact areas, or get inspired by our small kitchen ideas article to have your dreamy small kitchen ideas!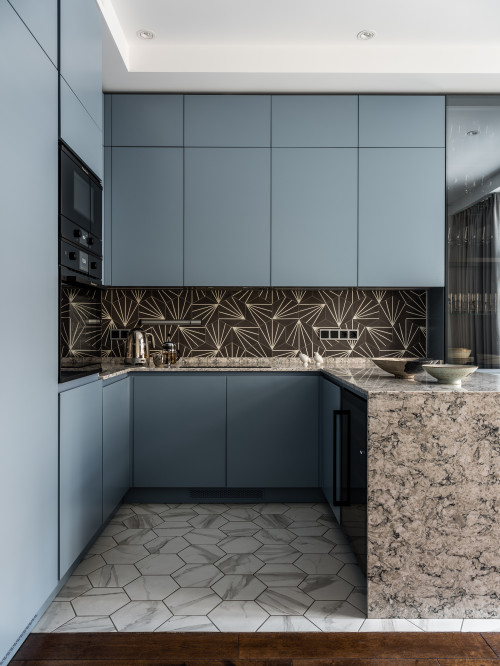 ID# 166001 | Houzz.com – Credit | © Ольга Рудакова
---
Blue Flat-Panel Cabinets with Black Backsplash Tiles
You'll be drawn in by the eye-catching style of this u-shaped kitchen!! The pastel blue cabinetry adds a dash of color while the black hexagon tile backsplash with white starburst grout adds a sense of refinement. The gray granite countertop gives the room a clean, contemporary feel, and the hexagonal floor tiles with a marble appearance unite the area. The clean lines of the design are perfectly completed by black stainless steel appliances, which also contrast with the dark backsplash.
How to organize a small kitchen?
Effective, space-saving strategies are essential for organizing a tiny kitchen so that it functions as efficiently as any other kitchen, regardless of its size. And since you don't have the luxury of a lot of space, you have to make do with what you have.
Zoning Zoning Zoning
You may have heard of zoning while planning a kitchen layout. For instance, the cabinets near the sink and dishwasher will house cleaning supplies, kitchen towels, and the trash can, but the cabinets and drawers near the oven and range should house cookware, bakeware, and other items. Dry ingredients should have their kitchen zone, but if you have one, you may neatly store them there as part of arranging a pantry. This is a very effective method to organize a tiny kitchen, but you'll need to get a bit inventive if storage and space are at a premium.
Less is More
Minimalism is important when setting up kitchen counters in a tiny kitchen. Clearing them of clutter frees up counter space for cooking and creates a tidy, simple-to-maintain kitchen. Only keep the gadgets you use every day on display; store the rest away. Consider constructing a countertop cabinet with doors that open to expose your coffee maker, toaster, etc. if custom cabinetry is available. When closed, it gives the impression of being clean.
Take the Advantage of Vertical Storage
Vertical storage is far more efficient than horizontal storage in tiny kitchens. Additionally, you are more likely to fit larger-sized objects in since they are much simpler to access. Using vertical separators, you may get a similar result when arranging kitchen drawers and cabinets. It's a useful tip for keeping pan lids organized as well as one to keep in mind while putting Tupperware away.
Use Drawers
If your cabinets are already full, consider utilizing drawers to store goods that are typically kept in cabinets instead. Drawers are ideal for storing pots, pans, appliances, crockery, spices, and other items. This not only expands your kitchen storage possibilities but also improves the way your kitchen functions as a whole.
Give a Chance to Open Kitchen Shelving
Wall cabinets might feel obtrusive, especially in a tiny kitchen, but taking them down to make the room feel airier does present a storage problem. Open kitchen shelving really shines in this situation. It can be a terrific way to add design and personality while also optimizing kitchen storage when properly arranged. Additionally, positioning tableware sets there makes them easier to reach and exhibit.
Well-Organized Food Storage
To guarantee that culinary operations go successfully in small kitchens, a well-organized and space-efficient food storage system must be in place. An excellent place to begin is by getting rid of large food packaging from products. Put all of your dried goods, such as nuts, cereals, flours, sugars, and pulses, into labeled, clear containers, just as you would when organizing a pantry. This makes finding what you need much simpler, and you'll be able to see when necessities are running low.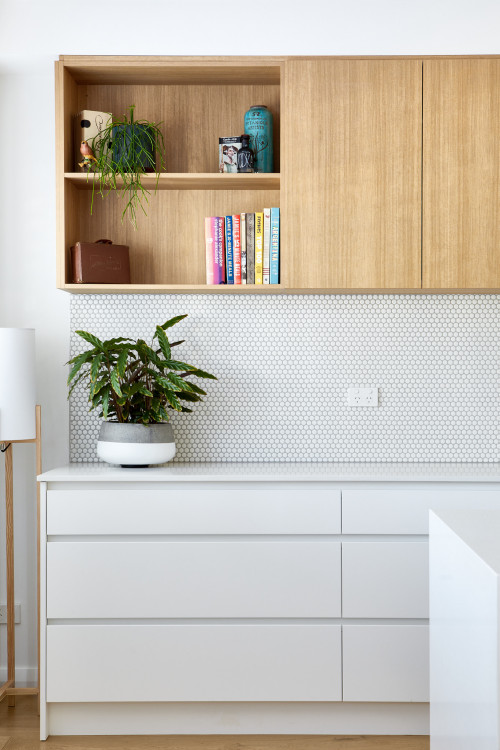 ID# 166003 | Houzz.com – Credit | © Absolute Carpentry & Cabinetry
---
Two-Tone Cabinetry with White Penny Tile Backsplash
Without a doubt, any kitchen design may benefit from the timeless elegance of penny tiles!! The white penny tile backsplash in this modern kitchen adds a great textured touch between the two-tone cabinets. The wood upper cabinets offer warmth to the space and add another layer of texture, while the white base cabinets complete the penny round tiles' light and airy appearance.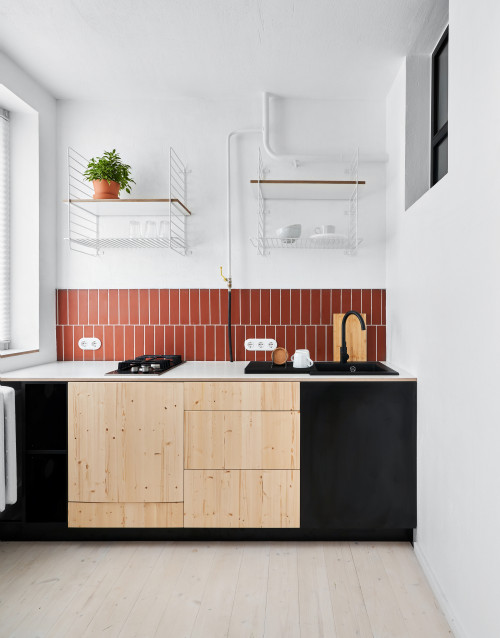 ID# 166004 | Houzz.com – Credit | © Line Design Studio
---
Modern Kitchen with Black Cabinets and Wood Accents
In this amazing kitchen design, the smoothness of the black cabinets is wonderfully paired with the organic warmth of the wood accents to create a fashionable and modern picture! For meal preparation and cooking, the white countertop offers a bright and hygienic surface, while the vertical arrangement of a dramatic red backsplash gives the room some life and color. The open white shelving also adds a sense of visual intrigue to the overall design while acting as a practical yet attractive storage and display alternative.
Different Styles for Small Kitchens
Whether it is a large or small kitchen idea on your mind, once you start to design or remodel a small kitchen you will find out there are different styles for small kitchens. From farmhouse to a modern small kitchen, or contemporary to rustic design style, many small kitchens can provide a stylish design look that represents your personality. The different styles for small kitchens can help you to achieve your dream kitchen design with their simple rules. For instance, if you want to use a neutral color palette with plain and sleek appeals you can go with a modern design style. For a rustic charm, you need to use rough and natural textures in your small kitchen interior designs. And the most popular one is the farmhouse design style that makes the small kitchen look homey, warm, and cozy.
Before you begin to design a tiny kitchen let's check some of the different styles for small kitchens to get inspired and learn. Scroll down to read our article about the different styles for small kitchens!
Modern Small Kitchen
The modern small kitchen is sleek, seductive and sophisticated with a minimal amount of clutter in mind. Most modern kitchens use reflective surfaces and high-tech materials, and exotic woods provide a sense of luxury without adding any frills or fabric. Seating constructed of Lucite and highly polished woods is frequently selected for a more contemporary interpretation of the design. Iconic midcentury seating, such as Bertoia stools and chairs by Eames and Cherner, is frequently chosen for a classically modern aesthetic!
For modern small kitchen designs, you can use a neutral color palette, too! Light colors will enlighten the small space area and make the small kitchen larger or wider. Let's scroll down and see some of the stylish examples of modern small kitchen designs that we gathered for you.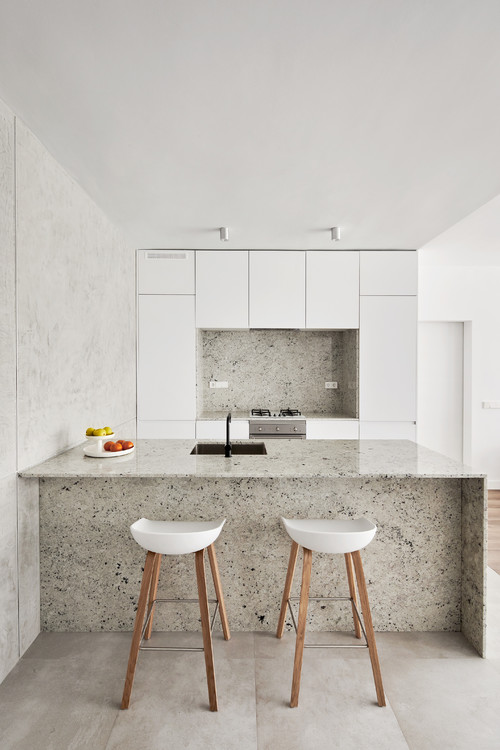 ID# 166005 | Houzz.com – Credit | © Raúl Sánchez Architects
---
White Modern Kitchen Design with Granite Waterfall Island
White cabinetry and a gray floor help this minimalist kitchen blend in perfectly. For a seamless and precise finish, a line of white cabinet fronts extends all the way to the ceiling. Modern white cabinets with a gray stone pattern and granite kitchen countertops and backsplash give the room a chic appearance. The kitchen gains dimension and more cutting area thanks to the all-granite, very slender peninsula. The kitchen is finished with two spotlights, two white barstools, and wooden legs.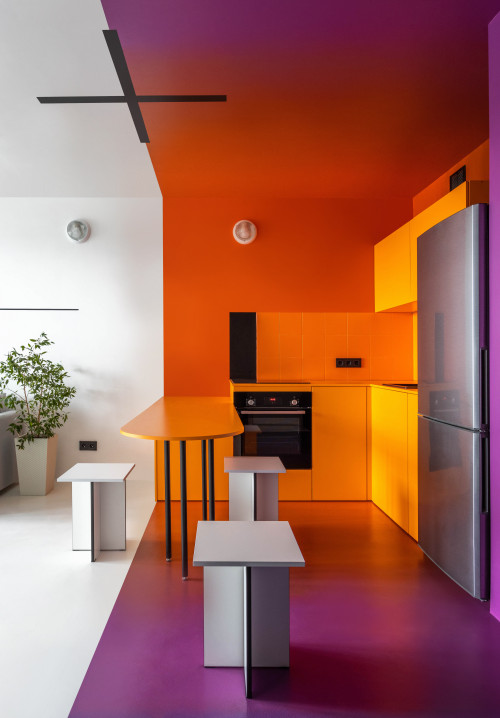 ID# 166006 | Houzz.com – Credit | © Уразметов Рустэм
---
Modern Small Kitchen Ideas with Orange Color Scheme
This color combination is anything but average!! The room's purple floor, which stands out against the orange cabinets, backsplash and ceiling, adds to its distinctiveness. Additionally, by utilizing such a bold color for the kitchen, the boundaries between the living room and the kitchen are clearly defined.
What is the best layout for a small kitchen?
A U-shape plan is frequently the greatest option when you need to fit several units into a limited area. Two corners have their drawbacks, but the extra cabinet space on the end wall makes up for them. Utilizing every square inch to your advantage is the secret to small U-shaped kitchens.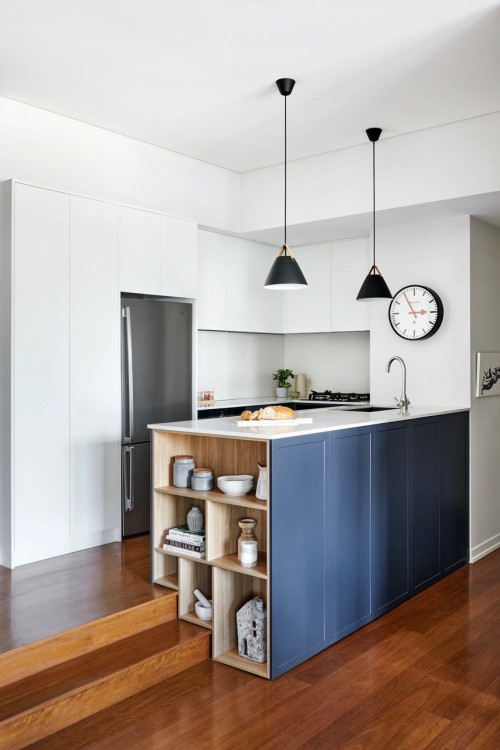 ID# 166007 | Houzz.com – Credit | © Improva
---
Open Concept Kitchen with Blue and White Cabinets
The best example of how to incorporate style and practicality into one design is this small kitchen. The white flat panel cabinets provide a clean, modern backdrop while the dark blue kitchen peninsula gives a splash of color and acts as a focus point. This peninsula also functional storage units with open shelves to maximize functionality!!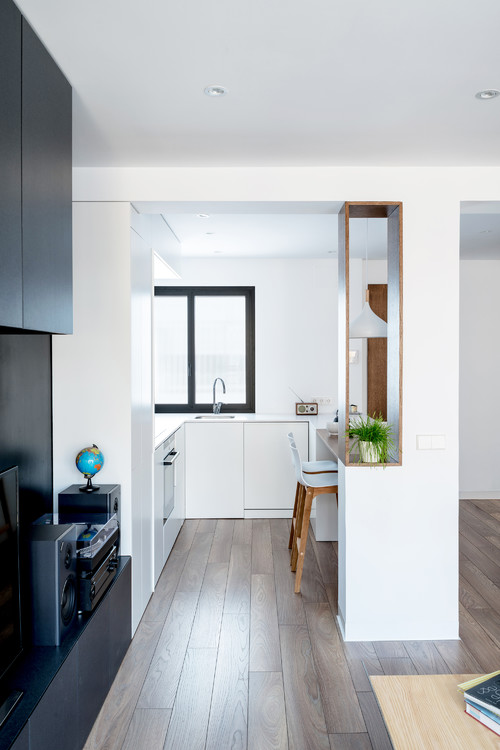 ID# 166008 | Houzz.com – Credit | © La Reina Obrera – Arquitectura e Interiorismo
---
U-Shaped Small Kitchen Ideas with All-White Color Palette
The cozy hues of white and wood are used in this modern, u-shaped kitchen. The living room and kitchen are connected, however storage areas made up of white cabinets vary the material and categorize the rooms. The white quartz kitchen countertop continues the white backsplash. A peninsula with barstools is created by the wooden countertop. For preparing and eating food, wooden surfaces are cozy and excellent. The large window lets in light, while the brown wooden floor and wooden shelf give the space a more natural feel.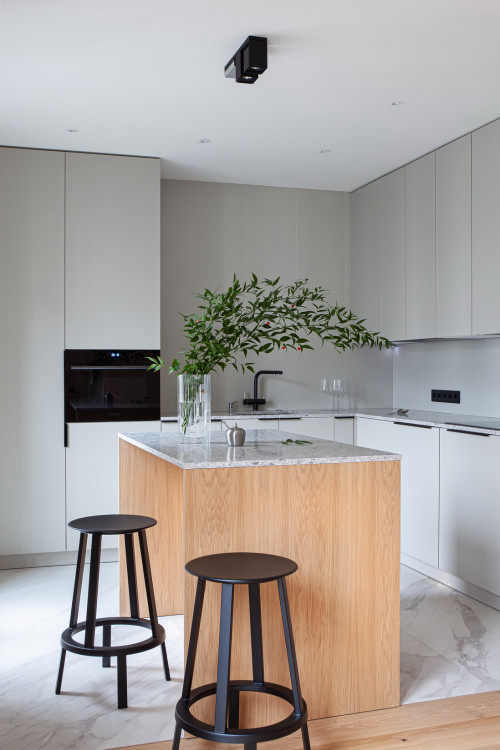 ID# 166009 | Houzz.com – Credit | © JUICY FLAT
---
Elegant Gray Kitchen Design with Tiny Wood Island
This contemporary little kitchen is composed of clean lines and light colors. A wall-mounted storage system and the light gray cabinets that surround it offer depth and warmth. The monochromatic color concept of the kitchen is continued with the gray backsplash and gray-patterned quartz countertop. White floor tiles complement a narrow, wooden island with gray quartz worktops, and the island's prep section also serves as a dining area, making the kitchen utilitarian. Spotlighting that isn't overdone highlights the island.
Rustic Small Kitchen
Every room in the house can benefit from rustic design, but the kitchen stands out as a particular favorite, according to this we can say that size does not matter. Rustic small kitchen design is actually all about creating cozy, welcoming areas for cooking meals that can be shared and enjoyed together. Rustic small kitchens are warm and inviting thanks to century-old elements, rough-hewn surfaces, and fading finishes that combine to effectively host modern gatherings for families among the patinas of the past.
You can play with the materials and make new twists in your rustic small kitchens. For instance, a modern backsplash for a rustic small kitchen design with modern lighting fixtures can bring a beautiful and stylish appeal. To learn more and get inspired by the rustic small kitchens let's scroll down and see some of the examples that we gathered for you!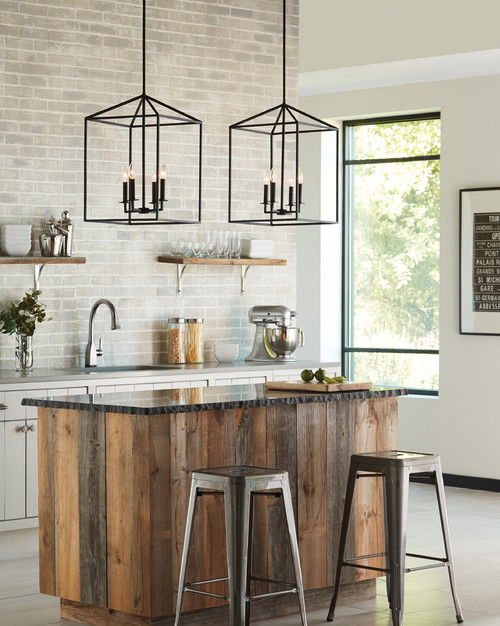 ID# 166010 | Houzz.com – Credit | © Atlantic Lighting Design
---
Rustic Small Kitchen Ideas with Dark Wood Island
Introducing a delightful farmhouse kitchen design with an island made of rustic wood and a brick-inspired backsplash!! With its textured appearance, the island elegantly contrasts with the light-colored surroundings while adding a hint of naturalness. The installation of a complexly crafted candelabra lighting fixture elevates the atmosphere further and gives the room quirky air. Notably, the inclusion of black accents and a distinct frame increase the composition's visual impact. The open cabinets, however, help to make this lovely kitchen feel bigger and more spacious.
How can I make my small kitchen look beautiful?
As a cost-effective solution, you may add little finishing touches to a small kitchen to make it appear lovely. In a small kitchen, adding plants, attractive lighting fixtures, and light-colored window treatments may make a big impact. You can even replace the hardware! Of course, maintaining orderliness is the most important aspect of a small kitchen's aesthetic appeal.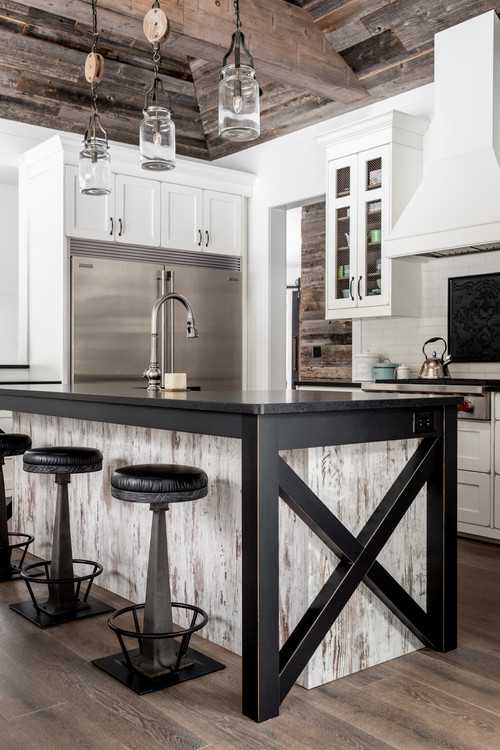 ID# 166011 | Houzz.com – Credit | © Hickory Lane Kitchens
---
Statement Maker Kitchen Island in Rustic Design
A rustic farmhouse look is created in this delightful kitchen by the effortless blending of black accents and distressed wood. The white tumbled body is complemented by a black countertop and with its cross-shaped supports, it forms the main character of the kitchen. While the white shaker kitchen cabinets offer a spacious space, the wooden ceiling gives a rustic feel. It has an industrial look with a stainless faucet and electrical items. Integrity is also provided with parquets in the same tone as the ceiling.
Small Farmhouse Kitchen
You'll only have a minimal amount of room in small kitchens. Fortunately, the farmhouse style works well in cramped areas. Some elements of farmhouse design practically demand them. For instance, open cabinetry is a classic farmhouse style that works well in small kitchens. With open cabinets, more of the kitchen is really visible, giving the impression that your room is larger. Of course, you could use this in a big kitchen and get comparable results, but smaller kitchens really show it off!
Farmhouse kitchens are unpretentious and cozy, with reclaimed wood, painted cabinets, open shelves, shiplap, and vintage-inspired design elements that give a warm, inviting feel to the small kitchens. Like other designs, the farmhouse style is based mostly on a set of color principles. The majority of rooms in farmhouse homes must adhere to the 60-30-10 color guideline, and the kitchen is no exception. Most often, warm, light hues are employed. They significantly lighten the small farmhouse kitchen.
Choose a foundation color of white or cream, followed by a color like blue or yellow, which works well in farmhouse kitchens. Choose a final accent hue to fill the remaining 10% of your room after that. Shaker-style cabinets, under-mount sinks, apron sinks, and unfinished wood decorations are some of the more popular and endearing elements of farmhouse design, especially in farmhouse kitchens.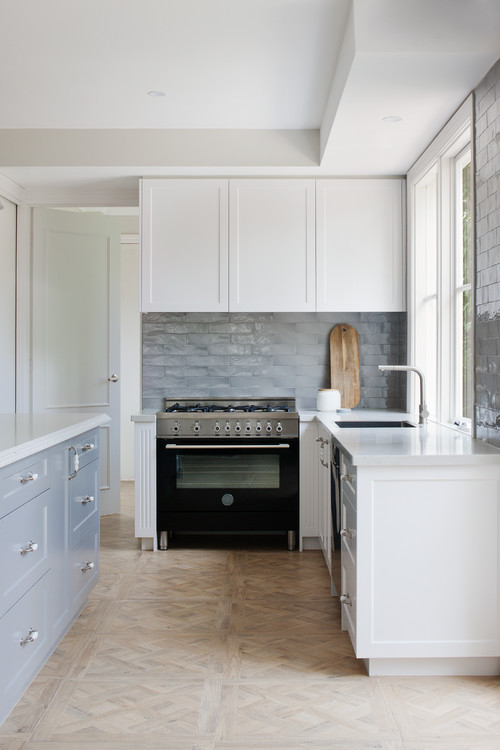 ID# 166012 | Houzz.com – Credit | © smarterBATHROOMS+
---
White Farmhouse Kitchen with Glossy Blue Backsplash Tiles
Due to its gloss finish and harmony with the subdued blue island, the light blue ceramic tile backsplash stands out in this farmhouse kitchen with a predominantly white color scheme. If there isn't a wall cabinet, the tiles are extended to the ceiling to give the room a bright, airy feel. The rest of the room has a warm, light wood floor with chrome cabinet knobs and a faucet that support the glossy tiles by adding a sense of radiance. On the other hand, the white shaker cabinets make sure that the kitchen is set up like a blank canvas. The kitchen is additionally characterized by contrast provided by the black equipment.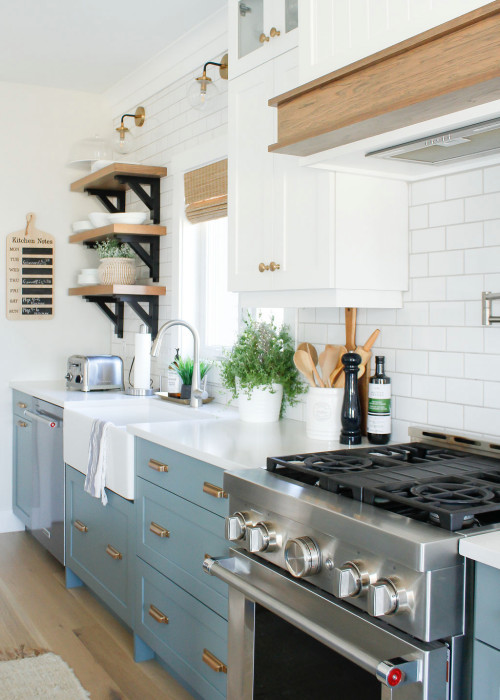 ID# 166013 | Houzz.com – Credit | © Blended Interiors
---
Baby Blue and White Kitchen Cabinetry with Brass Hardware
A white subway tile backsplash is the fatal flaw in every farmhouse kitchen, no matter how contemporary or traditional it appears. It is because the subway tile backsplash not only provides a timeless element but also helps to create the relaxed environment that farmhouse kitchens are known for. Subway tiles also provide movement on the horizontal axis in this area, standing out between the blue and white cabinets when taken all the way to the ceiling. The kitchen is punctuated with brass hardware and floating wood shelves, which also give the room a more inviting and cozy appearance.
Small Kitchen Layout Options
To make the most of a space that is smaller than you'd like, the finest small kitchen layout options are essential. Choosing the right layout may make or break a tiny kitchen, therefore planning a small kitchen layout can be challenging. It's not how much room you have in small kitchen layout options that matters; it's what you do with it. Here are some design suggestions for organizing your small kitchen for optimal efficiency and aesthetics, from a narrow galley style to an eat-in kitchen.
Any gourmet may feel at home cooking in a small space with a clever kitchen design concept. Consider the galley plan, which creates a little aisle in the kitchen. Full-height cabinets are an excellent choice for making the most of your wall space by placing the cabinetry and appliances against opposing walls. Consideration of exposed cabinets is another small kitchen layout option. The space seems airy thanks to the open shelves.
Applying a new coat of white or a light color to the walls and cabinets can help you achieve the aim of giving the impression of space in your galley kitchen design. In a small room, the consistency of monochromatic hues gives the appearance of space. Another suggestion for making the little area look larger by a sense of togetherness is to match the design of your small kitchen to that of the next room, whether through flooring, cabinets, or color. Let's check the small kitchen layout options!
Small Galley Kitchen
If you're not familiar, a galley kitchen's design usually resembles a corridor. While some conventional galley kitchens have dead ends and others have doors leading to pantries or even breakfast nooks, unlike a one-wall kitchen, most have two walls flanking a narrow hallway that flow into a distinct room on both sides. Standard rental flats often have simple galley kitchens, but they can be elevated with anything from eye-catching backsplashes and patterned flooring to statement lighting and ingenious storage solutions. Small galley kitchens can be tiny, claustrophobic rooms with little room for storage. But with a few clever design choices, they may be quite effective.
Having natural light, a light color palette, accent tiles, clever storage ideas, or striking backsplash designs, can be the key factors to making a small galley kitchen design look perfect! Let's scroll down and see some of the gorgeous design options for small galley kitchen designs.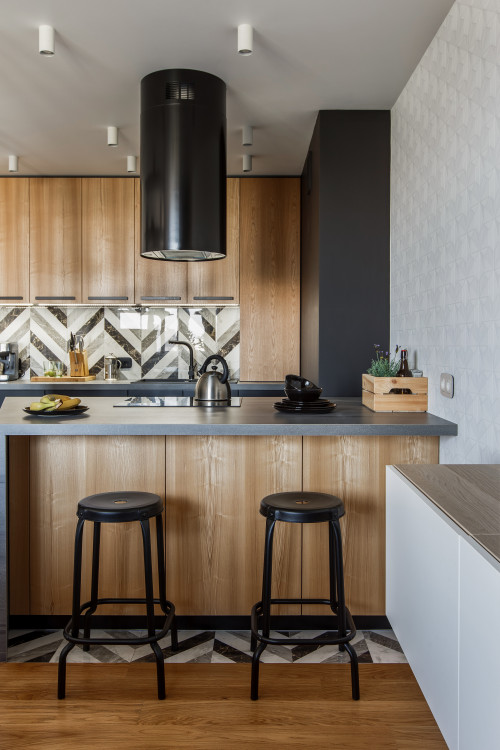 ID# 166014 | Houzz.com – Credit | © Мастерская Андрея Сухоцкого
---
Natural Wood Cabinets with Chevron Backsplash Design
This tiny modern kitchen strikes a lovely balance between warmth and usefulness. The multipurpose peninsula and gray quartz kitchen counters go well with the light wood cabinets. The floor is covered in the same vibrant multicolor marble backsplash, which enlivens the small kitchen design and unifies the color palette. The gray quartz countertop is utilized to its full potential by the wooden waterfall-edged peninsula, which also serves as a prep and dining area. Elegant touches are added to this wooden kitchen, modern tiny kitchen ideas, by a black spherical range hood and black barstools.
Small U-Shape Kitchen
42 to 48 inches between the facing lanes can be used to describe a small U-shape kitchen. While a U-shaped design can be quite functional in a tiny kitchen, there are a few minor limitations. Since a U-shaped design especially maximizes storage and counter space, you will still have enough of both even in a small kitchen, which is a typical problem with compact kitchens where you lose important storage and counter space. The biggest issue with a small U-shape kitchen is that only one chef can fit in the space at a time because of the U's constrictive design.
Except for all of these, you can still use a small U-shape kitchen layout, because it can provide storage and worktop space. Think of a niche in which you can fit a small u-shape kitchen design for your tiny houses. Let's check some of the small U-shaped kitchen examples!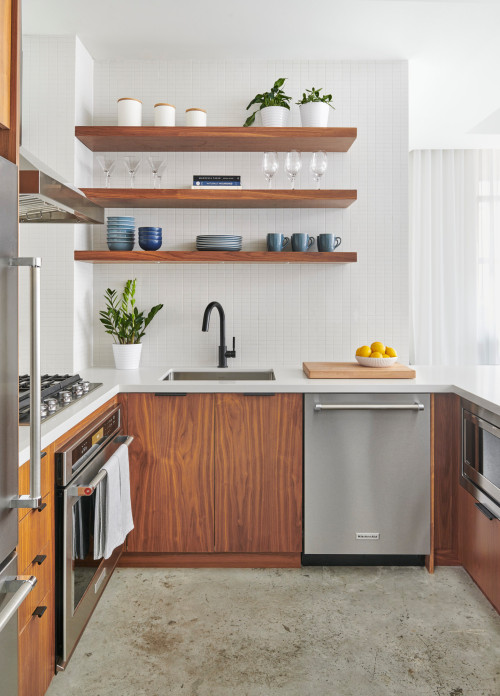 ID# 166015 | Houzz.com – Credit | © FOHR DESIGN STUDIO INC.
---
Small Kitchen Ideas with Wood Floating Shelves
Using floating shelves in place of higher cabinets when creating a tiny kitchen might increase the space in the area. With the gorgeous cookware and potted plants on it, the wood floating shelves in this mid-century kitchen provide a visual feast. The full-height backsplash of white stacked tiles gives the shelves a modern, clean backdrop while subtly adding texture. This cheery charm is completed by the wood cabinets' white quartz countertop.
What is the smallest size a kitchen can be?
The smallest kitchen size can be 70 square feet or smaller.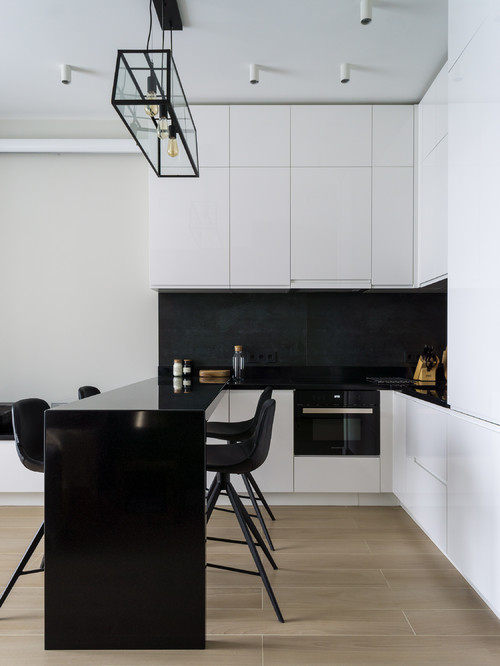 ID# 166016 | Houzz.com – Credit | © Егор Сомов
---
Contemporary Small Kitchen Ideas with Monochrome Color Scheme
Straight lines and contrasting colors give this black and white kitchen a sleek, contemporary look! The stark white flat panel cabinets create a room that is clear and open, while the dramatic black countertop and backsplash add depth and sophistication. The countertop has plenty of space for food preparation and casual dining thanks to its extended peninsula shape. The space is given a warm, natural touch by the wood-look porcelain floor tiles.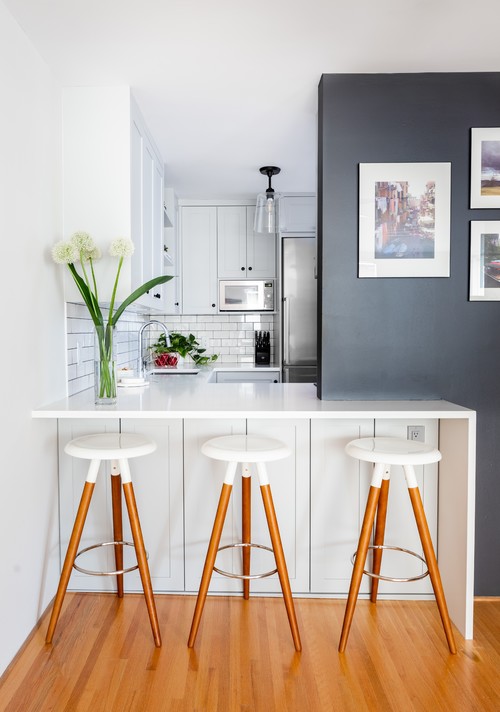 ID# 166017 | Houzz.com – Credit | © YU+ME Design
---
Tiny U-Shaped Kitchen Design with White Color Scheme
This contemporary tiny kitchen sparkles with its light color scheme on the wall that opens. This tiny kitchen appears bigger and more attractive thanks to the light gray cabinets and white subway backsplash. The u-shaped kitchen uses white quartz counters throughout to blend in. The countertop saves room because it doubles as a table. The kitchen is finished with transparent lighting, white bar stools that seem to flow into the oak floor, and fresh indoor plants.
Small L-Shape Kitchen
True to its name, the fundamental L-shaped kitchen features two base cabinet "legs" that are covered in countertops. The longer leg often gives the majority of the counter space because it is longer than the other leg. A wall oven and a refrigerator, as well as a small 24-inch run of the counter, may be found on the shorter leg. This design is typical when the kitchen is a small space with four walls, two of which may be taken up by an entrance, a passageway, windows, or a seating area. You can take advantage of a small L-shaped kitchen layout if you do not have any place to build a U-shape.
We may state that an L-shaped design can help you make the most of a little area if you have one. Keep in mind that your bench space is equally as crucial as your cabinets. So make good use of it by putting your most often used gadgets, your knife block, and other decorative items like flower vases within. Scroll down and see the gorgeous designs of small L-shaped kitchen layouts.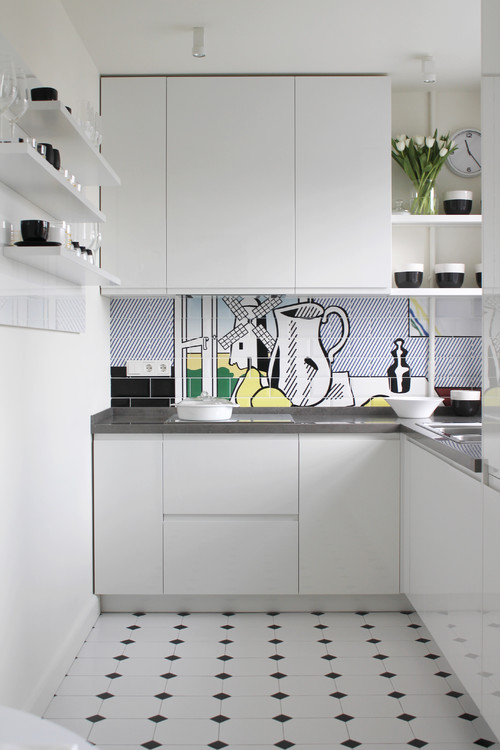 ID# 166018 | Houzz.com – Credit | © Юлия Кирпичева
---
Small Kitchen Ideas with Unique Backsplash Design
In this tiny kitchen, the backsplash tiles truly stand out and transform this otherwise ordinary white kitchen into an eye-catching design. The space gains some personality from the cheery design of the unusual backsplash. The efficient l-shaped layout makes the best use of the available space. Greater storage and exhibition space are offered by white floating shelves, which also preserve a contemporary, tidy appearance. When combined with the white cabinets and gray countertop, the black and white floor tiles add a striking contrast and a graphic element.
What color is best for a small kitchen?
Cream, beige, and white tones are ideal for a petite kitchen. Soft, powder, and pale color hues can also be highly effective. Consider combining a delicate shade of gray with a touch of pink for your compact kitchen. The lighter and softer the colors, the more open and roomy the space will appear!!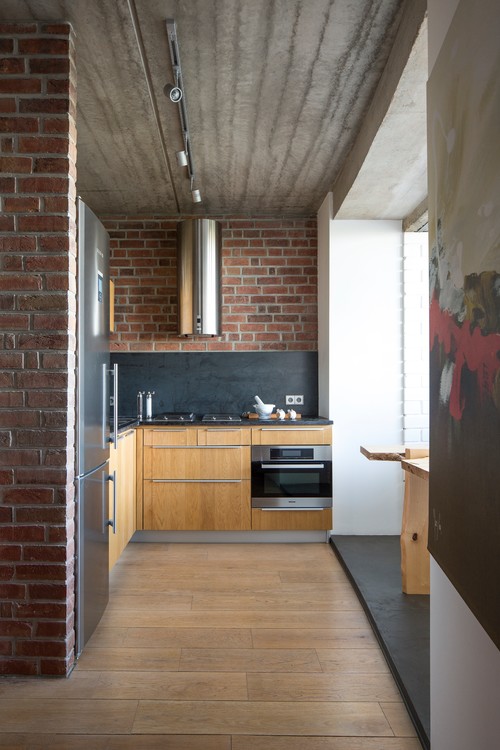 ID# 166019 | Houzz.com – Credit | © Однушечка | Odnushechka
---
Natural Wood Cabinets with Exposed Brick Walls
If you like a daring and distinctive aesthetic, you need an industrial kitchen design with a rustic touch!! The backsplash and countertop in black add modern elements while strikingly contrasting the warmth and charm of the wooden cabinets. The industrial aspect of the exposed brick wall also gives the space character. The circular stainless steel range hood adds sophistication and enhances the industrial charm of your kitchen's overall design.
Small Kitchen with Island
You might have assumed an island was not an option if your kitchen is small rather than enormous. A small kitchen with island designs, though, could well prove otherwise. Even if the small kitchen designs aren't square or rectangular, it doesn't matter. An island may be added to an L-shaped or galley kitchen as well, especially if the floor space is too large to be wasted yet too tiny for a dining table. You can create miracle designs with a small kitchen with island ideas.
A small kitchen with island ideas enhances the practicality of a small cooking area by speeding up meal preparation and providing useful storage. We gathered a broad range of examples to help you find the ideal choice for your house and needs. Prepare to improve the experience of working in and even hosting in your small kitchen with island design options.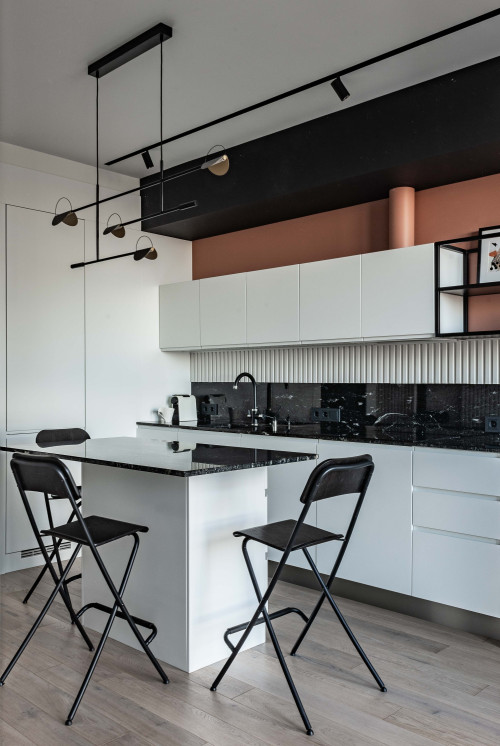 ID# 166020 | Houzz.com – Credit | © АСЯ БОНДАРЕВА
---
Black and White Kitchen Design with Pink Accents
Because of its creative features, this minimalist kitchen design will become a favorite of yours! This kitchen has a lot going on despite having flat panel cabinets and a clean layout. The white wall panels that come after the brief black backsplash demonstrate a creative design approach. With their straightforward forms, the black granite countertops and white flat-panel cabinets give the kitchen a clean appearance. The pretty pink wall paint on the higher portions unexpectedly breaks up the monotone color scheme and offers a cheerful atmosphere by providing soft appeal.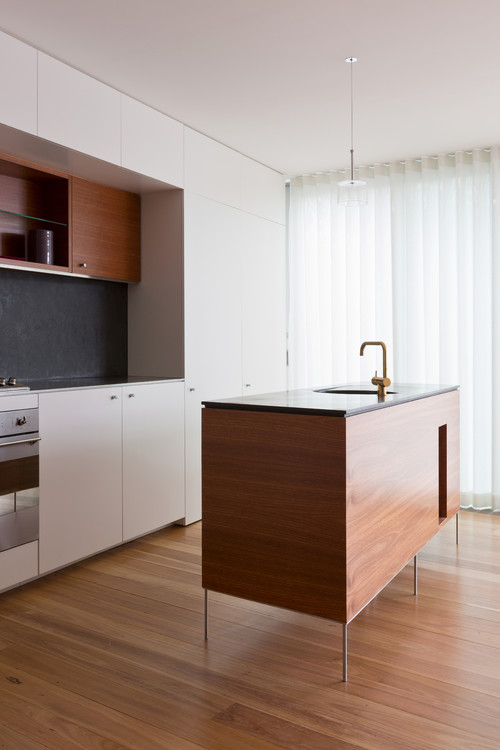 ID# 166021 | Houzz.com – Credit | © Benn & Penna Architecture
---
Modern Small Kitchen Ideas with Wood Island
With its white flat-panel cabinets and a warm and inviting wood upper flat-panel extension, this kitchen emanates timeless beauty. The area seems open and light thanks to the white flat-panel cabinets, and its flat-paneled upper addition give it character and depth. In order to create a stunning composition that is both classic and contemporary, white and natural wood were employed. A little contemporary kitchen island with a gray top beautifully finishes the modern lines and the neutral color scheme.
Small Kitchen Backsplash
Choosing the materials and colors you'll use for a small kitchen backsplash is the first step if you've decided that it's just what your tiny kitchen requires. Both more expensive materials like stainless steel and granite as well as conventional backsplash materials like ceramic tile and glass will be accessible. Your budget and the design style you hope to achieve for your kitchen will likely be the two main determinants of the materials you choose. High-end supplies can be out of reach for anybody trying to build even a small kitchen backsplash on a tight budget.
After deciding on the backsplash material and color for your small kitchen design, you must determine how much you will need. The surface area that has to be covered should simply be measured. The entire wall space between your countertops and cabinets, a smaller portion of it, or, for a truly stunning design, the entire wall space between your countertops and ceiling might be this. To see what options there are for a small kitchen backsplash, scroll down.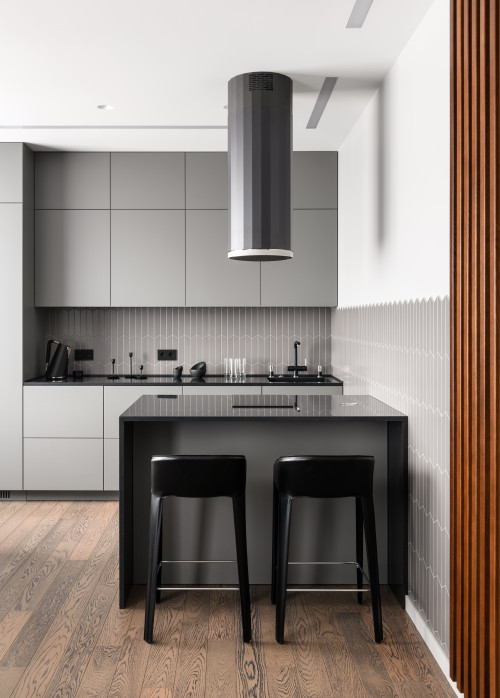 ID# 166023 | Houzz.com – Credit | © Olga Ladurko Interior Design
---
Gray Small Kitchen Ideas with Black Countertops
This modern kitchen oozes sophistication with its flat-panel gray cabinets and glossy black counters. Its island is really a showstopper because of its black glossy waterfalls, which offer a continuous and seamless design, and a black glass stove for added practicality. Additional seating for visitors and family completes the opulent effect in the little sitting area with the black island chairs.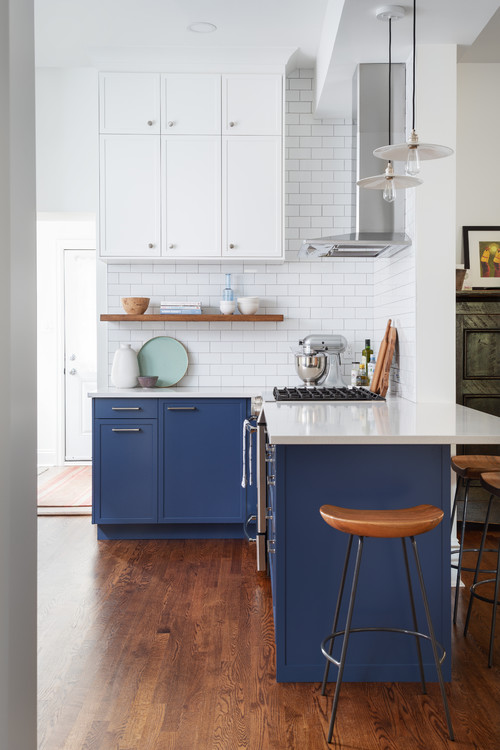 ID# 166024 | Houzz.com – Credit | © Tatiana Wojtan Studio
---
Blue and White Kitchen with White Subway Tile Backsplash
If you are looking for a timeless backsplash design, white subway tiles are the most failsafe option! In this small transitional kitchen, the white subway tile backsplash extends through the ceiling, creating a classic yet stylish backdrop. Keeping the upper cabinets white enhances the bright and spacious feel of the room. The navy-blue base cabinets on the contrary hand, give the space depth by creating a stark contrast.
What color backsplash makes a small kitchen look bigger?
As a timeless color, a white backsplash makes a small kitchen look bigger, of course. Remember, do not have black grout between tiles since they can make the small space look busy.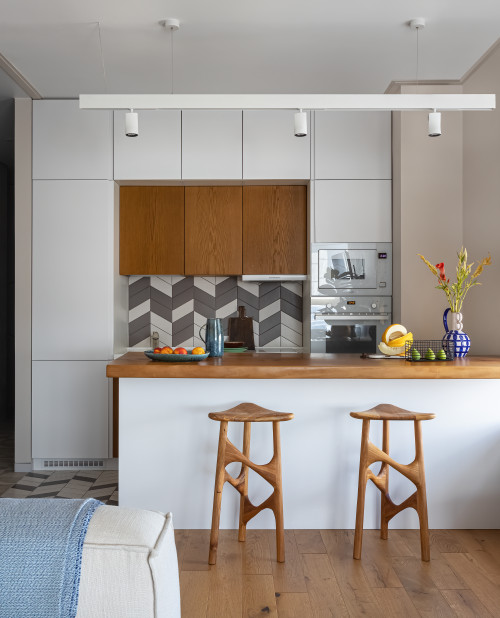 ID# 166025 | Houzz.com – Credit | © Brick buro
---
Small Kitchen Ideas with White and Wood Cabinetry
If you want to jazz up your kitchen, consider using multicolored tiles for your backsplash like in this contemporary space. Even though the backsplash has a monochrome color scheme, the combination of the light and dark gray chevron tiles creates a striking focal point between the white cabinets. The addition of the wood upper cabinets and the wood countertop of the island bring warmth to the monochrome color scheme.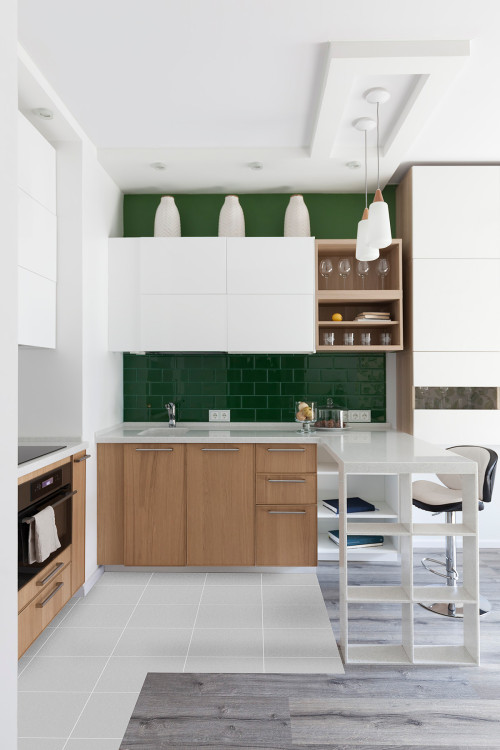 ID# 166026 | Houzz.com – Credit | © YU Dsgn Галкина Юлия и Беляева Юлия
---
Two-Tone Cabinetry with Green Subway Tile Backsplash
There is no doubt that white subway tiles are thoroughly classic that exude a timeless appeal. However, you can make huge impacts by using these tiles in different color shades. As you see in this contemporary kitchen, the green backsplash perfectly exudes the timeless running bond pattern with an unexpected color twist. The white and wood two-tone cabinetry provide a sleek and elegant appeal that allows the backsplash tiles to take the stage.