31+ Backsplash for Tiny Kitchens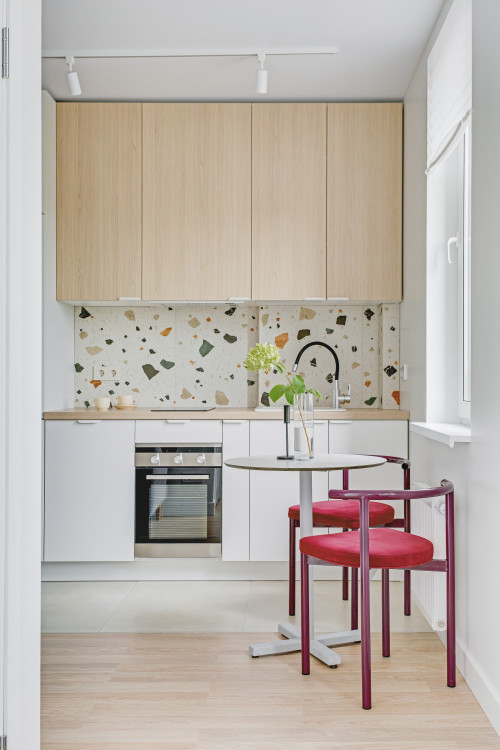 ID# 167216 | Houzz.com – Credit | © Суворова Анна
---
Modern Design with a Colorful Backsplash for Tiny Kitchens
The colors and energy of the terrazzo backsplash fill the entire atmosphere with stylish joy in this kitchen design! The white flat-panel cabinets and wood countertops stand as a canvas to emphasize the colorful backsplash of this beautiful kitchen. The wood upper cabinets complement the countertop and enhance the warm and inviting sense.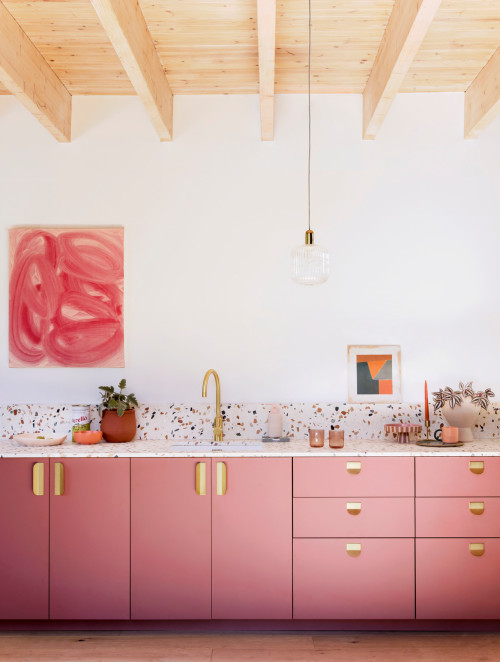 ID# 167219 | Houzz.com – Credit | © plank
---
Pink Kitchen Design with Terrazzo Backsplash and Countertop
This kitchen serves as a cute and feminine example of how little pink there is and resembles a Barbie dream house! The eye is drawn to the vivid pink cabinets in this contemporary kitchen because they have a striking appeal. The terrazzo backsplash and countertops complete the cheery appearance of the cabinets. The room's vintage vibe is enhanced by the gold faucet and cabinet hardware. To balance the use of varied materials and colors and give the impression that the room is wide and airy, hang some art instead of utilizing top cabinets.
Backsplash for Tiny Kitchens
As time goes by, houses get smaller because of the population, and for this reason, the need for solutions for tiny spaces rises. As the houses get smaller, the rooms of it get smaller, too. Kitchens are a good example of this situation. However, do not worry, the size of your area will not really matter if you use the proper tiny space solutions and fashionable design concepts. You'll be astonished at what you can do to make a small kitchen look and feel fantastic as you browse through our trendy small kitchen ideas. Like the cabinets, floors, walls, and countertops, a backsplash is one of the design elements of the kitchens. If you have small kitchens, you may need to learn the idea of a backsplash for tiny kitchens.
Tiny Kitchens with Many Advantages
A tiny kitchen can provide a variety of unique design issues in terms of decorating and maximizing areas but there are also numerous advantages to a smaller room, such as design efficiency and the cheaper cost of renovating less square footage! If you've determined that a new or updated backsplash is just what your tiny kitchen needs, the first step is to decide on the materials and colors you will use for a backsplash for tiny kitchens. Traditional backsplash materials like ceramic tile and glass will be available, as will more upscale materials like stainless steel and granite. Your material selection will most likely be determined by two factors: the style you want to achieve with your kitchen design and your budget. High-end materials may be too expensive for anybody seeking to create even a small kitchen backsplash on a budget.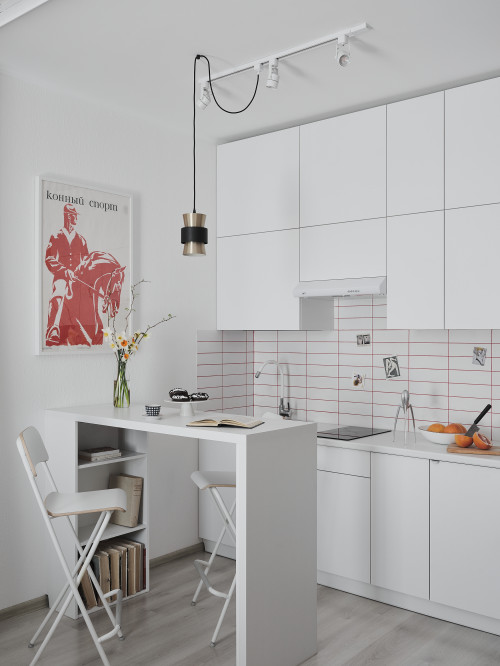 ID# 167201 | Houzz.com – Credit | © AY STUDIO
---
White Stacked Tile Backsplash for Tiny Kitchens and Pink Grout
Who does not love a spacious area? Anybody loves! Look at this tiny kitchen, even though it has small features it looks large and fresh thanks to the white kitchen cabinets, light gray flooring, white walls, ceilings, and white stacked tile backsplash. Subway tiles are a classic and timeless option for whom think to design a kitchen and they are the ones that come to mind at the first moment. However, if you want to make a difference with them it is a terrific idea to use a stacked layout. This way you can create more modern appeals. And of course, the pink grout which adds a visual interest is the star of this design.
What kind of backsplash looks good in a small kitchen?
Consider using neutral colors if you're looking for kitchen backsplash ideas!! For tiny kitchens, a simple, monochromatic backsplash is a nice touch that provides the area with a refined impression and diverts attention from claustrophobic or dark places. When utilizing neutral hues, be careful to pick materials that are simple to maintain, such as quartz, Corian, ceramic or granite.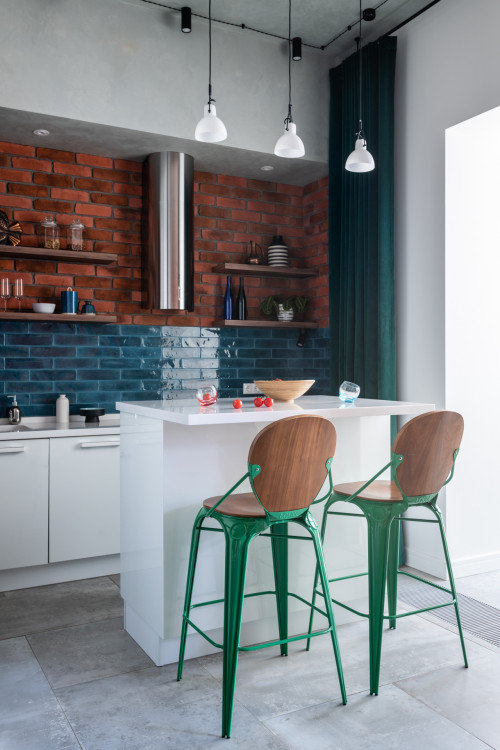 ID# 167202 | Houzz.com – Credit |© Князева Вероника /студия "ProIntDesign"
---
Industrial Design Style with Blue Subway Tiles
This industrial kitchen welcomes you with a joyful and quirky atmosphere thanks to the beautiful daylight and color usage in the kitchen. The blue subway tile backsplash and the exposed red brick wall create a striking focal point between the white cabinets. Using crisp white cabinets and countertops is a perfect way to enlighten the accent wall. stainless steel range hood and green counter chairs match stylishly adding a cohesive appeal.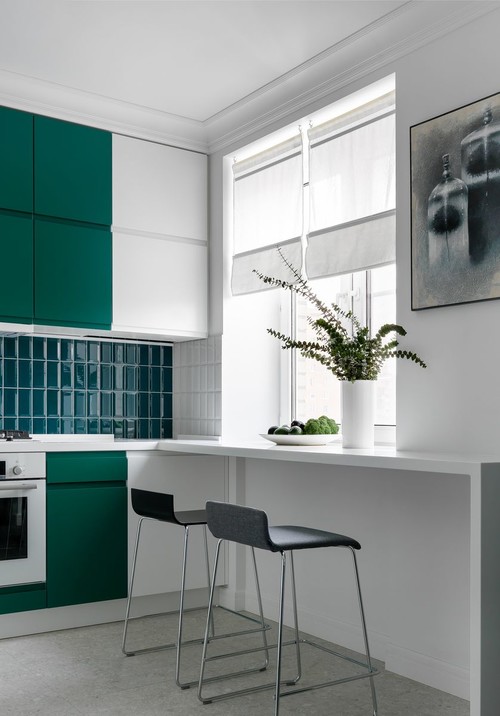 ID# 167203 | Houzz.com – Credit | © «Точка дизайна»
---
Green and White Contemporary Kitchen with Light Gray Floor
The L-shaped floor plan layout of this kitchen surrounds you with an energetic green color! The harmony of the white and green has a striking look with the flat panel cabinets. Thanks to the white countertops, this harmony stands out more. The gray kitchen floor tiles catch the harmony with their color hues and put a cohesive appeal.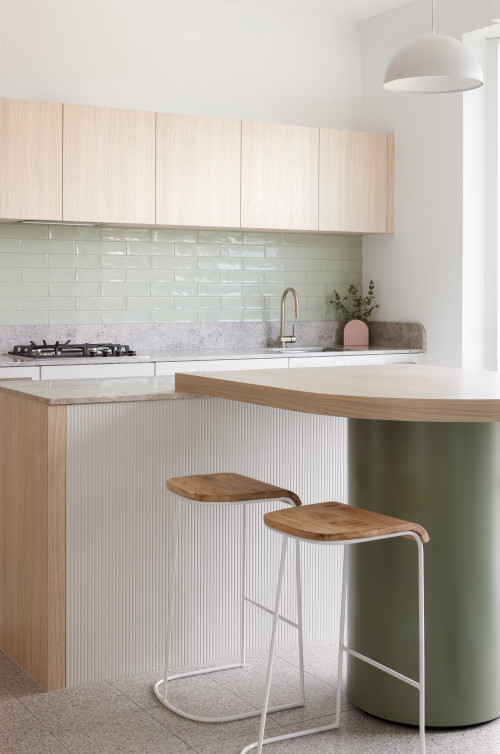 ID# 167204 | Houzz.com – Credit | © smarterBATHROOMS+
---
White and Wood Cabinets with Light Green Subway Tile Backsplash
The light wood top cabinets complement the sage green subway tile backsplash. The white base cabinets and marble counters have a classic look. The kitchen island's distinct design stands out and makes a powerful statement! While the green details of the island complement the backsplash, the wood extension provides a dining area.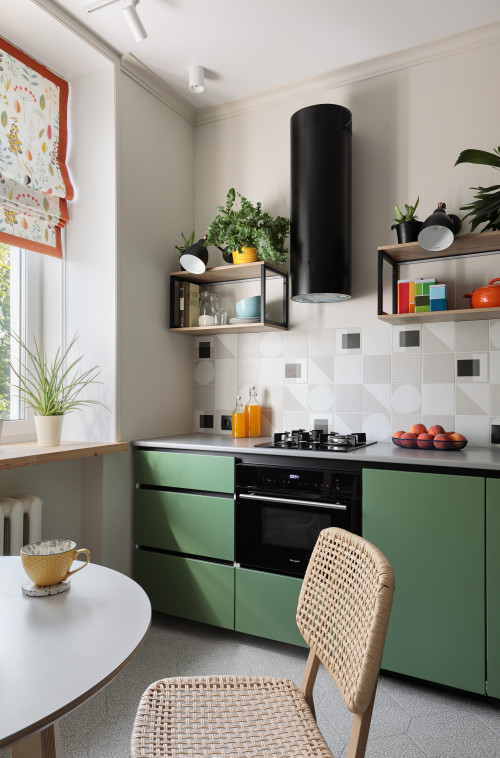 ID# 167205 | Houzz.com – Credit | © Maxim Maximov
---
Green Kitchen Cabinets with Patterned Wall Tiles and Open Shelving
The flat-panel kitchen cabinets take the stage with their soft green color and create an accent wall. The white backsplash tiles and the white quartz countertop provide a bright and spacious atmosphere while the gray patterns of the tiles enhance visual interest. The black stainless steel range hood complements the quirkiness of the design with its circular shape. Using open shelving in small kitchens is a great way to create an open and airy feel!! And these open shelves also provide you to a space to display some accessories and even potted plants.
Backsplash Color Options for Tiny Kitchens
Walking into a lighter, brighter space may quickly raise your mood if you are in a cramped and gloomy room. There's no reason why a small kitchen can't emanate significant flair and appear larger than it is. A kitchen of any size may seem spacious if you know a few easy design strategies for making the most of the available space such as using the right colors! Since the backsplash is one of the design items of the kitchen design, backsplash color options for tiny kitchens have an important role to complement your dreamy small kitchen.
White Backsplash for Tiny Kitchens
The most commonly used meeting place in the house, even if it is tiny, may benefit from the use of color and pattern, material experimentation, and individuality via the use of a kitchen backsplash. It's also a reasonably tiny canvas that won't break the bank to refurbish if you decide to try something else. However, when it comes to deciding on the colors of a backsplash for tiny kitchens, a white backsplash for tiny kitchens is the most popular and timeless one whatever the backsplash design style is.
White represents pureness, clean and tidy looks, with a fresh environment. If you have a small kitchen layout and want to have a striking appeal, you can definitely and easily rely on a white backsplash for tiny kitchens. It can make a place appear spacious and larger with a clean look. You can combine it with white countertops to have a more airy impact. Scroll down to see some of the gorgeous and spacious design ideas of a white backsplash for tiny kitchens.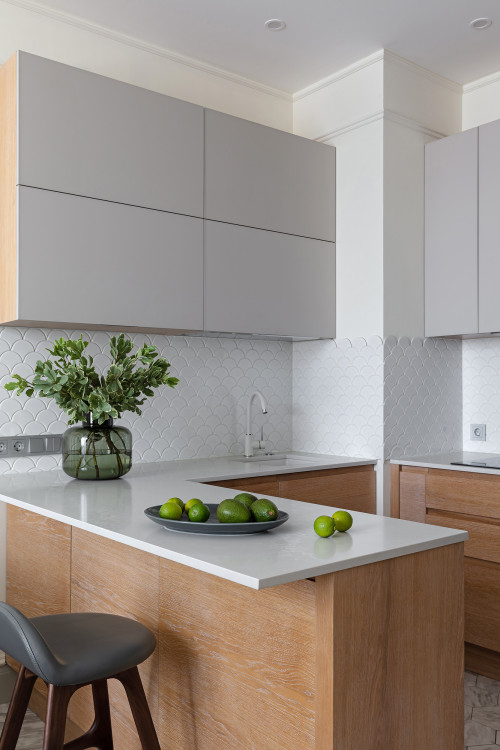 ID# 167206 | Houzz.com – Credit | © Osterman studio. Дизайн интерьеров.
---
Two Tone Kitchen Cabinets with White Backsplash and Countertop
This beautiful tiny kitchen welcomes you with an intimate and familiar atmosphere thanks to the wooden texture and white color harmony. The gray and wood hues of the two-tone kitchen cabinetry create a cohesive appeal with a natural look. The white fish scale tile backsplash, the white countertops, and the ceiling combine to help the daylight to shine more!
What backsplash makes a kitchen look bigger?
In order to create the sense of a longer, higher kitchen, geometric designs might attract the eye vertically or longitudinally. Urban subway tiles may create the impression of expanding even the smallest space. The kitchen appears larger due to the broad black lines separating the subway tiles. Using the horizontal layout that goes in a parallel way with the cabinets can help you to make the kitchen look bigger. You can use large tiles to prevent the busy look since there will be fewer grout lines.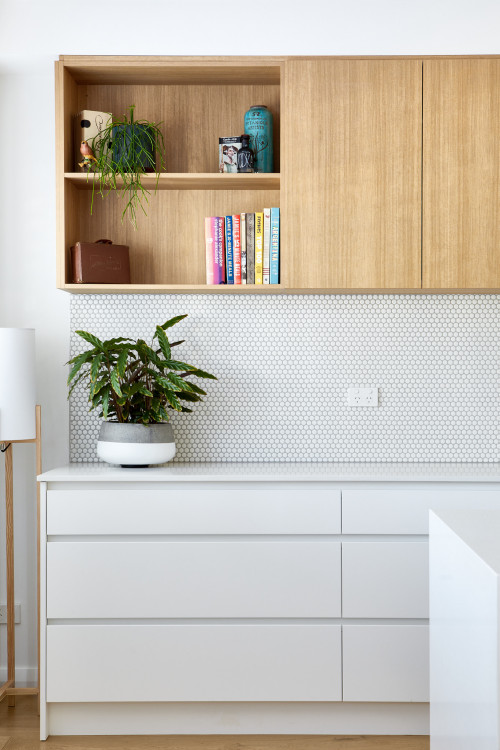 ID# 167207 | Houzz.com – Credit | © Absolute Carpentry & Cabinetry
---
Wood and White Cabinets with White Penny Tiles
Such a lovely look this kitchen provides! If you have a tiny place like this kitchen it is a perfect way to use flat-panel and handleless cabinets. Because, by doing this, you can prevent the crowdy look and make the tiny kitchen look more spacious. Thanks to the upper light wood cabinets, the interior has a warm and welcoming environment. As the classic choice, the white penny tile backsplash adds a beautiful and stylish look!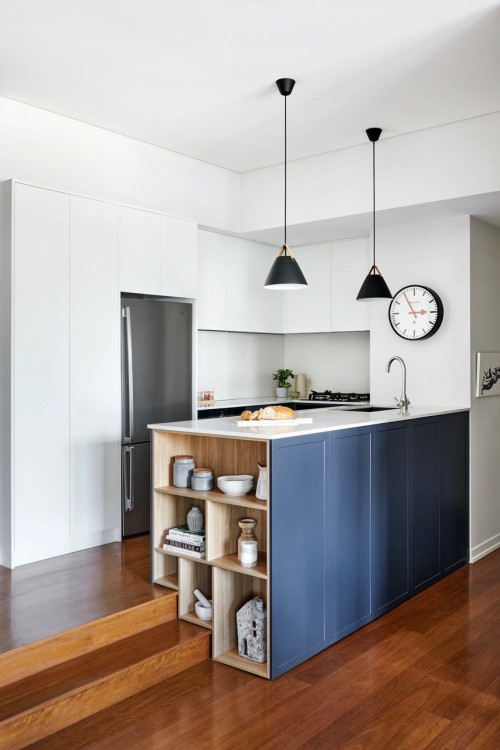 ID# 167208 | Houzz.com – Credit | © Improva
---
White Contemporary Kitchen with Navy Blue Peninsula
White is always a great choice for small spaces. To infuse dynamism and vibrancy, contemplate integrating a peninsula in a bold hue! The white backdrop preserves the sense of spaciousness harmonizing while the navy blue peninsula introduces a chic element that commands attention. Complementing this ensemble, the wooden flooring and white countertops collaborate to bestow a fresh and inviting charm upon the kitchen.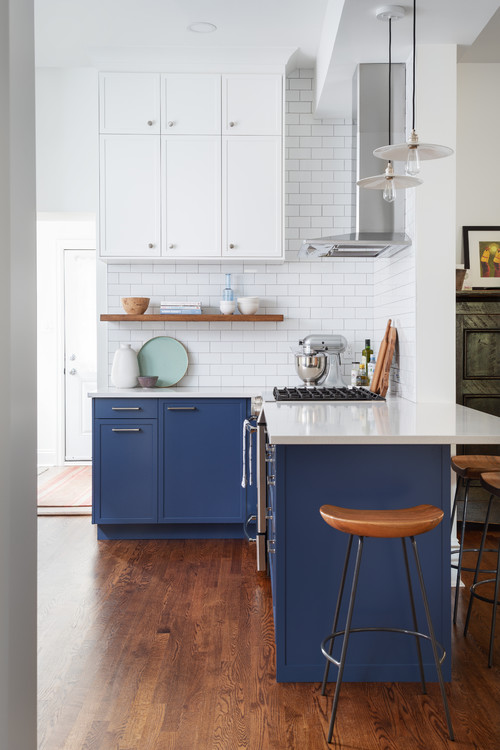 ID# 167209 | Houzz.com – Credit | © Tatiana Wojtan Studio
---
Small Open Concept Kitchen with Blue and White Cabinets
If you are searching for the right backsplash for your kitchen but still couldn't find it. Sometimes sticking with classics will be your savior as you see in this transitional kitchen! Here, the timeless appeal of the classic white subway tiles create a clean and elegant backdrop that will never go out of style. The white upper cabinets and white Silestone quartz countertop complement the bright look of the subway tiles while the navy blue base cabinets bring depth to the space by creating contrast. The tiny additions of wooden details such as the floating shelf and the stool, enhance the warmth.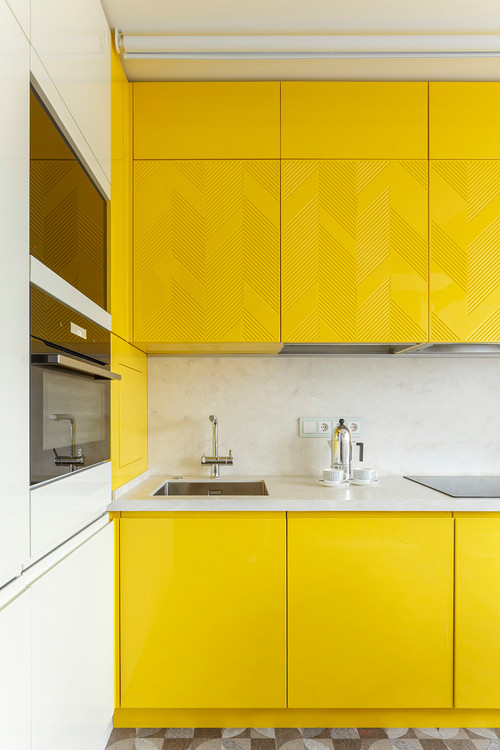 ID# 167210 | Houzz.com – Credit | © Студия "Атаманенко, Архитектура и Интерьеры"
---
Yellow Kitchen Cabinets with Patterned Floor Tiles
This yellow shade is truly stunning that creates a fun and joyful atmosphere! The brilliant yellow cabinets dominate the primary food-preparation area while ceiling-height white cabinets reduce the space's color richness. A well-balanced ambiance is created by the white-colored stone slab backsplash and book-matching countertop, as well as the other white cabinets. The multi-colored flooring with interconnected circular patterns provides novel forms to the otherwise pattern-free kitchen.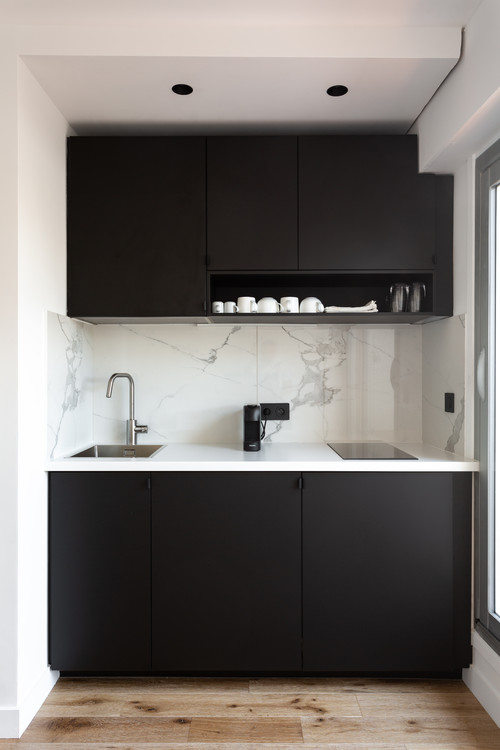 ID# 167211 | Houzz.com – Credit | © Mon Concept Habitation – London
---
Black and White Kitchen Design with Marble-Look Large Tiles
When designing a tiny kitchen, including open cabinets in your room can allow you to create more spacious places! The black cabinets dominate the area in this small kitchen and create a sleek and beautiful appearance while the little open shelves serve as a display unit for the glassware to add visual interest. Between the deep black tones, the white quartz backsplash and countertop offer a bright and new aspect to the area while the marble like texture adds a touch of luxury!
Dark Backsplash for Tiny Kitchens
If you are in the process to design a new small kitchen or remodel it and have an idea to use a dark backsplash for tiny kitchens you are in the right place! Some of you may think that it is not a good idea to have a dark backsplash for tiny kitchens. However, like the other color hues of the backsplashes, if it is used cleverly, a dark backsplash for tiny kitchens can make miracles! A dark kitchen backsplash, whether it be in deep green, blue, or black, may complete a gloomy room or add a touch of class to a light one.
Similar to dark paint, black kitchen backsplashes are frequently avoided in smaller kitchens for fear of enlarging the room. Black backsplash walls, however, have to be taken into consideration for rooms of all sizes, in our opinion. The truth is that a black backsplash may give any kitchen depth, making the backsplash wall disappear and the space looks bigger. Let's check the solutions of a dark backsplash for tiny kitchens and see the perfect outcomes! In addition to this clever little approach, black backsplashes are available in a variety of styles that are excellent for glamorizing and updating tiny kitchens. This covers installations of high-end materials including glass, ceramic, marble, and others.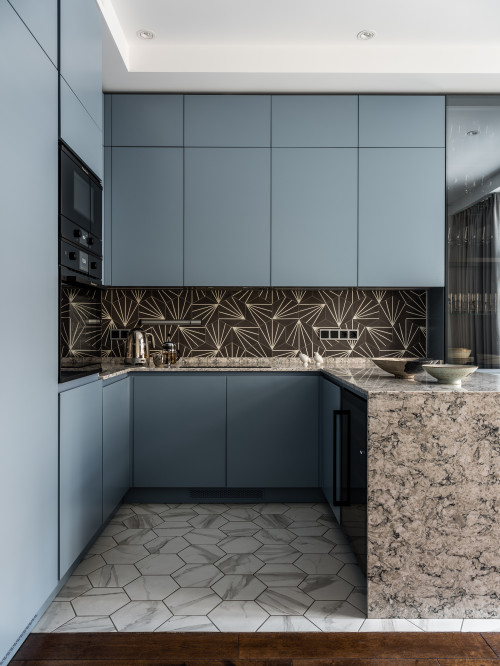 ID# 167212 | Houzz.com – Credit | © Ольга Рудакова
---
Beautiful Atmosphere with a Dark Backsplash for Tiny Kitchens
The different dark hues of this kitchen bring energetic vibes and create an aesthetic contrast with the gray hues of the countertop and floor tiles!! The blue flat panel cabinets and the eye-catching black backsplash tiles provide a beautiful contrast with a minimalistic touch. It is a good idea to use brighter shades for the granite countertops to highlight the dark backsplash! Also, the white starburst patterns of the tiles enhance the visual interest while the marble hexagon floor tiles add a touch of luxury.
What color is best for a small kitchen?
The greatest color combinations provide interest across a tiny kitchen without making it seem cramped, so keep that in mind when choosing your color scheme. Small kitchens may be decorated with cool whites, warm earth tones, beachy pastels, and even bright colors. When feasible, the color design should relate the kitchen to surrounding rooms, making tiny kitchens look larger. The color scheme shouldn't detract from the cooking and cleaning chores at hand.
Think about the atmosphere you want to create, the amount of natural light the kitchen receives, and how you can distribute color to create a unified aesthetic before choosing a small-kitchen color palette, cabinet finishes, surfaces, and fittings. To prevent your tiny kitchen design from feeling crowded or overly busy, try to keep the color palette to just two or three tones (you may add pops of a bold accent color if you want to). To breathe new life into your kitchen, try one of these creative tiny kitchen color schemes.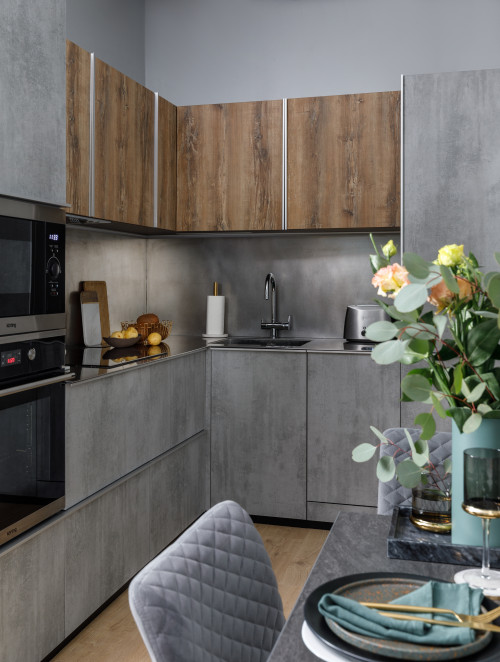 ID# 167213 | Houzz.com – Credit | © Hamiltoun
---
Contemporary Kitchen with Metal Sheet Backsplash and Two Tone Cabinets
The touch of gray hues makes this contemporary kitchen a sleek and sophisticated appeal. The gray color of the base cabinets and the wooden upper ones complement each other bringing natural vibes to the kitchen atmosphere and the wooden floors join them. The brushed metal sheet backsplash perfectly completes the elegant look of the two-tone cabinets.
Colorful Backsplash for Tiny Kitchens
When attempting to create an area that feels larger, color is among the most crucial factors to take into account. Using neutral or light hues is the usual approach. This certainly applies to the kitchen area. Lighter hues provide the impression that space is spreading and are airy. Since a backsplash is a canvas for you to have both protection for walls and an aesthetic design element for the kitchen, you may think a light-colored backsplash for tiny kitchens is a perfect choice. However, a colorful backsplash for tiny kitchens can change many things for the design and create beautiful views.
A backsplash can be more than just a functional piece of kitchen armor against unwelcome splashes and splatters, whether you are looking for a custom-designed tile pattern, a gorgeous piece of stone, an unusual material, a jolt of color, a metallic finish, or a classic finishing touch like subway tile. Consider it as the perfect necklace or pocket square—the finishing touch that unifies the entire look. Check out these creative suggestions to unleash your very own imagination and make your kitchen a topic of conversation with colorful small kitchen backsplash ideas.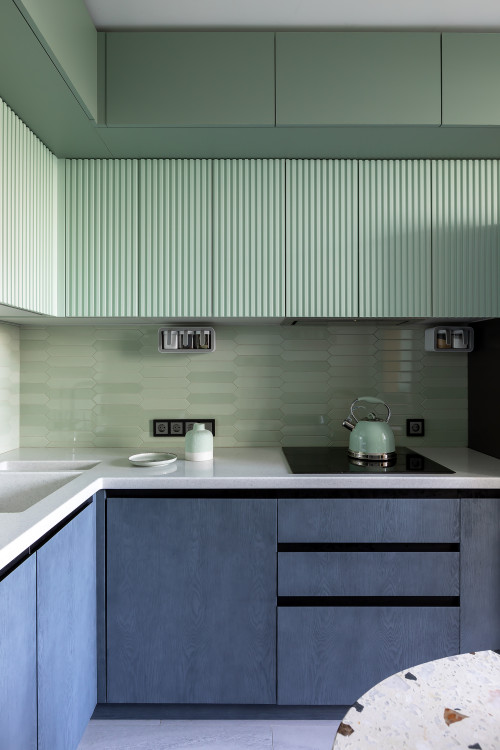 ID# 167214 | Houzz.com – Credit | © "ЭСТЕТ DESIGN " Надежда Ракова и Алёна Гуслиц
---
Colorful Backsplash for Tiny Kitchens with Pop of Blues
Lines and patterns are everywhere with the pop of colors! This serene and elegant look is created by the green and blue harmony, of course. The white quartz countertops stand to enlighten the blue and green color of the cabinets and the kitchen. The green elongated hexagon tile backsplash complements the green upper cabinets and together they create a luminous atmosphere.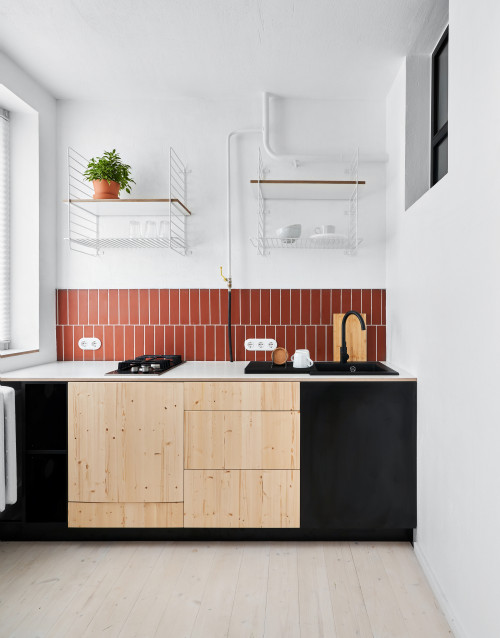 ID# 167215 | Houzz.com – Credit | © Line Design Studio
---
Red and Black Contrast with White Quartz Countertops
A little rustic touch with the wood cabinet doors makes this contemporary kitchen a warm atmosphere. Thanks to the white walls, the contrast is created by the red backsplash and the black cabinets look eye-catchy. Using white quartz countertops is the perfect way to enlighten the colors of this kitchen!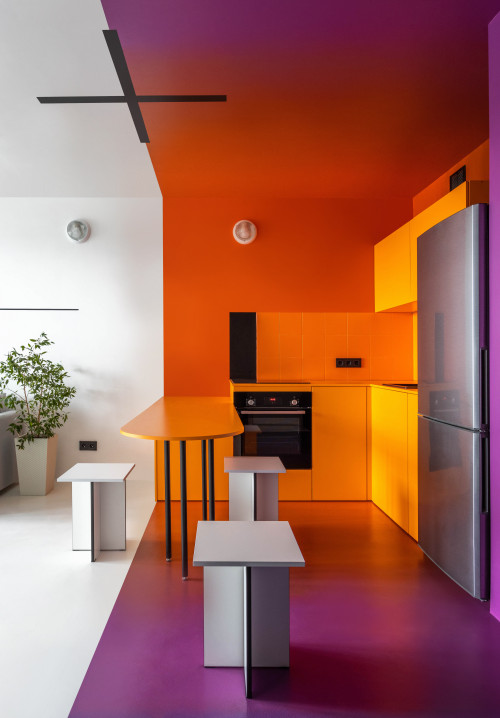 ID# 167217 | Houzz.com – Credit | © Уразметов Рустэм
---
Orange and Purple Kitchen Design with Black Appliances
This is more than just a kitchen; it's a colorful canvas of colors that blend together to create a very unique and energizing ambiance!! This kitchen burst with brilliant orange and purple tones that emit a distinct charm and a mood of happy exploration. This kitchen is awash with orange tones, spanning cabinets, countertop, and square tile backsplash and together they create a seamless and vibrant ambiance. A bold stroke of purple on the ceiling and floor adds depth by contrasting vividly with the orange to enhance the room's visual appeal.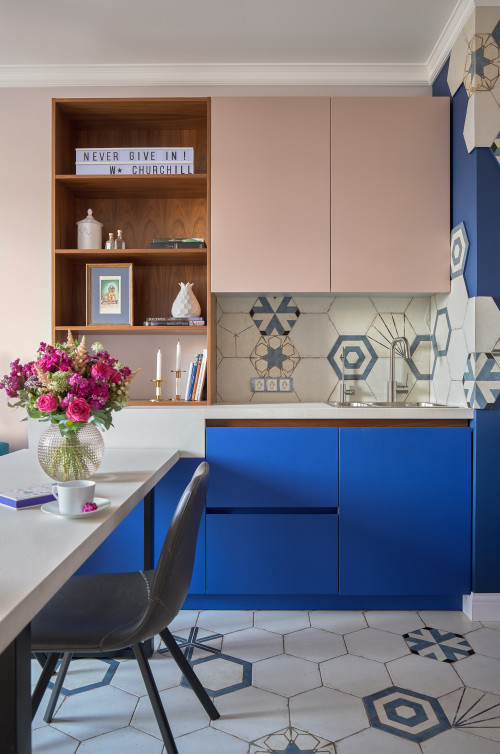 ID# 167218 | Houzz.com – Credit | © VerbaHome
---
Colorful Hexagon Tile Backsplash for Tiny Kitchens with White Countertop
The combination of pink and blue creates a statement make look for this tiny kitchen! The eye-catching patterns of the white hexagon tile backsplash complete the quirkiness of the two-tone cabinetry and add visual interest. The same hex porcelain tiles are also used for the flooring to create a continuous look. Between the vibrant shades and busy patterns, the pure white Caesarstone quartz countertop brings a bright and fresh appeal.
What Size Tile for Small Kitchen Backsplash?
Every aspect you add to a tiny kitchen design matters, and this includes the kitchen tiles you decide to use. Finding the right tiny kitchen tiles might make the difference between an impressive kitchen design and one that doesn't quite cut it. Since the backsplash is one of the important design elements for any kitchen you may wonder what size tile for small kitchen backsplashes is good.
To make it feel as vast and bright as possible, it's crucial to pick the proper-sized tiles. However, it's not just about size—dark tiles placed incorrectly in the kitchen might give the impression that it's smaller. Utilizing the same wall and floor tiles may help a tiny kitchen appear larger. Laying rectangular tiles horizontally will make the space look larger or longer; placing them vertically will make the room appear higher. A coherent appearance may be achieved by utilizing a color scheme that effortlessly transitions from the tiles to the units. Use vibrant mosaics as a backsplash or under cabinets if your units are white to add individuality. Scroll down to see what size tile for a small kitchen backsplash can be good.
Small Tile Backsplash for Tiny Kitchens
Tile sizes and their layouts are important to make a tiny kitchen look smaller or larger. If you want a small tile backsplash for tiny kitchens that feels spacious at the same time, you are in the right place to get inspired!
Since the size is important, the color is important, too, and other design factors can affect the look of the backsplash such as cabinetry design or countertop materials. Small tile backsplash for tiny kitchens means more grout lines and this can make tiny kitchens look busy. It can be wanted, of course, according to design taste. However, if you want to create a contrasting look with light-colored small tiles and a dark grout color you should use light-colored countertops and flat-panel cabinets. By doing this you can create a focal point and an aesthetic view. Using the small backsplash tile color for the grout is a good idea if your cabinetry design is busy. In this way, you can balance the look of the kitchen design.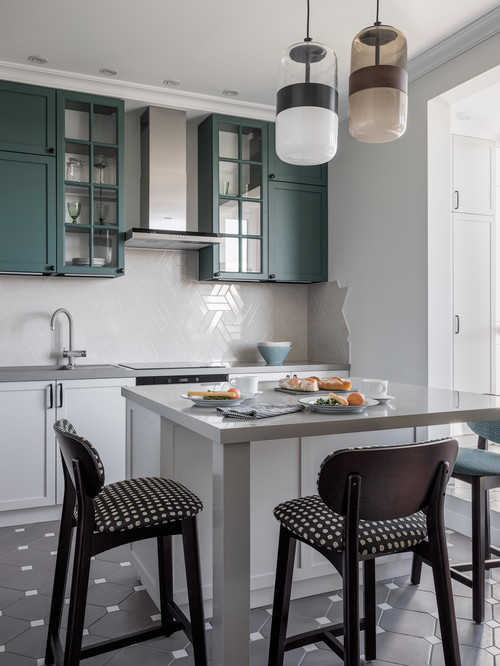 ID# 167220 | Houzz.com – Credit | © Студия Татьяны Архиповой
---
Small Tile Backsplash for Tiny Kitchens with Green and White Contrast
The beautiful and noble look of the recessed panel cabinets is complemented by the distinctive look of the black and white floor tiles. Since the backsplash creates a sleek and clean appeal with its white grout, the green cabinets stand out! Using such a deep and rich color in a white kitchen also provides a luxurious sense. The light gray countertops provide a smoother transition between the green and white and make a cohesive final touch!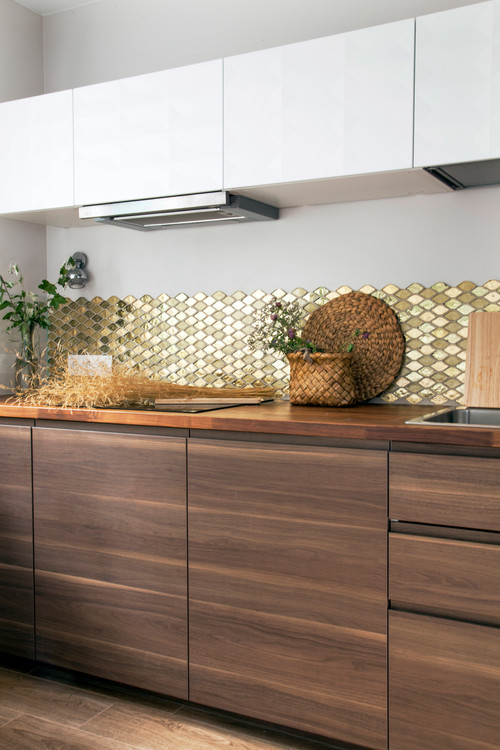 ID# 167221 | Houzz.com – Credit | © Мельникова Светлана
---
White and Dark Wood Cabinets with Gold Backsplash Tiles
The base cabinets in this compact kitchen are made of a warm natural wood material that complements the wooden countertop well. The upper cabinets have a gorgeous, bright white finish that is truly unparalleled. The backsplash tiles, without a question, are the star of this stunning design! These magnificent tiles are completed in a gold tone which adds a touch of refinement and sheer beauty to the entire design.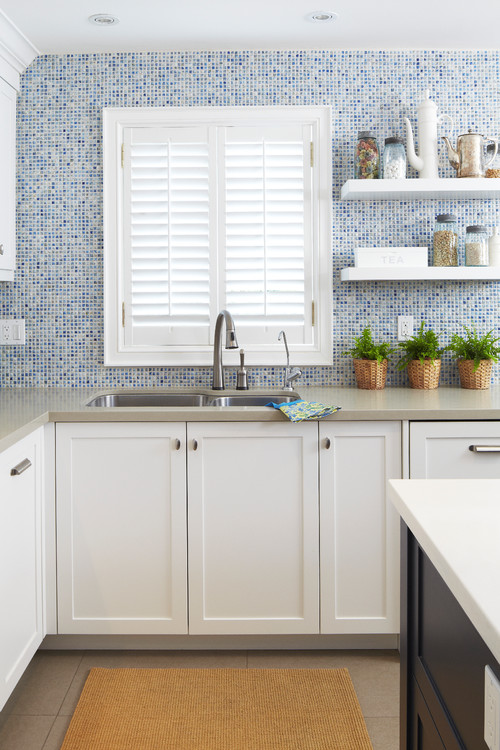 ID# 167222 | Houzz.com – Credit | © Sealy Design Inc.
---
Dim Atmosphere with a Small Tile Backsplash for Tiny Kitchens
The minimalist tidiness welcomes you in this stylish contemporary kitchen design. The eye-catching blue mosaic tile backsplash stands out between the sleek white shaker cabinets and transforms this otherwise ordinary kitchen into a stylish design! Even the backsplash tiles create a busy and crowded pattern, the clean and plain appeal of the cabinets balances this density and provides a spacious atmosphere.
Large Tile Backsplash for Tiny Kitchens
It is challenging for some people when they have a tiny kitchen and want to make it look bigger and larger. The larger tile means less grout line and this look make the kitchen a more spacious feeling and less busy. Since the tile industry can provide a large plethora of colors, sizes, materials, and patterns, there are many options that you can use for a tiny kitchen design.
You can use a large subway tile backsplash as a classic or it is possible to make a difference with chevron tile backsplashes. When you lay the tiles horizontally you can make the kitchen look larger or wider, and when you place them vertically you can add height! You may be a bit creative with kitchen wall tile designs when it comes to the tile that covers the walls of your kitchen. No matter what kind of tile you use, you may use placement or the direction the tile faces to deceive the eye into thinking the room is bigger.
Seamless Appeal of the Large Format Tiles
Of course, the tile can be set vertically or horizontally, but depending on the tile's form, it is best to lay it on a diagonal or even in a herringbone pattern. The kitchen may appear higher and broader due to the diagonal tile pattern. The method for laying tile is clever. Choose a ceramic tile that, when placed out at an angle, will provide the impression of height. As you can see there are many design combinations that you can do with a large tile backsplash for tiny kitchens.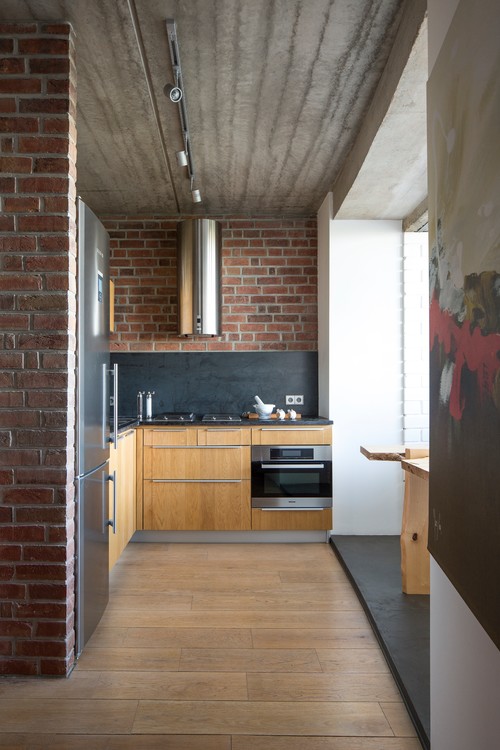 ID# 167223 | Houzz.com – Credit | © Однушечка | Odnushechka
---
Large Tile Backsplash for Tiny Kitchens with Wooden Countertops
The natural wood cabinets and the exposed brick wall bring an industrial touch to the kitchen!! You can feel the raw and organic effect of the different textures. Using one large black stone slab as a backsplash is a perfect way to balance these different textures and create a seamless look. The same stone slab is also used for the countertop to create a continuous look. The addition of the stainless steel appliances perfectly complements the industrial aesthetic.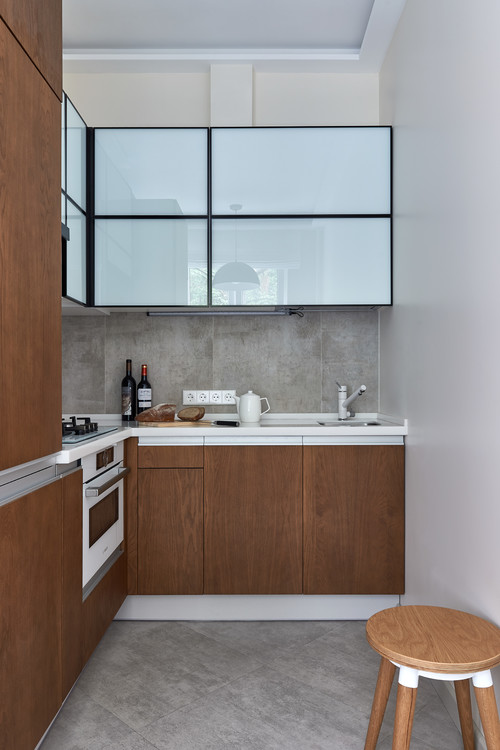 ID# 167224 | Houzz.com – Credit | © Alexander Shevtsov
---
Glass Fronted Kitchen Cabinets with Black Frames
The neutral color palette is well used in this stylish and sleek kitchen design. The warm atmosphere greets you thanks to the harmony of the white and wooden surfaces. The large gray backsplash tiles complement the clean lines of the cabinetry and create a nice textural look. The glass-fronted upper cabinets bring an open and airy feel to the space while the black frames of them enhance the modernity!
Backsplash for Tiny White Kitchens
For individuals with big aspirations for their limited area, little white kitchen ideas are the ideal option. White is a fantastic base color for kitchen ideas because it makes a small space appear bigger, lighter, and more open. White aids in reflecting natural light across a room and removing gloomy shadows, which are especially unhelpful in a space that serves both utilitarian and entertaining purposes. Like the countertops, cabinets, floors, and walls, a backsplash provides and complements the whole design of a kitchen even if it is a tiny one and you may find yourself in a world of endless tile alternatives for a backsplash for tiny white kitchens.
Since the white color creates a canvas and can make a backsplash for tiny white kitchens stand out, it is important to complement it with a proper countertop. You can use the contrast of the white kitchen and a dark backsplash, or it is possible to go all-white but have a pattern, such as a herringbone, chevron, hexagon, or subway tiles. Let's see some of the beautiful examples of stylish backsplash for tiny white kitchens.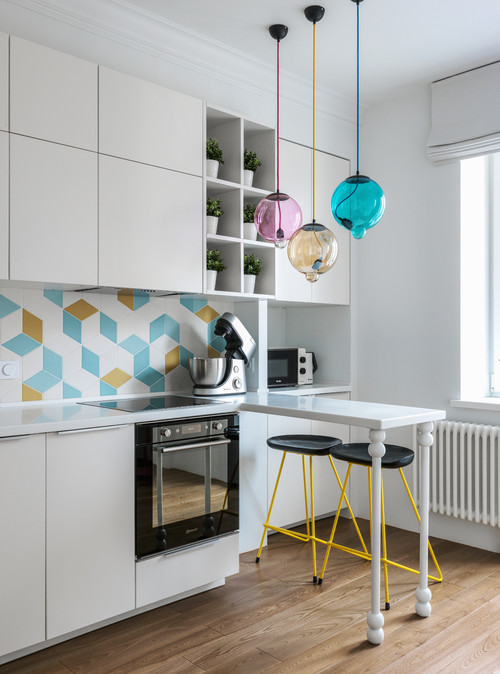 ID# 167225 | Houzz.com – Credit | © Geometrium – Студия дизайна интерьеров
---
Colorful Ceramic Tile Backsplash for Tiny Kitchens with White Color Scheme
The fresh and spacious appeal welcomes you with a clean look in this kitchen. Thanks to the white flat panel cabinets, the bright and spacious appeal carries the kitchen to the next level. With the help of colorful backsplash tiles, you can increase the expensive look in the kitchens. The colorful glass pendant lights above the peninsula create a cohesive appeal with the backsplash and keep up the warm atmosphere.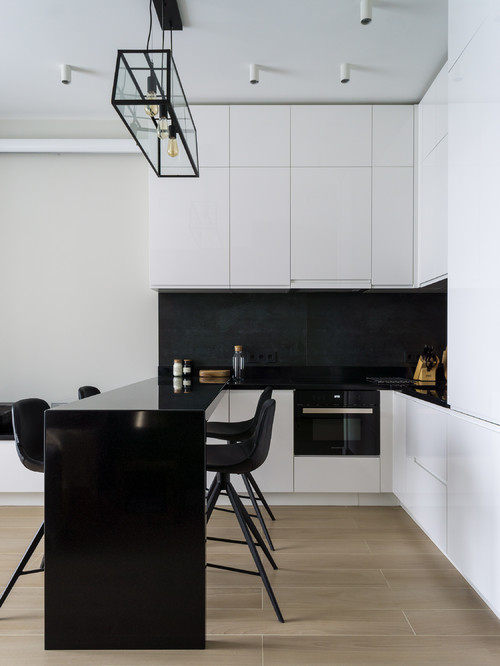 ID# 167226 | Houzz.com – Credit | © Егор Сомов
---
Striking Contrast with the Black Quartz Countertops and White Cabinets
In general, if there are black backsplash, countertops, and white cabinets, matte black hardware is used, however, in this kitchen, the handless design of the cabinetry keeps up the airy look of the white environment and does not put a busy look. The combination of the black backsplash and black quartz creates a striking focal point between the whites and adds a sense of luxury to the overall design!!
What size tile should you put in a small kitchen?
Larger tiles are recommended for smaller kitchens due to their numerous benefits. This option not only saves money by covering more space with fewer tiles but it also minimizes visual clutter and encourages a clean appearance!!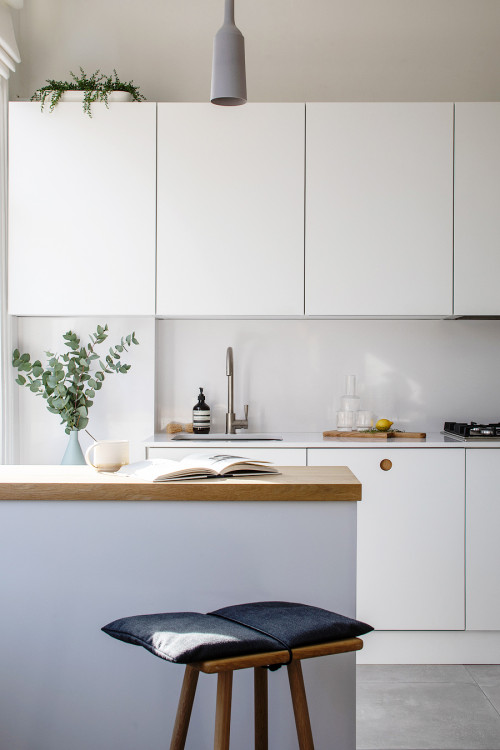 ID# 167227 | Houzz.com – Credit | © Crafted Cabinetry
---
Modern Kitchen with White Cabinets and Wood Countertop
Creating an all-white kitchen is a great way if you have a small kitchen space. And to complete this bright and spacious appeal, a white backsplash is inevitable! As you can see in this modern kitchen, the combination of the white flat-panel cabinets and white quartz backsplash creates a clean and fresh look that enhance the space feel. The addition of the wood countertop of the peninsula breaks the white domination to bring warmth to the atmosphere.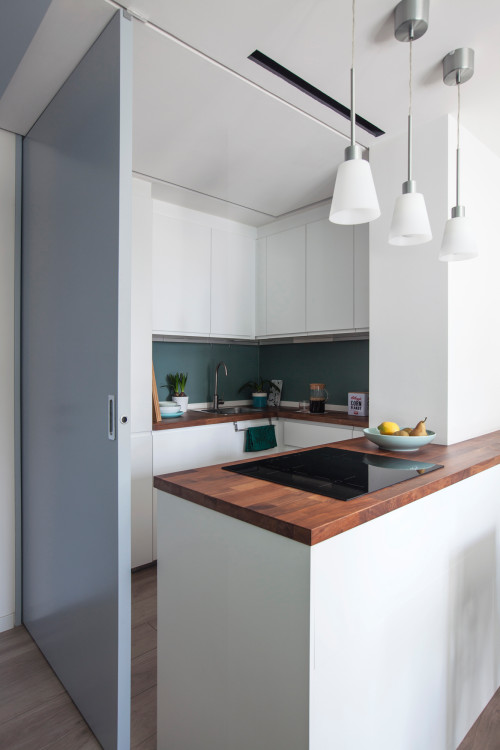 ID# 167228 | Houzz.com – Credit | © DVDV STUDIO
---
Very Small White Kitchen Design with Dark Wood Countertops
If you are designing a small white kitchen but need to jazz up a little bit the overall look? Consider using a vibrant color for your backsplash area! As you can see in this very small kitchen design, the green color of the backsplash instantly draws attention and transform this otherwise ordinary kitchen into a stylish design. The dark wood countertops perfectly complement the natural sense of the green and enhance the warmth of the atmosphere.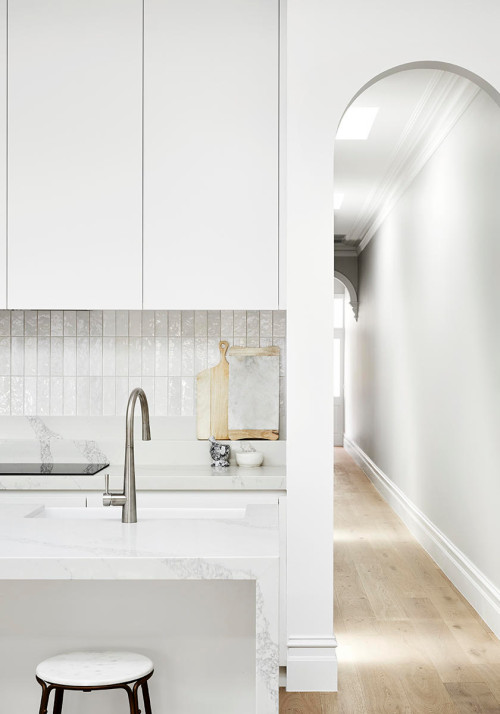 ID# 167229 | Houzz.com – Credit | © eytim
---
Stacked Tile Backsplash for Tiny Kitchens with White Countertops
his modern kitchen has a chic and classic elegance thanks to the harmonizing white surface combination!! The white flat-panel cabinets provide a clean and fresh base for the kitchen while the white quartz countertops add a sense of luxury with their marble-look texture. The glossy white stacked tile backsplash adds another layer of texture to the space.
Backsplash for Tiny Dark Kitchens
Designing a tiny kitchen is already a challenging task, you may think that designing a tiny dark kitchen is much more. You may think tiny dark kitchens can make the interior look smaller, dim, and moody, but, a backsplash for tiny dark kitchens can change everything. You can create contemporary or classic tiny kitchen designs and keep the proper look with the help of a backsplash for tiny dark kitchens.
Your tiny kitchen is getting a makeover. Perhaps you've already created a mood board to help you picture the precise color scheme, design, and material combinations you like. However, if you choose dark kitchen cabinets, you might not know what to do with the backsplash. Darker colors are becoming more popular as consumers veer away from white cabinetry. Choosing the ideal backsplash for tiny dark kitchens can make all the difference in your room, whether you choose a rich wood finish, like cherry, or a striking hue, like navy blue, teal, green, or black.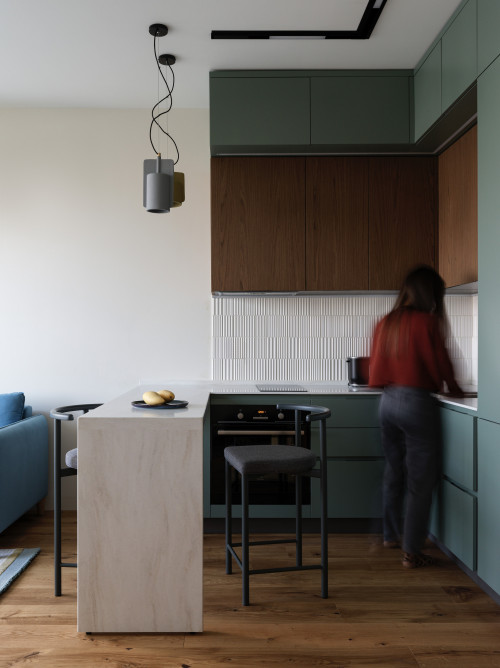 ID# 167230 | Houzz.com – Credit | © Katya Shilova
---
White Textured Tile Backsplash for Tiny Kitchens with Green Hues
The serene look is balanced by the contrast between the dark green and wood cabinets and the white textured tile backsplash. Using white grout is the perfect solution with the normal-size tile backsplash if you have darker cabinets because you can prevent the busy look!! The white backsplash and light countertops brighten the dark hues of the cabinets.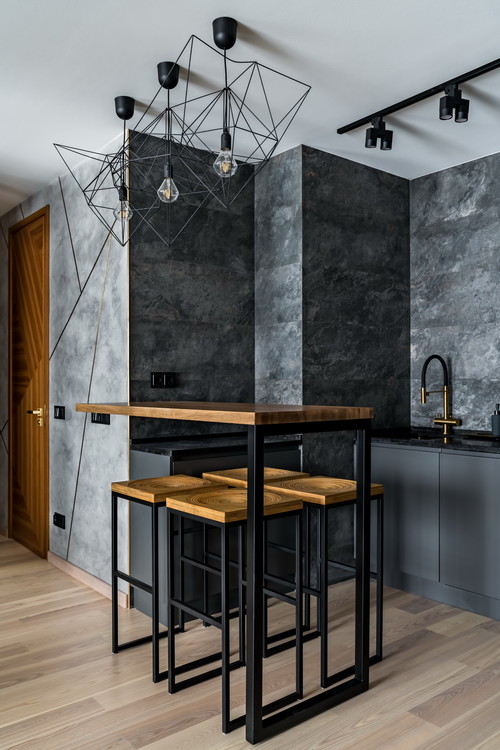 ID# 167231 | Houzz.com – Credit | © Марина Светлова
---
Stone-Look Backsplash for Tiny Kitchens with Dark Color Scheme
Even if you have a small kitchen space, you can use a dark color palette! As you can see in this tiny contemporary kitchen, the dark hues dominate the space but still, the kitchen has a spacious atmosphere thanks to the daylight. The stone-look texture of the large porcelain wall tiles creates a visually appealing look while the matte gray cabinets serve an elegant and sleek appeal. The wood countertop of the peninsula and the tops of the stools break the gray domination and bring warmth to the atmosphere.