21+ Backsplash for White Farmhouse Kitchen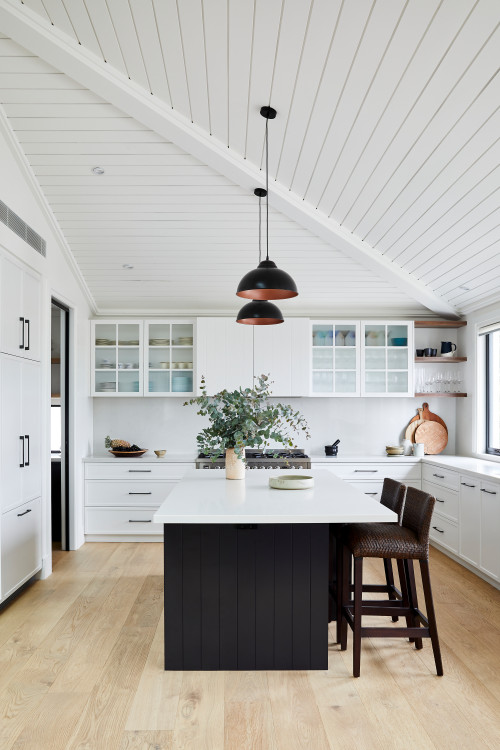 ID# 147808 | Houzz.com – Credit | © Blue Tea Kitchens and Bathrooms
---
Carrara Marble Countertops and Shiplap Ceiling With Black Island
This modern farmhouse kitchen balances white and black shades to perfection. It starts by going with white shaker cabinets to define the background and uses a Carrara marble backsplash and countertop to inject elegance. Overhead, the upper display cabinets expose the blue glassware without making it too obvious. This way, the kitchen feels more colorful with subtle additions. Likewise, the small timber floating shelves radiate warmth with the light wood floor finish. The black V-groove island introduces a second main color to contrast the rest of the look, while the black hardware on the white cabinets pulls the design together. The wicker stools and black pendants add modern yet rustic vibes to finalize this clean farmhouse look.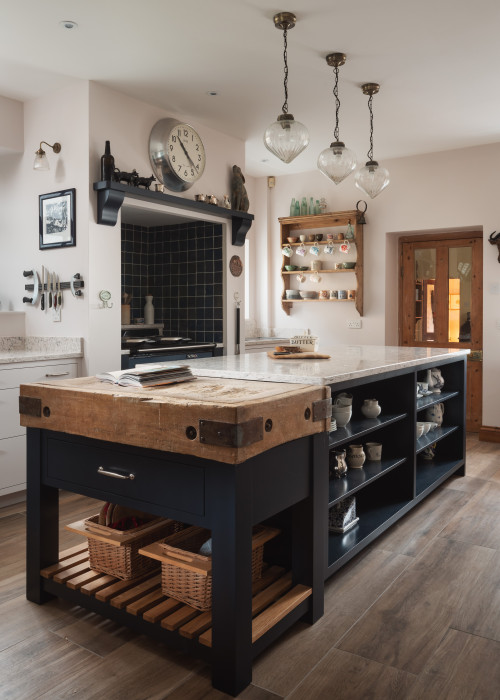 ID# 147816 | Houzz.com – Credit | © Eternal Kitchens
---
Granite Countertops and black Island with Wood Accents
In this farmhouse kitchen, the black island steals the show. It consists of different layers, open cabinet shelves, wood accents, a half butcher-block countertop, and a half-white speckled-finish granite countertop. This union feels whimsical and serves this kitchen well. The raindrop-like glass pendants look aged with antique hardware that pairs perfectly with the island. At the far wall, the black square tile backsplash adds depth to the background, punctuating the stove zone. Furthermore, the walls are very much occupied with open shelves, small paintings, accessories, and more. Each piece contributes to the casualness of the room design, orchestrating intentional randomness to bring the design to life.
Backsplash for White Farmhouse Kitchen
Still part of our lives, farmhouse designs are distinctive in their own right, deploying texture-rich materials, mismatching items for purposeful random designs, antique accessories, and aged hardware. Though, with the embrace of clean looks, clutter-free countertops, and sleek profile appliances, nowadays, farmhouse kitchens look more modern and civilized, which is evident in white farmhouse kitchens. They make use of soft and classic finishes given a modern spin and make for functional, practical, and comfortable designs. Yet what about the backsplash options? A backsplash for a white farmhouse kitchen can be anything, ranging from ceramic tiles to wood panels, stone, brick, and natural stone backsplashes. Whether you plan something more rustic or modern, today's market offers you a plethora of options.
A backsplash for white farmhouse kitchen generally uses white or colored subway tile backsplashes, whitewashed stones, and whitewashed bricks to create a clean look, and marble or quartz slab backsplashes. But just because it is a white kitchen doesn't require you to use white backsplashes. Here we have gathered inspiring modern farmhouse kitchens. Take a closer look at them to get inspired.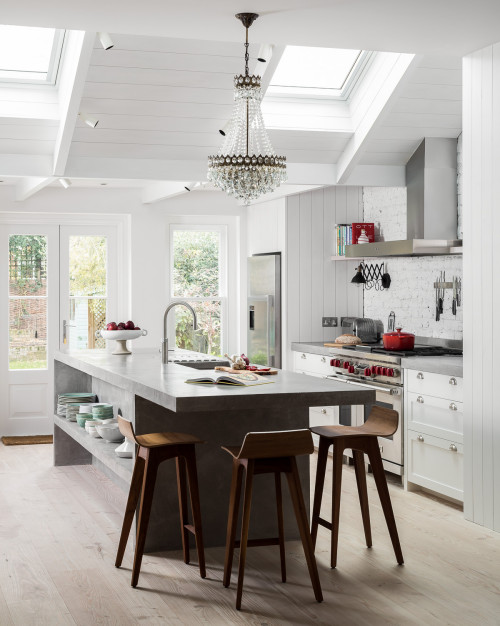 ID# 147801 | Houzz.com – Credit | © Kitchens By Holloways
---
Whitewashed White Brick Backsplash for White Farmhouse Kitchen with Concrete Island
Blessed with abundant natural lights diving into the kitchen through skylights, this fresh farmhouse kitchen is airy and light, thanks to its whitewashed brick backsplash, sloping shiplap ceiling, and white shaker joinery. Though chrome hardware and stainless steel give it a fresh modern update, V-groove light-gray panels and concrete island keep the kitchen in line with the traditional farmhouse looks. The final product feels satisfying for those seeking a true farmhouse look with the exposition of raw textures, though some feel more civilized with white-washing to present a clean and visually lightweight ambiance. Plus, this kitchen proves that farmhouse kitchens don't need to look rustic but they can feel modern and chic, which is showcased by the chandelier used in place of a cast-iron caged pendant.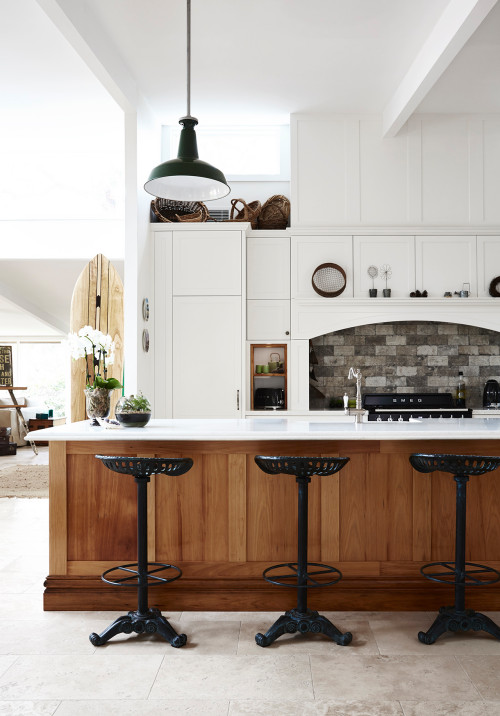 ID# 147802 | Houzz.com – Credit | © Collaroy Kitchen Centre
---
Brick Backsplash with Wood Island and White Cabinets
This country kitchen abounds in natural textures but harmonizes them beautifully with a white-dominant color palette. From the white cabinets to the pure white countertops, ceiling beams, and white floors, almost every element works harmoniously to make the black-gray brick backsplash and wood island sit in an open conversation. Both shades balance each other out, while the black industrial-style pendants and curvy stools anchor the island to the kitchen. In addition to them, wicker baskets and other accessories kept on the top of a cabinet and the hood, respectively, further stylize the kitchen.
What backsplash goes with the farmhouse?
Farmhouse backsplashes are designed to be distinctive and full of life and texture. Thus, from (whitewashed) brick and stone backsplashes to wood panel splash-backs, natural stones, and terracotta tiles, a farmhouse backsplash can be made of different materials. Let's also not forget the metal finish ones. The copper, brass, and oxidized zinc backsplashes can elevate the overall aesthetic of the farmhouse kitchens easily. But for modern farmhouse settings, a brushed stainless-steel backsplash would provide a better option.
Since these metal splash-backs are also pore-free, durable, and low-maintenance, they also make very practical alternatives. Yet the best part is that some of these metal backsplashes age over time and turn into yellowish-green and brown colors only to make the backdrop age and expose its users to a sense of nostalgia. But in case you want to preserve their clean look, you can just keep sealing the backsplashes regularly. This way, you can prevent them from changing colors.
In addition to those, antique mirror backsplashes make a fabulous contribution to the farmhouse kitchens. If you want your farmhouse kitchen to build on old-world charms, you can consider antique mirror options that also enlarge the kitchen.
As for the modern farmhouse kitchens, glass sheets, marble and quartz slabs, a ceramic subway tile backsplash, and geometric tile backsplashes ( herringbone and chevron) offer fresh, modernized, and classic finishes rather than making the kitchen feel rustic.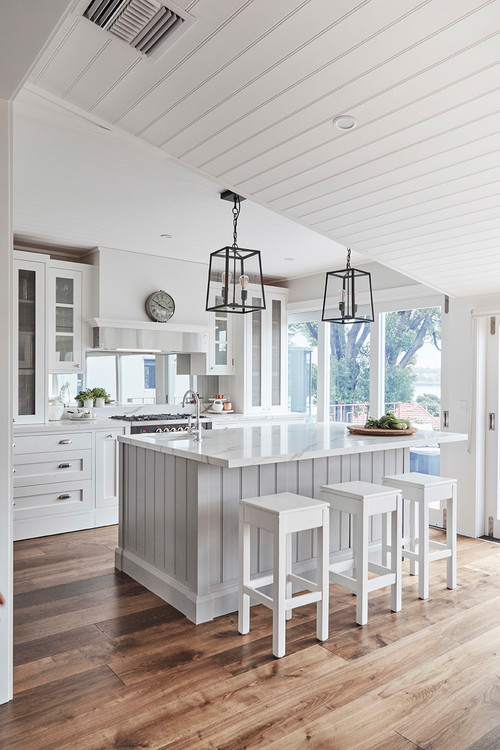 ID# 147803 | Houzz.com – Credit | © Provincial Kitchens
---
Country Kitchen with Shiplap Ceiling and V-groove Island
Modern farmhouse kitchens love monochromatic color palettes to propose calm and tranquil spaces rather than offering more rustic with old-world charm, as showcased by this kitchen. Here, the whitewashed shiplap ceiling, the white V-groove island, and the white cabinets only create a difference by their texture and vertical /horizontal lines. The mirror backsplash reflects the design itself, which feels like a meta-reference, adding a playful element to the kitchen. Apart from those, it is the caged pendants and the wood floor finish that add a soft contrast to bring more character to the kitchen.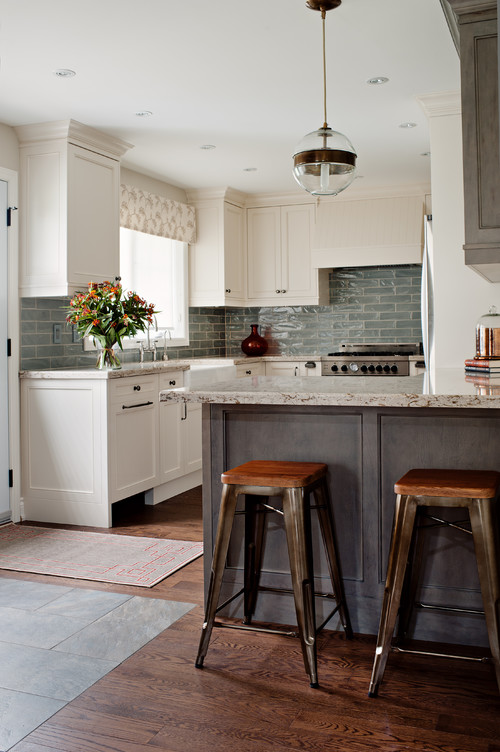 ID# 147804 | Houzz.com – Credit | © Pizzale Design Inc.
---
Green Subway Tile Backsplash and Cream Cabinets with Black Hardware
This heartwarming country kitchen goes with cream shaker cabinets that channel warmth along with the medium wood floor finish. The granite countertops add a classical touch, while the gray island brings a sense of moodiness with a lived-in feel. The green ceramic tile backsplash peeks out playfully, showing its satin finish surface that creates a shimmering effect. The window shades help the kitchen feel homier, and the industrial-inspired stools make the kitchen feel nostalgic. Black hardware punctures the design.
Should the backsplash be lighter or darker than the cabinets?
Generally, the backsplash is kept lighter than the cabinets to create a more efficient and safe working space, while darker cabinets function as anchors. But it could be just the opposite. Some kitchens, for example, go with white cabinets and black backsplash, and black countertops to create a striking contrast. This combination especially pays well when you aim to add depth and dimension to the background. But when you go with darker backsplashes, ensure that the worktops are well-lit, either by placing them near the window or under a skylight or getting under-cabinet lighting fixtures such as spotlights and LED strip lighting.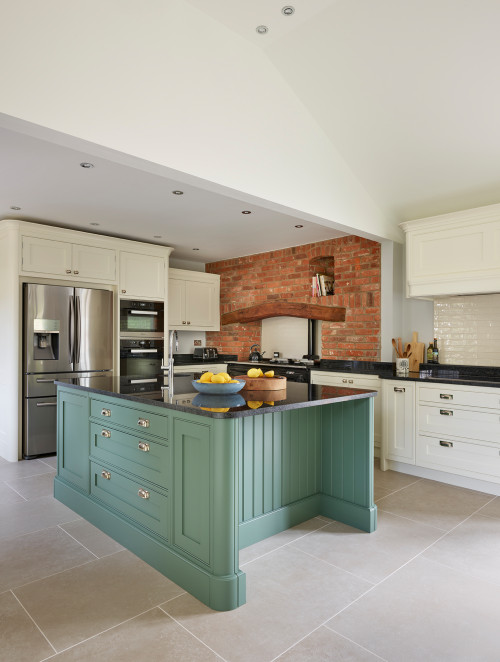 ID# 147805 | Houzz.com – Credit | © Davonport Kitchen & Home
---
Brick and Subway Tile Backsplash for White Farmhouse Kitchen with Green Island
Conceived as a farmhouse design, this kitchen has all the ingredients to nail a country look: textures, contrasting shades, natural colors, and even more. To harmonize them all together, first, the designers go with an exposed brick feature wall blending harmoniously with the reclaimed wood log that creates a perfect cooking zone reminiscent of fireplaces. In the rest of the kitchen, the white subway tiles traverse the walls, accompanied by white cabinets. The black countertops offer a striking contrast, while the green island placed at the center adds a pop of color to enliven the interiors.
What kind of backsplash goes with white cabinets?
White cabinets are best at creating blank canvas-like environments. As such, they can be paired with a wide range of backsplash designs, be they white, multi-colored, or black. But first, it is important to decide what kind of impact to go for. For example, for a shimmering effect, glass tiles are great, especially the small versions. Gloss and satin finish on the ceramic tiles can also create a similar glittering effect to create a soft contrast with matte white cabinets. And for something luxurious and sophisticated, marble slab backsplashes are the best, offering a classic and timeless finish.
Rustic kitchens generally prefer wood panels, stone, and brick splash-backs. Brick and stone can also be whitewashed to create a clean look and blend harmoniously with white cabinets. In addition to those, feel free to go with multi-colored tiles, Mediterranean tiles, geometric, and metal tile/sheet backsplashes if you are in an adventurous mood and want something that wakes up the white cabinets.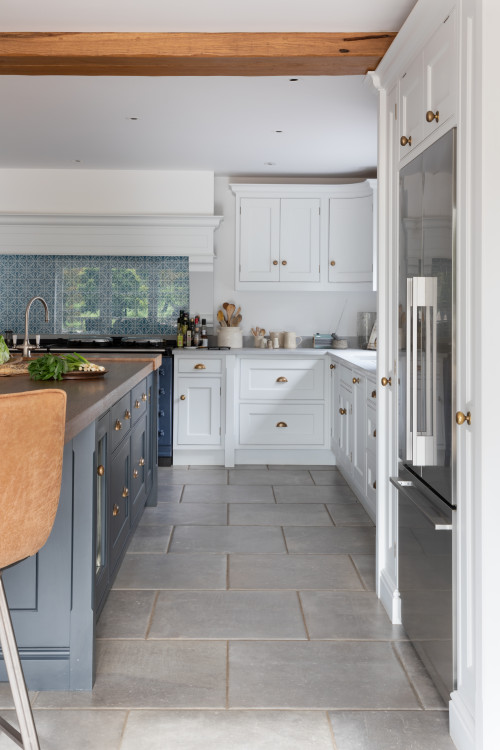 ID# 147806 | Houzz.com – Credit | © Tulip
---
Country Kitchen with White Cabinets and Gold Hardware
Priding itself on its exposed wood beam, this white-dominant country kitchen is occupied by white shaker cabinets topped by white countertops that create a fresh and light background. And further additions get integrated to bring the design to life with warming wood shades and blue hues with undertones. For example, the blue Mediterranean-style backsplash serves as a stove backsplash, pairing perfectly with the blue old-fashioned stove, while the rest of the walls are clad in white slab backsplash to complement the white cabinets. In the center, again, butcher-block-topped blue island blends harmoniously with the rest. And finally, the antique gold hardware injects a healthy dose of warmth, giving that lived-in look.
Backsplash Color Options for White Farmhouse Kitchen
From white to gray, muted blue, soft green, black, and yellow, a farmhouse kitchen backsplash comes in a wide array of color options. Tumbled and polished finish also contributes to how these colors and materials present themselves with a texture rich surface ready to age and develop a patina over time or a clean look that let the light bounce off around the room.
White Backsplash for White Farmhouse Kitchen
White backsplashes for white farmhouse kitchens create a harmonious look that blends with the white walls. But what you could also do is use V-groove islands, beadboard cabinets, and shiplap ceilings to add movement to the kitchen. Likewise, backsplashes can be subway tiles laid in a chevron and herringbone pattern full of vibrancy to generate movement. For a shimmering effect, you can get their glass versions. And for a seamless, grout-free, and elegant style, white quartz and marble make for an excellent backdrop as well as glass sheets. Also, consider the marble slabs with pronounced veins to make strong visual statements.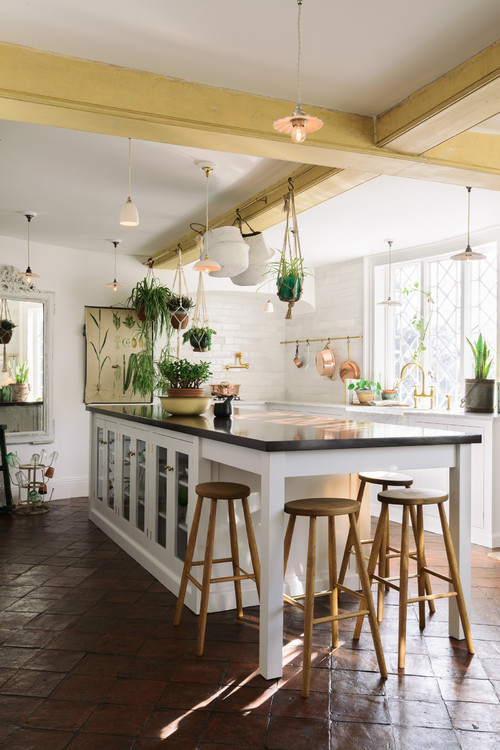 ID# 147807 | Houzz.com – Credit | © deVOL Kitchens
---
White Backsplash for White Farmhouse Kitchen with Island
Forgo upper cabinetry to let your kitchen breathe just like this farmhouse kitchen does. Defined by a white subway tile backsplash and white-painted walls, this country kitchen is packed with style and life. From the copperware hung on the wall to the kitchen islands sprinkled throughout the kitchen, the yellow-painted beams, and plenty of mismatching lighting fixtures, this kitchen is filled with elements that create purposeful randomness. The white cabinets assist the white island unit that consists of display cabinets for a change. The island also extends to create a sociable spot for guests and family members to hang out, paired with backless wood stools. On the floor, the square terracotta tiles are laid diagonally to give the kitchen a sense of earthliness that matches the farmhouse aesthetic.
What kind of backsplash is in Style 2022?
The popular backsplashes in 2022 focus on the brightness and openness of the space. That's why the backsplashes are designed to serve this aim, which explains the popularity of light-colored, gloss-finish, and ceiling-height backsplashes; the latter of which ditches the upper cabinetry. These backsplashes are generally made of marble and quartz slabs that provide seamless designs. Additionally, geometric and patterned tiles, and subway tiles laid in a herringbone and chevron pattern or stacked vertically and horizontally give the kitchen a contemporary spin.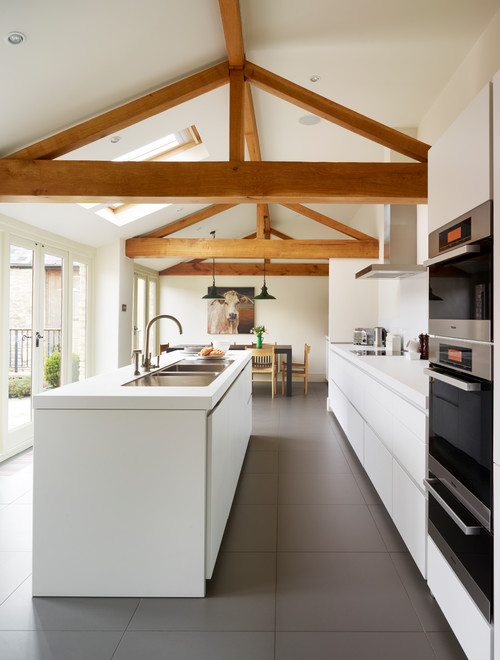 ID# 147809 | Houzz.com – Credit | © Hobsons Choice
---
All-White Kitchen with Wood Accents and High-end Appliances
This cozy white farmhouse kitchen feels heightened with wood trusses that encroach on the space without leaving it claustrophobic. The white flat-front cabinets and sleek countertops keep the look in line with contemporary kitchens, not to mention the built-in high-end appliances. The exposed range hood dressing and a multi-compartment stainless steel sink make the kitchen feel more professional, visually coordinating with the gray floor tiles that run across the space and lead to the informal seating space. The abstract painting and the mismatching chairs add color to the otherwise all-white kitchen. And overhead, the trusses make a strong statement, enveloping the kitchen with a sense of warmth, while the full-height windows and glazed doors let plenty of natural light in.
What colors compliment a white kitchen?
Though white kitchens are classical, offering a soft and clean look, sometimes it feels necessary to add depth to them with darker shades. And to achieve that, dark blue, gray, and green backsplashes or islands can be incorporated into the kitchen. For example, a gloss finish on a dark kitchen backsplash not only adds depth but also allows light to travel around the room playfully. In addition to the dark colors, warm shades such as wood, yellow, and cream also help the kitchen feel more approachable and healthier. Likewise, terracotta tiles in their original colors or black-painted versions contribute to the overall aesthetic design of a white kitchen. They bring texture, color, and character all at once.
Now let's consider where else you can color to alter your white kitchen. Well, the floor and ceiling can be used to introduce color. Dark gray floors, speckled-finish concrete floor, and hexagon terracotta tiles further stylize a white kitchen. Luxury lovers may want to consider gold-coated ceilings, while those who prefer old-world charms go with tin ceiling cladding to pay homage to the old days.
And if you want something homier, feel free to use wallpaper designs dotted with floral patterns in beige and green shades and install gold hardware on the cabinets. Instead of wallpapers, you can also use colored shiplap boards to define the top half of the kitchen walls.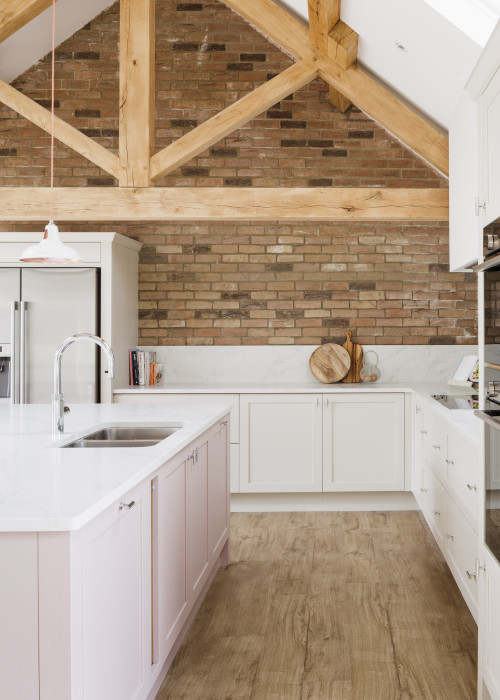 ID# 147810 | Houzz.com – Credit | © Nest Kitchens
---
Solid Stone Backsplash for White Farmhouse Kitchen with White Shaker Cabinets
From the timber trusses to the brick wall, rustic floor finish, and solid stone backsplash, this white farmhouse kitchen is filled with rustic and exposed raw textures that contribute to the farmhouse feel of the kitchen. By contrast, the pristine white shaker cabinets and stainless steel appliances modernize the kitchen. Even though farmhouse kitchens generally love oversized cabinet hardware, the one- we have here- plays modestly and goes with tiny chrome pulls that tie the space together with the high-end appliances. Likewise, the two-compartment inserted sink helps the kitchen preserve its clean and sleek profile. The glowing chrome faucet with the chrome hardware finalizes the overall aesthetic design, making it extra chic.
Gray Backsplash for White Farmhouse Kitchen
The pale and barely there light gray backsplashes are very suitable for white farmhouse kitchens. You can easily create a lived-in and weathered look with them. However, if you want something shiny, glass gray subway tile backsplashes and small glass herringbone tiles refresh the kitchen nicely. You can complement them with chrome cup pulls and stainless-steel appliances for a modern and chic look. You can even consider chandeliers for a whimsical touch. To color up the design, kitchen plants and pops of colors introduced by stools or warmth with timber floating shelves and butcher block countertops can make your white farmhouse kitchen your own.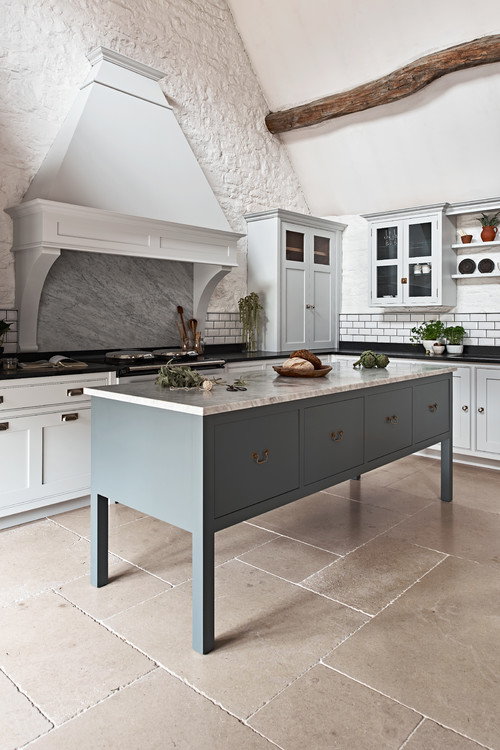 ID# 147811 | Houzz.com – Credit | © Cheverell
---
Gray Marble Backsplash for White Farmhouse Kitchen
Graced with a double-height volume, this revamped farmhouse kitchen, albeit with its cavernous architecture, feels fresh and airy, thanks to the white-washed stone walls and white ceiling. This abundant use of white, supported by white cabinets, compensates for the lack of natural light. The bulky range hood blends into the stone wall. The shaker cabinets, display wall units, and floating shelves expand the storage repertoire of the kitchen. Also, the bespoke island unit adds a subtle hint of color while providing bonus drawers for knick-knacks.
As for the background, since the stone walls are hard to maintain, they are layered with white subway and marble slab backsplashes. For example, the latter is used for the stove to provide high heat resistance, while the white subway tiles clad the rest of the walls, featuring black grout. This contrasting grout shade coordinates the backsplash with black countertops, creating an eye-catching contrast without feeling over the top. On the floor, limestone tiles ensure the space feels cool enough, suiting the stone walls of the kitchen. And finally, the rustic feel is completed with a salvaged log that draws eyes upward, emphasizing the high ceilings.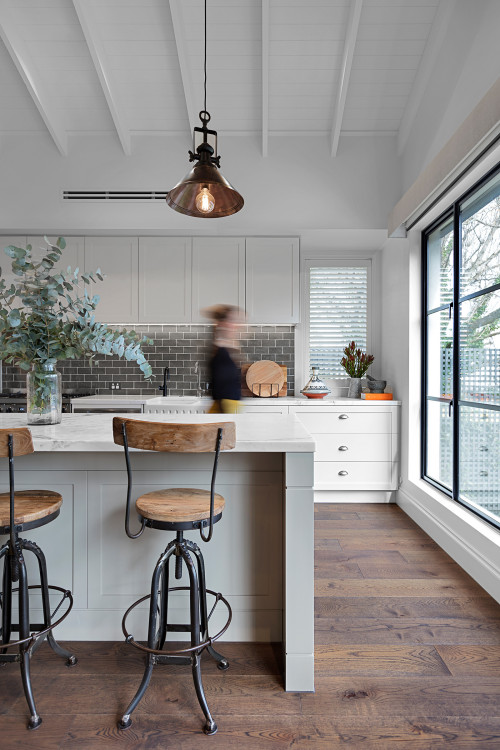 ID# 147812 | Houzz.com – Credit | © Glenvill Homes
---
Gray Subway Tile Backsplash with White Grout and White Cabinets
A gray backsplash with a rustic wood floor finish with gray undertones and rusted-looking lighting fixtures is enough to evoke a country look. In this case of the kitchen, a gray subway tile backsplash is used to accompany the rustic wood floor that adds visual drama. The rustic stools also pair with the island in addition to an antique-finish lighting fixture. In the rest of the space, the white cabinets, white grout between the tiles, and white-painted shiplap ceiling lighten up the interior to give it a fresh look. Likewise, the black-framed modern window lets abundant of natural light flow in along with the green garden views that again, introduce a farmhouse feel.
What is the kitchen trend for 2023?
Kitchen trends for 2023 encompass large slab backsplashes made of marble, quartz, and granite for their seamless look more than tile backsplashes. Plus, these backsplashes will be enriched with warm organic touches to make the kitchen look cozier. So, textures and curvy forms will reclaim their popularity.
Muted and light color palettes are included in the list of "no mores", replaced by colors to energize the interiors. In addition to colors, dark wood cabinetry will be creeping back into our lives to ensure timelessness. It will also be ready to modernize and act more dynamically with complementary finishes such as polished chrome hardware. The open shelves also continue to replace the upper wall units, leaving more blank walls for homeowners to decorate and personalize as they wish.
Large kitchen islands with seating options are expected to find their way back to the kitchens. Kitchens are, again, more than cooking zones, packing people together and serving as a sociable spot.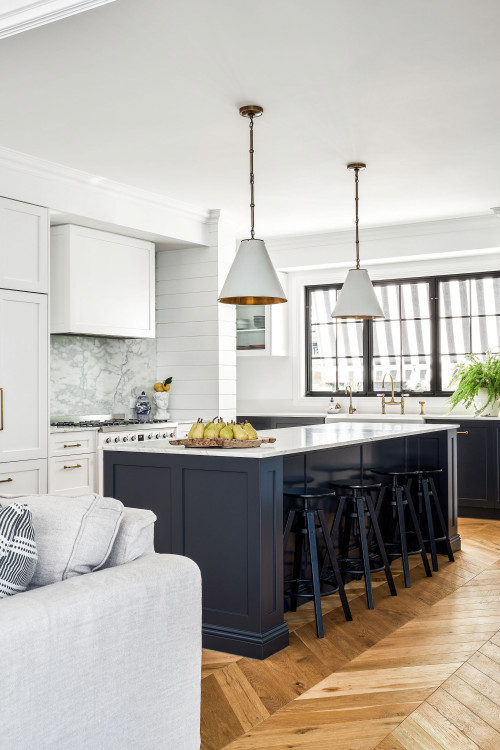 ID# 147813 | Houzz.com – Credit | © Intrim Group Pty Ltd
---
Marble Backsplash with White Cabinets and Blue Island
To create a farmhouse kitchen look, you can go with shades other than sandy hues. Sometimes a dark blue island is enough to build drama and constitute a white farmhouse kitchen look-as showcased by this kitchen. Here, the blue island and marble slab backsplash make a modern statement, while the shaker cabinets give the kitchen a classy feel. The shiplap boards used here and there, antique brass pulls, and apron-front sink with pane windows are enough to assert a farmhouse feel. The final product is nothing short of a modern and white farmhouse kitchen, catering to the needs of modern life.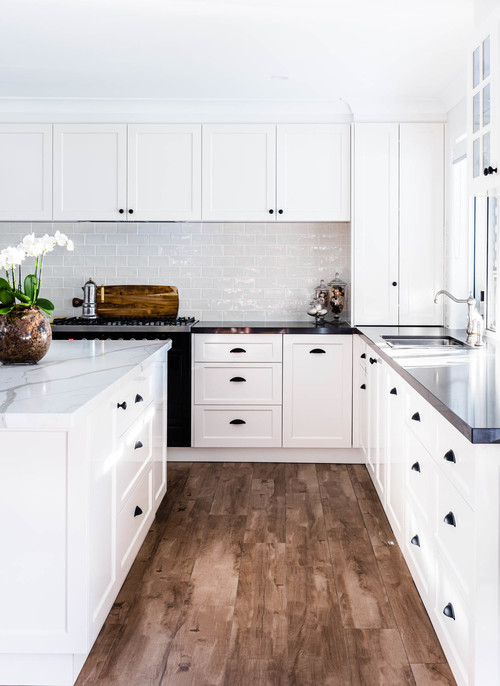 ID# 147814 | Houzz.com – Credit | © Spencer Constructions (QLD) Pty Ltd
---
Gray Ceramic Tile Backsplash for White Farmhouse Kitchen with Black Countertops
Rustic yet modern, this white farmhouse kitchen features a subtle hint of color thanks to the light gray ceramic tile backsplash. The backsplash is graced with a satin finish and paired with black countertops. The rustic floor and bridge faucet along with black cup pulls give the kitchen the right amount of country vibe. The white shaker cabinets and the quartz-topped white island make the kitchen feel brighter, more spacious, and more inviting. The untreated windows deliver streaming lights inside, and the black sleek appliances modernize the kitchen instantly.
Black Backsplash for White Farmhouse Kitchen
For dramatic contrasts and visual drama, a black backsplash can add a treasured feature to white farmhouse kitchens. For example, black soapstone and slate backsplashes are fantastic additions. On the other hand, for tiled versions, black square and subway tile backsplashes are timeless; they never go out of style. If you love modern looks, black glass sheets and polished black backsplashes are great. Also, by using white grout between the tiles, you can make the black tiles pop. Black-painted handmade terracotta tiles are also available to add texture with protruding edges. What you can do is match it to a black kitchen island. If you wish, top them with butcher block countertops to imbue the kitchen with warmth.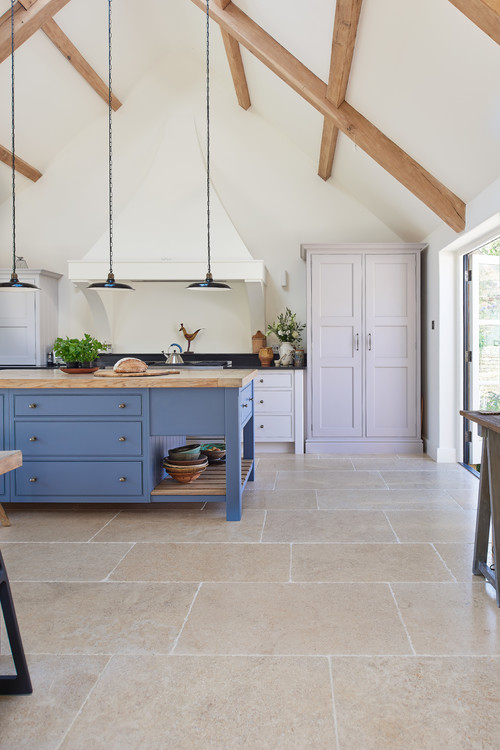 ID# 147815 | Houzz.com – Credit | © Artisans of Devizes
---
Black Backsplash for White Farmhouse Kitchen with Blue Island
This soothing farmhouse kitchen prides itself on the exposed wood beams of the gabled ceiling, while the white-painted walls and ceiling ensure the interiors feel bright enough. For the same reason, the black backsplash is kept at a standard size, which is 4 -inches, extending on the countertops to build a soft contrast to the white background and white cabinets. Placed at the heart of the space, the blue island reflects the farmhouse style perfectly. Its blue shade, the wood accent, the light butcher block countertop, and its open shelf that exhibits a cluster of bowls make it the centerpiece of the kitchen. Plus, the dropped-down pendants all the way from the ceiling further accentuate the island, demanding attention. On the floor, the limestone in a tumbled finish makes a visual statement, bringing light sandy shades that bring the design together.
Blue Backsplash for White Farmhouse Kitchen
Blue backsplashes add depth and dimension to white farmhouse kitchens. Especially navy, indigo, and ink blues pair perfectly with white walls. To soften them, you can use gold hardware, wood accents, kitchen plants, and oranges. This way, you can create a casual and inviting design. But if you look for more reserved looks, go with a blue marble slab backsplash and use chrome hardware and glass pendants.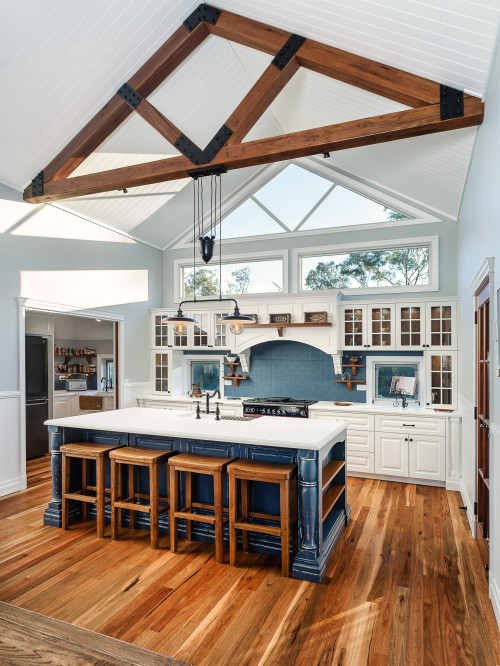 ID# 147817 | Houzz.com – Credit | © Hi Tech Projects
---
Blue Backsplash for White Farmhouse Kitchen with Display Cabinets
The wood and blue shades collaborate in this white farmhouse kitchen, resulting in a memorable look. This harmonious integrity feels fresh and lightened up with all-white cabinets and clerestory windows that ensure this double-height kitchen is light-filled. Here, also, the colossal wood trusses make a strong visual statement overhead and radiate rustic charm from the inside out. As for the backdrop, the blue-painted faux tin backsplash builds extra interest, nailing that country look. It is flanked by display cabinets that act as little windows lit by an inside-cabinet lighting system. This way, they are supported by accent lighting to expose what they exhibit and create a cozy atmosphere. Additionally, the dropped-down double-head pendant provides task and accent lighting for the island. The wood floor finish and sporadic wood injections throughout the space retain the consistency of the design.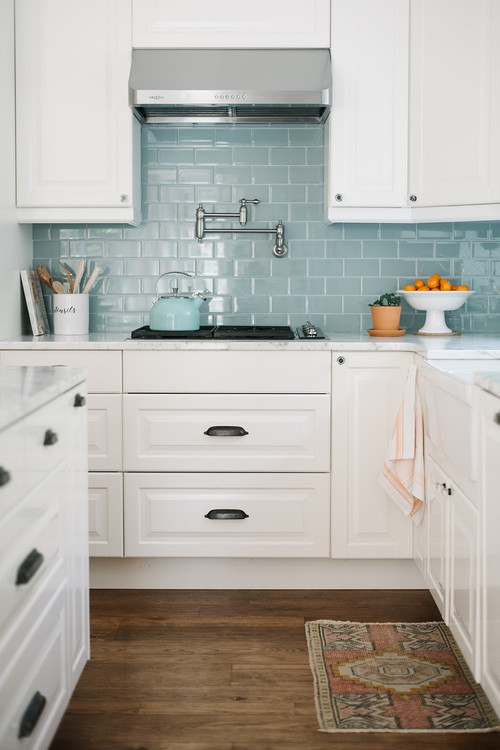 ID# 147818 | Houzz.com – Credit | © The Ginger Home
---
Blue Subway Tile Backsplash with White Cabinets and Butler Sink
Blue is one of the best shades when the intention is set on imparting a sense of calmness to any space- as proven by this kitchen as well. Here, the blue subway tile backsplash defines the far wall, delivering serenity. It is paired with white shaker cabinets and black cup pulls that accentuate them. The gloss finish on the tiles captures lights as much as they can for a sense of playfulness. The white butler sink, rustic wood floor, and a beige runner give the kitchen a farmhouse spin. This traditional runner placed by the sink's counter also protects the wood from water splashes, oozing homey vibes and coziness.
Backsplash for White Farmhouse Kitchen Shaker Cabinets
One of the staple elements in white farmhouse kitchens is shaker cabinets that give any kitchen a classic spin. The backsplash options for these kitchens are various, but the most popular ones include a subway tile backsplash in white, muted blue shades, and light gray. Whitewashed stone, brick, and wood panel backsplashes also offer alternatives if you want your farmhouse kitchen to be in line with rustic looks.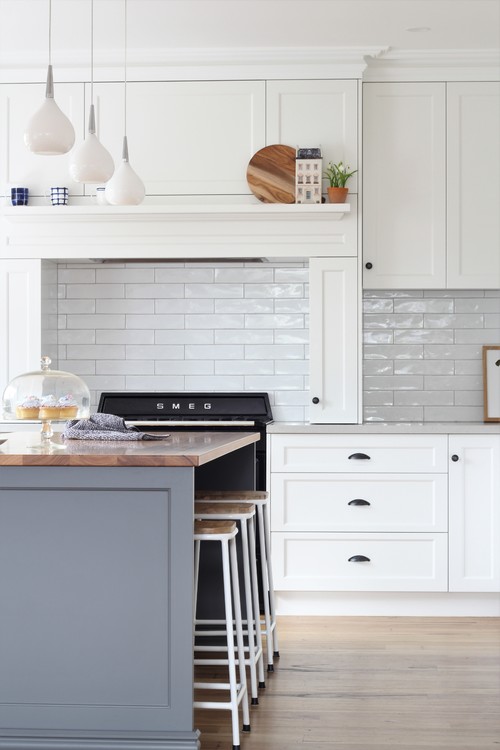 ID# 147819 | Houzz.com – Credit | © My Beautiful Abode
---
White Subway Tile Backsplash for White Farmhouse Kitchen Shaker Cabinets
Here we have another white farmhouse kitchen that is well-appointed with white shaker cabinets topped by light gray countertops and a white ceramic subway tile backsplash. The satin finish on the tiles gives the backdrop a glittering effect without feeling over the top. The stove zone is treated with a frame made of cabinets to create a cozy kitchen station, while the black stove offers a striking contrast. The gray island is placed vertically to the stove. It is topped by butcher block countertops and paired with backless stools that can be tucked into the island effortlessly to expand the walkway. Apart from those, white glass lighting fixtures, a few tiny accessories, and a print are enough to project the personality of homeowners into the kitchen.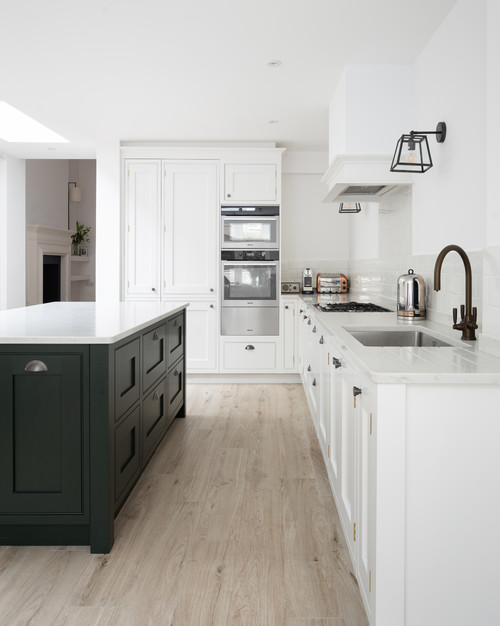 ID# 147820 | Houzz.com – Credit | © Drew Forsyth & co
---
Green Island with White Shaker Cabinets and Sleek Appliances
This L-shaped modern farmhouse kitchen is characterized by clean and soft finishes evident in the white shaker cabinets, subway tile backsplash, and sleek built-in appliances. They are accompanied by a dark green island that looks as if it is plucked from nature, carrying organic vibes inside. Overhead, a duo of skylights lets natural light beam down, neighboring the full-height white cabinets that maximize the storage capacity of the kitchen. The caged pendants that used to serve as points, this time, transform into wall sconces. Not only that they puncture the wall but also replace the upper wall units to ensure there is enough open space. Lastly, the antique finish faucet and light wood floor bring the much-needed warmth to finalize the farmhouse feel and break up the monochromatic look.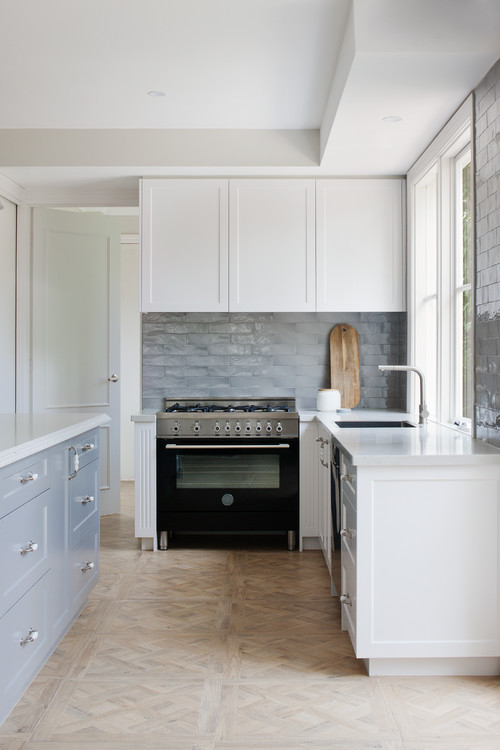 ID# 147821 | Houzz.com – Credit | © smarterBATHROOMS+
---
Blue Ceramic Tile Backsplash with White Cabinets and Black Stove
In this white dominant farmhouse kitchen, the light blue ceramic tile backsplash is put in the spotlight, thanks to its gloss finish, coordinating with the muted blue island. When there is no wall cabinet, the tiles are taken up to the ceiling to make the kitchen feel fresh, well-lit, and light. In the rest of the space, the light wood floor radiates warmth, while the chrome cabinet pulls and the faucet adds a sense of glow to support the gloss finish on the tiles. The white shaker cabinets, on the other hand, ensure that the kitchen has a blank canvas-like setup. The black appliances bring contrast to further characterize the kitchen. The resulting scheme is practical, alluring, and fresh, which is ready to take its users on a calm journey.