24+ Marble Backsplash And Countertop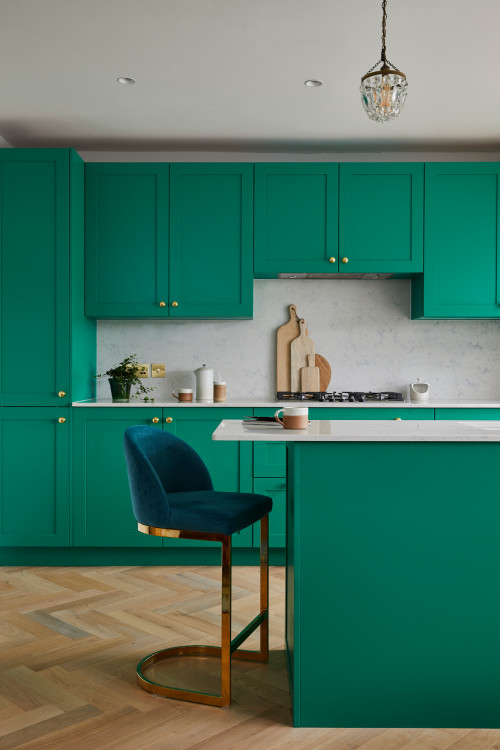 ID# 146002 | Houzz.com – Credit | © Chalk Kitchens
---
Emerald Green Shaker Cabinets for a Modern Kitchen Design with Brass Hardware
The brass hardware and the emerald green shaker cabinets complement each other perfectly! The glamor of the brass harmonizes with the white marble backsplash tiles and countertops increasing the expensive sense of the kitchen. The light wood kitchen floors and the brass surfaces harmonize with each other adding a warm atmosphere with a luxurious charm.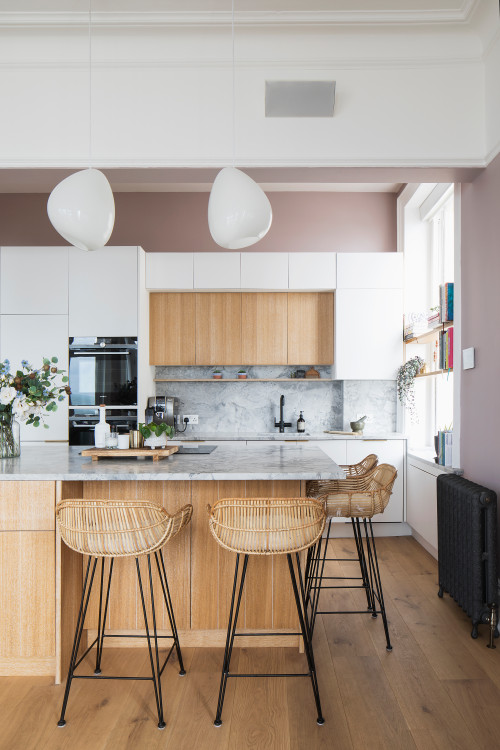 ID# 146015 | Houzz.com – Credit | © Stickland Wright Architects + Interiors
---
White Flat-Panel Cabinets with a Gray Marble Backsplash and Countertops
The plain design of the white and wood flat-panel cabinets welcomes you to this Scandinavian design style kitchen. Thanks to the wood cabinetry and island design there is a stylish and warm atmosphere in the kitchen. The gray slab marble backsplash and countertops harmonize with the wood textures creating a natural look.
Marble Backsplash And Countertop
Allow the chic and polished attitude of marble to breathe new life into your kitchen countertop and backsplash. You won't regret this sophisticated addition to your kitchen for a very long time thanks to the marble backsplash and countertop ideas and lovely white and gray swirls. There are marble backsplash and countertop solutions to fit every design concept. Which types of designs are your favorites? Modern? Contemporary? Vintage? These ideas for marble countertops and backsplashes will be useful no matter what design you decide to give your kitchen.
Despite being one of the most expensive materials for backsplashes and countertops, marble may be just as expensive per square foot as high-end granite or quartz in some grades. However, some homeowners like the kitchen's sculptural beauty and ageless elegance that marble backsplash and countertop designs bring. There are various advantages to marble backsplash and countertop ideas. Experts advise using a trivet, potholder, or kitchen towel to prevent burns on the countertop while using boiling-hot equipment even if marble is heat-resistant. A marble countertop should also be sealed once a year to increase its resistance to stains and small scratches. Keep in mind that there are many marble varieties available. Marble backsplash ideas might raise your home's worth.
Additionally, marble ages naturally, its characteristic veining developing a patina over time. Honed marble has a more alluring look than polished marble, which has a beautiful, reflected sheen. Scroll down to see some stunning backsplash and countertop designs made of marble!
Marble Color Options for Backsplash and Countertop
Marble is produced as a metamorphic stone when sediment thickens as a result of heat or pressure. Due to its crystallinity, marble may be polished. Due to the pattern-making veins in the mineral deposit, each slab is unique. There are several shapes and hues of marble to choose from. Based on the conditions that existed at the time the rock was formed, different varieties of marble exhibit small variances. The degree of pressure, time, and heat under which marble is formed, together with the number of impurities, all affect the material's look and properties.
When selecting a type of marble, it is typically necessary to strike a balance between the intended aesthetic of the marble and the available colors or hues. If you are in the middle of creating and do not want to slog through this extensive variety of color possibilities, you could want to look right away for the best marble color options for backsplash and countertop designs.
Because marble is available in a variety of hues, you may find one that complements the design of your kitchen or bathroom. Even though there are many various shades of marble and the kind of marble that can alter the coloring, black, gray, and white are some of the most popular marble color options for backsplash and countertop designs. Look at these gorgeous top marble colors.
White Marble Backsplash And Countertop
Marble is still a popular choice for kitchen worktops and backsplashes among many homeowners. Being a long-time favorite, marble backsplash and countertop ideas are not a surprise. As is generally known, among the many color options for marble ideas, the white marble backsplash and countertop ideas are just one. The use of white marble in high-end construction has long been acknowledged. If you wish to construct an opulent and fashionable kitchen, white marble countertops and backsplashes may unquestionably be useful.
Once you've chosen the color, you could think that your work is done. You might be surprised to hear that white marble backsplash and countertop designs also come in a range of white tones that could add uniqueness to your environment. This is a traditional choice with amazing importance because of its lovely and pure appearance. However, because it is white, its defects stand out sharply. But sometimes, imperfections are what makes something beautiful, right? You may choose marble kinds like Carrara, Calacatta, Crema Marfil, Thassos, Mystery White, and White Himalaya Marbles for white marble backsplash and worktops. Each of them has distinctive features that will give your kitchens a modern, chic appearance.
Gray Marble Backsplash And Countertop
Gray is a popular hue for kitchen backsplashes and countertops because it works well in both rustic and modern settings. Regarding backsplash and countertop designs with gray marble, there aren't many possibilities. For worktops and backsplashes in kitchens, gray marble comes in a variety of forms. Keep in mind, however, that each marble stone block has a distinct design. Like the patterns on your fingers, you won't find a duplicate of it anyplace. That is what draws so many people to this stunning stone. There are several options for gray marble countertops and backsplash designs, including Pietra Gray Marble, Tundra Gray, or Pacific Gray.
However, bear in mind the justifications we provided above for the marble countertops and the backsplash built of marble slabs. You may, of course, utilize marble tiles for the backsplash. Some types of gray marble tile backsplash include chevron, herringbone, hexagon, picket, and subway tiles. Let's look at some chic marble backsplash and countertop samples for your design ideas.
Should your backsplash match your countertop?
You may use all of your creative energy when creating a kitchen. Working on a kitchen renovation project puts your creativity front and center because the kitchen is a room you'll use every day and acts as a meeting spot for friends and family. Even while colors don't have to match, they should coincide when your design elements and architectural features do. Your backsplash tile's color doesn't have to match the color of your countertops, but it should blend in and complement them.
Black Marble Backsplash And Countertop
Black marble is used for many different things, such as backsplashes, countertops, floors, cladding, and even furniture accents. Of course, black marble isn't the only type of marble used for this, but it's obvious that it adds a sense of exclusivity and elegance to any situation. Take into consideration a kitchen with backsplash and countertop designs made of black marble. The black marble backsplash and countertop designs may result in exquisitely beautiful creations.
The marble originated on continental platforms that absorbed a big quantity of sediments containing significant organic compounds and carbonate under anoxic circumstances, which mostly explains why the marble has such a dark tint. This kind of deposit was discovered all over the world at a variety of geological phases during the Mesozoic and Paleozoic epochs. Similar to other marble colors like Marquina Black Marble, Noir Saint Laurent Marble, Port St Laurent, Nero Dorato, or Nero Portoro, different black marble variations can have different backsplash and countertop designs. View the elegant and gorgeous kitchen ideas constructed with black marble countertops and backsplashes by scrolling down.
Marble Backsplash and Countertop Finish Options
Unfortunately, difficulties persist even after choosing a backsplash and countertop material. Here are some marble backsplash and countertop finish options in case you want to use marble for your backsplash design and countertops but haven't yet decided on the kind of material, color, or tints. Nearly as crucial as picking the stone is choosing the marble treatment options. It is crucial to understand how each finish affects the aesthetic of the stone and how it looks and feels because it has the potential to alter how the countertops appear and, by extension, how your space looks.
The marble backsplash and countertop finish options you select will have an impact on the marble slab you choose for your new backsplash and countertop in terms of both aesthetic and practicality. You do have some influence over this one shared location.
Honed Marble Backsplash And Countertop
The technique of sanding and grinding marble results in a flat, smooth block of honed marble. Honed marble backsplash and countertops have a powdered surface and a matte appearance rather than being polished. The backsplash and countertop patterns made of honed marble have a timeless appeal and won't etch or reveal scratches as quickly. However, because they are more porous than polished choices, they could be more prone to stains.
An impression of silky polish is provided by a honed finish. Since it would have less reflection and glitter than a polished finish, it would appear softer. The tremendous elegance and character of the priceless stone may be preserved while promoting a relaxed, pleasant atmosphere with a honed marble backsplash and countertop design.
Is marble backsplash good for kitchen?
A backsplash is an essential element of any kitchen, serving to protect the wall from unsightly spills or stains that may ruin the aesthetics of the space. It's imperative to choose a hard surface material, like marble, to ensure maximum durability and style. Marble backsplashes come in various designs, including marble tile, partial slabs, and complete slabs that complement both traditional and contemporary kitchens. If you desire an elegant, timeless, and current-looking kitchen, a marble backsplash is your ultimate solution. The vast range of colors, patterns and sizes available make it easy to customize to your desired style.
However, like other natural stone products, they need to be sealed regularly. Marble is a porous stone that can deteriorate quickly and look unattractive when not sealed, so it's crucial to take appropriate measures. Make a statement with a marble backsplash and enjoy the warmth and charm it brings to your kitchen!

How often do marble backsplash and countertops need to be sealed?
Although marble backsplash tiles are vertical and less likely to be damaged, they still require maintenance, such as daily washing and sealing:
Weekly maintenance: Use a gentle cleaner and a soft sponge or towel to clean your marble backsplash tile at least once each week. It is now easier to clear up any dust, stains, or other debris that you might have missed by doing this.
Each year: To preserve your marble backsplash tile and grout water- and stain-resistant, seal it once a year. Since it isn't your countertop, there is no need to wait for it to cure for 24 hours before using the restroom once more.
Polished Marble Backsplash And Countertop
For marble backsplashes and countertops, the polished marble finish is often the best option for those seeking the smoothest, most reflecting surface. It is made by a process involving grinding, buffing, and polishing. All of these actions contribute to the creation of a highly reflective surface that highlights the color and veining of the marble slab you've chosen. If you like the shine, you could be amazed by the ideas for the polished marble backsplash and countertop ideas!
The least permeable of the traditional treatments is the polished marble finish. Because of this, it is less prone than other varieties to discolor, yet scratches, fingerprints, and other markings like etching could be more noticeable. A polished marble backsplash and countertop design may provide a striking element to kitchen designs.
What are the disadvantages of marble backsplash and countertops?
Marble backsplash and countertops serve in different ways, so let's separate them while searching for their disadvantages.
For Marble Countertops
Acidic liquids and marble both permanently discolor. Marble countertops may be protected against significant stains by sealing them at least once a year. The marble should ideally be sealed after installation. The Marble Institute advises cleaning any stains with a cloth dipped in a solution of 12% hydrogen peroxide and a few drops of ammonia until the stain is removed.
Where the polish or sealant fades, marble can scratch or, if exposed to acid for an extended length of time, it will etch. Marble can be polished to help conceal etching. Use dry #0000 steel wool to buff out minor blemishes and water spots.
Not everyone can afford marble countertops because they are more expensive than other countertop options. Even though some types of marble can be cheaper, they are probably still more expensive.
For Marble Backsplashes
The need for consistent maintenance to keep marble backsplashes in excellent condition is one of the reasons why some homeowners avoid using them. Because of their light tint, any spills or splashes will be easily seen. Fortunately, if necessary, a marble backsplash is simple to clean. Most messes can be cleaned with warm water and dish soap, and particularly difficult stains can be removed with a solution of water and baking soda.
Marble backsplashes' requirement for routine sealing is another drawback. Like other stones, marble requires sealing to function at its best. This seal creates a barrier between the stone and any acidic food that could come into touch with it, preventing stains and discoloration from setting in permanently. Re-sealing your stone may seem like a pain, but it is a simple, inexpensive operation that you can easily carry out on your own.

How much does it cost marble backsplash and countertops?
The average range to install a marble backsplash is $900–$3,500. Marble tile and slab backsplash varieties range from $7–$300 per square foot. With an average cost of $60 per square foot, the price of marble slab countertops can range from $40 to $100. Homeowners can anticipate paying between $2,000 and $5,000 for 50 square feet of counter space, with the national average being $3,000.