22+ Marble Backsplash with Dark Countertops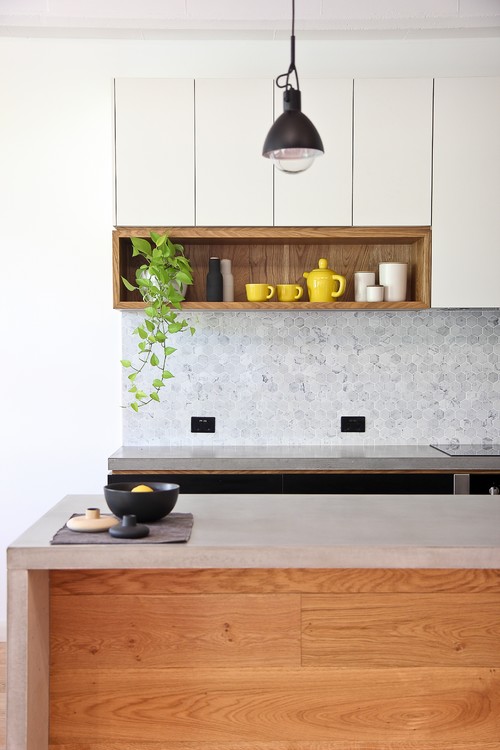 ID# 148609 | Houzz.com – Credit | © Greener Kitchens
---
White Flat-Panel Kitchen Cabinets with Hexagon Tiles for an Industrial Style
Industrial-style kitchens may incorporate natural elements, as shown in this kitchen design. The grain of the wood and the foliage blend beautifully with the concrete counters and gray hexagon tile backsplash. The backsplash and countertops' matte finishes let the natural texture stand out.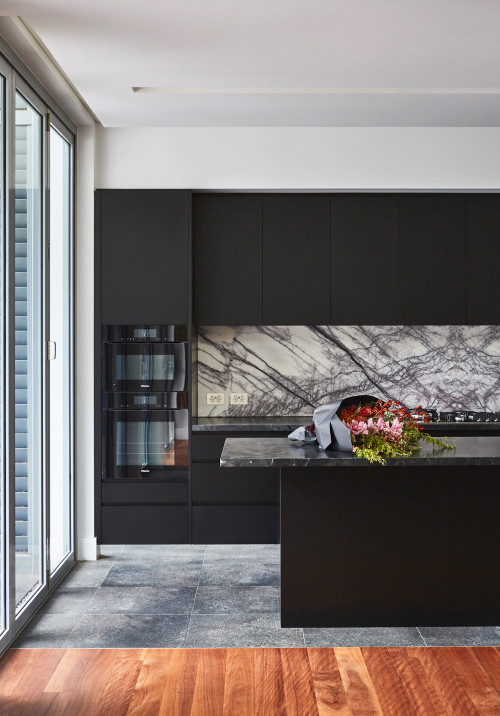 ID# 148620 | Houzz.com – Credit | © Collaroy Kitchen Centre
---
Marble Backsplash with Dark Granite Countertops and Black Flat-Panel Cabinets
The marble slab kitchen backsplash draws attention with its gorgeous veins. The black veins of the marble and the black kitchen cabinets complement each other creating a cohesive look. The black appliances and the black cabinetry provide a unified look. The dark granite countertops and marble slab backsplash complement each other flawlessly.
Marble Backsplash with Dark Countertops
We congregate, eat, make food or drinks, speak, cry, or just stay outside to grab a drink of water, in our kitchen. The kitchen, the center of the house, is where we spent the majority of our time. We use its components while we are there, especially the backsplash and counters while making food or beverages. They are one of the important elements you may take into account while building your kitchen. Using the aesthetic beauty of a marble backsplash will evaluate your kitchen's value, of course. If you have dark countertops, you could choose to create a marble backsplash with sophisticated, contemporary, or vintage aesthetics. A marble backsplash with dark countertops can give a stylish contrast to your kitchen while enhancing the luxurious sense of the room.
There are several possibilities available in the backsplash business, including different colors, patterns, and materials. You have a variety of options for a backsplash for dark countertops depending on your style and a marble backsplash is one of them. Having a marble backsplash to go with dark countertops is one of the finest ways to achieve a modern or sculptural aesthetic. Dark countertops can be paired with a light marble backsplash for more airy and inviting vistas. Let's look at some of the gorgeous marble backsplashes with dark countertops designs that we found for this post.
What countertop goes well with marble backsplash?
Even though marble is a stunning stone, many homeowners are reluctant to utilize it as a countertop surface. Marble backsplashes, however, produce a stunning impact. As a result, if you want to add a marble backsplash to your kitchen but are unclear about what countertop will go well with the marble, we have you covered.
If you love the light and airy look of marble and want to include it in your choice of the counter material, white quartz might be a fantastic alternative. Despite being stronger and more durable than marble, quartz is more appealing, and brighter, and works beautifully with a marble slab backsplash. Just have a look at these kitchens.
Butcher block countertops are a great addition to the kitchen. Against the sumptuous look of a flawless marble backsplash, rich natural wood offers a kitchen warmth and comfort that really shines out. A lighter butcher block is brighter and cozier whereas a darker butcher block is richer and somewhat more sumptuous. Whichever way you look at them, they are both wonderful.
Soapstone is a natural stone that resembles granite. The smoothness of marble contrasts wonderfully with this attractive countertop substitute. We admire how rich soapstone contrasts sharply with the exquisite gloss of marble.
Marble Colors for Dark Countertops
We are aware that everyone desires a kitchen that appeals to their sense of aesthetics and motivates them. In their kitchens, individuals often avoid using deeper hues like dark countertops. It is reasonable to imagine a dark and uninspiring kitchen when the term "dark" is used and because of this, you can find it difficult to choose backsplash marble colors for dark countertops. But there's no need to hold off! The backsplash sector, which offers a wide variety of materials, colors, patterns and design options, has enabled countless inventive methods to be created!
You might want to limit your options to white marble backsplash for dark countertop ideas or dark marble backsplash for dark countertops ideas because there are so many possibilities. Nothing provides a stronger contrast than a white marble backsplash. Depending on your design preferences, you may choose marble tile or slab backsplashes. Dark backsplashes are an option if you choose to integrate the backsplash marble colors for dark countertops rather than have a stark contrast. Although there are no options for bright or dark, it is feasible to have a colorful backsplash for dark countertops to add a vibrant burst of color. See what can be done with backsplash marble colors for dark countertops by scrolling down.
White Marble Backsplash with Dark Countertops
Sometimes it's difficult to choose the color scheme for the kitchen design, but if you know what color tones you want to use, it can even be enjoyable! You may want a striking contrast that grabs everyone's attention, such as a white marble backsplash with dark countertops, as the backsplash and the countertops serve as the major focus point between the cabinets. It is not necessary to use black for the worktops; instead, you can use dark grays, browns, blues, etc. Given that white is the most adaptable and timeless hue, a white marble backsplash with dark countertops may be used with any color scheme.
You may balance the perspective and create monochrome effects without using a stark contrast. For instance, gray countertops and white cabinets with a white marble backsplash for dark counters may easily do this. When picking a white marble backsplash with dark countertops, the fact that white can almost blend with any hue may be quite useful. Let's look at some of the backsplash options for dark counters with a white background.
Should countertop be lighter or darker than backsplash?
Lighter kitchens typically feature backsplashes that are paler than the counters because they appear more open and welcoming, however, there are no hard and fast rules in this regard. But every now and again, a darker backsplash may look magnificent, especially when combined with a white or neutral countertop.
Gray Marble Backsplash with Dark Countertops
Utilizing a marble backsplash is among the top selections for a kitchen backsplash. They are lovely and robust, and they give the main part of the home charm. Since nothing makes a more overt statement than marble it is the ideal material for a beautiful kitchen backsplash. Marble tile and stone slabs are only a few materials the kitchen designer has access to for a marble backsplash. There won't be a shortage of innovative ideas, from rigorously geometric to freeform fluidity. If you have dark countertops, you can allow a gray marble backsplash with a dark countertop design to enhance the sophisticated beauty of your kitchen cabinets. Although a marble backsplash is unquestionably superior to the competitors the long-term repercussions should not be ignored!
Gray marble backsplashes are excellent backsplashes because they are both aesthetically pleasing and sturdy. And if you take the right actions, you might be able to preserve their beautiful beauty for years to come. If you want to give your kitchen a touch of natural beauty, think about pairing the gray marble backsplash with dark countertops. See these terrific backsplash suggestions for the ideal kitchen!
Should backsplash and countertop be same color?
You may use all of your creative potentials while planning a kitchen. Working on a kitchen renovation project puts your creativity front and center because it's a room you'll use every day and a meeting area for friends and family. Even if they don't have to match, colors should coordinate when your design elements and architectural features do. While the backsplash tile's color shouldn't necessarily match your countertops', it should still go well with them and blend in.
Should a backsplash contrast to the countertop?
Coordinating colors in your design components and architectural aspects doesn't have to mean matching – it can mean harmonizing. Your backsplash tile doesn't have to be an exact duplicate of the color of your countertops, but it should be in the same realm emotionally; it should blend in, creating an atmosphere of serenity and unity. There are no hard-and-fast rules about contrasting or matching – what matters is that the tile and countertop combination creates a space for emotions to thrive.
Can you mix marble backsplash with quartz counter?
There is no restriction preventing you from having both. With a backsplash made of marble tiles, you may dress up your modern quartz countertops, or you can add some rustic appeal with accents made of piled stones. The options are unlimited thanks extensive selection of quartz and stones.
Black Marble Backsplash with Dark Countertops
Because of the backsplash business, there is an infinite variety of colors, designs, and materials available now. A black marble backsplash with dark countertops is one of those combos that may provide elegant but fashionable aesthetics. A distinctive feature of the current design is the predominance of dark colors; nevertheless, farmhouse or classic design can also employ this mix. There is no need that you to use a black marble backsplash with dark countertops exclusively in kitchens with a contemporary design.
Given that they may make a room darker and smaller, dark color combinations could make you hesitant to utilize them. However, it is quite feasible to have a depth and fashionable perspective in the kitchens when a black marble backsplash with dark countertops is constructed appropriately. For dark countertops, you may use slab or tile marble backsplashes; the choice of material is, of course, entirely up to you. By scrolling down, you can see the spectacular outcomes of using a black marble backsplash with dark countertops!
Is marble a good choice for kitchen backsplash?
A backsplash's primary function is to protect the wall from spills of food or fluids that might damage the sheetrock that is put behind the counter. In this case, a hard surface like marble is preferred. There are several different types of marble backsplashes, including marble tile, half slabs, and complete slabs. These backsplash patterns go well with both traditional and contemporary architecture.
Modern, durable, and elegant. The kitchen may only require a marble backsplash to appear attractive overall. Due to its broad variety of colors, patterns, and sizes, marble may be used with any style. They require sealing, much as other products made of genuine stone.

Dark Countertop Types
To create a kitchen design with the right material, color, and pattern possibilities, many different elements must be gathered. You might be curious about the dark countertop types available if you're interested in employing them. In contrast to light colors, deeper colors are more difficult to stain, hence they typically show somewhat longer wear. The tone of the color is significant, but so is the substance. Each material's distinctive textures and designs may add a new mood to your kitchens.
You will learn about the advantages and disadvantages of various dark countertop types and materials as you conduct your research. Of course, the budget is crucial in this situation. You may desire the opulent feel of marble, but if your budget does not permit it, you may benefit from quartz countertops. Use black granite countertops if you'd want a simple, contemporary feel. Every dark countertop material has a unique quality, and we've compiled some of them so you may learn about them and get ideas from them!
Marble Backsplash with Dark Marble Countertops
There are so many fantastic kitchens and bathrooms having suggestions of a marble backsplash with dark marble countertops online that it's simple to get drawn to the organic substance after perusing your postings. Although marble is undeniably beautiful we'd be derelict if we didn't let you know that it requires some upkeep. To prevent scratches, use a cutting board rather than cutting directly on top of marble because it is softer than granite. Since the stone is permeable spills that aren't cleaned up right away run the danger of altering color.
With these exceptions, installing a marble backsplash with dark marble countertops can occasionally be difficult labor. Since marble naturally enhances the surrounding area, you might want to select a backsplash for dark marble countertops to harmonize and harmonize the design with the counters and the surrounding area. Use marble tiles or marble slab backsplashes to maintain an opulent and beautiful appearance. View some gorgeous alternatives for a marble backsplash with dark marble countertops by scrolling down.
Does marble backsplash increase home value?
Because marble is so unique, even the most commonplace characteristics, such as drains, are elevated to the status of works of art, increasing the value of a home.
Marble Backsplash with Dark Quartz Countertops
The quartz countertop material is an engineered stone that may compose up to 93 percent of the slabs and is made up of minerals and quartz particles. Resins are used to form the slabs and connect them. These solid quartz slabs weren't created at a quarry. Quartz was developed by companies like DuPont Zodiaq, LG Viatera, Cambria, and Silestone as a more flexible and reliable replacement for granite and marble. It features a nonporous surface that resists scratches and stains and a wider spectrum of colors than granite. Some of them are exact replicas of actual marble, down to the veining. Because quartz countertops come in such a wide variety of hues, there are endless options when choosing a marble backsplash with dark quartz countertops.
The same as with other countertop materials, you may utilize marble slab or marble backsplash tiles depending on your design preferences. Dark quartz countertops with a marble slab backsplash are more typical in modern designs whereas dark quartz countertops with a marble tile backsplash are more prevalent in other types. Of course, there aren't any laws that are so rigid. You may create your own unique, fashionable combos. We delved into the internet and discovered some stunning design ideas for a marble backsplash with dark quartz countertops, let's check!
Marble Backsplash with Dark Granite Countertops
Granite is an igneous rock that develops when volcanic lava rises to the earth's surface, cools, and solidifies. Granite slabs, which are typically one continuous piece of quarried stone, are the conventional material for countertops. Large pieces of the less costly modular granite can be used to build a granite countertop. You may use dark granite countertops for your kitchens to get a sophisticated and sleek appearance from the various color possibilities. You might need a chic marble backsplash to complement your kitchen's dark granite worktops to complete the design. A marble backsplash with dark granite countertops is one of the design combinations you can use for your kitchens to get a sophisticated and rich look.
There are various combinations you may make with dark granite countertops, including marble tiles and slab backsplashes. You may use a marble slab backsplash for dark countertops for a modern, sleek appearance with a simple style, or you can certainly spruce up the kitchen with a marble tile backsplash for dark granite countertops. Granite may increase the value and rich appeal of your kitchens since it has the power to alter the ambiance. Granite is one of the most durable building materials you can choose for your house. Let's continue to scroll down to check some of the stylish design options for a marble backsplash with dark granite countertops!
What color countertop is timeless?
Whatever the design is, whatever the material is, white color countertops are timeless.