29+ Light Colored Backsplash Ideas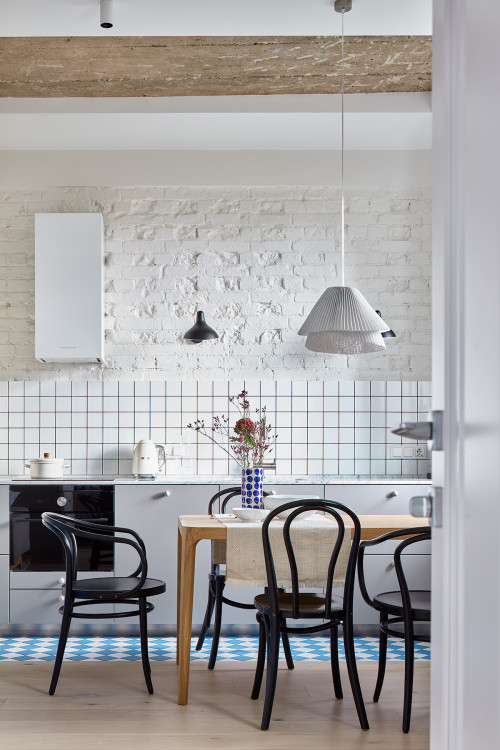 ID# 140318 | Houzz.com – Credit | © QPRO
---
Modern-Rustic Scandinavian Kitchen with Whitewashed Brick Wall and Square Tile Backsplash
This modern yet rustic Scandinavian kitchen borrows ideas from different styles and harmonizes them in one pot while also paying homage to the abode's architectural features. The brick wall, for example, is whitewashed for a cleaner and blank canvas-like look. The off-white cabinets accompany it with a slight shade variation, and the square ceramic subway tile backsplash adds a protective layer to the brick walls. The black grout between the tiles commands attention, adding a graphite look and modernizing the kitchen instantly. The exposed wooden beam, on the other hand, is included in the kitchen as part of the Scandinavian ideal concept of design. Likewise, the wooden dining table brings nature to introduce texture and stimulate the senses of the users. Not to mention the blue-white floor tiles with geometric patterns that add one final colored punch to highlight the modern and playful character of the design!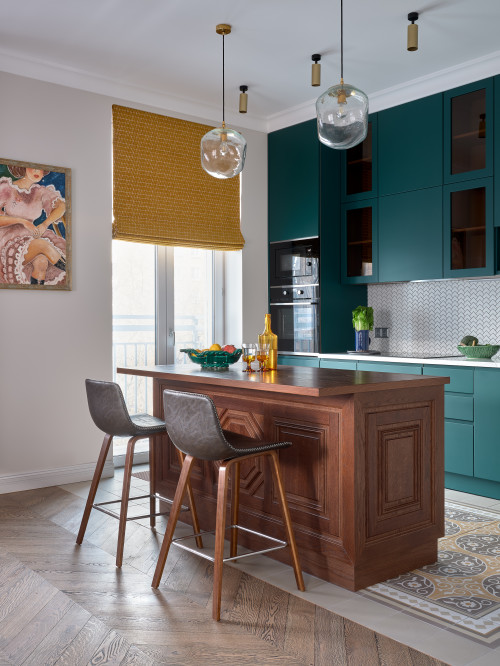 ID# 140333 | Houzz.com – Credit | © Natalie Vershinina
---
Eclectic Kitchen with Blue Cabinets and Wooden Island
Awash with bold and bright shades, this multi-colored kitchen has volumes to speak. From the yellow curtain shades to the dark blue cabinets, the wooden island with ornate details on the front, and a modern wall painting, each element does the speaking for itself yet coming together in harmony. In the background, the light gray backsplash brings a sense of balance with the white countertops, while the carpet in light sandy shades adds a soft touch. Lastly, the irregular glass pendants and brass flush mounts comprise the lighting system of the kitchen while coming as aesthetic touches and visual accents.
Light Colored Backsplash Ideas
A backsplash can make or break the design, and since backsplashes are installed at eye level, they tend to be the first design element that commands attention. That's why a backsplash plays a significant role in setting the tone and mood of the space. And if you love open and breathable spaces and don't favor the dark side of the color spectrum, then light colored backsplash ideas are the route to go.
Available in a variety of colors, including light greens, blues, browns, grays, yellows, pinks, and of course, whites, light-colored backsplashes make your kitchen feel roomier, lighter, and airier. This is especially extra beneficial if you have compact and tiny kitchens since light-colored backsplashes can create more room in the kitchen effortlessly. And to jazz up these light shades, you can use intriguing wall decorations, lighting fixtures, wood accents, and oversized cabinet hardware that will elevate the overall look of the kitchen immediately. These additions will also add a dose of personality to any space and help you build direct connections with the design itself as well. If you are after light-colored backsplash ideas, we have covered a wide range of inspiring designs. All you need to do is take a closer look at them and feel inspired for your next overhaul projects
What is the most popular backsplash right now?
White backsplashes are very popular since they lighten up the interiors and expand the kitchen visually. Plus, they feel timeless and are available in a wide range of materials and patterns, which allows homeowners to achieve any look they wish for.
Light Color Options for Kitchen Backsplash
The color spectrum for backsplash options is quite expansive, and the same goes for the light color options. You can find various hues of light yellow, gray, green, blue, and brown options, and of course, whites, available in all sorts of materials, sizes, and designs.
White Kitchen Backsplash
Serving as a space-enhancing factor, white is the most popular backsplash color that is used in zillions of ways. Ranging from marble to engineered quartz, granite, ceramic, porcelain, glass, and zellige, white kitchen backsplashes are available in a plethora of materials and finish options such as tumbled, honed, and polished. As such, they offer almost limitless design possibilities and are safe to use whether you have a vast or small kitchen.
Should the backsplash be lighter or darker than the countertop?
Backsplashes could be both lighter and darker than the countertops. But it is recommended to have a balanced color palette to feel comfortable in the long term. For example, if you have a light backsplash and light cabinets, you can use a darker countertop to anchor the backsplash. But if you have dark countertops, it would be better to go with a lighter backsplash to achieve a sense of balance.
Light Blue Kitchen Backsplash
While each blue shade evokes a different mood, it is the light blue that soothes any space and instills a sense of calmness. And whether you have a transitional, contemporary, or beach-inspired kitchen design, light blue backsplashes make a great addition. But if you are after mid-century looks, no combination other than a blue backsplash combined with wooden cabinets and white countertops would achieve a more impactful mid-century-modern look.
Are light-colored backsplashes good for the kitchen?
Light-colored backsplashes are soothing and work as space-enhancing additions. So, for example, if you have a small kitchen or a working space that doesn't receive enough sunlight, a light-colored backsplash would be a better option. Plus, light colors offer visual comfort that imparts a sense of calmness to the interiors and makes a counterpoint to the hectic schedules necessitated by city life. For that reason, if you want to create a serene atmosphere to leave the rush of urban lifestyle behind, you can utilize light-colored backsplashes which will slow down time for you and let you enjoy every minute of it.
Light Gray Kitchen Backsplash
A versatile color itself, due to its subtle shade, light gray helps built soft aesthetics and lend sophistication. It can be used in all kitchen designs and evokes a different vibe depending on the material. For example, if you want to create a luxurious look, gray marble and terrazzo backsplashes are the route to go. Or perhaps you desire a shimmering effect; then light gray glass tiles or sheets can create a glittering background and brighten up the kitchen immediately. On the other hand, the satin finish ceramic tiles in light gray shades, again, instill a sense of calmness to the interiors and can be combined with a wide range and style of cabinets.
Light Green Kitchen Backsplash
Light green is one of the soothing colors that suits particularly transitional, modern, and farmhouse kitchens. They deliver a genteel ambiance and can be combined with white, light timber, and dark cabinets as well. To complement the overall look, depending on the design style you have in mind, you can choose chrome, brass, and copper hardware, black metal lighting fixtures, or glass pendants.
Light Brown Kitchen Backsplash
Light earthy and sandy shades emanate a sense of warmth and coziness that can make you feel at home right away. You can pair them with green and cream cabinets, timber countertops, and black fixtures to add some solidity to the design. You can use them in rustic, Scandinavian, farmhouse, and modern kitchens. And if you would like to add a touch of luxury, brass and chrome hardware pair perfectly with the light brown shades.
Cabinet Colors for Light Colored Kitchen Backsplash
Since the cabinets serve as the main bones of the kitchen, their color, style, and coordination with the backsplashes serve as an important element that sets the tone of the design. But since the backsplash is light-colored, all you can do is either choose a monochromatic palette by going with light-colored cabinets or dark cabinets to create contrasts and add more depth to the kitchen. And if you would like to soften the light colors on the backsplash, you can use light wooden cabinets that will warm up the kitchen immediately.
Light Colored Kitchen Backsplash with Dark Cabinets
For those preferring contrasting themes, light-colored kitchen backsplashes with dark cabinets make great couples. Dark blue and dark brown counters, for example, ooze elegance and visual drama, while the black cabinet serves as a great anchor to ground the light-colored backsplash. And if you love rustic vibes, dark wood cabinets can create a well-balanced look with light-colored kitchen backsplashes with yellow and gray undertones.
How to clean a light-colored kitchen backsplash?
It rather depends on the material of the kitchen backsplash. But mostly, using mild dish soap and warm water is enough to get rid of the daily food splatters. And for stubborn stains, you can mix water with baking soda and make a paste. Some also prefer using vinegar instead of baking soda. You can spray or spread the mixture on the stains and let it sit for some time to do its job and dissolve the stains. After 5 minutes or so, you can clean and rinse the backsplash. Also, keep in mind avoiding abrasive cleaning products and sticking to the soft sponges and soft clothes not to etch or dent the backsplash and the sealing.
Light Colored Kitchen Backsplash with Light Cabinets
Light-colored kitchen backsplash and cabinets blend harmoniously right away, which especially works well in small kitchens. And it works as a design trick to enhance the openness and brightness of the space, encouraging the space to feel larger. But it doesn't mean that they are not functional in vast kitchens. You can always go with a light-colored backsplash with light cabinets. But don't forget to add some statement features and use complementary shades in different textures and colors not to end up with a sterile and jarring overall look.
What cabinets go with a light-colored backsplash?
Any cabinet color and style could pair well with a light-colored backsplash. But to keep the design timeless, it is better to stick to shaker and flat-front cabinets in light shades. You can also use timber cabinets and team them up with light-colored backsplashes such as ceramic tiles and natural stone slabs for a well-balanced look.