29+ Light Colored Backsplash Ideas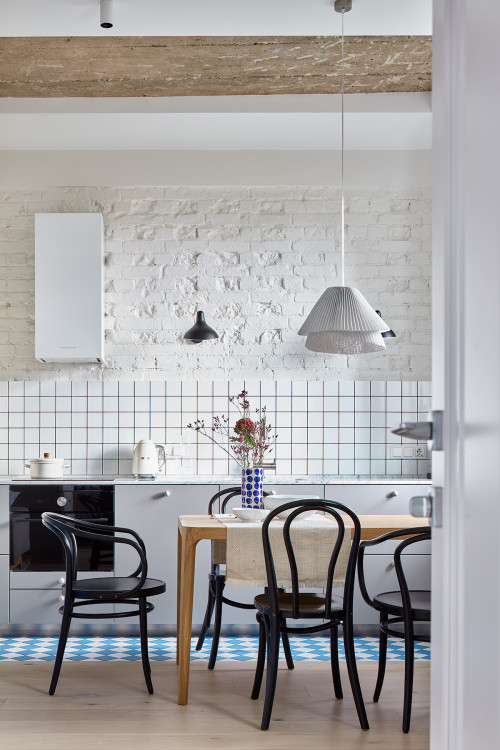 ID# 140318 | Houzz.com – Credit | © QPRO
---
Modern-Rustic Scandinavian Kitchen with Whitewashed Brick Wall and Square Tile Backsplash
This modern yet rustic Scandinavian kitchen borrows ideas from different styles and harmonizes them in one pot while also paying homage to the abode's architectural features. The brick wall, for example, is whitewashed for a cleaner and blank canvas-like look. The off-white cabinets accompany it with a slight shade variation, and the square ceramic subway tile backsplash adds a protective layer to the brick walls. The black grout between the tiles commands attention, adding a graphite look and modernizing the kitchen instantly. The exposed wooden beam, on the other hand, is included in the kitchen as part of the Scandinavian ideal concept of design. Likewise, the wooden dining table brings nature to introduce texture and stimulate the senses of the users. Not to mention the blue-white floor tiles with geometric patterns that add one final colored punch to highlight the modern and playful character of the design!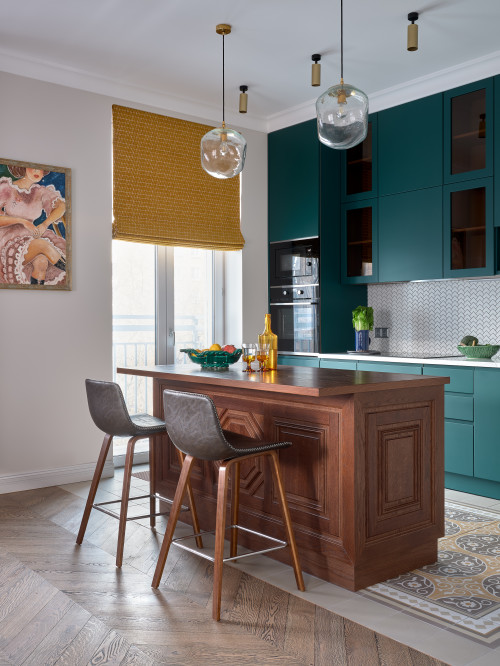 ID# 140333 | Houzz.com – Credit | © Natalie Vershinina
---
Eclectic Kitchen with Blue Cabinets and Wooden Island
Awash with bold and bright shades, this multi-colored kitchen has volumes to speak. From the yellow curtain shades to the dark blue cabinets, the wooden island with ornate details on the front, and a modern wall painting, each element does the speaking for itself yet coming together in harmony. In the background, the light gray backsplash brings a sense of balance with the white countertops, while the carpet in light sandy shades adds a soft touch. Lastly, the irregular glass pendants and brass flush mounts comprise the lighting system of the kitchen while coming as aesthetic touches and visual accents.
Light Colored Backsplash Ideas
A backsplash can make or break the design, and since backsplashes are installed at eye level, they tend to be the first design element that commands attention. That's why a backsplash plays a significant role in setting the tone and mood of the space. And if you love open and breathable spaces and don't favor the dark side of the color spectrum, then light colored backsplash ideas are the route to go.
Available in a variety of colors, including light greens, blues, browns, grays, yellows, pinks, and of course, whites, light-colored backsplashes make your kitchen feel roomier, lighter, and airier. This is especially extra beneficial if you have compact and tiny kitchens since light-colored backsplashes can create more room in the kitchen effortlessly. And to jazz up these light shades, you can use intriguing wall decorations, lighting fixtures, wood accents, and oversized cabinet hardware that will elevate the overall look of the kitchen immediately. These additions will also add a dose of personality to any space and help you build direct connections with the design itself as well. If you are after light-colored backsplash ideas, we have covered a wide range of inspiring designs. All you need to do is take a closer look at them and feel inspired for your next overhaul projects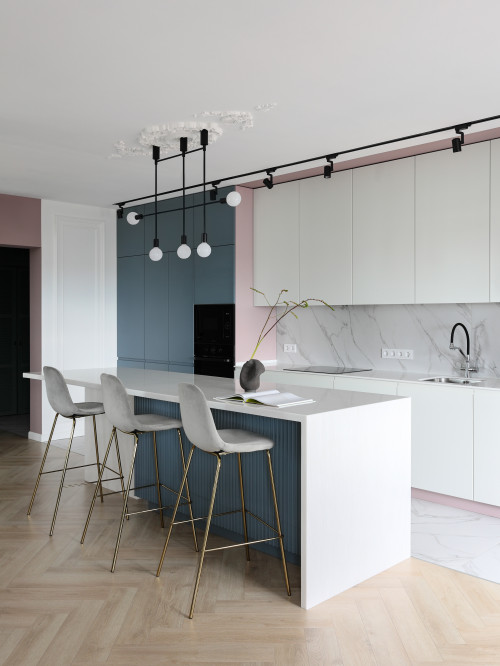 ID# 140310 | Houzz.com – Credit | © Maxim Maximov
---
Two-Tone Cabinetry with Light Colored Backsplash Ideas and Black Lighting Fixtures
Calming and functional, the combination of white-and-blue cabinetry pairs perfectly with the light-colored marble slab backsplash, while the geometric forms of the slab-front cabinetry locate the design in the contemporary kitchen looks. The fluted design on the island front generates some movement, and the soft veins on the marble add a dose of rhythm to the kitchen. Overhead, the black tracking spotlights and sputnik-inspired contemporary pendant evoke interest. The brass legs of the stools and light chevron pattern flooring inject warmth.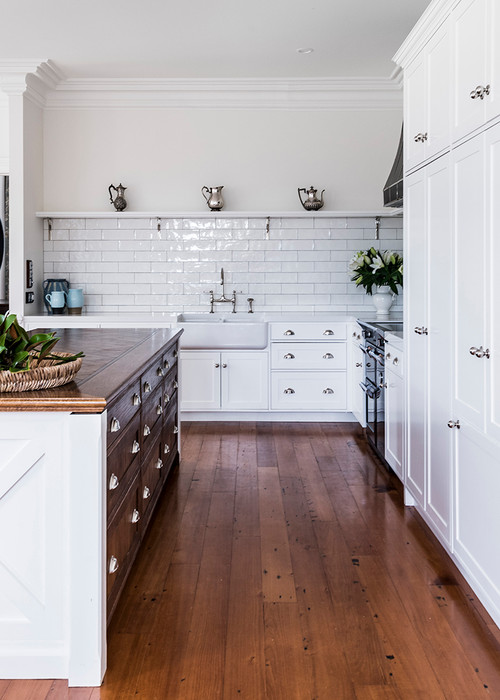 ID# 140311 | Houzz.com – Credit | © In Residence – Kitchen, Bathroom, Hardware
---
White Subway Tile Backsplash and White Cabinets with Wood Island
Dating back to the 1900s, this house still pays tribute to the era while preserving the main architectural features of the abode. Renovated into an open-plan format to comply with today's concept of modern space, this traditional kitchen is designed to serve as a transaction point between the lounge, dining, and outdoor areas. And it is mainly characterized by traditional additions such as white subway tile backsplash, oversized polished nickel cabinet hardware, bespoke wooden island, and butler sink. Not to mention the custom steel range hood that is peeking out behind the white full-height shaker cabinets with its bulky body as a statement feature. Adding to them are the X-detailed and fluted-finish door edges of the island that bring a farmhouse flair and, lastly, oiled Rimu floors, a nod to the era of the house, transporting its users back in time.
What is the most popular backsplash right now?
White backsplashes are very popular since they lighten up the interiors and expand the kitchen visually. Plus, they feel timeless and are available in a wide range of materials and patterns, which allows homeowners to achieve any look they wish for.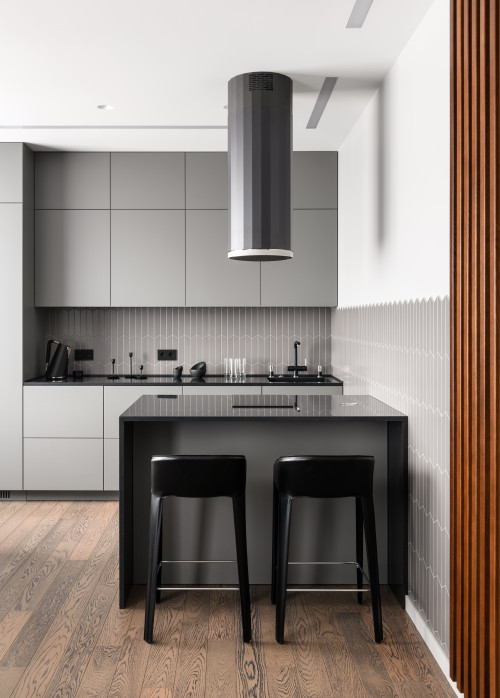 ID# 140312 | Houzz.com – Credit | © Olga Ladurko Interior Design
---
Contemporary Kitchen with Gray Cabinets and Black Countertops
Compact yet self-sufficient, this contemporary kitchen is characterized by a black-and-gray color palette and geometric arrow-like patterns in light gray shades. These eye-catching tiles traverse the walls, extending toward the kitchen island and colonizing the half-bottom of the kitchen until they are finally stopped by a slatted-wood feature wall that adds an extra dimension to the design. Despite the abundance of tiles, the kitchen doesn't feel overwhelmed as the white grout between the tiles provides breathing space. And right near the wall tiles sits the waterfall kitchen island, paired with an upscale cylinder-shaped hood that makes the island a focal point.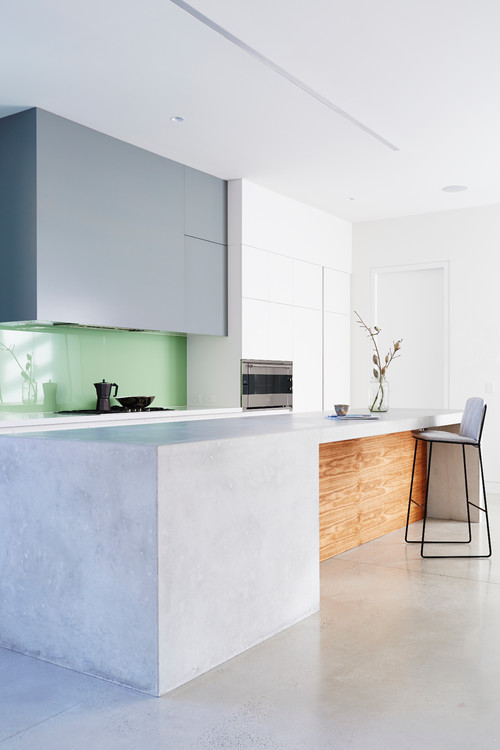 ID# 140313 | Houzz.com – Credit | © Project 12 Architecture
---
Green Glass Sheet Backsplash with Concrete Floor and Stone Island
The sophisticated simplicity of the forms does most of the talking in this contemporary kitchen in Melbourne. From the green glass sheet backsplash to the solid stone-carved island with the wood-panel front and concrete floor, each material builds consummate functionality. The gray and white flat-front cabinets reaching up to the ceiling optimize the storage, while the oversized galley style island creates a better perception of the space to zone the kitchen in this open floor plan. The abundance flow of the natural lights doesn't hurt but rather plays up the beauty of the light-colored glass backsplash, while the concrete ensures a sense of raw vibes through refined lines.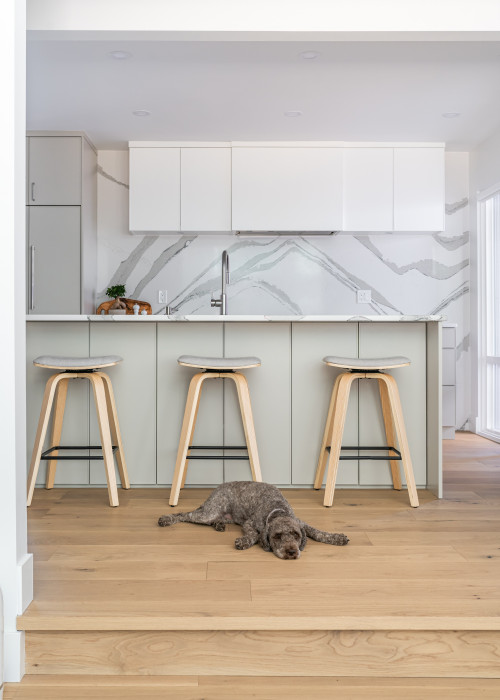 ID# 140314 | Houzz.com – Credit | © Genesis Kitchens & Design
---
Scandinavian Kitchen with Off-White Cabinets and White Marble-Look Backsplash
If you love austere looks with minimalist palettes as showcased by this Scandinavian kitchen, you can borrow some hints from this sleek kitchen design for your home. Here we have off-white cabinets paired with marble-look quartz countertops and a ceiling-height backsplash that offer a seamless and minimalist elegance. The lack of pendants keeps the overhead clutter-free, and the soft bar stools with light wooden legs couple perfectly with the light wooden floor. The use of hardware for the base counters allows for easy grips, increasing the functionality of the design and adding a shiny gesture to the cabinets.
Light Color Options for Kitchen Backsplash
The color spectrum for backsplash options is quite expansive, and the same goes for the light color options. You can find various hues of light yellow, gray, green, blue, and brown options, and of course, whites, available in all sorts of materials, sizes, and designs.
White Kitchen Backsplash
Serving as a space-enhancing factor, white is the most popular backsplash color that is used in zillions of ways. Ranging from marble to engineered quartz, granite, ceramic, porcelain, glass, and zellige, white kitchen backsplashes are available in a plethora of materials and finish options such as tumbled, honed, and polished. As such, they offer almost limitless design possibilities and are safe to use whether you have a vast or small kitchen.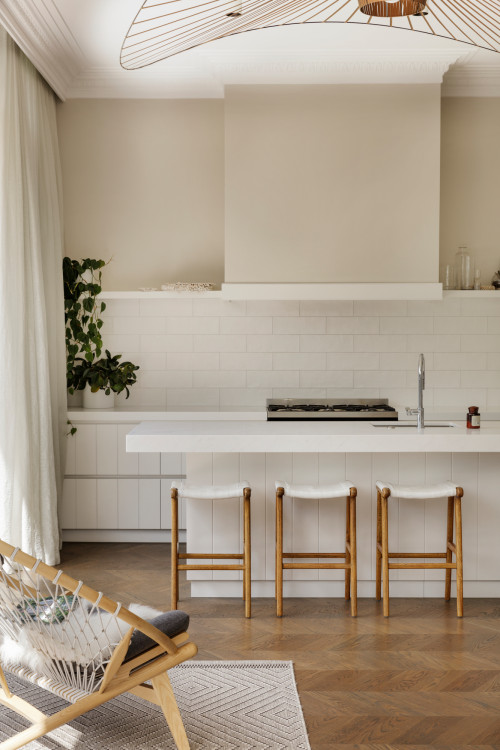 ID# 140315 | Houzz.com – Credit | © Black Box Architects
---
White Beadboard Cabinets with White Subway Tile Backsplash and Quartz Countertops
Opening onto the garden, this light, and airy kitchen has a silent and soothing color palette yet packs a lot of personalities together. The larger format of the white subway tiles with white grout just interlocks with each other smoothly, enlarging the wall surface, while the beadboard cabinets generate movement throughout the space to add more character and dimension to the light colors. A thick quartz island countertop just plays along, paired with an oversized lighting fixture whose biomorphic form alongside cream-painted walls and chevron hardwood floor introduces soft aesthetics that modernize the space immediately. And lastly, the green leafy kitchen plants sprinkled here and there bring a dash of color and freshness for an extra calming effect.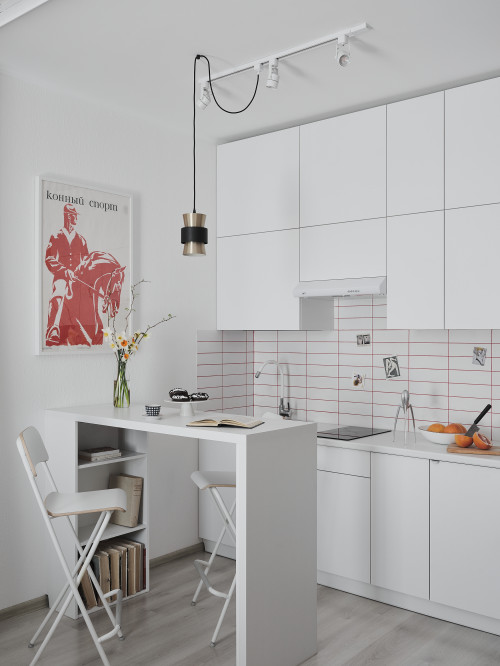 ID# 140316 | Houzz.com – Credit | © AY STUDIO
---
Light Colored Backsplash Ideas with Pink Grout and White Cabinets
This monochromatic modern kitchen in a boutique apartment of 260 m2 offers a compact yet breathable cooking space defined by white contemporary cabinets. These flat-front counters' sleek profile ensures smoothness, pairing well with white quartz countertops and horizontally stacked subway tiles. The pink grout between these metro tiles comes as an unexpected punch that adds a dose of personality to the kitchen along with the wall-mounted print seeming quite personal. Right across the perimeter counters is a study desk which can easily be turned into a dining space for two people when needed.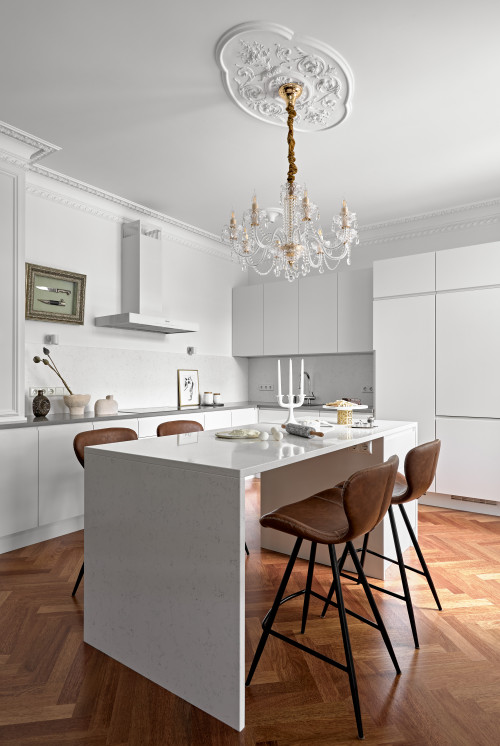 ID# 140317 | Houzz.com – Credit | © Maxim Maximov
---
Sophisticated Transitional Kitchen with White Cabinets and Chandelier
Oozing opulence, this sophisticated transitional kitchen is a mélange of classic and modern features that result in immersive aesthetics. First of all, it presents itself as an all-white body with white cabinets, white-painted walls, a white backsplash, and an all-white breakfast bar-like addition. The brown faux-leather stools and eye-popping chandelier with ornate ceiling moldings accompany this dining space to turn it into something more formal and sophisticated. Adding to that are also the painting in classic frames and sculptural vases to bring in some artsy vibes.
Should the backsplash be lighter or darker than the countertop?
Backsplashes could be both lighter and darker than the countertops. But it is recommended to have a balanced color palette to feel comfortable in the long term. For example, if you have a light backsplash and light cabinets, you can use a darker countertop to anchor the backsplash. But if you have dark countertops, it would be better to go with a lighter backsplash to achieve a sense of balance.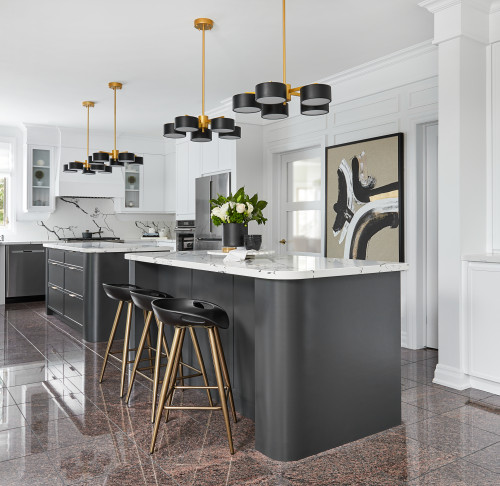 ID# 140319 | Houzz.com – Credit | © Rüme Design
---
Transitional Kitchen with Light Colored Backsplash Ideas and Gray Cabinets
For a design that feels a bit moodier yet still chic, gray-dominant color schemes serve the kitchen best. Likewise, in this transitional kitchen, the gray cabinets add a sense of edginess, while marble-look quartz slab backsplashes bring a sense of spring with branch-like patterns. Accompanying them are two identical islands spanning a wide space, serving as hefty countertops and laid-back dining spaces. Overhead, clusters of pendants stylize the ceiling, providing enough task lighting for the countertops. Overall, this transitional kitchen offers a multi-functional design and smooth human traffic suitable for larger families.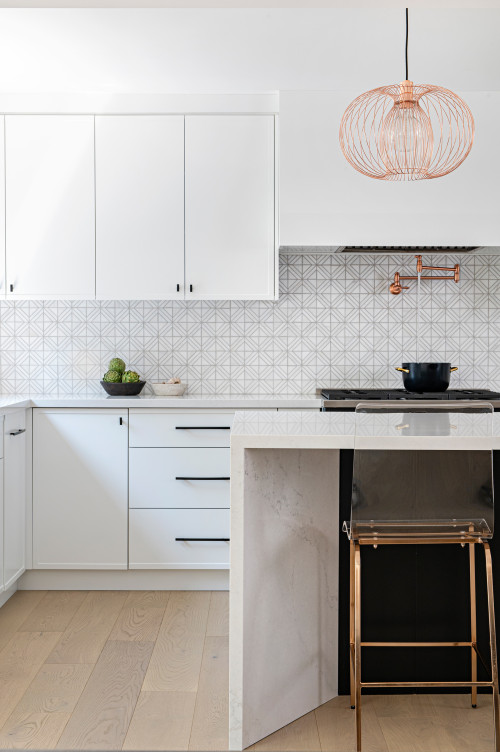 ID# 140320 | Houzz.com – Credit | © Alair Homes Waterloo
---
Achromatic Kitchen Design with Transparent Stools and Black Hardware
This modern kitchen has a lot to say even though it is mainly achromatic, featuring all-white cabinets and a white backsplash. To start with, the diamond-shaped geometric patterns add texture to the tiles, while the black hardware punctuates the cabinets. The copper finish pot filler and the lighting fixture hanging above the island add a ripple of color and a classy feel. In contrast, the diagonal form of the island and the transparent bar stools modernize the design instantly. The brass legs of the stools make them feel more visible, while the wooden floor finish lends enough warmth to keep the overall look approachable.
Light Blue Kitchen Backsplash
While each blue shade evokes a different mood, it is the light blue that soothes any space and instills a sense of calmness. And whether you have a transitional, contemporary, or beach-inspired kitchen design, light blue backsplashes make a great addition. But if you are after mid-century looks, no combination other than a blue backsplash combined with wooden cabinets and white countertops would achieve a more impactful mid-century-modern look.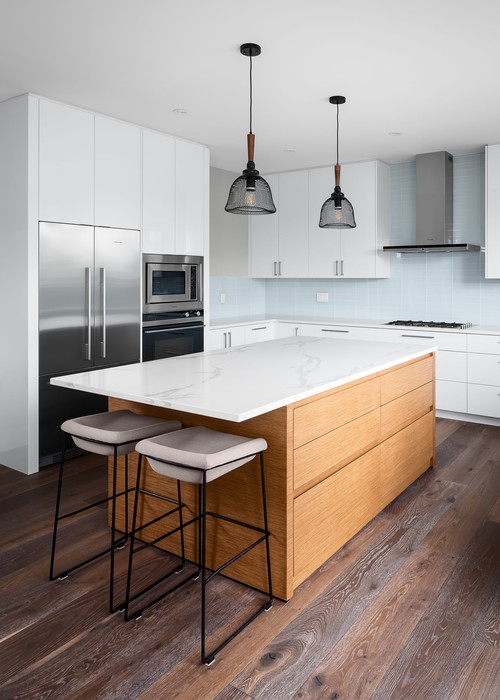 ID# 140321 | Houzz.com – Credit | © Elite Kitchen Designs
---
Light Blue Subway Tile Backsplash with White Cabinets and Rustic Floor
The light blue tiles inject a subtle shade of color between the white flat-front cabinets in this modern kitchen. Consisting of stacked subway tiles, this backsplash adds a modern edge to the kitchen, and the stainless-steel appliances bring a high-end feel. In the heart of the space sits the wooden island topped by a gravity-defying marble-look quartz countertop which oozes to create an informal dining space for two. It can also be used as a social hub to gather around. A duo of black wire pendants seems a bit anachronistic above it, though without looking out of place, while the richly stained rustic wood floor coordinates with the wooden island for a more natural look.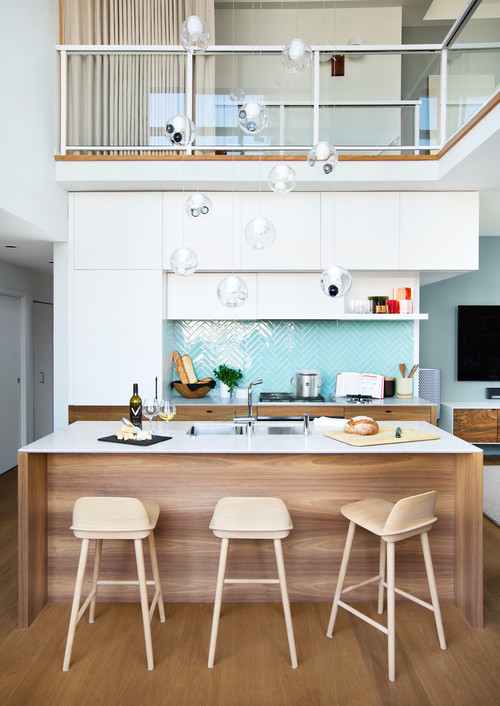 ID# 140322 | Houzz.com – Credit | © Falken Reynolds Interiors
---
Chevron Tile Backsplash with White Countertops and Wood Cabinets
This open-plan contemporary kitchen presents a viable design with a galley-style layout, a 2-row of cabinets lining the walls, and a dynamic color palette. In the background, the light yet lively blue chevron tiles enliven the kitchen mainly characterized by white and wood flat-front cabinets. And right above the island, the dropped-down pendant with globe-shaped gloss shades creates the illusion of bubbles suspended in the air, adding a sense of playfulness to the design. Yet above all, though quintessentially contemporary, this kitchen taps into the spirit of the mid-century kitchens while paying them homage with a combination of wood, crisp white, and blue.
Are light-colored backsplashes good for the kitchen?
Light-colored backsplashes are soothing and work as space-enhancing additions. So, for example, if you have a small kitchen or a working space that doesn't receive enough sunlight, a light-colored backsplash would be a better option. Plus, light colors offer visual comfort that imparts a sense of calmness to the interiors and makes a counterpoint to the hectic schedules necessitated by city life. For that reason, if you want to create a serene atmosphere to leave the rush of urban lifestyle behind, you can utilize light-colored backsplashes which will slow down time for you and let you enjoy every minute of it.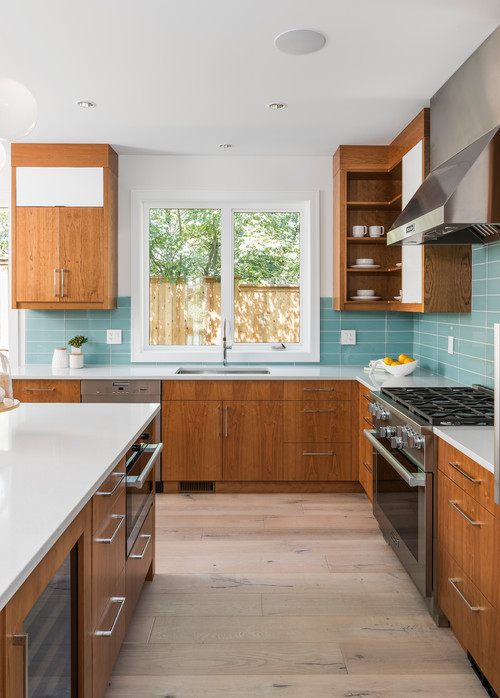 ID# 140323 | Houzz.com – Credit | © Harbour City Kitchens
---
Natural Cherry Cabinetry with Blue Stacked Tile Backsplash with White Countertops
Here we have another kitchen design that is filled with modern nostalgia and breezy touches of mid-century modern looks. From the natural cherry cabinetry to the light blue backsplash and white countertops, each element speaks for itself and creates a comfort-oriented aesthetic. The horizontally stacked subway tiles introduce a sense of order and clarity, while their blue color instills calmness. The warm wooden touches contribute to the overall soothing aesthetics, and the stainless-steel appliances with chrome hardware bring modern touches.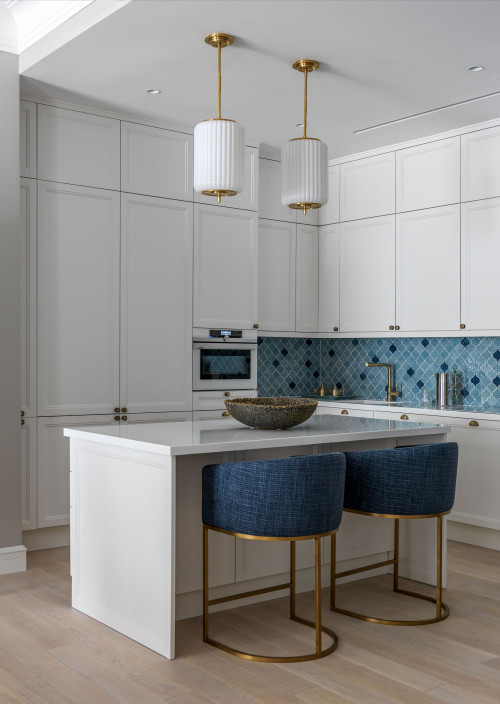 ID# 140324 | Houzz.com – Credit | © Ангелина Аскери / Angelina Askeri Interiors
---
Light Colored Backsplash Ideas with White Cabinets and Brass Hardware
This luxury kitchen design owes its stylish look to the brass accents and blue diamond tile backsplash that stands out between the white cabinets. The oil-rubbed brass hardware, plumbing fixtures, and stool legs coordinate harmoniously for a well-integrated style. Adding to them is the white breakfast bar that is transformed into a more formal dining space with extra comfortable oversized dining chairs and opulent, brass detailed pendants.
Light Gray Kitchen Backsplash
A versatile color itself, due to its subtle shade, light gray helps built soft aesthetics and lend sophistication. It can be used in all kitchen designs and evokes a different vibe depending on the material. For example, if you want to create a luxurious look, gray marble and terrazzo backsplashes are the route to go. Or perhaps you desire a shimmering effect; then light gray glass tiles or sheets can create a glittering background and brighten up the kitchen immediately. On the other hand, the satin finish ceramic tiles in light gray shades, again, instill a sense of calmness to the interiors and can be combined with a wide range and style of cabinets.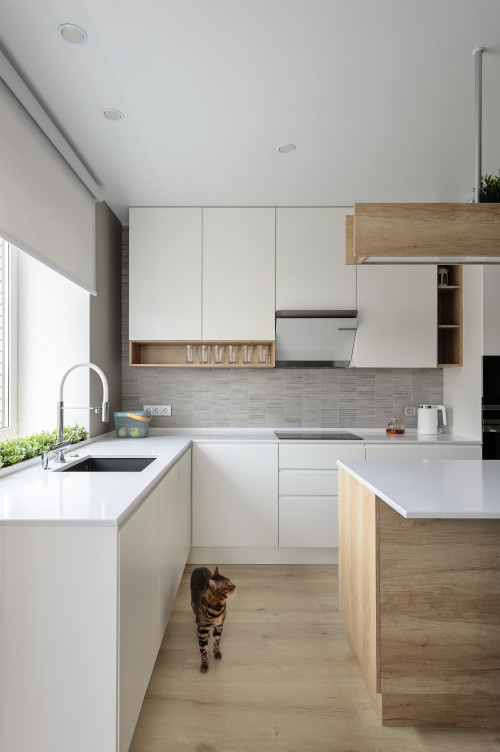 ID# 140325 | Houzz.com – Credit | © Maxim Maximov
---
Light Gray Kitchen Backsplash with Wood Island and White Cabinets
Light gray backsplashes reflect the Scandinavian aesthetics while revealing themselves as barely there, and this kitchen is no exception. In the background, the stacked gray tile backsplash peeks out behind the white cabinets and wooden cabinet shelves, while the white flat-front base counters and worktops enhance the openness, creating a visually lightweight atmosphere. And in the center, the sprawling countertop of the wood-base island teams up with a wooden custom design lighting fixture hanging like a suspended shelf and accommodating kitchen plant to create a biophilic design moment.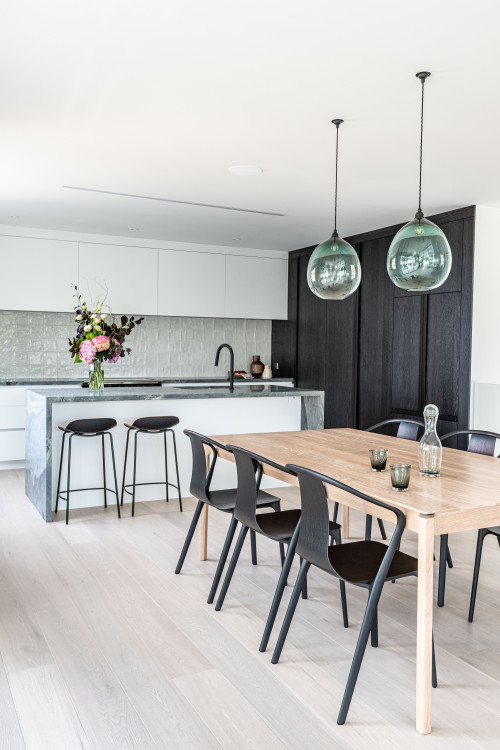 ID# 140326 | Houzz.com – Credit | © Kathrine McDonald Design
---
Contemporary Kitchen with Light Colored Backsplash Ideas And White Cabinets
This stylish contemporary kitchen uses a pale color palette of light grays and blues, emanating cool vibes warmed up with wooden shades. The gray satin-finish ceramic tile backsplash comes with a nice sheen, paired with greenish-blue marble countertops that serve as a waterfall edge for the island unit. The kitchen connects to a more formal dining space defined by a wooden table and modernized wishbone-style dining chairs coupled with smoked bluish glass globular pendants overhead. These lighting fixtures with full-height black curtains add an elegant vibe, while the flowers displayed in a glass vase inject a touch of femineity.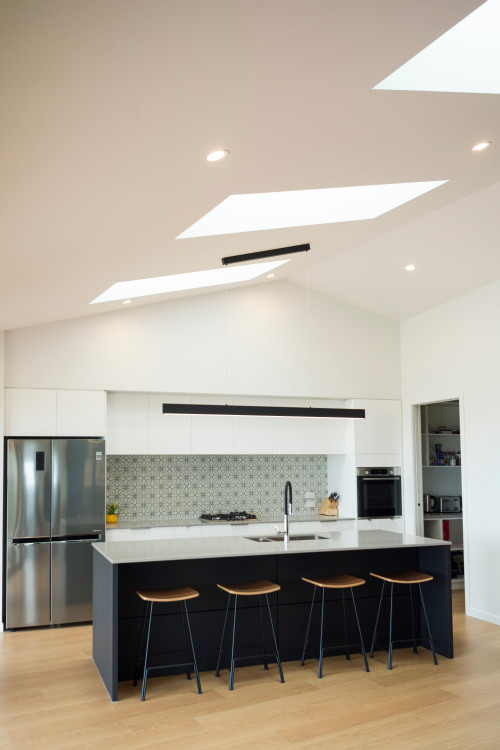 ID# 140327 | Houzz.com – Credit | © Danni-Lee Designs
---
Blue Island and Patterned Light Gray Backsplash in Contemporary Kitchen
Not every kitchen is lucky enough to have plenty of natural lights diving through the skylights, but this one is. Accommodating three skylights in its double-volume space, this contemporary kitchen feels lucky yet plays modest. The white cabinets, patterned gray light backsplash, and light gray countertops provide a balanced color scale for the kitchen, while the blue island makes a statement and demands attention. The wooden backless stools are tucked under the sprawling countertop of the island not to steal any space from the walkway. And finally, the look is completed with a black linear lighting fixture dropped over the island to play up the grandeur of the kitchen without making it too obvious.
Light Green Kitchen Backsplash
Light green is one of the soothing colors that suits particularly transitional, modern, and farmhouse kitchens. They deliver a genteel ambiance and can be combined with white, light timber, and dark cabinets as well. To complement the overall look, depending on the design style you have in mind, you can choose chrome, brass, and copper hardware, black metal lighting fixtures, or glass pendants.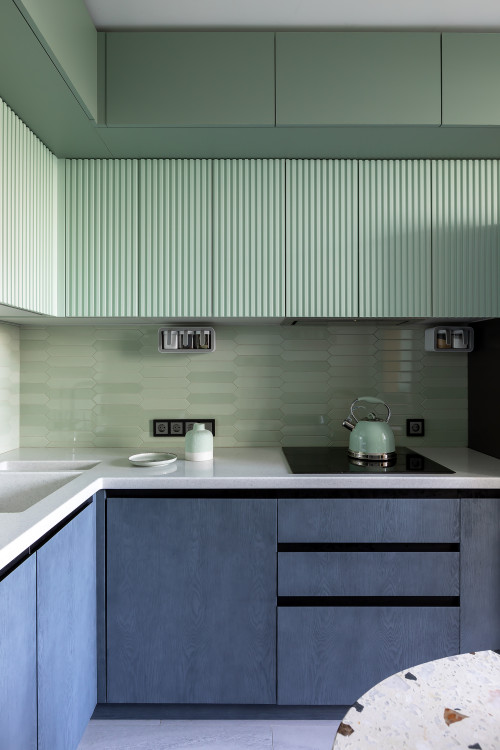 ID# 140328 | Houzz.com – Credit | © "ЭСТЕТ DESIGN " Надежда Ракова и Алёна Гуслиц
---
Picket Tile Backsplash with Fluted-Finish Cabinets and Blue Counters
Awash with shades of green, this contemporary kitchen is packed with style. The green fluted-finish upper cabinetry is paired with flat-front wider upper wall units and blue base counters that provide different layers of storage in matching shades. And between them, the green picket tile backsplash creates an intriguing pattern to evoke interest. The low-profile modern hob and the integrated sink with white interior blend perfectly with the white quartz countertops, feeling barely there.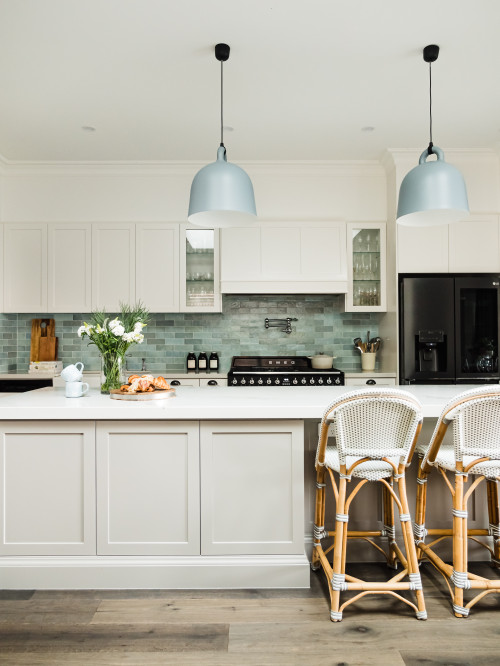 ID# 140329 | Houzz.com – Credit | © renae barrass interior design
---
Light Colored Backsplash Ideas with White Cabinets and French Bistro Stools
This transitional kitchen owes its soothing color palette to the light green ceramic subway tiles. Complementing it are the white shaker cabinets, black appliances, and white countertops that integrate harmoniously. The galley-style oversized island runs parallel to the perimeter counters, paired with French bistro stools that bring a coastal flair to the kitchen. Overhead, a duo of light blue dome-shaped pendants provides task and ambient lighting for the island.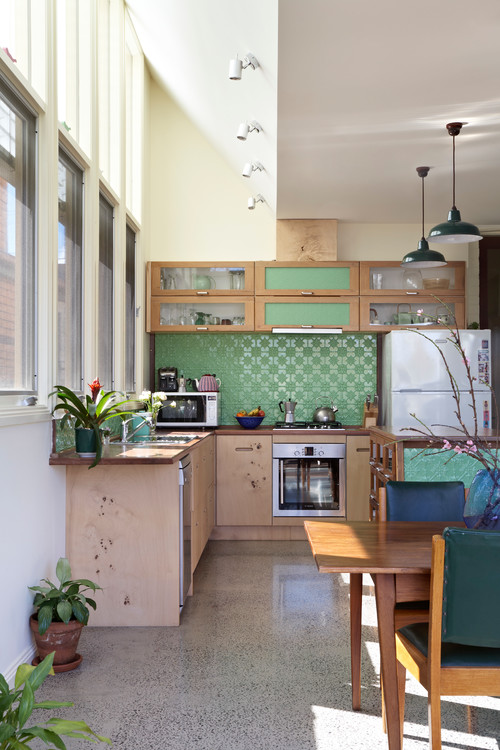 ID# 140330 | Houzz.com – Credit | © Positive Footprints Pty Ltd
---
Green Tin Backsplash with Timber Cabinets and Countertops
This double-height kitchen prefers to use the tin as a backsplash rather than participating in the centuries-old tradition of tin ceilings. And here they come as green-painted stamped tin sheet backsplash paired with wooden countertops and cabinets for a natural design. The kitchen plants distributed here and there enliven the space, while the speckled-finish concrete floor brings a contemporary edge to the interior design.
Light Brown Kitchen Backsplash
Light earthy and sandy shades emanate a sense of warmth and coziness that can make you feel at home right away. You can pair them with green and cream cabinets, timber countertops, and black fixtures to add some solidity to the design. You can use them in rustic, Scandinavian, farmhouse, and modern kitchens. And if you would like to add a touch of luxury, brass and chrome hardware pair perfectly with the light brown shades.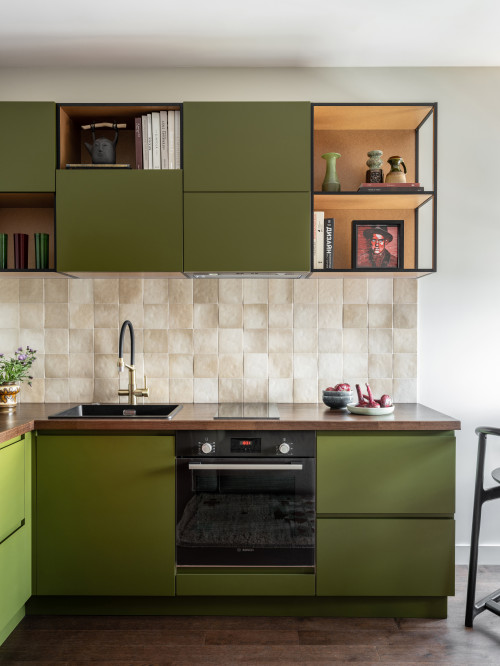 ID# 140331 | Houzz.com – Credit | © Студия Татьяны Архиповой
---
Natural Kitchen Design with Light Brown Kitchen Backsplash and Green Cabinets
Small kitchens don't necessarily mean a lack of style and functionality. Rather they challenge us to act more creatively. Here, for example, this tiny contemporary kitchen goes with a natural color palette that makes the space feel cozy right away, making us forget about the compactness of the available space. And to do so, it uses green cabinets topped by brown countertops and wood-interior cabinet shelves that craft a visually soothing ambiance. In the background, the light brown handmade ceramic tiles with protruding edges add a very authentic feel. The black drop-in sink and small barely-there black appliances blend with the surrounding features, which results in an effortless immersive design
Cabinet Colors for Light Colored Kitchen Backsplash
Since the cabinets serve as the main bones of the kitchen, their color, style, and coordination with the backsplashes serve as an important element that sets the tone of the design. But since the backsplash is light-colored, all you can do is either choose a monochromatic palette by going with light-colored cabinets or dark cabinets to create contrasts and add more depth to the kitchen. And if you would like to soften the light colors on the backsplash, you can use light wooden cabinets that will warm up the kitchen immediately.
Light Colored Kitchen Backsplash with Dark Cabinets
For those preferring contrasting themes, light-colored kitchen backsplashes with dark cabinets make great couples. Dark blue and dark brown counters, for example, ooze elegance and visual drama, while the black cabinet serves as a great anchor to ground the light-colored backsplash. And if you love rustic vibes, dark wood cabinets can create a well-balanced look with light-colored kitchen backsplashes with yellow and gray undertones.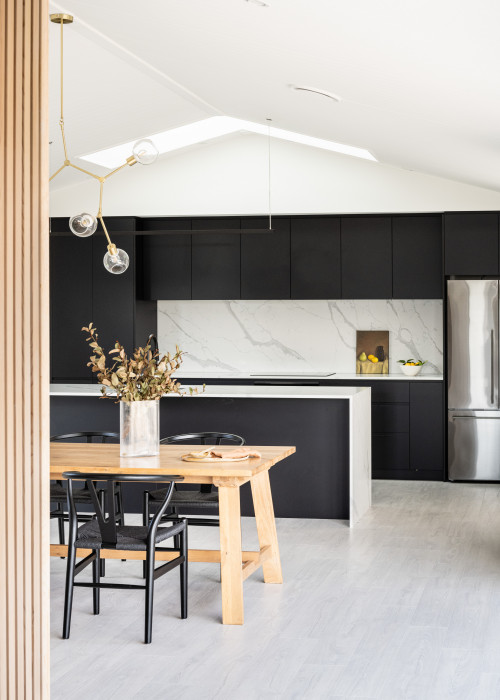 ID# 140332 | Houzz.com – Credit | © Kathrine McDonald Design
---
Light Colored Backsplash Ideas with Dark Cabinets and Waterfall Island
You can always count on contrasting shades that pack spaces with style and personality just like in this contemporary kitchen. Here, the dark blue cabinets are used to anchor the light-colored stone backsplash that is sleek and elegant. Along with the stainless-steel appliances, they present a clean and modern look under the gabled ceiling that adds a sense of coziness. Across the perimeter counters are the waterfall island and wooden bench-like table that layer the kitchen with different functions. The latter is paired with black wishbone dining chairs and a brass sputnik-style lighting fixture that further enriches the overall design aesthetic.
How to clean a light-colored kitchen backsplash?
It rather depends on the material of the kitchen backsplash. But mostly, using mild dish soap and warm water is enough to get rid of the daily food splatters. And for stubborn stains, you can mix water with baking soda and make a paste. Some also prefer using vinegar instead of baking soda. You can spray or spread the mixture on the stains and let it sit for some time to do its job and dissolve the stains. After 5 minutes or so, you can clean and rinse the backsplash. Also, keep in mind avoiding abrasive cleaning products and sticking to the soft sponges and soft clothes not to etch or dent the backsplash and the sealing.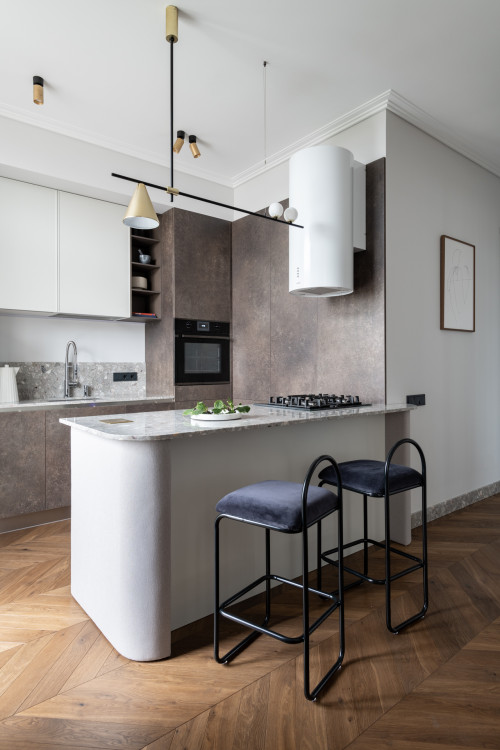 ID# 140334 | Houzz.com – Credit | © Buro 19.23
---
Small Kitchen with Terrazzo Backsplash And White Cabinets
A statement material itself only used to show up in the world's most famous luxury hotels, terrazzo is now utilized in residential units as the new popular voice of contemporary kitchens,
and this kitchen is no exception. Here, the light gray terrazzo backsplash paired with the book-matching countertops adds elegance, making a durable addition to the kitchen. Complementing it are the white cabinets, curved island edge, and rounded range hood introducing soft aesthetics, while the blue velvet-finish stools bring extra sophistication and opulence to the kitchen.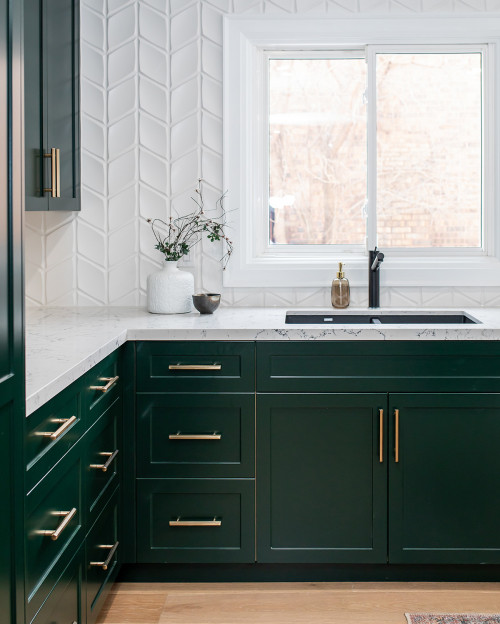 ID# 140335 | Houzz.com – Credit | © Karin Bennett Designs
---
Dark Green Cabinets with Leaf-Shaped Tile Backsplash and Brass Hardware
This kitchen employs nature-inspired shapes and colors that result in a satisfying and dramatic visual scheme. The dark green cabinets and leaf-shaped white tile backsplash add depth and dimension to the kitchen. The brass cabinet hardware brings the right amount of warmth, and marble-look quartz countertops with dark green veins coordinate with the cabinets. And on the floor, the runner in traditional patterns oozes homey vibes, introducing a tactual finish.
Light Colored Kitchen Backsplash with Light Cabinets
Light-colored kitchen backsplash and cabinets blend harmoniously right away, which especially works well in small kitchens. And it works as a design trick to enhance the openness and brightness of the space, encouraging the space to feel larger. But it doesn't mean that they are not functional in vast kitchens. You can always go with a light-colored backsplash with light cabinets. But don't forget to add some statement features and use complementary shades in different textures and colors not to end up with a sterile and jarring overall look.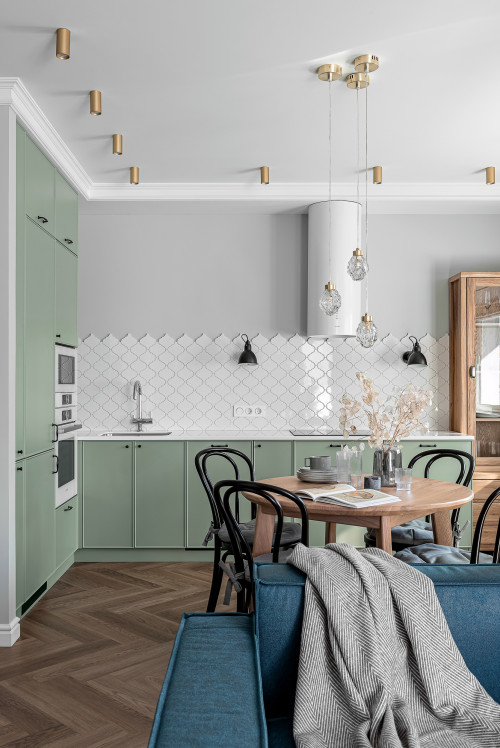 ID# 140336 | Houzz.com – Credit | © Михаил Косачёв
---
Light Colored Backsplash Ideas with Light Cabinets and Brass Lighting Fixtures
This open-plan L-shaped kitchen converses with the main lounge yet feels distinguished from the rest of the space thanks to its light color palette. It is outfitted with a white lantern tile backsplash, light green cabinets, and white countertops that impart calmness. Right above the backsplash, the white cylinder range hood brings an upscale feel, matching the curvilinear forms of the backsplash tiles, and black wall sconces and black hardware add a slight contrast to anchor the backsplash and cabinets. Likewise, the brass cylinder-shaped flush mounts decorate the ceilings for an efficient lighting system, while a cluster of glass lighting fixtures dropped down over the dining space adds a chic elegance.
What cabinets go with a light-colored backsplash?
Any cabinet color and style could pair well with a light-colored backsplash. But to keep the design timeless, it is better to stick to shaker and flat-front cabinets in light shades. You can also use timber cabinets and team them up with light-colored backsplashes such as ceramic tiles and natural stone slabs for a well-balanced look.
ID# 140337 | Houzz.com – Credit | © Екатерина Владимирова
---
White Cabinets with Gray Quartz Backsplash and Wall Decorations
This transitional kitchen is designed to offer visual comfort in light sandy soothing shades with hardly noticeable yellow undertones. From the wall paint to the grayish quartz slab backsplash and fixtures, each element blends seamlessly. It is only the blue sideboards used in the display cabinets and blue vases that pop against the light background and inject a sense of homeliness right away, while the chevron wood floor channels warmth and texture underfoot.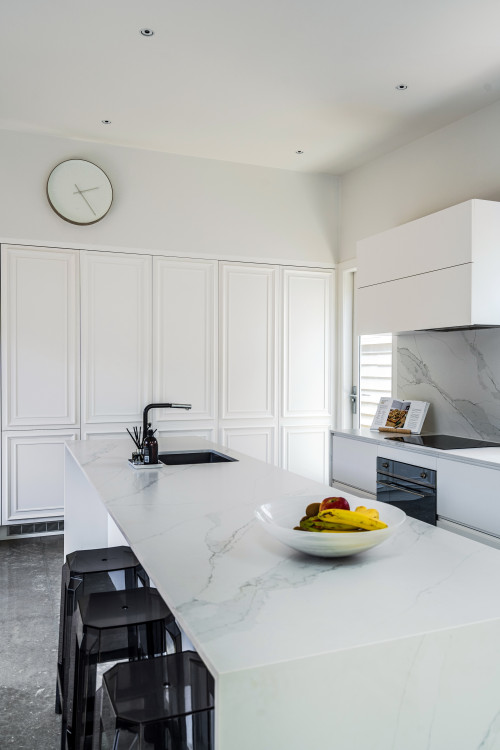 ID# 140338 | Houzz.com – Credit | © KMD Kitchens
---
Monochromatic Kitchen with Light Colored Backsplash Ideas and Marble Countertops
Unfolding itself in shades of white, this monochromatic kitchen only uses sumptuous finishes to make a statement. For example, the white marble slab backsplash with book-matched countertops lends sophistication alongside the white full-height modern cabinets. And in the center of the space, the waterfall island commutes between the different arms of the cabinetry placed around the room, ensuring a smooth circulation and efficient layout. The black transparent backless stools paired with the island add a slight contrast, giving the kitchen a true contemporary spirit.