27+ Earthy Kitchen Backsplash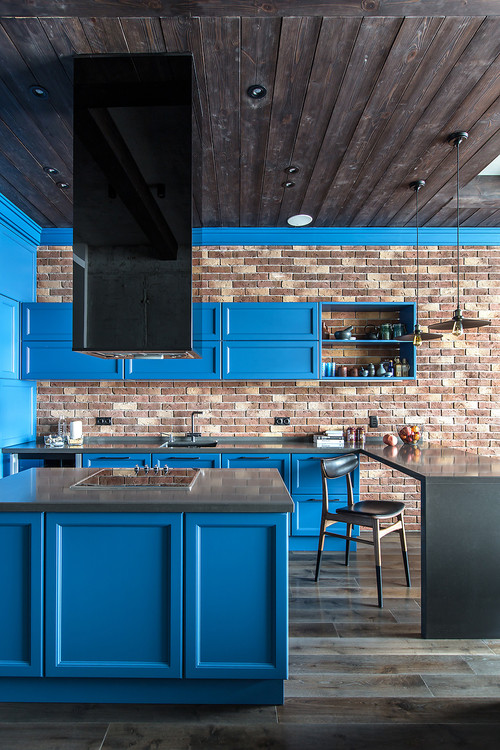 ID# 136603 | Houzz.com – Credit | © Анна Святославская
---
Blue Cabinets And Brick Earthy Kitchen Backsplash Effect in Industrial Kitchen Design
Industrial style, this open-concept kitchen design is formed by the striking effect of blue cabinets. Shaker cabinets combined with dark gray countertops. As a backsplash, the whole wall brick backsplash is applied. It provides a natural look with its tile color and brown tones. It is an assertive duo with blue cabinets. While an island in the middle is valued as a cooking area, a dining table emerges from the end of the counter, gaining both functional value and acting as a divider with the sitting area. On the ceiling, the kitchen part is covered with wood, and the other parts are valued as wooden open beams. On the floor, a mixture of gray and brown tones is added in harmony. It is a stylish and assertive kitchen design.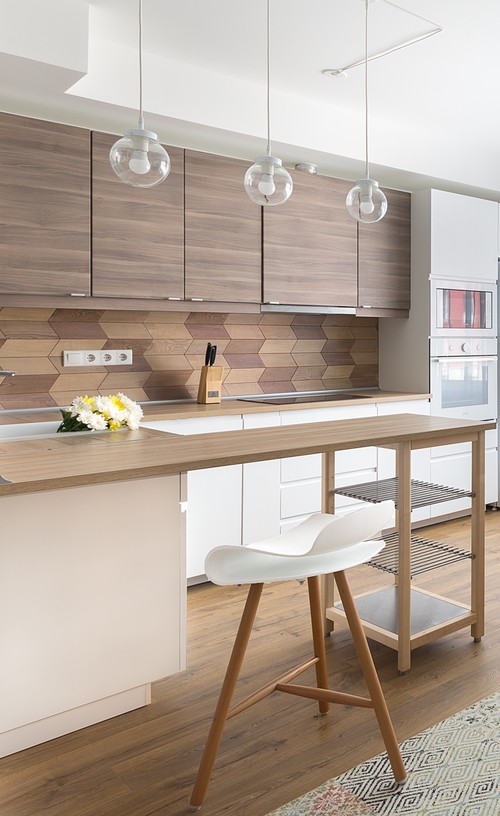 ID# 136622 | Houzz.com – Credit | © nikki_rusanova
---
Wood Effect with Earthy Brown Kitchen Backsplash in Modern Kitchen Design
The modern kitchen, which has an original design, consists of white and wood-coated flat cabinets. And they are accompanied by a wooden bench. U-shaped kitchen cabinets, the exposed part, come only as a counter and are valued as a breakfast bar. Transparent, minimal pendant lights add elegantly. The most crucial part of the space is undoubtedly the backsplash. Earthy brown kitchen backsplash applied from wood has a magnificent appearance as a design product. It is a successful design with a characteristic appearance.
Earthy Kitchen Backsplash
Backsplash choices are one of the number one elements when creating space designs. It determines the character of the kitchen. It helps to create unique spaces with unlimited color, pattern, and size options. There are many backsplash material alternatives such as marble, ceramic, glass, metal, stone, and wallpaper. All of them offer different successful effects, revealing completely different characters.
When it comes to earthy kitchen backsplashes, cool spaces emerge thanks to the cool and neutral appearance of earth tones and their characteristic stances. Neutral tones such as black, brown, beige, and gray are suitable tones for earthy kitchen backsplash as they contain earth tones. Earth tones are easy to care for. They easily hide spills and splashes. Earthy kitchen backsplashes are also a type of material that gives luxurious effects according to their design.
Is earthy backsplash good for the kitchen?
Earthy kitchen backsplashes are ideal for use in residential kitchens and even bathrooms. Not only is it durable material, but it also comes in a wide variety of styles to suit unique tastes, with a variety of material types, colors, and patterns.
What countertops go with an earthy kitchen backsplash?
Earthy kitchen backsplashes feature all shades of neutral effect, so they match harmoniously with almost any type of countertop depending on the cabinet colors and backsplash selection. It leaves unique effects depending on the material type.
Color Options for Earthy Kitchen Backsplash
In Earthy kitchen designs, beautiful and creative designs are created with a unique combination of neutral tones. While various types of materials such as marble, glass, and ceramics all have different effects, each color creates a different look and feel. It is the ideal choice for gray, black, brown, and beige earthy tones. These color tones, which leave neutral and cool effects, offer unlimited possibilities with different effects in material types.
Earthy Gray Kitchen Backsplash
Kitchens are the soul and heart of the home. Backsplash selections also play a leading role in this regard. Although it may seem difficult to create an environment that is both inviting and easy to maintain, with the right choices, magnificent spaces are created.
Earthy gray backsplash options are a very successful color choice for a kitchen design with their sophisticated, inviting, and clean appearance.
Gray tone, when applied incorrectly, can create an incredibly boring and uninspiring space. However, when applied correctly, shades of gray are an ideal color to complement any style. With unlimited alternatives, unique areas are provided.
What cabinets go with an earthy kitchen backsplash?
Earthy tones are a variety that creates natural effects. Considering the type of material, beautiful spaces are created with all cabinet types, from light colors to dark, modern styles, traditional and industrial styles.
Earthy Black Kitchen Backsplash
Earthy black kitchen backsplashes make a strong impact in applied spaces. You can combine it with intense contrast and bright colors so that it does not leave a very dark feeling. Glossy surfaces help reflect light, adding depth to create bold looks. You can clean it by simply wiping it with a damp cloth. They are very easy to maintain. Although it differs according to the material types, each different piece settles into the space with different effects. The noble and characteristic stance of black shows itself in every area it enters, providing quality effects. If you want unusual, successful spaces, earthy black kitchen backsplashes are the right choice.
Should the backsplash be lighter or darker than the countertop?
While designing, it should be used by balancing the light and dark tones of the elements in the space. Based on this, for example, if you have light-colored cabinets and countertops, you can choose a dark backsplash to add more depth to the space. Whether you have very dark cabinets or counters, a light backsplash will help your kitchen feel fresh and clean.
Earthy Brown Kitchen Backsplash
Brown is an easy-care color variety. It is quite handy as it hides spills, food, and oil splashes. If you want durable and versatile tile for your kitchen, earthy brown kitchen backsplash ideas will be a great choice for you.
Earthy brown kitchen backsplash ideas are functional in almost any home. By offering unique looks with various material types such as marble, ceramic, glass, and stone, interesting designs are formed. Also, brown is a neutral color variety. When applied with different colors, it creates successful designs with a nice neutral effect.
What do earthy tones mean?
It is a tone consisting of various rich colors including brown. Colors such as mustard, cocoa, a taupe brown, and wheat are the varieties included in earthy tones.
Earthy Beige Kitchen Backsplash
Earthy beige backsplash tiles and natural tiles provide a nice accent and neutral effect for your kitchen counters. Color creates pleasant spaces by bringing warmth to the space. From time to time, harmonious matches are made with gray, yellow, and brown tones.
Beige may seem like a dull color, but considering the colors and tones of other materials, successful spaces with sophisticated effects emerge. Earthy beige backsplashes are a flexible variety as they can be used with other colors, whether light or dark, warm or cool tones. Whatever style and colors you want, you can use earthy beige kitchen backsplashes with ideal harmony. In addition, it also shows the applied area larger according to the way of use.
What colors go well with earthy tones?
Earth colors are a versatile color variety. When used with neutral colors such as black, white, or gray, stylish and elegant spaces are created. When paired with bright primary colors, it balances the space with a grounding ability.