43+ Gray Kitchen Cabinets with White Countertopst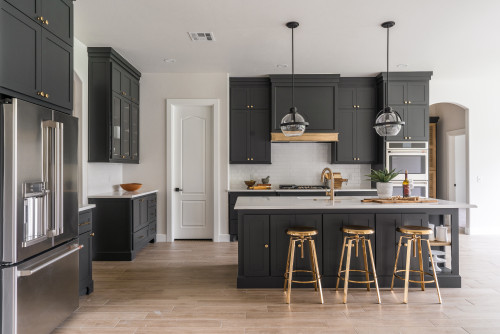 ID# 133604 | Houzz.com – Credit | © MassaRossa Luxury Homes, LLC
---
White Subway Tile Backsplash and Gold Hardware with a Wooden Detail
The dark gray kitchen cabinets have stronger contrast with the white countertops and the backsplash than the light gray color. The charcoal-like color hue brings a warm atmosphere with the medium-tone wood floors. The wood trim of the hood joins the warmth of the floors and adds movement to the gray cabinets. Using a white subway tile backsplash and white countertops create a focal point. The gold hardware creates such a luxurious appeal to the dark gray color!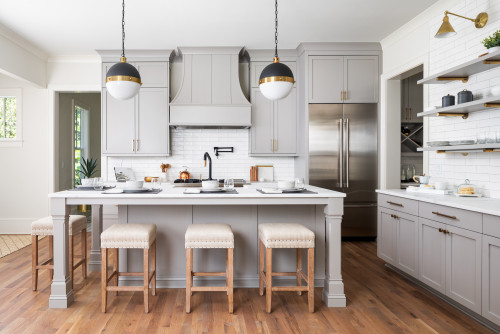 ID# 133632 | Houzz.com – Credit | © Pike Properties
---
The Gray and Wood Harmony with White Backsplash
The stainless steel appliances and the gray color shaker cabinets bring a stylish harmony together in terms of gray color hues. The medium-tone wood floors and the gray cabinets create a stunning look with a familiar welcoming look. You can spice up gray cabinets with brass hardware and bring a gleaming look.
Gray Kitchen Cabinets with White Countertops
When it comes to kitchen design, cabinets and countertops are the main two elements of the kitchens. And, among all the different alternatives, gray kitchen cabinets with white countertops are one of the most timeless options. Paneled or shaker-style cabinets in soft or warm gray with veined marble or quartz stone surfaces will look fantastic in different styled kitchen designs. For sleek, industrial, and contemporary kitchens, charcoal, slate, or light gray kitchen cabinets with white quartz or solid surface counters are appropriate. So, if you want to see different kitchen designs which are included gray kitchen cabinets with white countertops, keep reading and find stylish ideas!
Gray kitchen cabinets come in a wide range of shades and hues from very light grays to almost black ones. Thanks to this variety and the versatility of the gray, these cabinets can work with any color scheme. But, if you are looking for the most timeless and failsafe option, white countertops will never fail you down! From pure white quartz to luxurious white marbles, there are plenty of different material options for a white kitchen countertop. You might think that finding the right countertop is overwhelming. But, do not worry! In this article, we rounded up different styled inspirational kitchen ideas with gray kitchen cabinets with white countertops. Scroll down and find these alternatives to see how to incorporate your design project!
What color Backsplash goes with gray cabinets and white countertops?
White countertops brighten up the gray kitchen cabinets and reflect light, for this reason, it is better to balance the gray and white concept with a white color backsplash.
Gray Cabinets Shades
For a change, forget about the white kitchen. It's a timeless classic that never goes out of style. Here, we are offering a perfect alternative for white: gray cabinets. Gray is a versatile and flavorful color. It is a little less common among neutrals, yet it has just as much influence as, if not more some of the most popular neutrals. You may discover many gray cabinets shades solutions on the market to fit your kitchen design, whether you desire cold or warm gray colors. Gray is unexpected due to the many undertones inherent in the various colors, and it goes well with a wide range of design components!
Light Gray Kitchen Cabinets with White Countertops
It will be up to you to choose the appropriate shade of gray for your kitchen cabinets. The kitchen's qualities, on the other hand, have a role. If the room is tiny or there is little natural illumination, black cupboards, for example, might give the kitchen a minimalist appearance, making it feel smaller and darker. Light colors reflect light into the room, whereas dark, saturated colors absorb it. As a result, light gray kitchen cabinets with white countertops will intensify the brightness in the room.
Are gray cabinets timeless?
A gray kitchen is timeless, and if you choose the perfect one, it may even raise the value of your property. Gray, unlike some other color schemes, strikes the ideal combination of warmth and neutrality, making it suitable for kitchens of all sizes.
Are gray kitchen cabinets a fad?
Gray kitchen cabinets have seen a huge surge in popularity over the last several years, and it appears that this isn't just a fad in kitchen design. Gray cabinets offer the same level of neutrality and versatility as more traditional white cabinetry. Its adaptability, as well as its ability to work with practically any kitchen layout – classic, transitional, or modern – or color scheme, is a key feature.
Dark Gray Kitchen Cabinets with White Countertops
For years, dark gray has been a popular hue in kitchens, and it works well with raised panels, flat panels, and especially shaker-type doors. To that aim, a deeper gray will create a timeless kitchen design, meaning you won't have to redo it for a long time. Cabinets that are nearly black or dark gray may also be adaptable and particularly attractive when mixed with a variety of colors and designs. Dark gray kitchen cabinets with white countertops boost up the chic and sophisticated look of the kitchen with stylish contrast.
Can you put white countertops and gray cabinets?
You can put white countertops and gray cabinets if you do not want a sharp brightness for your kitchen. White countertops balance the brightness and keep the illumination well for the gray cabinets.
What color goes best with grey?
White color is a classic with the gray color but if you want to go bold you can use yellow hues such as gold or brass with the gray cabinets.
White Countertop Materials
White countertops are crucial to the success of many kitchen designs. They provide a new vibe to a wood or dark kitchen island by balancing out the gloom. You may have a clean backdrop if you want a gray kitchen with white counters. White countertops are all the rage right now, and for good reason: they're bright, light, and lend a sense of cleanliness to kitchens that's appealing. While some may dismiss white countertops as "boring" and "simple," the fact is that white countertop materials come in a range of materials such as marble, granite, or quartz, each with its feel and aesthetic, as well as advantages and disadvantages.
Gray Kitchen Cabinets with White Marble Countertop
The white marble countertops, with their distinctive gray veining, are an excellent complement for gray kitchen cabinets. Despite their high cost, marble countertops are extremely durable and may give your kitchen an unrivaled impression of luxury. The biggest disadvantage of marble is its porous surface. It can absorb liquids that can cause permanent damage to the marble. But, with regular sealing and a bit more maintenance, this investment will add value to your kitchen! Also, marble is an excellent choice for all different styles from modern to traditional. Gray kitchen cabinets with white marble countertops bring such an elegant look to the kitchen atmosphere.
What wall color goes with grey cabinets?
White is always a good choice for the wall colors when you will use gray cabinets. White walls with a white backsplash and countertops blow up the gray kitchen cabinets. Also, with white walls and gray cabinets, the monochromatic look will help you to have a stylish and elegant look. If you like to go bold, yellow walls, pink hues, and red hues are perfect with the gray cabinets.
Gray Kitchen Cabinets with White Granite Countertop
Thanks to their durability, large range of color and style options, granite countertops have remained one of the most popular options. It's difficult to imagine a more adaptable countertop alternative than one with outstanding durability and a wide range of colors. No matter what kind of kitchen you have, you can easily locate granite that matches your taste, even if your cabinets are gray. You will see the amazing results of the gray kitchen cabinets with white granite countertops!
Gray Kitchen Cabinets with White Quartz Countertop
The white quartz countertops have remained popular for quite some time and a variety of reasons. To begin with, it gives any kitchen a feeling of freshness, space, brightness, and airiness. It is constantly clean since dirt is visible soon and washing is straightforward. And because it is a man-made material, quartz doesn't require sealing which means it provides easier maintenance. From pure whites to marble-look quartz, there is a wide range of pattern and texture options for white quartz. Also, it complements whatever other kitchen features you pick, including diverse designs, colors, and combinations like gray kitchen cabinets and white quartz countertops. So, white is a timeless hue that will never go out of style and will give your kitchen a fashionable look and quartz countertops perfectly reflect that!
Gray Cabinet Styles
Gray cabinets are incredibly adaptable, allowing you to try out a variety of looks ranging from modern to rustic to farmhouse and beyond! These cabinets are available in a broad range of tints and tones, making them an excellent choice for any kitchen. You can play with the gray cabinet styles such as using modern gray kitchen cabinets with countertops and enjoy the sleek loof of simplicity. It is possible to have a warm look with gray colors thanks to the home-like feelings of the rustic design style combination for gray cabinets. Lastly, if you like classic looks, you can have farmhouse gray kitchen cabinets with white countertops to have a combination of traditional and stylish looks.
Modern Gray Kitchen Cabinets with White Countertop
The calmness of modern kitchen design serves as a counterpoint to the bustle of the kitchen. Open areas, minimalist features, and basic color palettes are typical of a modern kitchen design, which provides a clutter-free environment to relax and entertain. Everything smooth and streamlined is referred to as "modern." Once you decide to go with modern kitchen cabinets with white countertops, you will see the simple lines and minimalist designs create a stylish environment with the neutral gray color. The white countertops support the soft look with a brighter glance and bring freshness to the kitchens.
Rustic Gray Kitchen Cabinets with White Countertop
Kitchens in the rustic design are warm and inviting, with an emphasis on natural materials such as stone and wood. While rustic style is rooted in the past, today's interpretations might be more contemporary, depending on your design taste. Since the gray color is timeless and can create a warm inviting look you can have natural aspects with rustic gray kitchen cabinets. If you want to have a brighter look with a soft contrast rustic gray cabinets with white countertops.
Are white countertops a good idea?
White countertops have a vibrant tint that may help you make the most of your space. Its vibrant colors reflect a lot of light, allowing the countertops to enliven a room organically. In nature, the color is also complimentary. As a result, these countertops may be matched to any style, design, or arrangement.
Farmhouse Gray Kitchen Cabinets with White Countertop
Farmhouse style is a type of interior design that emphasizes functionality, simplicity, and rustic appeal. While farmhouse style reflects the beauty of rural construction, it also incorporates modern conveniences, resulting in an appearance that is both beautiful and cozy. If you like to use this cozy and beautiful look with a timeless, neutral color, you can go with gray kitchen cabinets. To brighten up the farmhouse kitchen with a sleek look using gray kitchen cabinets with white countertops is a perfect choice!
How do I choose a white countertop?
There are plenty of materials in white colors for the countertops. You can choose granite and marble countertops if you like natural touches. The quartz and laminate can help you to increase a clean look with their large range of patterns and colors.