84+ Stainless Steel Countertop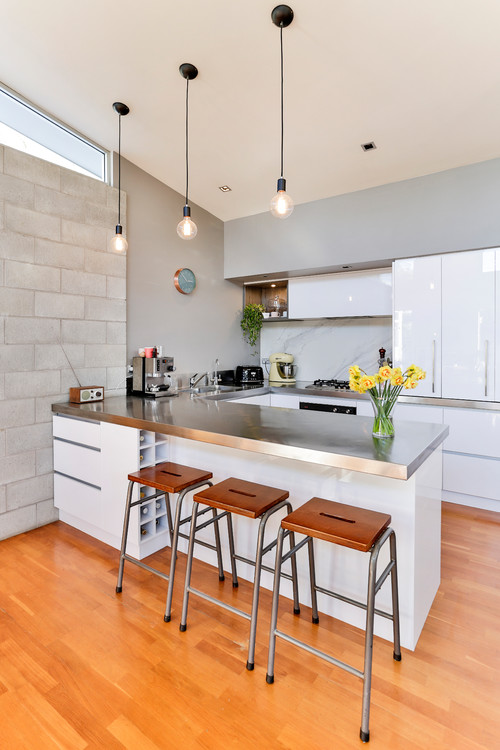 ID# 90231 | Houzz.com – Credit | © Jag Kitchens
---
White and wooden industrial kitchen
This perfect example of industrial kitchen features white cabinets and backsplash with stainless steel countertops. The floor comes in a medium tone hardwood and is multicolored, perfectly matching the stools seats and island top. The brick wall and the pendant bulb lights give the kitchen an industrial and sophisticated look.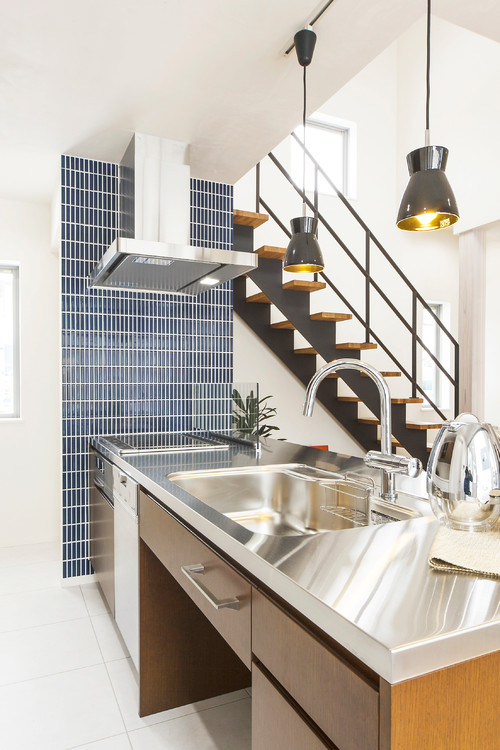 ID# 90206 | Houzz.com – Credit | © Stap
---
Modern wooden and stainless steel kitchen
Wondering what to look at first within this space? I couldn't choose myself! The attractive dark blue wall tiles make all the difference paired with the white and wooden furniture. The amazing stainless-steel countertop and accents create a great division between kitchen and dining room: this clearly is a welcoming space for everyone with good taste.
Stainless Steel countertops: Great material, greater ideas.
A while ago, stainless steel countertop is only used inside restaurants´ kitchens, but times have changed, and this amazing material has traveled all the way to our residential kitchens, bringing style and sophistication to the room.
If your ideal kitchen involves a beautiful island made of stainless steel, you couldn´t have made a better decision: this material is not only pretty but is also cost-effective, varying from $67,76 per square foot to $95,51 per square foot.
These will definitely be well-spent money! If you, like some of our buyers, still have doubts regarding which material to chose for your space, you might make up your mind after reading these pros and cons!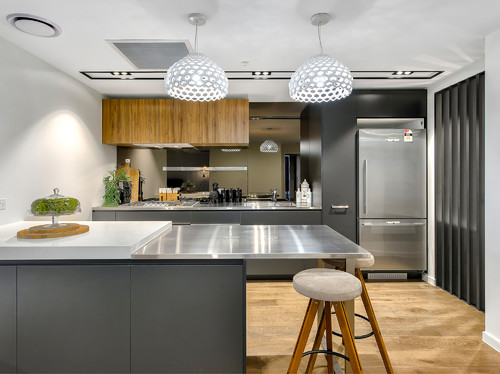 ID# 90205 | Houzz.com – Credit | © Tina Leveridge
---
Small, contemporary and practical
This contemporary kitchen is packed with style and class. The color scheme matches beautifully the stainless steel countertop, while the black and wooden cabinetry brings a modern and cozy atmosphere to the space. The mirror behind the sink creates an aspect of depth to the ambient, making it look bigger. The final touch is all about the accessories, such as the finishes of the stools, which match the beautiful FLOS Tatou S white pendant light.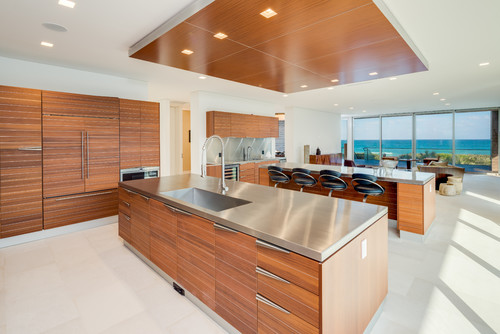 ID# 90201 | Houzz.com – Credit | © Hughesumbanhowar Architects
---
Ocean front wood and stainless steel kitchen
This oceanfront contemporary kitchen with stainless steel countertop will make all your dreams come true. Space features lots of storage in a beautiful tone of wood with built-in accessories. A stainless-steel island and sink create an amazing finish. Also full metal backsplash tile. Leather bar stools are added to the space to give a pop of color. Space has an amazing flow to it, for you to run your daily errands.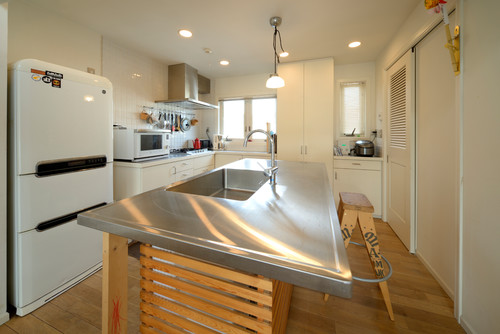 ID# 90203 | Houzz.com – Credit | © Shinji Ito
---
White, wood and stainless steel
This Asian style kitchen can bring everyone to agreement: it is simply stunning. The protagonist is the stainless steel countertop with implemented sink, probably the bigger element of the kitchen.The main color of the space is white, which creates a great contrast with the light wood countertop base.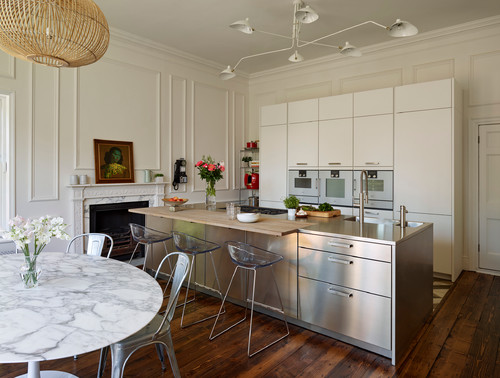 ID# 90204 | Houzz.com – Credit | © Nicholas Anthony
---
Eclectic space
If you are looking for a mix and match of styles, this is the right space for you. The accessories scream vintage, while the stainless-steel countertop and base are definitely industrial elements. An unusual and eye-catching detail is the fireplace frame, which we don't usually see inside of a kitchen space. This Eclectic ambience is as dreamy and classy as it gets!
PROS OF STAINLESS STEEL COUNTERTOPS: ADVANTAGES
Resistant to heat and rust – You can place a hot pot on your stainless-steel countertop, and nothing will happen, thanks to chromium and nickel, two heavily present elements in stainless-steel.
Doesn't leave stains – Worried about the spilled sauce on the countertop? You shouldn't be! Acids, drinks and other liquids won't set on stainless steel. How awesome?
Antibacterial – Worried about bacteria? If so, this material will work wonders for you. Metals are nonporous, meaning that they are antibacterial!
Easy to maintain – This amazing material does not need extreme cure: washing it gently after the use with a sponge and some neutral soap will do the magic, and always leave it fresh and shiny.
CONS OF STAINLESS STEEL COUNTERTOPS:
Scratches – One of the cons of this amazing material is that it becomes scratched with time. Nothing will happen to the metal, but there is going to impact on the appearance.
Cold material – If you are looking for a warmer style, some people would say that stainless steel is not the right choice for your space. It has a cold surface, giving the impression of a 'cold' look inside your kitchen. Adding warmer elements could solve this problem if your mind is set on a warm ambient with stainless-steel.
Noisy – Imagine giving your kid pots and pans to play drums. Can you picture it? This is the sound you are going to have to learn to live with. Cutting, chopping and placing utensils has never been so loud!
Buying Options Where to Buy Steel Countertop