25+ Brown Kitchen Backsplash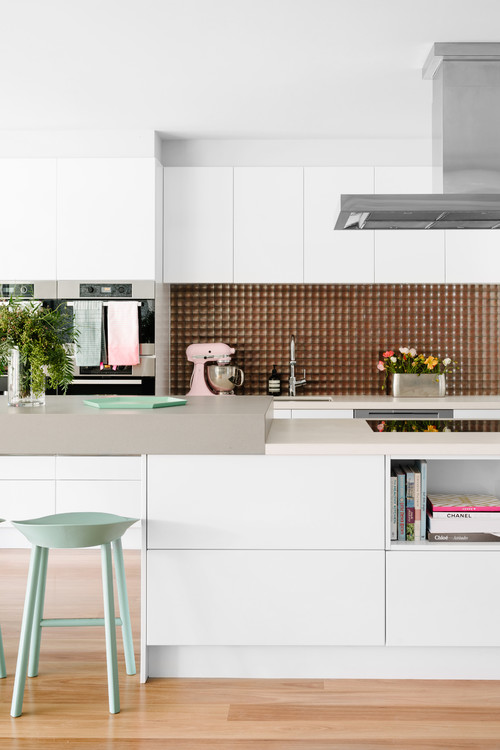 ID# 161001 | Houzz.com – Credit | © Kim Pearson Pty Ltd
---
White Cabinets with Brown Kitchen Backsplash
In this contemporary kitchen design, sleek and simple white flat panel cabinets create a clean and minimalist feel. The white countertops not only add brightness but also create a refreshing ambiance. But what really catches the eye is the stunning brown square tile backsplash with a 3D effect which brings a fascinating visual interest and texture to the overall design. The tiles serve as a unique and modern focal point, adding depth and dimension to the space. To add to the sleekness and modern aesthetic, stainless steel appliances are incorporated which enhance both style and functionality!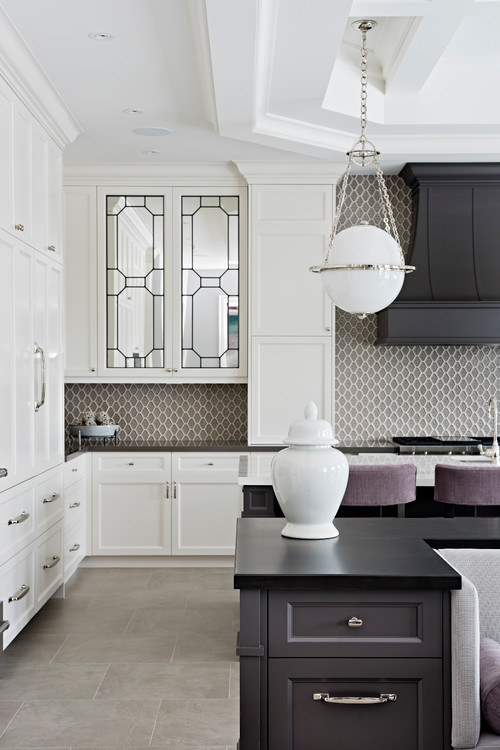 ID# 161019 | Houzz.com – Credit | © Pizzale Design Inc.
---
Traditional Kitchen with Monochrome Color Scheme
A traditional kitchen with white shaker cabinets can be elevated with a brown arabesque tile backsplash, adding a touch of elegance and timeless appeal. The intricate and graceful curves of arabesque tiles in a rich brown color can create a stunning focal point in the kitchen. The double island design, with a built-in breakfast bar, provides ample space for meal preparation and entertainment. An oversized black range hood can add a bold statement, contrasting against the white cabinetry. Mirror detailed upper cabinets can bring a touch of glamour and reflect light, adding a sense of spaciousness to the kitchen.
Brown Kitchen Backsplash
A brown kitchen backsplash can add warmth, depth, and richness to your kitchen design. Brown is a versatile color that can work well with different design aesthetics. This versatility allows you to reflect your personal style! Brown backsplashes can come in various materials, such as ceramic, porcelain, glass or natural stone, each offering its own unique texture and look. To learn more about these neutral backsplash tiles, scroll down and find stunning design ideas that will inspire you!
Neutral Brown Shades for Kitchen Backsplashes
A brown kitchen backsplash can create a cozy and inviting atmosphere in your kitchen. It can complement other earthy tones in your kitchen, such as wooden cabinetry, warm-toned countertops, or rustic accents. Brown backsplash ideas can also be paired with contrasting colors, such as creamy whites or soft grays, to create a beautiful and balanced color palette.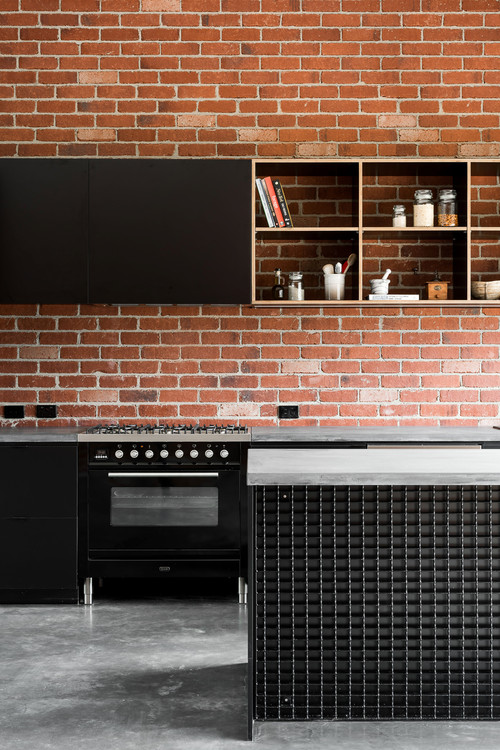 ID# 161002 | Houzz.com – Credit | © Cast Studio
---
Black Cabinets with Exposed Brick Wall and Gray Countertops
In this stunning kitchen design, the cabinets take center stage with their bold and striking black color! The exposed brick wall provides a unique and warm backdrop as a stunning backsplash. The gray granite countertops are both stylish and durable and offer the perfect surface to prepare your favorite meals. The wooden open cabinets add a natural and inviting touch to the design, creating a delightful combination of style and usability. The black appliances perfectly fit the design, making everything look cohesive and modern. Finally, the concrete look floor provides an industrial and contemporary touch.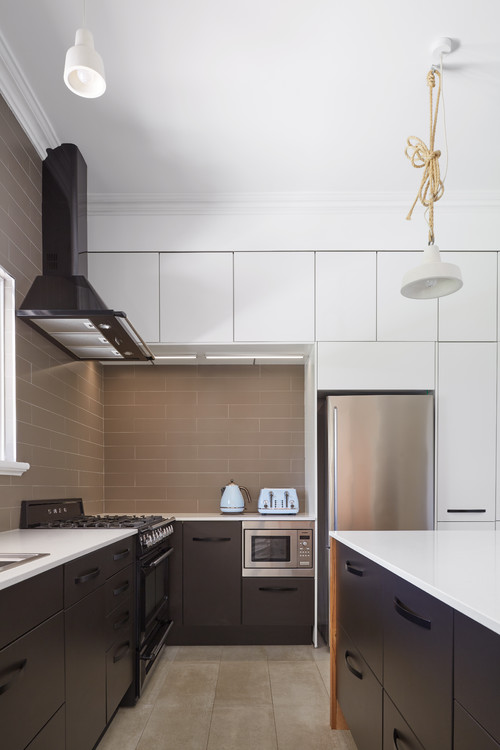 ID# 161003 | Houzz.com – Credit | © Within
---
Two Tone Gray and White Kitchen Cabinets with Black Hardware
In this modern kitchen design, sleek and sophisticated meets warm and inviting! The dark gray base cabinets and white upper cabinets create a striking contrast while the light brown subway tile backsplash adds a touch of visual intrigue and warmth. The sleek appeal of the brown tiles perfectly matches the flat-panel cabinet door style. The black appliances and hardware provide a nice contrast, adding a dash of drama and a sense of refined elegance to the overall design.
Is brown backsplash out of style?
Brown is a timeless, neutral chic backsplash color variant. From modern browns to antique patterned influences, they are still trendy backsplash.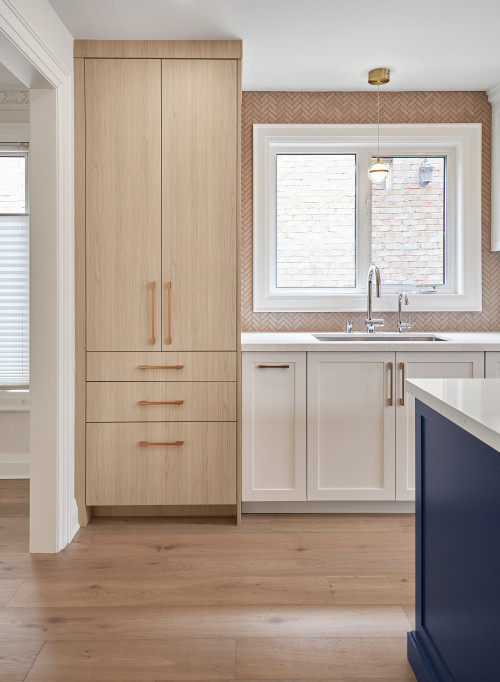 ID# 161004 | Houzz.com – Credit | © Designtheory Inc.
---
Transitional Kitchen with Herringbone Backsplash Tiles
Incorporating both classic and modern aesthetics, the transitional kitchen design presents a refined and ageless appearance! The cabinetry displays a stylish contrast of white upper cabinets and wood lower cabinets, highlighting a harmonious blend of colors. To create visual interest and serve as the centerpiece of the design, a light brown herringbone tile backsplash has been intricately incorporated, contributing texture and pattern. The pristine white countertops offer a fitting touch of freshness, complementing the navy blue island that captures attention while boosting dimensionality. To add a dash of opulence, polished brass hardware has been used, forming a stunning contrast against the white and wood tones, thereby lending an air of prestige and luxury to the overall look.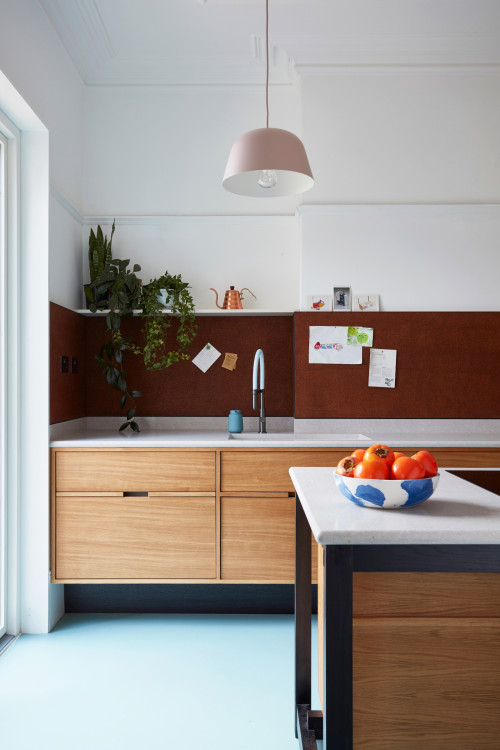 ID# 161005 | Houzz.com – Credit | © H. Miller Bros
---
Beach Style Kitchen with Wood Cabinets and Gray Countertops
The kitchen's beach style exudes warmth and a welcoming ambiance that transports you to a coastal retreat! The organic and natural feel of the wood cabinets with their warm tones and texture adds a sense of comfort and homeliness to the space. To complement the wood cabinets, the light gray countertops offer a subtle contrast. The reddish-brown backsplash stands out, being reminiscent of driftwood or rustic beachwood which adds a pop of color and charm. The floating white shelf above the backsplash brings a coastal touch to the overall design, serving as a perfect spot to showcase your beach-inspired decor or store your kitchen essentials.
Natural Stone Mosaic Tiles
Brown Kitchen Backsplash Materials
When it comes to crafting a brown kitchen backsplash, there are quite a few materials to consider. Ceramic or porcelain tiles are great picks because they're durable and versatile. To create a sleek and modern look, glass tiles are perfect. Natural stone backsplashes such as travertine tile, bring a touch of nature and come in a variety of colors and textures to choose from. For a distinctive, industrial vibe, metal tiles are the way to go while wood tiles create a warm, inviting atmosphere. The options for textures, finishes, and patterns are seemingly endless, so just choose the material that best suits your particular style and complements your kitchen design!
Brown Glass Kitchen Backsplash
A brown glass backsplash in your kitchen is a fantastic way to inject a touch of sophistication and modernity. It lends a sleek and glossy appearance that is perfect for those contemporary kitchen designs. Adding to its charm is the warm and deep brown color that creates a cozy and inviting atmosphere. The translucent nature of the glass gives it a luminous effect. Brown glass backsplashes come in a variety of shades ranging from light caramel to rich chocolate, allowing you to choose a tone that perfectly complements your kitchen's color palette. This unique combination of style and practicality of a brown glass kitchen backsplash will undoubtedly elevate the aesthetic appeal of your kitchen while also offering an excellent safeguard against splashes and spills.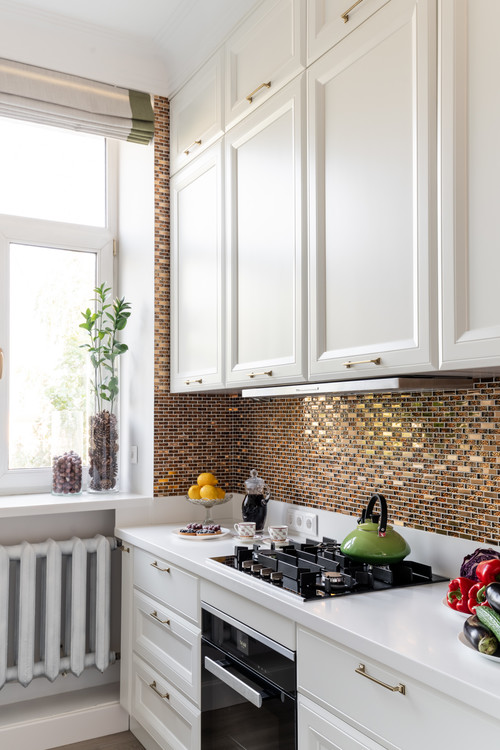 ID# 161006 | Houzz.com – Credit | © Наталья Широкорад
---
White Transitional Kitchen with Glossy Glass Mosaic Tile Backsplash
A kitchen featuring white shaker cabinets, a white Caesarstone countertop, a glossy glass brown mosaic tile backsplash, brushed brass hardware, and black appliances creates a modern and stylish look. The white cabinets and countertop offer a clean and timeless appeal, while the brown mosaic tile backsplash adds elegance and visual interest. The brushed brass hardware adds a touch of luxury, and the black appliances provide a sleek contrast against the white backdrop.
Brown Ceramic Kitchen Backsplash
A brown ceramic kitchen backsplash can add warmth and depth to your kitchen design. Ceramic tiles are durable and easy to clean materials. The brown color can range from light to dark shades, offering versatility in design options. A light brown ceramic backsplash can create a cozy and inviting atmosphere while a darker brown can add richness and drama to the space. The earthy tones of a brown ceramic backsplash can complement a variety of kitchen styles, from rustic to modern. Whether you choose a glossy or matte finish, a brown ceramic backsplash can add character and charm to your kitchen while providing a functional and stylish solution for protecting your walls from spills and splashes!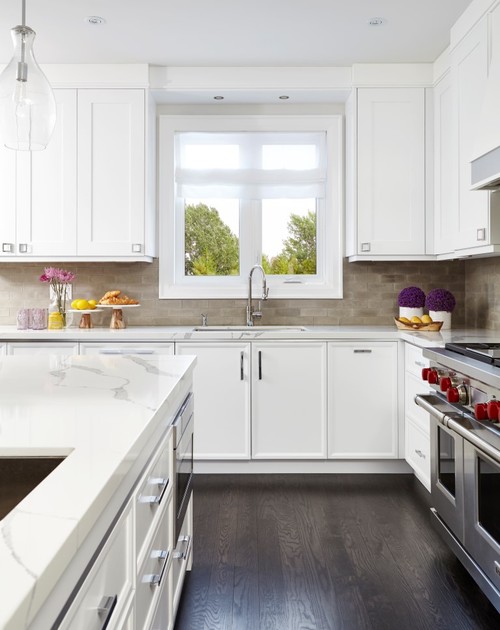 ID# 161007 | Houzz.com – Credit | © Dvira Interiors
---
Light Brown Kitchen Backsplash with Shaker Cabinets
A transitional kitchen design featuring white shaker cabinets, marble look quartz countertops, a light brown kitchen backsplash, and chrome hardware can create a timeless and sophisticated look. The white shaker cabinets offer a classic and versatile base, while the marble look quartz countertops provide a durable and low-maintenance option with the aesthetic appeal of natural marble. The light brown kitchen backsplash adds warmth and texture to the space, creating a harmonious balance between the white cabinets and the marble look countertops. The chrome hardware adds a sleek and modern touch, complementing the transitional style of the kitchen.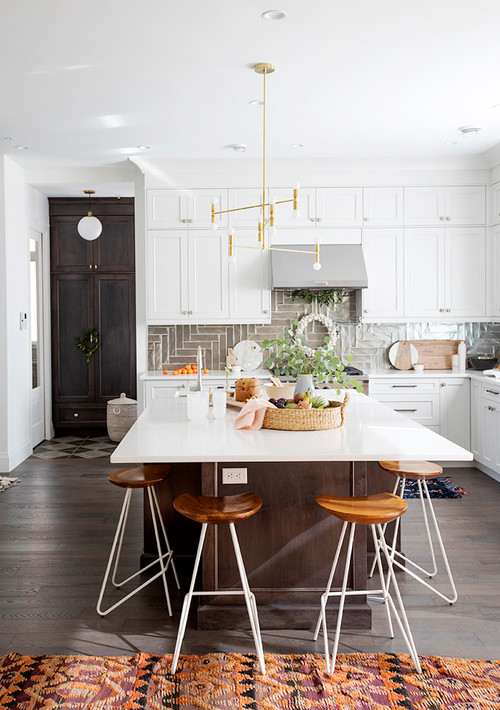 ID# 161008 | Houzz.com – Credit | © PURE Design Inc.
---
White Shaker Style Cabinets with Herringbone Tiles
This eat-in kitchen that combines classic and contemporary elements offers a timeless and versatile space! The white shaker cabinets provide a simple, yet elegant design that offers a clean and uncluttered look. Adding a touch of sophistication and visual interest, the brown herringbone backsplash features a dynamic pattern due to its diagonal layout. The wood island catches the eye as it serves as a focal point, adding warmth and natural texture to the design, making meal preparation and entertaining more inviting. A sleek and modern touch comes from the chrome hardware on the cabinets while the brass chandelier above the island adds elegance and warmth, creating a beautiful and harmonious contrast to the space.
What cabinets go with a brown backsplash?
White cabinets exude timeless elegance that perfectly complements charming brown backsplash tiles. The contrast between the two creates a cool and sophisticated design that instantly elevates any kitchen space. For those who prefer darker-toned cabinets, this combination is a must-try!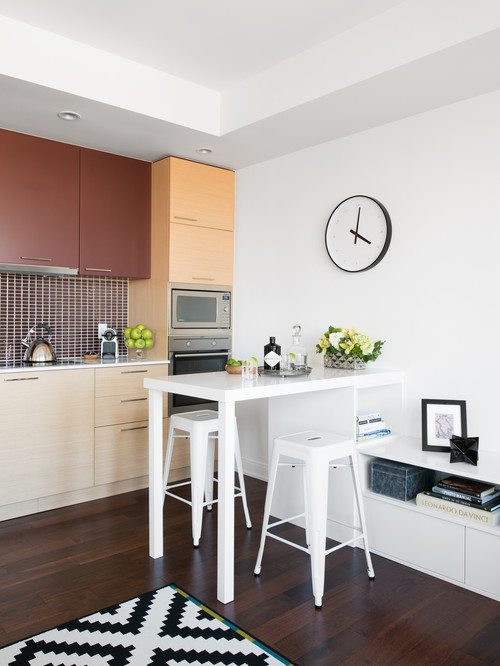 ID# 161009 | Houzz.com – Credit | © Coe Mudford Interior Design
---
Contemporary Kitchen with Two Tone Cabinets and White Peninsula
The kitchen of today has a chic and elegant design, showcasing a fusion of trendy two-tone wood and brown cabinets that bring a sense of coziness and character to the room! The white countertop creates a bright and sharp contrast against the dark wood shades. The brown ceramic tile backsplash embellishes the area with its rustic hues, complementing the wood cabinets beautifully. Furthermore, the white peninsula alongside the white stools not only contributes to the kitchen's functionality but also acts as a captivating focal point for casual dining and entertaining.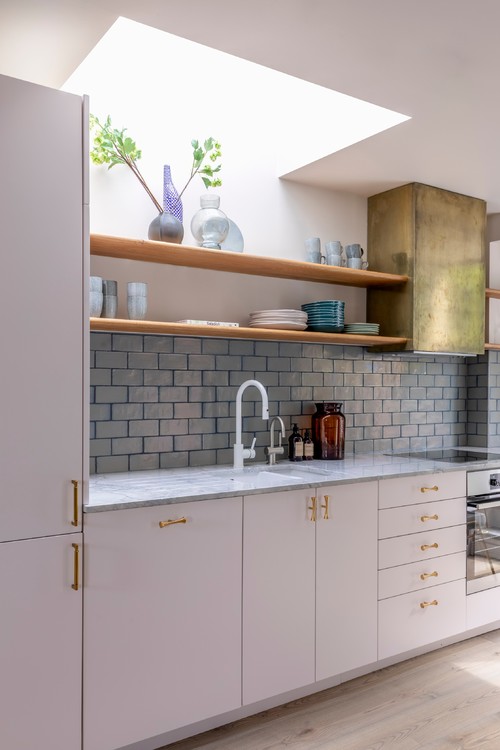 ID# 161010 | Houzz.com – Credit | © MUNRO
---
Pastel Pink Cabinets with Brass Range Hood
The pastel pink cabinets bring a fresh and modern twist to the contemporary style, while the gray marble countertop adds elegance and sophistication. The dark brown kitchen backsplash in a subway layout creates a striking contrast against the pastel pink cabinets, and the wood open shelving adds warmth and natural texture to the space. The brass range hood and gold hardware add a touch of luxury and glamour, elevating the overall aesthetic of the kitchen. The skylight above the shelves brings in natural light, enhancing the brightness and openness of the space.
Brown Stone Kitchen Backsplash
Brown stone kitchen backsplash responds to natural, stylish and luxurious designs. Unique designs can be achieved with various options such as marble, brick, limestone and natural stones! Marble backsplashes create quality, luxurious effects in different variations, in the form of large slabs or small mosaic pieces. Stone and brick types are the materials that can be preferred for more natural, rustic, farmhouse and industrial-style kitchen designs.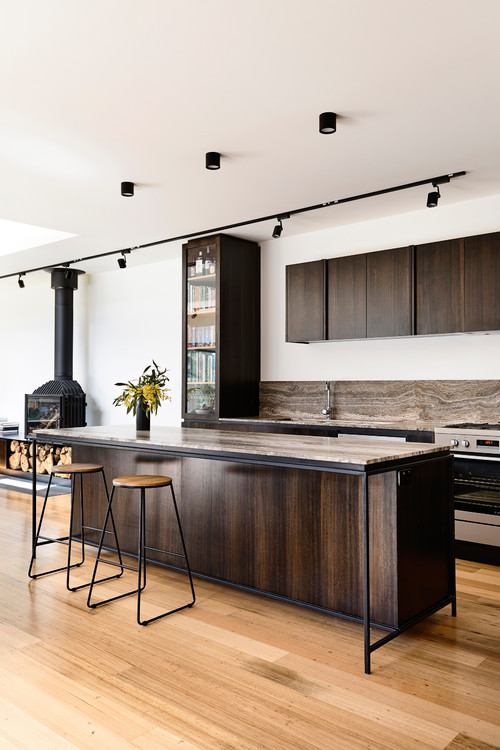 ID# 161011 | Houzz.com – Credit | © Porter Architects
---
Dark Wood Cabinets with Brown Granite Slabs
In this chic and modern kitchen boasting dark wood cabinets and an island, a brown granite backsplash and countertops infuse natural beauty and texture into the design. The dark wood elements add a rich and luxurious touch. With a warm and earthy tone, the brown granite harmonizes beautifully with the wood cabinets and island. Add a touch of drama and contemporary flair by introducing black accents- sleek fixtures, hardware and appliances. As the perfect complement to the dark wood and brown granite, the black accents make a bold statement, also drawing the eye and enhancing the overall aesthetic.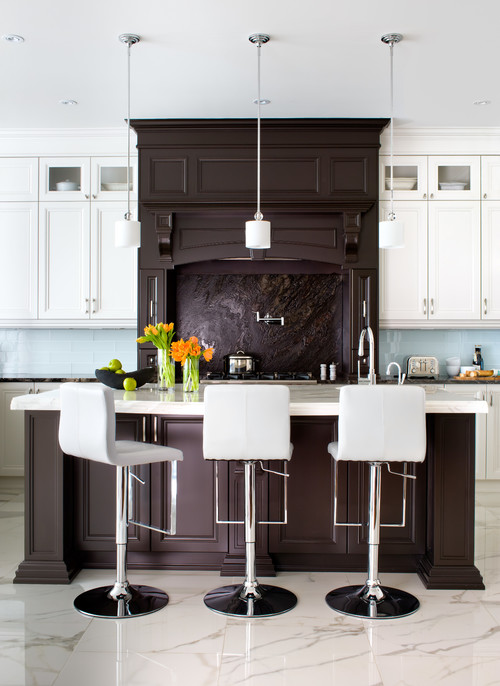 ID# 161012 | Houzz.com – Credit | © Brandon Barré Architectural Interior Photographer
---
Traditional Kitchen with Brown Backsplash and Range Hood
When designing a kitchen with a traditional feel, pairing white shaker cabinets with a rich brown granite slab backsplash can give the space a classic and timeless appearance. The crisp, bright white cabinets offer a clean and fresh atmosphere while the warm and textured brown granite backsplash introduces a touch of natural beauty. The unique patterns and variations in the brown granite add a dynamic focal point to the kitchen, providing interest and depth to the space. To create a cohesive and balanced design, consider incorporating a brown range hood and island with a white countertop that complements the granite backsplash. Polished chrome hardware adds a sophisticated touch of elegance to the traditional style.
Should the backsplash be lighter or darker than the countertop?
Choosing a lighter or darker backsplash is a subjective decision that relies on individual taste and design objectives. Coherence in the aesthetic can be created by a matching color palette, whilst contrast can elevate the visual interest of your kitchen. Bearing in mind the general chromatic scheme, lighting, and designing elements in your area can form a unified outcome.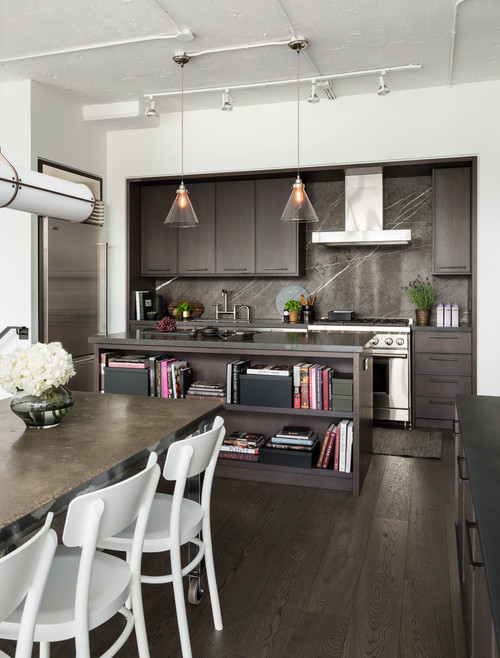 ID# 161013 | Houzz.com – Credit | © Croma Design Inc.
---
Modern Industrial Kitchen with Dark Brown Colors
Looking to achieve a sleek and modern kitchen aesthetic with an industrial vibe? Dark brown cabinets and backsplash may be the answer. This color choice creates a striking contrast against white walls and adds depth and texture to the space. With stainless steel appliances, you'll achieve a polished and contemporary look. The use of dark brown as a dominant color can also provide warmth and intimacy in an otherwise cool and minimalist industrial style. By incorporating these elements together, you'll have a sophisticated kitchen perfect for any modern home.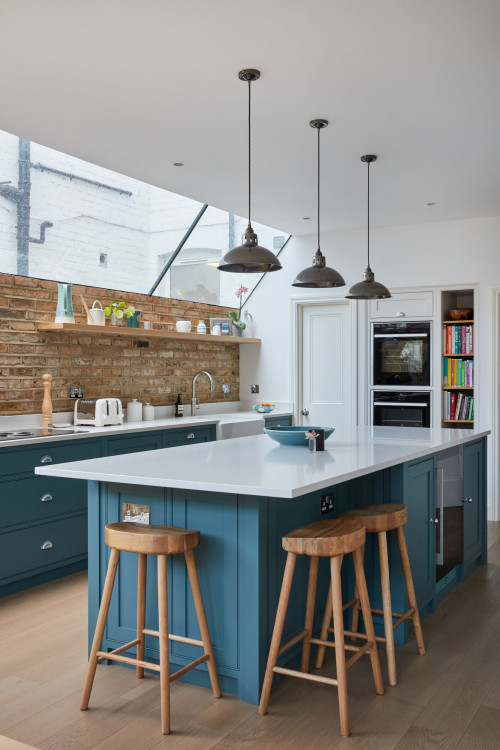 ID# 161014 | Houzz.com – Credit | © The Main Company
---
Blue Kitchen Cabinets with Large Island and Seating
Are you looking for an accent color for your kitchen? Consider incorporating bold blue cabinets and an island into your design. This dynamic duo not only creates a modern statement in your space but also provides a functional and convenient breakfast counter seating option for casual meals or hosting guests. To add some texture and contrast, opt for a rustic brown brick backsplash against the smooth blue cabinets. A wood floating shelf on the backsplash provides a natural and inviting touch, perfect for displaying your favorite kitchen items. And don't forget to add a touch of elegance and sophistication with sleek metallic pendant lights above the island.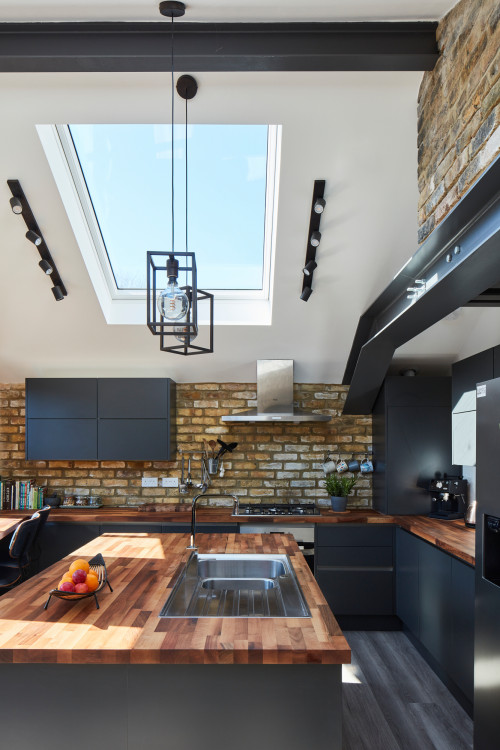 ID# 161015 | Houzz.com – Credit | © MODEL Projects Ltd
---
Brick Brown Kitchen Backsplash with Black Cabinets
A modern, industrial style kitchen with black cabinets can create a sleek and edgy look in your home. The black cabinets add a bold and contemporary touch to the space, while the brick brown kitchen backsplash adds a rustic and industrial element. The brick backsplash provides a textured and natural look and complements the black cabinets perfectly. Butcher block countertops add warmth and a touch of natural beauty to the design and create a contrast against the dark cabinets. Additionally, exposed steel beams further enhance the industrial style, adding a rugged and utilitarian element to the design.
Brown Wood Kitchen Backsplash
Wood is an eternal material that exudes a warm, inviting, and sophisticated look. While some may think it's challenging to use in kitchens, with the right wood, preparation, and utilization, it can be the most enduring material type. For many years, wood has been a favored choice for kitchen countertops. With its natural appeal, it also become a popular choice for kitchen backsplashes. It effortlessly creates a genuine and lovely ambiance. Depending on how it's laid out and the color tones used various modern, rustic, farmhouse, industrial or transitional kitchen designs can be created. Each one has a distinctive vibe and energy that's unique to its form.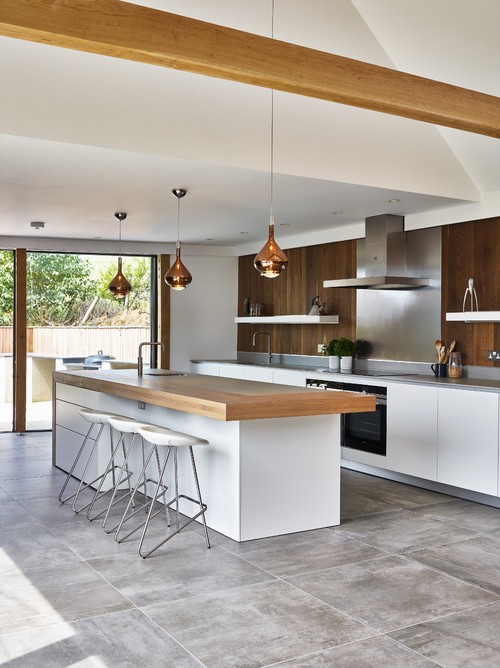 ID# 161016 | Houzz.com – Credit
---
Contemporary Kitchen with Large Waterfall Island
Step into a contemporary kitchen where design meets functionality. With modern white cabinets paired with a unique, eye-catching brown wood wall panel backsplash, you'll instantly be struck by the warmth and natural texture it adds to the sleek and clean lines of the cabinets. The striking contrast is enough to give your guests a modern culinary experience. For an even more elevated aesthetic, a metal sheet backsplash behind the stainless steel stove can bring an industrial edge, making for a bold statement piece in your kitchen. A large, chic white kitchen island with a wood waterfall countertop serves as a perfect focal point, also providing ample workspace and seating for all your social gatherings.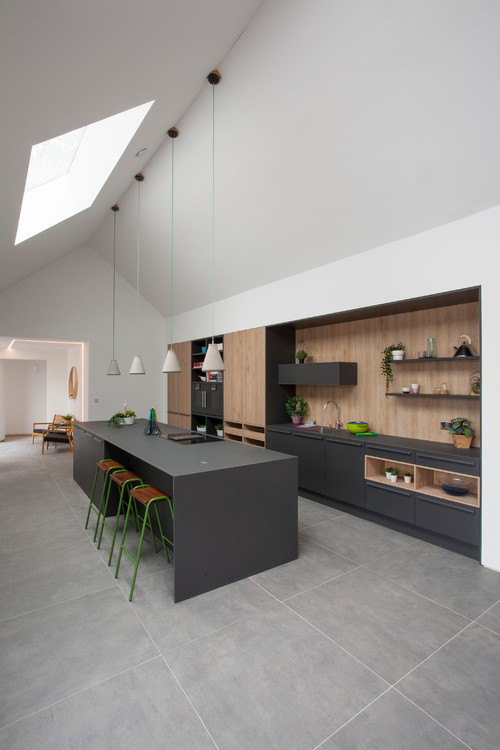 ID# 161017 | Houzz.com – Credit
---
Light Brown Kitchen Backsplash with Dark Gray Cabinets
In a modern kitchen, dark gray cabinets can be paired with a light wood kitchen backsplash for a sleek and stylish look! The light wood backsplash can add warmth and natural texture to the cool and sophisticated dark gray cabinets and create a visually appealing contrast. Open shelves can be incorporated into the design, providing a practical and decorative element for displaying kitchen essentials and decor. A dark gray kitchen island with seating can serve as a functional and stylish centerpiece in the space. Concrete look floor tiles can complete the modern aesthetic, adding an industrial touch and a sense of urban chic to the overall design.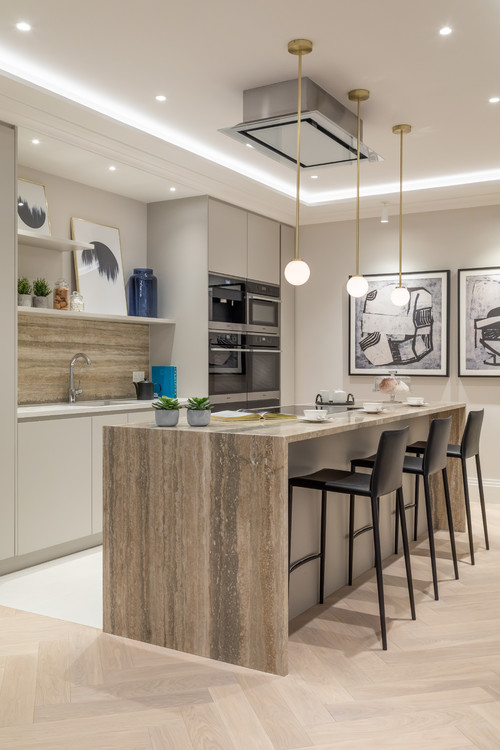 ID# 161018 | Houzz.com – Credit | © Tessuto Interiors
---
Off-White Cabinets with Stunning Kitchen Island
In this contemporary kitchen, off-white cabinets can be complemented with a brown granite backsplash for a sophisticated and timeless look. The natural beauty of the granite can add warmth and character to the kitchen space. A kitchen island with a waterfall granite countertop can serve as a stunning focal point, creating a sleek and modern aesthetic. Floating shelves above the backsplash slab can provide functional storage and a decorative element, allowing for the display of kitchen essentials and decor items.
Brown Shades for Kitchen Backsplash
Brown shades for kitchen backsplashes offer a variety of options to add warmth and depth to the space. Mocha brown creates a luxurious and sophisticated look, while chocolate brown adds boldness and drama. Rustic brown with a weathered finish adds charm and rusticity, while taupe brown offers versatility and subtlety. Lighter shades like tan or beige provide a soft and natural look. Consider your kitchen's overall color scheme and design style when selecting a brown shade for your backsplash to create a cohesive and visually appealing look.
Dark Brown Kitchen Backsplash
A dark brown kitchen backsplash can add richness and warmth to the space, creating a sophisticated and inviting atmosphere. Dark brown backsplashes can come in various materials, such as brown mosaic tiles, brown subway tiles, or brown glass tiles, offering different textures and styles. The deep hue of dark brown can complement a wide range of kitchen cabinet colors, countertop materials, and hardware finishes, making it a versatile choice for kitchen design. It can also hide stains and dirt effectively, making it practical for busy kitchens. Consider pairing a dark brown backsplash with lighter colored cabinets, countertops, and other design elements to create a balanced and harmonious look in your kitchen.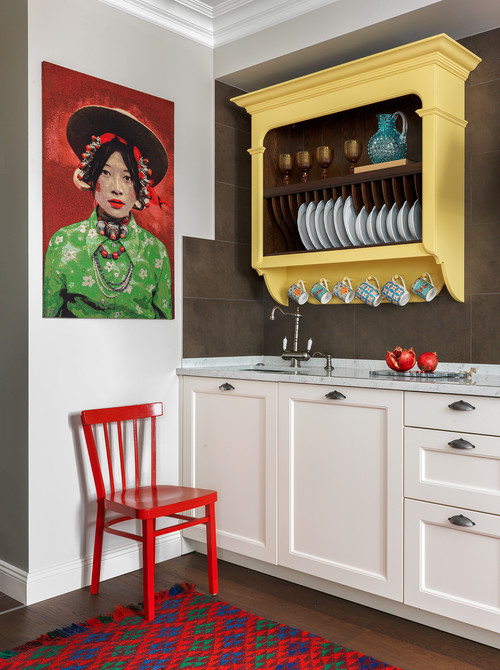 ID# 161020 | Houzz.com – Credit | © Студия Олеси Шляхтиной
---
Eclectic Kitchen with Red and Yellow Accents
In an eclectic kitchen, off-white base cabinets and marble countertops can set a neutral and timeless foundation. A dark brown kitchen backsplash adds warmth and depth to the space, contrasting against the light-colored cabinets and countertops. A unique and unexpected element, such as a yellow wall-mounted dish rack, can bring a pop of color and playful charm to the kitchen. Colorful artwork on the walls and a red chair as seating can add personality and vibrancy to the space, creating an eclectic and visually intriguing ambiance!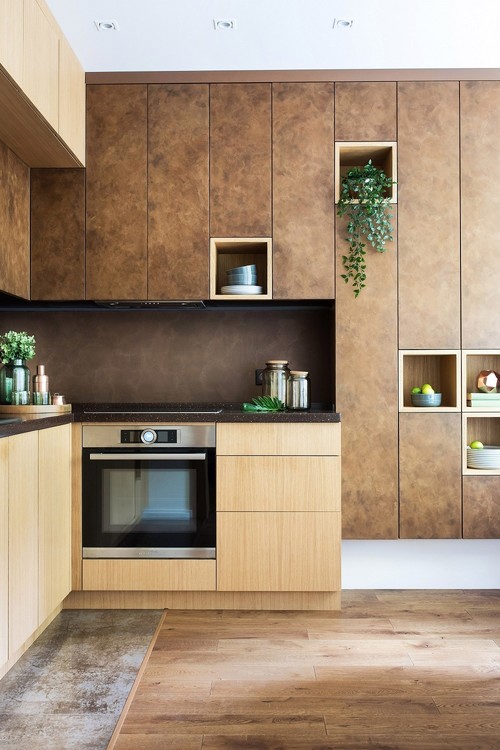 ID# 161021 | Houzz.com – Credit | © Pugachevich Studio
---
Two Tone Kitchen Cabinetry with Granite Countertop
A contemporary L-shaped kitchen with light wood base cabinets and brown upper cabinets featuring a stone texture can create a modern and sophisticated look. The brown granite backsplash and countertop add depth and richness to the design while providing a durable and functional surface for food preparation. Additionally, open cabinets with plant pots can bring a touch of nature into the space, adding freshness and vibrancy.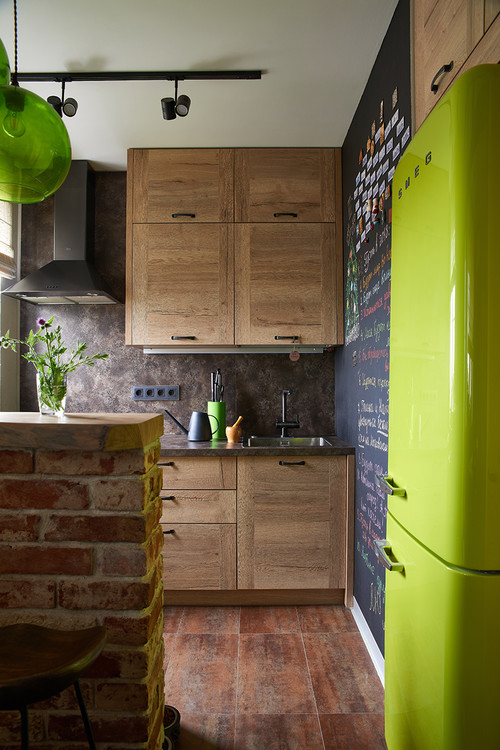 ID# 161022 | Houzz.com – Credit | © Оксана Цымбалова/студия "ДОМ СОЛНЦА"
---
Industrial Kitchen with Chalkboard Painted Wall
An industrial kitchen with natural wood cabinets, a granite brown kitchen backsplash, and countertop can create a rustic and edgy aesthetic. The chalkboard painted wall adds a unique and creative element, allowing for personalized messages or recipe notes. Black appliances complement the industrial theme, while stone floor tiles in brown shades add a touch of natural warmth and authenticity.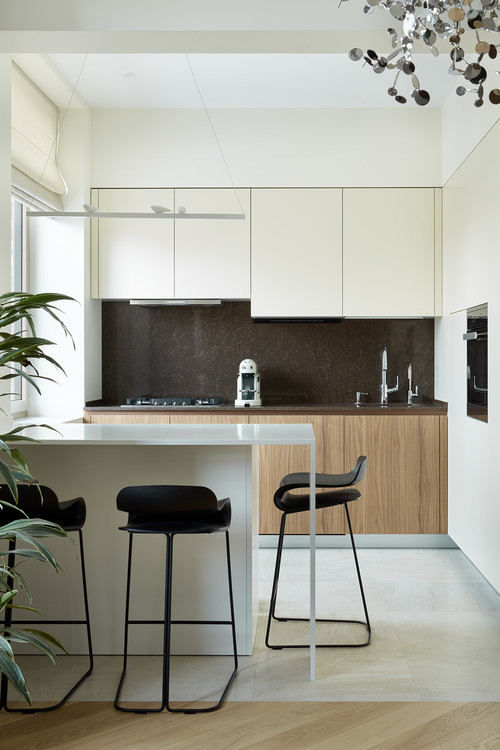 ID# 161023 | Houzz.com – Credit | © Kerimov Architects
---
White and Wood Cabinets with White Peninsula
In this open concept kitchen, white upper cabinets paired with light wood base cabinets create a fresh and airy ambiance! The brown countertop and backsplash add warmth and depth to the space, creating a visual contrast. The white peninsula with black chairs serves as a functional and stylish seating area. The minimalist white lighting fixture above the peninsula adds a touch of modernity.
Light Brown Kitchen Backsplash
A soft and gentle ambiance radiates from a light brown backsplash, inviting warmth and friendliness into any kitchen. Its muted tone adds a neutral touch, while still providing an elegant foundation for more playful color schemes. This versatile design option effortlessly adapts to a variety of styles, thanks to the multitude of materials available. From modern to traditional, light brown backsplashes offer a wide range of alternatives, accommodating every taste and producing chic and functional designs that are sure to impress. Its broad appeal makes it a popular choice among homeowners and designers alike.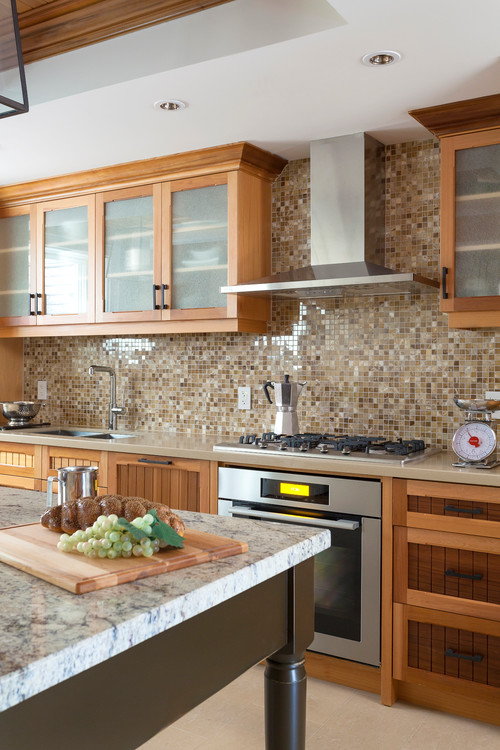 ID# 161024 | Houzz.com – Credit | © Principles Design Studio, Inc.
---
Glass Mosaic Backsplash Tiles with Beige Countertops
Bring a touch of sophistication and visual intrigue to your transitional kitchen with a brown glass mosaic backsplash! The sparkling glass tiles reflect light and create a striking focal point in the space. To complement this stunning feature, opt for stainless steel appliances to achieve a sleek and modern look. Finally, incorporate a beige granite countertop for a durable and timeless surface for all your food preparation needs.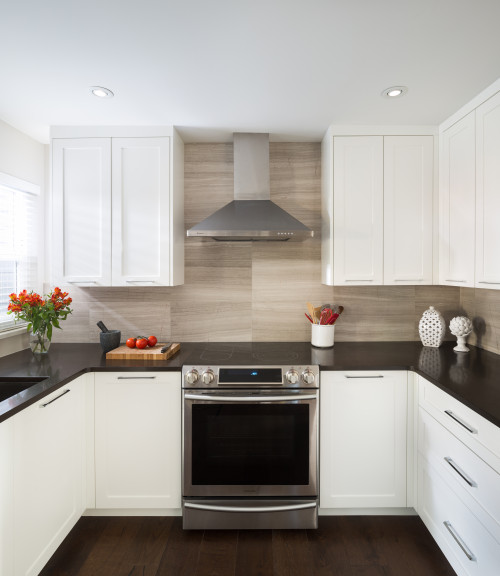 ID# 161025 | Houzz.com – Credit | © Troico
---
Contemporary Kitchen with White Cabinetry and Black Countertop
In today's modern kitchen, the sleek white cabinets provide an exceptionally clean and crisp appearance. The black countertop offers a bold and remarkable contrast against the white. The U-shaped kitchen layout also ensures efficient functionality, making food preparation and cooking a breeze. Balanced with a light brown tile backsplash, the area gains depth and warmth, also creating a perfect balance between the white cabinets and the black countertop. Additionally, the stainless steel appliances incorporated into the kitchen also enhance the contemporary aesthetic!