28+ Minimalist Kitchen Backsplash Ideas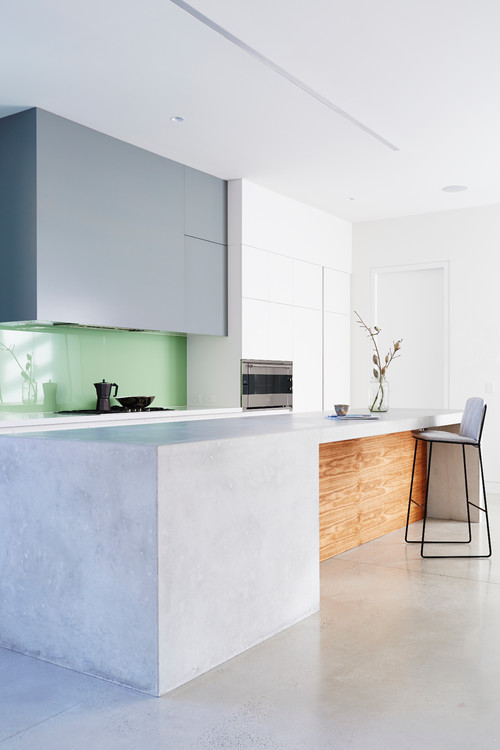 ID# 138510 | Houzz.com – Credit | © Project 12 Architecture
---
Green Glass Sheet Backsplash with Natural Stone Island and Concrete Floor
What else could have looked more minimalist than a green glass sheet backsplash? Providing a translucent surface and a subtle shade of color, this green backsplash instills glow and tranquility in the kitchen. It is complemented with white and gray cabinets, a natural stone oversized island with a timber base, and poured concrete floor finish. This way, this open-plan contemporary kitchen proposes a complicated and sophisticated mélange of forms and materials, also layered with authentic touches.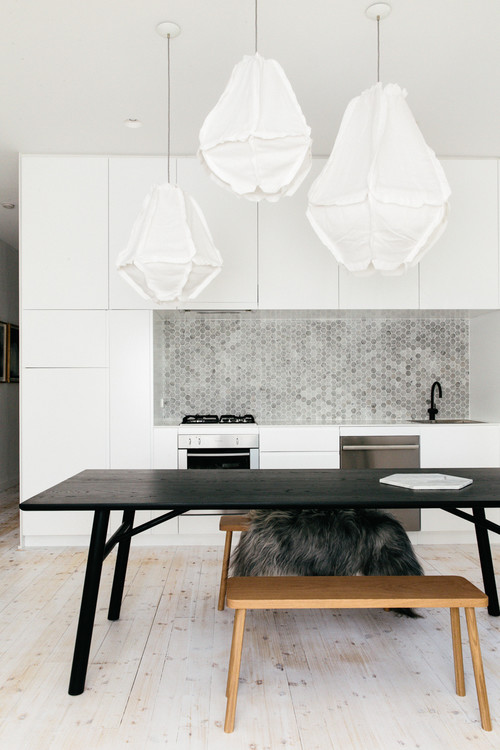 ID# 138518 | Houzz.com – Credit | © Caroline McCredie
---
Scandinavian Kitchen With Gray Marble Hexagon Tile Backsplash and Bench Seating
This kitchen is conceived as a Scandinavian design that is inclusive of a basic color palette, biomorphic forms, and a functional layout. First, it starts by creating a blank canvas with all-white cabinets and pairing them with a gray marble tile backsplash. The hexagon patterns on the backsplash, also known as honeycomb, bring nature-inspired forms that are in resonance with the oversized pendants that resemble flower petals getting ready to blossom. In the center, right under these pendants, sits a black trestle. It teams up with its warm wood versions of a smaller size that bring much-needed warmth, along with the pale rustic wood floor finish.
Minimalist Kitchen Backsplash Ideas
Most of us find ourselves in a world driven by the hustle and bustle of the city. When that is the case, when we get back home, we just expect to see soothing color schemes, decluttered spaces, and in short, something that feels light and relaxing. And that's what minimalist kitchens propose and take charge of to impart a sense of calmness to their users. Kitchens, as the most hectic zones of our homes where we are kept busy with chopping, cutting, preparing, and cooking, need the best tranquil setups to compensate for their busy schedules. If you agree with us on this and want to create a minimalist kitchen, here we present you with minimalist kitchen backsplash ideas, a very good way to start to build one as it is situated at eye level and mostly the first thing you see as you step into the kitchen.
Minimalist kitchen backsplash ideas encompass slab natural stone backsplashes, ceramic subway tiles, Escher patterns, hexagons, and glass sheet backsplashes. These patterns and light shades give the kitchen a sense of resilience. Even though minimalist kitchens seem to shy away from bold colors, they still maintain dynamism kept alive through authentic materials such as stones, wood, and bricks. So, unlike what is assumed, they don't look sterile or boring at all. Instead, they have their way to bring character to any space. In this blog, we will walk you through various minimalist kitchen backsplashes. So, to get inspired, take a look at our list which encompasses over 30 projects with different takes on minimalist looks.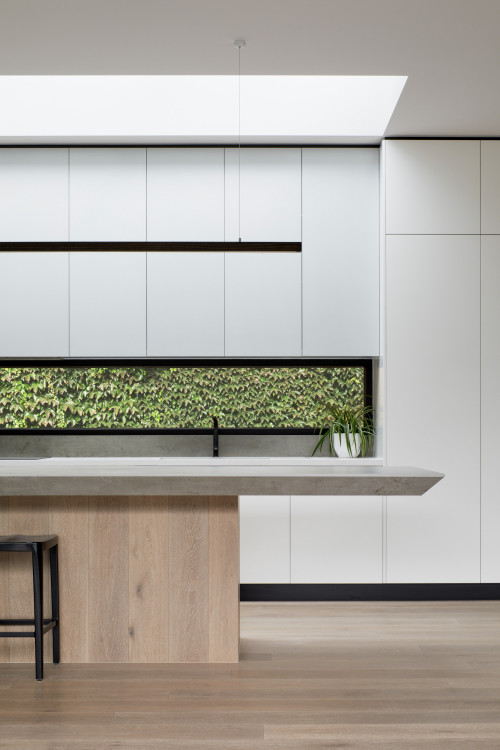 ID# 138501 | Houzz.com – Credit | © Chan Architecture Pty Ltd
---
Minimalist Kitchen Backsplash Ideas with Window Splash-back and Concrete Countertops
Proposing simple and calming aesthetics, this minimalist kitchen uses a window backsplash that invites the garden view indoors. The natural color and beauty of the leaves peeking out behind the window impart a sense of calmness, while the white flat-front cabinets enrich this soothing effect. The concrete countertops and the cantilevered island with a timber base introduce organic forms and bring rawness that lends the space a refined rustic vibe. Light flooding the kitchen through a skylight situated right above the island also provides natural task lighting for the benchtop and eating space.
Design hint: If you want to emphasize the textures integrated into the space, using a monochromatic palette helps keep the focus on the timber and concrete like in this kitchen.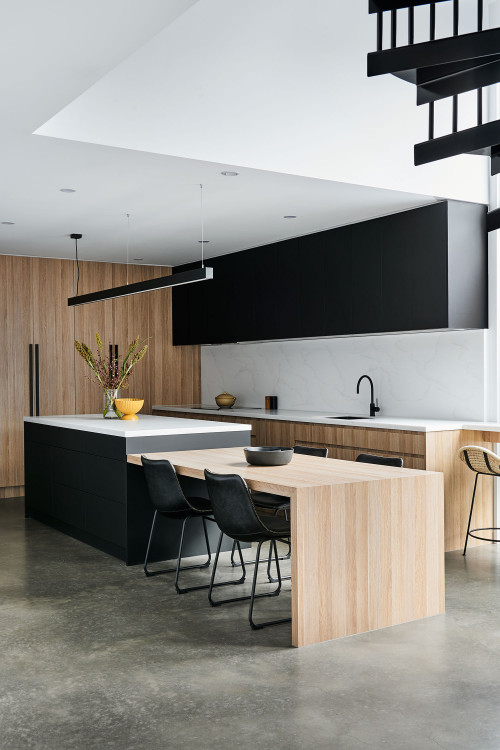 ID# 138502 | Houzz.com – Credit | © Charles Maccora Design
---
Marble Slab Backsplash with Two-tone Cabinetry and Concrete Floor
Minimalist kitchens, unlike those assumed by some, are not boring or jarring. Rather they present a look packed with a style that just minimizes the needs of the space without compromising aesthetics. Here, for example, free of excess clutter, this contemporary kitchen goes with two-tone cabinetry (wood and black) that delivers a soft contrast without overwhelming the kitchen. The cabinets' flat-front profile simplifies the look, and the two-tiered island introduces a form that zones the kitchen. Functioning as a worktop and an eating space, it increases the utility of the design. In the background, the white marble backsplash adds a clean and simple look, paired with white quartz countertops and a seamless, glazed concrete floor that also complement the overall theme.
How to create a minimalist kitchen backsplash?
To create a minimalist kitchen backsplash, you can utilize classic patterns like subway and square subway tiles or more geometric patterns like diamonds, hexagons, and Escher with light sandy shades, white, and gray. But if you are looking for something seamless and grout-free, glass sheets, white quartz, stainless steel, and marble slab backsplashes create smooth and continuous backgrounds. Additionally timber, concrete, stone, and faux stone backsplashes provide great alternatives.
And above all, when creating your minimalist kitchen backsplash, don't forget that minimalist kitchens embrace different textures, allowing homeowners and designers to play with different materials. For industrial-minimalist kitchens, for example, you can go with concrete and brick backsplashes that serve the space best.
Additionally, in case you have an amazing garden view, we don't see any reason why you shouldn't go for a window backsplash. It is one of the best ways to introduce color, natural lights, and nature to get closer to a biophilic design. In other words, with window backsplashes, it feels like killing two birds with one stone.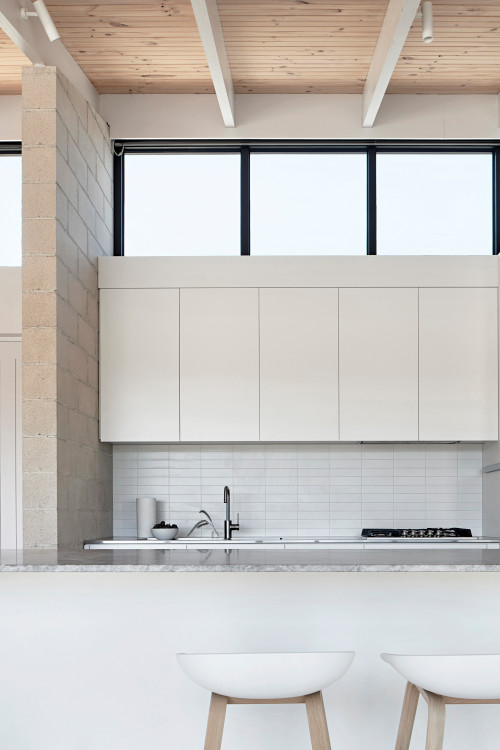 ID# 138503 | Houzz.com – Credit | © Winter Architecture
---
White Stacked Backsplash and White Cabinets with Waterfall Island
In this double-volume kitchen, everything feels proportionate. The faux brick walls that slightly conceal the kitchen are a reference to the other brick feature walls used throughout the house. The white subway tile backsplash blends seamlessly with the white cabinets, while their stacked layout introduces order and clarity to the background for a sense of minimalism. The oozing waterfall island framed in solid veiny countertops adds also flow to the kitchen, running parallel to the floor-to-ceiling windows that open onto the garden view.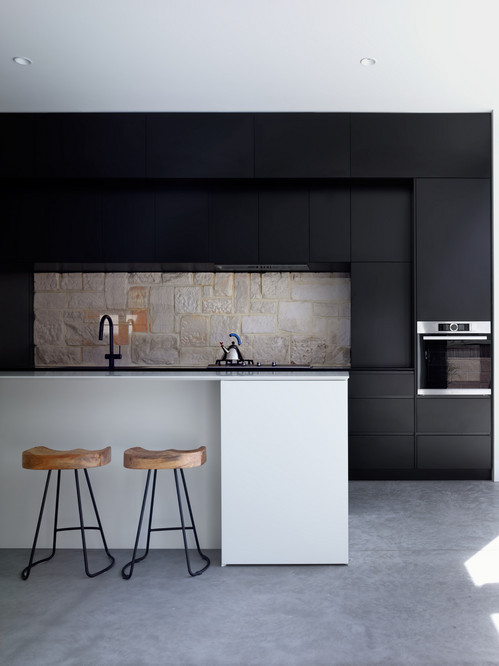 ID# 138504 | Houzz.com – Credit | © Couvaras Architects
---
Stone Backsplash with Black Cabinets and White Kitchen Island
Texture-rich backsplashes are welcome in minimalist kitchens to bring a punch of character to the walls. Here, a stone backsplash in sandy shades lends a gentle rustic vibe, framed by black cabinets for a striking contrast. The white kitchen island supports it, also bringing a visually light dynamic for balance. Not to let any visual intervention, black appliances are masterfully integrated into the black cabinets and the range hood is concealed skillfully. To complement the overall look, the concrete floor also adds another minimalist detail, giving the kitchen an industrial feel.
What is a timeless kitchen backsplash?
Light shades, subway tiles, and statement backsplash materials like terrazzo and marble make for timeless kitchen backsplashes since they provide kitchens with well-articulated patterns and unparalleled durability. Particularly, terrazzo can even outlive the buildings as long as it is well-maintained, which is the same for the marble backsplashes that also require annual sealing.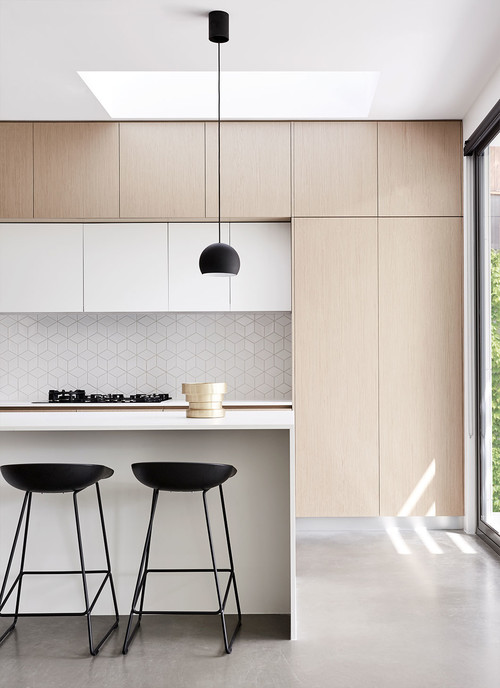 ID# 138505 | Houzz.com – Credit | © Zunica Interior Architecture & Design
---
Escher Tile Backsplash with Light Timber Cabinets and Whtie Countertops
Boiled down to essential elements, this minimalist kitchen chooses to bring some geometric patterns in white ceramic tiles to add extra interest to the background. The combination of white and wood cabinetry keeps the focus on the Escher tile backsplash, while the streaming lights expand the impact of the light shades dominating the kitchen's color palette. The ultra-modern black stools and minimalist globe-like pendants pair perfectly with the all-white kitchen island, coordinating with the black stove.
Design tip: If you don't want the stove to cause any visual clutter, you can choose low-profile ones to preserve the sleek look.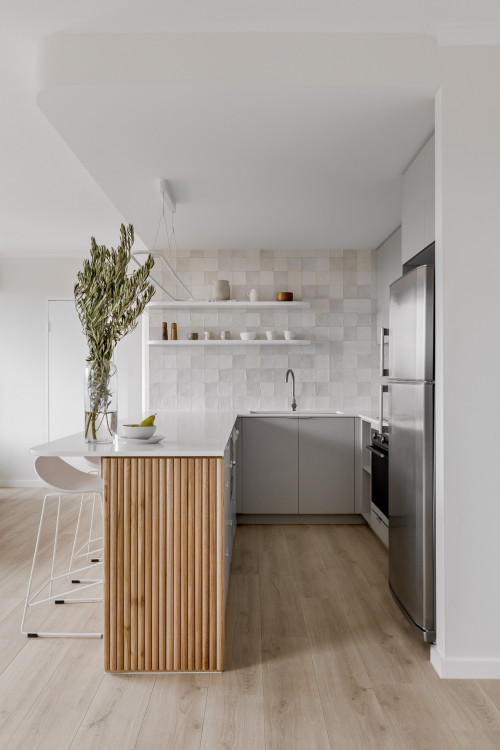 ID# 138506 | Houzz.com – Credit | © TP Interiors
---
Minimalist Kitchen Backsplash Ideas with Square Tiles in U-Shaped Layout
The minimalist white-gray palette defines the color scheme of the kitchen, supported by stainless-steel appliances. But what this kitchen does masterfully is to use a square tile backsplash that showcases subtle tonal variations that give hints about the overall color scheme of the kitchen. The rest features off-white cabinets configured in a U-shape and the bamboo sticks covering the peninsula's front that faces the lounge area, maximizing the use of the space. Overhead, the white false ceiling makes the kitchen feel slightly enclosed while creating a cozy vibe.
Modern Minimalist Kitchen Backsplash
Taking advantage of natural lights, natural color schemes, and clean lines, modern minimalist kitchen backsplashes use an expansive repertoire of materials, including natural stones, metals, wood, and glass. This way, they inject different vibes into the kitchens and combine these backsplash materials with contrasting materials to establish a well-defined balance. To exemplify, you can combine a steel backsplash with timber cabinets or a dark soapstone backsplash with warm wood cabinets in modern minimalist designs. Overall, the main aim of these modern minimalist kitchens is to provide sleek profiles that engage with different textures to impart a sense of calmness and bring balance to the spaces and their users.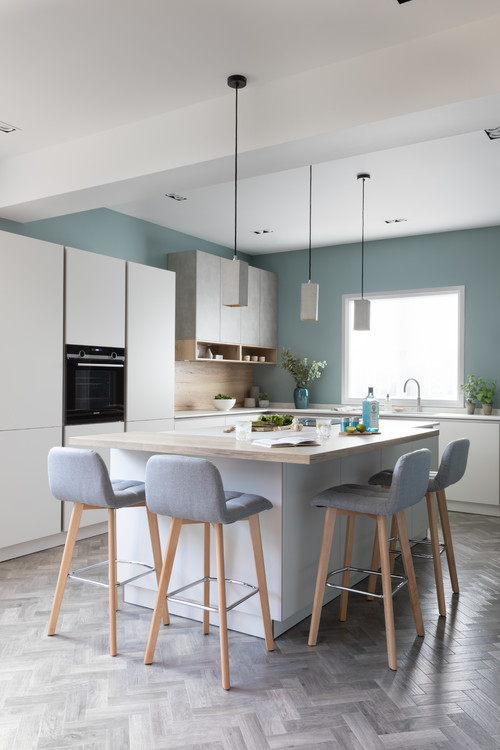 ID# 138507 | Houzz.com – Credit | © Classic Interiors
---
Modern Minimalist Kitchen Backsplash Ideas with Wood and White Cabinets
One of the best parts of modern minimalist kitchens is that you can personalize these looks as you wish as they provide a blank canvas with monochromatic color palettes. The homeowners of this kitchen, for example, integrate natural elements and subtle shades of blue and gray to enrich the white cabinets and white countertops. The light wood backsplash is put into dialogue with the timber island countertop and oval room blue-painted walls and upholstered bluish-gray cushioned stools. The oak flooring in gray shades and herringbone pattern converse with the subtle blue shades and concrete wall units as well as concrete pendants hung over the island for a more modern and on-trend look. Overall, it composes a well-articulated design with an enriched color and material repertoire.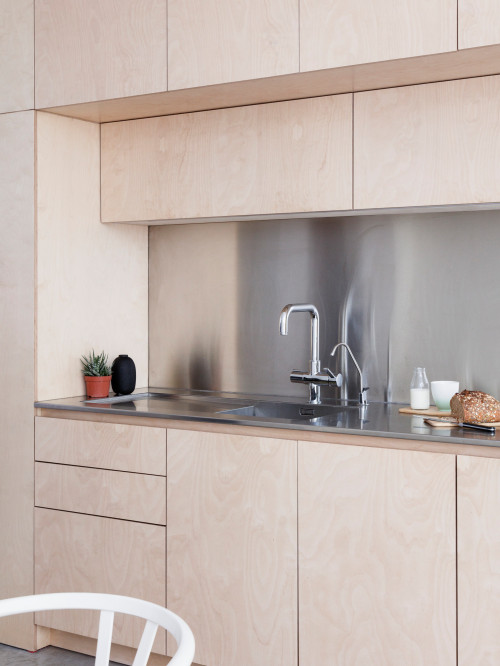 ID# 138508 | Houzz.com – Credit | © Larissa Johnston Architects
---
Stainless Steel Backsplash and Countertops with Timber Cabinets
Celebrated for their hygienic and anti-bacterial nature and unparalleled durability, stainless steel backsplashes are one of the on-trend materials. And they present a professional look, which is softened with timber cabinets. This stark contrast between the timber and metal cancels off each other, creating a well-balanced look. The stainless-steel oven and seamless steel countertops complement the single-wall kitchen layout that directly opens onto the garden, naturally connecting with the outdoor space thanks to the concrete floors and timber cabinets.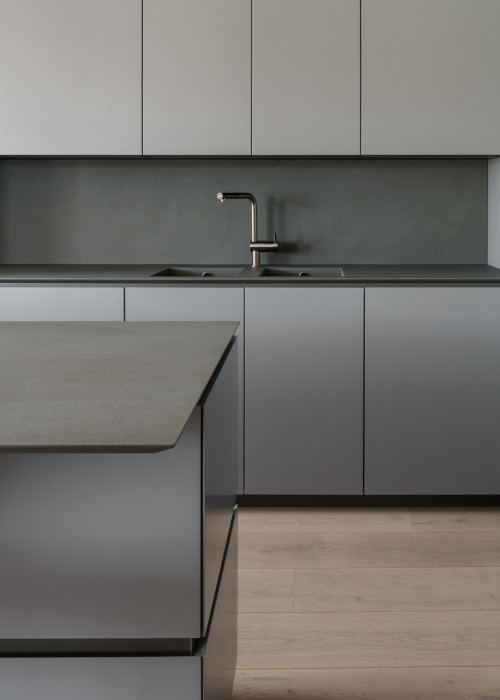 ID# 138509 | Houzz.com – Credit | © Aflux Designs
---
Dark Gray Seamless Backsplash with Light Gray Cabinets and Timber Floor
This high-end kitchen design lays its foundation on a gray-based color palette that adds gloomy vibes and fills the space with a sense of edginess. This sensible environment is given a solid volume with dark gray cabinets and countertops paired with light gray cabinets. And the complete resonating color performance of the kitchen is tinged with a sense of warmth with the wood floor finish. Yet, even its pale and grayish undertones maintain the overall theme of the kitchen without making a drastic change.
White Minimalist Kitchen Backsplash Ideas
White marble backsplashes, subway tiles, glass sheets, quartz backsplashes, and tiled backsplashes (Escher, hexagon, etc.) comprise the main material and pattern designs of white minimalist backsplashes. Working as a space-enhancing factor, these white backsplashes make compact spaces feel larger and enhance the lightness of the kitchens. As such, they achieve everything that function and light-oriented minimalist kitchens desire to accomplish. That's why white is popularly used in minimalist kitchens to create a visually lightweight design that ensures an unblocked flow.
ID# 138511 | Houzz.com – Credit | © Black and Milk | Interior Design | London
---
White Minimalist Kitchen Backsplash Ideas with Glass and Triangle Island
Though featuring a humble and basic color palette, the well-thought details craft an eye-catching design in this modern kitchen. From the triangle island to the diagonally-laid medium-tone laminated parquet floor, these two pieces directly attract attention, warming up the already present white cabinets and the white glass sheet backsplash. Overhead, the plasterboard-finish ceiling presents a similar outlook with angled turns that divert from regular rectangular forms. This way, the kitchen presents an eccentric look without sacrificing the functionality and minimalist style of the design.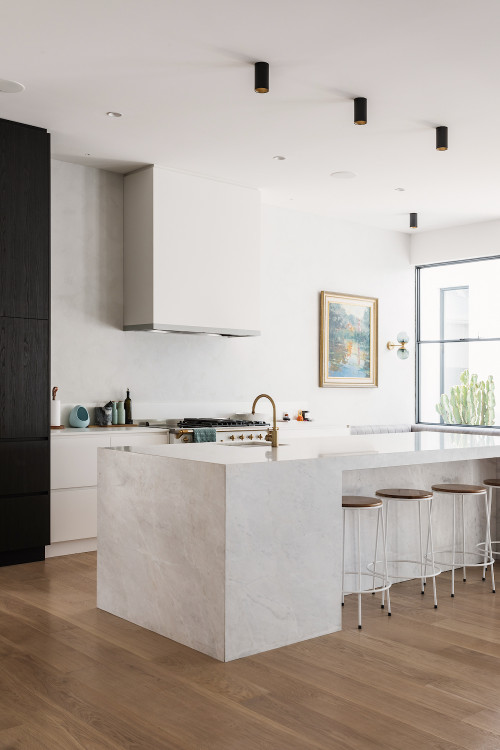 ID# 138512 | Houzz.com – Credit | © COSWICK LTD
---
Monochromatic Kitchen with Brass Details and Marble Island
Minimalist kitchens love the looks built upon textures even if they are faux. Here, the white quartz backsplash runs shorter on the wall, transforming into a textured-finish wall finish to coordinate with the island carved from natural stone. The white backdrop of the walls and marble gently stained by light grayish streaks adds character, while the brass tap, brass-gilded painting frame, and lighting fixtures inject a sense of warmth, supported by the wood floor finish that runs across the open floor plan. Additionally, the hidden appliances and flush mounts preferred instead of pendants ensure that each part of the space feels decluttered and open.
What is the most popular backsplash in 2022?
Among the most popular backsplash types in 2022, we can count the ceiling-height, glazed, and slab marble backsplashes along with geometric patterns, metals, and glass sheets. All those patterns and materials tend to modernize kitchens in their ways, creating timeless looks.
Apart from those, what matters most in 2022 is to go with backsplashes that enlarge the kitchens and make them feel less confined. That's why window backsplashes, as well as ceiling height splash-backs, translucent materials made of glass, copper, and steel, and glazed backsplashes, seem to be the centerpieces in 2022.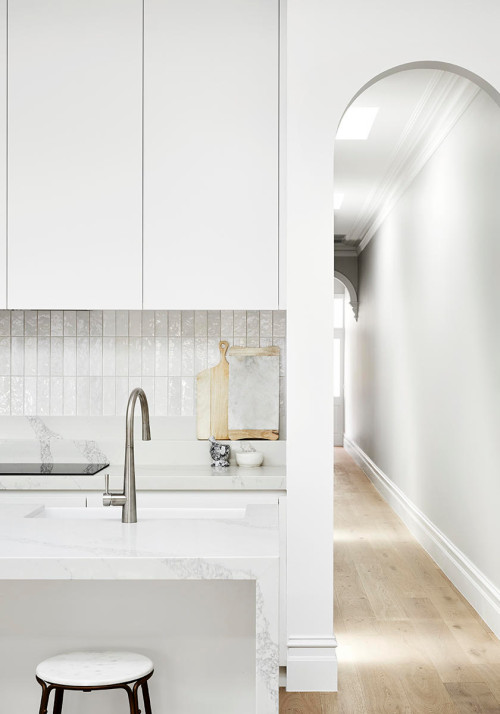 ID# 138513 | Houzz.com – Credit | © Seytim
---
All-White Kitchen with Marble-look Quartz Slab Backsplash and Waterfall Island
Opening onto the adjacent room through an arc-shaped cased opening, this all-white kitchen feels light and airy. It is mainly defined by white cabinets and vertically stacked ceramic tiles that integrate matte and glazed finishes, respectively, for visual richness. By doing so, the design gains a new dynamic and more dimension to capture the lights. The rest feels complete with marble-look quartz countertops, low-profile black hob, and a waterfall island which ensure a sense of flow and deliver sophistication to the space.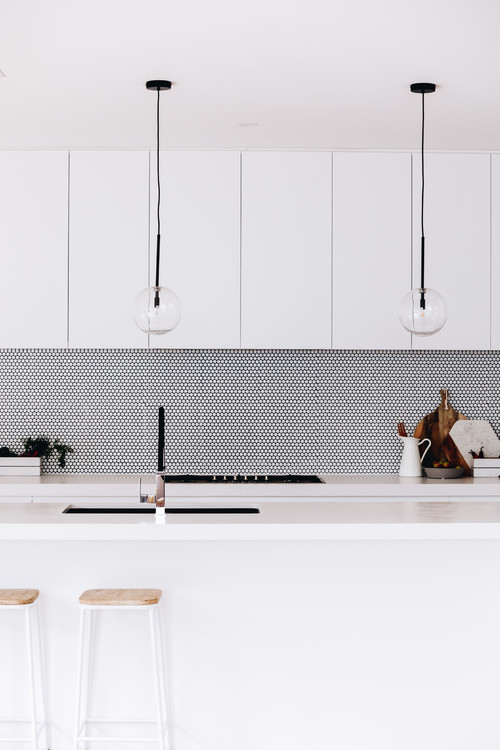 ID# 138514 | Houzz.com – Credit | © Mos Interiors
---
Minimalist Kitchen Backsplash Ideas with Penny Round Tiles and Glass Globular Pendants
Championed for their minimalist and sophisticated look, penny-round tiles are one of the best outfits for minimalist kitchen backsplashes. They also open up various design possibilities as you can make custom designs with them easily. But this contemporary kitchen, to preserve its minimalist look and keep it simple, only uses black grout for a more dramatic impact. The all-white flat-front cabinets paired with white quartz countertops provide a blank canvas to make the backsplash the statement piece. The glass globular pendants with black hardware and integrated sink preserve the sleek look.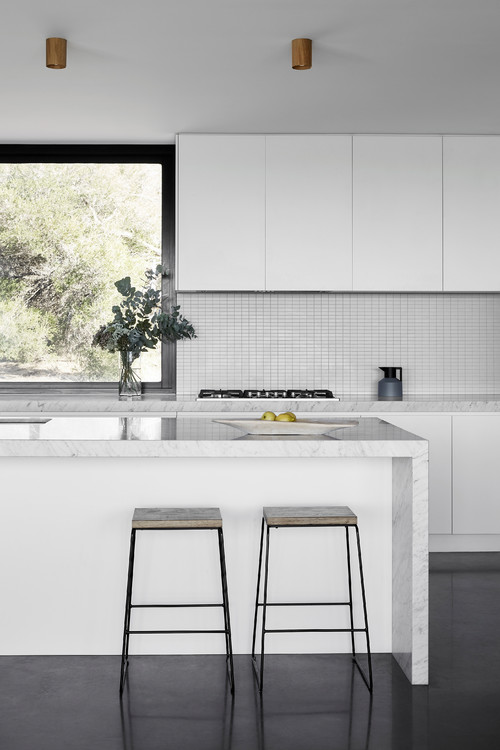 ID# 138515 | Houzz.com – Credit | © Tom Robertson Architects
---
Marble Countertops with Dark Concrete Floor and Mosaic Tile Backsplash
Though small tiles mean more work and more grout lines, their visual impact on the kitchen makes them feel worth it. And here, complemented with white cabinets and white marble countertops, this white mosaic tile backsplash creates an eye-appealing and neat look. The dark concrete floor with a gloss finish lends enough shine and visual drama and also anchors the all-white color palette to more solid ground.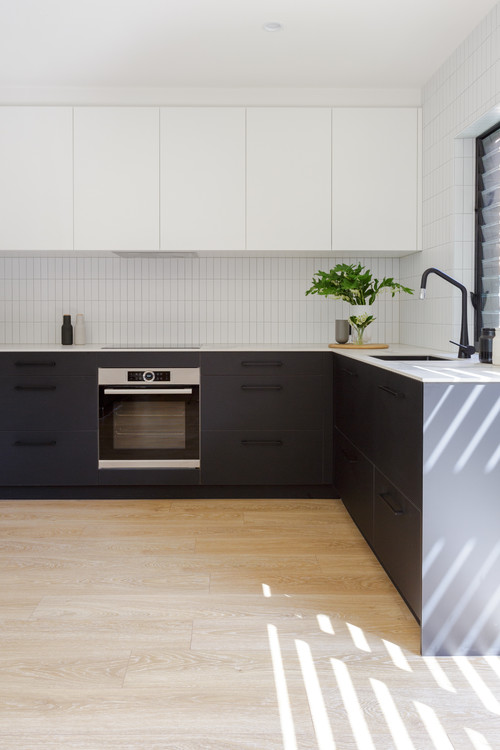 ID# 138516 | Houzz.com – Credit | © smarterBATHROOMS+
---
Contrasting Kitchen Design with Black and White Cabinets and Stacked Backsplash
As subway tiles continue to be an all-time favorite pattern, the various layout styles tend to modernize them for a sense of change. This contemporary kitchen, for example, does the same by stacking them vertically. This way, it establishes a more ordered and well-defined backsplash that makes the kitchen look taller. To complement it, the white upper and black base cabinets deliver a contrast. This well-proportioned contrasting color scheme is also a visual trick to encourage the kitchen to feel more spacious, while the U-shaped layout carves out enough space between the cabinets to ensure smooth circulation while working.
Gray Minimalist Kitchen Backsplash
Gray is one of the best colors that suit a minimalist kitchen backsplash. Since it is neither black nor white but something mediates between the two, it is mostly used with bold elements such as mustard yellow, purple, and red to cancel off their strong effect. But finally, gray backsplashes get to be the protagonist themselves, too, thanks to minimalist kitchens. Especially for those looking for an upscale feel, gray marble backsplashes offer the perfect look. Other popular backsplash styles include gray subway tiles, kit kat mosaic tiles, and glass sheet backsplashes.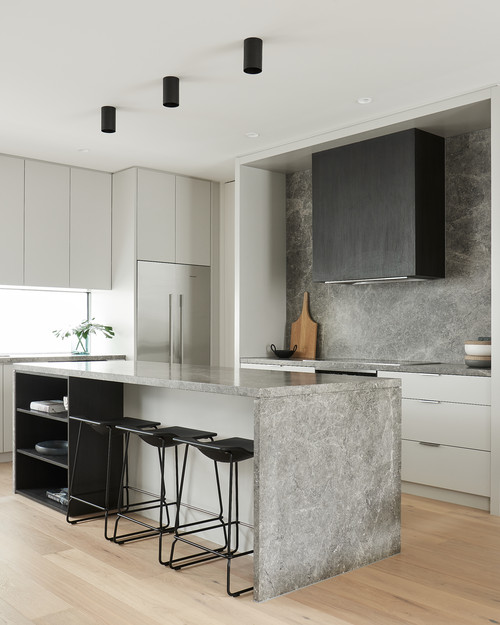 ID# 138517 | Houzz.com – Credit | © S&K Group
---
Gray Minimalist Kitchen Backsplash Ideas with Natural Stone and Off-White Cabinets
Three neutral shades, white, gray, and black, are used together in this minimalist kitchen, where gray serves as the protagonist shade of the design. Coming in the form of a ceiling-height marble slab backsplash, it clads the whole swath of wall and becomes the visual focal point, also enveloping the countertops and framing the kitchen island for a waterfall effect. To preserve this uniform look, the hidden range hood and low-profile stove conceal themselves as much as they can, while the stainless-steel fridge blends with the off-white cabinets. To invite natural lights, the next arm of cabinetry gets paired with a window backsplash, while the black fixtures and stools add also a rich pigmented color to solidify the dialogue between white cabinets and gray backsplash.
What backsplash is out of style?
The backsplashes that tend to overwhelm the eyes with busy patterns and mélange of various colors generally keep kitchen designers and homeowners a step away from them. Even if they get trendy at some point, this popularity generally doesn't last long and is replaced by something that proposes a more neutral and sophisticated look.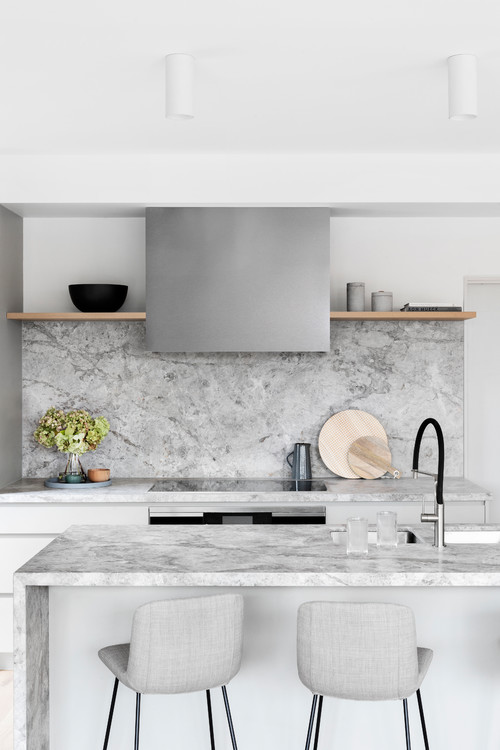 ID# 138519 | Houzz.com – Credit | © Kube Constructions
---
Gray Slab Marble Backsplash with White Cabinets and Timber Floating Shelf
Marble backsplashes just make everything easier for minimalist kitchens without requiring them to do extra work for a more stylish look. Just by themselves, they present a strong and sophisticated profile, thanks to their natural patterns, and this contemporary kitchen benefits from this upscale material to the fullest. Using it both as a backsplash and countertop, it also creates a high-end design that is very articulate and minimalist, while the rest is brought together with the white cabinets, waterfall island, and timber floating shelf. Eventually, the resulting design feels satisfactory, making you come back to the kitchen even after long working days.
Black Minimalist Kitchen Backsplash
Exhibiting a strong character, black minimalist kitchen backsplashes are best at creating visual drama and streaking contrasts. But don't forget that they don't have to be pure black. Some designers go with white-black patterned backsplashes and pair them with white cabinets to avoid creating all-black moments in the kitchen. In case you are fond of pure black additions, you can also go with black marble, soapstone, and glass sheet backsplashes. If you are looking for something eccentric, blackboards could serve as interesting additions to write down some motivating quotes, recipes, and even shopping lists.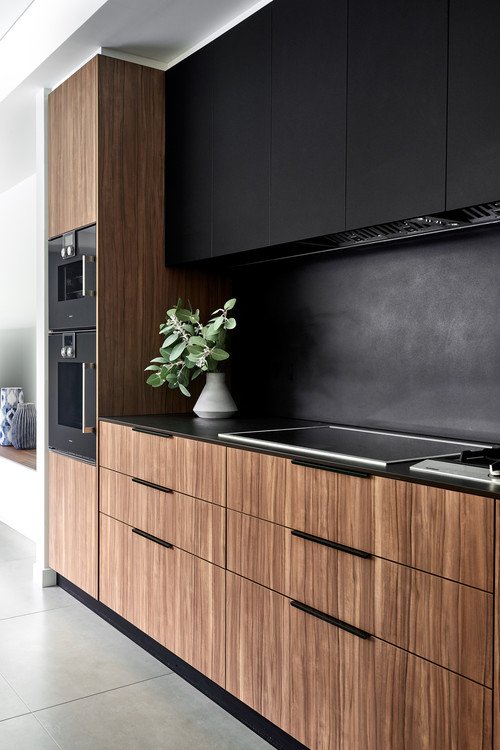 ID# 138520 | Houzz.com – Credit | © schemes & spaces
---
Black Minimalist Kitchen Backsplash Ideas with Wood Cabinetry and Built-in Appliances
The minimalist kitchen in this Sydney home executes a sophisticated look with a sense of drama. It is grounded upon a black natural stone backsplash that adds a sleek touch to the background and is flanked by black upper and warm wood base cabinetry. And complementing them are the built-in appliances and electric hob that melt into the overall design, while black lip pull-notches feel bare there not to feel exposed and cause clutter. Lastly, the leafy branches placed in a sculptural vase add a sense of life and style to the countertops without sacrificing the minimalist feel of the kitchen.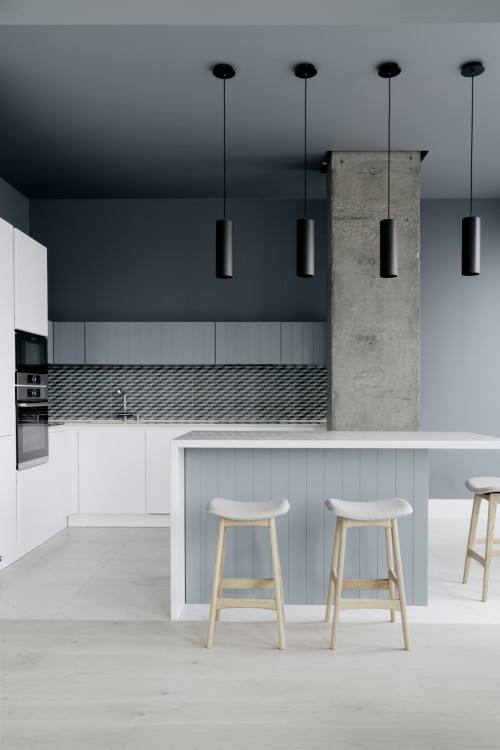 ID# 138521 | Houzz.com – Credit | © Architectural Studio RE
---
Contemporary Kitchen with Blue Beadboard Cabinets and Cantilevered Island
This contemporary kitchen has a very distinct vocabulary of interior design elements that comprise an exposed concrete wall, beadboard cabinets, a cantilevered island, blue-painted walls, and black LED pendant lights. While ensuring that everything is in synergy with each other, it also befriends a gloomy and melancholic atmosphere. If you want to have a similar look for yourself, you can benefit from shades of blue and a black tile backsplash that not only sets the tone of the design but also adds a very stylistic look to the kitchen.
Minimalist Subway Tile Kitchen Backsplash
It is no secret that subway tile kitchen backsplashes are everywhere, including minimalist kitchens. Preserving their status as an all-time favorite pattern, these metro tiles are available in various formats, colors, and materials. Whether you stack them vertically or horizontally or lay them in a running-bond style, they always have something to contribute. And if you treat them with a gloss finish, you can make subway tile backsplash flirt with natural lights and also create a more interactive design engaging with lights.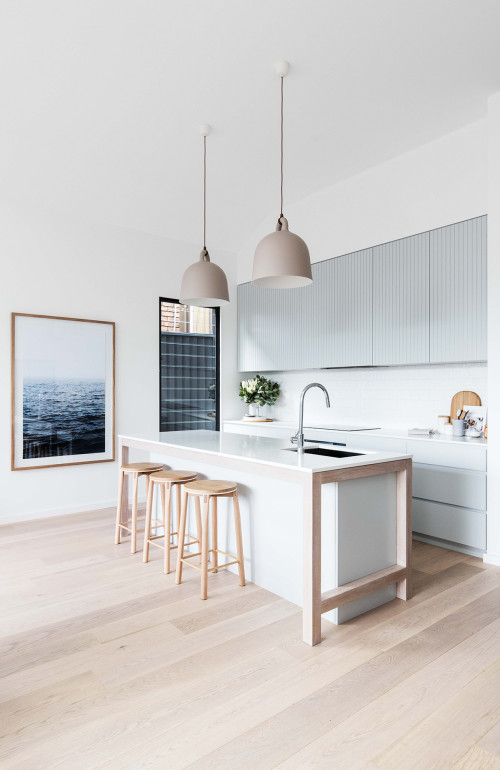 ID# 138522 | Houzz.com – Credit | © Relm Furniture
---
Minimalist Kitchen Backsplash Ideas with Subway Tiles and Wood Accents
In this modern kitchen, the subway tiles are laid in a running bond style and treated with a gloss finish for a beach-inspired vibe that resonates with the wall-hung print of the sea. And this minimalist outfit is taken to another level with white base cabinets, pale blue fluted-design upper cabinets, and wood accents that create a gentle and heartwarming look. To complement them, a duo of dome-shaped pendants in light sandy shades with oak wood floor planks preserves the pared-down look, presenting an approachable design that endorses a sense of calmness in its users.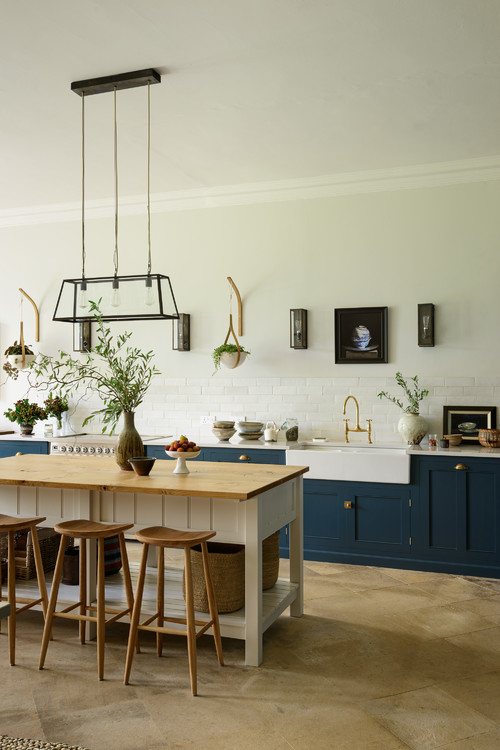 ID# 138523 | Houzz.com – Credit | © deVOL Kitchens
---
Blue Cabinets with Farmhouse Sink and Subway Tile Backsplash
Decorating your walls and using dramatic colors with brass accents don't steal anything from minimalist looks. Here, for instance, forgoing upper cabinetry opens up the space and leaves more room for wall sconces and paintings that converse with the rest of the elements. These features include a farmhouse sink, subway tile backsplash, and blue shaker cabinets that orchestrate a farmhouse flair while maintaining their minimalist look. The periodic elements such as a caged pendant, timber bench with underneath open storage, brass hardware, and beige natural stone floor finish come together to add warmth. Overall, this kitchen is filled with life-instilling shades and forms, while the openness and functional use of the space reaffirms its minimalist style.
What is a minimalist-style kitchen?
A minimalist-style kitchen is founded upon a modernist architecture that emphasizes openness and functionality created with bare essential elements. In other words, its main aim is to craft a clean and sleek space characterized by achromatic color schemes, clean lines, and a lack of elaborate details. It is also essential for such kitchens to master the use of natural lights and endow the cooking space with a well-articulated flow. The resulting scheme doesn't necessarily feel soulless or jarring. Instead, they present themselves as a counterpart to contemporary and Scandinavian kitchens, embracing natural elements and forms for a more organic dynamic and also concentrating on the wellness of the spaces.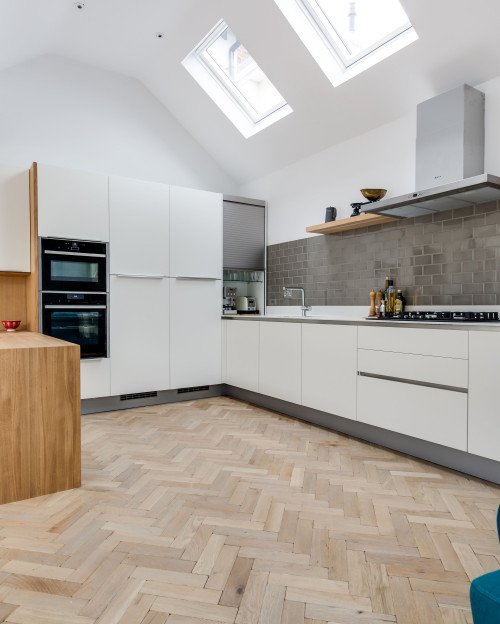 ID# 138524 | Houzz.com – Credit | © Pittville Kitchens
---
Contemporary Kitchen with Gray Subway Tile Backsplash and Herringbone Wood Floor
Naturally well-lit thanks to a duo of skylights, this contemporary kitchen commands attention with its high-gloss gray subway tile backsplash that functions as a show stopper. White-painted walls, white cabinets, and quartz countertops provide a neutral setup for the backsplash to stay as the main focal point. Also, the timber floating shelf, timber peninsula, and herringbone wood floor radiate warmth, while copper lighting fixtures right above the peninsula honor the gray backsplash.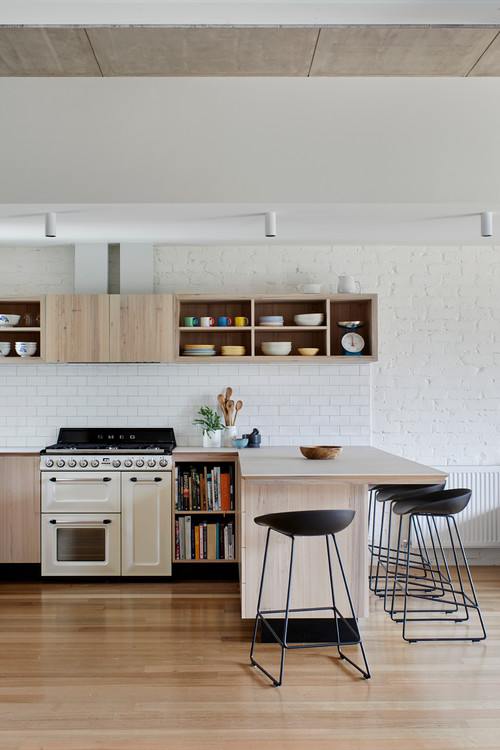 ID# 138525 | Houzz.com – Credit | © ZGA STUDIO
---
Contemporary Kitchen with Whitewashed Brick Backsplash and Light Wooden Cabinets
Designed as a calming spot for homeowners to return to after long working hours, this contemporary kitchen develops an intriguing approach to dealing with the handicap of the brick walls. While keeping this industrial element of the kitchen intact, it comes up with a more practical solution for better maintenance of the walls. First, it starts off by whitewashing it, and then, it adds an extra layer of white subway tiles to clad the parts between the cabinets and behind the stove that feels camouflaged, going almost unnoticed. To camouflage it even better, it employs light wooden cabinet shelves as a next step to break up these large walls and conceal the use of another backsplash. Additionally, these open shelves get utilized to expose kitchenware and books not only to personalize the space but also direct attention to elsewhere.
Minimalist Kitchen Backsplash with White Cabinets
In minimalist kitchens, white cabinets are popular faces for their clean and sleek look; especially the flat-front and shaker cabinets feature the best vibe for these kitchens. However, if all-white cabinets are not your thing, you can always go with two-tone cabinetry. You can utilize timber, black, light gray, and pale blue cabinets to break up the monochromatic look and introduce a subtle shade of color.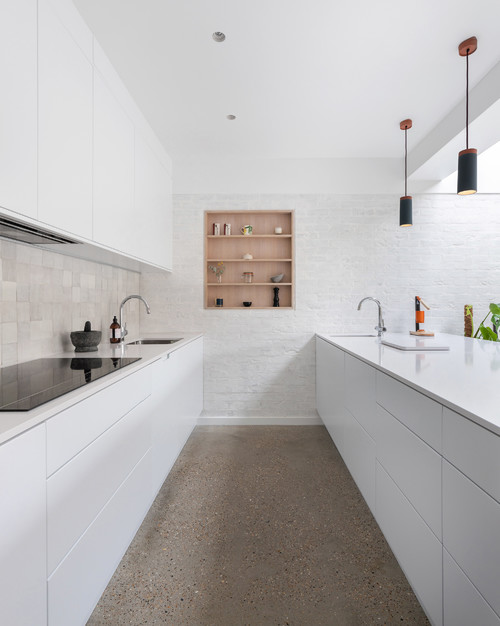 ID# 138526 | Houzz.com – Credit | © neighbourhood studio
---
Galley Kitchen with White Cabinets and Square Tile Backsplash
Consisting of a whitewashed brick wall, speckled finish concrete floor, and two arms of white flat-front cabinets running parallel to each other, this contemporary kitchen feels like a study of textures in an achromatic color scheme. To start with, the streamlined look that serves the exploration of the minimalist look is well-maintained with handle-free cabinets, white quartz countertops, and hidden appliances. Likewise, the texture-rich brick wall is camouflaged through whitewashing to allow cabinets to fade into the background, while white Zellige tiles also add an authentic feel to the backsplash.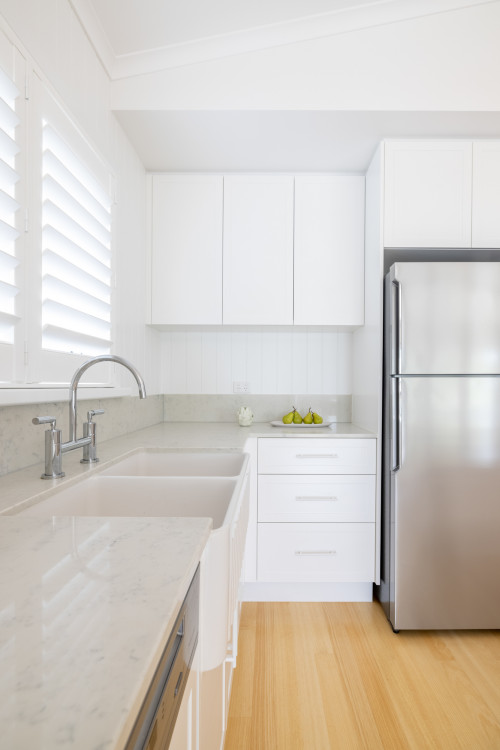 ID# 138527 | Houzz.com – Credit | © Ethos Interiors
---
Minimalist Kitchen Backsplash Ideas with Oak Floors and Custom Joinery
Awash with shades of whites, this beach-style kitchen is revamped with modern features, custom joinery, and oak floors. The stainless-steel appliances deliver professionalism that modernizes the design even more, while the creamy-gray countertops evoke extra interest to break up the uniform look.
How can I make my kitchen minimalist?
Keeping clutter at bay and sticking to clean lines are the most defining features of minimalist kitchens. And the best way to dress into a mindset of a minimalist kitchen is to bear in mind the tenet of "less is more" and keep the focus on a decluttered look. But how do you start?
First, go with a monochromatic color palette that will create a blank canvas for you which you can personalize according to your tastes. Hardware-free and flat-front cabinets are the next key features that ensure a sense of flow.
Excelling at the maximized use of natural lights and functional designs also serves as the main ambition of this style. So, the configuration of the cabinets, color schemes, and window placements in the space play a key role in that sense too.
When it comes to other details of the space, you can choose cantilevered and gravity-defying islands that ensure a form that oozes. Concealed appliances and low-profile stoves create smooth and continuous designs. Likewise, by using pop-up plugs on the countertops and inside the cabinets, you can make a big difference with such a small change.
And finally, to dial up the visual interest, you can integrate timber floating shelves, kitchen plants, and paintings and utilize glazed-finish backsplashes. Also, don't forget that each piece added to style countertops or any other open shelving feature needs to make a statement and serve a specific function even if it is only for the sake of a visual accent. The same applies to the color choices as well.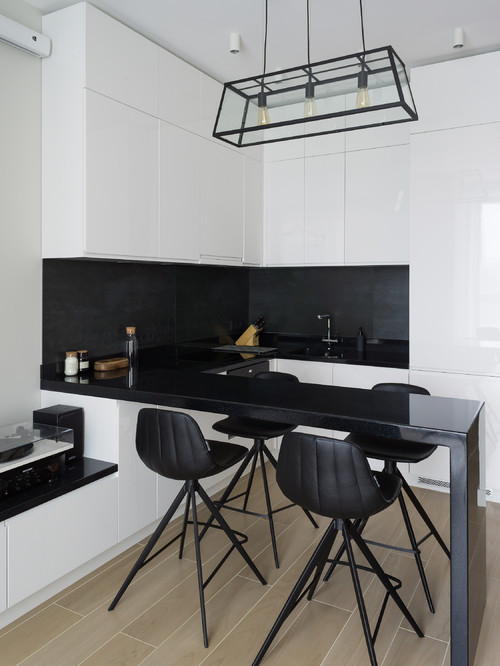 ID# 138528 | Houzz.com – Credit | © Егор Сомов
---
Black Backsplash with White Cabinets and Black Peninsula
This small U-shaped kitchen uses a peninsula for its third arm, while the white cabinets create a striking contrast with the black backsplash. To make the kitchen feel taller, the white cabinets go up to the ceiling, blending seamlessly with the white walls. Though compact, this contemporary kitchen speaks volumes with the assistance of black features and the stunning modern version of a traditional cage pendant.