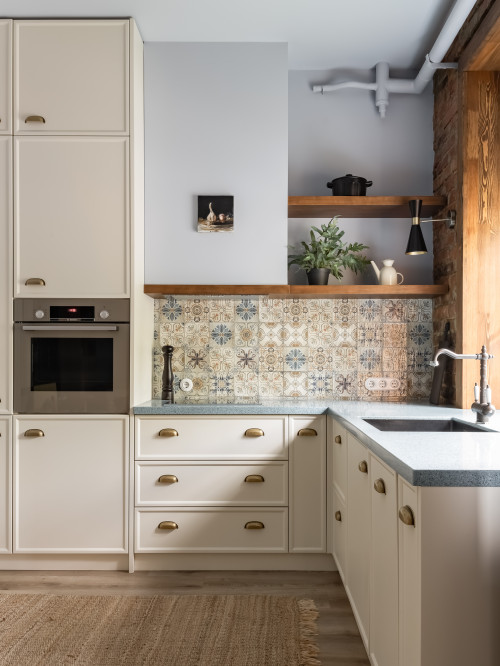 ID# 170008 | Houzz.com – Credit | © Марина Кутепова
---
Off-White Kitchen Cabinets with Gray Granite Countertops
Adorned by a soft neutral color scheme, this small kitchen offers a warm and welcoming atmosphere. The patterned square backsplash tiles directly catch the eye at first sight and create a visually appealing backdrop. The off-white kitchen cabinets complement the backsplash while the gray granite countertops enhance the overall look with a nice natural texture. For a final touch, the antique brass hardware brings some vintage flair and the wood floating shelves make a rustic twist.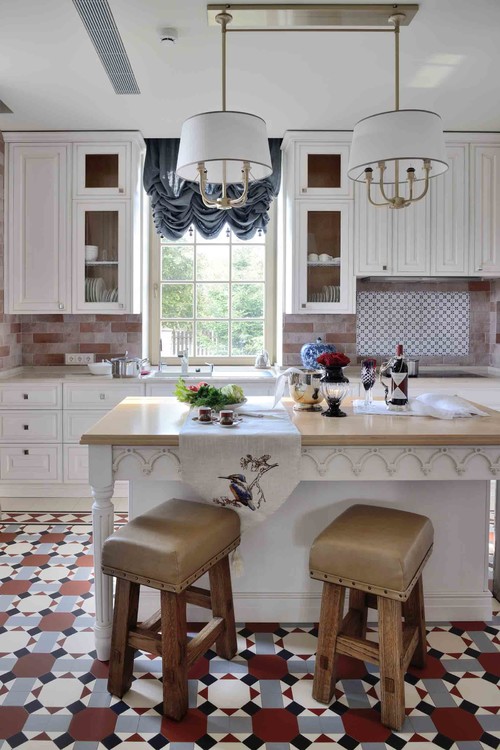 ID# 170012 | Houzz.com – Credit | © Gonchar & Lobyntseva
---
Traditional Kitchen with Multi-colored Floor Tiles and Beige Countertops
The sculptural look of the cabinets and counter stools is accompanied by beautiful blue curtains. The glass-fronted cabinets let users and guests have a glimpse into the cabinets whilst helping with navigation. The multi-colored floor tiles with reds, blues, and whites make a statement and change the aura of the kitchen instantly. The white raised-panel cabinets emphasize the classic character of the kitchen, while the terracotta subway tile backsplash with an earthy palette is used to soften the white look. The beige perimeter countertops bring a sense of warmth. The central kitchen island with butcher block countertop extends on all sides, supported by white classic-style legs. The moldings on the edges add movement and intricate details that please the eyes. The lighting fixtures over the island seem to belong to a living room.
Terracotta Backsplash
Meaning "baked earth" in the Italian language, terracotta is a natural material that gives a natural flavor and charm to homes. Their most unique feature lies in the difference between the handmade and machine-made terracotta tiles. The handmade versions with the peculiarities and inconsistencies feature a more rustic look showing a lot more characteristics. For those seeking a more homogeneous look, also machine-made versions are available. This, in return, allows various looks in the kitchen, and this article will introduce you to the timeless beauty of the terracotta backsplash and how it is combined in different kitchen designs and various styles!
Incorporate Warm and Inviting Feel of Terracotta Tiles!
Terracotta backsplashes also come in various shapes and patterns, including hexagon, arabesque, subway, and square which increase the design flexibility. They can be painted or laid in their natural colors with glazed and unglazed versions. Plus, they develop a patina over time with a weathered look that suggests a lived-in feel. Here, we will comprehensively look at their various uses as a backsplash in different colors, patterns, and combinations. So, get ready to be taken aback by these marvelous kitchen designs while the terracotta backsplash takes center stage!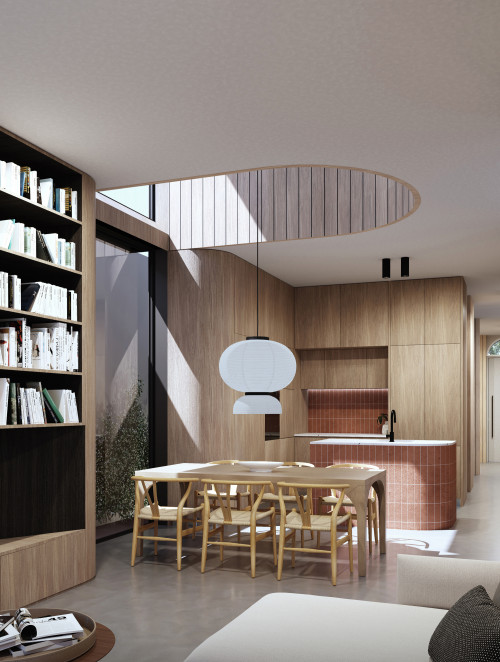 ID# 170001 | Houzz.com – Credit | © Christopher Polly Architect
---
Wood Cabinets with Terracota Backsplash and Tiled Island
The soothing palette of bold earthy colors reimagines the Mediterranean-style kitchen in a more modern and alleviated context, proposing a layered warmth and freshness. Elegant and resilient, it still presents a materialized presence with the furniture-looking wood cabinets. The staked terracotta backsplash stands out between the natural wood cabinets and complements the modern style of them. The island as a connecting piece is accessible from all sides while the terracotta tiles highlight the island zone.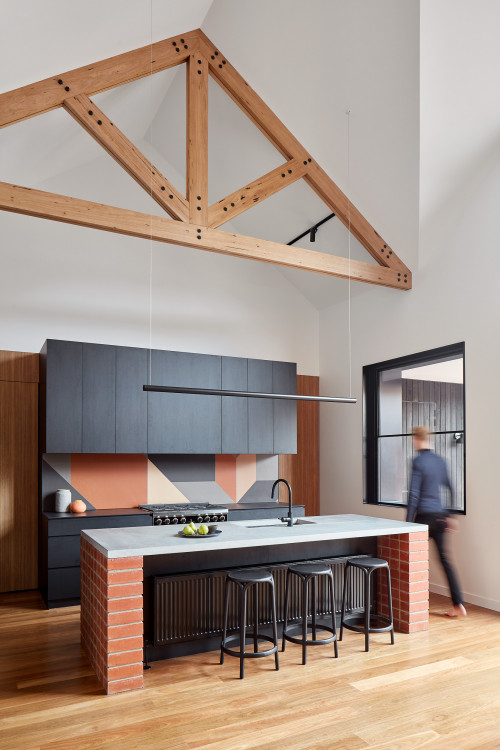 ID# 170002 | Houzz.com – Credit | © Bryant Alsop Architects
---
Island with Brick Legs and Geometric Pattern Terracotta Backsplash
With a minimalist and stylish imprint, this contemporary kitchen makes a statement with expertly combined textures and geometric forms. At the rear of the kitchen wood panel cabinets provide an organic backdrop to offer a soothing ambiance. The exposed wood beams follow the shape of the vaulted ceiling and help define the outline of the kitchen. Serving the same aim, top-to-toe black cabinets topped with black countertops anchor the kitchen design, placing it into a well-articulated frame. Other textural forms are also evident in the kitchen island with brick wall feet and light wood flooring, which compose a delicate but robust kitchen design. The terracotta tile backsplash is traded with a bold marble panel prevalently used in contemporary kitchens. The geometric patterns on the terracotta backsplash with an earthy color palette merge contemporary vocabulary with earthy feelings.
Are terracotta tiles making a comeback?
The budget-friendly terracotta tiles are back! One of the reasons is that they can be used in many different places, ranging from kitchens to living rooms, enclosed verandas, and hallways. Also, the fact that they develop a patina over time and gain a textured and vintage look makes them more favorable. Retro has always had an audience, and terracotta tiles for home and outdoor designs can easily lend that nostalgic feeling to the interior and exterior spaces in our homes. As long as they are sealed, they are considered durable and stain-resistant, which is another advantage of the terracotta.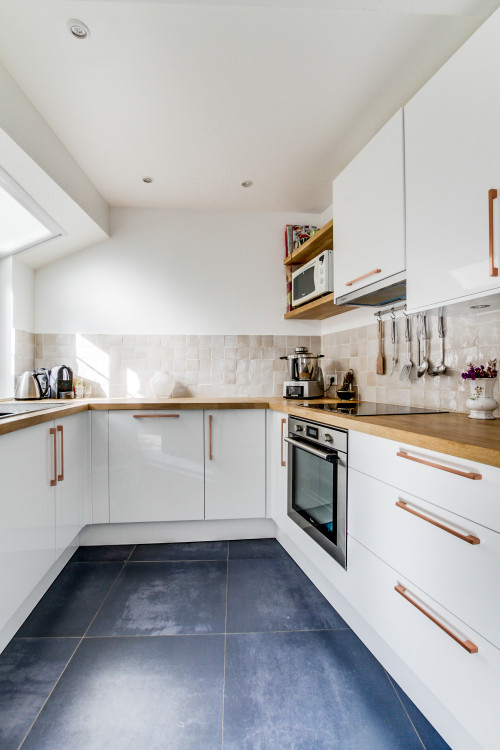 ID# 170003 | Houzz.com – Credit | © ADORA Rénovation
---
Lacquer White Cabinets and Square Terracotta Backsplash
The kitchen already has a U-shaped layout that enhances utility thanks to the windows and lively color palette! The contrast between the lacquer finish white cabinets and the space's wood treatments adds a dramatic character while the flat-panel cabinets accentuate their sharpness with a modern appeal. Wood counters lend a rustic touch, while a square tile backsplash in a soft earthy color caresses the wall.
Tile Styles for Terracotta Backsplash
Terracotta tiles have been around for ages, given that they are made of clay with high iron content. Coming in a wide array of colors, shapes, and patterns, wherever they are used, they ground the look of the room effortlessly thanks to their rustic allure. For instance, hexagons, octagons, riviera, and arabesque have been very popular in enclosed porches, classic kitchens, and courtyards. Their original versions with an earthy palette create cozy and homey vibes with a sense of warmth and make you feel at home instantly. Nowadays, to be easily adjusted to the different themes, they are also available in different colors, patterns, and shapes, including subway, square, chevron, and herringbone patterns.
Terracotta Subway Tile Backsplash
As is well-known, subway tile backsplashes are as popular as kitchen backsplashes thanks to their design flexibility and versatility. The same goes for terracotta subway tiles which gain a more refined and sophisticated look when they are glazed. This updated look is particularly favored in modern farmhouses and transitional kitchens as they come with a little bit of shine.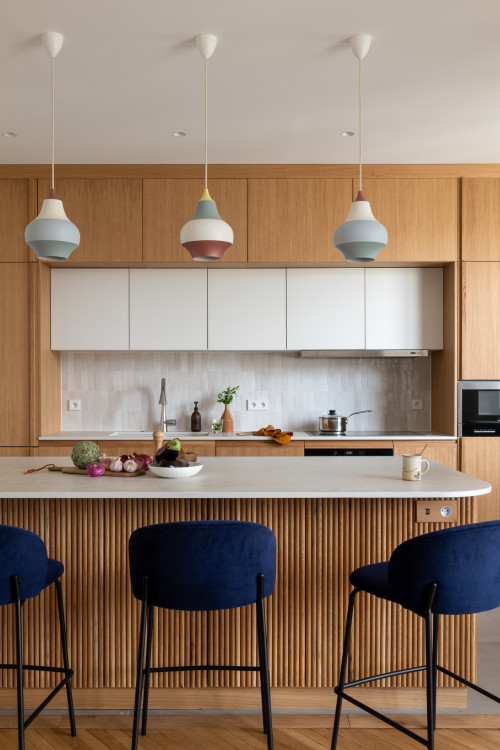 ID# 170004 | Houzz.com – Credit | © Régine Louiset – Reve'l Architecture
---
White and Wood Cabinets with Quartz Countertops
In bringing textural warmth and color, the kitchen toys with wood and terracotta tiles! The white cabinets are surrounded by full height wood cabinets which add warmth to the atmosphere while the paneled design of the wood island enhances the overall look. The white terracotta backsplash with a glossy finish adjusts your eyes. Stainless steel appliances add a professional touch while the colorful pendant lights and the blue velvet chairs finalize the kitchen's design with a pocket of joy!
Terracotta Square Tile Backsplash
Square tile backsplashes look stylish with a designer look. Coming in sheets of 2*2 to 12*12, they have various sizes. Due to their various formats, they can fit anywhere easily. So, they are very functional and aesthetic. They also owe their popularity to being one of the most affordable patterns of terracotta tiles.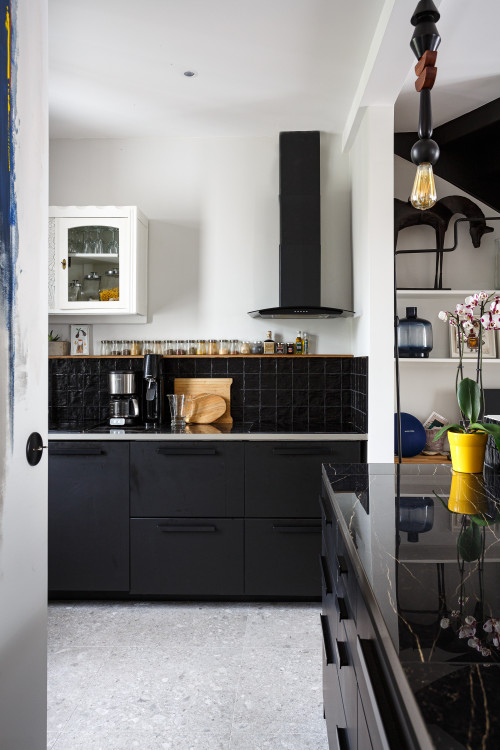 ID# 170005 | Houzz.com – Credit | © IH Studio
---
Eclectic Kitchen Design with Black Cabinets and Backsplash
This eclectic kitchen offers a heightened consciousness in its extensive use of black color to coat the surfaces with visually delicate but textually solid materials. The flat-front black cabinets provide an elegant appeal with a modern touch. The black terracotta tile backsplash breaks up the monotony of the upper level with a textured look. The single wood floating shelf cantilevers out on the backsplash to make use of the space efficiently. White quartz countertops and gray terrazzo floor tiles exude brightness and compose a contrasting togetherness within the space.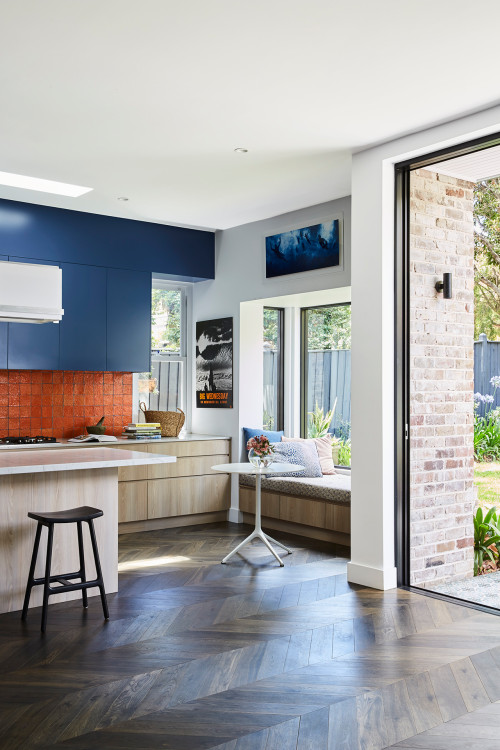 ID# 170006 | Houzz.com – Credit | © Denby Dowling Interiors
---
Orange Square Tile Backsplash with Two-Tone Kitchen Cabinetry
The beauty of this kitchen takes its users on a colorful journey that finds its foundation in the integration of bold colors, orange, and deep blue. As it visually unpacks, it reveals layers of texture and favorable spots for the interplay of light and shadow. The orange terracotta square tile backsplash creates a contrasting look against the blue upper cabinets and enhances the overall look. The full-height cabinet doors create the illusion of a taller kitchen while the white quartzite countertops top the perimeter cabinets and the island. These engaging color combinations transform the kitchen into a retreat space and shelter to rest the eyes as well as the soul.
Is terracotta tile durable?
The durability of terracotta tiles is dependent on how they are manufactured and where the clay comes from. They also show variance regarding their density. The high-density ones are much more durable and have fewer pores. However, it is recommended for low-density and unglazed tiles not to be used in wet and heavy-use areas with high traffic.
Unless they are sealed, they are prone to staining and damage, so they don't last a very long time. Other than that, they are considered durable, and even better, they are naturally resistant to bacteria and mold.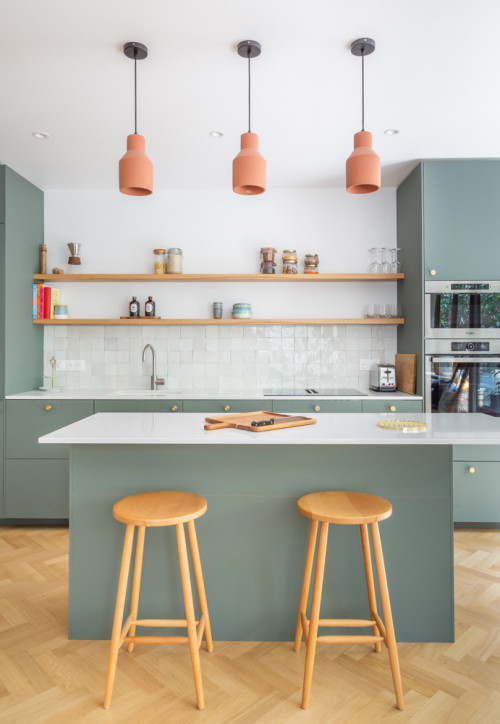 ID# 170007 | Houzz.com – Credit | © Lucie Decoster Design d'Intérieur
---
Contemporary Kitchen with Sage Green Cabinets and Wood Accents
The full-height sage green cabinets are aligned in a row at the rear. Topped with white quartz countertops, they add a sense of warmth. The white glazed terracotta square tile backsplash gives freshness to enlighten the atmosphere. The wood floating shelves attached above the backsplash serve as a frame with the utmost organic material inside. The backless wood counter stools add rustic vibes. Its open-plan concept and spacious layout help build different corners for socialization, which makes it perfect for crowded gatherings.
Terracotta Hexagon Tile Backsplash
Terracotta hex tile backsplashes are one of the most popular patterns and have been around for ages! You can find terracotta hex tiles in natural versions (glazed and unglazed) and in various colors as well. The combination of terracotta with hexagons makes a great pair as they both have natural connotations.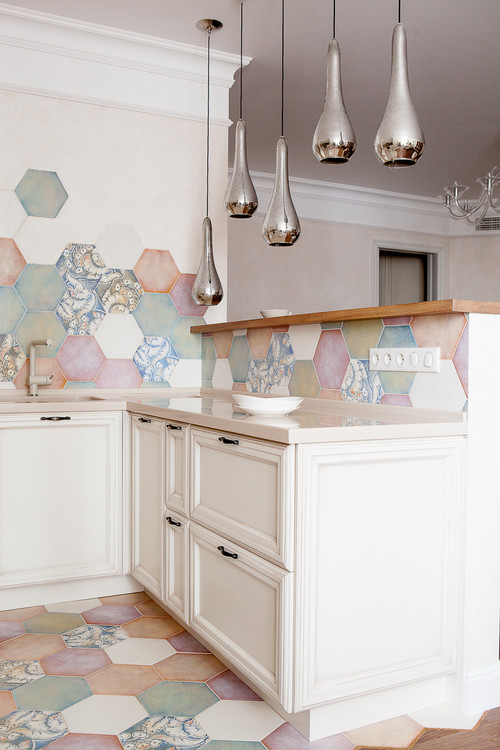 ID# 170009 | Houzz.com – Credit | © Дизайн — бюро Екатерины Колеговой Ecole
---
White Cabinets with Colorful Hexagon Backsplash Tiles
This modern kitchen feels like a testament to how well pastel colors can create a welcoming atmosphere! White cabinetry and brass accents throughout help to make the wonderful hues of the hexagon backsplash tiles stand out. To maintain a consistent aesthetic, kitchen flooring is also made of the same vibrant tiles.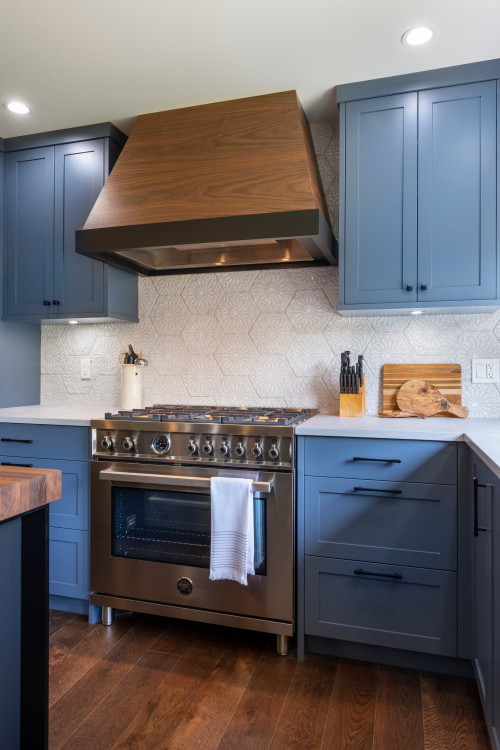 ID# 170010 | Houzz.com – Credit | © Grenor Homes
---
Open-Plan Kitchen with Blue Cabinets and Island with Wood Range Hood
Ranging from the backsplash to countertops and color combinations, this transitional space emphasizes how distinct elements can be recontextualized through a contemporary lens and represent a newly established identity. The white terracotta hexagon backsplash with barely visible floral patterns introduces a biophilic design element. Both the floral patterns and the hex tiles' honeycomb shapes copy a natural scene indoors. Intuitively warm and inviting, the kitchen has a free-spirited aspect to it with bohemian-style lighting fixtures over the island. Also, the under-cabinet lighting feeds that feeling and improves the ambiance of the kitchen! Blue cabinets with black metal handles enforce a presence, softened by timber touches. The wood range hood dressing injects a dose of industrial vibes that get mixed with contemporary and bohemian soul.
Color Options for Terracotta Backsplash
Terracotta tiles inherently feature an earthy palette replete with browns, reds, reddish-browns, and yellows. Hence, they professionally feature a natural and rustic charm. But to meet the demands of today's world and its ever-changing tastes, painted versions of terracotta tiles are available to create design flexibility. Blue, white, green, and dark-colored terracotta tiles help homeowners achieve the look they aim for in their kitchens.
Brown Terracotta Backsplash
Brown terracotta tiles look in their natural state and attach a very elementary quality to the kitchen. It takes us to the basics and binds the kitchen with earth and nature. These brown terracotta tiles are especially welcomed in traditional and farmhouse kitchens that aim to declare a (re)connection with natural feelings.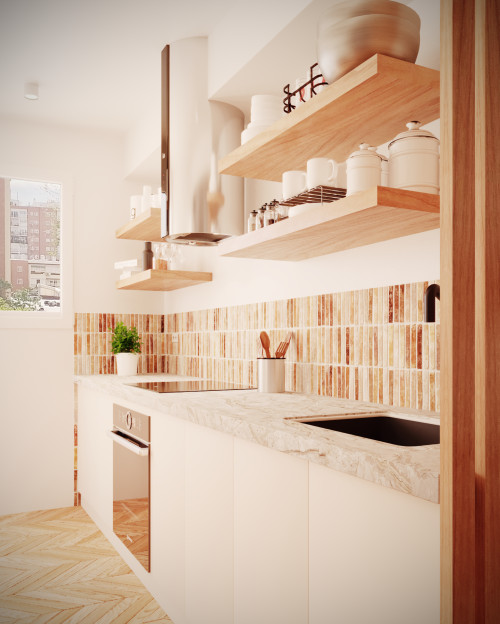 ID# 170011 | Houzz.com – Credit | © Elia Madorin 3D
---
Scandinavian Kitchen with Beige Color Scheme
The overarching narrative of this kitchen establishes itself on the brown terracotta Kit Kat tile backsplash, going back to the basics: clay with high iron shaped with a human touch. The elemental quality of the terracotta tiles in their most natural state highlights the pragmatic use of the space. Irregularities and tonal variations on the tiles dress the kitchens beautifully with an authentic look. Sleek stone countertops and stainless steel appliances complement the kitchen scheme while white beige kitchen cabinets lighten up the earthy palette.
Is terra cotta tile outdated??
Terracotta tiles are always on-trend thanks to their timeless beauty. Their earthy palette creates a sense of warmth and homey vibes referring back to nature. So, they provide natural looks, which makes them timeless and endows them with an ethereal presence.
The fact that they can come in various patterns and painted versions tells us that they can get adjusted to any kitchen's color scheme. Also, they rank as one of the least expensive ceramic tiles, which will help terracotta maintain its popularity as an affordable material in the long term.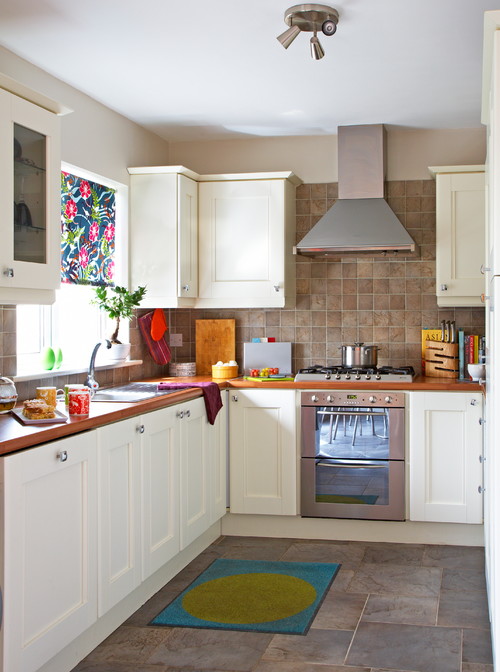 ID# 170013 | Houzz.com – Credit
---
Wood Countertops with White Cabinets and Earthy Palette Backsplash
The eclectic style of the kitchen leans on the terracotta backsplash. The tiles' protruding edges and irregular tonal variations bring rustic warmth and charm while their vertically stacked laying expands the visual scheme of the kitchen. The white recessed-panel cabinets topped with wood countertops with a natural texture stand out as the other key features. So, the kitchen is naturally free but controlled at the same time!
White Terracotta Backsplash
White terracotta backsplash, though fallen apart from its earthy palette, looks great enough to compete with other white ceramic and porcelain tiles! The handmade versions particularly though white, still maintain the protruding edges, discrepancies and peculiarities in shape and dimension. So, they preserve their authentic look despite the color change. Depending on the impact desired, homeowners can also consider if they should get handmade or machine-made versions of the terracotta tiles!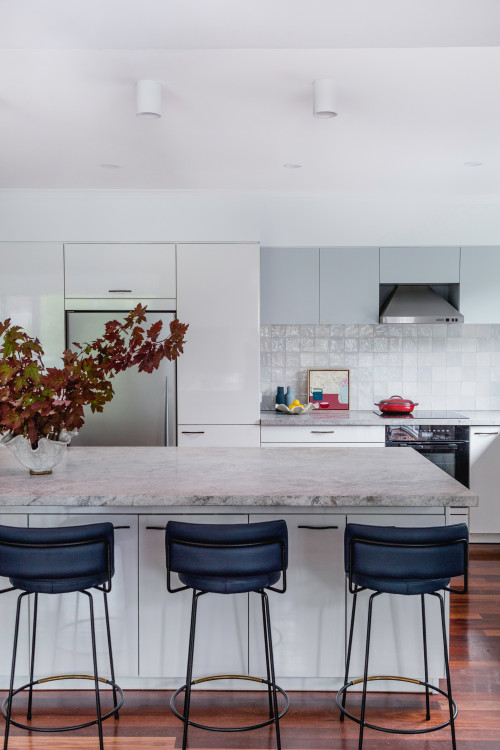 ID# 170014 | Houzz.com – Credit | © Studio Esar
---
White Cabinets with Marble Countertops and Wood Floor
Responding to the surroundings, this modern kitchen embraces daylighting with ceiling-height white cabinets! Inside, the kitchen is designed so that it feels airy and light and the employed color palette with marble accents supports this aim. The flat-panel white cabinets merge seamlessly with the white terracotta square tile backsplash suits the kitchen's theme, adding a geometric pattern without overwhelming the visual scheme. Its glazed surface offers an excellent luminous backdrop, waiting to be caressed by natural light!
What are terracotta tiles?
The well-known hometowns of terracotta tiles are Mexico famous for its Saltillo tile, Scotland, Ireland, Brazil, and southern Europe, to be more specific, Spain and Italy popular with their "reclaimed terracotta". Meaning "baked earth" in Italian, terracotta tiles are a subcategory of clay ceramic tiles and are known as one of the cheapest ceramic tiles on the market. They owe their ravishing reddish brown colors to the high iron they contain. Also, depending on where they are quarried from, their colors range from yellow to dark brown.
There are two versions of the terracotta tiles: handmade and machine-made. The handmade ones feature a more authentic and rustic look due to their irregularities, which makes each piece unique in itself. The machine-made ones, on the contrary, show more consistency in terms of shape and dimension with a less natural look. That's why the latter ones are easier to apply, achieve more homogeneous looks, and are perfect for thin profiles.
Natural Terracotta Tiles
The terracotta tiles can be used in different contexts freely as floor tiling and backsplashes. However, due to their porous skins, even if they are glazed, they are prone to scratches and weather changes. That's why the scope of their use in outdoor areas is much more limited. Of course, it also depends on the quality of the tile, where it is quarried from, and how it is manufactured. For example, Saltillo tiles are one of the most durable and strong terracotta tiles in the world.
Another differentiation between these tiles is dependent on whether they are sun-baked, kiln-fired, or baked in the oven. Among those three, the kiln-fired ones are higher in quality.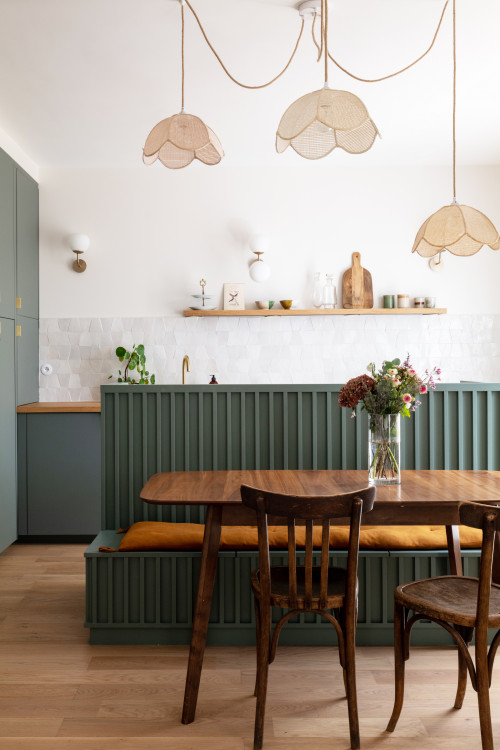 ID# 170015 | Houzz.com – Credit | © Anne Chemineau – Decor Interieur
---
Scandinavian Kitchen with Green Cabinets and Flower-Shaped Lighting Fixtures
Once inside, the kitchen envelops you with a sense of warmth and airy fresh ambiance instantly. The liberal use of green supported by the use of wooden accents creates a well-articulated space to speak to the needs of the fast-paced world people. White walls and white terracotta backsplash in their subtle tonal variations illuminate the kitchen only by color use. Enriched by a lovely green shade, the kitchen cabinets, timber, and matte finish supply a solid and firmly established character. The wood floating shelf and countertops stand out as the major bones of the kitchen that complement the naturality of the green shades. The front side of the oversized kitchen island is transformed into a breakfast nook that is well-coordinated with the rest of the kitchen. The flower-shaped lighting fixtures complement the look of the kitchen.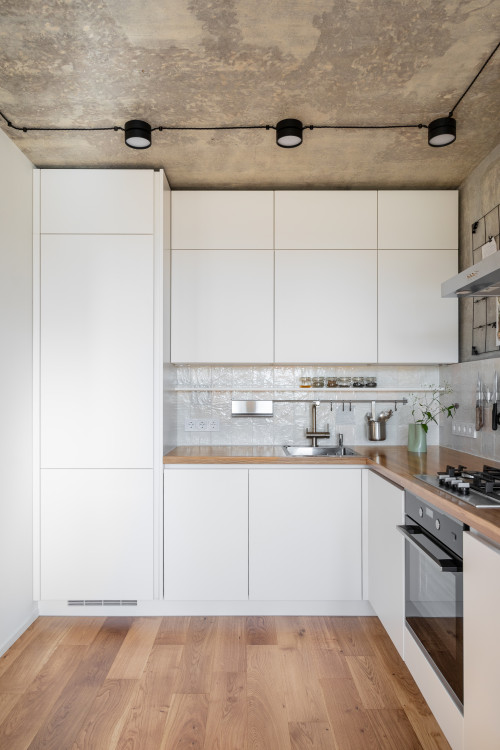 ID# 170016 | Houzz.com – Credit | © Студия дизайна интерьеров КубКвадрат
---
Modern White Kitchen Cabinets with Butcher Block Countertop and Concrete Ceiling
The color distribution revolves around crisp white and cool gray hues! The flat panel white cabinets accompany the butcher block countertops while the white square tile terracotta backsplash stands out between the two. The cabinets are topped with wood countertops that add another natural element to compose organic feelings! Last but not least, the concrete ceiling and the black lighting fixtures add an industrial flair to this space.
Painted Terracotta Backsplash
To improve their relevance to the modern needs of today's world and increase terracotta's capacity to adjust to different themes, terracotta backsplashes also have painted versions available on the market. Homeowners can benefit from them to make a statement or highlight a specific kitchen zone such as the area behind the range hood. As the terracotta can hold up to the heat unless it is an oven or a fireplace, it is a good choice for a stove backsplash.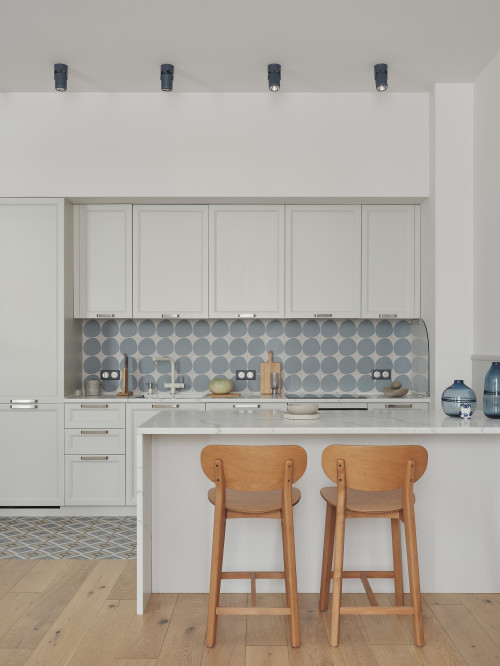 ID# 170017 | Houzz.com – Credit | © Дмитрий Кашемиров
---
Scandinavian White Kitchen with Blue Patterned Backsplash Tiles
The sense of lightness in this Scandinavian kitchen is enriched with layered textures, taking homeowners' senses on a visual and tactile journey! From the materials to the cabinet shapes, it all develops a firm character and serves a specific aim. The white shaker-style cabinets provide a fresh and spacious atmosphere while the white quartz countertops complement this freshness and add a luxurious sense with their marble-like textures. To create movement and diversity on the wall, the blue patterned backsplash tiles bring visual interest.
What pattern is usually seen in terracotta tiles?
Square, hexagon or honeycomb, herringbone, arabesque, subway and riviera patterns are some of the most popular patterns associated with terracotta tiles. Though hexagon and octagon tiles have been popular for ages, trends shift in time. Today, we see that every pattern applied for each material does exist for terracotta too. The modern-classic ones, including the square tiles, herringbone, chevron, and hexagon, are still indispensable either for floor or wall designs. With modern touches and finishes, we find terracotta tiles in every possible form!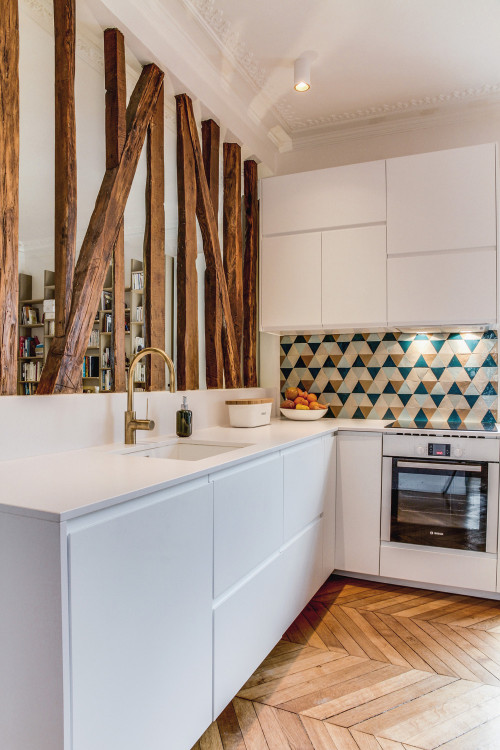 ID# 170018 | Houzz.com – Credit | © Charlotte Vauvillier
---
Multicolored Backsplash Tiles with Modern White Cabinets
This contemporary kitchen is acquainted with a bright color scheme, eliminating the lack of natural light perfectly.
The multicolored backsplash tiles make an unexpected twist against the plain white cabinets, while the wood beams bring rustic charm overhead. Though it makes the ceiling look much lower than it is, it doesn't lead to any claustrophobic feeling, for the kitchen is supported by white domination. The undercabinet lighting highlights the eye-catching terracotta tiles.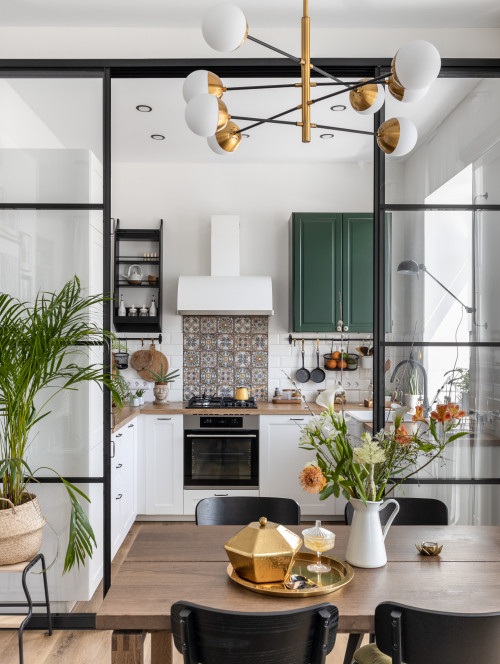 ID# 170019 | Houzz.com – Credit | © Сафина Светлана
---
Crisp White Cabinets with Colorful Terracotta Backsplash Tiles Behind the Stove
The kitchen's overall scheme draws on the softening and soothing impact of the woods as a deliberate choice while also aiming for a classic look. Accentuated by the white subway tile backsplash, the patterned and painted terracotta tile backsplash with delicate ornaments punctuates the wall surfaces behind the stove. The white kitchen cabinets topped with wood countertops bring a sense of order and clarity while the green upper cabinets complement the earthy colors of the patterned tiles and bring depth to the space.