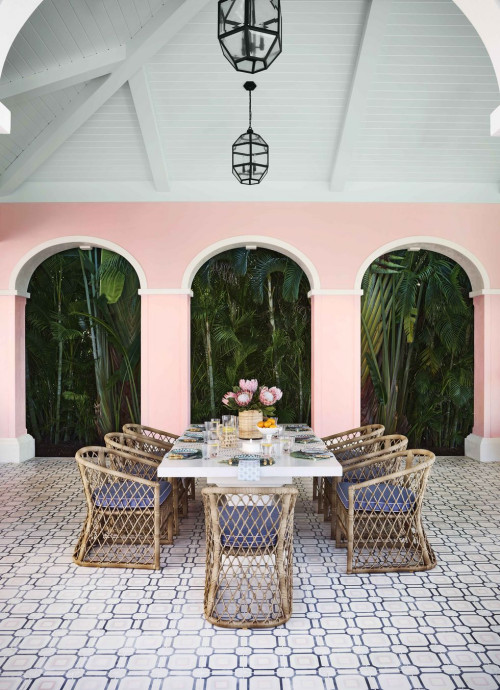 ID# 161702 | Houzz.com – Credit | © Heidi Welker Interiors
---
Monochrome Patterned Outdoor Patio Tiles
This beach style patio design is simply breathtaking! The monochrome patterned floor tiles create a one-of-a-kind appeal and bring a stylish look. Enjoy quality time with family and friends with ample seating around the large dining table, furnished with bamboo chairs! Nature-themed soft pink wall paint adds a touch of elegance to the space. The nature view behind the archways provides the most serene backdrop that is perfect for this outdoor haven.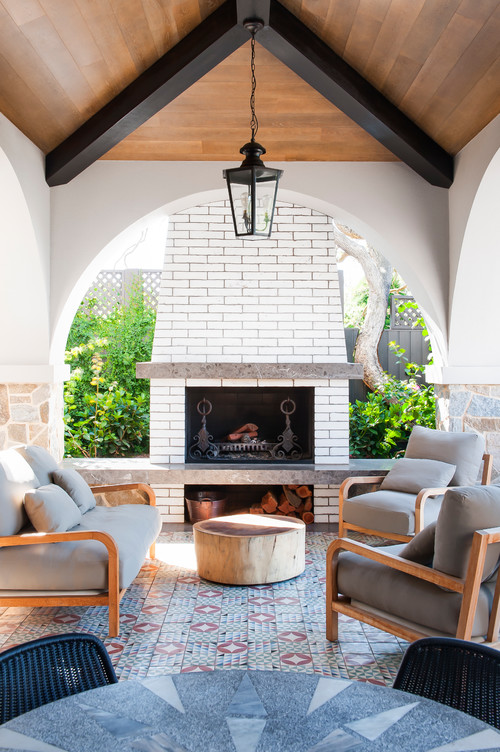 ID# 161717 | Houzz.com – Credit | © Easton.
---
Subway Tiled Fireplace with Comfy Gray Sofas
Imagine yourself sitting in a cozy backyard, surrounded by the warm glow of a subway tiled fireplace that stands out as the focal point of the space! You sink into the comfortable cushions of the plush gray sofas enjoying the crackling sound of the wood burning and the beautiful view of your garden. As you look down, you notice the stunning cement floor tiles with colorful patterns that add a touch of personality and vibrancy to the space!
Outdoor Patio Tiles
Your home's exterior is a blank canvas for you to unleash your creativity. You can transform it into a lively entertainment area, a fun playground for your children, or a colorful garden filled with different plant species. Whatever vision you have for your outdoor space, laying the right foundation is the critical first step to achieving unmatched results. An outdoor patio is a centerpiece that sets the tone and style for the rest of your home. Among all the features, tiles are one of the most important elements for outdoor spaces. Outdoor patio tiles are not only easy to maintain but are also durable and functional materials. They offer an effortless way to combine color and style while showcasing your outdoor space's beauty.
The wide variety of outdoor patio tile materials provides ample options for different styles and colors. Whether opting for solid tiles with a soft touch or patterns and motifs for a more whimsical look, tiles play a crucial role in achieving the desired effect, be it a modern, classic, vintage or authentic patio feel. The user experience is directly impacted by the choice of tiles.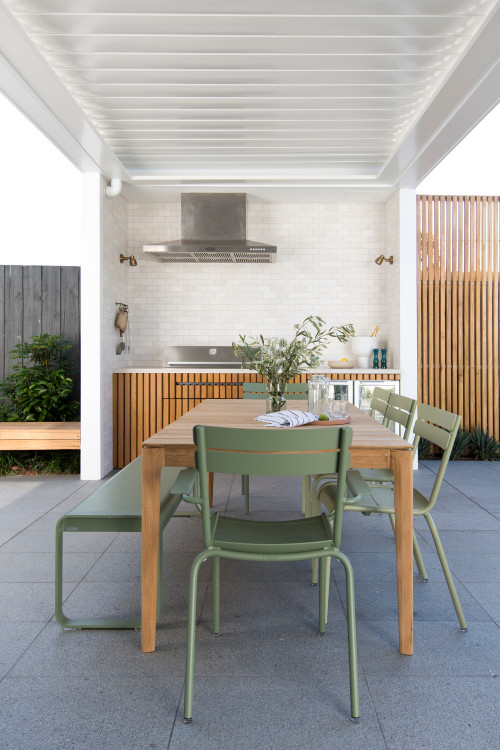 ID# 161701 | Houzz.com – Credit | © Tennille Joy Interiors
---
Beach Style Patio Design with Wood Cabinets
This beach style patio features a spacious wood table with comfortable green chairs, ideal for enjoying meals and entertaining guests. The gray porcelain floor tiles create a seamless transition from indoors to outdoors and provide a beautiful neutral base for the rest of the space. At the back of the patio, a small outdoor kitchen awaits, complete with wood cabinets and a classic white subway tile backsplash. Stainless steel appliances provide a modern touch, ensuring that this outdoor kitchen is just as functional as it is stylish!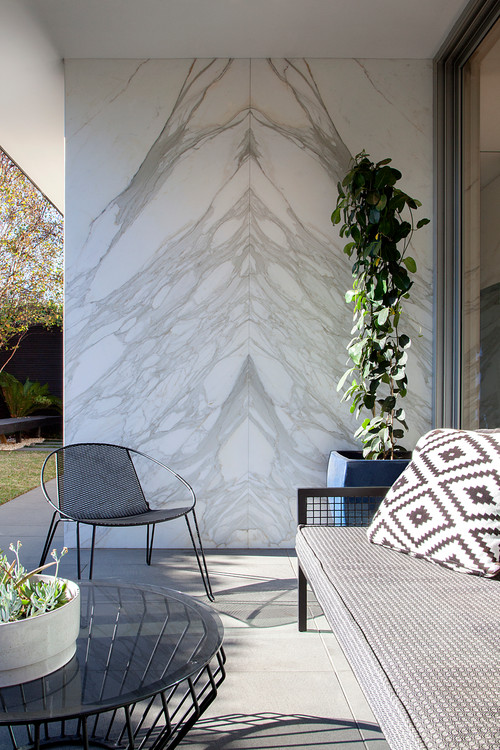 ID# 161703 | Houzz.com – Credit
---
Contemporary Outdoor Design with Bookmatched Marble Slabs
Are you in search of an exceptional tile to enhance the beauty of your patio? Look no further! Consider installing large format slabs that bring out a distinctive look. Take inspiration from this contemporary patio that emanates class and refinement, showcasing beautiful bookmatched marble slabs that exude luxury. Sink in and unwind on the comfortable sofa that beckons you to enjoy the outdoors while the black chair and coffee table infuse a hint of contemporary design. The gray floor tiles form a neutral base that emphasizes the marble and black accents, elevating their allure!
Can tile be used on an outside patio?
Yes, tile can definitely be used on your outside patio, which is great news! But don't just go grabbing any old tile from the hardware store and slapping it down. Luckily, there are outdoor patio tiles specifically designed to handle exposure to the elements. These tiles are made of sturdy materials like porcelain, cement, or natural stone that can resist water, extreme temperatures, and those unforgiving UV rays.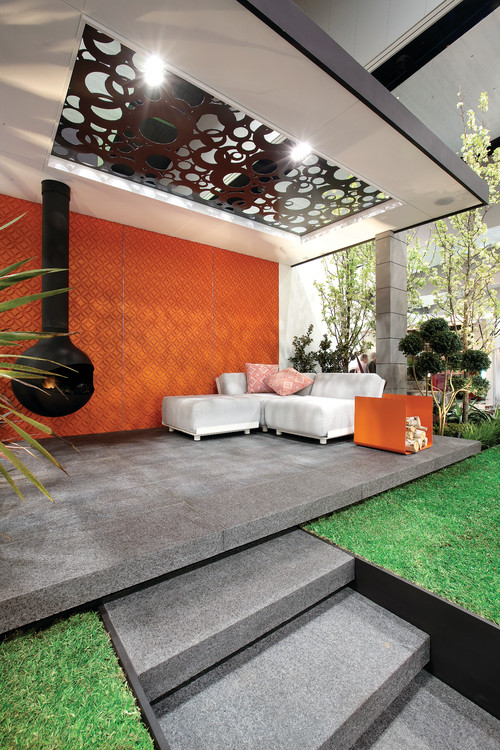 ID# 161704 | Houzz.com – Credit | © Atkinson Pontifex
---
Unique Backyard Design with Orange Tin Wall Panels
The midcentury patio design is simply stunning, with striking orange tin wall panels making a bold statement that exudes both energy and warmth! This outdoor space exudes style and comfort with a cozy sofa, complete with an orange side table ideal for storing wood logs. Adding to the warm, welcoming ambiance is the suspended fireplace that's perfect for chilly evenings. Against the neutral backdrop of gray floor tiles, the tin panels become even more of a focal point. A circular patterned ceiling panel adds a final touch of visual intrigue, bringing the entire look together into a unique and unforgettable space.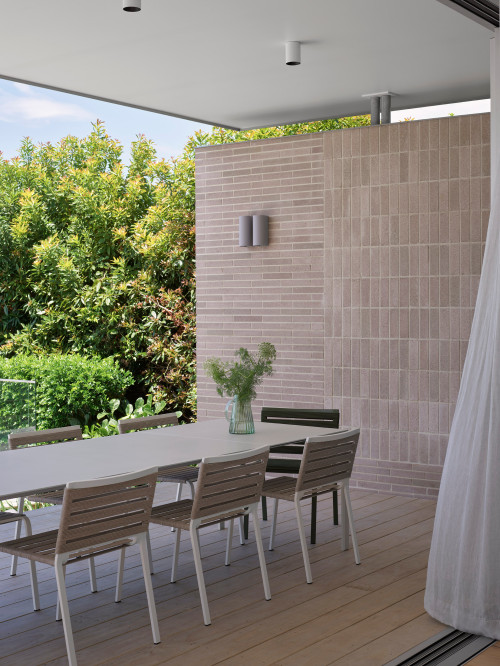 ID# 161705 | Houzz.com – Credit | © Alexandra Buchanan Architecture
---
Beige Outdoor Patio Tiles with Brick Look
The midcentury patio exudes a warm and inviting atmosphere with its beige color scheme and natural materials. The brick-look wall tiles create an accent and add texture and depth to the space. Using these tiles in both vertical and horizontal layout add more visual interest. A white table paired with wooden chairs provides a cozy spot to enjoy outdoor meals or relax with a good book. The wood flooring adds warmth and complements the natural elements in the space.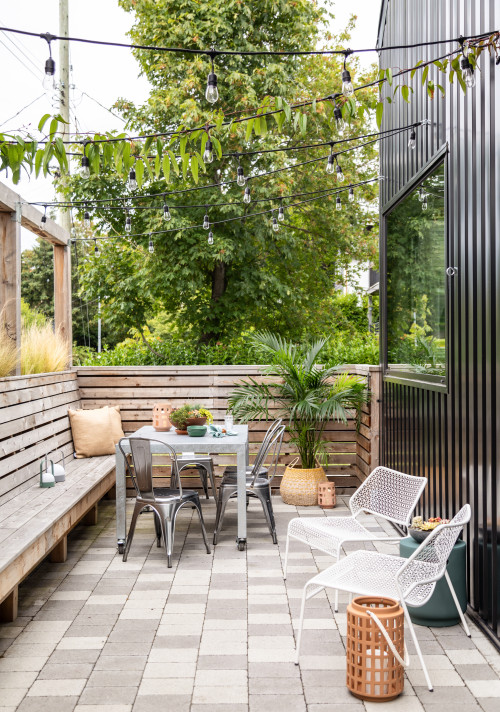 ID# 161706 | Houzz.com – Credit | © Strong Built
---
Wooden Built-in Bench with Metal Table and Chairs
In this industrial patio design, the wooden bench is paired with a corresponding metal table and chairs to form a warm and inviting seating corner. The gray stone flooring imbues a sleek industrial vibe whilst also providing enduring support for any exterior activities. The lush green nature view encircling the patio ultimately enhances the aesthetic, creating a flawless environment for relaxation and unwinding.
What kind of tile is best for outdoor use?
As you consider your options for outdoor tile, it's crucial to choose a material that can stand up to the elements, especially moisture and freezing temperatures. Porcelain, natural stone (like slate or travertine), and cement are all excellent choices for outdoor tile. Porcelain tile is a particularly popular option for its exceptional durability, water resistance, and resistance to stains and fading. Additionally, porcelains come in a wide range of color and pattern options that allow you to personalize your outdoor space. Natural stone tiles also provide timeless-styled durability that fits outdoor use while cement tile has gained popularity thanks to its unique design, low maintenance and extreme durability. Whichever type of outdoor tile you choose, ensure that it can withstand whatever mother nature throws its way!
Stone Outdoor Patio Tiles
Stone outdoor patio tiles offer a wide range of choices, from large sizes to smaller pieces, in a natural form. They come in various sizes, including neat forms which are prepared by cutting them into standard sizes. Stone tiles are durable and robust, making them a popular choice for outdoor spaces. Moreover, they blend in perfectly with any desired style thanks to their various color options. Whether you're aiming for a modern or classic farmhouse look, stone outdoor tiles blend harmoniously into any space. Selecting the appropriate stone outdoor tiles based on the shape, width, and general concept of your patio is crucial!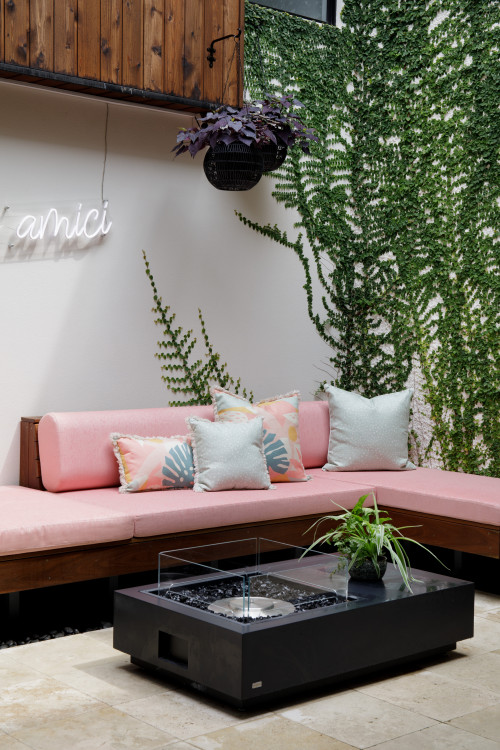 ID# 161707 | Houzz.com – Credit | © Meraki Home Design
---
L-Shaped Sofa with Pink Cushions and Firepit Table
Indulge in a perfect retreat by transforming your backyard into a cozy haven, allowing you to unwind and relax after a hard day's work! The inviting l-shaped sofa adorned with soft pink cushions and ample space to stretch out lures you into lounging with your loved ones. Adding a natural charm to the ambiance is the beige stone flooring while the highlight of the space is the charismatic firepit table which radiates warmth and makes you feel right at home.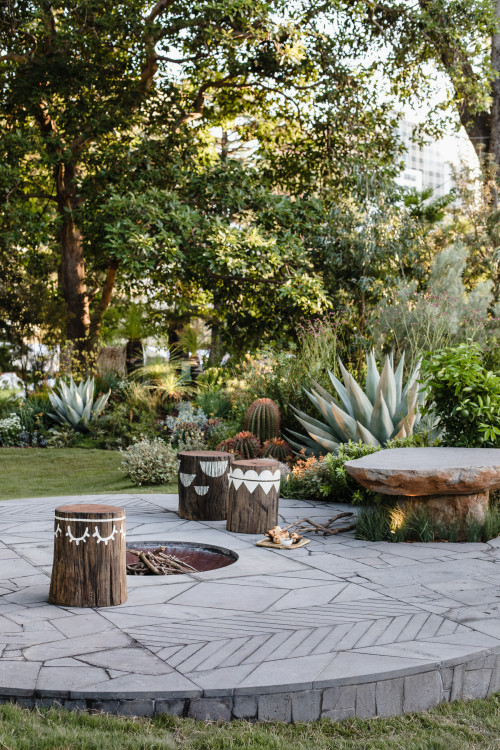 ID# 161708 | Houzz.com – Credit | © Phillip Withers
---
Rustic Backyard Design with Ground Firepit and Wood Stools
The backyard design with rustic vibes is a perfect escape into nature! The stone floor tiles with geometrical patterns add character to the space. The wood stools provide a perfect place to sit and enjoy the beautiful scenery around. The built-in ground firepit is the perfect addition to keep the space warm and cozy during cooler evenings.
Can outdoor tiles be laid on concrete?
For your tile patio to thrive outdoors, it's crucial to have a strong foundation. Opting for a concrete slab is a wise decision to ensure the health of your patio. In case you don't have a substantial base yet, don't fret! All you need is to prep your flooring by making it rigid and even before laying down the tiles. Trust me, your patio will thank you for it.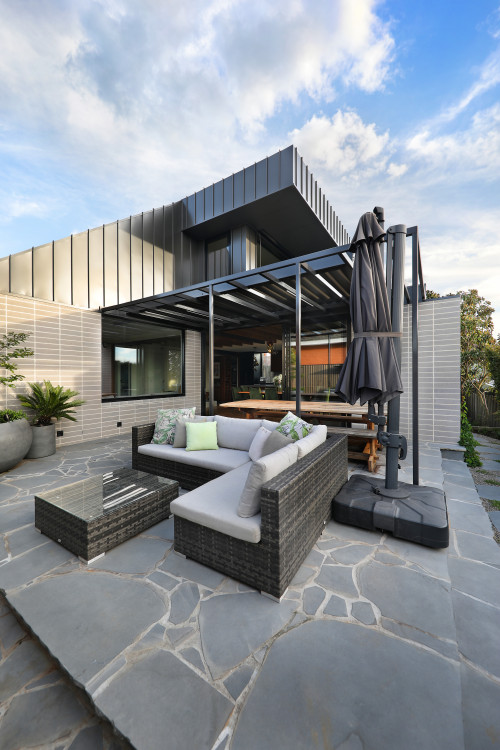 ID# 161709 | Houzz.com – Credit | © LBB Projects
---
Stone Outdoor Patio Tiles with Bamboo Furniture
Experience a serene and elegant atmosphere perfect for both relaxation and entertaining with this modern patio design! The beige cushions on bamboo furniture exude natural warmth, while the gray stone floor tiles add a sleek and modern touch to the space. The furniture's clean lines and minimalistic design allow the surrounding nature to shine, creating a seamless transition between outdoor and indoor living.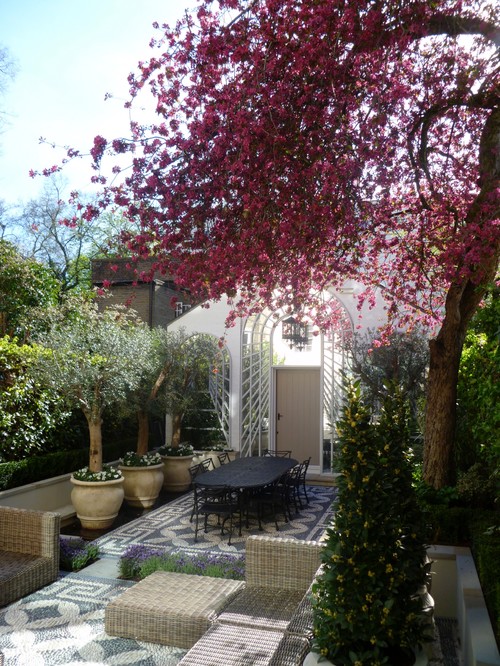 ID# 161710 | Houzz.com – Credit | © Kate Gould Gardens
---
Romantic Backyard Design with Pebbled Stone Tiles
Picture a charming and intimate atmosphere created by a romantic backyard nestled among trees! Here, the black and white pebble stone floors not only add elegance and contrast but also offer a natural and textured feel. A classic and timeless look is provided by the black dining table and chairs, making it ideal for a cozy dinner for two under the stars. The surrounding trees offer privacy and turn this into an idyllic spot for a romantic evening or a peaceful retreat.
Porcelain Outdoor Patio Tiles
When it comes to selecting outdoor patio tiles, porcelain is hands-down the ultimate choice! These tiles are renowned for their exceptional durability, stain-resistant properties, and easy upkeep. You see, porcelain tiles are crafted by firing up clay at exceedingly high temperatures making them incredibly robust and capable of facing the toughest of weather conditions. The icing on the cake is their broad spectrum of color and design options! This wide variety allows you to customize the look of your patio. And last but not least, keeping porcelain tiles spick-and-span is a cakewalk, which is especially crucial for outdoor areas that often gather dirt and debris.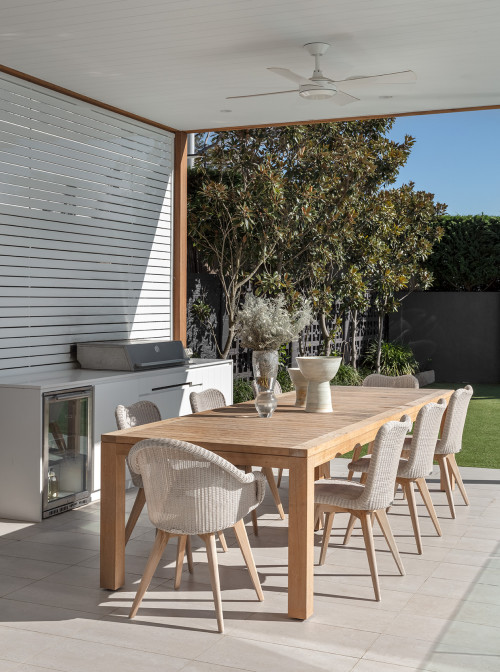 ID# 161711 | Houzz.com – Credit | © Georgina Wilson Associates
---
Large Wooden Dining Table with Wicker Chairs
Looking for an ideal spot to socialize with loved ones? Look no further than the contemporary outdoor entertaining area! This design showcases a spacious wooden table surrounded by cozy wicker chairs, providing plentiful seating options. The focal point of the area is indisputably the white outdoor cabinets that come equipped with a built-in barbecue, ensuring that you can cook while chit-chatting with your guests. Additionally, the gray stone outdoor floor tiles offer a sleek and contemporary vibe while also being sturdy and easy to maintain.
What is the difference between pavers and tiles?
Pavers are thicker materials than regular tiles. However, with a sufficient substrate, it can be thinner. Unlike traditional tiling, no adhesive or fixing technique is usually required when placed on the area to be applied. Before the paving stones are laid according to the chosen pattern, a concrete foundation is poured. It is covered with sand or soft earth.
The tiles, on the other hand, are laid by preparing a hard and flat surface, gluing, and completed by applying joints. Although tiles are generally indoor products, successful designs are obtained with options suitable for many outdoor spaces today.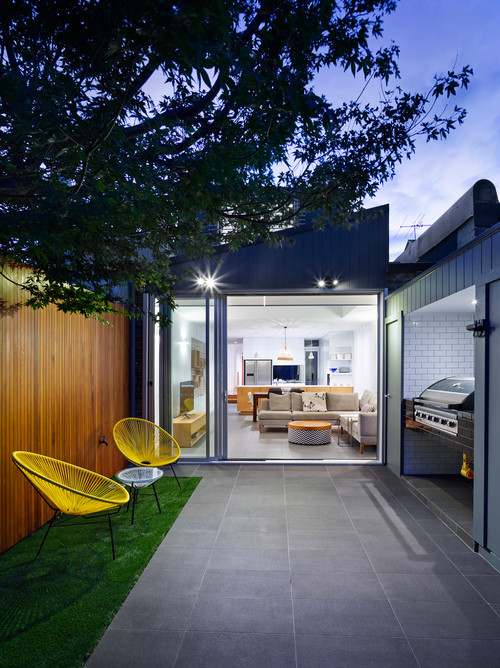 ID# 161712 | Houzz.com – Credit | © elaine richardson architect
---
Minimalist Backyard Design with Yellow Chairs
For those who aim for simplicity and a decluttered outdoor area, a minimalist patio design is the perfect solution. This design showcases clean, uncluttered lines and a straightforward color palette, creating an atmosphere of pristine elegance. The dark gray floor tiles add a contemporary and polished vibe while the yellow chairs offer delightful pops of color. The chairs themselves are nothing but understated and refined. The bright, sunny hue exudes cheerful energy and compliments the minimalist design!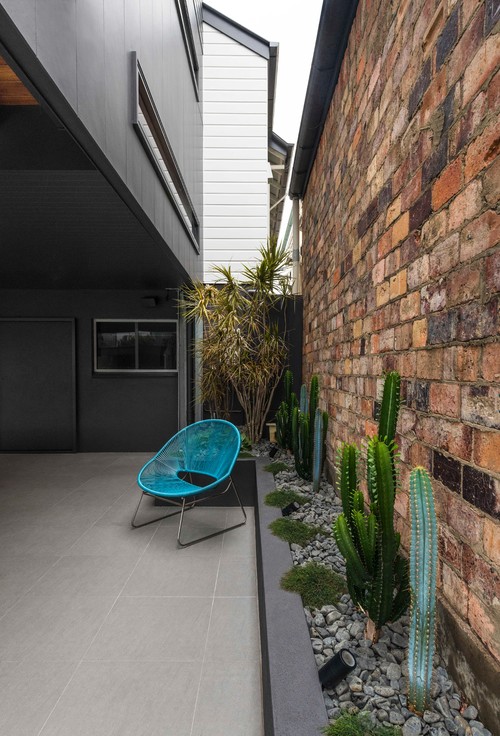 ID# 161713 | Houzz.com – Credit | © Big House Little House
---
Gray Outdoor Patio Tiles with Stone Wall
Looking to transform your outdoor space into a sleek, modern oasis? Consider this patio design, featuring stunning gray tiles that exude sophistication and style. Don't forget to add a fun pop of personality with a statement piece like a vibrant blue chair! And for an extra touch of nature, incorporate a stone wall that adds both texture and grounding to the space. Elevate your patio game with this simple yet stunning design.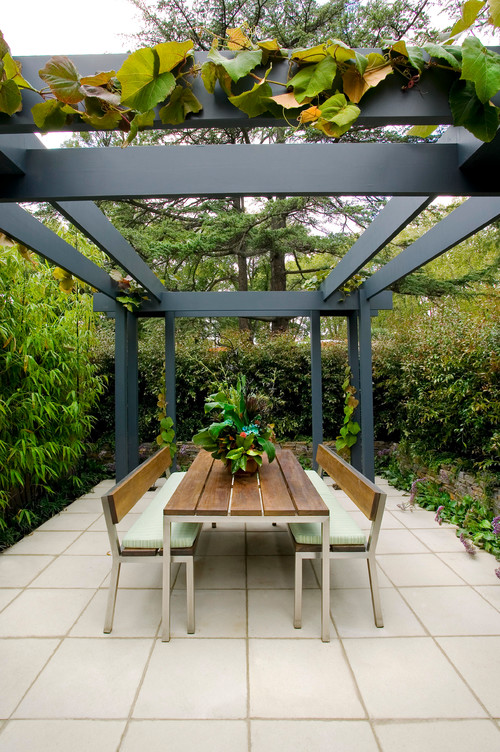 ID# 161714 | Houzz.com – Credit© Lachie Andersons Landscapes
---
Wooden Bench with Beige Floor Tiles and Black Pergola
Welcome to this beautiful contemporary outdoor space – a perfect haven to unwind and relax in style! Take a seat and repose on the cozy wooden bench while you soak up the natural surroundings. The beige porcelain floor tiles beneath your feet will complement the serene vibe with their sleek and modern charm. And, while you unwind, the black pergola will provide just the right amount of shadow for you, making it an ideal spot to indulge in some reading or savor a cup of coffee.
How to tile the outdoor patio?
Before you begin tiling your patio, take some time to prepare the surface. Smooth out any lumps and bumps with a concrete grinder, if needed. Measure twice, tile once. Determine how many tiles you need by measuring the patio area. Plan the layout to ensure even spacing and expansion joints.
Mix the mortar according to the manufacturer's instructions. Don't rush this step! A properly mixed mortar ensures a strong foundation for your tiles.
Using a notched trowel, apply the mortar to a small area of the patio. Work quickly, only applying enough mortar that you can tile before it dries.
Now for the fun part – laying the tiles! Starting at one corner, work your way across the patio. Use tile spacers to ensure even spacing between tiles. To fit the tiles around the edges, use a wet saw to cut them as needed.
Once the mortar has set, it's time to grout the tiles. Mix the grout according to the manufacturer's instructions and press it into the joints with a grout float.
Finally, protect your hard work by sealing the tiles with a sealant. After waiting 24-48 hours for everything to dry, you can enjoy your new outdoor space to the fullest!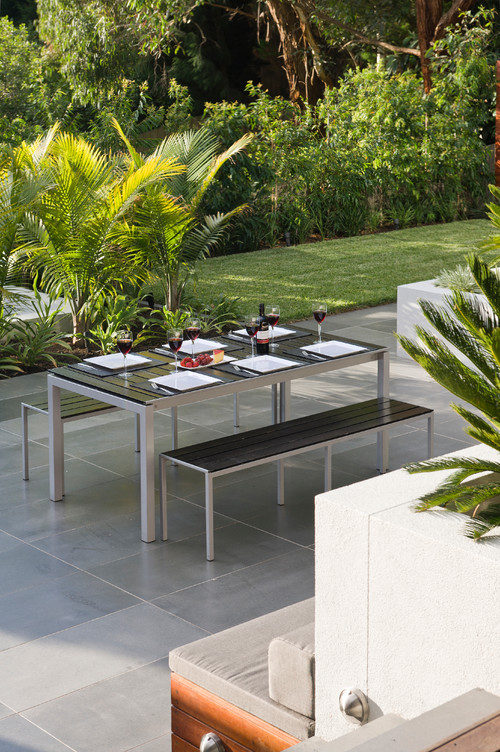 ID# 161715 | Houzz.com – Credit | © Apex Landscapes & Pools
---
Modern Gray Backyard Design Between Greenery
Whether you're hosting an intimate gathering or simply enjoying a quiet moment outdoors, this contemporary patio offers both style and comfort!! This contemporary patio design exudes a sleek and modern feel with its black and gray furniture set against a backdrop of lush greenery. The gray porcelain tile floor provides a clean and polished base and perfectly complete the sleek and clean lines of the furniture.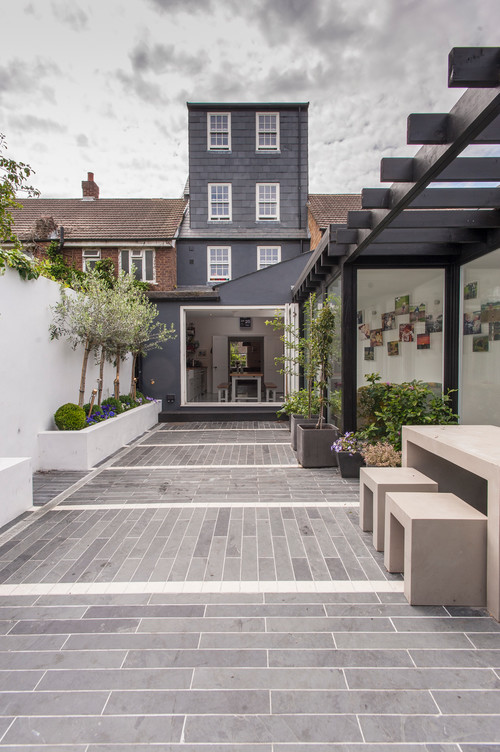 ID# 161716 | Houzz.com – Credit | © John Frye Photographer
---
Gray Porcelain Outdoor Patio Tiles with Stone Look
An exquisite mix of function and sophistication is the hallmark of this contemporary patio design. Boasting an impressive array of gray floor tiles arranged both vertically and horizontally, it creates a stunning visual appeal that is difficult to resist! A cozy atmosphere is achieved through the use of beige dining tables and stools that provide an alluring contrast to the cool gray tiles. The pièce de résistance is the black pergola that adds a touch of refinement.
Cement Outdoor Patio Tiles
Cement tiles make for a fantastic option when it comes to selecting outdoor patio tiles. These tiles are crafted from cement and offer a variety of designs and colors to choose from. In addition to their aesthetic beauty, they are known for their sturdy construction and can comfortably endure heavy foot traffic! These tiles are also recognized for their slip-resistant nature, making them an ideal alternative for outdoor patios. Besides, upkeep is a breeze and can be managed by using a simple solution of water and mild soap. However, these tiles need to be sealed regularly. So, ensuring effective sealing before installation is paramount.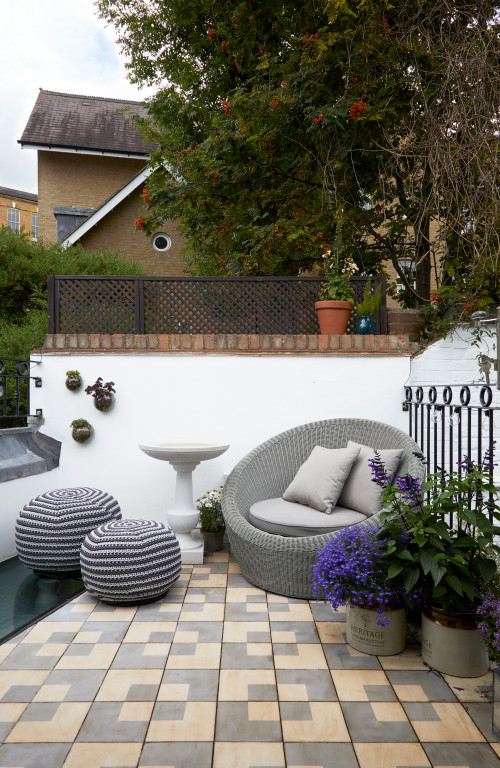 ID# 161718 | Houzz.com – Credit | © Kia Designs
---
Small Transitional Patio Design with Black and Beige Floor
Experience a striking ambiance in this stylish transitional patio adorned with black and beige outdoor tiles that create a beautiful contrast! Unwind and relax in the comfort of a cozy bamboo armchair while additional seating options are provided by stylish black and white poufs – perfect for entertaining guests or simply enjoying a peaceful afternoon alone!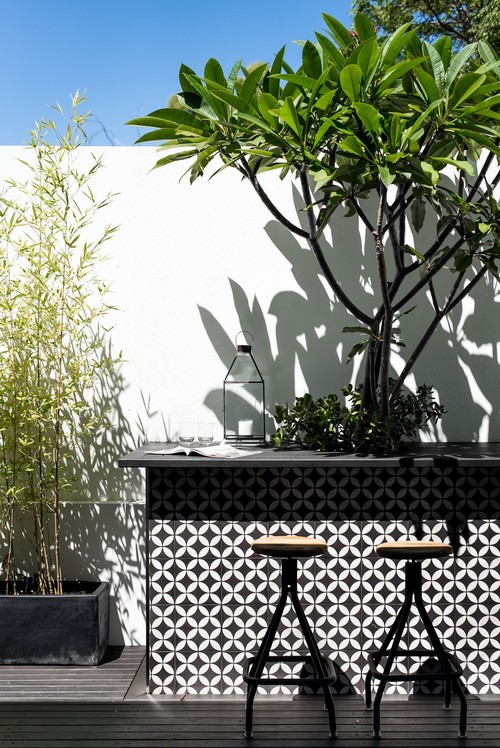 ID# 161719 | Houzz.com – Credit | © Studio Atelier
---
Black and White Tiled Bar with Industrial Stools
If you want to add some unique vibes to your patio, consider placing a tiled bar like this design! Here, the black and white cement tiles of the bar back create a striking focal point and instantly elevates the overall look. The black wood flooring and bar stools add an industrial vibe to the atmosphere while the greenery plants and lushes create a calming feel.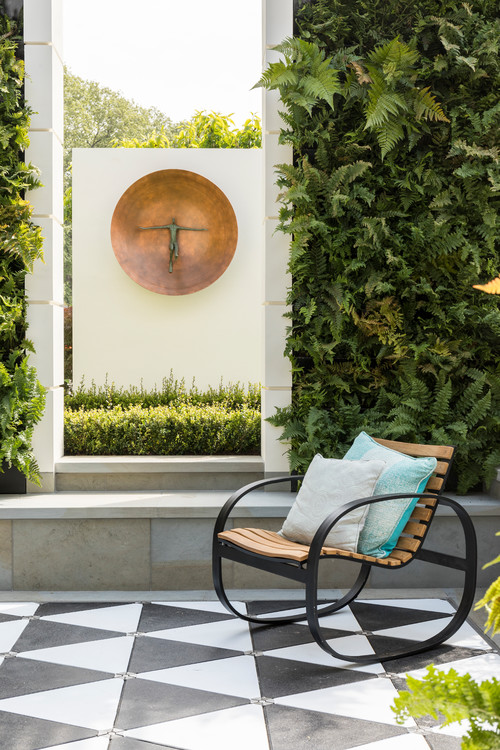 ID# 161720 | Houzz.com – Credit | © Chris Snook
---
Black and White Outdoor Patio Tiles with Minimalist Armchair
Immerse in the modern vibes of a black and white themed patio, perfect for elevating your backyard's aesthetic! The striking outdoor flooring serves as a centerpiece that draws the eye while harmonizing with the minimalist armchair – a perfect spot for relaxation while basking in the great outdoors. But the artistic wall decor adds the perfect finishing touch of sophistication and style to this contemporary outdoor space!
Terracotta Outdoor Patio Tiles
If you want to create a warm and cozy outdoor living space, terracotta outdoor patio tiles should definitely be on your list. These natural clay tiles come in different design styles, giving your outdoor area a rustic and inviting feel. What's more, these tiles are durable and ideal for harsh weather conditions, blending seamlessly with your natural surroundings. Maintenance is minimal, with occasional cleaning and sealing enough to keep them in top shape and protect them from moisture and stains. Terracotta tiles are perfect for patios, walkways and pool areas, bringing sophistication and charm to your outdoor space!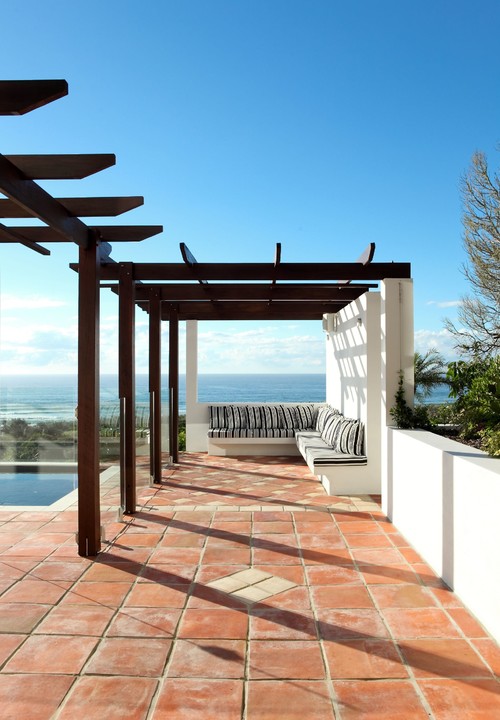 ID# 161721 | Houzz.com – Credit | © John Scomparin
---
Mediterranean Patio Design with Terracotta Floor
Picture yourself basking in the Mediterranean sunshine from the comfort of a plush bench, with a breathtaking ocean vista as your backdrop. This captivating Mediterranean patio design can make your dream a reality! The inviting warmth of the terracotta floor tiles serves as the perfect foundation while the black pergola creates a serene spot of respite from the intense heat. Additionally, a built-in bench complete with stripped cushions provides plentiful seating for both you and your companions to relish in this splendid sight.
Wood Outdoor Patio Tiles
Imagine stepping into your backyard oasis, surrounded by the natural beauty of wood outdoor patio tiles. These tiles are a top choice for those who want to create a warm and inviting outdoor space! These tiles are not just tough, they're resilient enough to endure harsh weather. Additionally, they are available in different shapes that interlock with ease, making the installation less of a hassle. You won't have to worry about the stress of harsh weather or the headache of installation anymore. Treating them with oils or sealers will keep them looking fresh for years to come, although regular maintenance such as cleaning and resealing may be necessary. Trust us, you'll love the cozy and timeless atmosphere these wood outdoor tiles bring to your outdoor living space!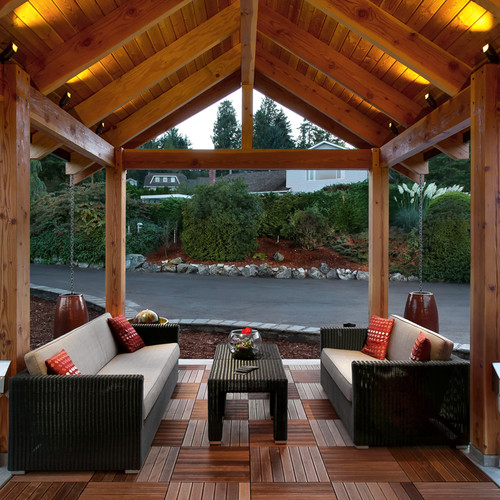 ID# 161722 | Houzz.com – Credit | © David Coulson Design Ltd.
---
Wood Outdoor Patio Tiles with Bamboo Furniture
The space exudes a natural and relaxed vibe, perfect for unwinding and hosting guests. A wooden pergola creates a defined seating area, allowing for intimate conversations and cozy gatherings. Drawing the eye are the bamboo sofas, adorned with beige cushions that provide ample seating and add to the comfortable atmosphere. Vibrant pops of red from the coordinating pillows add a playful touch to the design. The warm and textured wood tiles on the floor ground the space and make it truly inviting!
Large Outdoor Patio Tiles
Large tiles make the applied areas look wider and more spacious. Since the joint lines are less due to the large pieces, it creates a feeling of spaciousness as the tiles draw attention without cutting the eye. In this way, it gives the impression of a larger space and creates a feeling of comfort! There are several types of materials for large-size tiles. Patio designs can be made by supplying the desired large sizes in various types such as natural stones, marble, porcelain and ceramic tiles.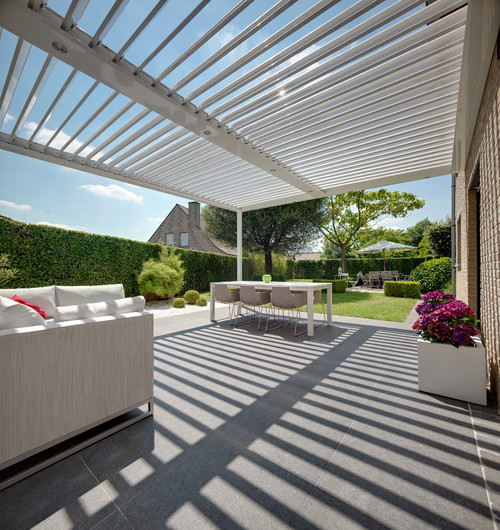 ID# 161723 | Houzz.com – Credit | © IQ Outdoor Living
---
Modern Outdoor Design with White Pergola
This modern patio design is sleek and sophisticated! The focal point of the outdoor area is none other than the striking white pergola that not only offers a cool shade but also exudes a hint of sophistication to the ambiance. Large gray deck tiles ground the area and create a clean, minimalist feel. The furniture features a mix of gray and white pieces that complement each other perfectly, creating a harmonious color scheme.
ID# 161724 | Houzz.com – Credit | © Daniela Fulford Photography
---
White Built-in Bench with Vintage Firepit
If you're seeking to create an outdoor space that exudes modernity and style, a contemporary backyard design may just be your ticket. Opt for large gray stone tiles that serve up a sleek and sophisticated vibe. Intersperse green plants between the tiles to infuse some natural beauty into the mix. And for practicality and comfort, integrate a white built-in bench that helps to break up the space. But if you really want to take things up a notch, consider adding a statement-making firepit!