21+ Elongated Hexagon Tile Backsplash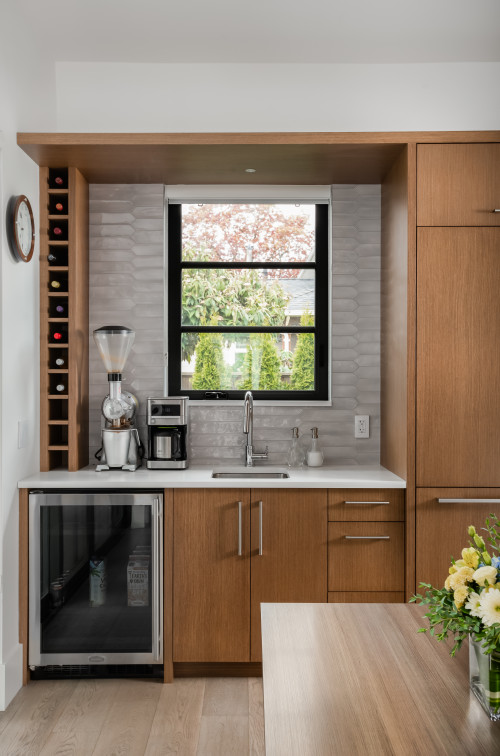 ID# 163609 | Houzz.com – Credit | © SGDI – Sarah Gallop Design Inc.
---
Contemporary Kitchen Coffee Bar with Elongated Hexagon Tile Backsplash
Just like for the kitchens, an elongated hexagon tile backsplash is also a great choice for coffee bars! The gray hexagon tile backsplash offers a clean and sleek backdrop. The wood cabinets perfectly complete this sleek appeal to create a warm and welcoming atmosphere. The white countertop enhances the open and airy feel of the room while the chrome hardware adds a dose of shine.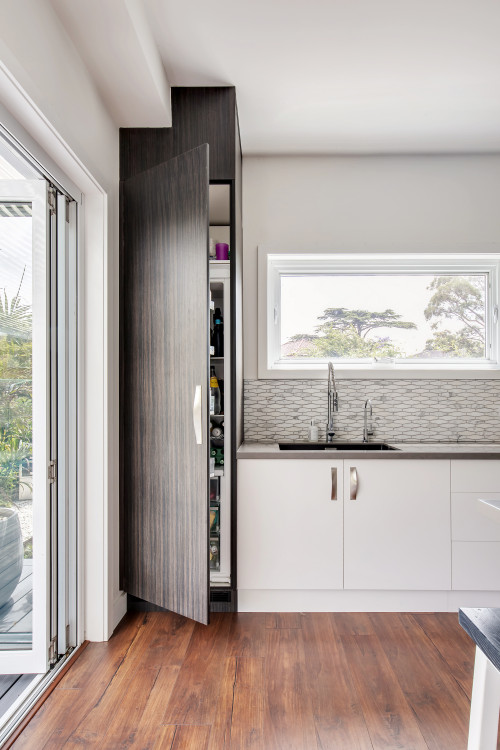 ID# 163617 | Houzz.com – Credit | © The Renovation Broker
---
White and Wood Cabinets with Marble Backsplash
Even if you are not covering the entire wall with the tiles, a marble backsplash can make a big impact on the overall look, like this design. Here, The elongated marble hexagon tiles create a nice textural look next to the white cabinets. The gray countertop creates a continuous look with the gray veining of the marble tiles. The tall cabinet on the left side adds another layer of texture with its wood grains.
Elongated Hexagon Tile Backsplash
As time goes by, technological improvements help us to get new shapes, designs, colors, and patterns. Since the backsplashes are to prevent splashes and moisture they can be used as an aesthetic design element to help our kitchen designs to look better. Today's market provides endless options for backsplash designs, such as tiles, tile shapes and styles, and colors. An elongated hexagon tile backsplash design is one of the options that the tile industry provides for us!
A Little Visual Flair with an Elongated Hexagon Tile Backsplash
Do you know what an elongated tile backsplash is? Some may refer to it as "picket tile". This style draws inspiration from the classic hexagon tile but elongates it to create a modern look that sets it apart. With three different installation patterns to choose from, this type of tile comes in a larger shape that really makes a statement.
Opting for a straight horizontal installation gives your kitchen or bathroom a subtle update that is both stylish and elegant. You can also use the straight vertical installation to create the illusion of higher ceilings or make a focal point with this option.
The braided installation is a popular choice due to its calming, organic appearance. Perfect for walls or floors, this option can be accentuated with a slightly darker or lighter grout color to highlight the pattern. Homes and businesses alike can benefit from the distinctive contemporary look of an elongated tile backsplash, making it a great choice for any space.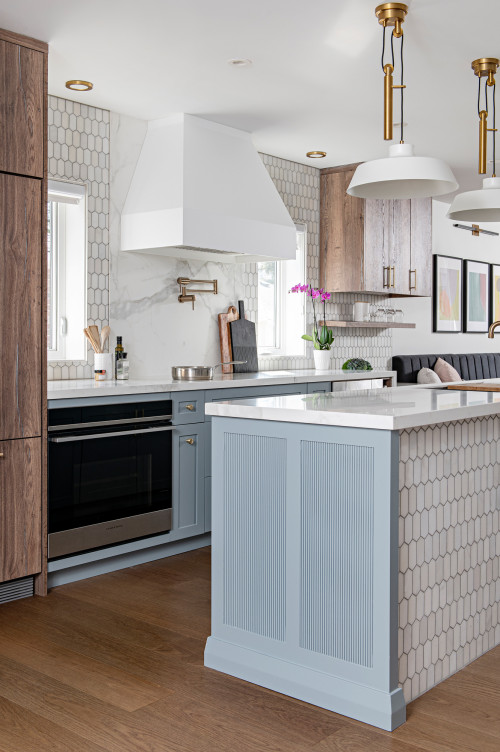 ID# 163601 | Houzz.com – Credit | © Soda Pop Design Inc.
---
Transitional Kitchen with White Elongated Hexagon Tile Backsplash
In this transitional kitchen, the white elongated hexagon tiles create an eye-catching appeal as a backsplash. The same tiles are also used on the kitchen island to create a continuous look. Using charcoal grout highlights this stunning hexagonal pattern to emphasize the impact! The baby blue base cabinets and island offer a romantic atmosphere while dark wood upper cabinets add natural warmth. The white quartz slab backsplash behind the stove and countertops enhance the luxurious sense.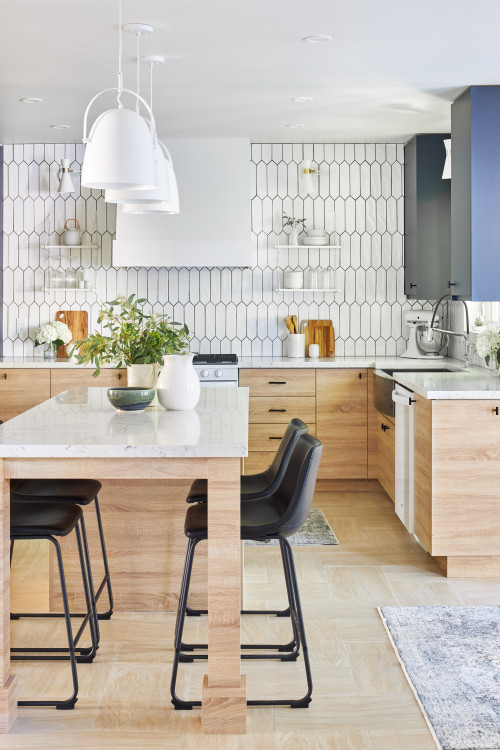 ID# 163602 | Houzz.com – Credit | © PULSAR DESIGN INC.
---
Natural Wood Cabinets with White Backsplash and Countertops
This contemporary kitchen showcases the striking white hexagon backsplash as a pristine and luminous canvas. Undoubtedly, the contrasting grout choice highlights the remarkable pattern, bestowing it with an appealing texture. The white range hood and countertops connect seamlessly and harmoniously with the white backsplash tiles. To create a cozy and inviting ambiance, natural wood cabinets are utilized. Floating shelves in white instead of upper cabinets provide a spacious and breezy atmosphere in the room. Equally, the navy blue upper cabinets, black hardware, and black chairs produce a striking contrast, lending the space an element of visual interest.
How do you install elongated hexagon tile?
Measure all places that will be tiled, determine their square footage, and make sure the walls and backsplash's back are clean before beginning the installation. If the wall has any cracks or holes, smooth down the surface, fix the holes, and clean the wall with an all-purpose cleaner. Painter's tape should be used to outline the backsplash's perimeter as you plan the tile placement. You are now prepared to begin the installation.
Installation
Using a trowel with a notch, apply thin-set mortar, then place the tiles on top and press down. Use the appropriate cutting tool for your material if you need to cut tiles. Allow mortars to dry for 24–48 hours. In general, all mortars take the same amount of time, but it's best to verify the product's instructions. When the grout has dried, use a float to sweep it over the tiles at a 45-degree angle, fill in all the gaps, and then clean the tiles with a damp sponge. When all of the gaps between the tiles are filled, repeat this step.
The backsplash's edges need to be finished as the last step. When finishing this sort of tile, you may just run a thin line of caulk around the outside edge of the tile where it meets the wall and counter. Some materials don't require finishing with another substance. Metal strips, however, can be used to achieve a cleaner and more polished appearance. A broad variety of metal finishes, including copper and nickel, are available in metal strips that are around 1/4 to 1/2 inch wide.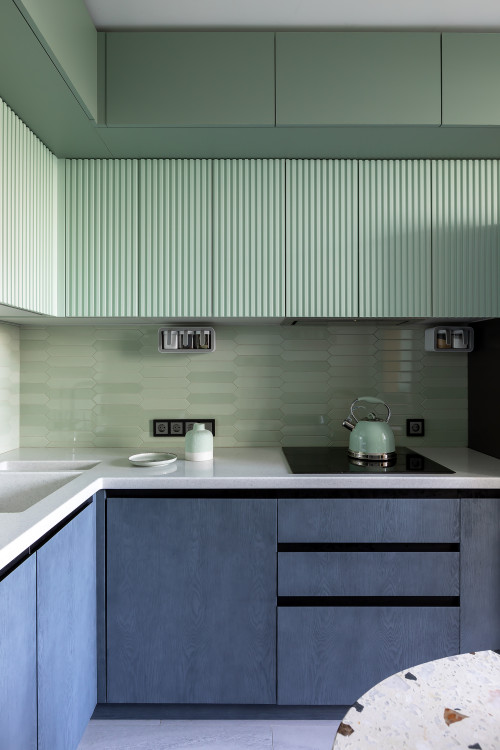 ID# 163603 | Houzz.com – Credit | © "ЭСТЕТ DESIGN " Надежда Ракова и Алёна Гуслиц
---
Blue and Green Kitchen Cabinets with White Countertop
The stunning blue base cabinets which exude a cool and peaceful air, serve as the basis of this contemporary kitchen! The green color adds a fresh natural element that creates a sense of harmony and tranquility for the atmopshere! The elongated hexagonal backsplash tiles in a refreshing green tone add to the visual curiosity of the area while the white quartz countertop gives more than just a feeling of pure beauty.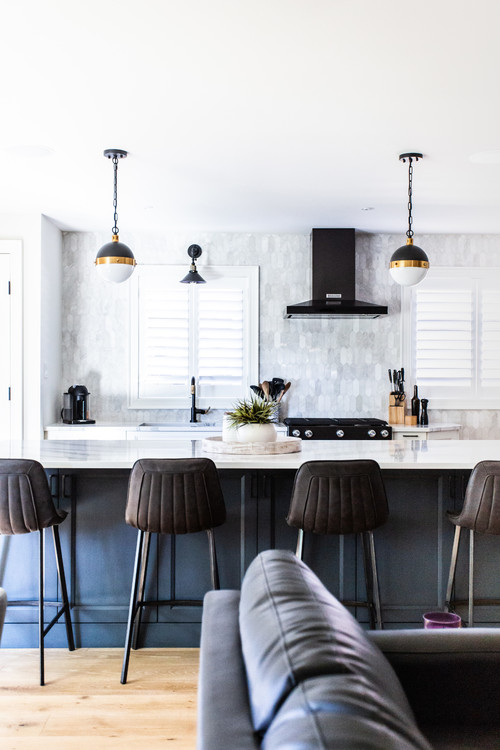 ID# 163604 | Houzz.com – Credit
---
Contemporary Kitchen with Marble Full-Height Backsplash
Taking center stage in this captivating composition is the awe-inspiring full-height marble hexagon tile backsplash that elevates the ambiance with an aura of luxury and elegance. Amidst this visual symphony, the white cabinets emerge as luminous beacons while a bold stroke of contrast is painted by the black island. The white countertops offer a pristine, polished surface to complement the spacious atmopshere.
Color Options for Elongated Hexagon Tile Backsplash
As we mentioned before, today's industry can provide a large plethora of alternative color options for elongated hexagon tile backsplash ideas. You can find many design options to create your very own unique design in the kitchen or bathroom. Since the backsplash is one of the design elements in the kitchen it can boost the general look of the kitchen design.
You can make distinctive compositions with elongated tiles since they are available in such a wide variety of color options for elongated hexagon tile backsplash ideas. Of course, there are options like marble elongated hexagon tile, glossy or matte finishes, etc. You may experiment with various pairings thanks to the variety of hues and tones. An ombre design, black and white for a modern style, contrasting colors, mixing matte and glossy finishes, or tones of the same primary hue are all options. You will undoubtedly find a color variety that appeals to your unique style among the many that designers embody.
White Elongated Hexagon Tile Backsplash
White backsplashes have recently been the most popular choice due to the popularity of all-white kitchen designs. The most popular design element, hex tiles, and white's simple beauty combine flawlessly to give kitchens a classic appearance. A white elongated hexagon tile backsplash will never let you down with its understated elegance.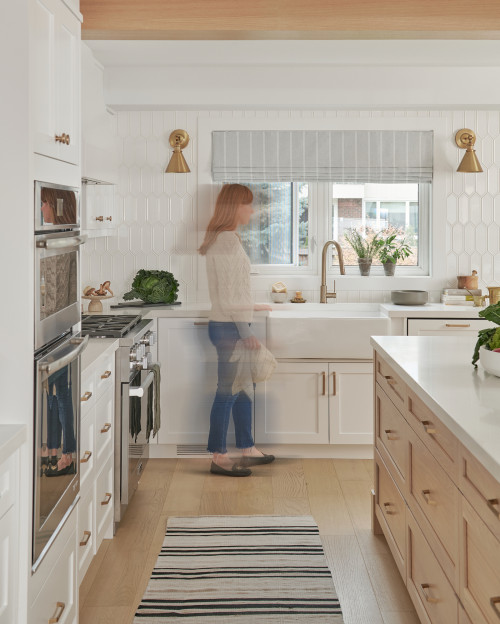 ID# 163605 | Houzz.com – Credit | © Rüme Design
---
Farmhouse Kitchen with White Elongated Hexagon Tile Backsplash
Embracing a quintessential farmhouse aesthetic, this kitchen finds its essence in the timeless appeal of classic white shaker cabinets and countertops! Adorned with a delighful hexagonal pattern, the white backsplash becomes the captivating focal point in the space. The brass fixtures, adorned with their inviting hues, gracefully complement the interplay between the white and wooden elements.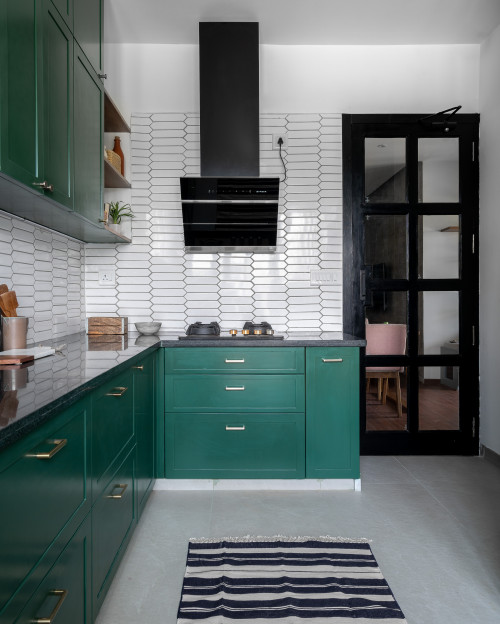 ID# 163606 | Houzz.com – Credit | © Sunita Yogesh Studio
---
Green Shaker Cabinets with Black Granite Countertop and Brass Hardware
What a beautiful green shade… These green shaker cabinets are definitely a statement maker that can easily enhance any space! These gorgeous cabinets offer an elegant and dramatic atmosphere with the black granite countertop while the brass hardware perfectly completes this sophisticated look with a dose of glamour. The white elongated hexagon tile backsplash creates contrast against the darker shades, providing a bright and fresh atmosphere.
Are picket tiles timeless?
All of the preceding described patterns have a common geometry, but hexagonal (or honeycomb) tile has a distinctive form that gives it its distinctive pattern. Stretched hex and picket tiles are two examples of hexagonal tile variations that may give your house the classic appearance you want while breaking up the monotony of rectangular lines. Although hexagonal patterns are striking and eye-catching, their designs may promote order and serenity. Hexagon tiles will enliven the room whether you want to use them as a floor tile, shower tile, or backsplash.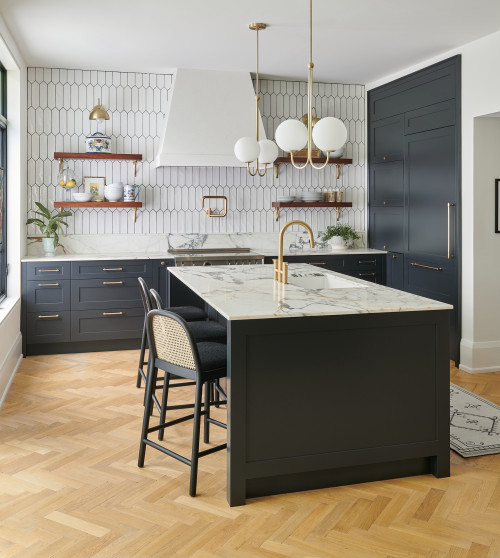 ID# 163607 | Houzz.com – Credit | © Avalon Interiors
---
Black and White Kitchen Design with Wood Flooring
Adorned with a black and white color scheme and high-end material choices, this Mediterranean kitchen offers a stylish look that will be a converstion piece for many years! The first thing that draws attention is the white full-height backsplash. These hexagon backsplash tiles create an eye-catching focal point while the black grout emphasizes the impact of the tiles. The white quartz countertops and 4-inch backsplash slab complete the bright and clean appeal of the white tiles. The black kitchen cabinets and island create a strong contrast against the white features to add depth to the space while wood floating shelves break the monochrome color scheme and add warmth to the atmosphere.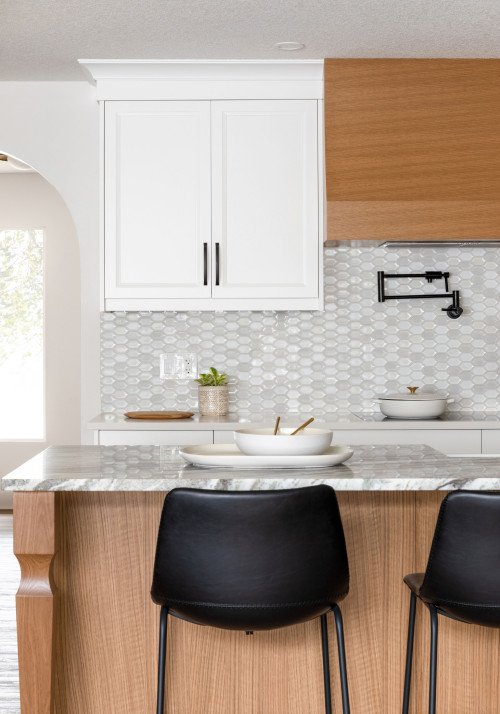 ID# 163608 | Houzz.com – Credit | © LD&A
---
White Cabinetry with Wood Island and Glass Mosaic Tiles
Merging seamlessly with the white glass mosaic tiles, the space gains an understated depth of texture that's simply mesmerizing. The kitchen doesn't stop there – it incorporates luxury and sophistication, all thanks to the perfect pairing of a wooden island and marble countertops. A standout feature, the wood range hood instantly adds character and charm to the transitional design. To ensure that the space is well-balanced, tasteful black accents are artfully incorporated throughout the kitchen.
Gray Elongated Hexagon Tile Backsplash
Gray elongated hexagon tile backsplashes are available in a variety of tones and colors, ranging from pale gray to nearly black. These elongated hexagons complement practically any color scheme and design style because of their diversity. Gray may be combined with other neutral colors like blacks or browns to complete the style, or you can couple them with white accents to give the room a vibrant appearance.
One approach to making a design that is neutral yet still appears finished is to use gray backsplash tile. A gray elongated hexagon tile backsplash may really liven up your decor with its many tones of gray. The gray backsplash tile you select as elongated hexagons will ultimately rely on your design objectives and the way you want your worktops and cabinets to look. Since almost every color goes with gray, using a range of textures in your backsplash will also lend a touch of refinement and a timeless vibe!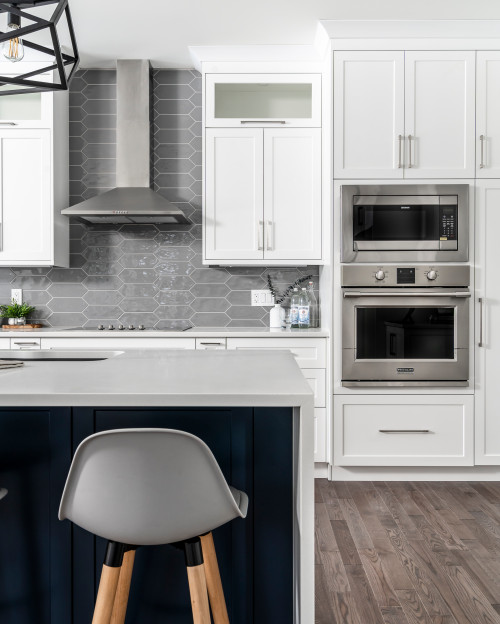 ID# 163610 | Houzz.com – Credit | © YourStyle Kitchens Ltd
---
White Cabinets with Gray Tiles and Blue Island
White cabinets are like a black canvas that can create a clean and sleek appeal for kitchens. In this transitional kitchen design, the white shaker cabinets serve a bright and spacious atmosphere. The gray hexagon tile backsplash creates a striking focal point between the cabinets while the elongated shape of the wall tiles makes a modern twist against the classic style of the shaker cabinet doors. The navy blue kitchen island adds a pop of color, without breaking the elegant overall look. The waterfall edges of the island countertop and the stainless steel appliances perfectly complete the modern look of the backsplash.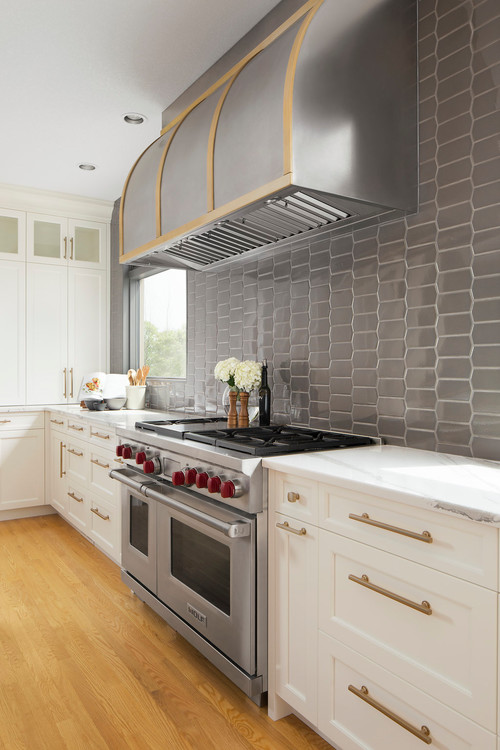 ID# 163611 | Houzz.com – Credit | © LD&A
---
Gray and White Kitchen Design with Brass Accents
Adorned with gold accents, the oversized stainless steel range hood and stove make a statement and create a striking focal point! The gray elongated hexagon tile backsplash creates a cohesive look with the appliances. On the other hand, the white shaker cabinets and Silestone quartz countertops provide a clean and bright look while the brass hardware adds a dose of glam to complete the elegant overall look.
Blue Elongated Hexagon Tile Backsplash
When the tranquil hue of blue blends beautifully with the unusual elongated hexagon tile design, the outcome is nothing short of exquisite! Blue is becoming increasingly popular in interior design owing to its ability to offer a dash of color that seems neutral and ageless! Consider incorporating a blue tile backsplash into your living area while keeping the rest of the decor in a more neutral tone. You may add a sense of drama to your room this way!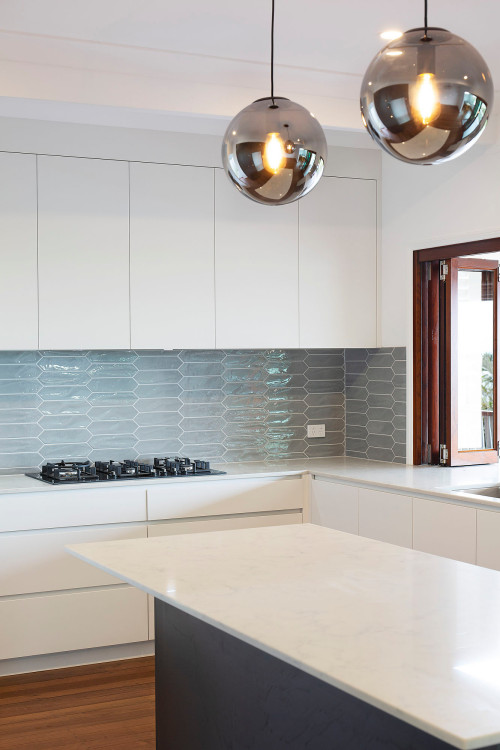 ID# 163612 | Houzz.com – Credit | © Interiors by Maz
---
White Kitchen Cabinets and Countertops with Blue Backsplash
Boasted a chic and sophisticated design, this contemporary kitchen features clean and minimalist lines! The crisp white cabinetry and countertops exude a bright and expansive ambiance while the light blue hexagon backsplash injects a burst of color to make it a focal point of the room. The glossy finish of the cabinets gracefully complements the luminous appearance of the overall cabinetry.
Material Options for Elongated Hexagon Tile Backsplash
Making the appropriate tile material and color choices may have a significant impact. This combination might be a unique design element for the kitchen backsplash. Like the flooring, cabinetry, and countertops, the backsplash is an important design element in the kitchen design. If you have decided to use an elongated hexagon tile backsplash you may get lost in the world of material options for elongated hexagon tile backsplash ideas. There are tons of options you can choose from that the tile industry provides.
When the word "tile" comes to mind the first material option for elongated hexagon tile backsplash ideas is the ceramic. However, there are many material options, too, such as glass elongated tiles or marble elongated hex tiles. You may find it difficult to choose from the material options for elongated tile backsplash ideas we gathered some beautiful and stylish ideas for you to get inspired by!
Glass Elongated Hexagon Tile Backsplash
The glass elongated hexagon tile backsplash for your kitchens may give you a distinctive appearance! The back of each of the tiny glass pieces used to create these tiles has been baked with a transparent glaze. There are various possibilities available for your very own unique design idea, whether your design aesthetic is traditional, modern, or rustic. Glass tiles are excellent since they are eco-friendly and do not fade in the sun. because they are reusable, which is a necessity in today's world!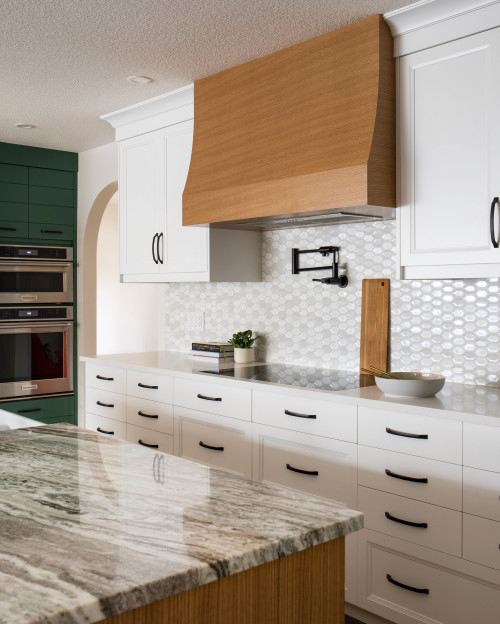 ID# 163613 | Houzz.com – Credit | © LD&A
---
Transitional Kitchen with White Cabinets and Black Hardware
Adorned with white shaker cabinets and glass backsplash, this transitional kitchen showcases a timeless and elegant appeal! The white cabinets and countertops offer a bright and spacious atmosphere while the glass elongated hexagon tile backsplash perfectly completes this fresh look. The wood range hood brings a warm feel while the black hardware adds a modern vibe.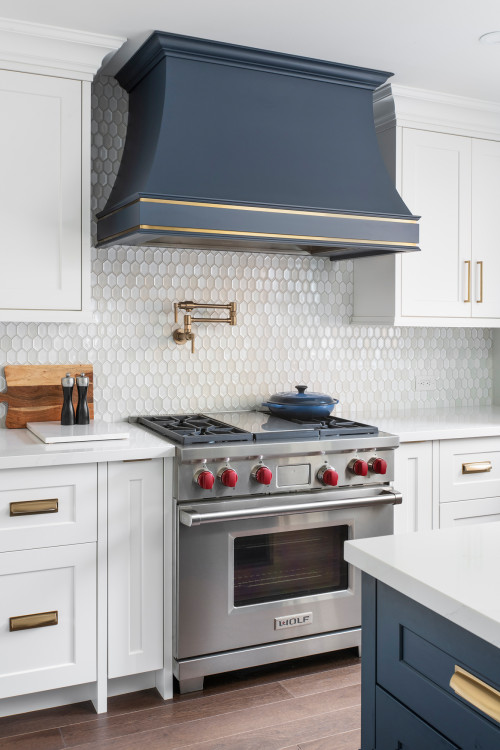 ID# 163614 | Houzz.com – Credit | © Ryan Fung
---
Traditional Kitchen with Navy Blue Range Hood
The white shaker cabinets embody the graceful sentiment of the classic style and are complemented brilliantly by the white countertops that add to the bright and airy appeal of the cabinetry. The glass mosaic tile backsplash creates a lovely textured look while the navy blue range hood stands out as a striking statement piece to serve as a captivating focal point amidst the pristine whites.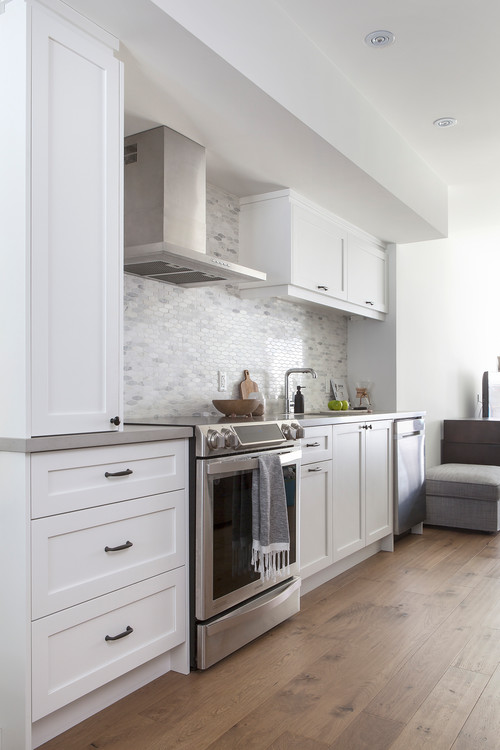 ID# 163615 | Houzz.com – Credit | © INTOR Construction
---
White Scandinavian Kitchen with Stainless Steel Appliances
Using a marble backsplash will be a terrific method to give a nice texture to your design if you want to create an all-white kitchen! The white shaker cabinets have a modern, sleek appearance, and the marble backsplash gives them a luxurious finishing touch. The oil-rubbed bronze hardware adds a vintage touch while the gray countertop harmonizes with the gray backsplash.
Marble Elongated Hexagon Tile Backsplash
The most widely used natural stone for interior design projects is marble, which has its very own distinct charm. A marble backsplash may quickly improve your decor thanks to its opulent appearance and feel. Additionally, a backsplash made of marble elongated hexagon tiles can have a sleek, modern appearance. The luxurious feeling of the marble elongated hexagon tile backsplash can blend perfectly and create a contemporary look for your kitchen designs.
The combination of the traditional appearance of the geometric elongated hexagon tiles with the opulent appearance of this natural stone is definitely stunning. The modern backsplash made of marble hexagons looks stunning and significantly improves the appearance of kitchens. Let's check what can be done with these luxurious marble elongated hexagon tile backsplash ideas.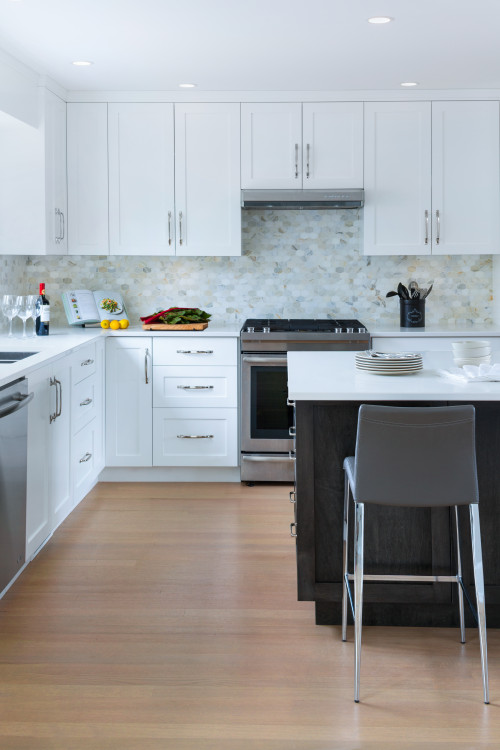 ID# 163616 | Houzz.com – Credit | © Troico
---
Calacatta Gold Marble Elongated Hexagon Tile Backsplash
If you want to add a luxurious sense to your kitchen with your backsplash, there is no better way than a Calacatta gold marble! Adding a natural warmth with their gray and gold veining, these marble tiles offer a clean and sleek appeal. There, The Calacatta Gold Marble backsplash instantly elevated the overall look, adding a sense of luxury. The white shaker cabinets and countertops serve a plain look that allows the backsplash to be the star of the design while the dark wood kitchen island adds depth.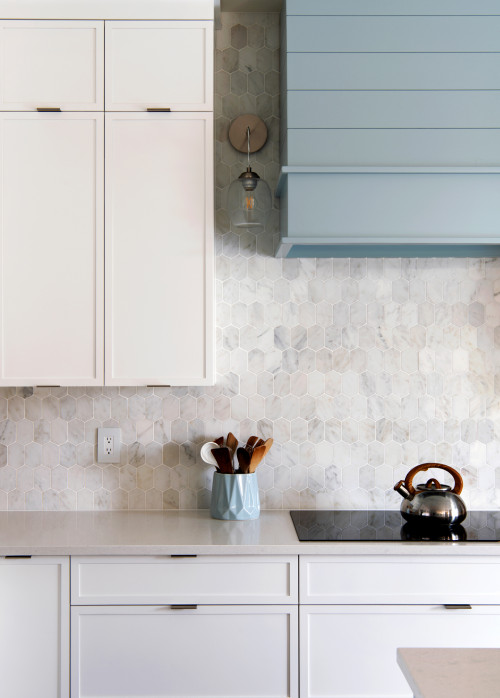 ID# 163618 | Houzz.com – Credit | © Gina Godin
---
Honed Marble Hexagon Backsplash with Blue Range Hood
Adorned with a natural charm, honed marble tiles are a perfect choice to create a clean and sleek backdrop for your kitchen! These marble tiles serve as a nice textural look with a dose of luxury. Against this canvas, the modern allure of the white cabinets takes center stage. Adding an element of surprise and contrast, the baby blue range hood steps into the spotlight.
Ceramic Elongated Hexagon Tile Backsplash
Ceramic tiles are one of the most popular building materials for many homeowners and interior designers due to their variety of color, texture, pattern possibilities, and inexpensive rates. Bright whites to deep, dramatic blacks are just a few of the available color choices for ceramic elongated hexagon tile backsplashes. This limitless selection enables you to add a unique touch to your creative endeavors.
Installing a backsplash made of ceramic elongated hexagon tiles in your kitchen may make it more stylish and visually appealing while also shielding your walls from unattractive and potentially damaging food spills. Aside from its protective qualities, a ceramic elongated hexagon tile backsplash may greatly enhance the aesthetic appeal, color, and personality of your kitchen design. An elongated hexagon ceramic tile backsplash offers many homeowners a fantastic opportunity to try out daring designs, patterns, and hues. Another benefit of ceramic tile backsplashes is that they are really simple to maintain, which is a crucial attribute in any busy kitchen. If dinner preparation has left your ceramic tile backsplash splattered with food and filth, it will often just wipe clean.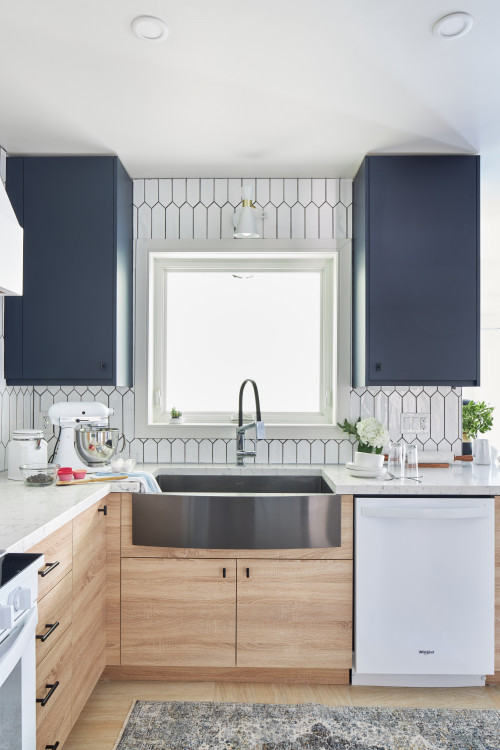 ID# 163619 | Houzz.com – Credit | © PULSAR DESIGN INC.
---
Wood Cabinets with Stainless Steel Farmhouse Sink
The eye-catching white hexagon tile backsplash serves as a bright backdrop while creating a modern look. The natural wood base cabinets create a warm and welcoming atmosphere while the navy blue upper ones bring depth to the space. The stainless steel farmhouse sink is definitely a statement maker that makes a characteristic touch.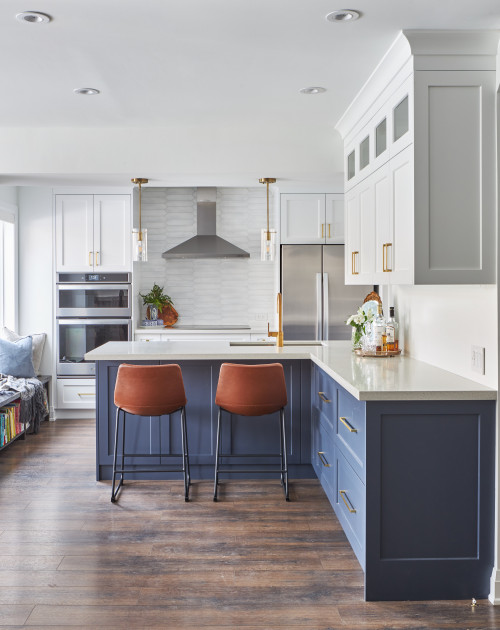 ID# 163620 | Houzz.com – Credit | © Se7en Interiors Inc
---
Blue and White Kitchen Cabinets with Dark Wood Floor
Adorned with a brass hardware, the captivating blue cabinets that grace the space offer a realm of romance and elegance. The predominant shade of white enveloping the rest of the room serves as a harmonious canvas. The white ceramic backsplash contributes a tasteful textural layer to the setting while the dark wood floor and leather chairs provide a splendid final touch.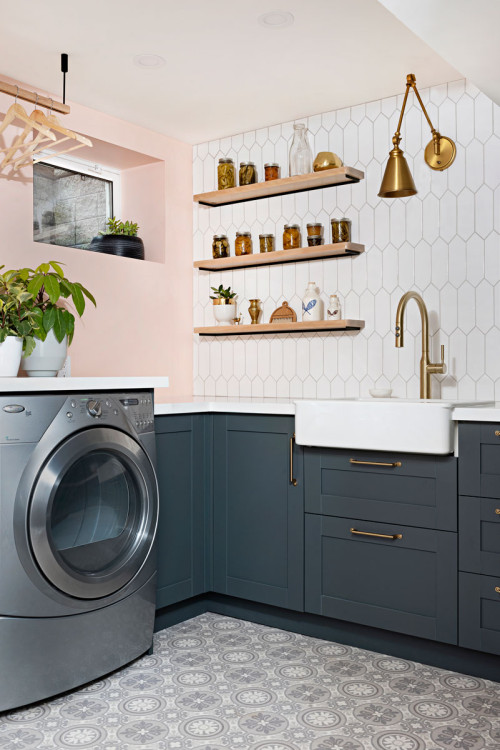 ID# 163621 | Houzz.com – Credit | © Four Blocks South
---
Transitional Laundry Room with Gray Patterned Floor Tiles
An elongated hexagon tile backsplash can be a great addition also for laundry rooms. In this transitional laundry room, the hexagon backsplash provides a bright atmosphere. It also offers a durable surface with its ceramic material which is important for wet rooms like a laundry. The dark gray shaker cabinets create contrast with the white tiles, bringing depth. The white countertop and farmhouse sink perfectly complete the bright look of the backsplash. The wood floating shelves not only provide additional storage but also add a stylish look. The brass fixtures such as the wall-mounted light or faucet complete the elegance, adding a vintage charm.