31+ Minimalist Kitchen Ideas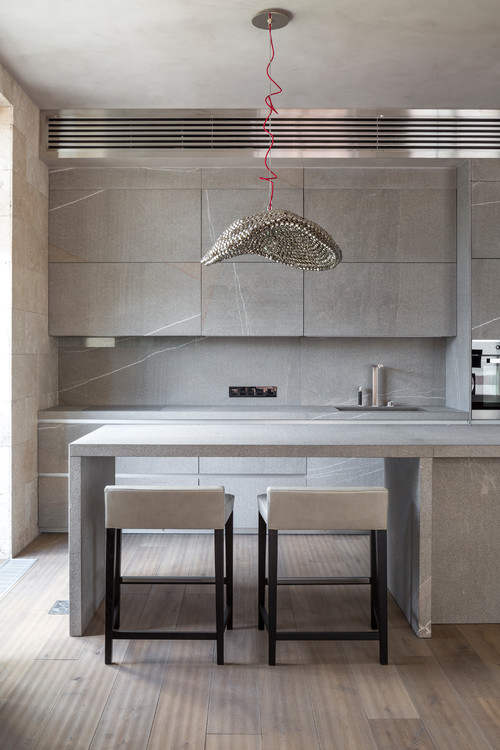 ID# 164303 | Houzz.com – Credit | © Nina Zaytseva
---
Gray Modern Kitchen with Glamorous Chandelier
This modern kitchen design is proof that you can create visually appealing spaces even with one color and in this case, this color is gray! Here, the gray stone-look surfaces surround the kitchen cabinets, backsplash and countertops and create a sleek and cohesive overall look. The chandelier above the kitchen island is the statement piece of this design to make an unexpected twist with its glamorous appeal!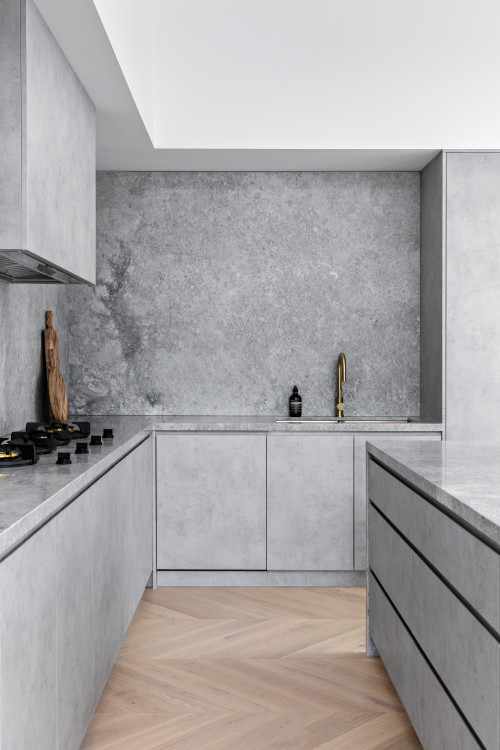 ID# 164317 | Houzz.com – Credit | © EKOSS
---
All-Gray Kitchen Design with Wood Chevron Flooring
Surrounded by a subtle gray shade, the kitchen cabinets, backsplash and countertops create a cohesive appeal. Using different textures for these features enhances visual interest! The chevron wood flooring breaks the gray domination of the room, adding warmth without breaking the flaw of the design.
Minimalist Kitchen Ideas
Believed to be inspired by the Bauhaus movement, Zen philosophy, and the De Stijl movement, minimalism started as an art movement after WWII. Minimalist architecture became popular in the 1980s, particularly in New York and London, which is also found reflected in the interior designs. Minimalist bedroom, bathroom, and minimalist kitchen ideas revolved around employing simple lines and neutral color schemes, which served as the main refined defining features of minimalism.
Minimalism associates itself with the principle of keeping everything simple and getting rid of unnecessary items in its simplest definition. And it aims to propose an anti-thesis to the hectic schedule of urban life that brought a consumerist culture with itself. In short, minimalist designs are a response to make a counterpoint to the excessive features to offer a soothing ambiance to calm the five senses without overwhelming the space.
Charming Appeal of the Minimalist Style
When it comes to the minimalist kitchens, minimalist kitchen ideas are present in Scandinavian, modern, and contemporary kitchens that are function-oriented and lack ornamentation. In such kitchens, the incorporation of open plans and arrangement of light distribution is significant to open the space and create a well-lit and clutter-free look. Thus, the abundance of natural lights, durable furnishing, and monochromatic color palette are key features to benefit from each element at best. Overall, by sticking to a single color with clean and sleek lines, these designs have a soothing impact on their users. For those wishing to integrate minimalist kitchen ideas into their home, this article will walk them through various minimalist kitchen projects that will without a doubt ease their mind on the way.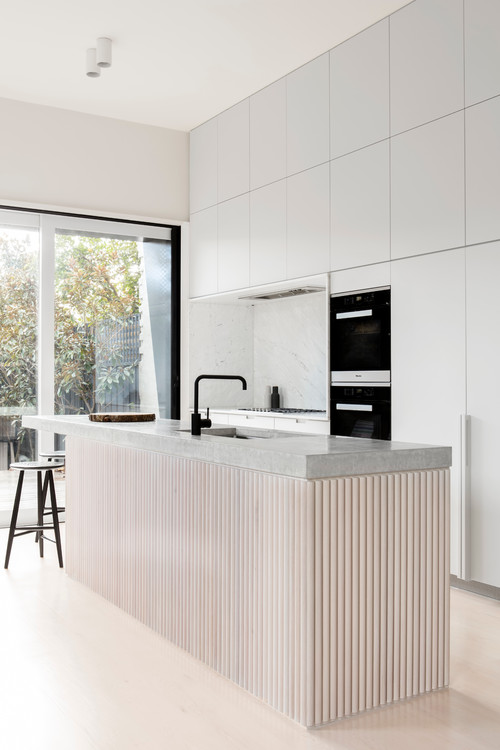 ID# 164301 | Houzz.com – Credit | © Fido Projects
---
Minimalist Kitchen Ideas with White Cabinets
When it comes to minimalist style, the white color will never fail you and this modern kitchen showcases the sleek beauty of minimalism with its clean lines and soft neutral color palette! Bossted by flat-panel doors, the white kitchen cabinets provide a clean and plain backdrop. The white quartz backsplash and countertop perfectly complete this simple yet impactful appeal. The wood-paneled kitchen island with a concrete countertop complements the modernity of the cabinets.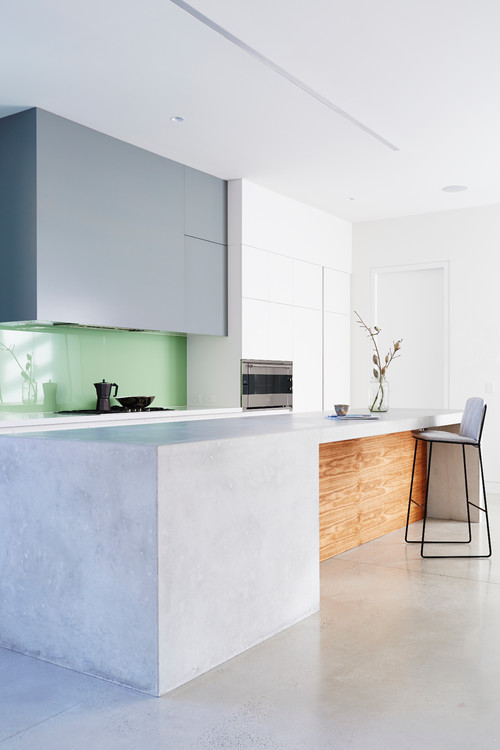 ID# 164302 | Houzz.com – Credit | © Project 12 Architecture
---
Gray and White Cabinets with Green Glass Sheet Backsplash
Minimalist and sleek kitchen with a pop of color! If you want to jazz up your minimal kitchen design, pastel shades will be a great addition. In this modern kitchen, the pastel green glass sheet backsplash directly pops the eye and adds a wow factor without destroying the minimalist aesthetic. The gray and white flat-panel kitchen cabinets create a cohesive look with the backsplash. The stunning concrete island is the other statement maker piece that provides both stylish and functional space.
What is minimalist kitchen?
Minimalism is all about reducing the design to its basic elements, emphasizing forms themselves, and focusing on what is essential! As such, the space and the layout of the room get more attention and the forms and architectural mood are emphasized to set the tone of the design. If you sense that the form is more significant and every element is in complete harmony with the forms, then it must mean that the kitchen takes its design cues from minimalism.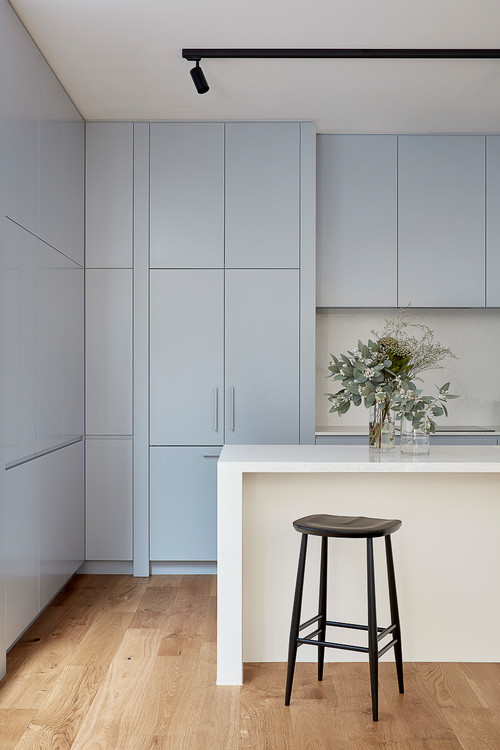 ID# 164304 | Houzz.com – Credit | © Dimpat
---
Blue and White Kitchen with Wood Flooring
What a lovely shade of blue… This pastel blue color surrounds the flat-panel cabinets and creates a serene and relaxing atmosphere for this modern kitchen. While the white slab backsplash and countertop complete the minimalist lines of the blue cabinets, the white kitchen island enhances the modernity with its waterfall edges.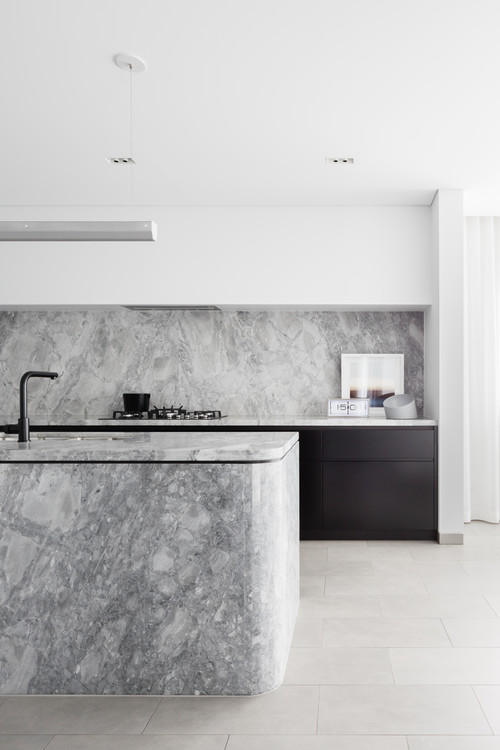 ID# 164305 | Houzz.com – Credit | © Living Edge
---
Monochrome Minimalist Kitchen Ideas with Marble Island
Enriched by black-and-white color scheme and stunning marble slabs, this kitchen create a timeless and elegant environment that will be a talking point for years! The black kitchen cabinets give the area a clean modern aesthetic to add depth. As a backsplash and countertops, the beautiful Carrara marble slabs dominate the space. Of course, there's the marble kitchen island! It is unquestionably eye-catching and elevates the simple design.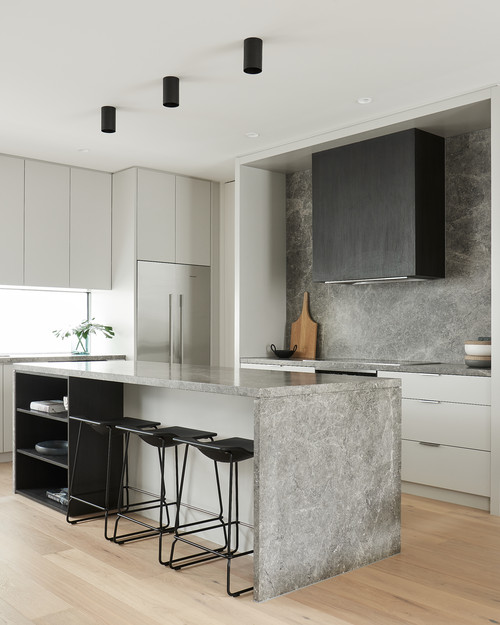 ID# 164306 | Houzz.com – Credit | © S&K Group
---
Gray Granite Backsplash and Countertops with Black Range Hood
Even if this kitchen is designed with a minimalist approach, using pieces that have an impactful effect offers a one-of-a-kind appeal!! The white kitchen cabinets act as a black canvas for this kitchen and serve a clean and simple appearance. The black accents such as the range hood and counter stools create contrast against the whites and add a dose of luxury. The gorgeous gray granite slabs as backsplash and countertops provide a smooth transition between the black and white, adding visual interest.
Modern Minimalist Kitchen Ideas
What we are accustomed to seeing in modern minimalist kitchens are natural elements, wood countertops, potted plants and the black and gray combinations. Even though light colors are popularly used in modern minimalism, black and dark gray also find a place for themselves to add depth and sophistication. In its simplest formulation, an open layout, minimalist furniture, clean lines and a combination of various textures come together in modern minimalist kitchens. While aiming to design something falling into this category, try to focus on the efficient use of space and simple colors to highlight the architecture itself.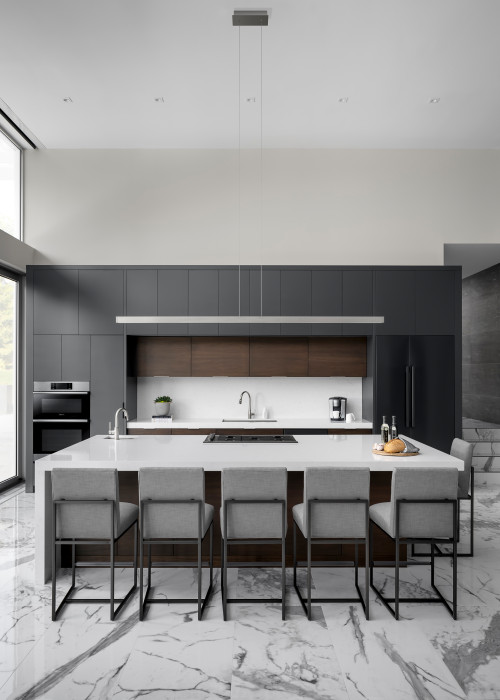 ID# 164307 | Houzz.com – Credit | © Chervin Kitchen & Bath Inc.
---
Black and Wood Kitchen Cabinets with White Countertops
Black, white, and a dose of wood! This eat-in kitchen serves the timeless beauty of the modern minimalist style with its neutral color palette and clean lines. The black kitchen cabinets dominate the space, creating a super cool appearance. The dark wood cabinets and island perfectly complete this look and add a nice textural look. The crisp white backsplash and countertops add a bright and fresh feel between the dark and rich shades while the linear lighting fixture above the island makes a cohesive final touch.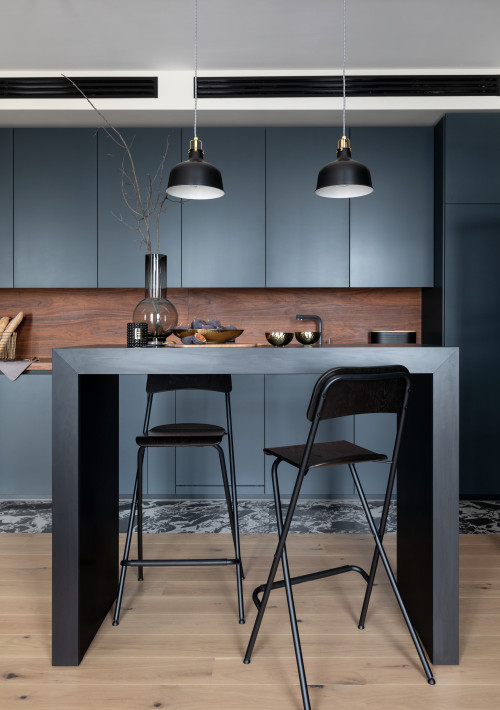 ID# 164308 | Houzz.com – Credit | © Hamiltoun
---
Wood Backsplash and Countertop with Matte Black Cabinets
Enriched by dark and rich color scheme, this contemporary kitchen offers a stylish and elegant appeal! The modern black kitchen cabinets create a sleek and sophisticated look while the wood backsplash and countertop perfectly complete the clean look and add a nice texture. The simple design of the breakfast bar maximizes functionality.
How can I make my kitchen minimalist?
Sticking to the basics:
Sticking to the flat-front cabinets with sleek and clean lines and keeping the ornamentation at the minimum level help you achieve a minimalist look. Just keep in mind that all you need to do is to keep everything at a bare minimum or the basic level. It of course, doesn't mean that you have to remove everything from the countertops. Butcher block cutting boards, vases, plants, and wooden shelves are kept to add some character to the design.
Monochromatic and neutral color palette:
The color palette is another important detail. Monochromatic kitchens play a significant role in achieving minimalist aesthetics. You can also benefit from pastel tones. But it is more or less, white, off-white and light gray used for comforting and minimalist aesthetics. To add depth and sophistication, matte charcoal finish cabinets are ideal options to go for. Additionally, natural finishes such as wood, marble, and stone aid in creating a minimalist kitchen. As they bring something from nature, they also bring texture and natural fragrance to enhance the design.
The use of the space
Foregrounding the spatial emptiness is another detail to focus on. Even if your kitchen is small, you can design it by using space-enhancing strategies. For example, you can benefit from all-white cabinets and get rid of upper cabinets to open the space more. Doing so not only visually expands the space and keeps the walls emptier but also cleverly implies that you don't need so many cabinets because you keep your kitchen items at a minimum number!
If your kitchen is both small and open-plan, you can design the kitchen in such a way to benefit from the open layout, which is again one of the key features embraced by minimalist kitchens. Also, keep in mind that developing visual connectivity and keeping the energy flow intact is important as minimalism is inspired by Zen principles.
Overall, by staying loyal to the very principle of "less is more", you can better focus on the aim and decide what is essential and not while composing all elements together. The key to finding what is essential starts from material choices to finishes, color palette, cabinet styles, and more.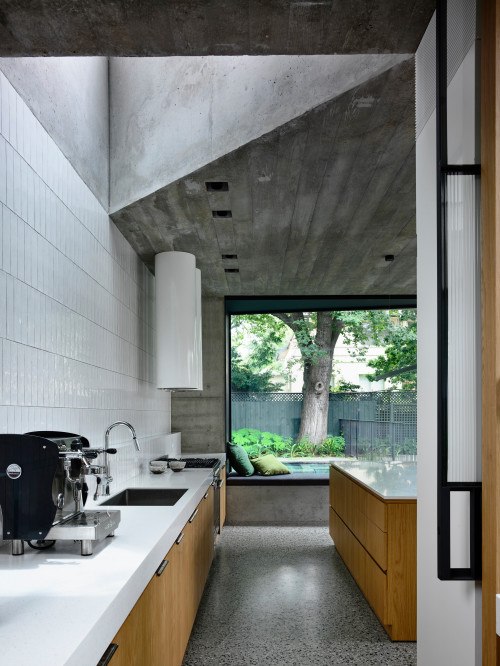 ID# 164309 | Houzz.com – Credit | © Taylor Knights
---
Natural Wood Cabinetry with Glossy White Backsplash Tiles
The natural wood cabinets bring the beauty of the outside inside to provide a pleasant and inviting environment while the white quartz counters are sleek and polished and they contrast beautifully with the wood cabinetry. The glossy white backsplash provides a modern and fashionable aspect to the area!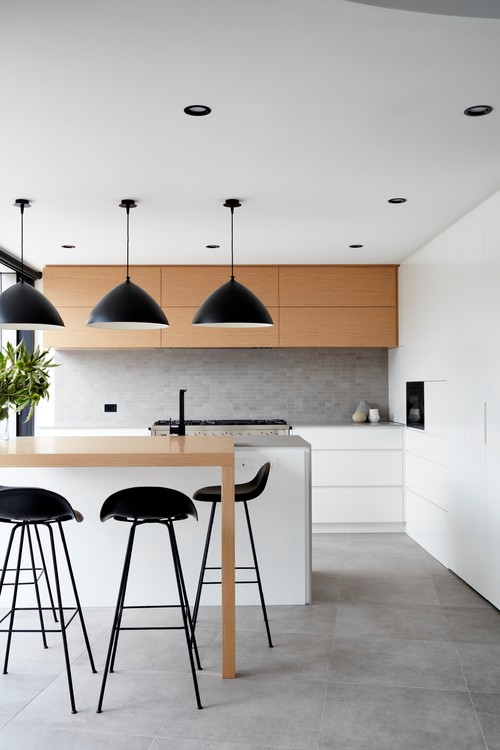 ID# 164310 | Houzz.com – Credit | © COSO architecture
---
Two-Tone Kitchen Cabinetry with Gray Backsplash
Enriched by the timeless and elegant aesthetics of a wood, gray and white color palette, this neutral kitchen offers a modern and sleek appeal! The two-tone cabinetry effortlessly harmonizes to form a cohesive and stylish look while the gray ceramic tile backsplash and countertops not only enhance the neutral color scheme but also provide a pleasing textural element. To elevate the design further, the addition of black counter stools and pendant lights above the island introduces a touch of luxury!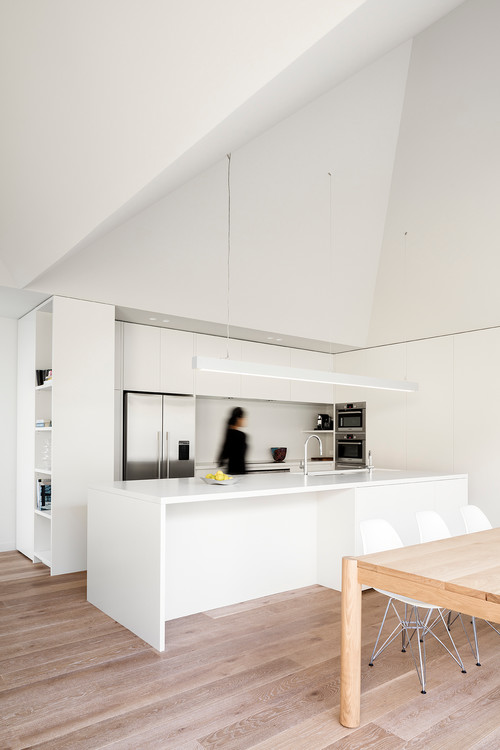 ID# 164311 | Houzz.com – Credit | © Davidov Partners Architects
---
All White Kitchen Design with Vaulted Ceiling
Even the white cabinets, countertops and backsplash have a simple and plain appeal, this kitchen space serves a stylish appearance with the help of the ceiling. The linear lighting fixture above the island and stainless steel appliances make a perfect final touch and complete the sleek and modern overall look.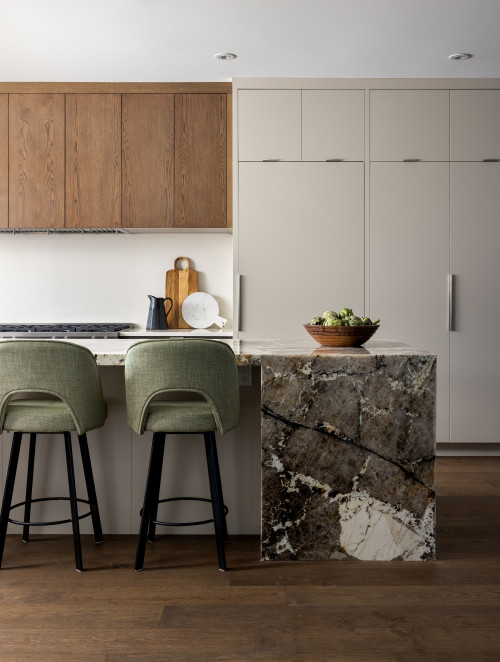 ID# 164312 | Houzz.com – Credit | © Alloy Homes Incorporated
---
Gray Granite Kitchen Island with Green Chairs
The gray granite island in this contemporary kitchen which is enriched with brown veins, makes a bold statement and quickly improves the overall design without sacrificing the minimalist aesthetic! Green counter stools add a pop of color to the island's dramatic appeal while the white and wood cabinets create a tidy and lovely backdrop.
Scandinavian Minimalist Kitchen Ideas
Scandinavian kitchens focus on efficiency with a particular concentration on the use of light and natural textures to create a calming atmosphere. The essence of the furniture, architecture and the space gain more meaning and emphasis through the condensation of the design. For those wishing to create a Nordic oasis in their kitchen, they can benefit from light tones, butcher block countertops, and other wood applications. Also, keeping in mind the very tenet of "form follows function," helps homeowners solidify what a Scandinavian minimalist kitchen looks like.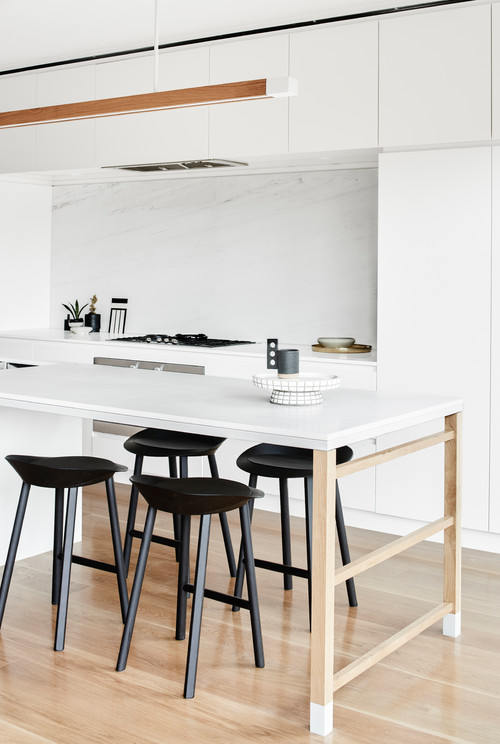 ID# 164313 | Houzz.com – Credit | © Living Edge
---
White Scandinavian Kitchen with Black and Wood Accents
Enriched by wood and black accents, this white Scandinavian kitchen creates a visually attractive area. While the modern kitchen cabinets, backsplash and countertops are all white, the black stools add contrast and a feeling of grandeur. The wood elements on the island and flooring break through the monotonous color palette and give the space a warm vibe.
What does a minimalist kitchen look like?
Recognizing a Minimalist kitchen is easy as it delivers a clutter-free and monochromatic look with a minimal color palette. You can also think of modern and Scandinavian designs that are akin to the minimalist kitchens, favoring natural textures, neutral color palettes, and open-plan layouts. Needless to say, in these kitchens, functionality comes first without compromising aesthetics. If you sense something simple but also implicitly complicated, that hints at minimalism.
Even though a minimalist kitchen mostly unveils in white, light, gray, off-white, and light wood, they might also feature pops of colors introduced by secondary elements such as lighting fixtures, counter stools, and other decorative items like paintings. Even if these elements make bold statements, they don't steal anything from the minimalist character of the design. Thus, don't let bold colors misguide you while spotting a minimalist kitchen project.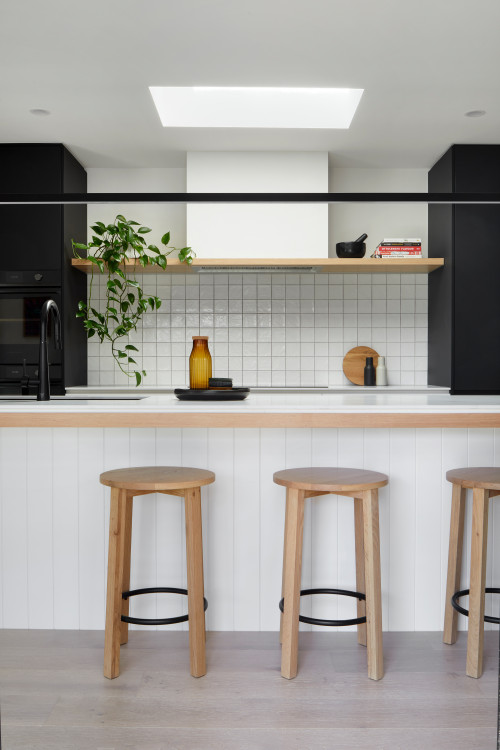 ID# 164314 | Houzz.com – Credit | © Demardi
---
White Square Tile Backsplash with Wood Floating Shelf
Boosted with some wood details, this black-and-white kitchen design balance the sharp contrast and offer warmth to the ambiance! The black cabinets provide a sophisticated refinement to this Scandinavian kitchen while the white island and backsplash add a bright and fresh aesthetic. The grid design on the square tile backsplash adds some nostalgic flair. The wooden accents, such as the floating shelf and stools, soften the whole appearance and make the area feel more welcoming.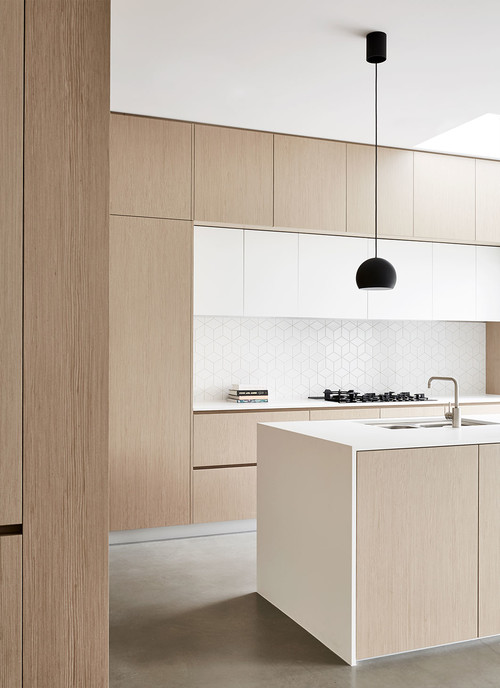 ID# 164315 | Houzz.com – Credit | © Zunica Interior Architecture & Design
---
Minimalist Kitchen Ideas
 with Light Wood Cabinets
The sleek elegance of the light wood surrounds this minimalist kitchen and offers an inviting atmosphere. The domination of the light wood cabinets is balanced with the white surfaces such as the backsplash and countertops. The geometrical pattern of the white backsplash adds a nice texture between the slab doors without breaking the minimalist aesthetic.
Small Minimalist Kitchen Ideas
When you know how to design and combine different elements, a small kitchen may not even look small after all. Given that minimalist kitchens reduce the design to the minimum, the minimalism suits small kitchens at best for sure. Sticking to a monochromatic palette and white helps a lot. White brightens up the space and works as a space-enhancing factor. Additionally, you can minimize the use of upper cabinets to open the space a bit more. Instead, you can use shelves of the same color as the backsplash or the wall to make it look like a natural extension rather than something extra installed on the wall. What is more, if you have a window, instead of treating it with a curtain or shade, you can keep it as it is, bare and visually connected to the outdoors.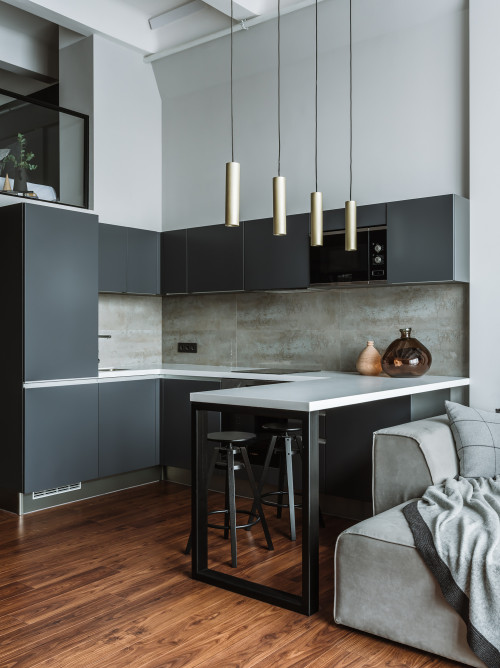 ID# 164316 | Houzz.com – Credit | © Таня Яковлева | Архитектор
---
Open-Concept Minimalist Kitchen Ideas with Concrete-Look Backsplash
This open-concept kitchen showcases a modern industrial vibe with its black flat panel cabinets and concrete-look backsplash. The textural appeal of the backsplash brings visual interest to the space while the black cabinets serve a simple yet impactful look! The crisp white quartz countertop contrasts with the dark shades to add a fresh feel.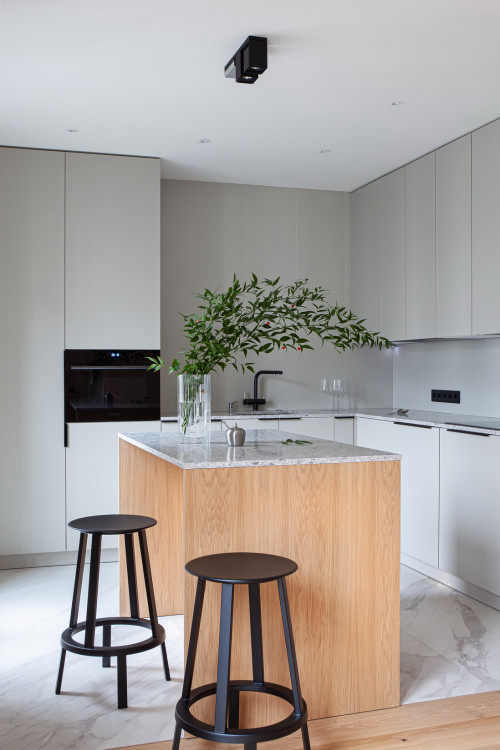 ID# 164318 | Houzz.com – Credit | © JUICY FLAT
---
Small Kitchen with Gray Cabinets and Wood Island
Having a small kitchen doesn't mean that you can't use an island. With the proper organization, even the small kitchens can include the island to maximize functionality. This modern kitchen is a perfect example of that. Here, the tiny wood island serves as a focal point and elevates the overall look. The light gray cabinets and backsplash create a sleek and simple backdrop and allow the Island to be the star of the show!!
What do you put on top of minimalist kitchen cabinets?
To elevate the aesthetic of your space without going overboard, consider placing potted plants, paintings and decorative items on top of your cabinets. Add in accent lighting as a finishing touch, but take care not to overpower the area. The inclusion of ceramics and glass vases can also lend considerable beauty to the surroundings. For a touch of class, try showcasing marble and wooden décor.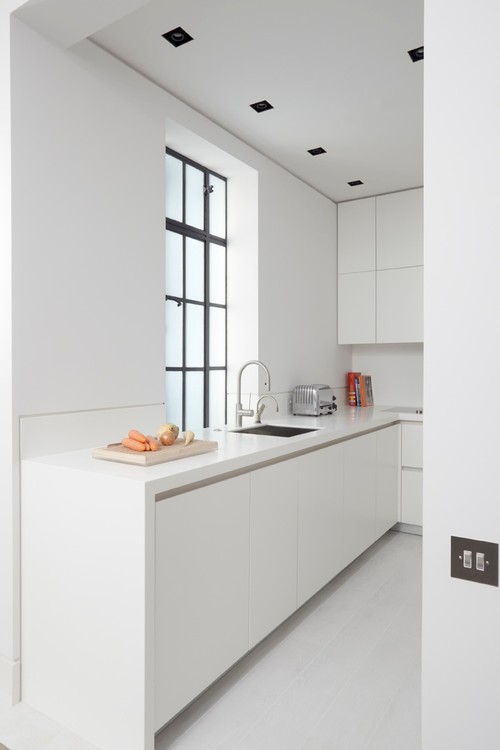 ID# 164319 | Houzz.com – Credit | © TLA Studio
---
Small Minimalist Kitchen Ideas with White Color Scheme
This modern kitchen perfectly showcases the timeless beauty of the white color!! White color dominates all surfaces such as the cabinets and countertops and offers a bright and spacious atmosphere. The ceiling lights and brushed nickel faucet complete the clean and sleek overall look.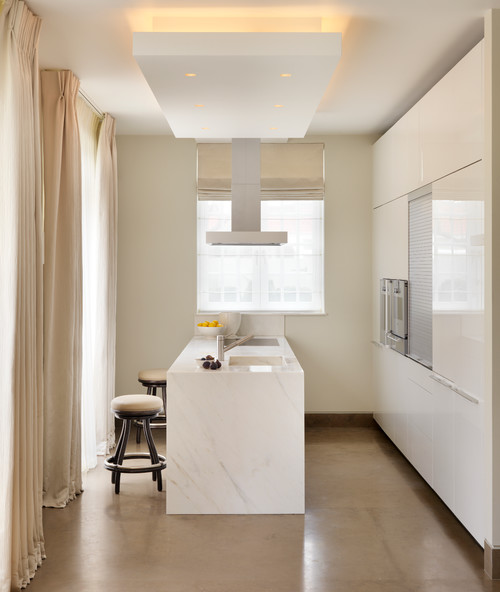 ID# 164320 | Houzz.com – Credit
---
Marble Kitchen Island with Stainless Steel Appliances
If you want to design a minimalist kitchen but still want to add a wow factor, we have a solution; marble kitchen island! The white marble island takes the stage and instantly elevated the otherwise ordinary design. The simple and plain look of the full-height white cabinets creates a cohesive look with the island while the stainless steel appliances enhance the contemporary feel.
White Minimalist Kitchen Ideas
When it comes to the white-dominant minimalist kitchens, one concern is if they end up looking too sterile or clinical. To evade that, there are a couple of things to do. Rather than using crispy white counters, you can choose off-white that is reminiscent of light yellow or light gray that will contribute either a warm or cool flair. Secondly, you can choose the complementary elements more carefully. For example, material options can be very determinative. If you integrate wooden, concrete, marble and brass-finish elements into the design, there will be nothing to worry about.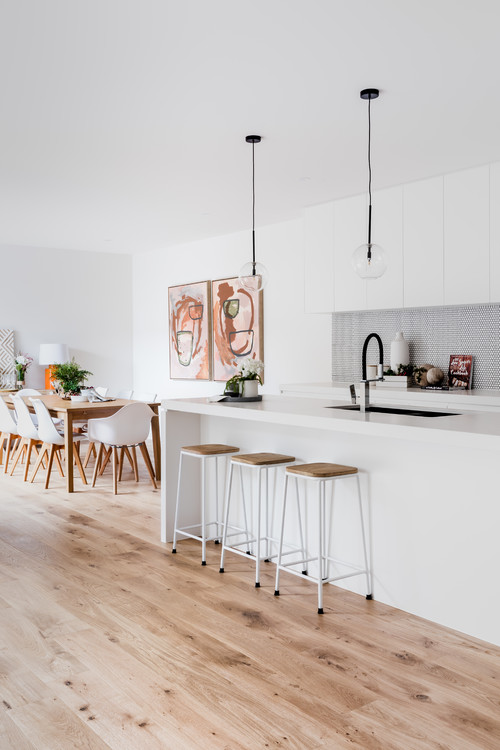 ID# 164321 | Houzz.com – Credit | © Mos Interiors
---
Open-Concept Kitchen Design with Flat Panel Cabinets
This open-concept kitchen features white flat-panel cabinets that create a bright and spacious atmosphere. While the white quartz countertops complete the clean look of the cabinetry the white penny tile backsplash adds a slight texture thanks to its black grout. The glass pendant lights above the island enhance the airy feel and the wood flooring adds a warm feel to the space.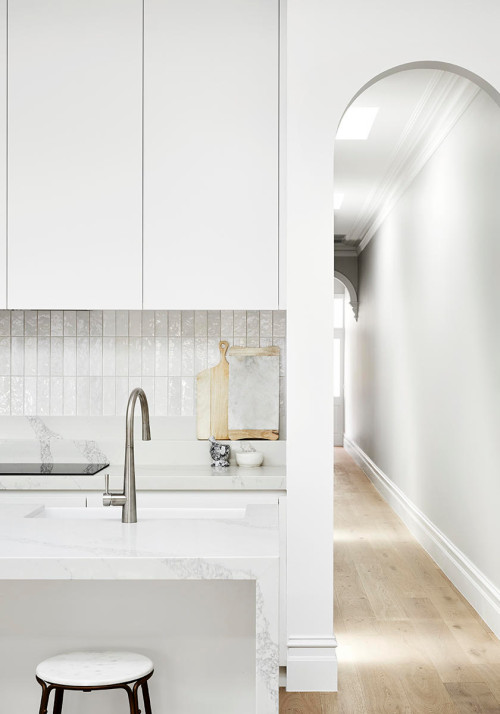 ID# 164322 | Houzz.com – Credit | © Seytim
---
Glossy White Backsplash Tiles with Quartz Countertops
Even if you are designing a kitchen with a minimalist style, using different textures will make a big difference in the overall look. In this contemporary kitchen, white color dominate all surfaces. However, using a stacked time backsplash with a glossy finish and a quartz countertop adds visual interest between the flat surfaces of the cabinets and makes the space more appealing.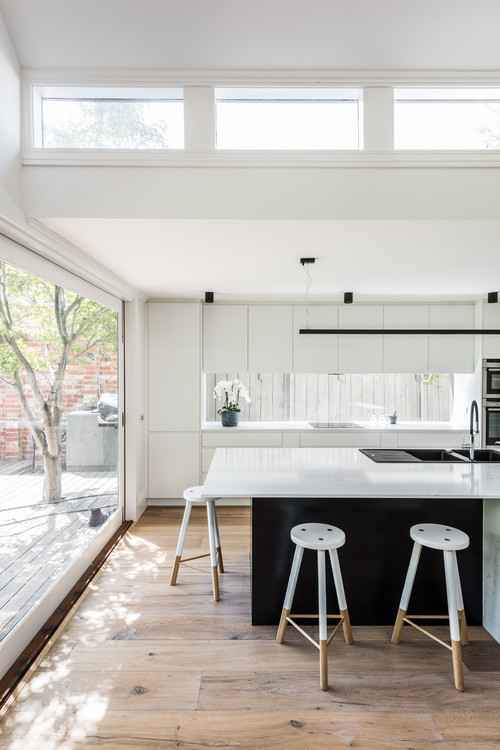 ID# 164323 | Houzz.com – Credit | © AD DESIGN DEVELOP
---
Black and White 
Minimalist Kitchen Ideas 
with Large Windows
Enlightened by large window openings, this kitchen offers a warm and relaxing atmosphere! Natural light fills the room and makes the space spacious. The white kitchen cabinets complete this feel while the black kitchen island creates a focal point by creating contrast.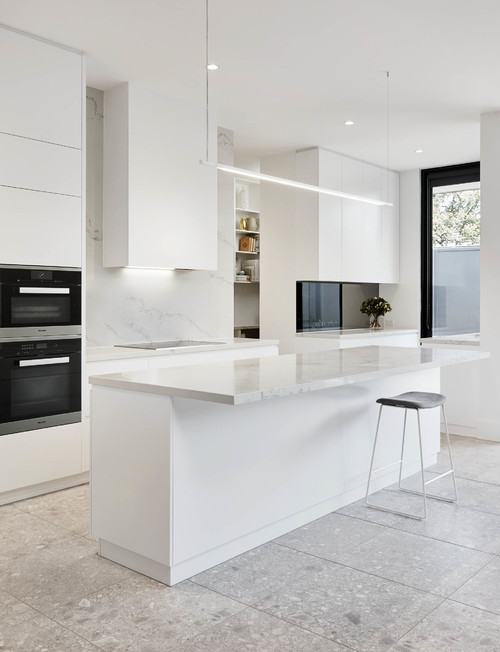 ID# 164324 | Houzz.com – Credit | © LSA Architects
---
All White Minimalist Kitchen Ideas with Gray Floor Tiles
Slight textures of the quartz slabs and floor tiles instantly make a difference in this otherwise ordinary white kitchen and add visual interest. The black stainless steel appliances contrast against the white cabinets and backsplash to add a dose of luxury. The white linear lighting fixture above the island makes a cohesive final touch, adding a warm glow.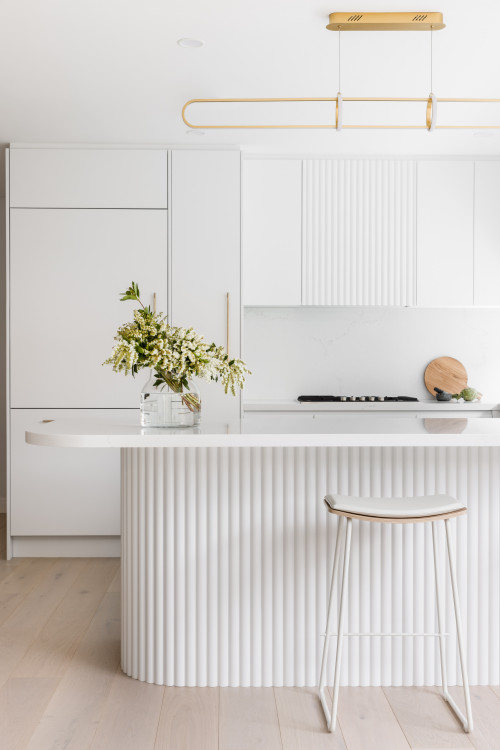 ID# 164325 | Houzz.com – Credit | © Naz Design
---
White Kitchen Cabinets with Gold Lighting Fixture
This all-white kitchen is enhanced with gold accents and wood panels. The classic appeal of the white flat-panel cabinets and quartz backsplash and countertops creates timeless elegance. The wood paneling of the range hood and island adds a nice texture while the gold details such as the lighting fixture and the handles make a warm glow, adding a dose of glamour.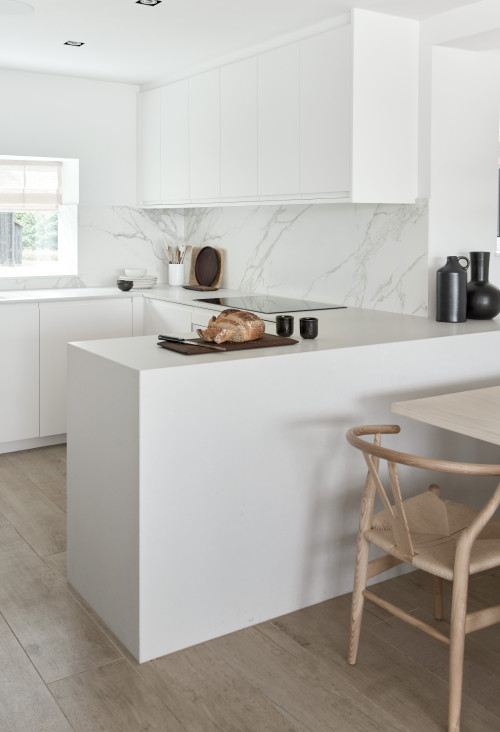 ID# 164326 | Houzz.com – Credit | © studio.skey
---
U-Shaped
Minimalist Kitchen Ideas
with Marble-Look Quartz Backsplash
The purity and cleanliness of the white surround this contemporary kitchen and offer a bright and spacious atmosphere. Even though the kitchen has a small space, the u-shaped layout and all-white color scheme enhance the open and airy feel. With its marble-look texture, the white quartz countertop directly draws attention between the flat-panel doors of the cabinets and adds visual interest to the space. The light wood floor breaks the white domination to add a warm feel to the atmosphere.
Backsplash Options for Minimalist Kitchen
Ranging from color options to tile styles and materials, there is a wide range of options for the backsplash. Even if the minimalist kitchens stay loyal to specific colors, it doesn't mean the options are limited. When it comes to backsplashes, marble and quartz slab panels stand out as the most popular options. They deliver sophistication, joyfulness, and brightness to the space while accomplishing a seamless look in the meantime. In addition to the slab panels, subway tiles are another popular backsplash option. They can be laid in running style and stacked. When they are installed and stacked either horizontally or vertically, they introduce a sense of order to the space with a modern appeal.
Additionally, brick and stone backsplashes are welcomed too, as long as you keep the other complementary elements flat and simple as much as possible. They bring warmth and texture favored a lot as they provide a comforting aesthetics. Last but not least, minimalist kitchens dialogue with Scandinavian kitchens and are inspired by the Zen philosophy. It is no wonder that natural materials are more than welcomed.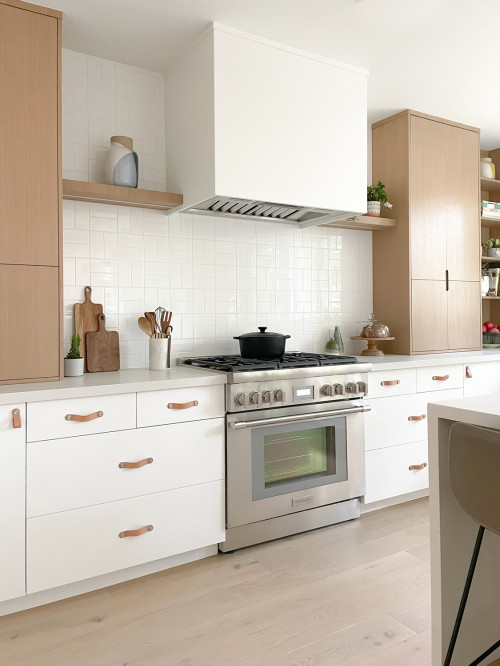 ID# 164327 | Houzz.com – Credit | © Four Blocks South
---
White and Wood Cabinets with Basketweave Backsplash Tiles
Boosted by sleek and clean lines, this stylish kitchen showcases the timeless elegance of modern style!! The combination of the white and wood cabinets offers a warm and welcoming atmosphere while the stainless-steel appliances complete the modern lines. The white basketweave backsplash creates a cohesive look with the cabinetry while the wood floating shelves and cabinet hardware make a beautiful final touch to add visual interest.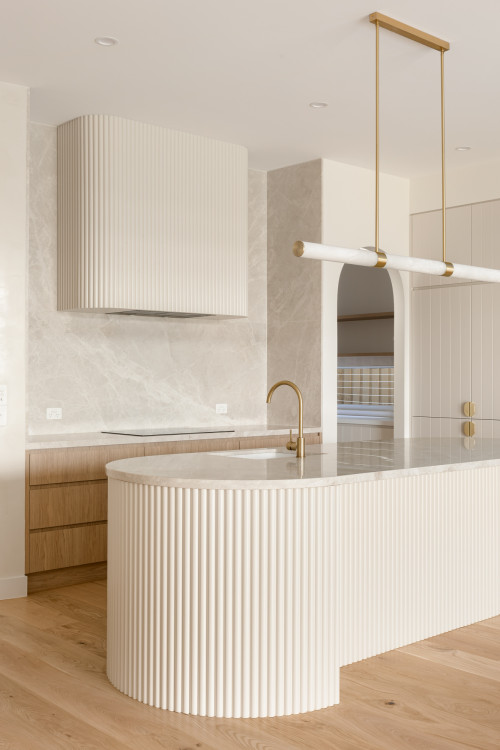 ID# 164328 | Houzz.com – Credit | © Paradigm New Pty Ltd.
---
Minimalist Kitchen Ideas
with Wood Floor and Brass Accents
When it comes to color options for interior designs, beige is one of the most popular ones in recent days. With its soft neutral shade, a beige color can easily create a warm and welcoming atmosphere also for your kitchen. In this modern minimalist kitchen, the beige shades surround the space in different textures. The wood base cabinets create a cohesive look with other features and complete the neutrality of the beige. The marble slab backsplash and paneled range hood create an accent wall without overwhelming it. The same panels are also used on the kitchen island to elevate the overall look.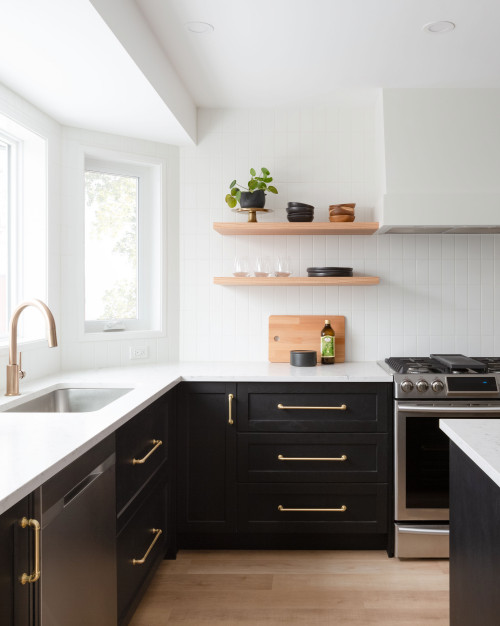 ID# 164329 | Houzz.com – Credit | © LD&A
---
Black Shaker Cabinets with Wood Floating Shelves
When it comes to create a sleek minimalist kitchen design, a black and white color scheme will never fails you down! In this kitchen, for instance, this timeless color combinations is softened by some wood and brass accents.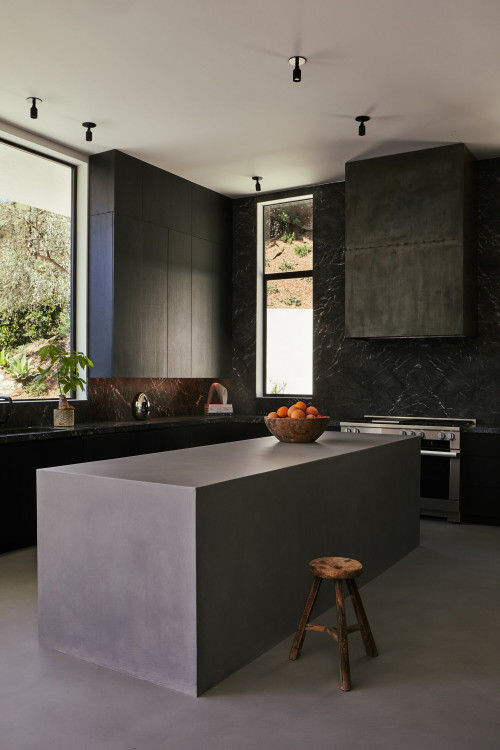 ID# 164330 | Houzz.com – Credit
---
Minimalist Kitchen Ideas with Concrete Island and White Ceiling
If you want to create a dramatic atmosphere with some sexy vibes, opt for a black dominant color scheme! The black color surrounds the cabinets and backsplash and provides a sophisticated overall look while the white veins of the black quartz backsplash add a nice texture and enhance the drama. The simple yet impactful appeal of the gray concrete countertop and floor allows the black surfaces to stand out and balance the dark deep shades. Also, the large window openings and white ceiling enhance the open and airy feel!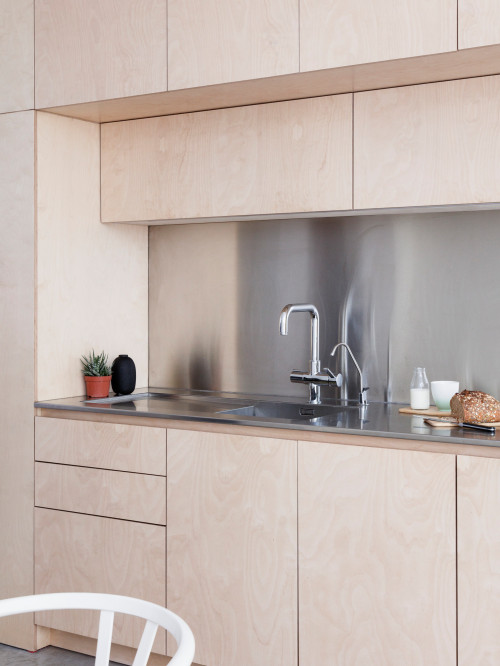 ID# 164331 | Houzz.com – Credit | © Larissa Johnston Architects
---
Light Wood Cabinets with Stainless Steel Backsplash and Countertop
If you are looking for a statement maker piece that can elevate your minimalist kitchen, a metal backsplash might be the feature element of your kitchen! The light wood cabinets serve a simple yet stylish appeal. The stainless steel backsplash and countertop add a wow factor to the space without breaking the minimalist aesthetic.