31+ Small Bathroom Storage Ideas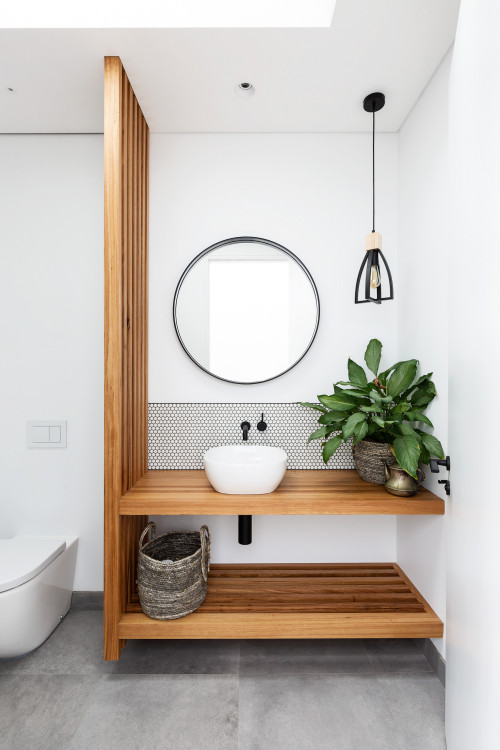 ID# 158406 | Houzz.com – Credit | © Bluestone Homes
---
Alternative Solution Suggestions For Small Bathroom Storage Cabinet Designs
In this Scandinavian bathroom design, the wooden vanity design offers a simple yet functional storage space. The shelf under the sink provides a space for towels of decorative baskets. The white penny tiles create a lovely textural look with their black grout. The black framed mirror and the pendant light perfectly complete the minimalistic overall look.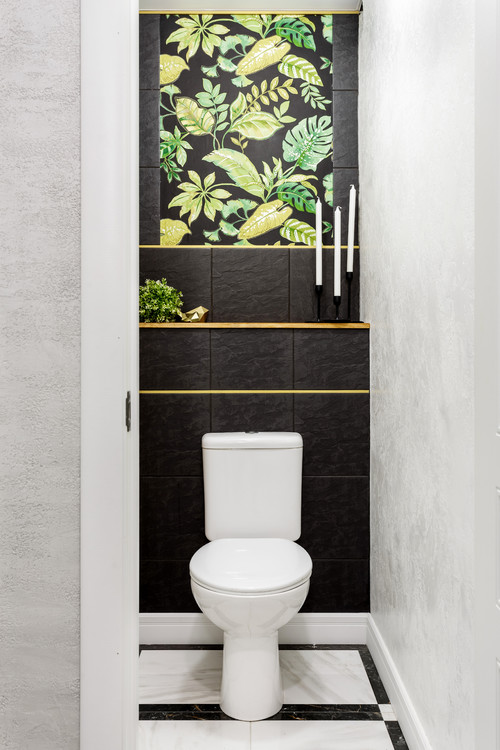 ID# 158426 | Houzz.com – Credit | © Архитектурная Мастерская Сергея Пьянова
---
Storage Areas For Decorative Objects In Small Bathrooms
This very small powder room serves the elegance of black and white! The black wall tiles create an accent behind the white toilet while the tropical artwork creates a focal point. The black and white floor tiles give a luxurious feel while the recessed shelves provide storage space.
Small Bathroom Storage Ideas
Our living spaces are designed and decorated in line with the actions and activities that define that space. The design concepts of the houses are created to meet functional expectations and come to life in a way that gains an aesthetic appearance. Small bathroom storage ideas offer users rich alternative options for efficient use of bathrooms, which are an important part of living spaces.
It is desired to achieve a regular and hygienic environment in small bathrooms with narrow or insufficient spaces. Bathroom storage for small spaces solution ideas can be enriched with various functional storage products and accessory alternatives while achieving a stylish look with the design concepts desired to be created in the bathroom.
How do I add storage to a small shower?
Built-in niches are the most common and practical storage solution for small shower designs. According to the style of your shower, you can use the same tiles for your build-in niche or you can create a focal point with different colored or textured ones.
How Do I Make More Storage In My Small Bathroom?
Storage areas are of great importance in bathroom designs where order and comfort are the most important criteria in living spaces. The storage of products and materials in different categories is possible by using different storage solutions together.
Small bathrooms with storage designs, with well-planned usage scenarios, take the bathroom experience to a functional and stylish level. While small bathroom storage cabinet designs offer effective solutions to users in terms of storage, alternatives such as storage under vanity come to the fore. With options such as bathroom storage for small spaces decorative baskets and mirrored storage cabinets, the space can be aestheticized while gaining more storage space.
Floating Shelves
To meet the need for order and organization in their bathrooms, floating shelves are the perfect choice for users who want to transform the wall surfaces between the walls and furniture that restrict the space into efficient storage areas.
The use of floating shelves in bathroom storage for small spaces designs with efficient and high capacity allows the products to be stored to be placed in desired locations, providing users with ease of access and the opportunity to create aesthetic alternatives. Floating shelves, which can be preferred in different materials, colors, and sizes, maximize the usage areas while making the small bathroom with storage concept stylish.
Built-in Niches
Small-space bathroom storage design ideas are shaped in line with aesthetic concerns as well as functional qualities. It is possible with built-in niches to make storage areas that will meet the functional expectations in the bathrooms correctly and adequately a part of the aesthetic appearance of the bathrooms.
Built-in niches applications in bathrooms offer bathroom storage for small spaces solutions to users while allowing them to make choices in line with their pastes in terms of aesthetics. Built-in niches are a popular choice in designs that aim to obtain extra storage space without restricting the usage area in small bathroom areas.
Decorative Baskets
Users who want to use the space most efficiently while reflecting their tastes in their bathrooms are turning to small-space bathroom storage ideas. While regularly organizing towels, accessories, and various materials in bathroom areas, she prefers decorative basket products that she can choose in line with her aesthetic tastes.
Decorative baskets ensure the categorization of materials in the areas reserved as storage areas in the bathrooms. Decorative baskets, which provide grouped storage, can be a decorative detail that strengthens the stylish look desired to be achieved in bathrooms with different materials and size options. These baskets, a hygienic and aesthetic storage product, provide easy use with the advantage of portability.
What is the best way to store towels in the bathroom?
If you are working with a limited bathroom space, some creative storage solutions might be helpful to create a clutter-free look. When it comes to bathroom design, towels are one of the essentials and you need to find a storage space for them. Towel racks are the most common and useful storage solution. You can install the racks above the toilet or any empty wall space.
Storage Under Vanity
When a spacious and useful area is desired, a small bathroom with storage design concepts is created, while maximizing storage space is possible with storage under vanity solutions. Users who do not want to use cabinets in the areas under the washbasins get an efficient space to store materials and accessories with shelves and surfaces that have the advantage of easy use.
Under vanity storage areas, which make it possible for various tools and accessories used in bathrooms to be easily accessible when necessary, provide an orderly appearance. The fact that different colors and materials can be preferred in these areas makes these visible areas a design element with a visual impact.
How to maximize storage in a small bathroom?
It is possible to increase the storage areas in small bathrooms without restricting the movement area, by using different storage alternatives together. It is possible to categorize them according to their qualities such as frequency of use, with multi-compartment storage areas or mobile organizers such as decorative baskets. Multi-level or vertical positioning of storage areas such as cabinets and shelves enables efficient use of idle areas.
Mirrored Storage Cabinets
Unique bathroom designs are created in line with the different functional expectations and personal aesthetic concerns of the users. While hygienic usage areas are obtained in bathroom areas, the use of mirrors of various sizes and designs becomes an important bathroom element that adds depth to these areas.
In today's market, you can find endless mirror designs for your bathroom but if you have limited space, consider mirrored cabinets. These cabinets are a great way to bring depth to the space and also add some storage units.
Storage Above the Toilet
In bathroom designs, the area above the toilet mostly becomes an unused space. Actually, these areas can be great spaces for storage, especially in small spaces. Floating shelves, towel racks, open cabinets, or recessed niches are great elements for over the toilet.
Towel Storage for Small Bathroom
Creating a relaxing and comfortable effect in bathroom experiences in living spaces is possible with regular and well-organized bathrooms. The bathrooms, which provide a neat appearance and easy use, can be shaped in line with personal visual expectations.
The need for storage, which stands out among the functional criteria in bathroom designs, has great importance in small bathrooms. Towel storage areas are an important criterion in bathroom designs in small bathrooms, as towels are one of the main bathroom items that should remain hygienic in bathrooms. In line with the number and types of towels planned to be used in bathrooms, different alternative solutions can be used to create functional and comfortable usage areas in modern bathrooms.
How do I organize my tools in a small bathroom?
Organizing functional tools in small bathrooms with limited storage and usage areas is possible with well-planned storage units. The organization of bathroom tools according to their frequency of use and size can be organized in storage cabinets or inappropriately sized built-in niches, or they can be organized singly. To provide hygienic and safe storage space, open or closed shelves in small bathrooms can be the right choice according to the qualities of the products used.