50+ White Herringbone Backsplash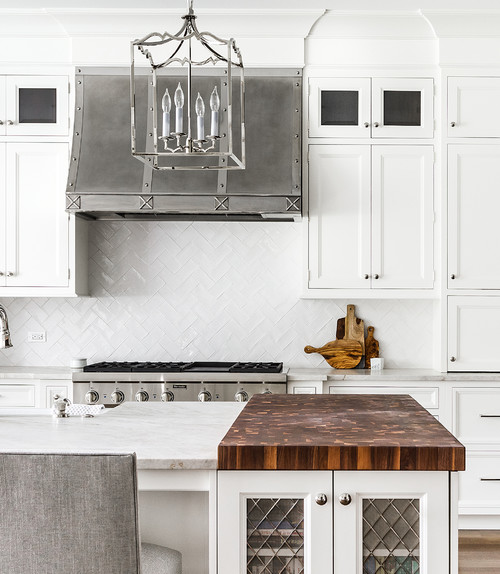 ID# 92327 | Houzz.com – Credit | © Amy Storm & Company
---
Transitional Kitchen With Silver Hood Appliances And White Ceramic Herringbone Backsplash Tiles
The wood section of the island, give space to cut your fruits and vegetables as well as giving uniqueness to the kitchen!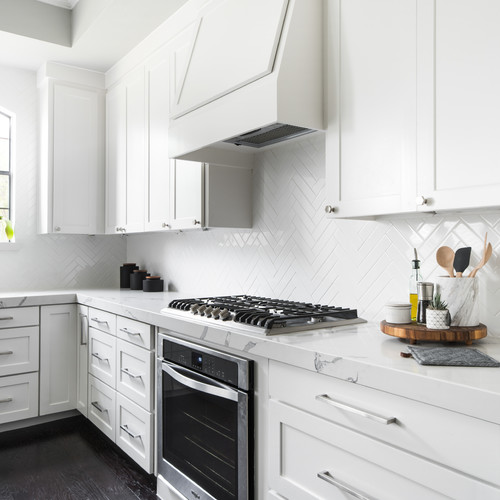 ID# 92310 | Houzz.com – Credit | © SPRUILL Remodel
---
Transitional Kitchen With White Cabinets And White Herringbone Backsplash Tiles
All white kitchen with herringbone backsplash helps to bring a little bit of texture to space! We love the contrast of marble and herringbone textures!
50 White Herringbone Backsplash Ideas
Another post for white lovers! If you are the one who enjoys the simplicity but still want to differentiate your kitchen from others, white herringbone backsplash pattern in white would be a great option for you!
Is Herringbone backsplash difficult?
It actually easier to do on your own to lay your herringbone tiles. However, do not forget to youalign the tiles correctly before you start laying!
What is the difference between Chevron and herringbone?
The only difference is the flooring between the two tiles. The ends of chevron planks are cut at a 45 degree angle while Herringbone planks are cut at a 90 degree angle. Chevron creates a zig zag look while Herringbone creates a knitted look.
Is herringbone tile in style?
Herringbone backsplash is a very classic backsplash look, so you don't have to think if it is trendy or not! however, nowadays the herringbone tile takes over the Pinterest.