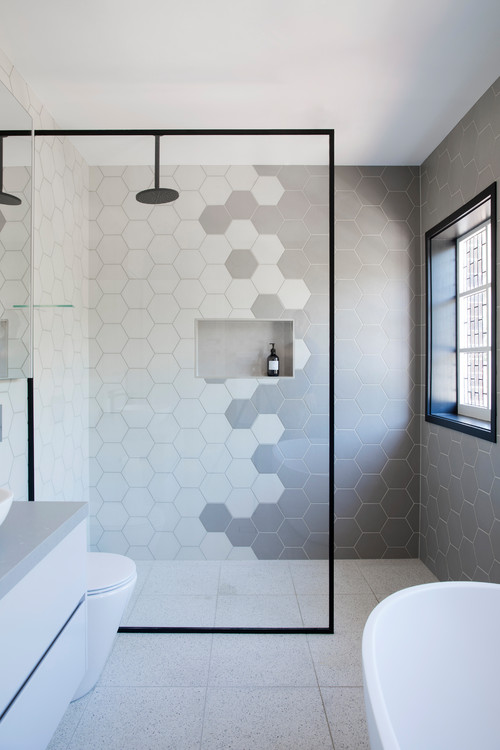 ID# 160107 | Houzz.com – Credit | © conway + wise
---
Modern Bathroom Design with Hexagonal Ceramic Backsplash and Terrazzo Floor
This bathroom provides an air of elegance, with its simple and delicate touches of white and gray combined with hexagonal ceramics on the walls. The wonderful terrazzo tiles on the floor creates a feeling of space, while its large volume bathes in natural light. Although it mostly presents us with modern lines, this bathroom captivates us with its different textures that mold a user-friendly space. Thanks to the smartly-placed white furniture, the bathroom invites its users to each corner and offers answers to everyone's needs. Completeness and comfort in use are readily achieved, and this bathroom is anything but boring– with its beauty and allure, it is sure to create an unforgettable experience.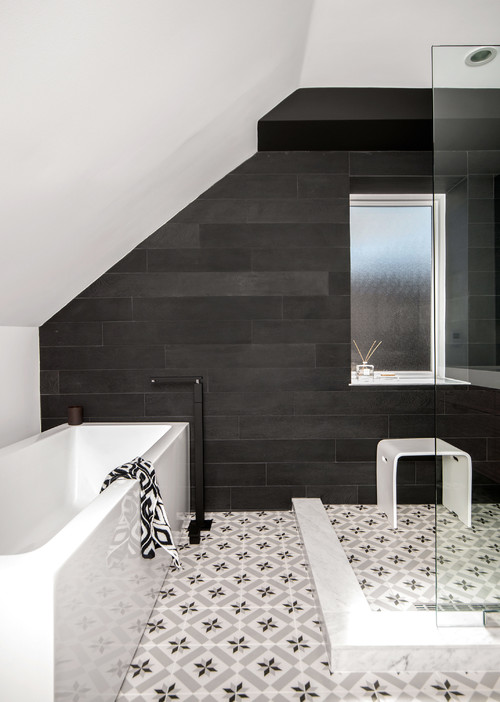 ID# 160120 | Houzz.com – Credit | © Stephani Buchman Photography
---
Contemporary Attic Bathroom Design with White Black Textures and Bathtub
This contemporary-style bathroom is designed to evoke an enjoyable experience for its users. It's black backsplash and patterned floor tiles create a beautiful atmosphere, and the sloping ceiling, combined with its stone textured wall, lends a luxurious feeling. The positioning of the tub is carefully thought-out, as it helps to define this space as divided into certain sections, providing users with a more qualified experience. Meanwhile, transparent glass is used as a shower cabin, allowing for privacy to be maintained at all times, so users can relax in peace. All these elements with their stylish design and modern lines come together to create a beautiful bathroom that will evoke feelings of joy and contentment.
Attic Bathroom Ideas
An attic bathroom can be a unique and charming addition to any home. With sloped ceilings and cozy nooks, an attic bathroom provides a private retreat that feels separate from the rest of the house. One great idea for an attic bathroom is to maximize the available space by using clever storage solutions such as built-in shelves, cabinets, or even under-eaves storage. This can help keep the bathroom organized while also making the most of the limited square footage. Scroll down and find more about attic bathroom ideas that will inspire you!
Another idea for an attic bathroom is to play up the unique architectural features of the space. For example, you could highlight the sloping ceilings with strategic lighting or accentuate the nooks and crannies with bold wallpaper or a statement piece of art. If you have a skylight or dormer window, consider incorporating it into the design to bring in natural light and make the space feel more open and airy. With the right design and decor choices, attic bathroom ideas can be a cozy and inviting retreat that is both functional and stylish.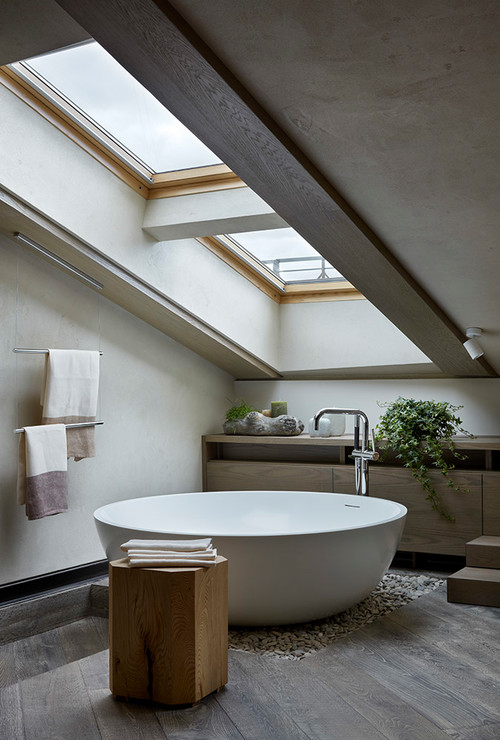 ID# 160101 | Houzz.com – Credit | © BHD-Studio
---
Contemporary Attic Bathroom Design with Skylight and Fabulous Tub
This attic bathroom presents a unique, dreamlike atmosphere, illuminated by the beautiful light that streams in from the skylight. Installing concrete-looking walls alongside warm wooden furniture, and the bathtub positioned under the window creates an aesthetically pleasing space that evokes a comforting sensation. Embodying serenity and balance, this bathroom design draws attention directly to the bathtub, making the most of its rooftop location. Here, lush textures bring an alluring ambiance, perfect for finding solace and relaxation.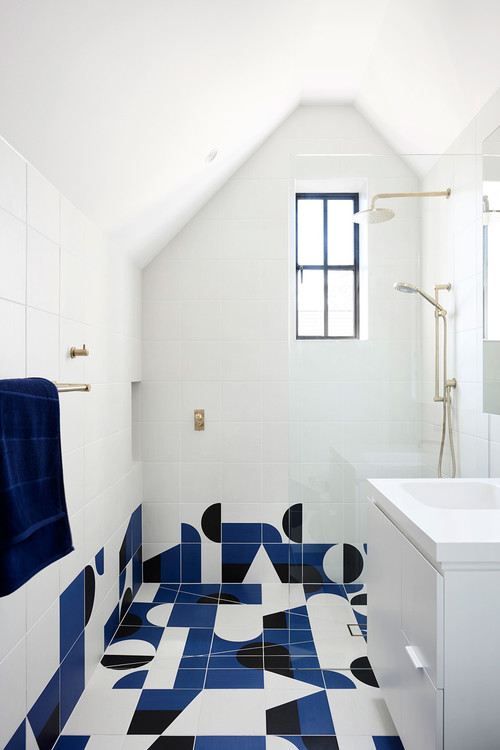 ID# 160102 | Houzz.com – Credit | © Windust Architecture x Interiors
---
Scandinavian Attic Bathroom Design with White Color and Special Patterned Blue Ceramics
This attic bathroom in its dreamy, modern art like patterned ceramics, exudes joy in its bright and light color schemes! Taking cues from Scandinavian influences, the white furniture and warm golden touches bring a welcoming atmosphere, allowing the natural light from the window to fully take over. Its artful combination of colors brings a unique joy only found in this special space.
Can a bathroom be installed in an attic?
One of the most important considerations before starting a project like this is to check the local building codes and regulations in your area. It's essential to make sure that the necessary permits and inspections are obtained in order to ensure that the installation meets safety and structural requirements. Additionally, a licensed contractor or plumber experienced with attic bathroom installations should be consulted to ensure that everything is done properly.
Another consideration is to assess the existing plumbing and electrical infrastructure of the home. If additional plumbing and electrical lines are needed to accommodate the attic bathroom, the process can be complex and costly. It is important to be aware of this when weighing the practicality of installing a bathroom in the attic. Even if it is accessible and does not require additional lines, it is still important to factor in the inconvenience of using an upper floor for a bathroom when planning your project.
Finally, proper ventilation and waterproofing measures must be taken to prevent the buildup of moisture which can lead to mold and mildew growth. It's essential to keep these potential issues in mind before starting a project like this so that you can make an informed decision and be confident in the success of your project.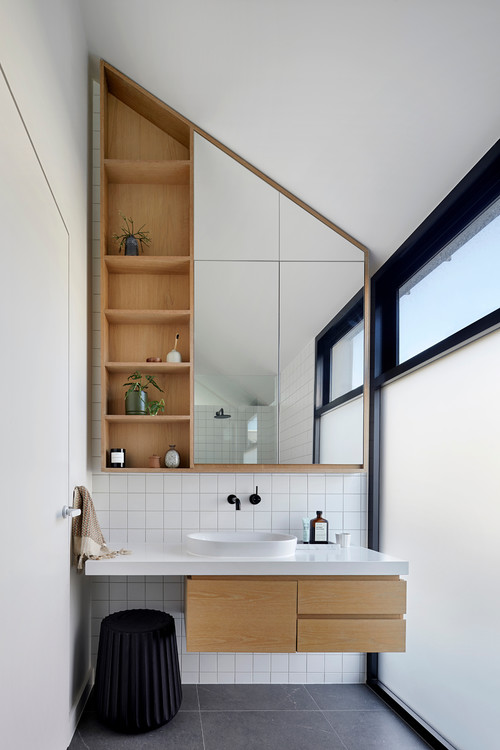 ID# 160103 | Houzz.com – Credit | © Tom Robertson Architects
---
Contemporary Attic Bathroom Design with White and Wood Textures
The contemporary style bathroom design offers a wealth of enchanting solutions, transforming the loft into a remarkable design! It is furnished with simple yet sophisticated materials and tastefully placed on a color palette of woods and whites. The humble natural looking floor tile adds to the refined atmosphere without being gaudy. Meanwhile, the white backsplash tile lining further accentuates the cohesiveness of the color scheme in harmony with the rest of the furniture. This bathroom design prompts a truly delightful feeling in its users!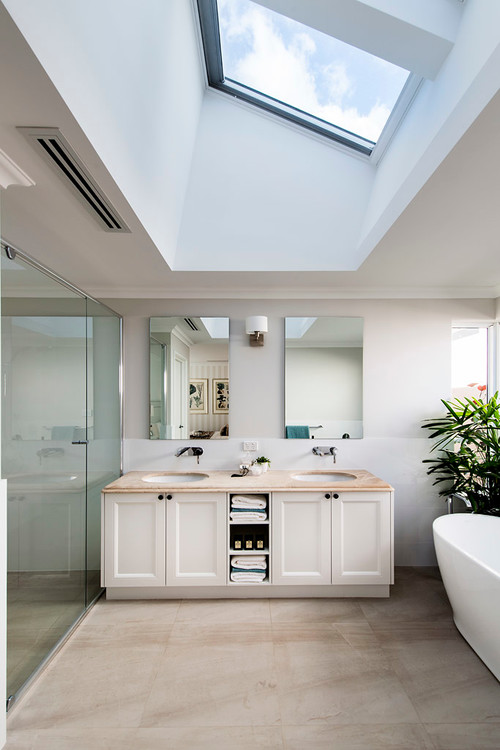 ID# 160104 | Houzz.com – Credit | © Webb & Brown-Neaves
---
Traditional White Attic Bathroom Design Powered by Skylight
This traditional bathroom design provides a pleasant and inviting atmosphere thanks to its abundance of natural light from a unique skylight feature. Enjoy stepping onto the ceramic stone flooring and be amazed by the open and spacious layout. The bathtub, sink and double mirror, expertly placed in front of a window, create an air of warmth and brightness that add to the elegant and sophisticated feel of the space. Classic white cabinets and marble countertops bring a special charm, while the glass-enclosed shower area adds a sense of separation and dimension. As a whole, this delightful design offers a refreshing and functional aesthetic that's sure to bring you joy and satisfaction.
Attic Master Bathroom
Attic master bathrooms stand out with their large volumes and spacious usage areas, creating stylish and beautiful spaces. Since this type of bathroom is an element of the bedroom, perhaps it stands out with its functions besides its visuality. In this way, the spaces created by this style of a bathroom are presented to the users in a way that is both spacious and comfortable to use.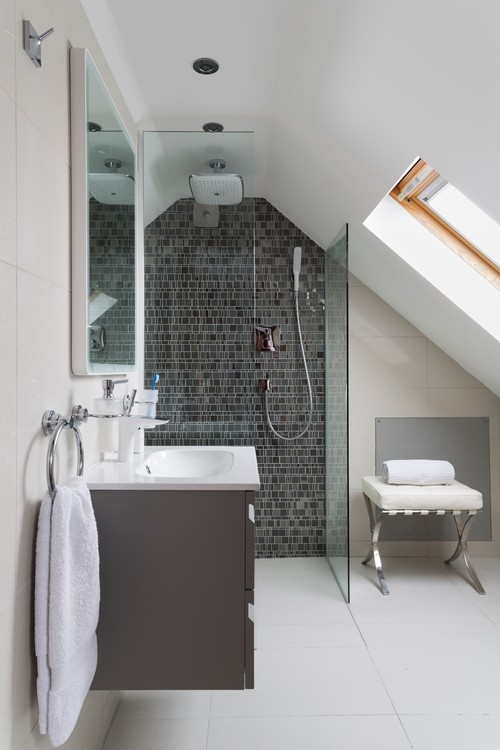 ID# 160105 | Houzz.com – Credit
---
BASAttic Bathroom Design in Combination with White Wall and Floor and Gray BacksplashLIK
The contemporary loft bathroom design, with its white walls and floors, backsplash shower area and floating cabinet, brings feelings of satisfaction and delight with its cozy yet stylish solutions. The gray-toned shower area contrasts with the backsplash, while the skylighted bathroom creates an inviting space full of natural light. The roof window allows an intimate, small but spacious area with plenty of brightness. By responding to user needs, this tasteful bathroom design promotes an exciting and enjoyable experience.
How to build a bathroom in the attic?
To turn the planned areas into bathrooms, first of all, water expenses and water lines should be determined, then other installations should be applied respectively as these processes are completed. In this way, after the attic is prepared for the bathroom as installation, the application of ceramics and bathroom elements can be started according to the design.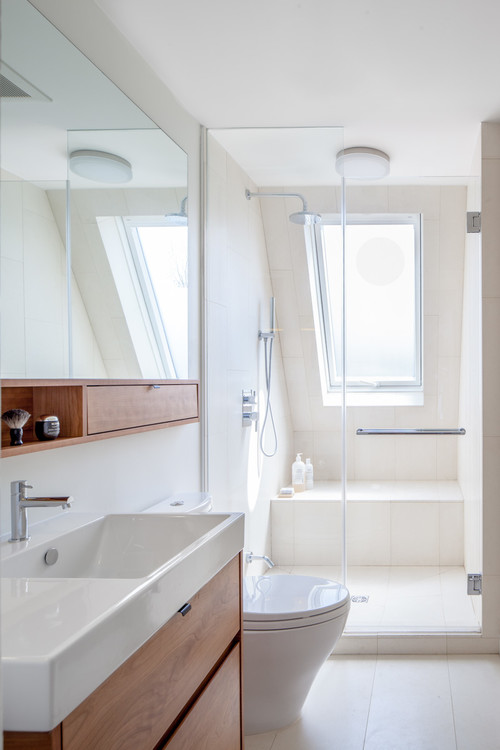 ID# 160106 | Houzz.com – Credit | © Wanda Ely Architect Inc.
---
Attic Bathroom Design in Contemporary Style with a White and Bright Look
In the bathroom, where white and cream tones are combined, contemporary lines are intense and a wonderful image is obtained with simple wooden cabinets and a mirror. The bathroom design, in which the sloping window of the loft bathroom and the shower area, and the entire bathroom are illuminated, combines simple but useful solutions with a pleasant visual. While the calm floor tiles continue to the shower area of the bathroom, a thin plaster wall covering is preferred as the backsplash. Going to simplicity in every area from the ceiling to the floor, the design offers users a fine and detailed space that will have both visual pleasure and function.
Small Attic Bathroom
Bathroom designs in small roof areas give importance to function rather than visuals, but it is possible to create pleasant spaces suitable for visual pleasure in these small spaces. Small attic bathrooms, which create bright and comfortable spaces, are pleasing to the eye by offering great solutions to users with their pleasant visuals and useful solutions.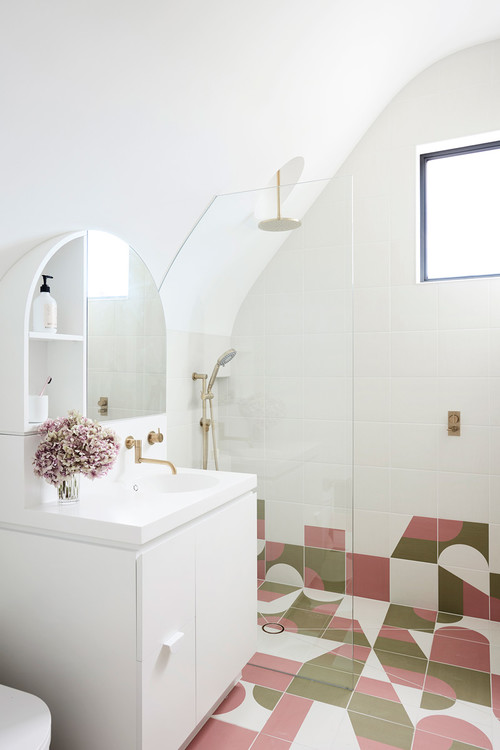 ID# 160108 | Houzz.com – Credit | © Windust Architecture x Interiors
---
Small But Spacious Attic Bathroom Design with Its White Clean Look and Patterned Floor
The use of colorful patterned floor tiles, combined with a white backsplash, gives this unique Scandinavian-style bathroom a feeling of being both airy and spacious, even though it is snugly tucked away in an attic. The white cabinets sink and windowless walls work together to create a serene, tranquil atmosphere while the vintage-style patterned ceramics ensures that there is a warmth to the space. An intimate, but cozy bathroom that cleverly captures a clean aesthetic, whilst still providing you with a sense of comfort and well-being.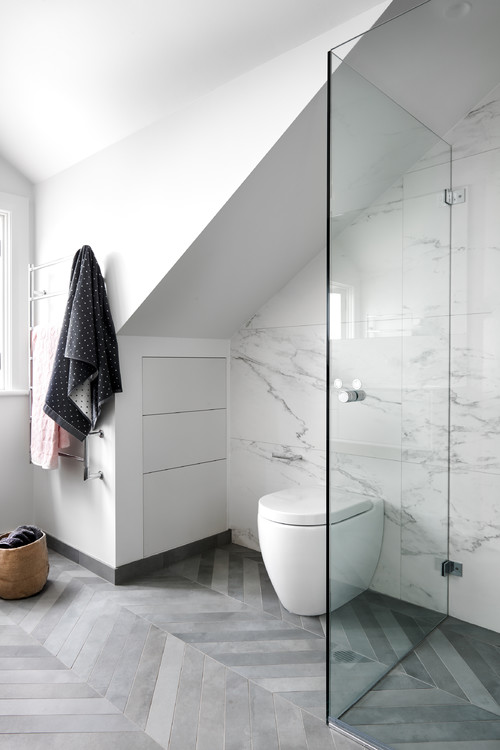 ID# 160109 | Houzz.com – Credit | © schemes & spaces
---
Contemporary Attic Bathroom Design and Textures of White Marble, Gray Concrete
Contemporary bathroom design provides a simple visual that conveys user's feelings, however its small rooftop location can make it difficult to fully appreciate. By having storage space in every nook and cranny, this user-friendly design converts small spaces into advantages. Exciting the user with its convenient and comfortable usage and storage areas, this bathroom invites them to explore new ideas and experiences.
Can I put a shower in my attic?
Although converting an attic floor into a bathroom and shower area is a great idea, unfortunately without the proper plumbing, it is nearly an impossible feat. We understand the heightened sense of disappointment this can bring, yet there is, fortunately, an easier solution that can help allay those feelings of discomfort – converting attic floors that already have plumbing lines drawn.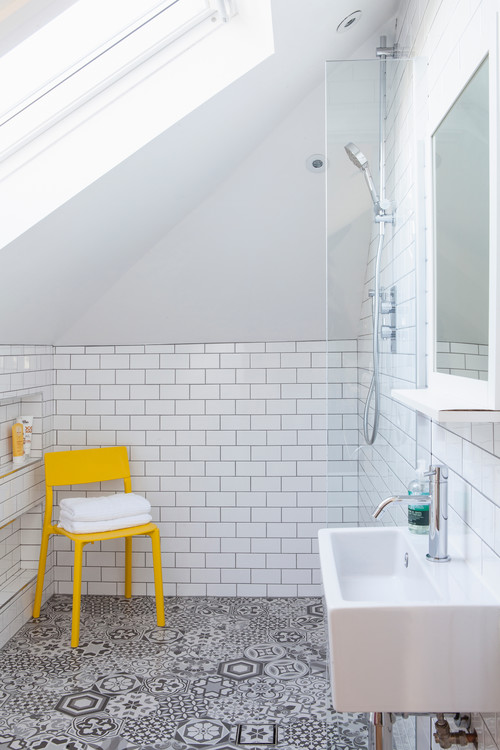 ID# 160110 | Houzz.com – Credit |© Saltbox Interiors London
---
Small Attic Bathroom Design with White Subway Tile Backsplash and Contemporary Decoration
The bathroom design, which has a unique design with a white subway tile backsplash and patterned ceramics on the floor, shows how a small attic can be evaluated. This bathroom, which has a bright atmosphere with the light it receives from the roof window, provides its small but spacious volume with very simple solutions for necessities. Creating a simple bathroom away from excess, the design touches both the eye and functionality, providing a pleasant and lively space.
Attic Bathroom with Sloped Ceiling
Inclined ceilings in attic bathrooms make a delightful, almost window-like space. These designs inject brightness and light into otherwise narrow areas, providing a delightful sense of openness and functionality in the room. The beauty of these designs adds a touch of warmth and creates a delightful atmosphere.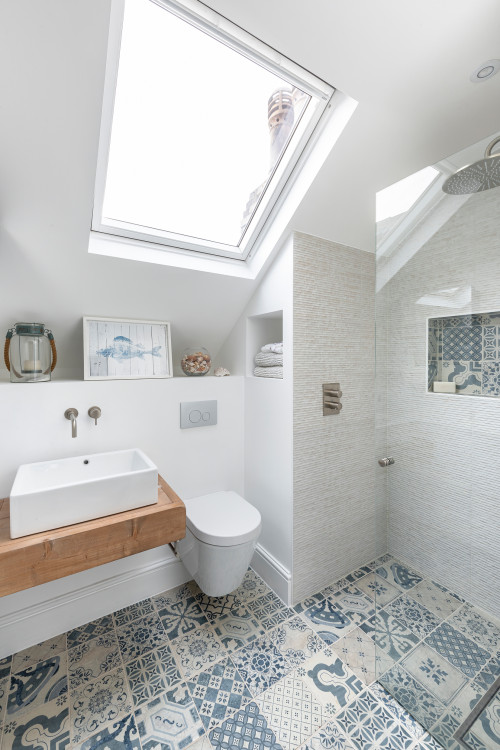 ID# 160111 | Houzz.com – Credit | © Berkeley Place
---
Victorian Attic Bathroom Design and Skylight Lighting
The Victorian-style bathroom, which emerges with its white walls and patterned floor tiles, stands out with its backsplash and sloping ceiling used in the shower area! The natural light coming from the roof window makes the space feel more natural and full of life. In this way, the place is offered to users with a more pleasant and warm atmosphere. The bathroom, which has a wonderful feeling with its useful and stylish appearance, responds to the needs of the users, fulfills their wishes one by one and creates a seamless design!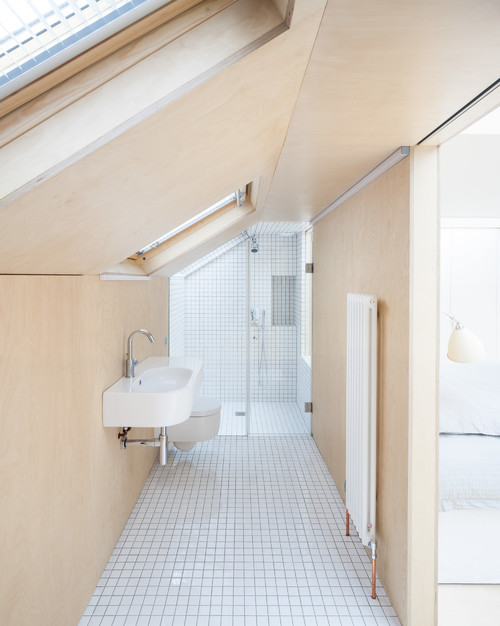 ID# 160112 | Houzz.com – Credit | © Azman Architects
---
Contemporary Bathroom Design with sloped Ceiling with Wood Texture and White Ceramic
This attic bathroom design, in which the wet areas are covered with the same material, stands out with the use of different materials and contemporary design language. The space, with its curved ceiling, combines a simple color palette with white and wooden textures to have a pleasant visual appearance. With its simple visual style and functional positioning, this bathroom responds to the needs elegantly and while doing this, it creates a clearer space. Offering a different experience with a different feeling to the user, the bathroom winks at a different design by completely incorporating contemporary lines.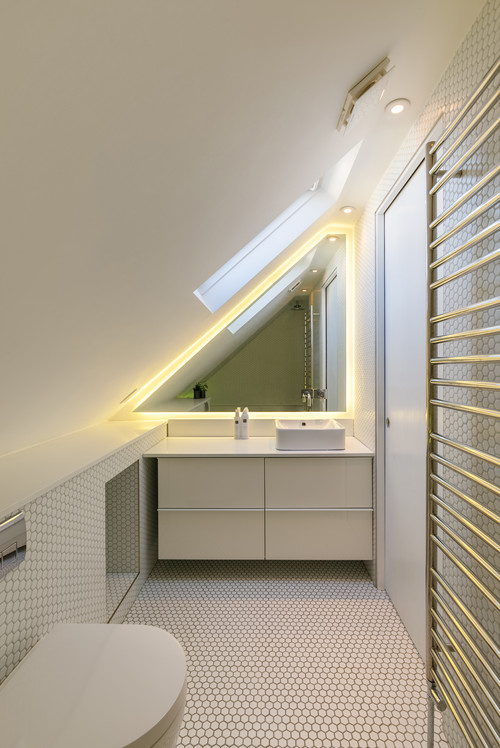 ID# 160113 | Houzz.com – Credit | © DDWH Architects
---
Sloped Ceiling Bathroom Design with Penny-Tile Surfaces and Great Lighting
The contemporary bathroom is a sight to behold, with its stunning lighting, sloping ceiling and unique design. The penny tile floor and backsplash, a welcome touch of transitional flair, are complemented by a sleek floating cabinetry and illuminated mirror. Natural light fills the bathroom from its roof window, creating a warm and inviting atmosphere that is simply breathtaking. Every time one uses the bathroom, they are sure to be astonished by its beauty, an eye-catching visual feast.
How much does it cost to add a bathroom to the attic?
Converting an attic space into a bathroom can be an arduous and pricey endeavor. The attic, which can be a challenging space to work in when it comes to installation and construction, can considerably drive up costs. Nonetheless, the price tag can be altered by choosing alternative materials and products of various qualities and brands. All in all, taking on this tricky and costly project can be stressful and emotionally draining.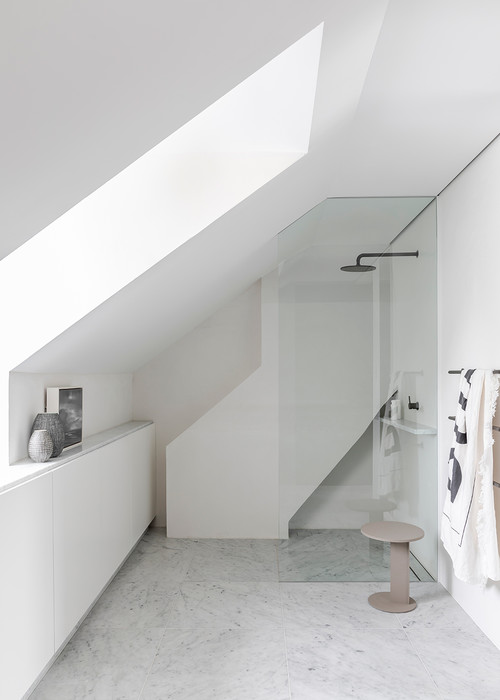 ID# 160116 | Houzz.com – Credit | © TomMarkHenry
---
Modern Designed Attic White Bathroom and Glass Shower Cabin
This modern attic bathroom offers a unique experience with its carefully divided spaces! The single glass elegantly yet effectively separates the shower area without compromising the overall beauty. It truly creates a sense of warmth and comfort. The sloped white ceiling provides an aesthetically pleasing and magazine-worthy atmosphere. The calming environment evoked by this cleverly crafted bathroom will seep into every corner, immersing the user in a relaxing and enjoyable experience.
Attic Bathroom Shower
Attic bathroom showers are often featured with sloping ceilings and skylights. With stylish areas, this type of shower brings smart solutions in small spaces and creates more pleasant and functional spaces. Such areas, which are highly appreciated by the users, are an example of the smart use of small spaces on top of visual pleasure.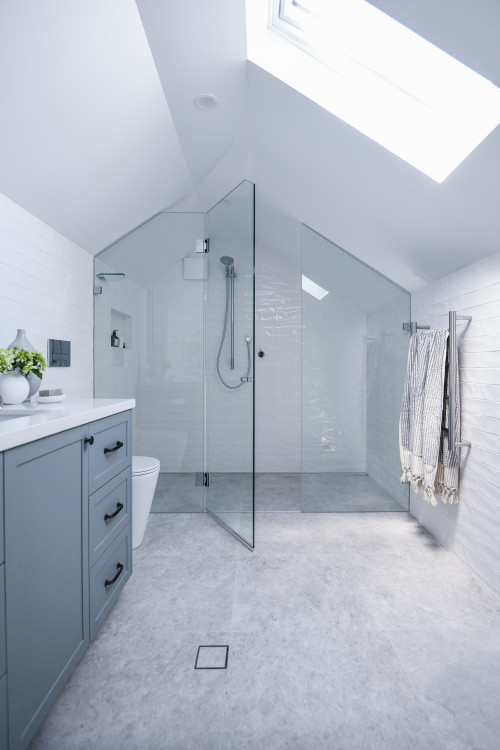 ID# 160115 | Houzz.com – Credit | © Margot Klockmann Design
---
Large Shower Area in Traditional Bathroom with White Walls and Gray Floor
The traditional, striped attic bathroom design is sure to elicit heartfelt emotions! The walk-in shower, concrete-like ceramic floors and white subway tile walls and backsplash create harmonious look. An expansive ceiling window not only brings in light but also results in a luminous effect around the shower. Whilst storage areas on the walls make the bathroom look highly stylish, contemporary and incredibly useful. Gray cabinets provide extra space and the countertop adds a final touch of convenience.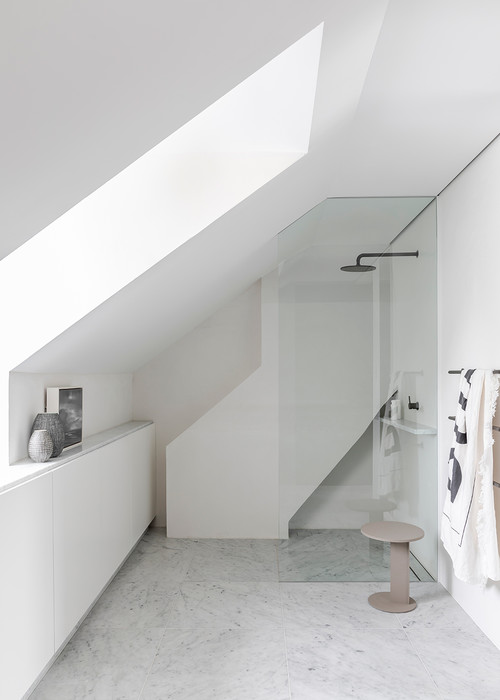 ID# 160116 | Houzz.com – Credit | © TomMarkHenry
---
Modern Designed Attic White Bathroom and Glass Shower Cabin
This modern attic bathroom offers a unique experience with its carefully divided spaces! The single glass elegantly yet effectively separates the shower area without compromising the overall beauty. It truly creates a sense of warmth and comfort. The sloped white ceiling provides an aesthetically pleasing and magazine-worthy atmosphere. The calming environment evoked by this cleverly crafted bathroom will seep into every corner, immersing the user in a relaxing and enjoyable experience.
How can I make my attic bathroom moisture free?
Transforming attics into bathrooms can be a daunting task due to the potential for water leaks and high humidity levels. However it's possible to protect against such issues with proper insulation. We often see ceramic or similar materials used to cover the surfaces of the attic, but there are other solutions available that can provide a sense of relief and comfort to those attempting this endeavor. Insulation materials are the key to creating a secure and worry-free space, allowing us to make the most of our time and money.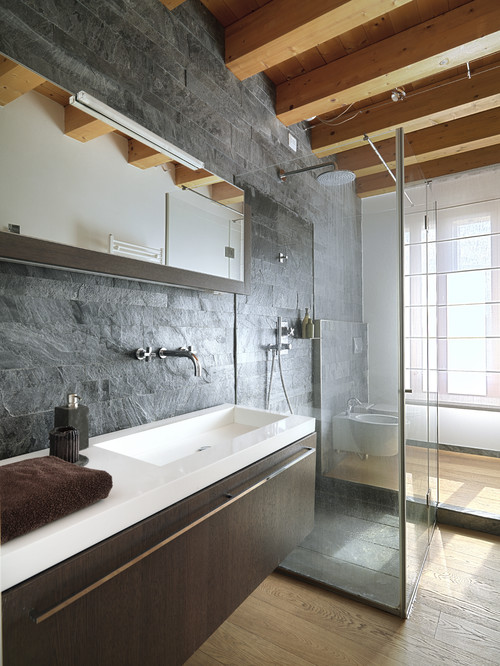 ID# 160117 | Houzz.com – Credit | © The Wood Galleries
---
Contemporary Bathroom Design with a Transparent Shower Area with Plenty of Wood Textures
Contemporary breezes dominate the bathroom, which has a wonderful appearance with its natural stone backsplash. The bathroom evokes a sense of warmth and brightness, it's wooden floor and large windows creating a cozy atmosphere. The exposed load-bearing elements on the ceiling increase the richness of the warm wood textures. Floating vanity creates a simple and successful design with a calm mirror and white sink. While the transparent shower doors make the space more understandable, the curtains provide privacy.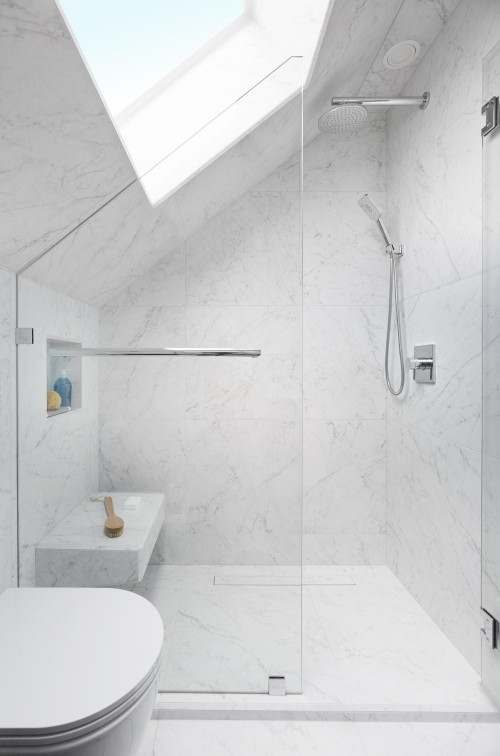 ID# 160118 | Houzz.com – Credit | © Acanthus Interiors
---
Transparent Shower Area in Contemporary Bathroom with White Texture
This contemporary bathroom design evokes a sense of relaxation, with a skylight providing a beautiful source of natural light! The cohesive look achieved by the ceramic texture gives it a luxurious feel. The simple glass partition helps keep the space airy and open. The expansive shower area with transparent doors lends an especially inviting ambiance. This remarkable design is an elegant blend of aesthetics, functionality and stylishness, offering an unforgettable and pleasant bathroom experience.
Attic Bathroom with Tub
The relationship between a tub and a loft bathroom is different because these bathrooms, which usually have both a shower and a tub area, have great corners for the tub, thanks to elements such as the skylight. The skylight and the bathtub duo, which are frequently used by designers, are one of the most prominent elements of pleasant bathrooms.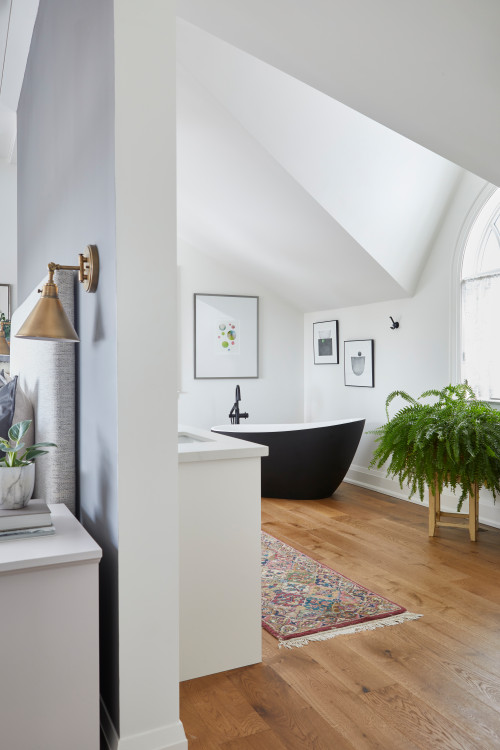 ID# 160119 | Houzz.com – Credit | © Master Edge Homes
---
Country Style Bathroom With Black Tub and Sloping Ceiling Effect
The bathroom, with its country-style design and striking black bathtub, is a true visual feast. Its large windows fill the bathroom with light, creating a warm and inviting atmosphere. Further, the whites add to the pleasantness, while the wood floor establishes a harmonious balance of hot and cold. All in all, it is an area that will delight both the eyes and the emotions of its users.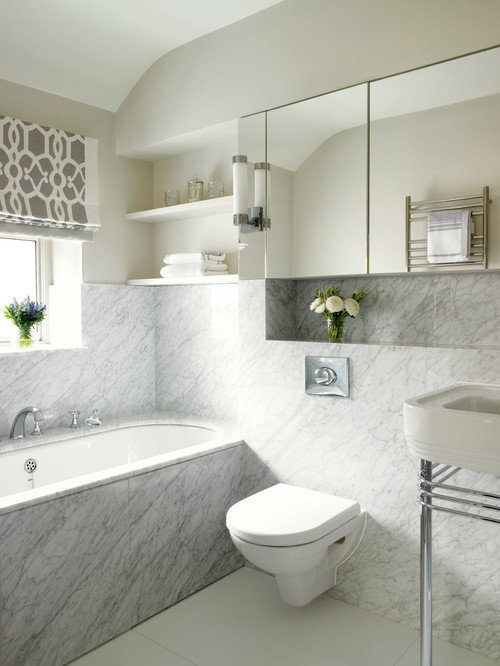 ID# 160121 | Houzz.com – Credit
---
Contemporary Attic Bathroom Design with Marble Texture and Concealed Tub
The contemporary bathroom, decorated with its marble texture and warm, bright atmosphere creates a spacious and tranquil feeling! The color scheme, uniting the same tones in the floor and ceiling, adds to the space a cozy, inviting ambiance. The embedded bathtub in the marble texture provides users with a comforting and intriguing atmosphere, while also offering a practical and easy-to-use design – allowing them to experience a sense of wellbeing. Dominated by whites and creams, the bathroom unites the same colors in every corner, providing a more complete, holistic approach. Users can enjoy a unique experience, feeling soothed and contented in the bathroom with its remarkable visuals.
Do you need planning permission to put a bathroom in the loft?
Although it is possible in some places to take a bath on roofs without a building permit, in some states and cities, such renovations must be made by obtaining a building permit from the municipality. Because although such renovations seem simple, they should be done with the help of a professional because they contain many details. This is why some states and cities require a building permit, while others do not.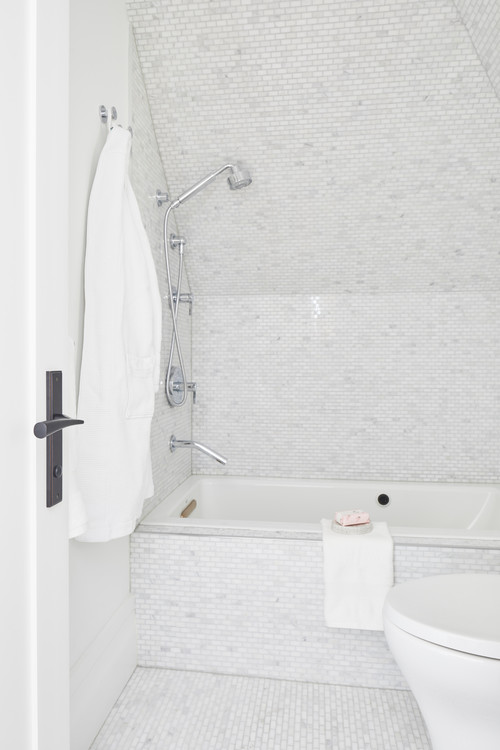 ID# 160122 | Houzz.com – Credit | © Dvira Interiors
---
Attic Modern Style Bathroom Design with White marble backsplash and Bathtub
The modern bathroom design exudes a luxurious and inviting ambiance, thanks to its use of marble backsplash tiles! The high-quality marble material provides an air of spaciousness and sophistication, perfect for attic bathrooms. The inviting atmosphere of the white tones creates a soothing, comfortable feeling, bringing a sense of harmony and joy to the environment. This contemporary design offers beauty and practicality making it also an ideal choice for any modern home.