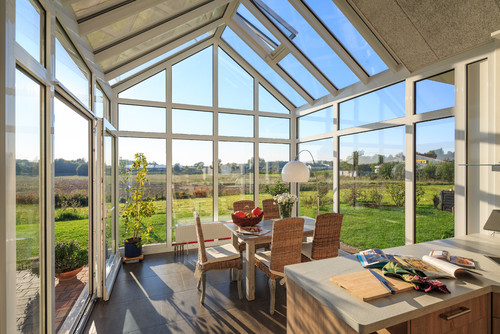 ID# 110805 | Houzz.com – Credit | © Kaben mein Wintergarten OHG
---
Natural Dining Set with Floor Lamp and Glazed Roof
The dining sunroom, designed with a tiny kitchen, is positioned in the middle of the dining sunroom where six people can sit and the atmosphere is supported by a floor lamp next to it. In the space designed with a contemporary design approach, the outdoor space freely seeps into the windows.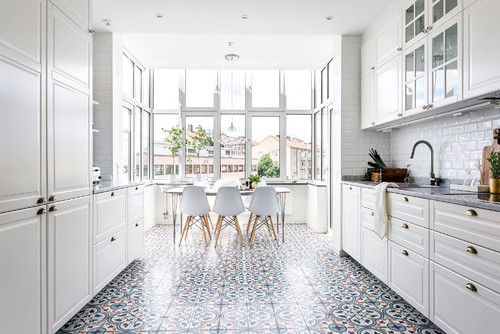 ID# 110801 | Houzz.com – Credit | © Svensk Fastighetsförmedling
---
Scandinavian Kitchen with Dining Set and Multicolored Floor Tiles
Designed in Scandinavian style, the sunroom area is designed as the dining area, kitchen, and dining area. In the dining sunroom, where white is used on almost all surfaces, colored and patterned tiles are preferred on the floor. Modern white cabinets paired with marble countertop and subway backsplash.
Colorful, peaceful, energetic, and spacious sunroom design as a dining room
It is actually not difficult to design a sunroom dining room according to your wishes or expectations There are many different ways to design your own sunroom dining room according to your taste and budget. Scroll down and find inspiration with these sunroom dining room ideas.
Choose the right colors and the right style for your dining sunroom
To design a dining sunroom, the best method for you to determine your needs and decide on the design. Determining how many people you are planning to sit together around the table and which style you want to see in your dining sunroom area and also how much is special will determine the outline of your design. Also, the dining sunroom can be designed according to your home style or can be designed completely different style.
Below you can find several sunroom dining room ideas in many different styles where you can create the space that suits your style and the mood you have.