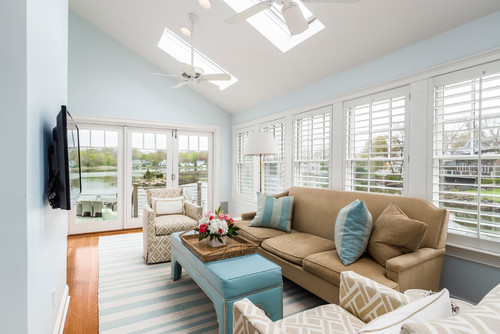 ID# 110404 | Houzz.com – Credit | © Michael LoBuglio Architects
---
Beach Style Small Sunroom Ideas with Soft Colors
Unlike the wood color used on the floor in this small cozy sunroom area designed with beach style, other colors in the space were preferred in pastel tones. The design prioritizes comfort and calmness.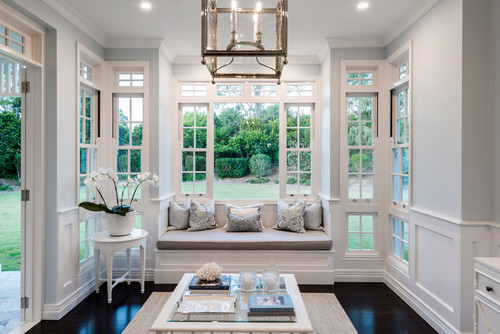 ID# 110401 | Houzz.com – Credit | © Build Prestige Homes Pty Ltd.
---
American Style Sunroom with Window Seat
In this small sunroom design designed with the classic American style, dark-colored flooring is used on the floor, while white is preferred in furniture and wall colors. In this way, the landscape design that flows through the windows can be easily perceived inside.
Modern, colorful, and spacious small sunroom ideas
It is actually not so difficult to design small sunroom areas in many different ways according to your taste and budget, which can affect our mood when we enter the door.
Choose the right colors and the right style for your sunroom
When designing small sunroom areas, it is very important to use the right colors and furniture to make them look larger and more spacious than they are. These sunroom areas, where contact with the external environment is quite high, should be designed primarily in line with their intended use. These small sunroom areas can turn into places where you will want to spend most of your day with the right design decisions.
Below you can find several ideas in many different styles where you can create the space that suits your style and the mood you have.