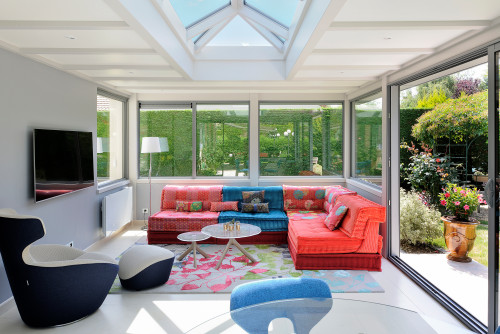 ID# 111504 | Houzz.com – Credit | © Vie & Véranda
---
Modern Sunroom Ideas with Colorful L-shape Sofa
In the cozy sunroom area where many colors are harmoniously used together, the L sofa in vibrant red tones and the blue chair around the glass dining table attract attention. For the sunroom that opens to the garden, light colors are used on the floor, wall, and ceiling. Comfort is at the forefront in the space designed with a modern design approach.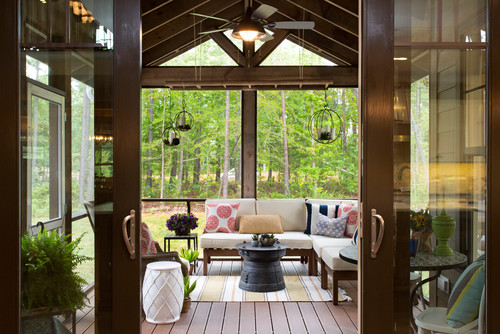 ID# 111547 | Houzz.com – Credit | © Main Street Homes
---
Farmhouse Sunroom Ideas with Comfortable Furnitures
Located in nature, the wooden sunroom is designed for sitting while enjoying nature. While the use of a candle chandelier adds elegance to space, it brings the comfort of the sofa away from the show.
Designing a spacious, colorful, traditional, modern, and stylish sunroom design ideas
You can design your sunrooms, which have one of the strongest bonds between outdoor and indoor, according to your dreams and budget, more easily than you think. Check out our stylish sunroom ideas!
Choose the right colors, the right furnitures, and the right purpose of use for your sunroom
To design your sunroom according to your dreams and budget, it should be your priority to determine what purpose you will use this area for. Otherwise, all your effort may be wasted. You should determine what kind of space you want for the sunroom for which you have decided the purpose of use. Then, if you choose the colors and finally the furniture in line with the style you have determined, you can have a sunroom in line with your wishes and your budget.
Below you can find several ideas in many different styles where you can create the space that suits your style and the mood you have.