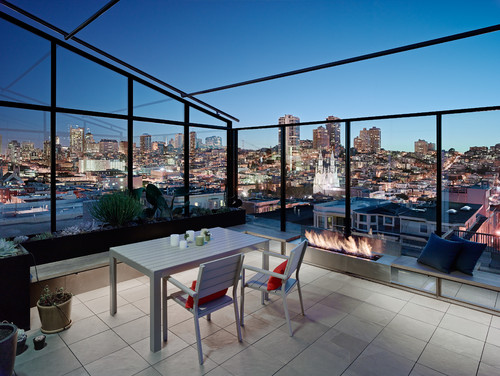 ID# 110925 | Houzz.com – Credit | © Feldman Architecture, Inc.
---
Glass Sunroom Ideas with Amazing City View
Black window joinery and a modern glass selection were made for the sunroom, which was designed as a dining area with the city view and its surroundings. Light-colored tile covering material was applied on the floor.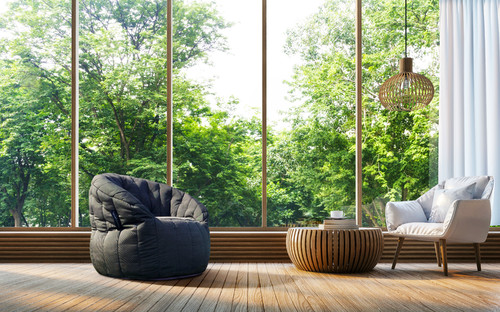 ID# 110901 | Houzz.com – Credit | © Ambient Lounge Deutschland
---
Cozy Sunroom with White Armchair and Wood Pendant Light
The sunroom, on which wooden material is used on the floor, is surrounded by trees. For this reason, window joinery has been preferred to be minimal and the thinnest in order not to divide the view. A modern coffee table is used in the middle of the sitting area, which consists of a dark gray pouf and a white wooden leg chair.
Colorful, modern, minimal, and stylish glass design ideas for sunroom
It is actually not difficult to design mudroom areas in many different ways according to your taste and budget, which can affect our mood when we enter the door. Scroll down and find inspration from the best glass sunroom ideas!
Choose the right function and the right style for your glass ideas to adding a sunroom
The glass and window joinery you choose to design your sunroom area, which is a transition space between indoor and outdoor, is very important. In this way, you can set or remove your borders as much as you want between outdoor and indoor. To do this correctly, you have to define a function for the sunrooms and decide on their style. Test out some of our glass ideas, below to get the look in your own sunroom.
Below you can find several ideas in many different styles where you can create the space that suits your style and the mood you have.