47+ Backsplash Around Kitchen Backsplash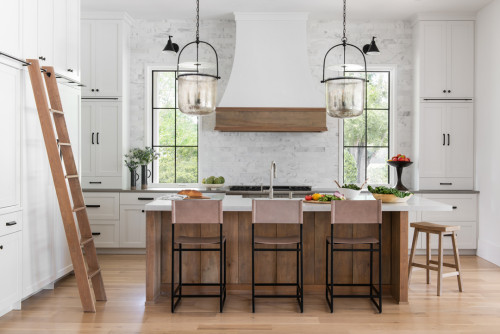 ID# 134201 | Houzz.com – Credit | © Interiors by Herlong
---
Beach Style Kitchen with an Oak Island and Views
This kitchen truly brings in the breezy nature inside! The beach-style kitchen keeps things simple with its white shaker cabinets, glossy wood flooring, and matte wood island. Black hardware is used all around to add contrast and edges to the design and adds a modern edge to the usually more conservative style of kitchen. Framing the two elegant windows and the statement hood is the backsplash. It is important to choose this backsplash wisely to avoid overpowering the focal points of the kitchen. The cloudy marble-like texture of the tiles adds just the needed movement to the space while drawing the eye directly to the beautiful views outside.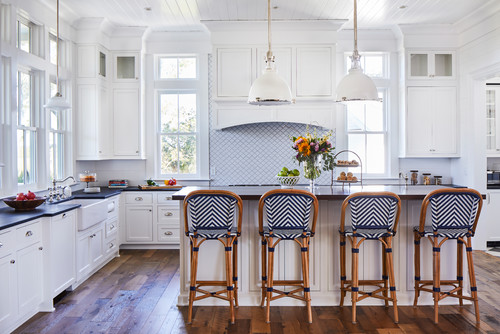 ID# 134227 | Houzz.com – Credit | © Widney Pierson Interior Design
---
Beach Style White Kitchen with Arabesque Tile Backsplash Around Kitchen Window
As always using an overall monochromatic look requires various textures and materials to avoid being overwhelming. Here, the decked wood ceiling, white shaker cabinetry, large windows, metal pendant light fixtures, and arabesque style small tile backsplash around the kitchen window work together to achieve a bright and interesting space. The white contrasted with the knotty dark wood flooring and dark soapstone countertops. Deep grout color is chosen for the backsplash further enhancing the texture and matching well with the geometric patterns of the furniture.
Backsplash Around Kitchen Backsplash
After spending so much time choosing your next backsplash tile, for a good return on your investment, why not opt to decorate the whole wall? This way you will be able to show off whatever material, finish, color, or texture you chose, luring in all of your guests. Creating an accent wall out of your tiles is serious business though, when picking which wall to the tile you should consider any openings, outlets, or cabinetry placements. Keep reading and find different backsplash around kitchen window ideas to see how to decorate your kitchen walls!
If the wall you choose has a window, then you may also want to consider pairing your backsplash with it. From the frame material and color of the window to how the tiles may catch the daylight, there are lots of factors to think about. Not to mention choosing a style that will end seamlessly at every edge. With such a wide array of options to choose from when it comes to the backsplash, you can personalize your kitchen exactly the way you imagined. In this article, we gathered just how you can creatively wrap your backsplash around kitchen window with various styles, materials, and cuts for an aesthetic and cohesive feel in your space and create the centerpiece of your dreams!
Backsplash Types for Around Kitchen Window
So you have decided to tile your whole wall but don't know what to look for? With so many styles, finishes, colors, and options to choose from, we understand. In theory, you can opt for any of the backsplash designs you wish but it may get overwhelming to pick one that will become a statement piece in your space. Especially when you think about wrapping around your window frames. To save you the stress, we gathered here examples in various styles, materials, and shapes of backsplash you can look to for inspiration. While looking at the options it is important to consider how you would like your tiles to catch the light from the windows, and what kind of edge style you want when wrapping around the frame.
How do you tile a backsplash around a window?
The installation process looks exactly the same as any other backsplash installation. It is basically making sure your walls are smooth and even, priming the walls as needed by the type of tiling being used, applying your thin set of mortar with a V notch trowel, installing your tiles, and then finishing up with the grout once the tiles are set. However, a few tips to follow are, while tiling around a window laying out your design before installation is more important than ever. Measuring the distances and planning where you would like to trim your tiles will save you from running into trouble during installation. Another pro tip is to make sure any outlets on the wall are offset enough to account for the thickness of the tiles so once the plates are installed they will be flush with the backsplash.
Should I tile above my kitchen window?
The tiling above your kitchen window is up to you. You can continue your design all the way up to the ceiling to create an accent wall or tile stops at the top of your cabinetry. However, it is always a good idea to align your tile edge with another axis in your space such as cabinetry lines or window sills for a cohesive look. Another thing to look out for is a straight even pattern above your window, start tiling from the window ledge then figure out the tiling above your window, and finally tile the other side. Mixing the second and the third steps may mess up your rows above the window.
Hexagon Tile Backsplash Around Kitchen Window
If you would be opting to tile your whole wall in your kitchen, picking an interesting cut of tile may be the easiest way to create a focal point. From its picket version to the smaller shape, hexagon tiles always yield an unexpected result. You can also create a wall design by picking different colors and textures and arranging them in a custom design.
Arabesque Tile Backsplash Around Kitchen Window
Even if Arabesque-style tiles may require diligent work to tile around windows in your kitchen, the end look is so worth it! This style will instantly give a luxurious feel due to its elegant cut and create an unusual scene for your guests. You can choose to go for a small size to create a mosaic-like feel or use large elongated ones that make you feel like you are in a Moroccan palace. For more ideas on how to use this beautiful tiling, check out our article: "Arabesque Tile Kitchen Backsplash Beautiful Colors & Traditional Patterns".
Marble Backsplash Around Kitchen Window
Marble is a timeless material that will make your space feel luxurious. You can choose to use tile in any cut style or opt for any marble type, we guarantee your kitchen will become the heart of your home. From one-piece slabs used in contemporary kitchens to Arabesque ones in traditional kitchens, you can really just do anything. Down below we narrowed down a couple of options you can use in your next kitchen project!
What tile trim to use around a window?
Generally, there are four types of trims available; ceramic trims, metal, and plastic edge trims, and stone trims. Depending on what kind of end look you are going for, you can choose from any of these types. For a more economic product, opting for metal or plastic trims would be great and with so many choices to choose from you won't have a problem customizing. However, using a bullnose tile or a v-cap at your window edge will guarantee a seamless finish. With a v-cap trim, you can ensure total coverage of the window corner, while a bullnose trim will create a flush edge with the perpendicular edge. Matching the material of your trims to the rest of your design will yield a more high-end look at the end.
Herringbone Backsplash Around Kitchen Window
Herringbone is a classic yet eye-catching tile cut that will elevate your kitchen to the next level. The diagonal pattern breaks the ninety-degree angles in your kitchen to create a focal point. With herringbone tile, perhaps the most important is to choose the tile size. Due to its unique shape, if you choose a smaller size you can create more of a pattern design yet with a larger option you can show off the materiality of your tiles. One thing is for sure, whatever you choose herringbone won't let you down!
How do you cut tile trim around a window?
To cut your tile trim, a miter saw is necessary. Once you have marked where you would like to make your cuts, lay the tile on the miter stand and push it against the marked area, next make your cut while holding the trim steady against the block.
Before making your cuts though, you should decide what kind of corner joint you would like. You can either have a flat square joint or a 45-degree miter joint. While the square joint is definitely the easy method, for a cleaner look opt for the miter joint. As miter joints are quite complicated, it may be best to rely on a skilled professional.
Mosaic Backsplash Around Kitchen Window
A mosaic backsplash can mean anything under the moon, as long as the tile size is small enough to create one cohesive pattern throughout your wall. Using this style, you can create so many different designs that alternate colors, finishes, and tile styles. If you care more about the pattern at the end than perhaps showing off the characteristics of the material, a mosaic tile backsplash may just be for you! To learn more keep reading for a selection of mosaic backsplash around the kitchen window we chose just for you!
Where do you start tiling a wall with a window?
For a clean look, there are a couple of methods. For smaller tile sizes, you start tiling from the bottom corner of the window sill and tiling up one side. Next, you should create your even pattern above the window to make sure your rows above are uninterrupted. Finally, you can tile up the other side meeting the top border.
For larger tiles, you can choose to tile continuously around the window which means that once you tile the bottom of the window, determine on the wall which tiles overlap with the opening. Then window trim the excess of these tiles and install them. Alternatively, you can add flat tiles or pencil tiles around your window borders and then follow the same method for a nicer look.