30+ Backsplash for Granite Countertops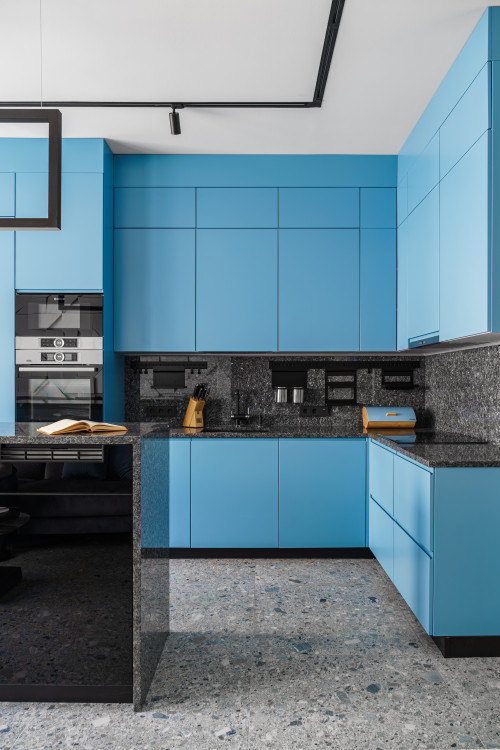 ID# 170504 | Houzz.com – Credit | © Дизайн студия "Нечаев и Сенчугов"
---
Contemporary Kitchen with Blue Cabinets and Terrazzo Floor Tiles
Composed of a color scheme of blue and gray, this beautiful kitchen lays its foundation on the complementary contrasts! The blue kitchen cabinets provide a unique backdrop that creates a bold and stylish appeal! The busy granite backsplash and countertops harmonize beautifully paired with black accents that resonate with the overall color scheme. The waterfall island with a black torso reinforces the contrast that is already present in the existing narrative. Lastly, the gray terrazzo floor tiles add another layer of texture and ceiling ceiling-mounted black lighting fixture enhances the modern aesthetic.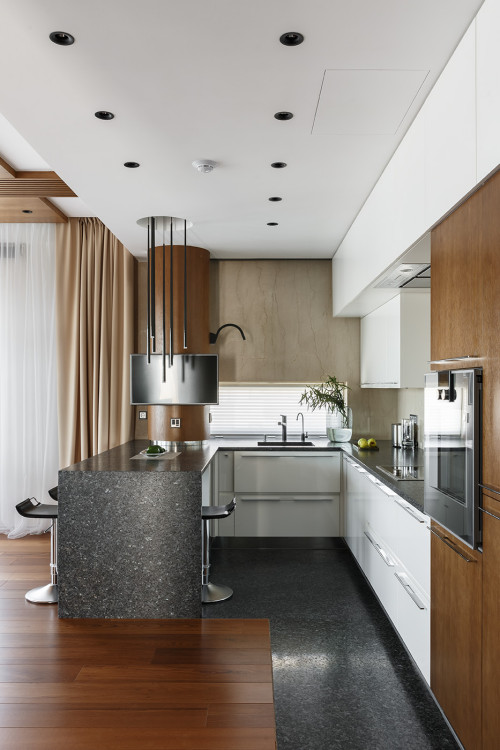 ID# 170517 | Houzz.com – Credit | © Студия дизайна интерьера Ольги Егуповой
---
Modern Kitchen with White Cabinets and Busy Granite Countertops
To get a unified look with complex patterned granite countertops, pay attention to the colors and how the countertop edges are polished! You can pick complimentary kitchen pieces based on the colors or vice versa. The white flat-panel cabinets and beige porcelain slab backsplash provide a neutral backdrop for dramatic features. The dark gray busy granite countertop offers a contrasting aesthetic while the chrome hardware adds a touch of glitz.
Backsplash for Granite Countertops
Having made a name for themselves for their long lifespan, extreme durability, and unscratchable nature, granite countertops, though pricy, are one of the high-quality material countertops that feature many finishing options, edge finishes, and patterns for a unique look. In other words, to match the overall theme, whether your kitchen is rustic, sophisticated, or luxurious, with the right finish, you can redefine a granite countertop to capture the look you aim for. However, as granites are also known for their busy and pronounced patterns with swirls, speckles, and streaks, figuring out which backsplash for granite countertops is best might seem like a daunting task. But don't worry since while choosing a backsplash for granite countertops, you will have a lot of options to choose from.
Complete the Elegance of the Granite
From marble backsplashes to book-matching granite, ceramic, glass, limestone, and travertine natural stones, tile options, and slab backsplashes, you have numerous options to make for an impactful design with granite countertops. In this blog, we have an inspiring list of variously colored and patterned perfect granite countertops that create luxurious, modern, and rustic looks, each one unique on its own.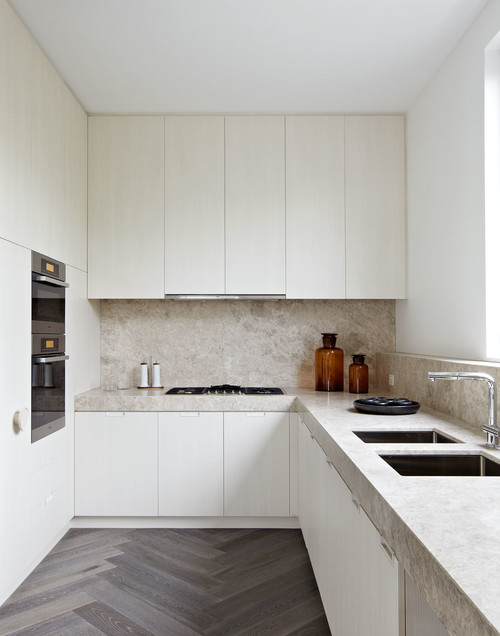 ID# 170501 | Houzz.com – Credit | © Michael Downes – UA Creative
---
Beige Backsplash for Granite Countertops and Off-White Cabinets
Simple yet stunning, this contemporary kitchen sticks to the light shades for a sense of spaciousness. The beige granite backsplash and countertops, and off-white cabinets bring the right amount of glow, color, and a sense of lightness to give a facelift to the dark moody kitchen while the dark wood-finish floor imbues the kitchen with a sense of sophistication!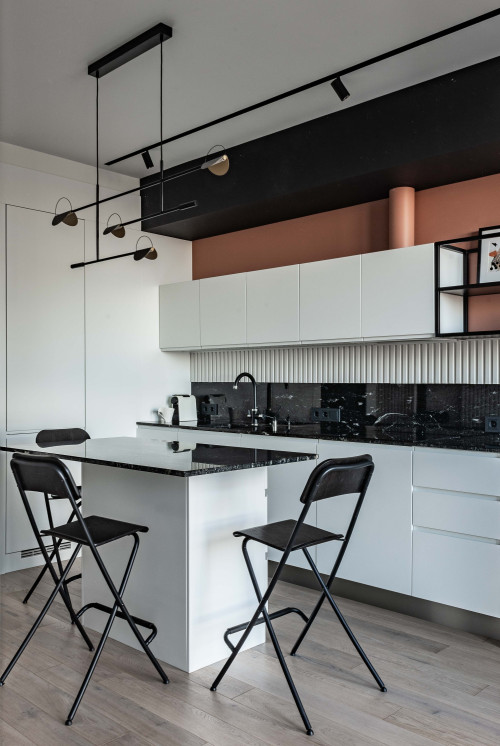 ID# 170502 | Houzz.com – Credit | © АСЯ БОНДАРЕВА
---
Contemporary Kitchen with White Cabinets and Speckled Granite Countertops
This contemporary kitchen unfolds in light shades to propose a gentle spirit that favors nuanced and classic touches! The black granite backsplash and countertops add a sense of movement while the white cabinets capture and amplify light entering the space. The white wall panels above the backsplash and the pink wall paint jazz up the design while the black counter chairs and lighting fixture enhance the modern aesthetic.
How to choose backsplash for granite countertops?
While choosing a backsplash for granite countertops, first, think of what kind of theme you want your kitchen to serve. After deciding, you can choose your backsplash accordingly. For example, for a Mediterranean feel tinged with classic vibes, travertine, and limestone tiles make a perfect couple with granite countertops. Moody blue, gray, and dark green shades create impressive designs with brown granite countertops. Plus, you can even go with shiplap or beadboard panel backsplashes. In contemporary kitchens, marble slab backsplashes complement granite countertops nicely.
Additionally, one strategy is to find the lightest shade on the granite countertops and stick to that shade while choosing your backsplash and kitchen cabinets. This color coordination in turn will pair the backsplash with granite effortlessly without overwhelming the space with darker shades.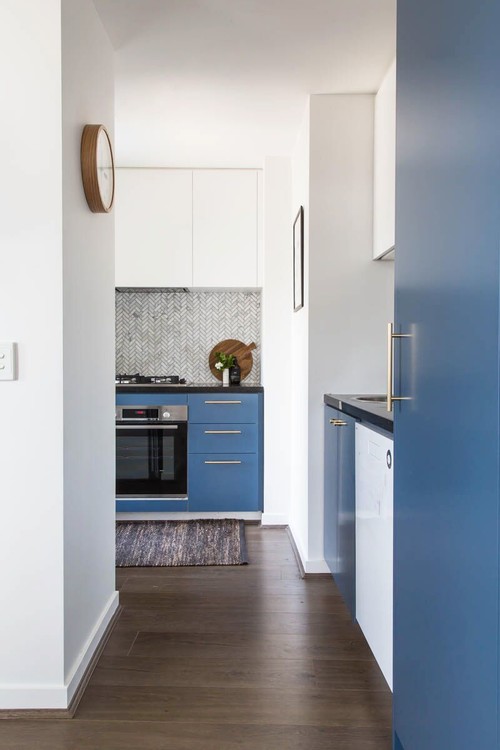 ID# 170503 | Houzz.com – Credit | © The Den Interiors
---
Marble Tile Backsplash for Granite Countertops and Two-Tone Cabinets
The serenity captured through the white and blue cabinets and marble tile backsplash oozes authenticity! The brass cabinet hardware coordinates effortlessly with the blue base cabinets while the white upper ones enhance the modern aesthetic with their handless design. To build more character, the marble herringbone backsplash and black granite countertops bring a punch of life. If you want to stick to white cabinets and create a design that doesn't look sterile, you can get black countertops, a textured backsplash such as marble, and decorative elements to personalize the space as here.
Natural Stone Mosaic Tiles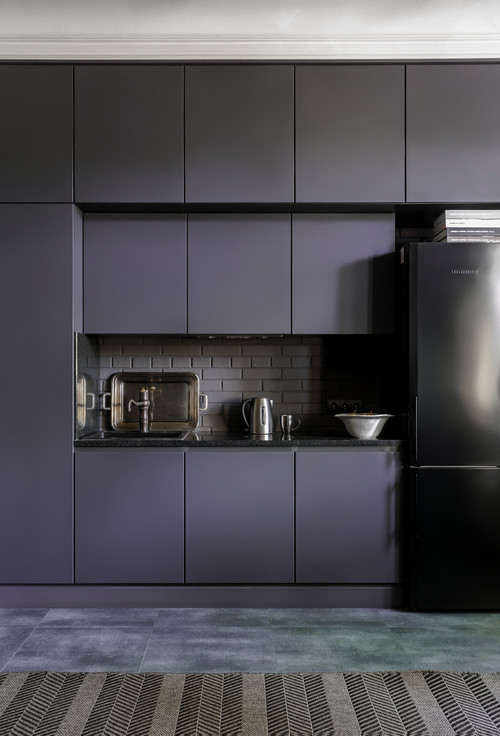 ID# 170505 | Houzz.com – Credit | © Ольга Шангина
---
Rustic-Modern Kitchen with Dark Color Scheme
This stunning modern and rustic kitchen design makes you fall for it! Everything blends with each ranging from black painted brick backsplash to gray cabinets, black appliances and granite countertops, not to mention the gray floor tiles that enhance the overall design. Of course, nothing other than granite would complement this look seamlessly to support the natural vibes and enforce the rustic firmness.
ID# 170506 | Houzz.com – Credit | © Knight Custom Homes
---
Black and White Kitchen Design with Wood Flooring
Highlighted by the gray granite worktops, the classic combination of the white shaker cabinets and the white subway tile backsplash provide a timeless and very stylish kitchen! The kitchen's ambiance is given a monochromatic appeal with a modern touch by the counters and island while the medium-toned wood floors and the gray island combine to create a cozy and welcoming atmosphere.
Top Granite Countertop Colors
The color and shade options of granite colors are expansive, though, some colors like black, white, and blue remain to be the most popular ones. Each color has its sub-types distinguished by its aesthetic features and where they are quarried from. Now let's take a closer look at them.
Black granite:
Black granite countertops are luxurious and sophisticated. They can feature different looks depending on the finish options. For example, honed matte-finish black granite countertops look like soapstone and are popular in the farmhouse-inspired kitchen. For a more luxurious look, give them a glazed finish, which will redefine granite for sure. Black Galaxy, Nero Mist, Black Pearl, and Agatha black are some of the most popular black granites you can consider getting.
White granite:
Speckled and dotted with gray veins and featuring tiny black grains and streaks, white granite countertops are inviting materials that add a sense of charm to the kitchen. However, the patterns change forms, which gives them different names. To give some examples, lightly streaked Andromeda White with subtle patterns, Colonial White with jet black speckles from India, and Alaska White with dark pronounced minerals are pretty popular, each having its unique features that deliver sophistication.
Blue granite:
As for more colorful options, one of the top granite colors is blue granite, particularly blue pearl granite known for its speckles and soothing look.
Green granite: For those who love green, you can find green granite with lighter and darker shades. Golden Lightning and Costa Esmeralda are two popular ones, featuring vibrant and soothing green shades respectively.
Grey granite:
A steel gray granite cabinet is another top color granite that can work well in any interior as it provides a neutral shade.
Backsplash for Gray Granite Countertops
For a neutral pairing for gray granite countertops, white marble-look backsplash tiles, and subway patterns create a soothing atmosphere, offering a restful repose. In contrast, if you seek a dramatic look, check slate tile and soapstone slab backsplashes that will support the natural design as well. White Carrara marble, likewise, could be a great addition with a statement finish that lends sophistication to the space.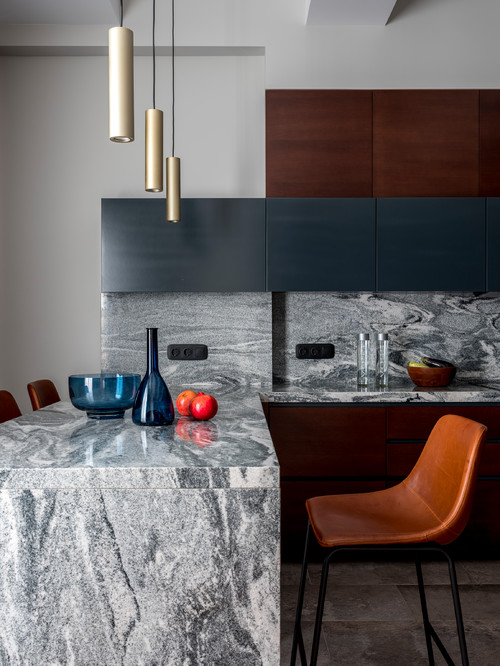 ID# 170507 | Houzz.com – Credit | © Porte Rouge Interiors
---
Gray and Wood Cabinets with Metallic Pendant Lights
The simplicity of the gray and wood cabinets gains a different vibe thanks to the gray granite countertops and backsplash that introduce exciting patterns to the otherwise all-plain design. Complementary elements of the main features encompass black accents, stone floor tiles, and metallic pendant lights to imbue the outlook with diverse characters to make for a design with a sense of depth.
ID# 170508 | Houzz.com – Credit | © Dinnissen Design Co Ltd
---
Transitional Kitchen with White Shaker Cabinets and Dark Wood Floor
Bouncing a good amount of natural light, this well-curated kitchen design abundant in white shades feeds the sense of spaciousness and airiness. The white stacked subway tile backsplash expands the kitchen visually and complements the bright appeal of the white shaker cabinets. The gray granite countertops become the visual focal point, surrounded by complementary elements such as chrome hardware and stainless steel appliances.
What backsplash goes well with granite?
Glass, granite, zellige, and ceramic tile backsplashes are the most popular backsplash options paired with granite. Regarding what kind of look you aim for your kitchen, you can choose a complementary backsplash for your granite countertops.
Let's start with the easiest and most affordable option, ceramic tile backsplashes. White ceramic subway tile backsplashes are very popular. If you want to add some color, you can go with soft and warm shades to create a cozy and colorful atmosphere.
Secondly, for a modern appeal, glass backsplashes are worth considering. To ensure integrity, you can choose a color already present on the granite countertop. Or match the marble backsplash with granite countertops for a classic look. In traditional kitchens, limestone backsplashes are popular with speckled and beautifully streaked granite countertops. But if you love natural looks, you can also use natural materials such as wood, stone, brick, and stone-look porcelain tiles for a sense of change.
ID# 170509 | Houzz.com – Credit | © Knight Custom Homes
---
Bright Kitchen Design with White Shaker Cabinets and Black Hardware
The white shaker cabinets and white subway tile backsplash are a classic match and the gray granite countertops emphasize this! The island and countertops give the kitchens decor a monochromatic appeal with a modern touch while a cozy and welcoming atmosphere is produced by the combination of the gray island and the medium-toned wood floors.
Backsplash for Black Granite Countertops
Black granite countertops leave a strong impact on the design, adding depth and sophistication. Even though black feels like a restrictive color, there is so much you can do with it. For example, to complement black granite countertops, you can use glazed-finish black ceramic tiles that are very popular with black granite. They not only make a statement immediately but also let light bounce off playfully, encouraging a sense of flow. Plus, they are easier to clean.
For a more natural look, give granite a honed finish and couple it with white or light gray black terracotta or zellige tiles that will harmonize with the countertops easily. Don't hesitate to go monochromatic with black backsplashes as it offers a design with depth. Plus, you can always color and soften it with additional fixtures, wooden touches, and brass finish items to add glow.
For a more modern and professional look, stainless steel backsplashes could be another option. If you have a honed granite countertop, integrate natural materials, such as brick, stone, marble, and even terracotta backsplashes that will inject a sense of warmth into your kitchen immediately.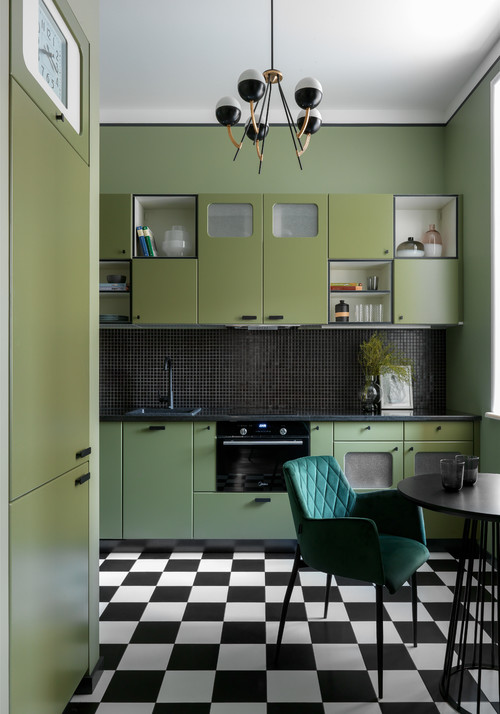 ID# 170510 | Houzz.com – Credit | © propertylab+art
---
Black Backsplash for Black Granite Countertops and Green Cabinets
This eclectic kitchen design oozes elegance with bold insertions colored green while the black granite countertops serve as a catalyst for inspiring the overall look! The black mosaic tile backsplash, matte black hardware and the glass-fronted openings of the green cabinets bring a layer of complexity with a sense of intrigue. The green cabinets along with the black and white checkered floor tiles deliver a sense of quirkyness to contrast the black pieces. The black and brass detailed chandelier draws the eyes up while the black dining table and green velvet chair enhance the sense of sophistication. Each corner has a unique architectural feature that communicates a sense of character.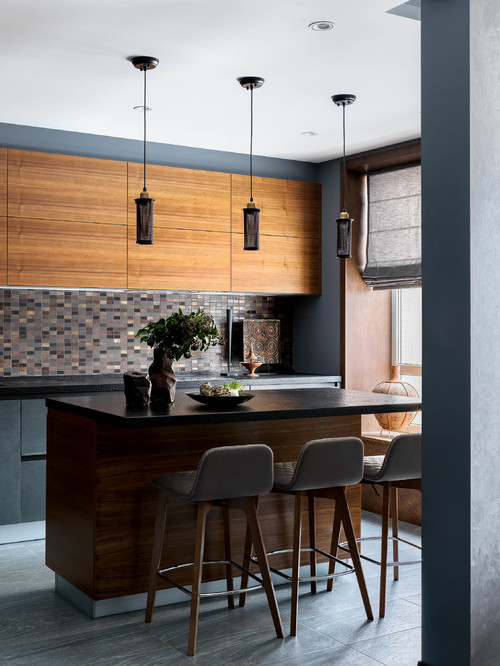 ID# 170511 | Houzz.com – Credit | © Anastasia Kovalchuk
---
Multicolored Backsplash for Black Granite Countertops
Core to the design is the combination of a neutral color palette with a bunch of textures! For a sense of change, the countertops' honed matte finish presents a rather humble look contrary to what we have seen so far. The multicolored mosaic backsplash tiles protrude outwards, whose staggered edges develop a sense of intimacy and bring a level of attractiveness to alleviate the flat surfaces. The gray base cabinets and the dark wood kitchen island design complement the natural sense of the stone materials while the medium tone wood upper cabinets bring a sense of lightness!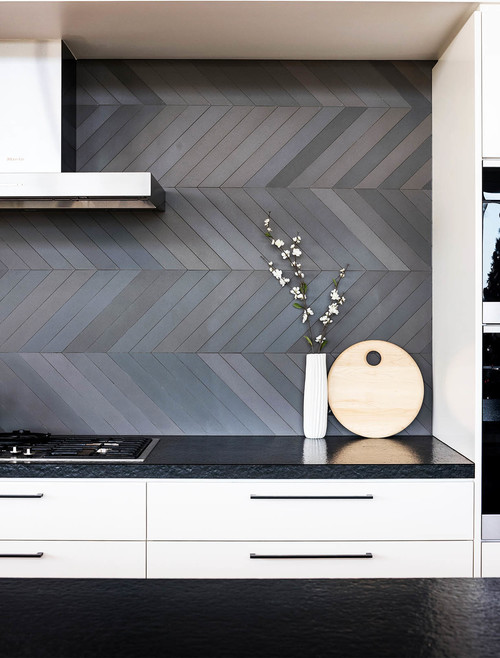 ID# 170512 | Houzz.com – Credit | © Turner Bespoke Design
---
White Kitchen Cabinets with Gray Herringbone Backsplash and Granite Countertops
If you want to make a statement, feel free to give priority to granite countertops as here! In this modern kitchen design, the black granite countertops offer an anti-thesis to the monochromatic kitchen. The white flat-panel cabinets and stainless steel appliances with a shimmering effect add subtle beauty to assist the gray herringbone backsplash and black granite featuring a leathered finish. Consisting of modern lines and a refined taste, this modest kitchen design presents a timeless look that is simple and elegant at the same time.
Backsplash for Brown Granite Countertops
The color variety for a natural stone like granite is quite expansive and brown is just one of them. Though brown is probably not one of the colors we see very popularly, when it comes to the brown granite countertops, it is a bit more different. Featuring warm shades with a rich feeling, brown granite worktops are generally paired with limestone and travertine backsplashes. But for a sense of change, you can go with earthy-tone glass tiles, especially the ones featuring a matte finish. Likewise, mosaic pattern backsplashes in neutral shades complement brown granite countertops beautifully. But if you want to capture a candy-sweet atmosphere, feel free to use pink in pastel tones. You can even integrate light yellow or mint shades for a sense of freshness instead of going with white.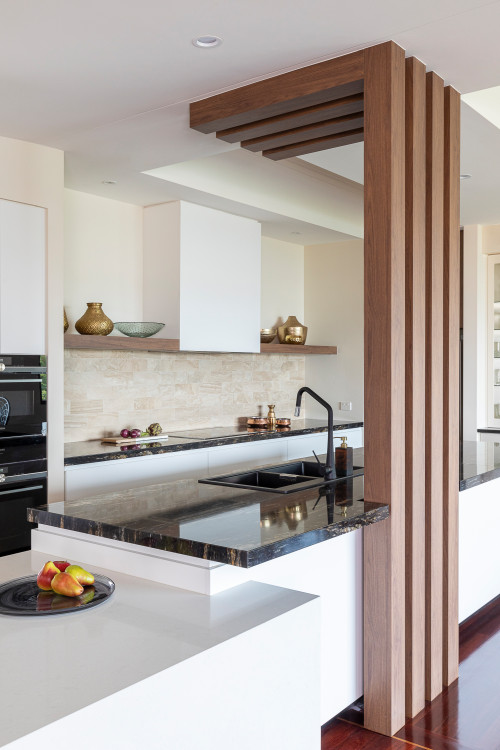 ID# 170513 | Houzz.com – Credit | © Popham Interiors
---
Cozy Kitchen with Two-tone Cabinetry and Subway Tile Backsplash
In this cozy kitchen design, the integration of soft color shades, including beige and white, composes a soothing color palette enriched with dark-colored granite countertops. Though granite features small patterns that add movement to the countertop, it doesn't steal from the simple and modest look of the space. The slate subway tile backsplash with a subtle brick look complements the granite countertops perfectly. Lastly, the crisp white cabinets provide a sleek and fresh base to the room while the wooden panels which reach from the floor through the ceiling complement the floating shelves next to the range hood.
ID# 170514 | Houzz.com – Credit | © Omega Stone Mantels
---
Statement Maker Range Hood Design with Brown Glass Mosaic Backsplash Tiles
The elegant contrast between the white raised panel cabinets and the black hardware enhances the kitchen's lovely charm! This contrast is enhanced by the black wood floorboards in the kitchen. The distinctive wood range hood commands all of the attention and when combined with the granite counters, they create a magnificent symmetry. The brown color palette is given movement by the backsplash composed of matchstick tiles.
Do you put backsplash with granite?
Yes, a backsplash is an essential piece of a kitchen design as it protects the wall from water splashes, grease, oil, and dirt.
ID# 170515 | Houzz.com – Credit | © AMR Interior Design & Drafting Ltd.
---
Small U-Shaped Kitchen Design with Beige Walls
Granite countertops with lovely beige and gold veining complement the light beige kitchen walls well. The dark wood kitchen floors and the dark brown granite countertops offer a contrasting aspect to the white shaker cabinets which brighten the surroundings. The mild color scheme of this kitchen is complemented by the light beige flooring.
Backsplash for Green Granite Countertops
Working as a bold statement piece in kitchens, green granite countertops lend sophistication to the design. Channeling green vibes in the shades of peacock, emerald, typhoon, galaxy green, and more, green granite also features a variety of patterns, including frosted crystals, flecked and grained patterns, and a marble look. It is particularly great in rustic, Mediterranean, classic, farmhouse, and English country kitchens. To complement them, brick, barn wood, travertine, marble slabs, and off-white and white ceramic tile backsplashes can be used.
Backsplash for Busy Granite Countertops
The best way to complement busy granite countertops is to go with a less busy and more neutral shaded backsplash or natural stone backsplashes such as slate, limestone and marble to create a sensible relationship between the natural stones. Apart from that, ceramic and porcelain tiles come with simple and diverse options. The white and off-white subway tiles, square tiles, and matte or gloss finish glass tiles come as an alternative to accompany busy granite countertops!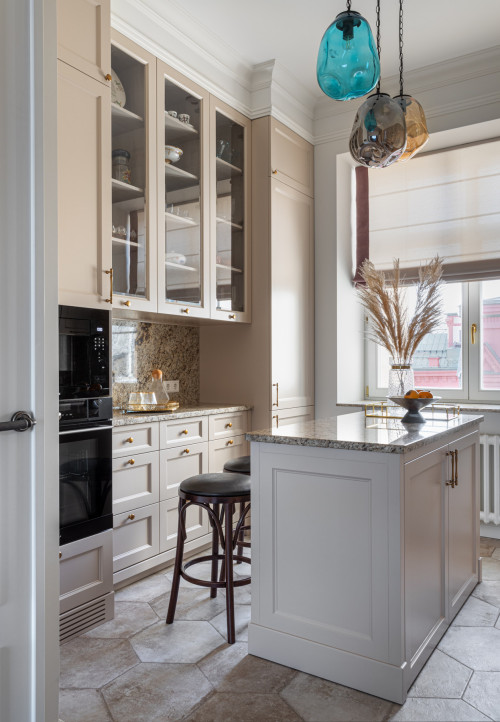 ID# 170516 | Houzz.com – Credit | © Наталья Широкорад
---
Beige Kitchen Cabinets with Brass Hardware and Glass Pendants
The earthy palette of this natural design kitchen puts its users into a dialogue with a variety of textures and natural materials. In the background, the busy granite backsplash and countertops make a strong statement with a lived-in feel that harmonizes skilfully with beige kitchen cabinets. The colorful glass pendants above the small island make an unexpected touch that adds a quirky vibe to the space while the brass hardware brings a vintage flair with a dose of glam.
Best Backsplash for Granite Countertops
If your best is equal to a timeless look, the best backsplash for granite features light shades and a classic tile pattern, subway tiles. Likewise, marble backsplashes and matt finish mosaic tiles deliver natural vibes to assist the granite. If you have a rather less busy granite, you can use it as a backsplash as well to create a continuous design.
White Backsplash for Granite Countertops
White is a safe and modest color to match with granite countertops! So, feel free to go white to provide a smooth flow and visual expansion inside the area. To make a statement in all-white kitchens, play with the edge treatments on granite countertops.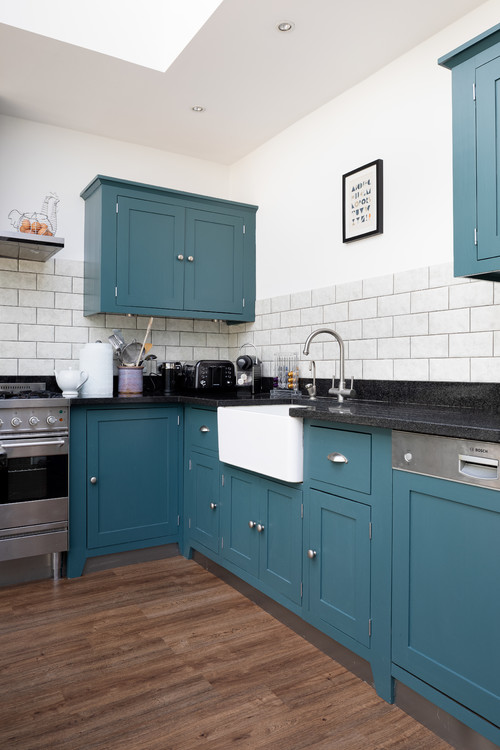 ID# 170518 | Houzz.com – Credit | © Proud Interiors Limited
---
Blue Cabinets and White Subway Tile Backsplash for Granite Countertops
If you opt for a texture-rich, fresh, and aged-looking kitchen design, this transitional kitchen shows how to play the game! Using blue cabinets as a bold choice it goes with black granite countertops to make a statement. Between the darker shades, the white subway tile backsplash and the white farmhouse sink bring a bright and fresh appeal while the brushed nickel hardware makes a cohesive final touch and enhances the traditional sense!
Should your backsplash be the same as your countertop?
There is no such rule, although matching the backsplash to the countertop may produce an impactful aesthetic in some circumstances. However, if your backsplash and countertop have dramatic patterns and colors, having them together may be overpowering in the long run. As a result, if you have a neutral backsplash, you will most likely create a more timeless look!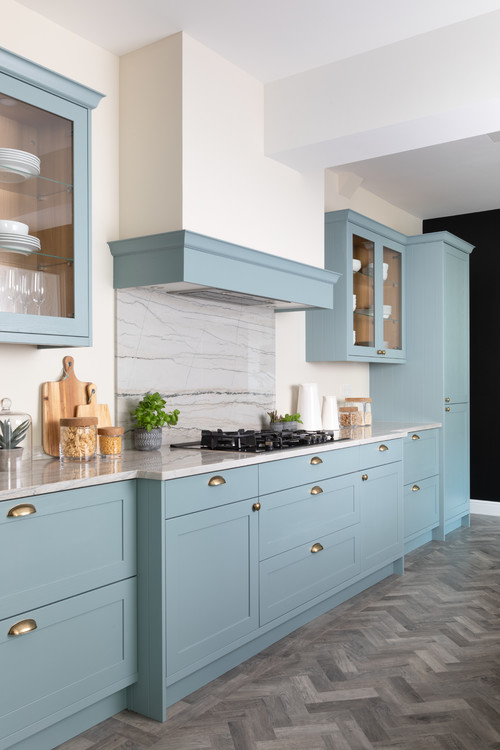 ID# 170519 | Houzz.com – Credit | © Classic Interiors
---
Chic Kitchen Design with White Granite Countertops and Brass Hardware
This achromatic luxurious kitchen is colored with brass hardware and powder blue cabinets that occupy a large portion of the kitchen. On the perimeter side, the blue shaker cabinets create a romantic canvas while the dark wood flooring creates a visual drama to anchor the look. The white granite countertops and backsplash behind the stove complement the elegance of the cabinets perfectly. Apart from those, in its overall look, the use of lighter and softer shades and the harmonious integrity between the fixtures ensure flow within the space.
ID# 170520 | Houzz.com – Credit | © Elisse Navi Interiors
---
Scandinavian Kitchen with Black and White Color Scheme
A fashionable and inviting kitchen design can be achieved with the use of simple lines and cozy wood textures! The white shaker cabinets and light wood kitchen floors complement one another and give the space a classic look. The white shaker cabinets and black granite counters provide a sleek contrast which is balanced and illuminated by the white subtle backsplash tile.
Dark Backsplash for Granite Countertops
Whether you have light or dark granite countertops, you can get a dark backsplash in both cases to build contrast or reinforce a moody atmosphere! Black glazed ceramic subway tiles are one of the most popular dark backsplash options paired with granite countertops. They immediately create well curated luxurious vibes that envelop the space.
ID# 170521 | Houzz.com – Credit | © Avid Interior Design Inc.
---
Black Stacked Tile Backsplash for Granite Countertops
This elegant kitchen is bursting with small nuanced details to build layers of complexity! Though the main color palette is kept minimalistic and basic with white, black, and gray, the resulting scheme is rich. On close inspection, the stacked black subway tiles make a statement, well-coordinated with the white granite countertops with black speckles. Both provide easy-to-clean surfaces, letting natural lights bounce off playfully. To enrich the white shaker cabinets and black additions, the floor clad in beige stone tiles brings an authentic touch.
Is granite worth the money?
Based on the qualities it offers, including unparalleled durability, longevity, and enviable aesthetic features, granite is worth the money. Even if it is much more pricy when compared to other materials on the market, it compensates for it in the long term thanks to its long life span!
But if you also want to consider alternatives, here are some! First, instead of getting granite slabs, you can get granite countertop tiles which are a more budget-friendly alternative as they cost less than stone slab versions. If you are concerned about its aesthetic features and tile look, the grout doesn't look that visible to intervene with the seamless look. Plus, granite tiles are lightweight and easier to install. Also, If you are only interested in the material for its aesthetic features, some laminate countertops feature a similar look and texture that granite countertops offer which you can get at an affordable price!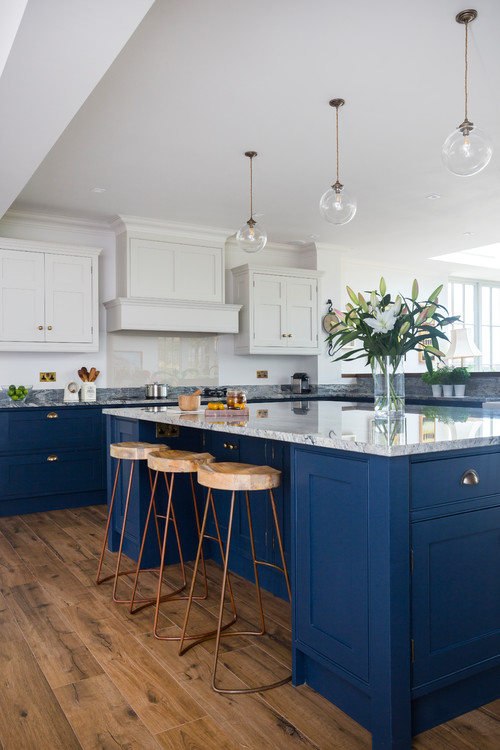 ID# 170522 | Houzz.com – Credit | © Traditional Bespoke Furniture
---
Sophisticated Kitchen with Brass Hardware and Glass Pendant Lights
If only a kitchen could be a sum of statement pieces, this kitchen would be one of them! From the stunning globe pendants with brass detailing to the granite countertops and backsplash and ultra-stylish counter stools, everything oozes opulence. The use of the same material for countertops and backsplash adds a smart rhythm to such a stylish kitchen characterized by multiple bold elements. However, if you are using a 4-inch backsplash, you may need an additional wall covering for the backsplash area behind the stove and as in this case, it is a clear glass sheet. Situated in the center and mirroring the perimeter blue cabinets, the blue island adds a pop of color that puts the stools and lighting fixtures in the spotlight.
Granite Backsplash for Granite Countertops
Are you a lover of matching pieces and seamless looks that tie the space effortlessly? If so, you can use granite backsplash for granite countertops! They can feature the same color and pattern that will surely become the visual focal point of the design. But if you wish, you can also use different patterned and colored versions. For example, go with a busy countertop but choose a lightly patterned more humble granite as the backsplash. That will give you a more balanced look.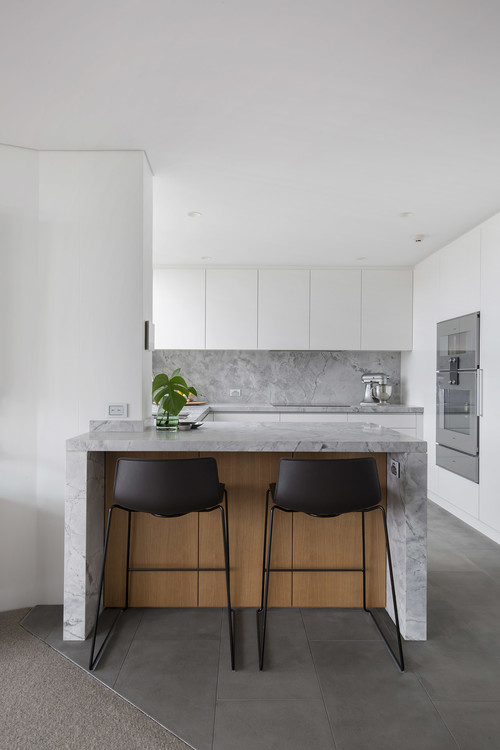 ID# 170523 | Houzz.com – Credit | © Dan Kitchens Australia
---
Modern Kitchen with Granite Backsplash for Granite Countertops
This modern kitchen is another stunning design that champions the harmony of white, black, and wood and of course, the natural stone granite that solidifies the bond among this timeless trio! The flat-front white cabinets paired with gray granite countertops and backsplash present a seamless look on the perimeter side while in the center, gray granite countertop coats the wood exterior island. The island's recessed bottom allows for counter stools to be tucked away under, clearing the way and helping the circulation.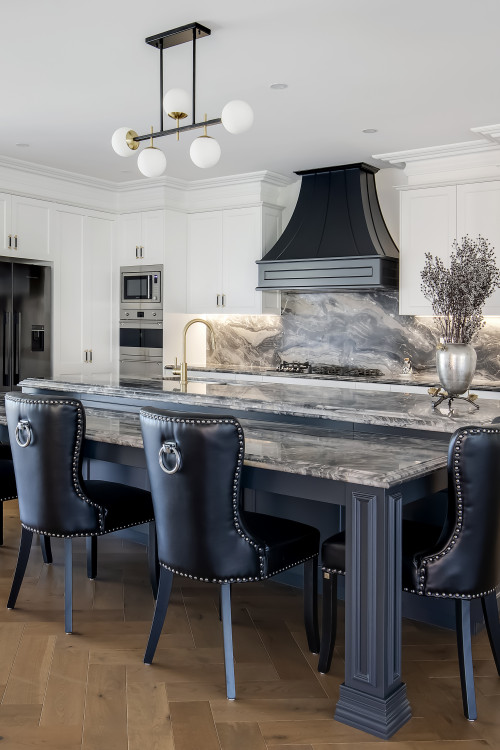 ID# 170524 | Houzz.com – Credit | © The Renovation Broker
---
White Shaker Cabinets with Blue-Gray Granite Backsplash and Countertops
If you would like to get the feeling of a starry night during the day in a kitchen defined by white shaker cabinets, this kitchen surely will inspire you! The stunning blue-gray granite backsplash offers a visually dynamic background to spotlight the stove zone in complete synchrony with the granite countertops. To support the monochrome vibes the integration of a dark gray kitchen island and black range hood makes a statement.
Backsplash for Granite Countertops and White Cabinets
Having white cabinets simplifies the rest and expands your design options, which leaves the stage for the backsplash and countertops. If you want your granite countertops to be the statement piece, go with a humble backsplash such as white ceramic subway tiles, zellige square tiles, and glass tiles. If you have a busy pattern granite, this combination will easily make the countertops the centerpiece. But if you prefer backsplash and countertops to make a bold couple, then you can match them or choose statement backsplashes such as brick, limestone, and travertine to pair with granite worktops.
ID# 170525 | Houzz.com – Credit
---
Transitional Kitchen with Granite Countertops and Black Stools
The busy pattern granite countertops warm up the otherwise too-white look in this transitional kitchen. In the background, as the main defining features of the space, white modern cabinets keep the look fresh, enhancing the spaciousness. Overhead, the white subway tile backsplash with gray grout captures a beautiful rhythm. The matte black pendant lights and counter stools complement the speckles of the granite countertop and jazz up the design in a complementary way.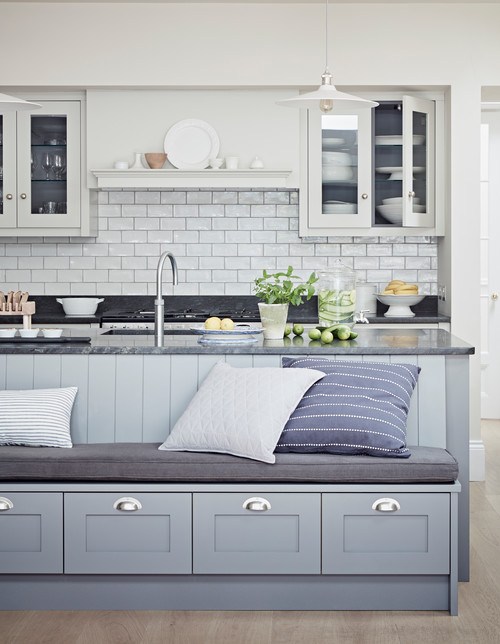 ID# 170526 | Houzz.com – Credit | © John Lewis of Hungerford
---
White Subway Tile Backsplash for Granite Countertops and White Cabinets
If you are a coffee lover, there is nothing better than having a laid-back breakfast bar where you can place comfy cushions and enjoy this rest. Characterized by a monochrome color palette, this kitchen has a solid and classic look. The toned black granite countertops topping the white cabinets with glass-fronted doors complement this casual ambiance. The granite countertop continues through the wall to create a continuous look while the white subway tile backsplash perfectly complements the traditional flair with a nice textural look!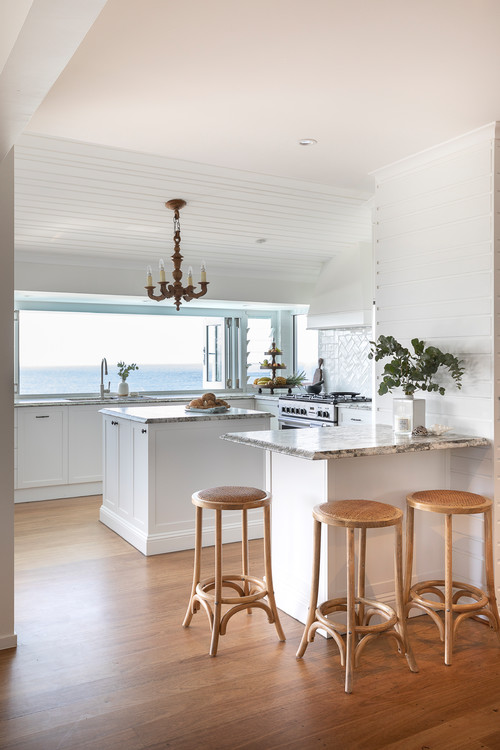 ID# 170527 | Houzz.com – Credit | © Popham Interiors
---
White Ceramic Tile Backsplash for Granite Countertops and White Cabinets
What about cooking while enjoying a stunning ocean view from your picture-framed window? However, this stunning kitchen offers more than that! Populated by white cabinets, it leaves the stage with statement granite countertops and the white ceramic tile backsplash that adds character to the space. The eye-catching patterns of the granite stone bring sophistication while stainless steel appliances achieve a professional look. Toward the center, the small kitchen island cantilevers out to create an additional counter space. Against the wall, the small peninsula provides a laid-back dining space paired with wooden counter stools that seem like an unexpected touch, delivering warmth.
How long do granite counters last?
As long as granite countertops are properly treated, cared for and annually sealed, their lifespan could be as long as 100 years. As a natural stone, it has porous skin. When sealed, it prevents liquids from going through the stone and causing stains, giving granite a much longer life. This impressive longevity is almost as compatible as the terrazzo tiles' durability. Just like terrazzo, granite has also made a name for itself for its extreme durability that will even make it outlive your house.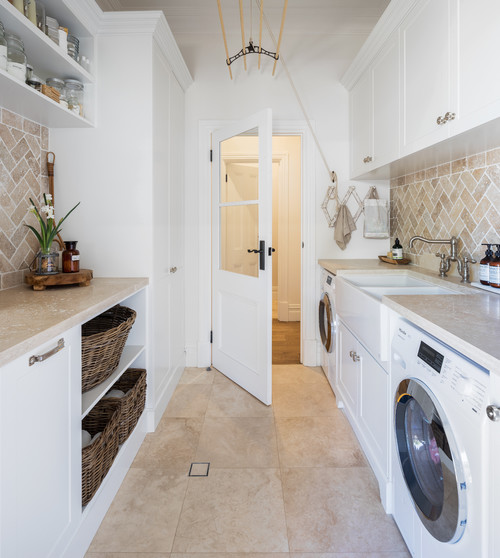 ID# 170528 | Houzz.com – Credit | © Renovation Capital
---
Rustic Laundry Room Design with Slate Backsplash and White Cabinets
Granite countertops are very popular in laundry rooms! The beige granite counters in this laundry room design for example, are matched with slate backsplash tiles to offer a rustic touch against the white backdrop formed by the shaker cabinets. The same beige tone is utilized for the floor tiles to give a consistent effect and the chrome hardware offers a cohesive finishing touch that complements the classic approach.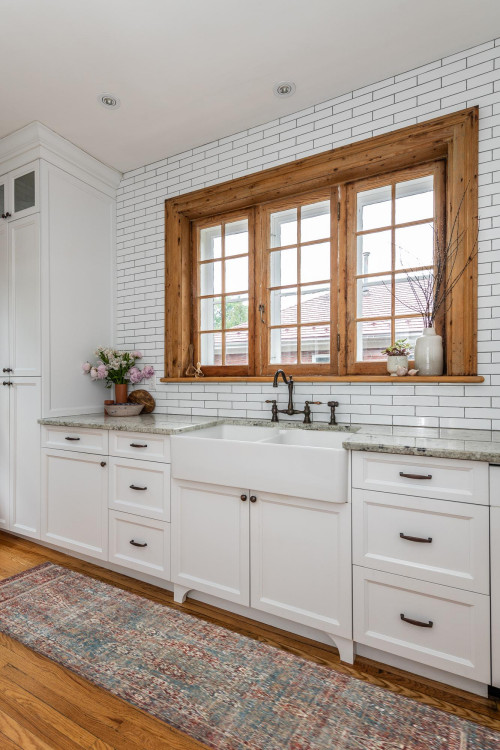 ID# 170529 | Houzz.com – Credit | © Neilson Design Studio
---
Transitional White Kitchen Design with Wood Framed Window
It may be possible to see how the wooden hood and floor blend together in some kitchens! Wooden window frames and hardwood floors bring harmony to this kitchen. The white kitchen cabinets are complemented with gray granite worktops which also add to the room's open and spacious appearance. This kitchen's backsplash which is made of white subway tiles in a farmhouse style, works well. The rustic window grabs attention and adds a touch of nature.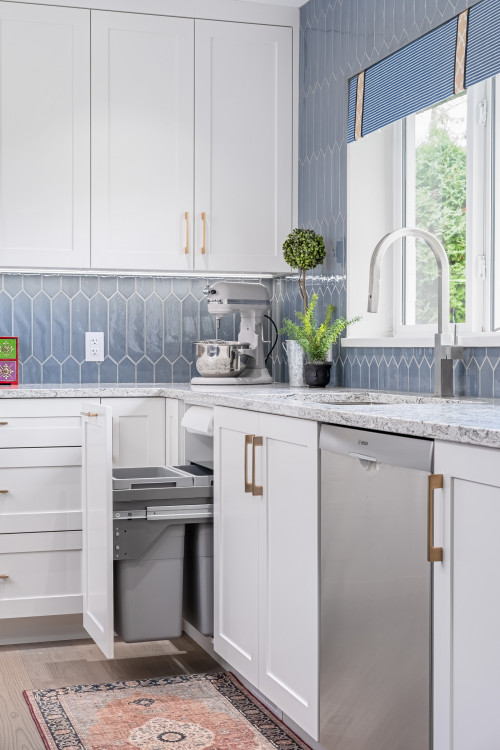 ID# 170530 | Houzz.com – Credit | © Hasler Homes Ltd
---
Blue Elongated Hexagon Tile Backsplash for Granite Countertops and Brass hardware
The elongated hexagonal backsplash tiles and the white granite countertop color contrast are excellent! Enriched by white shaker cabinets, this traditional kitchen design has a sophisticated appearance. The blue kitchen curtain complements the backsplash tiles while the light-colored counters blend in with the busy granite's naturalness to create an air of simplicity and organization.