32 White Kitchen with Stone Backsplash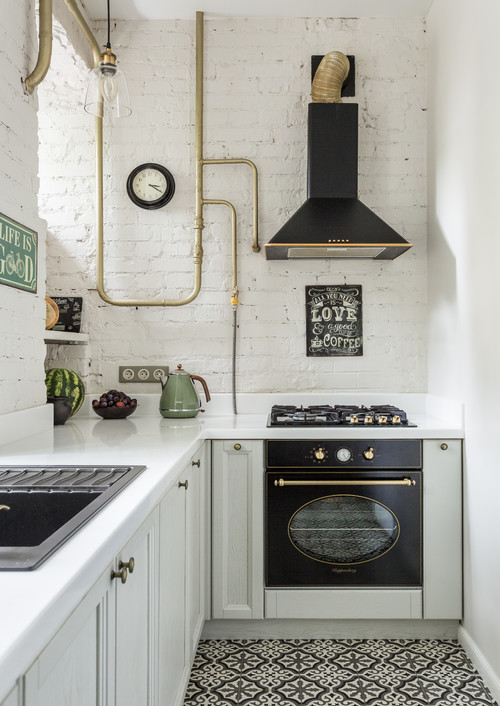 ID# 168514 | Houzz.com – Credit
---
White Industrial Kitchen with Black and Brass Accents
If you love the natural charm of the brick but the original red color is too much for you, then consider painting brick tiles. This way, you can soften the sharp and strong appeal of the red brick while still taking advantage of the rough texture!! As you can see in this kitchen, the white-painted brick exposed wall creates a clean backdrop and at the same time adds a rustic sense. The bright and fresh look of the white cabinets and countertop complements the brick wall perfectly. The stylish brass and black accents keep up with the elegant appeal of the white kitchen cabinets while adding a luxurious sense.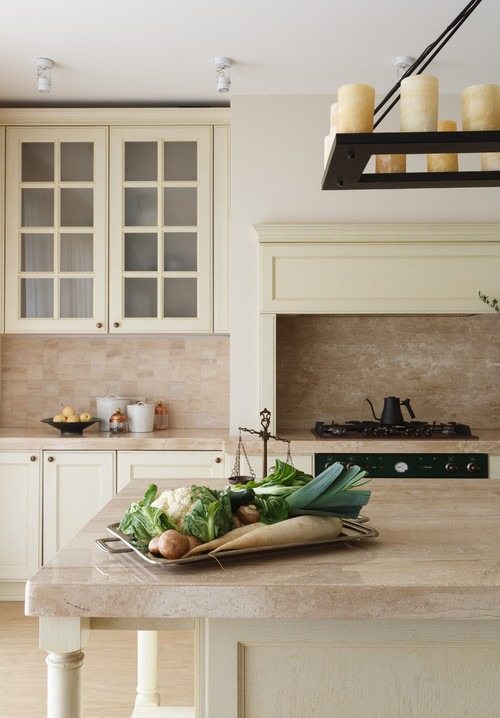 ID# 168520 | Houzz.com – Credit | © Daria Lukovnikova Interiors
---
Off-White Kitchen Cabinets with Beige Travertine Backsplash
Accentuated by the luxurious travertine backsplash and countertops, the off-white kitchen cabinets offer a warm and welcoming atmosphere for this traditional kitchen! If you want to increase the visual appeal of your kitchen, employing backsplash tiles in different layouts is a terrific method to do it! In this beige kitchen, for example, the square travertine tiles create a nice textural look between the cabinets. On the other hand, the travertine slab backsplash behind the stove creates a cohesive look with the hood trim and provides a seamless look.
White Kitchen with Stone Backsplash
The less-than-favorable terms that may come to mind when you think of white kitchens are dull, blasé, blank, and uninteresting. White kitchens don't get the chance to realize their full potential, though. They are undiscovered stylistic masterworks that serve as excellent blank slates for creating a place suitable for all of your cooking, entertaining, and late-night munching requirements. To enhance the casual look, a white kitchen with stone backsplash designs is one of the perfect ways.
Timeless Appeal of the White and Stone
Stone backsplashes are elegant and timeless, and add a lot of character to any kitchen. You may choose between two types of stone backsplashes: sleek, modern stone backsplashes made of granite or marble, or rough, textured piled stones for a rustic, organic feel. There will also be no shortage of concepts to implement, with designs ranging from strictly geometric to freeform fluidity. The long-term effects of a white kitchen with stone backsplash ideas should not be disregarded since stone-no pun intended stands out amid the other materials.
Is stone backsplash good for kitchen?
All the materials have advantages and disadvantages, of course! Nothing is flawless. However, kitchens benefit from a stone backsplash. You can use the stone backsplash for a very long time if it is sealed properly and kept clean regularly, regardless of the style or form you choose.
Stone Backsplash Materials for White Kitchens
Stone backsplashes are popular among homeowners and interior designers for a number of reasons. A stone backsplash's dramatic and magnificent look is by far its most visible and alluring characteristic. If you utilize a stone backsplash, the finished product will give your kitchen a magnificent look. You may choose a stone backsplash material for a white kitchen depending on your tastes and the style of your kitchen from a selection of material options. You may add a rustic charm with a brick backsplash or a glam touch with a marble backsplash.
These backsplashes will be a wonderful addition to your kitchen no matter what you choose! A stone backsplash is a perfect material for a backsplash due to its high durability as well as its aesthetic appeal. And by using the right technique, you can preserve their extraordinary beauty for years to come! So, if you want to give your white kitchen a touch of organic beauty, consider stone backsplash materials for white kitchens.
White Kitchen with Marble Backsplash
The metamorphic rock known as marble has undergone extensive pressure alteration and it starts as limestone that crystallizes under pressure to become this stone! Additionally, limestone reacts with mineral impurities in the soil nearby to produce gorgeous and varied shades of marble. One of the colors you may use for a beautiful and opulent kitchen is a white kitchen with marble backsplash designs! The most enticing aspect of a marble backsplash is unquestionably its rich appearance and feel of it.
What backsplash looks good in white kitchen?
Since white color is a timeless and the most versatile color, you can enhance your white kitchen look nearly with every backsplash. From stone slabs to glass tiles, a white kitchen can be complemented by any of them. However, if we may give any suggestions, to create a contrast a black backsplash is a perfect fit, softer contrast can be created by a gray backsplash. To increase the movement and texture tile backsplashes are perfect.
Is it hard to clean stone backsplash?
Although appealing, stone backsplashes are riskier. Many of them can be penetrated. They break apart! Honed natural stones like marble, slate, or limestone may become stained by grease. Keeping a clean cooking and dining space requires routinely cleaning your kitchen backsplash, no matter the design.
White Kitchen with Brick Backsplash
A backsplash is a crucial component of your entire design; it needs to be durable, simple to clean well-harmonized, and appealing. A white kitchen with brick backsplash designs exhibits each of these qualities by drawing attention to a particular location, emphasizing the design, and even adding color, pattern or texture! Brick is a practical choice that will maximize the potential of your kitchen and understated accessories in a rustic industrial design are now quite trendy. It is one of the most often used materials for kitchen backsplashes because it is durable and can be used inside or outdoors. Brick may be used in your kitchen design in a variety of ways, from exposed brick walls to brick-look tiles!
Is stone tile outdated?
Natural stone-inspired tiles are still quite popular. The appearance of marble and other precious stones is replicated in several of these extra-large ceramic tile slabs. These indicate that we cannot declare stone tile backsplashes to be out of date.
White Kitchen with Soapstone Backsplash
Backsplashes made of soapstone are crafted from talc-rich metamorphic rock that has been mined. The amount of talc in the soapstone determines its hardness and, in turn, whether or not it is appropriate for use in architecture. Typically, soapstone with a talc concentration of 30% or less is used for countertops, tiles and backsplashes. Because of its impermeable characteristics, soapstone is a common material for backsplashes. A soapstone backsplash can withstand damage from acids and alkalis. Because of this, it is exceedingly improbable that you could etch or scar a soapstone backsplash. If you have a white concept for your kitchens, according to these advantages, a white kitchen with soapstone backsplash designs can be the ideal way for your dreamy kitchen design!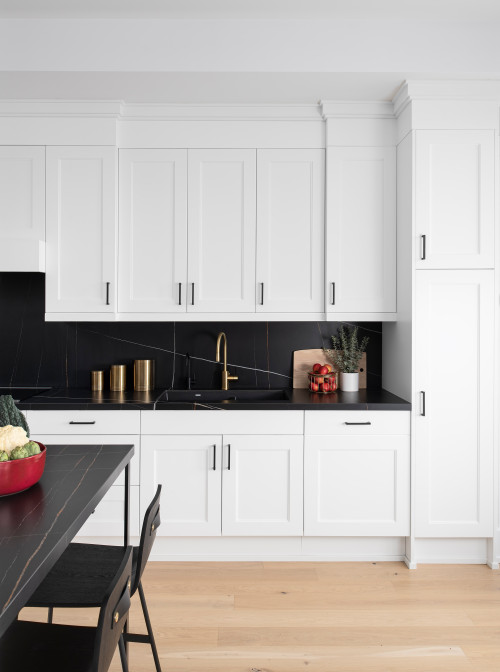 ID# 168518 | Houzz.com – Credit | © Lesley Brookes Design
---
Scandinavian Kitchen with Black and White Color Scheme
The matte surface of the black soapstone backsplash and the countertops create a stylish contrast with the white kitchen cabinets! This contrast is softened by the wood floor which provides a natural appeal. The modern and sleek look of the matte black cabinet hardware perfectly complements the elegance of the backsplash and the countertops that draw the eye with their sleek design and deep black shade.
White Kitchen with Slate Stone Backsplash
The slate stone's bright hues, silky gloss and smooth rippling patterns combine to produce a unique elevated look. Visitors are encouraged to have a seat in the kitchens and enjoy the richness that slate adds to white kitchens naturally. A type of metamorphosed rock that formed on the seafloor is called slate. A substance strong enough for the majority of backsplash uses is produced naturally when masses of water and minerals from the ocean floor smash the rock. You can't really abuse this backsplash material much further than it has already been. Let's look at some design ideas for a white kitchen with slate stone backsplashes as you could desire to employ this ideal material in one!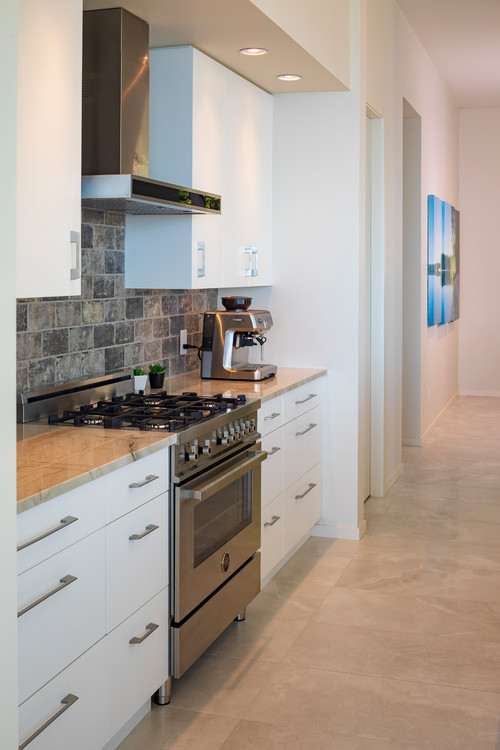 ID# 168519 | Houzz.com – Credit | © Homes By Design Innovations Inc.
---
White Kitchen with Slate Stone Backsplash and Stainless Steel Appliances
The countertops and the slate stone backsplash complement each other creating a sleek and warm appeal. This appeal is boosted by the plain white kitchen cabinets. These white kitchen cabinets stand as a canvas for the backsplash and countertop design to make them stand out! The stainless steel appliances and the brushed nickel hardware complete the modern design of the cabinetry.
White Kitchen with Travertine Backsplash
When it comes to house renovation, a few small adjustments may assist give the entire structure a new lease on life, providing it with much-needed rejuvenation and value. It is surprising how changing the backsplash tiles can help give a white kitchen area a new look, but this depends on the tools and techniques utilized, of course. One of those materials is travertine. A white kitchen with a travertine backsplash may enhance your kitchen's stark white look with a stylish warm atmosphere.
As a kind of limestone, travertine is porous and somewhat soft, making it a good choice for a backsplash in white kitchens. This is not an issue, but to prevent mold and mildew, it will need to be sealed with a coat or two of sealer. The hues cream, red, gray, white, and brown are among the many options for travertine tiles. Consider arranging the tiles in a mosaic style if you're looking for a modern look in your white kitchens. Rustic kitchens benefit from travertine tiles in the brick style, while Tuscan-style kitchens might benefit from a combination of square and diamond-shaped travertine tiles. For this kitchen's design, pick these tiles in cream or beige. Let's scroll down and see some of the gorgeous design options for a white kitchen with travertine backsplash designs.
Natural Stone Mosaic Tiles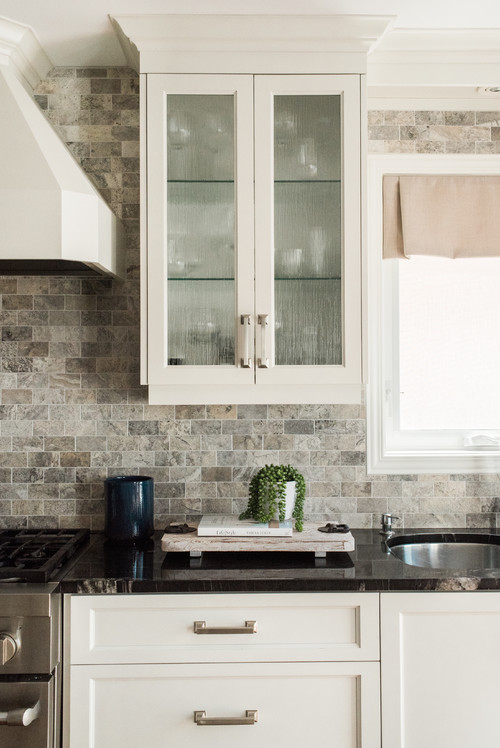 ID# 168521 | Houzz.com – Credit | © Candic Brown Designs
---
White Cabinets with Black Countertops and Metallic Hardware
The white shaker cabinets and the naïve minimalistic brushed nickel handles combine with each other creating a luxurious and elegant touch! The frosted glass-fronted upper cabinets bring an open and airy feel to the space while the black granite countertop creates a striking contrast with the cabinetry to enhance the sophisticated appeal. Last but not least, the gray shades of the travertine subway tile backsplash soften this sharp contrast and add a rustic charm to the overall design.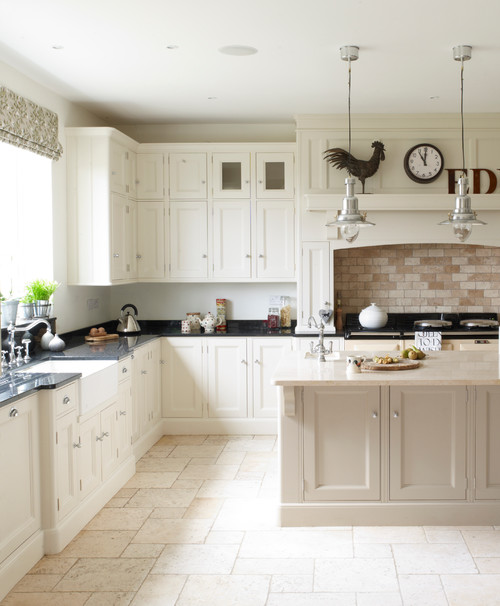 ID# 168522 | Houzz.com – Credit | © Rencraft Ltd
---
Traditional Kitchen with Beige Color Palette
This hand-painted, traditional kitchen perfectly combines luxury with practical family life. Classic Aga elements, a gracefully paneled chimney, an intricate mantle, and the iconic farmhouse sink coexist harmoniously with a contemporary color palette. The black granite countertop directly draws attention between the beige hues and enhances the luxurious sense. On the other hand, the travertine backsplash creates a focal point behind the stove and complements the warm and inviting feel of the off-white shaker cabinets.
White Kitchen with Rustic Stone Backsplash
Do you want to remodel your white kitchen yet want a distinctive, appealing design? Consider a white kitchen with rustic stone backsplash ideas to have an eye-catchy design look. The backsplash's stark, unadorned appearance gives your white kitchen a hint of cozy industrial design, effectively making it the focal point of your house. A rustic stone backsplash represents the rough nature that is the signature of the rustic design style. The untouched textures and natural elements will fill your white kitchens with an ultimate casualty.
However, if you are a dirty chef, be aware that this material takes a little more upkeep than the typical backsplash materials. Depending on the kind of stone placed, dust and splashes might gather in the crevices and cracks of the stone, necessitating frequent resealing. But nothing that a well-planned cleaning regimen can't take care of! If you ask us, it's a tiny price to pay for such a lovely texture! Let's see some of the stylish views of a white kitchen with rustic stone backsplash designs!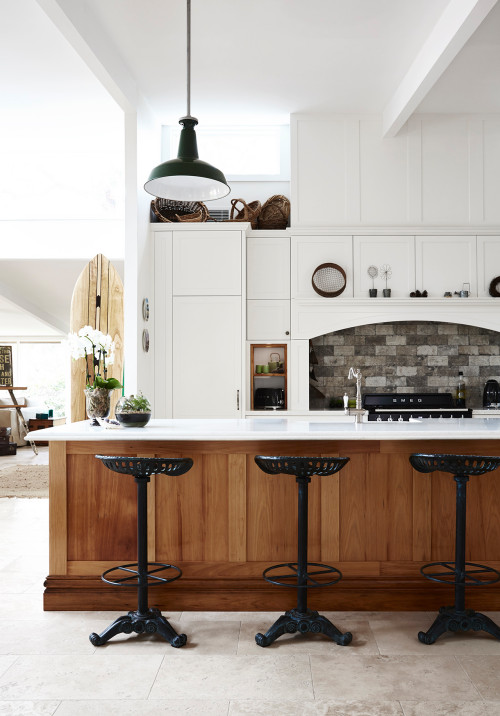 ID# 168523 | Houzz.com – Credit | © Collaroy Kitchen Centre
---
White Kitchen with Rustic Stone Backsplash Designs
The stone texture of the subway tile backsplash surrounds the kitchen with a natural touch! Framed by white shaker cabinets, this eye-catching backsplash brings a rustic charm to this country kitchen. The white quartz countertops complete the bright and fresh look of the cabinetry while the wood kitchen island complements the naturality of the backsplash.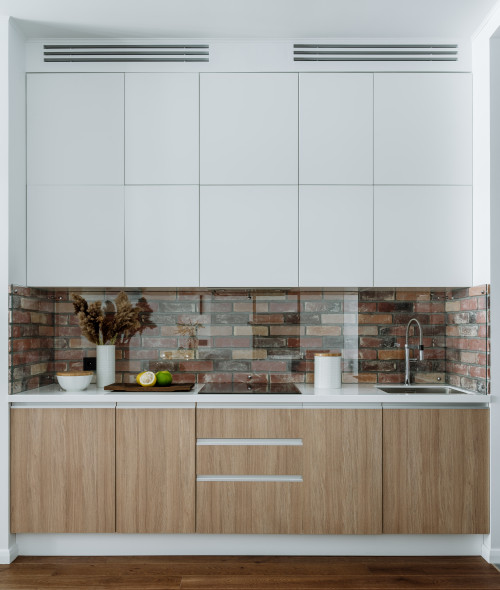 ID# 168524 | Houzz.com – Credit | © Studio DA
---
White and Wood Cabinets with Red Brick Backsplash and Clear Glass Sheet
This contemporary kitchen ensures a warm and welcoming ambiance with a wow factor by creating a distinguished cooking zone with a brick backsplash! Yes, the natural beauty of the brick is undeniably stunning, but maintaining it can be a difficult effort due to its porous nature. As a result, covering the brick tiles with a clear glass sheet backsplash is an excellent approach to boost the durability of your cooking area.
Stone Backsplash Types for White Kitchens
White kitchens can be complemented by the ageless material of stone. Since ancient times, walls and floors have been covered in stone. Today, it is still extensively utilized in those locations as well as for backsplashes in white kitchens. With a timeless hue like white, you may enhance this timeless material! There are several sizes, dimensions, and designs of stone backsplash types for white kitchens.
For a variety of reasons, stone backsplashes are popular among homeowners and interior designers. The magnificent and alluring look of a stone backsplash is its most captivating characteristic. Depending on your tastes and the layout of your kitchen, you may choose from a range of stone backsplash types for white kitchens, including stone tiles and stone slabs. Whatever you decide, the stone backsplash will be a reliable addition to your white kitchen.
White Kitchen with Stone Slab Backsplash
Kitchen countertops made of natural white stone are lavish and dramatic. They are elegant, durable, and classy. What makes us remain there then? A daring trend among designers and homeowners is to extend your stone slab up the wall to build a backsplash that perfectly matches a white kitchen. A single piece of natural stone that runs the length of the wall is turned into a stone slab backsplash. The backsplash made of a solid surface looks quite different from a backsplash made of normal tiles. A white kitchen with stone slab backsplash ideas provides a dramatic, cohesive appearance.
Thanks to modern computer-aided manufacturing, natural stone can now be produced in thin, light slabs that are perfect for use as wall coverings instead of more conventional options like subway or mosaic tile. The impression of a continuous plane between the countertop and the backsplash gives a white kitchen a very minimalist sense. The backsplash takes the main role in designs that are modern or contemporary. A white kitchen with stone slab backsplash designs can achieve the perfect balance between a modern form and a timeless, traditional material.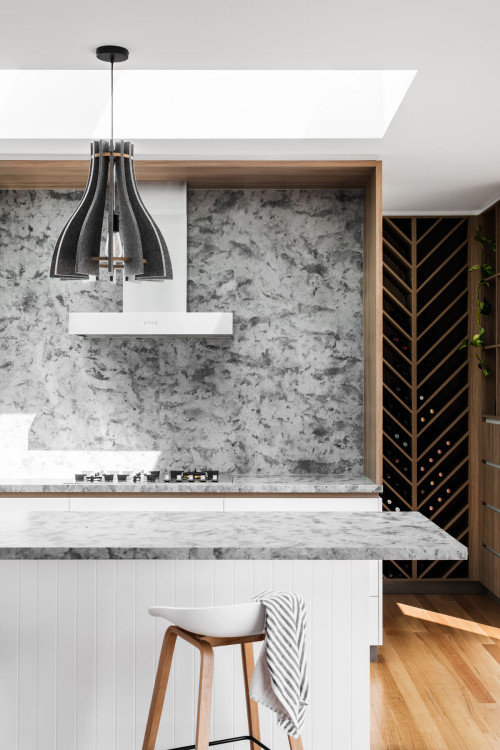 ID# 168525 | Houzz.com – Credit | © Lydia Maskiell Interiors
---
Modern White Kitchen with Stone Backsplash and Countertops
When combined with wooden accents, the minimalist approach of white cabinets produces a simple and modern ambiance! These elements may be seen on the surface of the stool legs and as a framing for the granite backsplash. The excellent granite material utilized as a backsplash and counters completes the minimalism. Their harmony improves as stainless steel materials become more modern. The granite material as well as the wooden elements, give off a natural vibe. The kitchen appears to be well-designed and well-lit!
Does stone backsplash need to be sealed?
The backsplash in the kitchen would benefit greatly from the installation of natural stones. These stones may shield your walls from spills of water or grease and feature a range of natural colors. However, as the stone backsplashes are organic and porous, sealing is necessary to help stop fading over time.
Simply said, surfaces made of real stone require frequent sealing. This is so that it may absorb microorganisms, food particles, and liquids that are used throughout our houses because the stone is a naturally porous material.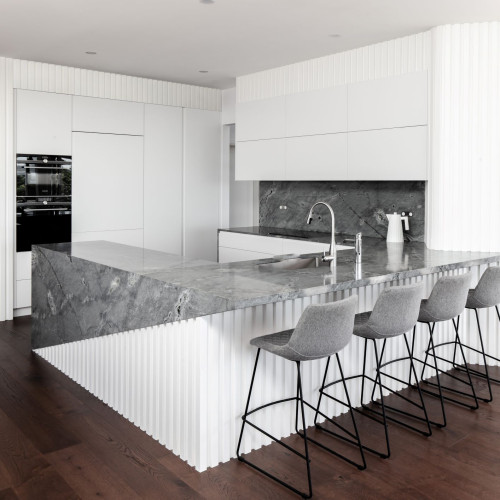 ID# 168526 | Houzz.com – Credit | © Avant Stone
---
Modern Kitchen with Gray and White Color Scheme
The vertical lines of the wall and the lower sections of the cabinets are a beautiful distinguishing element of this simple and plain minimalistic modern white kitchen. The diagonal-cut waterfall-like grey granite looks flawlessly modern! The dark brown wooden floors complement the black appliances and the grey granite backsplash and countertops complement the white tone of the simple cabinets.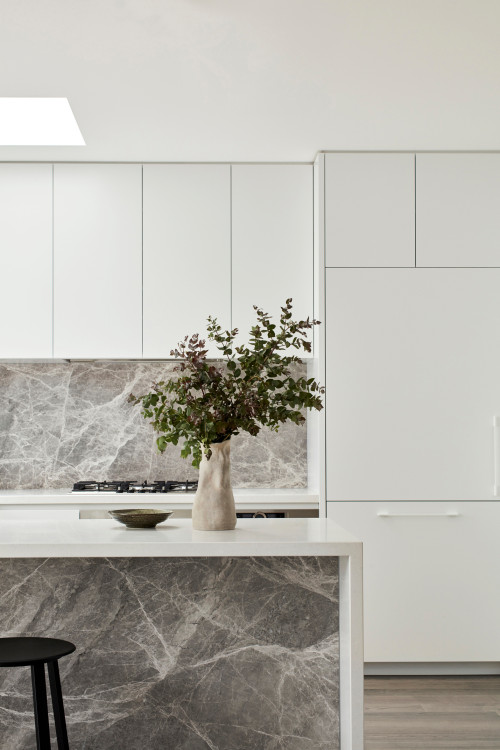 ID# 168527 | Houzz.com – Credit | © MMAD Architecture
---
White Kitchen with Stone Slab Backsplash with a Modern Look
Elegance and functionality converge seamlessly in this contemporary culinary space! The juxtaposition of plain white cabinets and countertops creates an understated canvas against which the gray stone slab backsplash and island front boldly emerge. The cabinetry's handle-free design further accentuates the kitchen's ultra-modern aesthetics.
How do you maintain stone tiles?
Like your granite countertops, your stone backsplashes should be frequently sealed, especially if they are made of tiles that are spaced apart by grout lines! A tough sealant will shield your stone backsplash from liquids, food and grease. They will also be a lot simpler to clean as a result of this.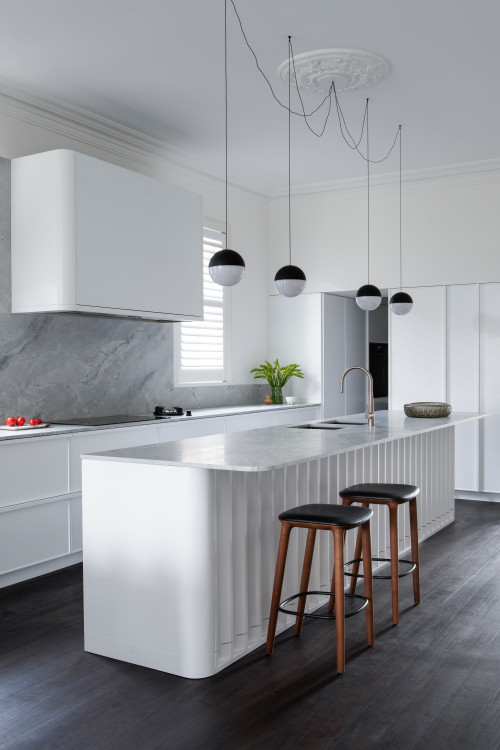 ID# 168528 | Houzz.com – Credit | © Minosa | Design Life Better
---
Luxurious Interior with Marble Surfaces
Enriched by the undeniable charm of the marble, this contemporary kitchen exudes a modern luxurious look. The giant marble slab as a backsplash directly draws the attention between the whites and creates a striking focal point. Using the same marble stone for countertops creates a continuous look while the minimalist design of the cabinets and the range hood provide a sleek foundation for the space. The other statement maker feature of this kitchen is the large white island that enhances visual interest with its paneled front. The naïve lighting fixture design perfectly complements the modern aesthetic and the wooden counter stools finalize the design, adding warmth to the atmosphere.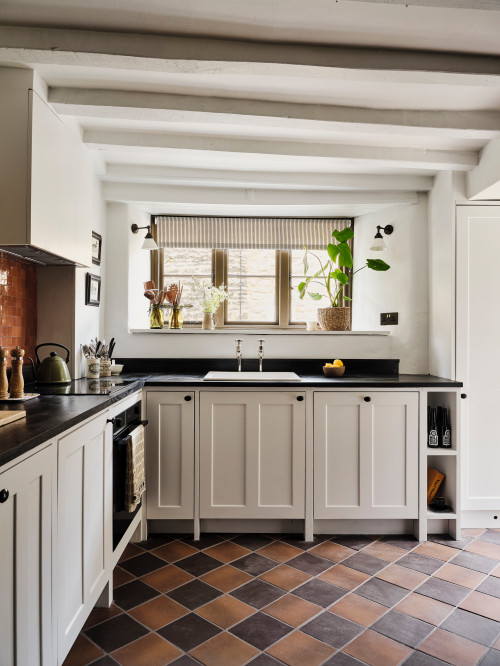 ID# 168529 | Houzz.com – Credit | © Imperfect Interiors
---
White Kitchen with Stone Slab Backsplash Designs and Countertops
The shaker cabinets and the shaker-paneled appliances keep up the unified appeal of the white kitchen. The black stone slab 4-inch backsplash and the countertops contrast the white shaker cabinets with a sleek and modern appeal. The red and black checkered floor tiles enhance the traditional aesthetic of this farmhouse kitchen!
White Kitchen with Stone Tile Backsplash
Thin, square, or rectangular coverings called tiles are often composed of strong materials like ceramic, stone, metal, baked clay or even glass! They frequently cover a variety of surfaces, including floors, walls, borders and backsplash walls. Deciding all of these alternatives when designing a kitchen might be difficult. Regardless of the type of surface, you select for your white kitchen, a white kitchen with stone tile backsplash ideas adds a lot of beauty and character to the room!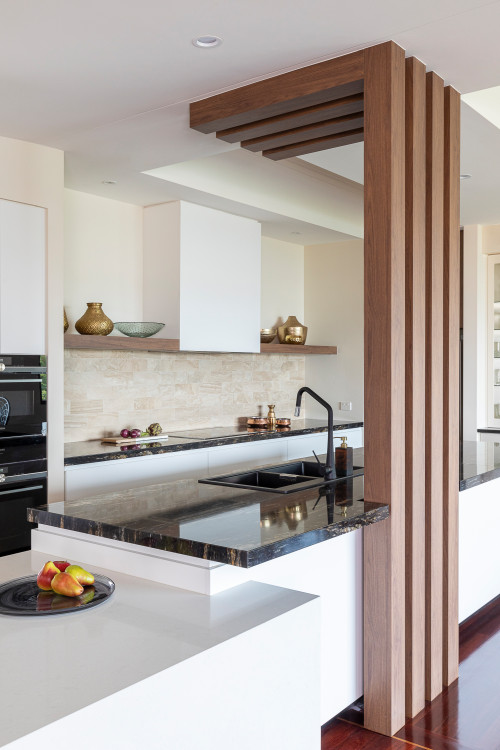 ID# 168530 | Houzz.com – Credit | © Popham Interiors
---
White Flat-Panel Cabinets with Black Granite Countertops
Using complementing contrasting tones of backsplash and countertops serves kitchens just as well as matching countertops and backsplashes. A beige natural stone backsplash and black granite countertops, for example, complement each other nicely in this contemporary kitchen. To provide a feeling of diversity in the kitchen, the honed travertine backsplash tiles create a delicate contrast with the glossy counters. The timber floating shelves are also employed to create a feature wall that highlights the kitchen island to achieve integrity while brass decorative accents transmit a feeling of grandeur.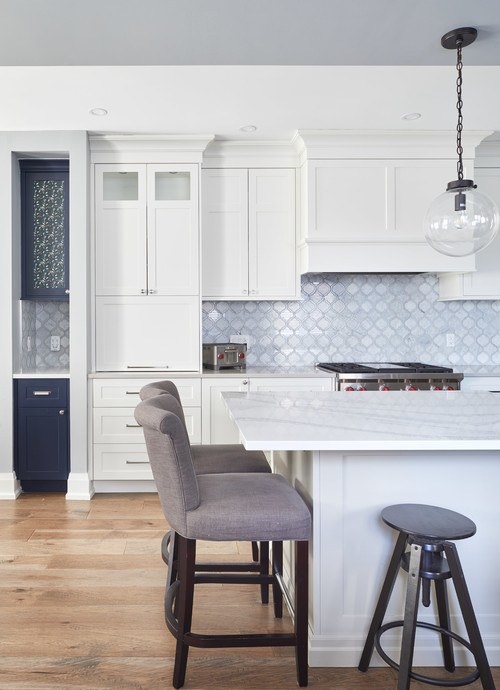 ID# 168531 | Houzz.com – Credit | © Gatti Brothers Ltd.
---
Transitional Kitchen with Gray Backsplash and Wood Flooring
The stunning gray marble backsplash wow with the eye-catching arabesque pattern. The white shaker cabinets perfectly complete the elegant appeal of the arabesque backsplash while the quartz countertops complement the tiles with their marble-look texture.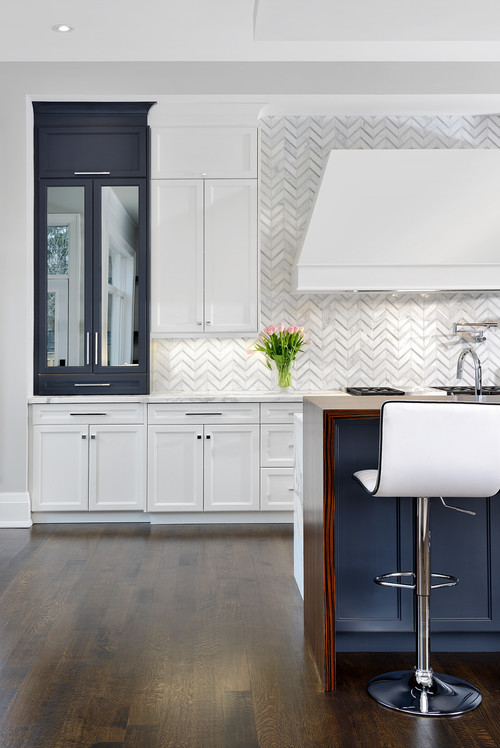 ID# 168532 | Houzz.com – Credit | © Evelyn Eshun Design Inc.
---
Black and White Kitchen Cabinets with Chevron Tiles
If you want to create a striking focal point with your backsplash, consider chevron tiles! Captivated with an eye-catching zig-zag pattern, these tiles offer a stylish look for your kitchen, especially when meet with the luxurious marble texture!! In this transitional kitchen, for example, the marble chevron backsplash stands out between the classic white shaker cabinets to enhance the overall look.