20+ Rustic Bathroom Tile Ideas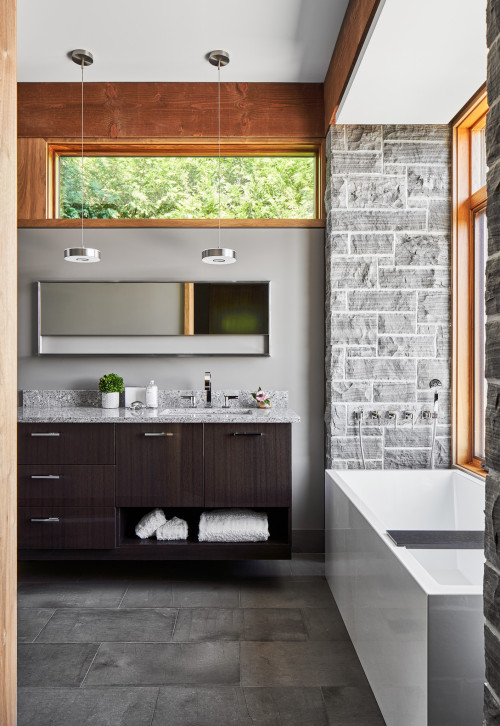 ID# 163502 | Houzz.com – Credit | © Astro Design Centre
---
Dark Wood Floating Vanity with Concrete Look Floor Tiles
Enriched by a striking dark wood vanity, this bathroom design exudes a rustic charm, complemented by a marble top that immediately grabs your attention upon entering the room. Along with the gray stone wall tiles and concrete-look floor tiles, the vanity creates a dramatic ambiance! Breaking up the dark shades is a white and freestanding bathtub, adding freshness to the bathroom. To complete the modern vibes, metallic pendant lights hang above the vanity, offering an extra dose of sparkle that's too good to resist.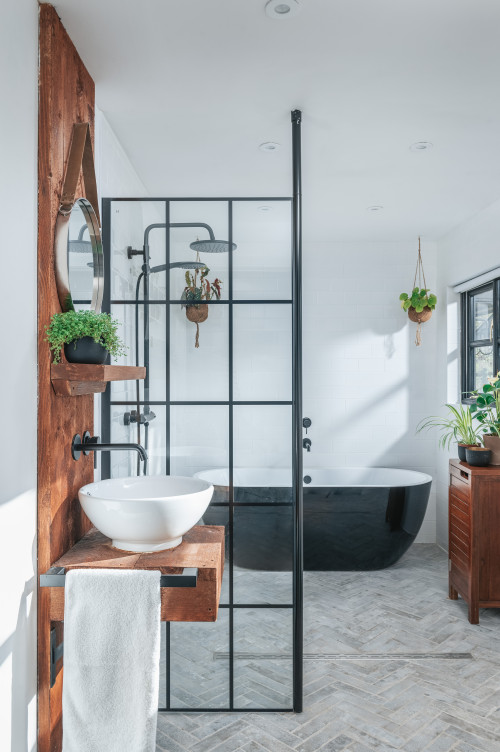 ID# 163513 | Houzz.com – Credit | © Unique Homestays
---
Wood Floating Vanity with Wooden Wall Panel and White Vessel Sink
This country-style bathroom features a floating wooden vanity with a white vessel sink, giving the warm feel with the wooden wall panel serving as its background. The central position of the black freestanding tub makes it a remarkable focal point while the light gray herringbone floor tiles provide a beautiful textured appearance to complement the rustic style. Adding to the contemporary feel are the matte black fixtures that highlight the design!
Rustic Bathroom Tile Ideas
Rustic style implies being near to nature; it appears that you will be outside when you exit a rustic room. Natural elements such as stone and wood, as well as quiet furniture, are the key highlights. In a pleasant environment where you can have a bath with heaps of foam and feel closer to nature, rustic bathroom tile ideas are something that readily generates a peaceful ambiance. Natural wood-look tiles and stone flooring are the most popular choices, and rough wood furniture is practical. After laying the groundwork, the designers pick which style to use and add some lovely finishing touches.
Natural Cozy and Intimate Bathroom Design with Tiles
Consider your most recent visit to the countryside if you don't instantly think "rustic" when it comes to your toilet. Imagine yourself relaxing in a deep soaking tub in your log home after a long trip in the mountains. That's the kind of feeling a rustic bathroom designer wants to project every day, so we picked together some of the greatest rustic bathroom tile ideas to help you plan your next renovation.
Today's most popular rustic bathrooms, which depend primarily on wood and textured elements, soft metal finishes, and organic, earthy hues that aren't typically emphasized in modern houses, are casual and uncomplicated by design. Consider our rustic bathroom tile ideas as your yellow brick road to your nature-inspired bathroom hideaway if you're trying to add a rustic touch to your next bathroom makeover.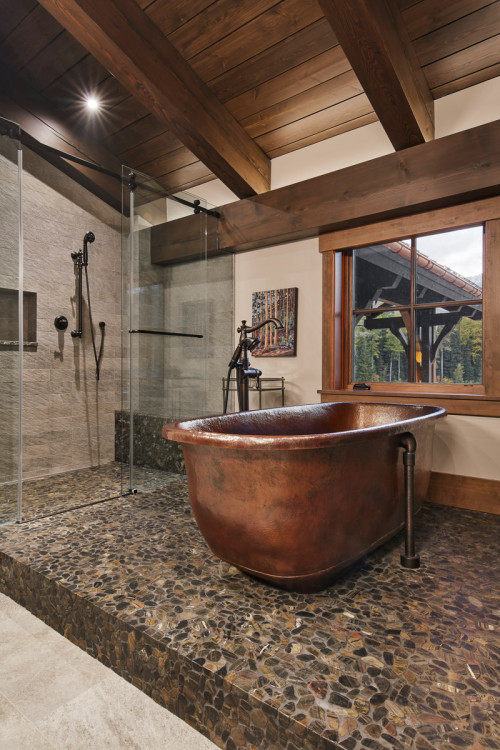 ID# 163501 | Houzz.com – Credit | © Studio Ridge Residential
---
Rustic Bathroom Design with Copper Freestanding Bathtub
Empowered with a natural color palette and beautiful material choices, this rustic bathroom offers a warm and welcoming space with elegance! The copper freestanding bathtub takes the stage and creates a one-of-a-kind appeal. The pebble-tiled floors perfectly complete the rustic and vintage charm of the tub, adding an organic warmth. The oil-rubbed bronze fixtures create a harmonious look with the copper material.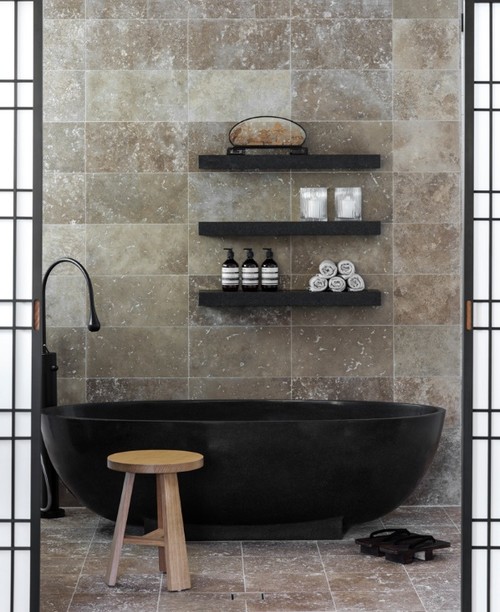 ID# 163503 | Houzz.com – Credit
---
Stone Look Rustic Bathroom Tile Ideas with Black Tub
Luxurious but refined, this stunning black bathroom vanity is a beautiful and sensuous statement that can easily elevate any bathroom. Its elegant and slim lines allow the bathroom to be enhanced with beauty irrespective of size. The stone-look floor and wall tiles create a harmonious look with the tub, adding a nice textural look. The black floating shelves provide storage space for bathroom essentials while adding visual interest.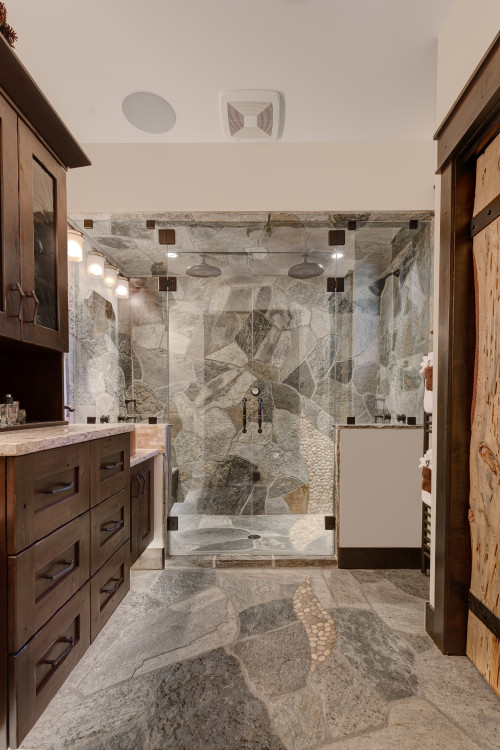 ID# 163504 | Houzz.com – Credit | © Cobalt Design
---
Wood Vanity with Granite Countertop with Bronze Hardware
Step into this charming rustic bathroom where stone tiles steal the show and give rise to an exclusive charm. What sets apart this bathroom are the unconventional shapes of the stone tiles arranged to form a splendid mural that catches the eye instantly. The natural appeal of the dark wood finish of the vanity and upper cabinets complement the rustic character of the stone tiles seamlessly while the beige granite countertops and oil-rubbed bronze hardware add the perfect finishing touches to this stunning bathroom.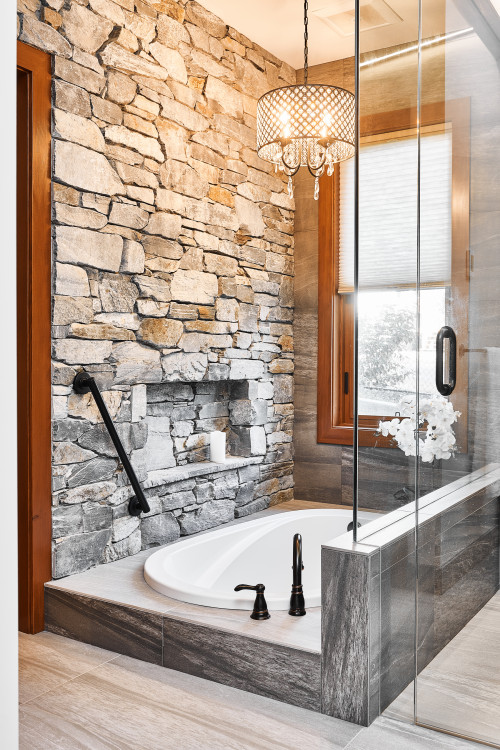 ID# 163505 | Houzz.com – Credit | © Horizon Pacific Contracting
---
Luxurious Ensuite Bathroom with Sunken Bathtub
This luxurious ensuite bathroom offers a relaxing atmosphere after a long day! The ledge stone surrounds the sunken bathtub and creates a rustic appeal while the eye-catching chandelier makes a warm glow above the tub, adding glamour. The bronze fixtures perfectly complete the rustic look of the tiles while the glass doors bring an open and airy feel to the room.
Rustic Bathroom Tile Ideas By Area
Decorating your house in a rustic style is a wonderful way to demonstrate your passion for natural materials, old furnishings and architectural features with personality! Since the tiles surround the bathroom environment, they have an important role in expressing the rustic bathroom design style. You may want to use rustic tiles only on the floor, walls, or showers! For this, it is possible to go with rustic bathroom tile ideas by area.
Rustic Bathroom Wall Tile Ideas
The general look of a space is greatly influenced by the wallcovering. The materials and colors you choose might help you achieve the look you want for your house. The same may be said about rustic design. If you want to create a rustic bathroom wall décor, you may search for rustic bathroom wall tile ideas and materials that have a natural feel to them.
You may use stone wall tiles, for example, to assist create a cozy and warm bathroom environment. If you like this design but don't want it to seem too "heavy," you may use stone paving on one wall and brighter rustic bathroom wall tile idea alternative materials and colors on the other walls. For you, wood will be a terrific choice. There are a variety of patterns and colors to choose from. You can choose a dark or bright color that complements your style. The art of warm natural textures and surrounds is highlighted in this rustic style. Rustic bathroom wall tile ideas bring you closer to nature and make your bathroom appear larger and more beautiful.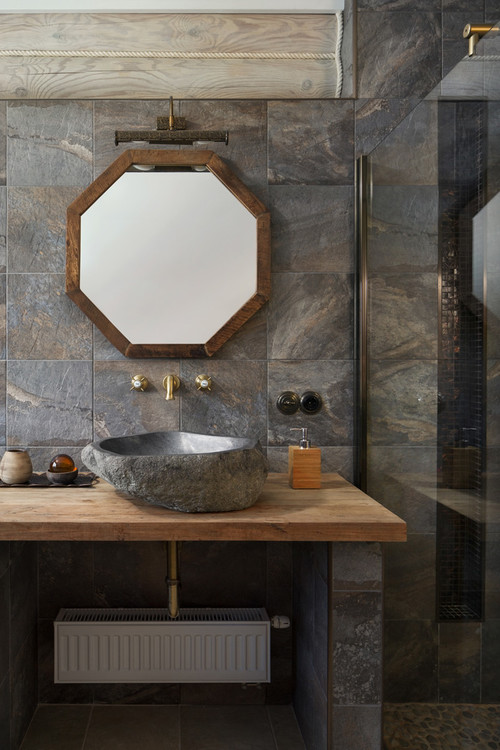 ID# 163506 | Houzz.com – Credit | © ART-LABS Interiors
---
Rustic Bathroom Tile Ideas with Stone Vessel Sink
This rustic bathroom offers a warm, friendly and trendy ambiance with its earthy color palette and the organic warmth of natural materials! The stone look gray walls dominate the space to provide a clean and distinctive backdrop. The same tiles are used on the vanity's legs. The wood countertops and hexagonal mirror frame nicely complement the rustic feel of the tiles. Not to mention the gorgeous stone vessel sink that is stunning and can effortlessly complement any décor!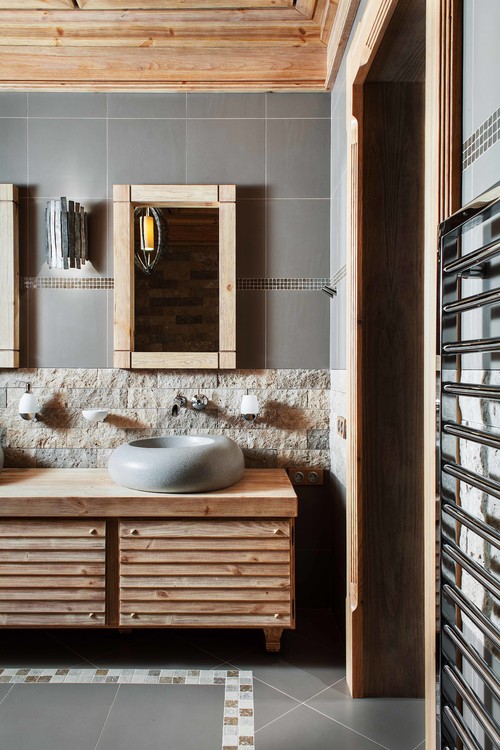 ID# 163507 | Houzz.com – Credit | © Стащук Татьяна
---
Wood Vanity with Stone Tile Backsplash and Gray Sink
The wooden vanity is complemented with a magnificent gray vessel sink that catches the eye while the stone backsplash tiles provide a touch of nature and make a lovely centerpiece. The top walls and floor tile are a compelling shade of gray that gives the space a futuristic appeal! The wooden frame of the bathroom mirror wonderfully compliments the vanity and, as a whole, it completes the rustic ambiance of the bathroom!
Is rustic tile good for bathroom?
Rustic tiles present a versatile solution for sprucing up both residential and commercial spaces! They are commonly employed for flooring as well as wall tiling in bathrooms, kitchens and other living spaces. If you're looking to create a European or old-world design vibe in the kitchen, rustic tiles can be utilized for backsplashes or countertops as they complement this eclectic style. Due to their rough texture, and non-slip properties, rustic tiles make an ideal choice for high-traffic zones like public bathrooms and kitchens without compromising on their stylish appeal.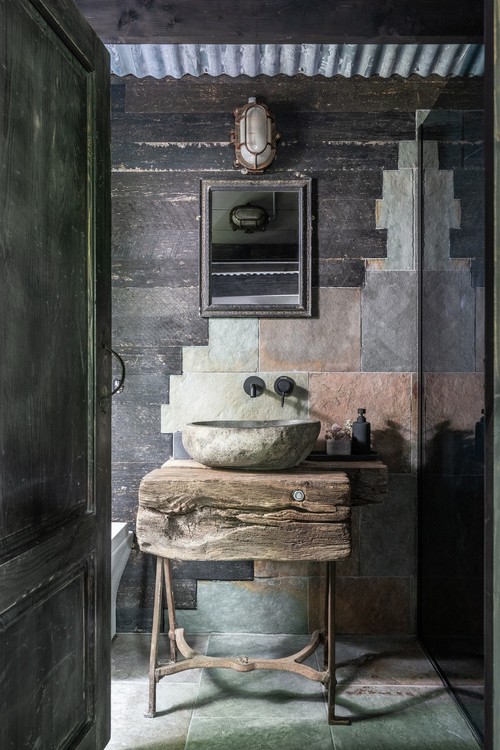 ID# 163508 | Houzz.com – Credit | © Unique Homestays
---
Small Powder Room Design with Unique Vanity and Antique Sconce
In this small powder room, stone walls and floor tiles create a rustic atmosphere with their natural and organic look! The unique wood vanity and stone vessel sink create a harmonious look with the tiles. The bronze framed mirror, antique sconce and black wall-mounted faucet make a beautiful final touch to complement the rustic vibes.
Rustic Shower Tile Ideas
Are you in the process of planning a bathroom upgrade? Might we suggest incorporating rustic shower tiles into your design? These tiles can complement any style, be it industrial lighting, minimal flooring or a classic vanity. The beauty of rustic decor lies in its versatility; it takes inspiration from nature but can be incorporated into any living space! If your bathroom boasts a contemporary design, introducing rustic shower tile ideas can create a stunning contrast. Even traditional bathrooms can benefit from incorporating rustic design elements, adding a touch of uniqueness to your space!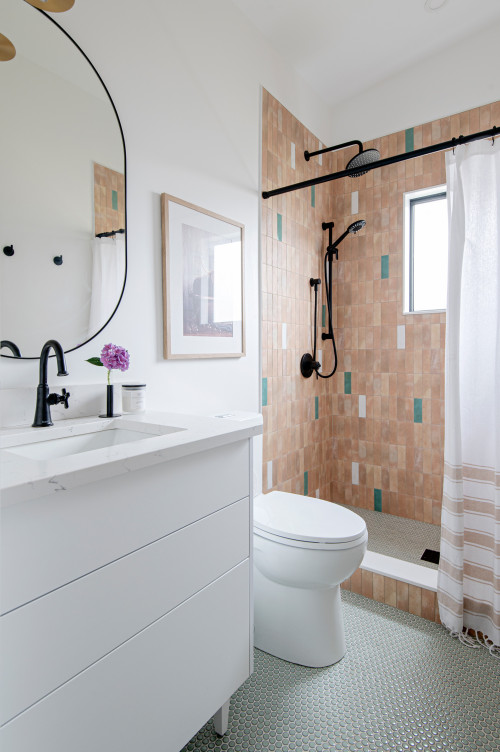 ID# 163509 | Houzz.com – Credit | © Michelle Berwick Design
---
White Bathroom with Colorful Shower Tiles and Black Accents
Even if you don't have a rustic atmosphere in your bathroom, you can add some rustic vibes with tiles. In this white bathroom design, the beige cement tiles break the white domination, adding warmth. The white and teal tile accents make a fun touch, enhancing the overall look. Using colorful tiles between the white features is also a great way to create an accent to add visual interest to your bathroom. The white vanity with flat-panel cabinets and white quartz countertop create a clean and fresh look while the black accents contrast. The white penny floor tiles add another layer of texture without overwhelming.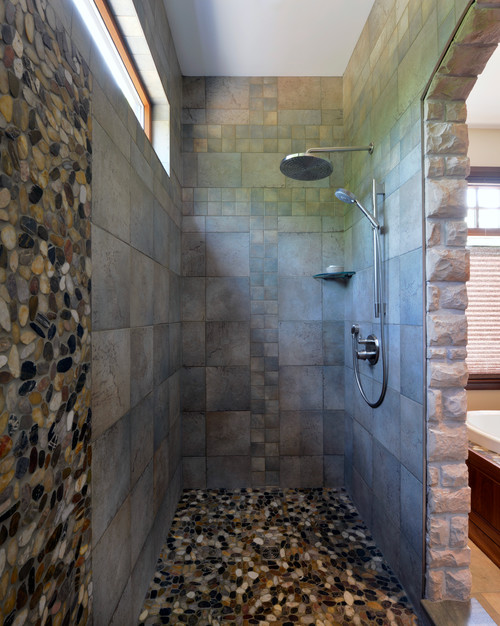 ID# 163510 | Houzz.com – Credit | © Chuck Mills Design
---
Rustic Shower Tile Ideas with Pebble Stones
Using natural stone tiles in a shower design is a great way to create a calm and relaxing atmosphere. In this rustic shower, gray stone tiles which are used in different sizes create a sleek but visually appealing look. The combination of the different-sized tiles adds visual interest. These tiles are accentuated with pebbled stone tiles on the walls and floor. Pebble tiles create a cohesive look with the gray ones.
Design tip: Besides their visual beauty, pebble tiles are also great for shower floors thanks to their non-slippery surface!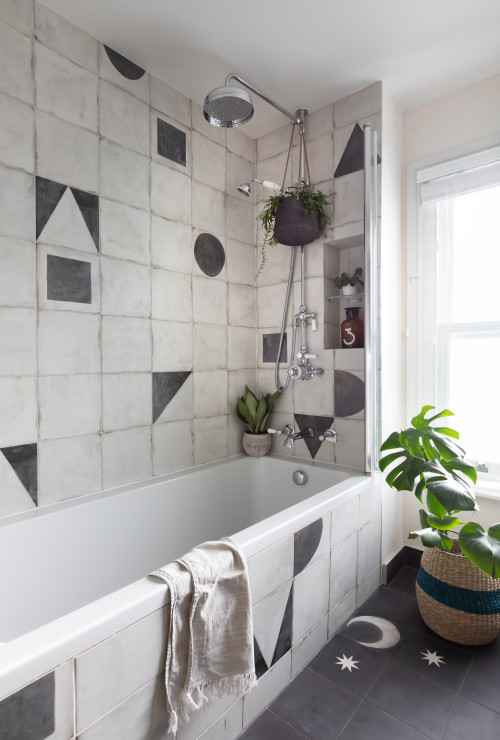 ID# 163511 | Houzz.com – Credit | © Yoko Kloeden Design
---
Transitional Bathroom with Gray and White Tile Design
Tired of the same old rustic bathroom tile designs then you will love this bright and spacious bathroom design with rustic flair! Even though deeper tones and earthy colors are popular for rustic designs, this bathroom demonstrates that white tiles may provide just as much rustic appeal. The rough-looking edges and gray grouting lend a rustic touch while the gray geometrical patterns offer visual intrigue. The use of chrome fittings provides a contemporary edge to the entire look!
Rustic Bathroom Floor Tile Ideas
A rustic bathroom may be the perfect blend of traditional and contemporary design. Rustic bathroom designs are ageless and comforting, even when interior design fads come and go. Mostly because of wood mirror frames, elegant wooden wall panels, cute DIY shelves, rough stones, hardwood flooring, rustic bathroom floor tile ideas, antique light fixtures, barn doors, overgrown plants, vintage furniture, and raw materials can transform any place.
Adding rustic bathroom floor tile ideas may transform your bathroom décor from basic to magnificent with minimum work, regardless of whether you have a large or small bathroom to create, restore, or remodel. Here are some of the greatest rustic bathroom floor tile ideas to start you thinking about how to decorate your area.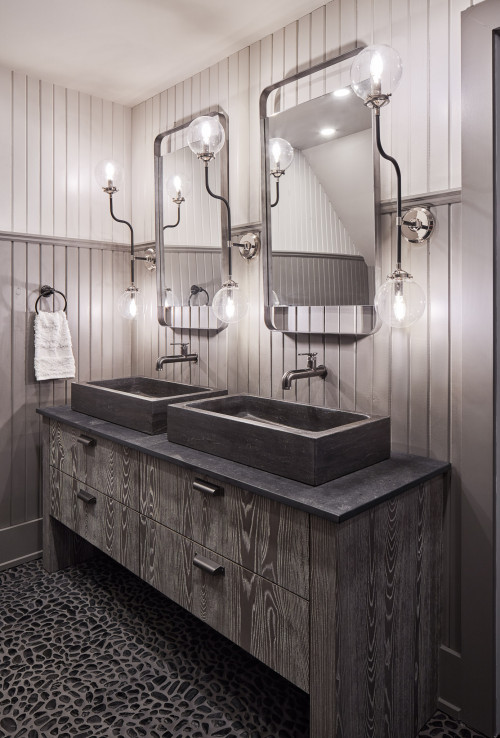 ID# 163512 | Houzz.com – Credit | © Astro Design Centre
---
Pebbled Rustic Bathroom Tile Ideas with Natural Wood Wall Paneling
The rustic design of the bathroom sets a sophisticated and elegant tone that would make anyone feel right at home! Completed with a gray granite countertop and vessel sinks, the dark wood double vanity really pulls the room together and creates a cool and inviting atmosphere. The pebbled gray floor tiles not only add an incredible texture while the gray and white painted shiplap walls offer a nice textural look that pairs perfectly with the vintage globe sconces that provide a warm and comfortable glow above the vanity.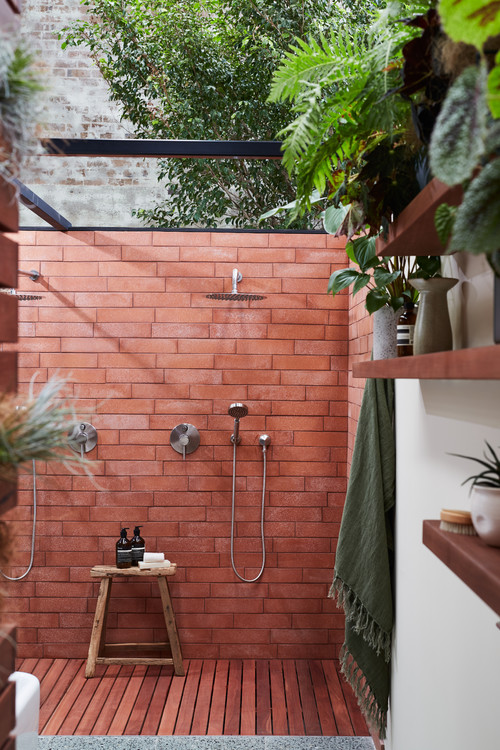 ID# 163514 | Houzz.com – Credit | © Caroma
---
Rustic Outdoor Bathroom with Red Subway Tiles
Imagine relaxing after a long workday in this bathroom which is surrounded by the undeniable beauty of green nature! Isn't that beyond the dreams? Definitely is!! In this rustic bathroom, The red brick-look subway tiles dominate the room, creating a unique and inviting atmosphere. The red color of the tiles creates a contrast against the green shades, bringing visual interest. The same red tone is also continued on the floor. While the wood floating shelves complement the tiles, chrome fixtures bring a contemporary vibe.
Rustic Tile Options
Rustic tile exudes an old-world charm with its traditional appearance. Its natural and faded surface is inspired by the classic Italian art and architecture. This construction material is versatile and can be used to create or enhance a rustic and classical design style in various applications at home! Nature-based colors and finishes dominate the options for rustic tiles and they complement modern designs.
Rustic Subway Tile Bathroom
Furniture, decorations, and hardware, for example, may all help to make a bathroom feel more rustic. Changing the appearance of the walls or flooring is our favorite technique to fully remodel a bathroom interior area. Even while walls and floors are essentially structural, they may have a tremendous impact on a bathroom's interior design and atmosphere. If you dive into the rustic tile world to choose from for the bathroom, you may see that there are rustic subway tile bathrooms.
The phrase "subway tile" usually refers to horizontally arranged rectangular tiles (usually 3 x 6 inches) with a 50 percent offset. Subway tile, which is made of ceramic tile, is noted for its durability as well as its timeless elegance. Subway tiles are most commonly seen in farmhouse-style interiors, which are similar to the rustic design. However, you may combine these subway tiles with rough and natural surfaces to give your designs a rustic feel, or you can use them with rustic features to boost your ideas. To explore some of the beautiful rustic subway tile bathroom alternatives, scroll down.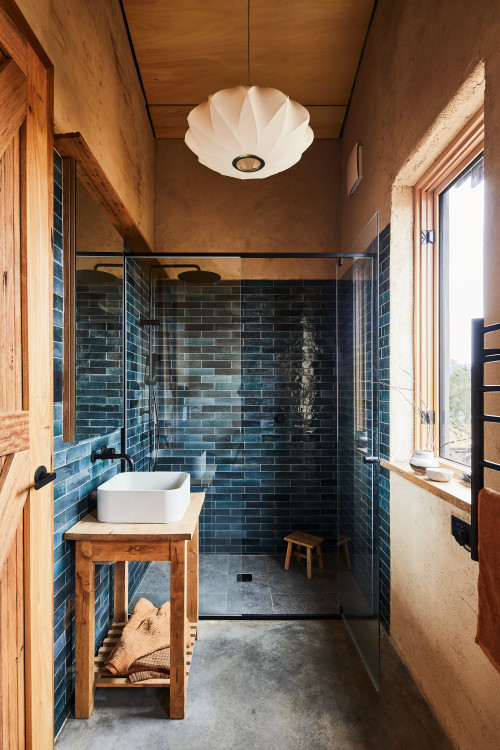 ID# 163515 | Houzz.com – Credit | © Altereco Design
---
Blue Rustic Bathroom Tile Ideas with Running Bond Pattern
The blue subway tiles take the stage and create a striking focal point between the beige walls. The deep blue color of the tiles brings depth to the space while the glossy finish adds an open and airy feel by reflecting light. The wood vanity with a white vessel sink completes the brown-colored walls while the concrete look floor makes a perfect final touch.
Rustic Slate Tile Bathroom
The "rustic" style in home décor blends a love of nature with functional and attractive furniture throughout the house – including the bathroom! There are numerous tile styles available thanks to contemporary technology that can lend a wonderful rustic touch to your bathroom. Among them is the rustic slate tile bathroom, which has the ability to instantly improve the mood of your bathroom's interior.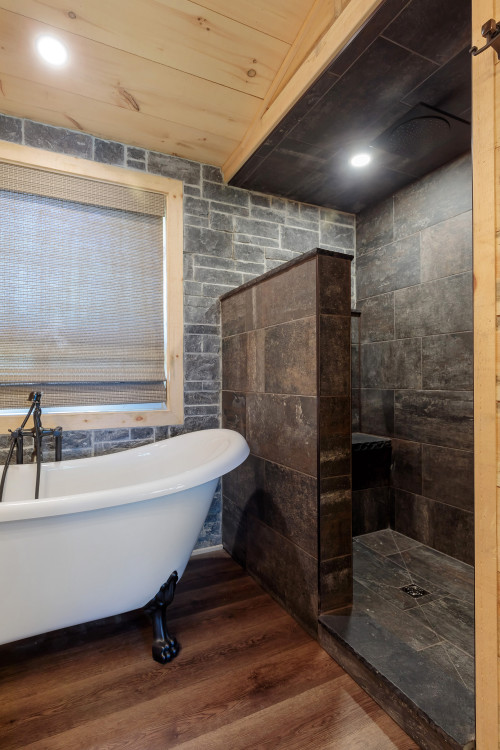 ID# 163516 | Houzz.com – Credit | © Wentworth Landscapes
---
Rustic Bathroom with Traditional Cottage Charm
Enriched by an earhy color palette, this bathroom exudes a charming cottage aesthetic! The central point of this room is undoubtedly the pristine white clawfoot bathtub which elevates the space with an air of opulence. The shower area is adorned with brown stone tiles that heighten the overall depth of the room while seamlessly transitioning toward the earthy ambiance. These tiles also evoke a sense of warmth that welcomes you as soon as you step into the space!
How do you make a bathroom rustic?
Decorating your house in a rustic style is a wonderful way to demonstrate your passion for natural materials, old furnishings, and architectural features with personality. This involves displaying elements such as wood beams, stone and clay accents, and vintage light fixtures. Consider experimenting with rustic bathroom ideas if you're fascinated by this design trend.
Creating a rustic refuge for you and your visitors in your bathroom doesn't have to break the bank. There are tones of bathroom images spanning from flamboyant makeovers to more subtle layouts with rustic accents. You may improve your area by using shiplap walls, patterned wallpaper (plaid and flowers are usually a nice choice), rustic bathroom tile ideas, or even sliding barn doors or a walk-in shower. You have a choice! So, if you're not sure how to combine rustic aspects into your bathroom, these decor ideas, which contain a few recommendations for modern design aficionados, can inspire you.
There are two ways to go rustic in bathroom design
Do you want only a rustic touch for your general design of the bathroom, or do you want a complete rustic design bathroom? These will affect the outcome, for this reason, it is the starting point for your rustic bathroom idea. Let's begin with the first step. If you will use a small rustic touch for your bathrooms you can use hardwood framed windows combined with the vanity, or you can use rustic tiles only for the showers. It is possible to have hardwood floating shelves, too. The second one is to go fully rustic. Well, there are so many design elements to decide on for a rustic design bathroom. For instance, rustic tiles bathrooms for floors, showers, or walls, rustic vanity designs that contain natural surfaces such as wood, you can use stone wall designs, etc.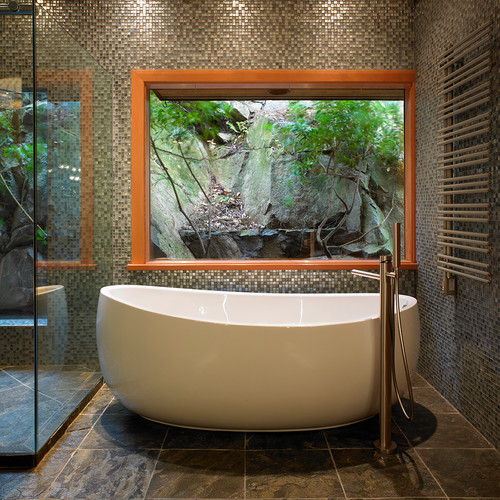 ID# 163517 | Houzz.com – Credit | © The Sky is the Limit Design
---
White Freestanding Tub with Glass Mosaic Wall Tiles
Encircle the walls, the brown-shaded glass mosaic tiles provide a stunning backdrop that draws the eyes in! The white freestanding bathtub sits majestically in the center to command attention with its crisp and clean look. As you walk across the slate floor tiles, feel the earthy texture underfoot that augmented by the rustic vibes they create.
Can you put reclaimed wood in a bathroom?
Reclaimed wood in a bathroom is also an excellent method to warm up a high-traffic and otherwise cold part of your home. Reclaimed wood may add warmth, outdoorsy appeal, and sustainability into your modern area as flooring, on the bathroom vanity, or even as an accent wall. When it comes to sustainability, what other material can match recycled wood? Inherent and textured barn boards are a low-cost solution that pairs well with modern features like granite, tiles, marble, glass, and so forth.
No one can ever deny that reclaimed wood is a treasure to be treasured for a lifetime. However, keep in mind that keeping it in the bathroom will make it subject to steam and frequent spills. As a result, you need to take certain steps to protect your priceless gift.
Reclaimed old-growth cypress or teak are other good choices for your bathroom since they are more water-resistant. Whatever your intentions are, and whatever wood you foresee, it's always a good idea to double-check its compatibility for your bathroom needs before you start. The purpose of this piece of information is not to discourage or frighten you from utilizing recycled wood. A small bit of protection for your salvaged wood will be enough to keep it in good shape for many years. A couple of coatings of water-based polyurethane may be all that is required for most recovered wood. You may use this method to protect the wood from decaying.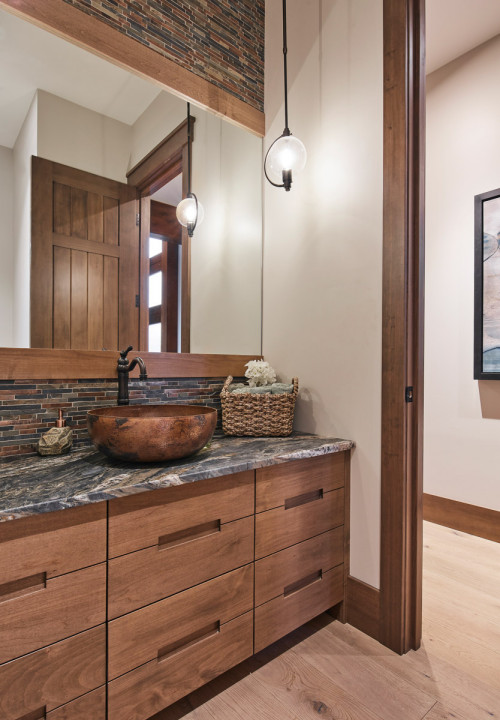 ID# 163518 | Houzz.com – Credit | © Studio Ridge Residential
---
Wood Vanity with Granite Top and Slate Mosaic Tile Backsplash
In this charming rustic bathroom, all eyes immediately fall on the stunning wood vanity!! Featuring a sleek granite top and natural wood finish, it radiates warmth and adds a distinctly inviting touch to the space. Meanwhile, the copper vessel sink furthers the earthy appeal while the scene is completed with a slate mosaic tile backsplash that offers texture and intrigue in equal measure. The large frameless mirror helps to amplify the already generous sense of space and light to create an airy atmosphere that's both refreshing and relaxing.
Rustic Wood Look Tile Bathroom
Wood-look tile has been a popular choice for homeowners who appreciate rustic bathroom decor in recent years and for good reason. Real wood is susceptible to warping and other difficulties caused by moisture and steam in bathrooms, but porcelain tile or ceramic tile looks like wood is water-resistant due to its low porosity in rustic wood look tile bathrooms. Bathroom flooring made of faux hardwood quickly refreshes the area, making it seem elegant, sophisticated, and welcoming. Bathrooms with grey tones are popular because they seem cool and contemporary. Bonus: Long, wide plank tiles may optically lengthen a space, making it look larger than it is. Wood-like tile may be used on the walls to create the look of conventional wood paneling with a new and modern touch.
Why not try wood-look tile shower walls if you want to amp up the rustic factor? Smaller tiles are ideal for shower floors because they are non-porous and contain more grout, which adds to the grip. If you desire large-scale porcelain on your shower floor, bigger sizes in the market are also a terrific alternative. A rustic wood-look shower is a perfect approach to make your bathroom stand out by being unique, surprising, and sure to wow. Let's see some of the gorgeous examples of the rustic wood-look tile bathroom.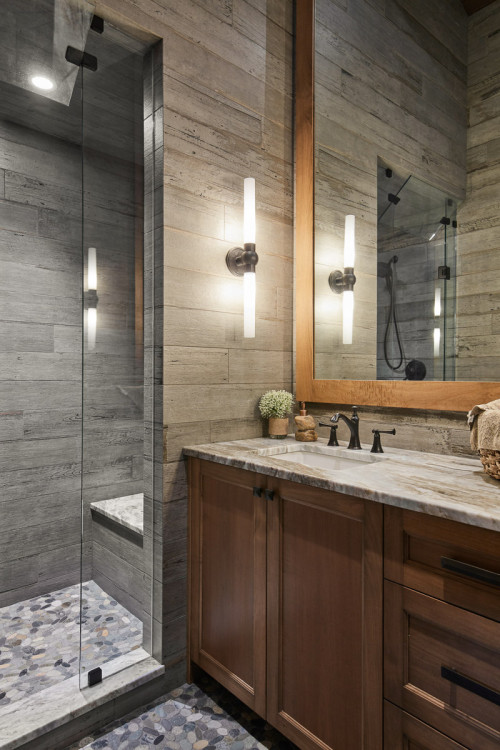 ID# 163519 | Houzz.com – Credit | © Studio Ridge Residential
---
Wood-Look Rustic Bathroom Tile Ideas with Pebbled Floors
The shower has a gorgeous wood-look tiling with warm tones that give visual intrigue. Moving on to the sink area, you'll see how well it fits with the general aesthetic of the bathroom. A wood-look tiled pattern combines effortlessly with the vanity with an undermount sink while the distinctive pebble tile flooring, which resembles the tranquil and soothing sensation of a serene riverbed, completes the appearance. Prepare to unwind in this spa-like retreat.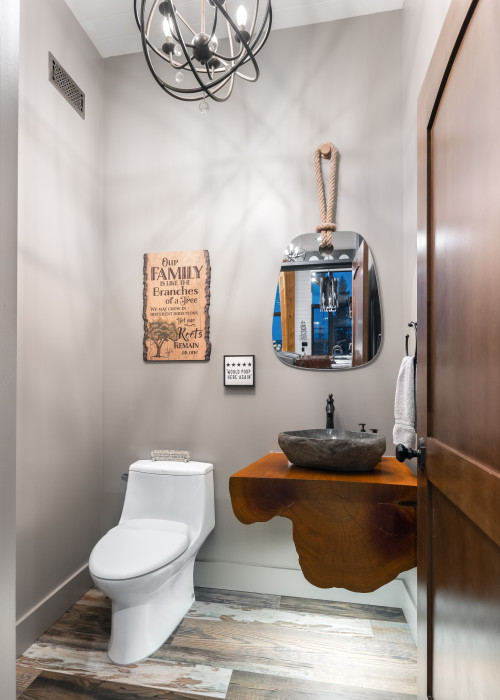 ID# 163520 | Houzz.com – Credit | © Northern Sky Developments
---
Small Powder Room Design with Unique Wood Vanity
Enriched by a unique shape and intricate wood grain patterns, the captivating wood vanity design that takes center stage! A stone vessel sink adds a touch of sophistication and natural grace that seamlessly complements the vanity while the frameless mirror hanging above the vanity enhances the sense of spaciousness and brightness of the room. To complete the cohesive look and feel of the powder room, wood-look floor tiles are incorporated.