32+ Kitchen Sink Backsplash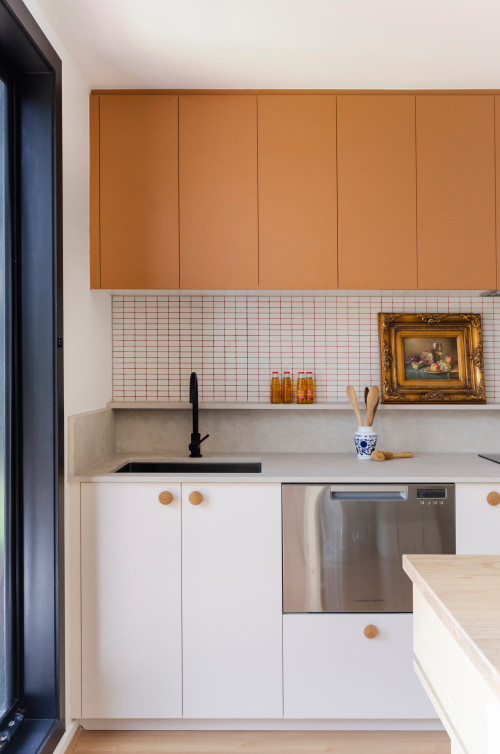 ID# 161417 | Houzz.com – Credit | © The Glade Design
---
Eclectic Kitchen with White Backslash and Orange Grout
The eclectic kitchen boasts a unique combination of pastel orange upper cabinets and white base cabinets, creating a bold and vibrant look! The gray quartz countertop and 4-inch backsplash add a touch of modernity to the design while the white stacked subway tile backsplash with orange grout adds an unexpected pop of color and pattern. The wood cabinet hardware adds a natural and rustic element, balancing out the boldness of the orange cabinets.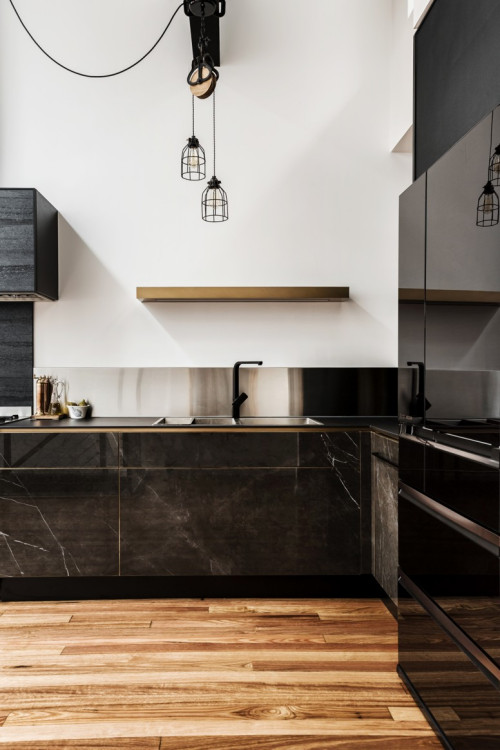 ID# 161425 | Houzz.com – Credit | © 5rooms
---
Luxurious and Dramatic Kitchen with Unique Cabinets
The funky warehouse conversion boasts a luxurious yet industrial-inspired kitchen design. The brown cabinets feature a marble-like texture, adding a touch of opulence to the space. A metal sheet backsplash behind the sink adds an edgy and industrial element, perfectly complementing the warehouse aesthetic. A floating shelf provides a sleek and minimalist storage solution, showcasing decorative items or kitchen essentials.
Kitchen Sink Backsplash
In our homes, we have a room where we spend our time the most in there: the kitchen! It is understandable to want our kitchens designed stylishly and lure us with their beautiful designs. A stunning backsplash design is one of the design elements in kitchens which you can use to create an eye-catchy look. The material used to cover the region of the wall between a kitchen countertop and the upper cabinets is known as a backsplash. Homeowners may use a range of textures, hues, and materials to express themselves through this kitchen feature. For a backsplash to appear beautiful and function well, it must be resistant to chemicals that could be splashed on it. Functionality and the aesthetic appeal must coexist in this area of home décor. And you will be amazed by the ways and combinations that you can create, for instance, a kitchen sink backsplash design!
You can divide your backsplash design into parts or regions, or you can use a backsplash only for a single place, such as a kitchen backsplash. These can represent your design taste and can be in any material type. However, remember to have moist and heat resistance. You can create design twists or mixes according to sink types. For instance, it is possible to have a farmhouse sink with a minimalistic design look backsplash. Let's scroll down and deep dive into the kitchen sink backsplash designs and get inspired by them!
Does a kitchen sink need a backsplash?
The majority of designers would advise you to install a backsplash since it protects the wall behind it from damage caused by grease, water, and other substances. You don't need a backsplash, but doing without leaves your wall exposed and necessitates more upkeep.
Backsplash for Different Kitchen Sink Types
Choosing a sink according to your kitchen's design style is one of the tasks you need to fulfill. When you take this job you will see that there are many different styles of backsplash for different kitchen sink types. From farmhouse kitchen sinks to undermount kitchen sinks, it is possible to represent your design style with a stylish backsplash combination. Kitchen sinks come in a wide variety of models on the market today. Each of them is distinctive in its very own way, such as the type of material used to make it or how it was created. To accentuate your kitchen, even more, we searched designs of a backsplash for different kitchen sink types. The most popular varieties that may be found nowadays are briefly discussed here.
Farmhouse Kitchen Sink Backsplash
If you're the owner of a farmhouse kitchen sink and seeking to add that extra touch of style to your kitchen, let's learn the backsplash options. First and foremost, let's break down what a farmhouse kitchen sink exactly entails. These sinks are known for their drop-in design that features an open front-facing side – this is also referred to as an apron front sink. They are typically installed as a focal point in the kitchen and designed to blend seamlessly with the counters.
Farmhouse sinks are often larger in size, with origins tracing back to a time when running water wasn't readily available. They were initially designed to hold water on one side, making them versatile for a range of purposes such as doing laundry, cooking, and even bathing young ones. Although these types of tasks aren't as necessary today, farmhouse sinks still add that charming rustic feel to the kitchen that's simply unmatched by any other design.
Drop-In Kitchen Sink Backsplash
If you're a homeowner remodeling your kitchen, you could find yourself thinking about different sink types, and to make a difference you may want to design a drop-in kitchen sink backsplash, too. However, you must consider the installation before considering all the various materials and designs, and the advantages and disadvantages of single vs double bowl alternatives.
A drop-in sink is a bowl that slides into a countertop hole that has already been carved out. This common design, which is also referred to as a top-mount, over-mount, or self-rimming sink, has a rim that rests on top of the counter and supports the weight of the sink. Any bathroom vanity, kitchen counter, or bar that can structurally hold its weight—which can be significant if it's built of a heavy material like porcelain or cast iron—can be utilized for this purpose.
Drop-in sinks are still more popular than their more fashionable cousins, the undermount, farmhouse, and integrated sinks since they were formerly the only choice available for two reasons: It works with any style of countertop and is typically the least priced choice. According to these, after you have a drop-in kitchen sink, you may want to design a drop-in kitchen sink backsplash and create a visually aesthetic appeal in your kitchens.
Undermount Kitchen Sink Backsplash
Before designing an undermount kitchen sink backsplash, let's understand its installation. The installation of undermount sinks on the kitchen countertop gives them their name. Undermount sinks are mounted beneath the counter as opposed to being placed into a countertop hole that has already been made. There is no rim between the countertop and sink due to the way they are built. Undermount sinks can be made out of a range of materials, such as copper, cast iron, solid surface, and stainless steel. Undermount sinks with one or two bowls are offered.
We understand from these that, you can create sleek and seamless looks with an undermount sink, and it is possible to create an undermount kitchen sink backsplash with minimalistic or modern aspects such as a Scandinavian-style backsplash or a modern backsplash. Whatever the design style you will want, an undermount kitchen sink backsplash can help you to create a plain and modern look.
Kitchen Sink Backsplash Materials
When it comes to selecting a material for your kitchen sink backsplash, there are various options to consider! Ceramic or porcelain tiles are a classic and versatile choice, while glass tiles can add a modern and sleek look. Natural stone, such as marble or granite, can bring elegance and luxury while stainless steel offers durability and a contemporary vibe. Solid surface materials provide a seamless and modern look while wallpaper or peel-and-stick tiles offer a budget-friendly option. Consider factors such as durability, ease of cleaning and aesthetics to find the perfect material that suits your style and enhances your kitchen design.
Kitchen Sink Ceramic Backsplash
A ceramic backsplash for your kitchen sink can be a timeless and versatile choice. Ceramic tiles come in a wide range of shapes, sizes and colors. This variety allow you to work with different design aesthetics From traditional subway tiles to decorative patterns, ceramic backsplashes can add texture and visual interest to your kitchen sink area. Ceramic tiles are known for their durability, resistance to moisture and stains, and ease of cleaning, making them a practical choice for a backsplash near the sink where water and food splashes are common. With their affordability and versatility, ceramic backsplashes can be a stylish and functional addition to any kitchen sink area.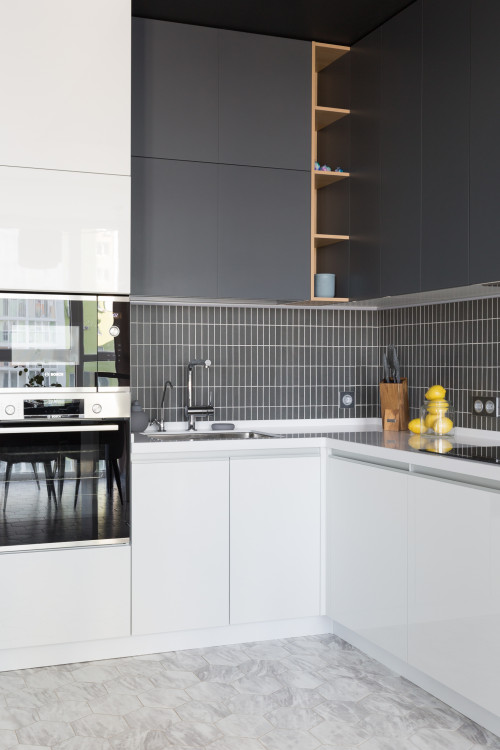 ID# 161418 | Houzz.com – Credit | © Фабрика мебели "Реформа"
---
Monochrome Kitchen with Wood Open Shelves
The design of the kitchen exudes a contemporary and refined feel with its monochrome palette of white base cabinets and countertops. It creates an illuminating and spotless ambiance that radiates a refreshing vibe. The black upper cabinets bring about a remarkable contrast, making the kitchen the center of attention. The iconic KitKat tiles used in the backsplash with white grout infuse a distinctive and contemporary pattern into the design language, tangibly enhancing the monochrome color scheme. Additionally, the natural wood open shelves offer a soothing and rustic feel, giving a warm and textural touch to the overall design.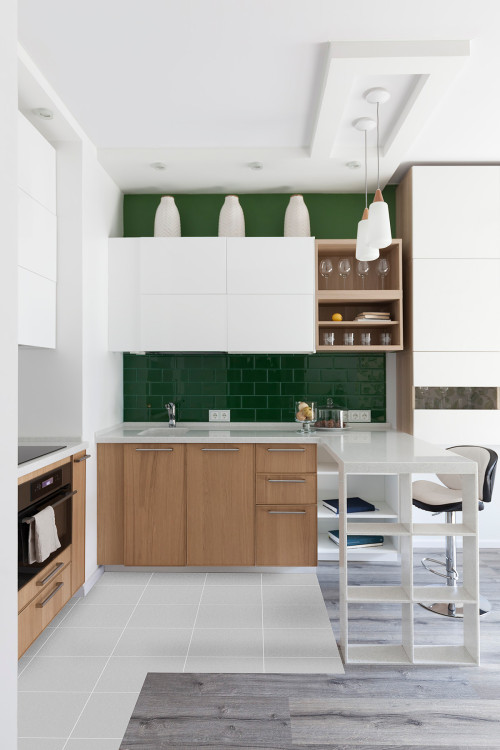 ID# 161419 | Houzz.com – Credit | © YU Dsgn Галкина Юлия и Беляева Юлия
---
Green Subway Tile Kitchen Sink Backsplash with Two Tone Cabinets
The contemporary kitchen features a stunning green subway tile backsplash that serves as a focal point in the design, adding a pop of color and personality to the space! The white upper cabinets provide a clean and modern look while the wood base cabinets add warmth and natural texture to the design. The white countertop and peninsula offer a sleek and functional workspace, perfect for meal prep and entertaining. The gray floor tiles add a sophisticated and neutral backdrop, tying the design together.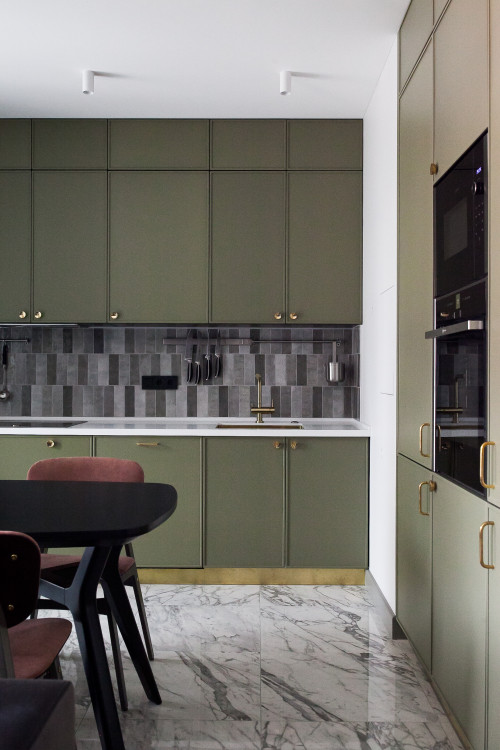 ID# 161420 | Houzz.com – Credit | © BW buro
---
Dark Green Cabinets with Gray Backsplash Tiles and White Countertop
The contemporary kitchen features dark green cabinets that add a touch of boldness and personality to the space! The gray kitchen sink backsplash complements the cabinets, providing a subtle contrast and adding visual interest to the design. The white countertop offers a clean and sleek surface for food preparation while the marble-look porcelain floor tiles add a touch of luxury and sophistication.
Kitchen Sink Glass Backsplash
Glass backsplashes are well-known for their smooth and reflective surfaces, which can help to open up a space and create a bright atmosphere. Plus, they're incredibly resistant to moisture and stains, so keeping them clean is a breeze. So, if you're ready to elevate your kitchen sink design, a glass backsplash might just be what you need!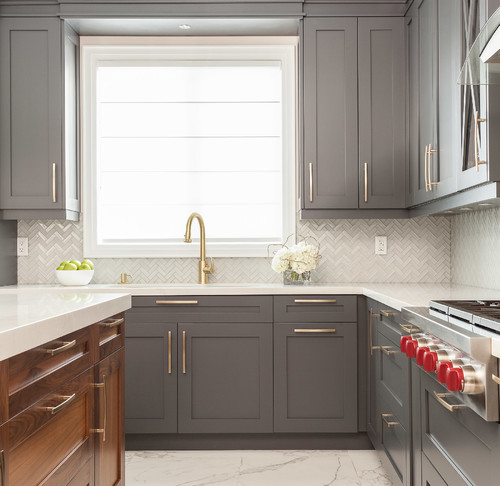 ID# 161421 | Houzz.com – Credit | © Creative Streak Interiors
---
Dark Gray Shaker Cabinets with White Glass Harringbone Tiles
The captivating kitchen boasts stylish and sophisticated dark gray shaker cabinets, lending a modern flair to the area. The addition of a
glass white backsplash
elevates its elegance and visual interest. On the other hand, the white countertop affords a pristine and illuminated surface for food preparation, producing a stunning contrast with the dark gray cabinet. Furthermore, the brass hardware adds warmth and sophistication which integrates harmoniously with the space. Finally, the natural element of the wood island brings balance and earthy vibrancy to the area, juxtaposing a modern and chic feel with a warm and cozy ambiance.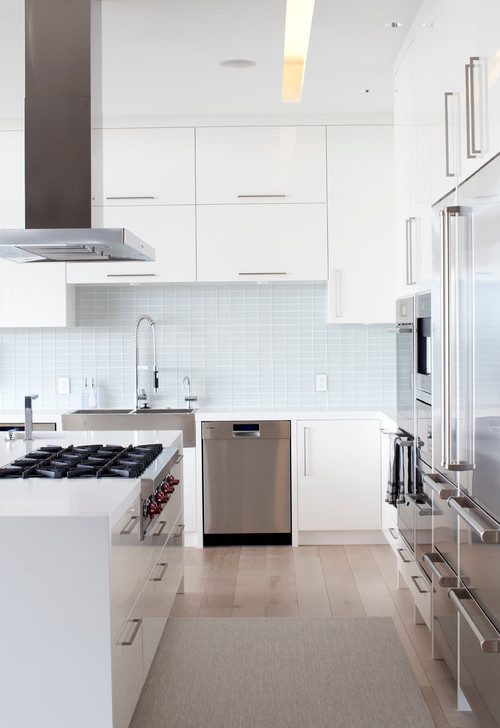 ID# 161422 | Houzz.com – Credit | © Tanya Schoenroth Design
---
Modern Kitchen with High Gloss White Cabients
A contemporary and minimalist appeal is achieved in the modern kitchen through glossy white cabinets. The sleek and clean design is further elevated by the addition of a white glass kitchen sink backsplash that exudes sophistication, serving as the centerpiece of the space. Industrial elements are brought in through the stainless steel farmhouse sink and appliances, creating a perfect balance of form and function. To add warmth and contrast to the space, a light wood floor is incorporated, complementing the white cabinets and creating a visually pleasing aesthetic.
What is the current trend in kitchen backsplashes?
White backsplashes continue to be a prime choice for kitchen designs, and they remain one of the most sought-after solutions! The latest trends suggest that their popularity isn't going away in 2023. From classic subway tiles to modern hexagons there are various styles available for white backsplashes which makes it easier to find the perfect match for your kitchen decor. You'll have no trouble finding a white backsplash that'll suit your taste with these stylish designs.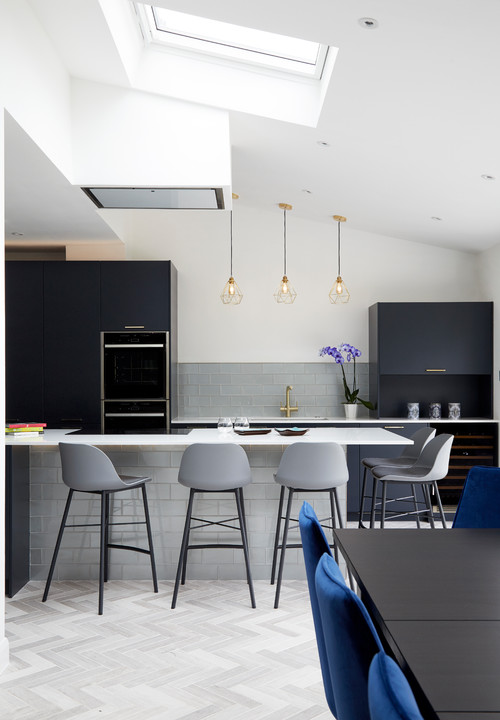 ID# 161423 | Houzz.com – Credit | © Monita Cheung Design Ltd
---
Contemporary Kitchen with Black Flat Panel Cabinets
The kitchen boasts modern sophistication with its streamlined black flat panel cabinets that make a bold statement. A gray glass subway tile backsplash serves as a stylish and attention-grabbing accent, adding depth and texture to the space. To create a striking visual balance, white countertops offer a crisp and clean contrast to the dark cabinets. The tiled island with the same gray glass subway tiles as the backsplash provides a cohesive look, completing the contemporary design of the kitchen.
How do I protect the walls behind my kitchen sink?
To protect the walls behind your kitchen sink, there are several options to consider. Installing a backsplash made of materials like tile, glass, stainless steel, or waterproof paint is a popular choice. Waterproof paint formulated for kitchens and bathrooms can also be used. Wall panels made of PVC or laminate can provide a durable and waterproof barrier. Applying a clear sealant or ensuring proper ventilation with a range hood or exhaust fan are other methods to protect the walls.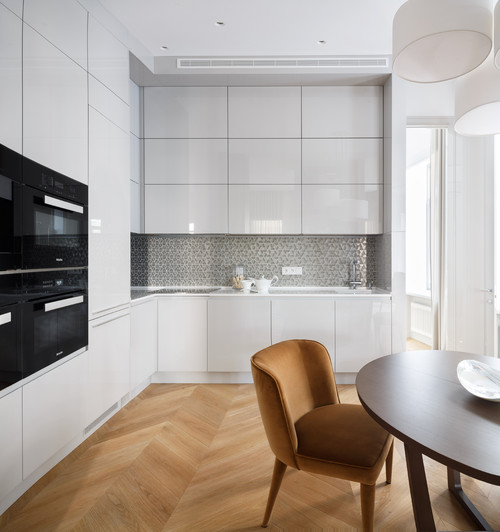 ID# 161424 | Houzz.com – Credit | © TS Design | Тарас Безруков и Стас Самкович
---
Glass Kitchen Sink Backsplash with Geometrical Pattern
The contemporary kitchen showcases stunning gray high gloss cabinets that exude a sleek and modern vibe! The gray glass backsplash features a striking geometric pattern and adds a unique and eye-catching element to the design. The wood chevron flooring adds warmth and texture to the space, creating a perfect balance with the glossy cabinets and glass backsplash.
Kitchen Sink Metal Backsplash
Kitchen sink metal backsplash designs are the best illustration of how interior design and kitchen planning have merged. With a new selection of opulent metallics, it has evolved from a merely functional role—after all, it serves to shield the walls from splashes from the stove and sink. Designers are determined to make the backsplash ideas in your kitchen count since, along with the countertops, it is frequently the first feature that guests see when entering the space.
Metal backsplashes come in a variety of designs, hues, and coatings. This durable material can be offered in sheets or tiles, and its surface can be either smooth, sleek, or embossed. Metal can be solid, powder-coated, or glaze-coated. Decorative features like fleur-de-lis, diamonds, medallions, or other recurring patterns are frequently used as backsplash accents. An elaborate backsplash will offer character to a Victorian or historical design kitchen, but a basic and simple kitchen sink metal backsplash might assist in emphasizing the appearance of a streamlined and modern kitchen.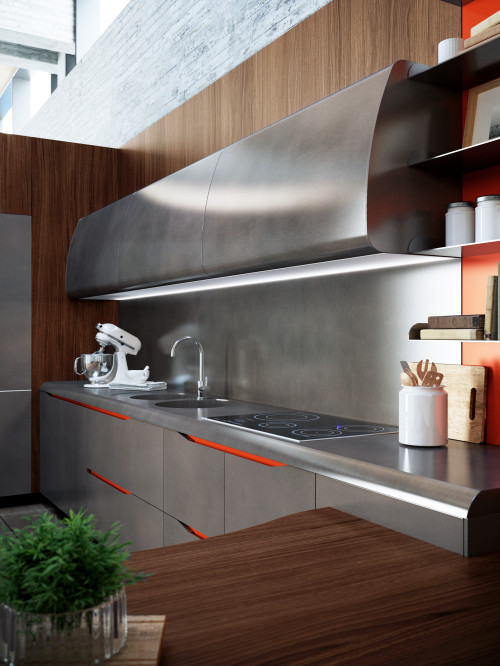 ID# 161426 | Houzz.com – Credit | © O.NIX Kitchens & Living
---
Modern Kitchen with Oversized Range Hood
The modern kitchen with a rustic charm features sleek gray cabinets with bold orange accents, adding a pop of color to the space! The metal sheet backsplash adds an industrial touch, creating a contemporary and edgy vibe. An oversized stainless steel range hood becomes a striking focal point and makes a bold statement in the kitchen.
Kitchen Sink Stone Backsplash
The idea that backsplashes made of stone tiles seem more rustic is a prevalent one. Because there are so many different types of materials to choose from, stone backsplashes also give off a modern vibe. Due to their clean look and sharp edges, stone veneers or layered stones are more suited to establishing a modern design. Because they can be customized to fit any kitchen design, stone tiles or slabs may be used to create a modern kitchen sink stone backsplash and offer stunning vistas into your kitchens. Kitchens may have both a rustic and a modern appearance with a kitchen sink stone backsplash.
There are a few drawbacks to stone backsplashes, though. Because spills and stray oil will find their way into the crevices, serious home cooks may wish to steer clear of using stacked, rough stones or adopt a regular cleaning schedule. Natural stone sealing is an ongoing process as well. The type of stone will determine how often it has to be sealed again; for example, because travertine is more porous than granite, it needs to be sealed more frequently. If you're ready to put in a little work, kitchen sink stone backsplash designs may add luxury and various aesthetic advantages to everyone's favorite meeting area. Check out the stylish kitchen sink stone backsplash designs below for design inspiration for your very own kitchen.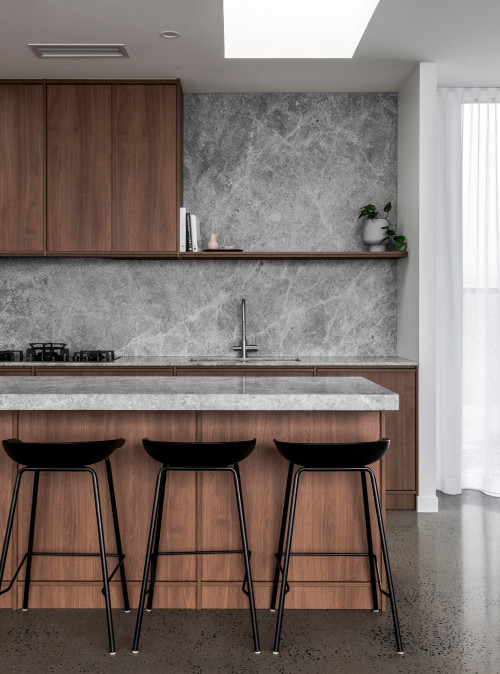 ID# 161427 | Houzz.com – Credit | © Big House Little House
---
Natural Wood Cabinets with Stone Kitchen Sink Backsplash
As you step into the kitchen, you can feel the warm embrace of natural wood cabinets, adding an organic texture to the space! The gray stone slab backsplash and countertop give a modern and sleek look while the full-height backsplash stands out as a statement feature. Black chairs beautifully contrast with the wooden cabinets and adds a touch of sophistication and elegance. The contemporary design featuring natural wood, gray stone and black accents gives a chic and stylish look that serves both form and function.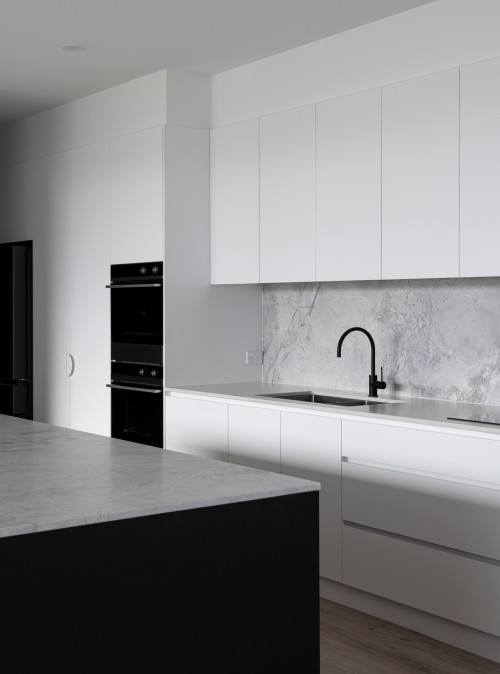 ID# 161428 | Houzz.com – Credit | © Big House Little House
---
Contemporary White Kitchen with Black Island
Step into this contemporary kitchen that boasts an ethereal ambiance with its pristine white cabinets. The black island takes center stage with its striking presence and creates a bold contrast to the white surroundings. The grey marble backsplash and countertop reflect sophistication and luxury, adding a touch of modernity. The black appliances unify seamlessly with the bold island, exuding a refined and harmonious appearance.
How high of a backsplash behind a kitchen sink?
For most homeowners, a standard height of 4 to 6 inches above the countertop is a good starting point to consider. However, if you're looking to create a more dramatic look or incorporate specific design elements, you may want to consider a backsplash that extends higher, perhaps 18 inches or even to the ceiling!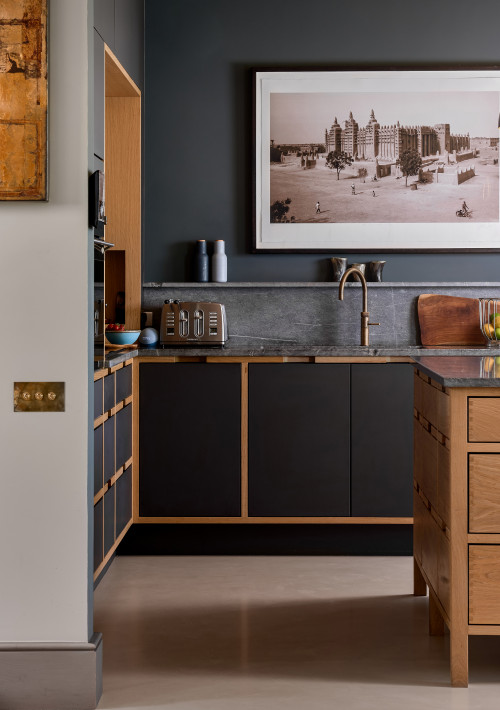 ID# 161429 | Houzz.com – Credit | © Mark Hardy
---
Contemporary Kitchen with Earthy Color Scheme
The kitchen boasts a contemporary yet cozy feel with its warm and earthy color palette. The black cabinetry exudes a stylish and sleek vibe, accentuated by the wooden elements that infuse a natural warmth into the space. The gray granite backsplash and countertops not only provide durability and practicality but also lend a visually captivating effect with its organic stone pattern. The wooden island serves as a standout feature in the kitchen, creating contrast and radiating warmth amidst the darker cabinetry. Completing the design is a quirky touch of personality through a large framed artwork perched above the sink, making it a statement piece that exudes creativity.
Kitchen Sink Window Backsplash
In addition to being useful, a kitchen backsplash is also part of the décor, emphasizing patterns and aesthetics. There are several trends, and you may notice increasingly original ideas for using plaster, glass, and metal to create backsplashes and other things. The topic we're talking about today, a kitchen sink window backsplash, first gained prominence a few years ago and is continuing to grow in popularity.
A kitchen should ideally have lots of natural light, which typically necessitates making accommodations for large windows or finding a method to design your kitchen with an open and cheerful décor. No matter the size or style of the kitchen, multifunctional designs are always desired, so why not have a kitchen sink window backsplash? It is a window and a backsplash combined, and it is precisely what a kitchen needs to appear open, airy, and welcoming.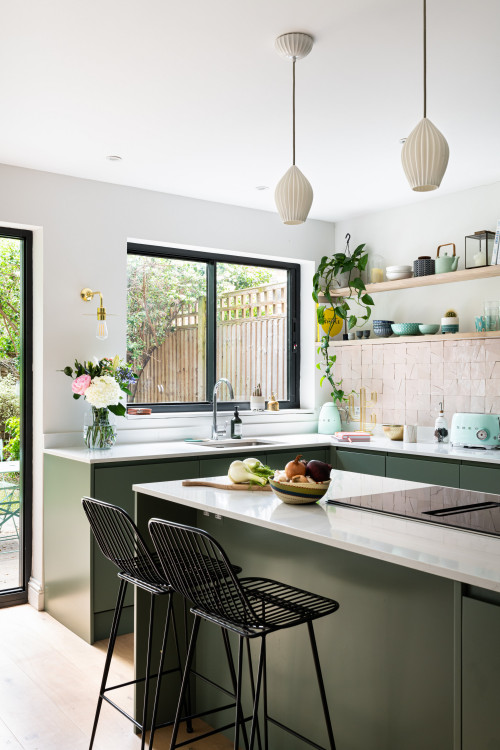 ID# 161430 | Houzz.com – Credit | © Into interior design
---
Eclectic Kitchen with Pastel Pink Handmade Tiles
In this eclectic kitchen design, the dark green cabinets and island serve as a bold focal point, adding a touch of drama and personality. The white quartz countertops offer a clean and sleek contrast to the deep green hues, creating a visually appealing balance. The pastel pink square tile backsplash adds a pop of unexpected color and brings a playful and fun element to the space. A drop-in sink with modern fixtures complements the overall aesthetic while wood floating shelves above the backsplash provide both functionality and a touch of warmth. The white pendant lights above the island add a bright and airy feel, further enhancing the eclectic charm of the kitchen.
How to put backsplash behind kitchen sink?
To ensure your backsplash installation goes smoothly, start by measuring the length and height of the area behind your sink. Consider the material you will use and any patterns or designs you want to incorporate. Plan your layout in advance to achieve a balanced and visually pleasing result. Next, prepare the wall surface by cleaning it thoroughly, making sure it is smooth and dry. If necessary, remove any existing backsplash, fill in any holes or cracks, and sand the surface to create an even base. Choose your preferred backsplash material, such as tiles or peel-and-stick sheets and cut it to fit the dimensions of the wall space behind the sink. Be sure to account for any cutouts needed for electrical outlets or other fixtures.
Follow the manufacturer's instructions to apply adhesive or mortar to the back of the material. Align your backsplash material with the measurements and pattern you planned, using spacers or a level to ensure even spacing and alignment. If using tiles, apply grout to the gaps between the tiles after the adhesive has dried. Once the backsplash is installed, clean off any excess adhesive or grout from the surface and edges. Use a damp cloth or sponge to wipe down the backsplash and remove any residue. If necessary, apply a sealer to protect the surface from stains or moisture, following the manufacturer's instructions for your specific material.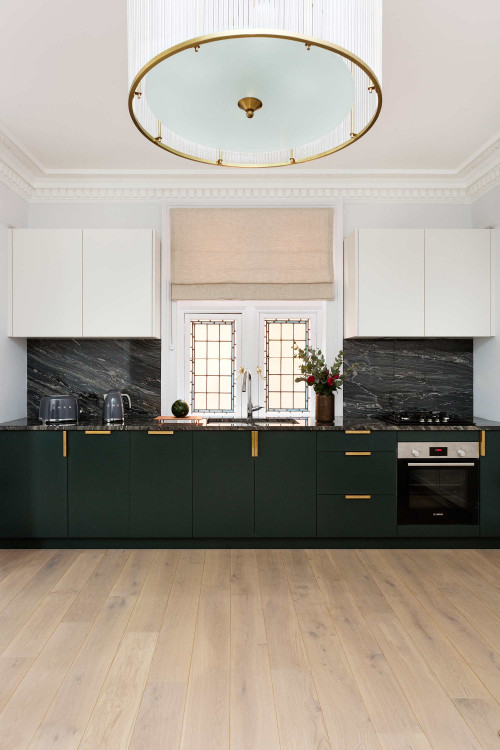 ID# 161431 | Houzz.com – Credit | © HUX London
---
Luxury Kitchen with White and Green Cabinets
In this luxurious kitchen, dark green base cabinets create a rich and opulent feel, while the white upper cabinets and walls offer a crisp and clean contrast! The highlight of the kitchen is the window backsplash positioned in the middle, allowing natural light to flood the space and providing a stunning focal point. A linen shade adds a touch of elegance and softness to the window area. On both sides of the window, the black marble backsplash adds a touch of sophistication and drama. The brass hardware on the cabinets and drawers adds a luxurious and glamorous touch and elevates the overall aesthetic of the kitchen.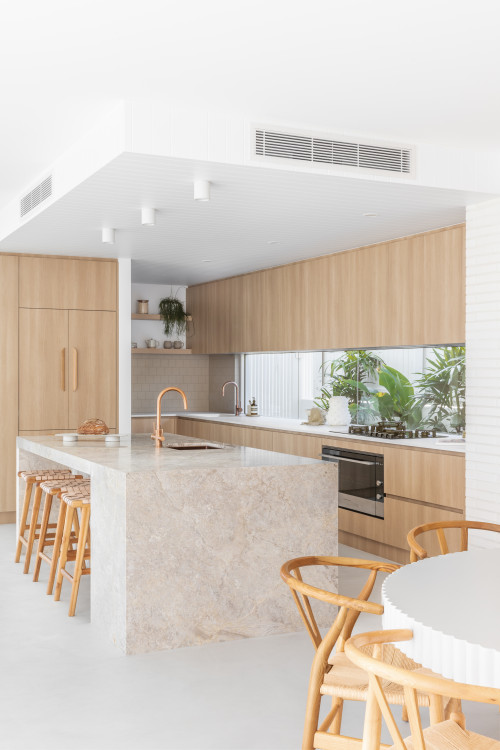 ID# 161432 | Houzz.com – Credit | © ABI Interiors
---
Beach Style Kitchen Design with Warm Wood Cabinetry
In this beach style kitchen, the large window backsplash serves as the focal point, bringing the beauty of the outdoors inside and creating a bright and airy atmosphere. The wood cabinets add warmth and natural charm. The granite kitchen island acts as a statement maker, offering a durable and functional surface for food preparation and entertaining. Gold fixtures add a touch of elegance and luxury and create a sense of sophistication and refinement.