21+ White Chevron Backsplash Ideas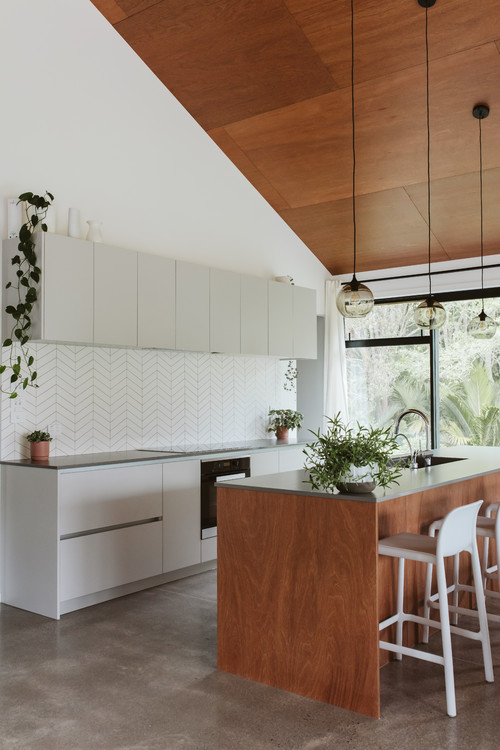 ID# 146801 | Houzz.com – Credit | © Plymasters
---
A Flawless White Chevron Backsplash In A White Kitchen
This kitchen looks warm and cozy with white flat-panel kitchen cabinets and a medium hardwood kitchen island. Combining white and wood always works to create a fresh and adorable kitchen look. The white one-wall kitchen layout provides a simple and clear cooking space whereas the white chevron kitchen backsplash adds movement and elegance to the space. The wooden kitchen island and the wooden ceiling invite nature into the kitchen environment. Also, the green plants bring more color and support the natural kitchen look.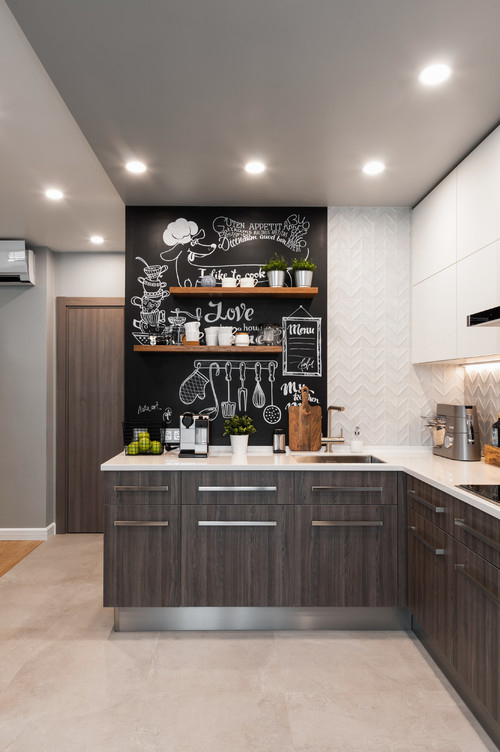 ID# 146815 | Houzz.com – Credit | © Константин Никифоров (812 studio)
---
Dark Hardwood Flat Panel Cabinets With White Countertop
This l-shaped kitchen looks very appealing with the beautiful hardwood and white flat-panel cabinets and a stunning white ceramic chevron backsplash. While the hardwood cabinets add charisma to the space, white cabinets include brightness to the kitchen area. The white laminate countertops provide the transition between the cabinets. Also, the white ceramic chevron backsplash adds glamour and movement to the space. The wooden shelves and the chalkboard create a café ambiance in the kitchen which makes the kitchen unique and cool. Lastly, the light stone floors bring coziness to the environment.
White Chevron Backsplash Ideas
The chevron tile pattern boasts a mesmerizing zigzag design with rectangular components arranged in a 'V' shape. The consistent repetition of V's in each row gives rise to a captivating effect. The French word for rafters, "Chevron," was given to this pattern for its angular shape, which resembles roofing rafters. It might surprise you, but the origins of this trendy design date back to the Neolithic period! Our predecessors used it in pottery, shields, and military gear. Even today, the chevron pattern has a contemporary appeal and is often used to install a variety of materials such as brick, wood, stone, and marble! So, if you want to learn more about this stunning tile design, scroll down and find inspiring white chevron backsplash ideas!
Elegance of the Chevron Pattern
A small accent wall generally seen behind a stove or kitchen sink, Chevron is particularly well-liked for backsplashes in kitchens. Chevron tile patterns can provide flair to a place without detracting from its beauty due to the area's relatively tiny size. The pattern's adaptability makes it suitable for kitchens with a variety of attention-grabbing characteristics. Consider heat, moisture, and stain-resistant, long-lasting materials like glass, porcelain, and ceramic when selecting tile for backsplashes. One of the most popular chevron designs is the white chevron backsplash. White chevron tiles have many appealing qualities, not the least of which is their gorgeous appearance, but what makes them particularly exceptional is their ability to create a focal point that doesn't dominate the appearance of the space as a whole. This adaptable decorating choice is perfect for enhancing your intended design without taking center stage.
Is Chevron tile out of style?
Are you worried that Chevron tile might be out of fashion? Put those fears to rest because Chevron tile is timeless. The beauty of this particular tile lies in its versatility. It's suitable for both traditional and modern designs. Your kitchen will be the talk of the town when you use this tile design. You'll be amazed at how the vibrant pattern can breathe life into your cooking space, making it feel fresh and unique. Luckily for you, it's one of the most popular tile styles, so you'll be in good company with other homeowners making bold kitchen design choices.
Tile Materials for White Chevron Backsplash
Are you looking for a timeless and elegant design choice for your kitchen or bathroom? Look no further than the classic chevron pattern with its sophisticated zigzag shape. When paired with white tiles, it creates a clean and fresh look that complements any interior style. But choosing the right tile material is crucial to achieving the desired aesthetic. Ceramic or porcelain tiles offer durability and ease of maintenance, perfect for high-traffic areas like the kitchen. For a more luxurious feel, opt for marble or glass tiles that add a touch of opulence to your space. And the versatility of these materials allows for creative customization, ensuring your chevron backsplash is unique and personalized to enhance the overall aesthetic of your home.
White Marble Chevron Backsplash
Being soft and porous, marble is a problematic material in the kitchen design industry. It has a wonderful appearance, but compared to most other stone replacements, it is more susceptible to stains and scratches. However, if you use marble for your kitchen backsplash rather than the countertop, you can still enjoy its unmatched beauty without worrying about getting hurt. Despite requiring a bit more upkeep, marble provides unparalleled creative opportunities and an aesthetic boost. Among the many potential materials and designs, fusions is a white marble chevron backsplash. If you desire a luxurious and timeless kitchen, go with a white marble chevron backsplash.
How do you lay tile in a chevron pattern?
The backsplash area needs to be ready initially. The area can be cleaned and sanded to provide a solid, smooth surface that is ready for installation. After cleaning, mark the backsplash area with painter's tape, then take the electrical switches out.
If you're using tiles, lay them out on the counter to decide how they should be arranged. By doing so, you can prevent mismatched pieces and identify which tiles require chopping. Because the chevron pattern requires extra care, you might need expert assistance. The chevron design installation takes longer and requires more skill and ability to achieve that flawlessly matched appearance. Depending on the color scheme you've picked for your chevron tiles, placing could also need skill. Therefore, to finish your chevron tile jobs, you could need to contact professional tilers.
Installation
It's time to install the tiles when you've finished the preparation. Using a notched trowel and small amounts of thin-set mortar, apply the mortar before starting to put the tiles on top of it. Put spacers between the tiles to secure them. Up till all surfaces are covered, repeat these procedures. Place the tiles there for a minimum of one night. When the mortar has dried, remove the spacers. Being a natural stone, marble needs to be sealed before grouting. Apply the stone sealer with a towel. Next, a grout trowel is used to apply the grout at a 45-degree angle. Wait 10 seconds, then clean the tile surfaces with a wet towel to remove the haze. When the grout has fully dried, wipe the surfaces clean. To prevent discoloration, caulk the joint between the backsplash and the counter.
White Glass Chevron Backsplash
The glass chevron splashback is a fantastic material for kitchens since it is highly strong and resistant to extreme heat. It is simple and quick to install and, because of its mirrored effect, which reflects light to give the impression of a larger area, quickly makes your kitchen feel twice as spacious. A glass chevron backsplash offers multiple color options. If you have a narrow or small kitchen area a white glass chevron backsplash is the right backsplash option for you. It not only makes your kitchen fresh and open, but also it makes the space look more spacious.
White Ceramic Chevron Backsplash
Ceramic tiles have been a widely favored material for interior design for decades because of their adaptability, durability, affordability, and attractive appearance. Ceramic tile is one of the most popular backsplash materials. Because ceramic tiles are less susceptible to bacteria and molds because of their impenetrable hard surface, which makes them water and moisture-resistant. Ceramic backsplashes are low maintenance and offer a clean, hygienic environment that is essential in a kitchen. They are the best among other materials for kitchen designs since they are rigid and have a hard surface.
Ceramic backsplashes are strong and a wonderful option for residential or commercial kitchen designs since they are impervious to moisture, stain, scratch, and crack resistant and offer an additional layer of protection against damage. They are frequently utilized in modern kitchens and come in a broad variety of hues, patterns, and textures. In addition, ceramic backsplashes come in matte, glossy, super glossy, glazed, and unglazed finishes. They come in a huge variety of styles, prints, and textures. One of the trendiest ceramic tile backsplash options is the white ceramic chevron backsplash. White ceramic chevron backsplash adds glam to the cooking space and it lasts a long time until you get bored of it. If you want to have a strong and elegant kitchen backsplash, the white chevron ceramic backsplash is the right choice for you.
What is the difference between Chevron and herringbone backsplash?
The herringbone pattern is constructed from rectangular pieces of equal size stacked in a staggered zigzag pattern. Herringbone is easily recognized by the way that each rectangle is perfectly carved such that the ends of each plank or tile meet to the side of the other. An inverted V shape known as a chevron has each side meeting at the tip without a break. Also, the herringbone has a ninety-degree angle while the chevron has a forty-five-degree angle.
Modern White Chevron Backsplash
Every home has a kitchen, which is where every member of the family spends at least one hour each day. Because it receives the most traffic and serves as a reflection of your lifestyle and personality, your kitchen requires special attention. Choose the correct kitchen tiles to set the mood you want, enhancing the entire aesthetic of your home. Options include vintage, modern, vivid colors, and neutral tones. Not only is choosing the proper sort of tile crucial, but so is paying attention to the tile's color, pattern, and design.
Kitchen backsplash tiles should be both aesthetically pleasing and very practical. The appropriate kind of tiles for your kitchen are crucial because they will aid you in maintaining the area's fresh, clean, and pleasant atmosphere. In this case, a modern white chevron backsplash can accomplish everything you want from a kitchen. It adds style and aesthetics to your kitchen. Thus, you can never go wrong with the beauty of the modern white chevron backsplash.
What is a chevron tile?
The Chevron tiles are truly exceptional, boasting a one-of-a-kind design. The standout pattern forms a captivating upside-down "V" or zigzag shape that imbues any room with remarkable character. Seeing these tiles in person is a breathtaking experience, stirring feelings of awe and wonder that will leave you mesmerized.
Small White Chevron Backsplash
It's crucial to choose the correct high-ticket products for a kitchen renovation that complement the little touches. Although you might begin with the cabinets or countertops first, keep in mind that your backsplash can have a significant impact. It not only fulfills a practical need but also enhances the overall aesthetics of the kitchen. Speaking of aesthetics, it is necessary to talk about the beauty of the small white chevron backsplash. This backsplash style offers you not only a stunning kitchen look but also it is budget-friendly. It adds movement and works for both small and medium-sized kitchen spaces. If you want to have an eye-pleasing kitchen and you don't want to invest time in cleaning, the small white chevron backsplash is waiting for you!
Large White Chevron Backsplash
Are you tired of the same old backsplash style with tiny tiles? It's time for a change. Consider giving your kitchen a sleek upgrade with a large white chevron backsplash. Not only will it make your space feel more grand and luxurious, it will also minimize grout lines and create a seamless, modern look. With this addition, your kitchen will radiate an air of refined elegance and cleanliness. Say goodbye to conventional aesthetics and hello to sophistication.
Is a white chevron backsplash good for the kitchen?
Any place benefits from the refinement and elegance of white chevron tile. Thus, a white chevron backsplash can bring a charismatic and luxurious look to your kitchen. Also, it blends well with any kitchen look.