34+ Kitchen Design Trends 2023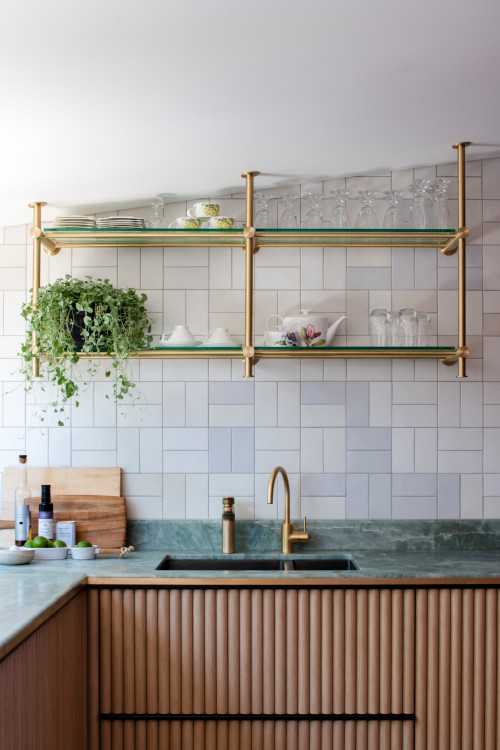 ID# 155006 | Houzz.com – Credit | © Minosa | Design Life Better
---
Scandinavian Kitchen with a Creative Cabinetry Design
The 3d panel design of the kitchen draws attention with its dry-rose color. The timber cabinetry and the gray marble countertops perfectly complement each other. The basketweave tile backsplash balances the general look while the brass details enhance the opulent appeal of the cabinetry and the marble countertops. The brass and glass open shelving provides a visually appealing design look in the kitchen.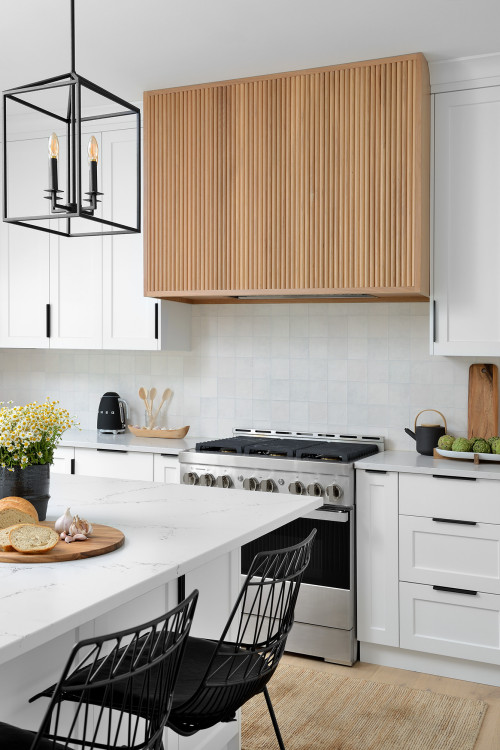 ID# 155023 | Houzz.com – Credit | © Cambro Contracting
---
Statement Maker Range Hood Design with Wood for White Shakers
The white shaker cabinets and black hardware provide a stylish contrast with the black island chairs. The light gray countertops and the square tile backsplash complement the white cabinetry creating a neutral backdrop in the kitchen. The large custom design statement maker range hood design draws attention with its special 3d panel. The wood texture of the hood and the light wood floors add a cohesive appeal increasing the warm atmosphere of this beach-style kitchen.
Kitchen Design Trends 2023
When creating your ideal kitchen, it's crucial to strike a balance between classic elements and fun colors, patterns, and textures that express your style and vision. We're looking ahead to the trends and fashions that will characterize the new year now that 2023 has arrived. About everything from cabinet colors and kitchen lighting ideas to design types they adore, we chatted with interior designers and kitchen specialists who provided their top kitchen design trends 2023.
There are inventive methods to keep your decor seeming new and fresh even if you don't want to entirely rebuild your area every year. The experts are forecasting both natural and decorative stones for kitchen surfaces. They adore muted tones like terracotta and earthy browns, as well as hazy greens and blues for paint. But fear not—bold designs are still in. You'll see more and more gold hardware as you scroll, although matte black and brass are still popular in kitchen design trends 2023.
What Are The Kitchen Trends For 2023?
Time fads and trends come and go, and certain ground-breaking designs endure for a while, if not permanently. Aside from that, classic designs that fit in any environment are among the top interior design trends of 2023. You may ask what are the kitchen design trends 2023, well, this year we will see creative cabinetry, painted kitchen islands, stone slab backsplash designs, all-white kitchens, open shelving, statement maker range hoods, bold backsplashes, mix-and-match materials, earthy colors, and overstated cabinet and hardware ideas. Let's scroll down and see what are the kitchen design trends 2023!
Creative Cabinetry
One of the kitchen design trends 2023 is having a creative cabinetry design. Unique cabinetry finishes, bold colors, or unexpected design solutions with patterned tiles will be on the stage. It might be difficult to navigate the style, color, and material minefield that is the greatest kitchen cabinet trend. These kitchen cabinet ideas and trends will give you the motivation you need to design a scheme that complements the era of your home, your preferred decorating style, and the proportions of the room, whether you prefer a traditional look with lots of detailing or something more contemporary, like flat-fronted doors with bold touches.
There are many on-trend aesthetics and contemporary designs to choose from, with exciting new kitchen companies emerging and a ton of creative design concepts and ingenious updates on classic designs on exhibit at kitchen showrooms around the US. We have gathered some gorgeous examples of creative cabinetry to be get inspired by!
Painted Kitchen Island
A kitchen island is a great way to bring an exciting and unique touch to your kitchen. From providing extra counter space and storage to adding a bit of personality to your kitchen, incorporating a painted kitchen island can really transform the look, feel, and functionality of your kitchen. There are a few different ideas you can use, each with a unique appeal to them.
Contrasting Colors:
Adding a vibrant touch to your kitchen, and utilizing a contrasting color to your cabinetry can really give the room an intriguing dynamic. Imagine the awe you'll receive by pairing a white kitchen island with dark cabinetry or a black island with light cabinetry, it would surely create an eye-catching effect!
Monochromatic Scheme:
If you are looking for a more minimal look, but still want to give your kitchen some modern flair, you may want to opt for a monochromatic scheme. Utilizing the same color of your cabinets, but perhaps with a different finish, maybe the perfect way to add a personal touch to your kitchen. Imagine a glossy white for the cabinetry and a matte white for your island, it would surely be stunning!
Bold and Bright:
If you're looking for something that truly makes a statement, consider painting your kitchen island a bold and bright color. Yellows, oranges, and reds can create an energetic atmosphere, while greens and blues can create a calming mood. Whatever you decide just remember, you'll be adding an exciting personal touch to your kitchen.
What color kitchen cabinets are in for 2023?
In 2023 colours inspired by nature will be popular. Dark greens, warm neutrals, and a pop of soft pink will be prevalent. Fortunately, because of their neutrality and timeless appeal, these kitchen cabinet colors won't go out of style anytime soon.
Stone Slab Backsplashes for Kitchen Design Trends 2023
Stone slab backsplashes offer a sense of warmth and natural beauty to any kitchen or bathroom! With its durability and versatility, it can be a great choice for adding elegance and style to any home. From granite to marble to quartz there is a wide selection of materials, each offering its own unique look and feel. And thanks to its ability to withstand heat and moisture, you can enjoy a stone slab backsplash for years to come, safe in the knowledge that it won't succumb to wear and tear. Plus, it's easy to maintain and clean, making it ideal for high-traffic areas. With its endless pairing possibilities with different finishes, you can truly create the perfect look for your space.
All-White Kitchens
In recent years, all-white kitchens have become quite a popular trend in interior design. This timeless palette creates a clean feeling and good compatibility with any style of home decor. White cabinets, countertops, and walls evoke a sense of spaciousness, even in smaller kitchens. To add some interest and personality to an all-white kitchen, consider incorporating a vibrant or textured backsplash in 2023. A colorful mosaic might inject a playful spirit while a textured subway tile could add a touch of sophistication. With the right backsplash, an all-white kitchen can evoke a warm and inviting atmosphere while keeping a timeless beauty.
Open Shelving
Open shelving in the kitchen is a popular and fashionable trend in interior design that adds both style and practicality to the area. Without the obstruction of cabinets, the room can feel bigger and airier and make it easier to grab items quickly. Additionally, open shelves also give more chances to show off items like dishes, cookbooks, or decorations. By having open shelving, we can experience a sense of style, utility, and freedom when it comes to customizing our kitchens. We can enjoy the look of a collection of dishes or plants and feel more organized with easy access to objects without having to open clunky cabinet doors.
Overall, open shelving in the kitchen breathes new life into the space, giving us the opportunity to spruce up the kitchen with our own unique touch.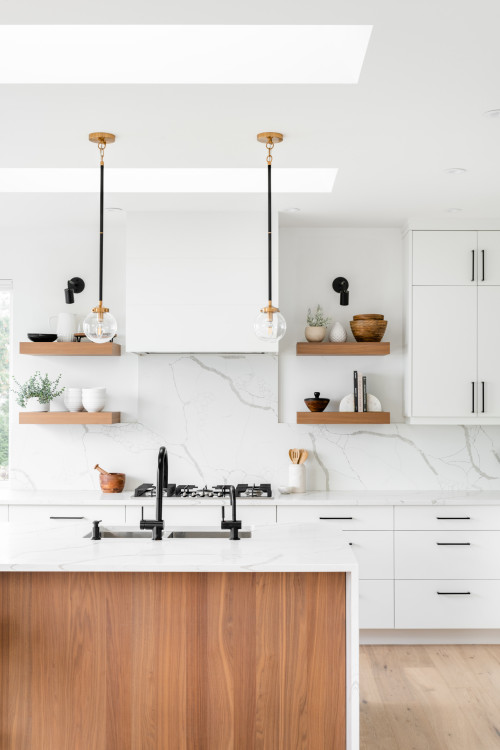 ID# 155019 | Houzz.com – Credit | © Karly Parker Interior Design
---
White Cabinets with Black Hardware and Wood Details
The elegantly versatile white cabinets provide a refreshing and contemporary look, while the black hardware lends an added touch of sophistication and elegance! The light wood island with white worktop and waterfall design imparts a cozy, natural ambiance, while the white quartz countertops and backsplash add a lavish, luxurious feel.
The cohesive white surfaces create a wonderfully modern atmosphere, and the light wood floors bring harmony to the space and tie together the cabinetry and island. The floating shelves around the hood offer a modern effect and practical storage. Overall, this composition is sure to bring feelings of contentment and comfort.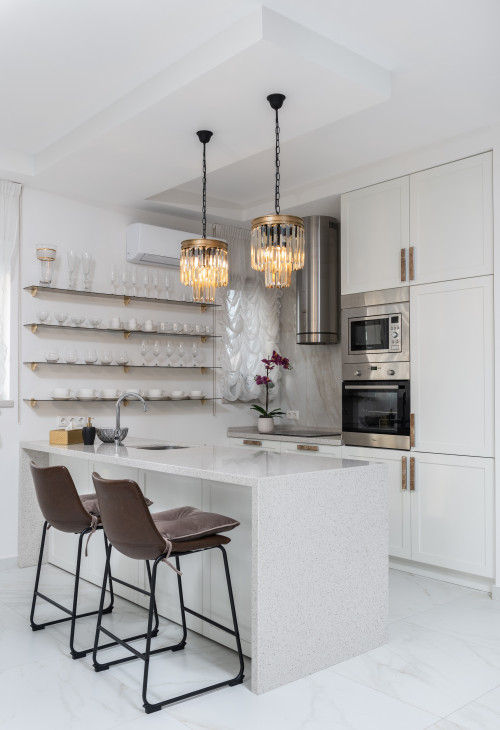 ID# 155020 | Houzz.com – Credit | © Comma Design Studio
---
Open Shelving with Brass Details for a White Kitchen
The white peninsula and shaker cabinets provide a pristine and contemporary atmosphere that is both sophisticated and versatile! The warm and polished look is amplified by the brass hardware and further enhanced by the glamorous and elegant glass chandeliers that provide ambient lighting. The open shelving is a unique and modern addition, with the glass shelves allowing light to pass through and expand the area, while the white floor tiles contribute to a clean and bright atmosphere. Lastly the white quartz countertops are both resilient and sophisticated, creating a seamless and unified look while tying in the white cabinetry and producing a pristine and modern feel – it's truly a breathtaking combination!
Statement Maker Range Hood
Range hoods can add character and style to any kitchen, making them not just essential, but an eye-catching focal point. From sculptural shapes to a mix of materials and unexpected colors, modern range-hoods can be designed to express a wealth of human emotion. With bold curves or angles, you can create a sense of sophistication. Contrasting materials give a dynamic and rustic industrial feel. And a bold, bright color of red or yellow will electrify any kitchen, giving a pleasing aesthetic to enjoy.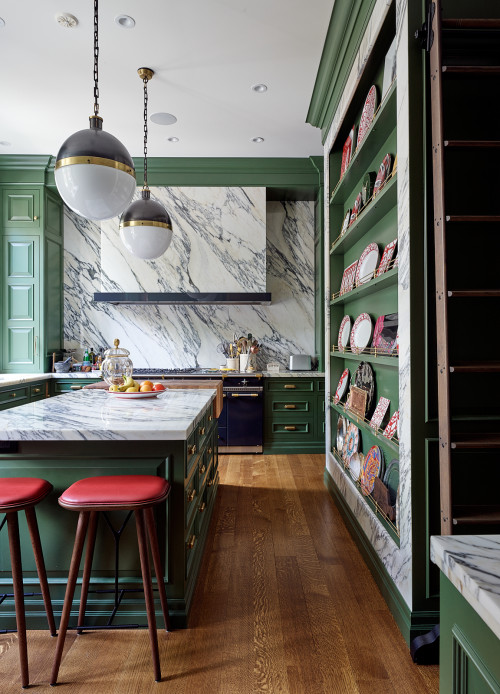 ID# 155021 | Houzz.com – Credit | © Whitehall Homes
---
Kitchen Design Trends 2023 for Bold Kitchen Designs
The luxurious allure of the
marble backsplash
, range hood, and worktops draws us in, creating a breathtaking harmony with the vibrant green kitchen island and cabinetry. The marble's gray veins give the kitchen a natural flow, inviting us to admire its graceful combination of colors and textures. The warm brown floors, vibrant green cabinets and island, and pure white marble offer a beautiful contrast that stirs up all kinds of human emotions – awe and wonder being the most common.
What countertops are in style 2023??
While quartz will continue to be popular, magnificent marbles and quartzites with richer colors will increasingly be used for countertops, backsplashes, and hood surrounds!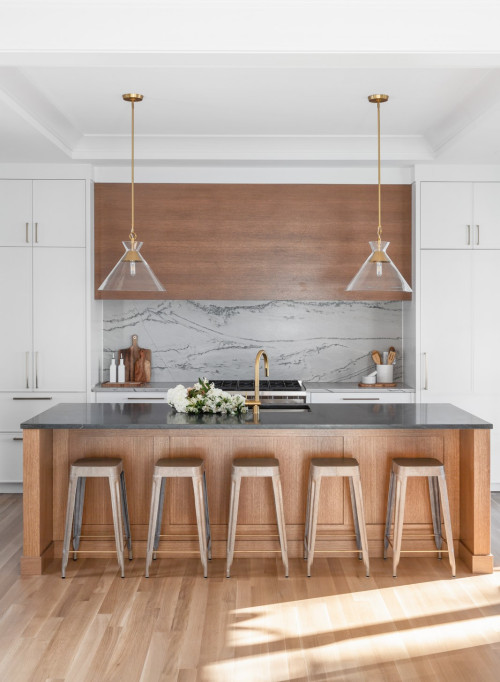 ID# 155022 | Houzz.com – Credit
---
Wood Panel for White Cabinets and a Slab Backsplash
 This kitchen exudes a sense of warmth and character with its harmonious blend of white shaker cabinets, light wood floors, gray countertops, white slab backsplash and large wood panel for the range. Each element gracefully complements the other, creating a cohesive and stylish atmosphere. The gray countertop adds an elegant touch of contrast, while the white slab backsplash brings a modern and clean look. The grandeur of the large wood panel for the range hood is a standout feature, making this kitchen truly unique. All in all, this kitchen exudes a comforting, homely atmosphere.
Bold Backsplashes
Backsplashes have gone from being a subtle, yet unassuming element in kitchens and bathrooms to become a bold statement piece with the power to transform the atmosphere of an entire space. With recent trends towards personalization, people are seeking to express themselves in unique ways by injecting their personality in the form of vibrant pops of color (like yellow or orange for a playfully fun kitchen), intricate patterns and prints, or choosing to use diverse materials such as metal, glass or concrete for an industrial look. One of the most popular ways to make a statement with a backsplash is through oversized tiles – creating a much more modern and sophisticated feel in the room. All in all, backsplashes allow us to express our emotions and feel free to experiment with creative ideas.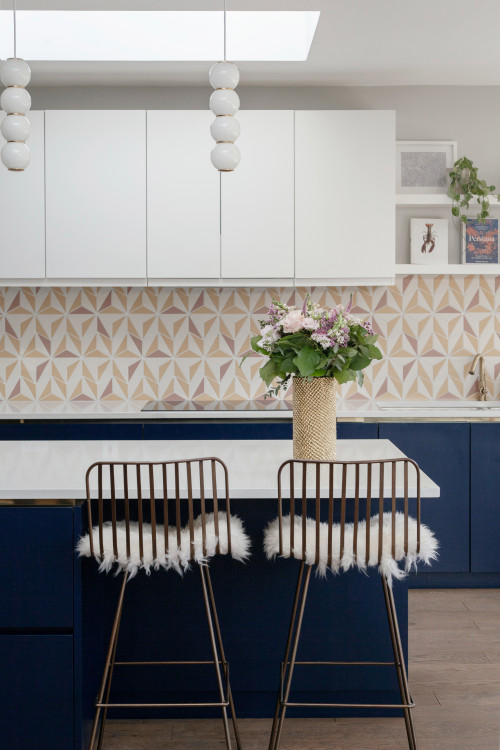 ID# 155024 | Houzz.com – Credit | © DesignLed
---
Blue and White Cabinets with a Bold Backsplash Design
This kitchen exudes a feeling of charm and grandeur with its combination of powdered blue and ivory lower cabinets! The ivory countertops provide a pristine and sophisticated look while the white and beige patterned backsplash brings a sense of texture and appeal to the atmosphere. The warm wood flooring fosters a cozy and balanced atmosphere with the distinguished dark blue bottom cabinetry. The navy blue island is a breathtaking feature furnishing additional space and storage with a distinguished jolt of fervor from the white upper cabinets. The creamy surface top on the island provides a unified look and also contributes a complementary distinction to the navy blue. This composition of colors and patterns generates a unique and stylish space that provides both efficiency and a pleasant view.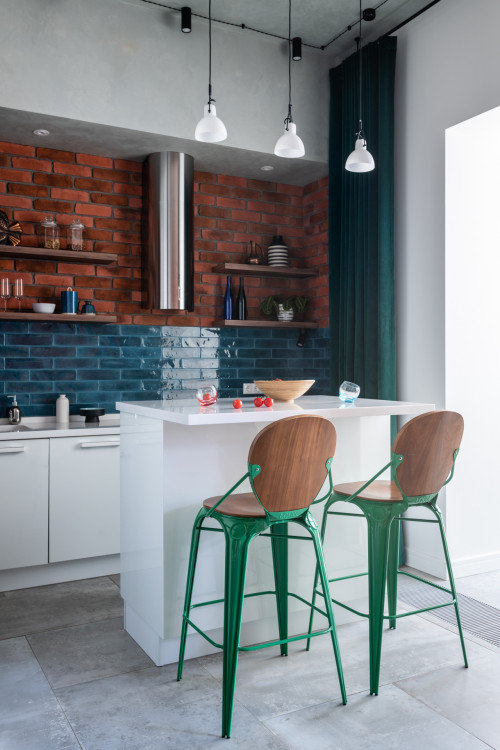 ID# 155025 | Houzz.com – Credit © Князева Вероника /студия "ProIntDesign"
---
Industrial Style with Bricks and Blue Subway Tiles
This industrial-style kitchen has been pleasantly transformed with a brick backsplash and high-gloss subway tiles—creating a delightful textured feel and an intriguing atmosphere. Furthermore, eye-catching white flat panels and counters lend brightness and cohesion to the space. For added storage and seating, the small white peninsula comes with green and wood seats, giving the kitchen a contemporary and unified aesthetic, contrasted beautifully against light gray floor tiles. All-in-all, this transformation evokes feelings of modernity and elegance.
Are white kitchens out of style in 2023?
White kitchens are gaining popularity in recent years and homeowners opting for this style for their homes. While white kitchens will still be a popular choice for kitchen design trends 2023, we may anticipate seeing a little more color in the space. White kitchens will utilize darker colors more frequently.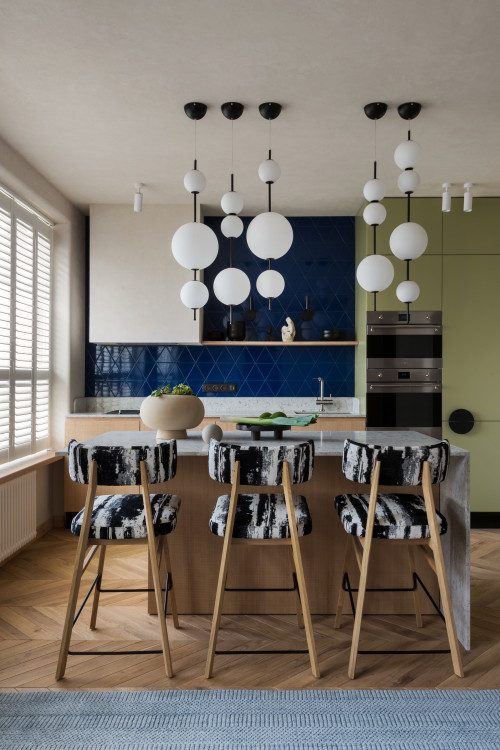 ID# 155026 | Houzz.com – Credit | © WP – INTERIOR DESIGN
---
Bold Backsplash Design with Navy Blue Ceramic Tiles
Among the light hues, the navy blue ceramic tile kitchen backsplash stands out for its opulent mood. The white flat-panel custom cabinetry and countertops provide a contrast with the backsplash while balancing the light olive green flat-panel cabinets and the surrounding wood textures.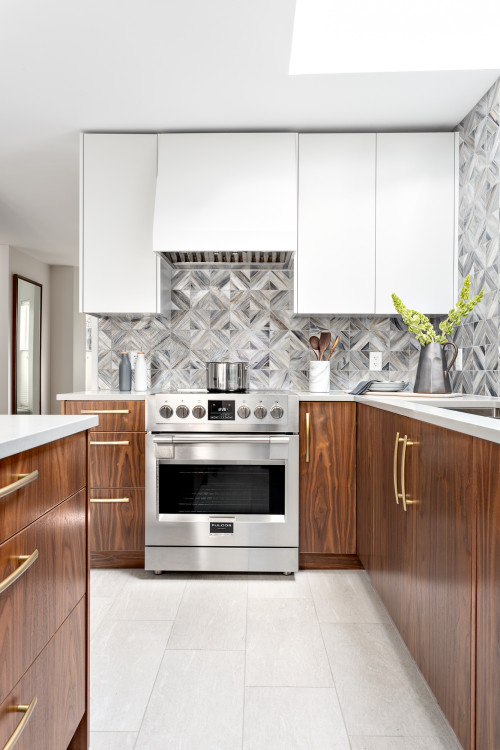 ID# 155027 | Houzz.com – Credit | © Simply Home Decorating
---
Stainless Steel Appliances for
Kitchen Design Trends 2023
White flat-panel top cabinets with wood base cabinets are shown in this modern kitchen for a chic and distinctive appearance! The flooring and counters are also white, and they go well together. The backsplash's gray and white pattern unifies the entire style and provides visual intrigue. The brass accents and stainless steel appliances give the room some gloss and a contemporary feel.
Mix & Match Materials
Mixing and matching materials in the kitchen is a great way to add character and personality to the space. This can be done through a combination of different cabinetry finishes, countertops, backsplashes, and more. By combining different materials, textures, and colors, you can create a kitchen that is both functional and visually interesting. One popular trend is to mix and match different types of wood for cabinetry. For example, pairing natural wood cabinetry with a painted or stained finish can add depth and interest to the space. This can also be done by mixing different types of wood, such as pairing cherry wood with maple or oak. This can add warmth and character to the space, and allows you to create a unique and personalized design.
Creative Combinations
Another trend is to mix different types of countertops. This can include pairing a natural stone countertop, such as granite or marble, with a solid surface countertop like quartz. This can add both color and texture to the space and can be a great way to create a cohesive and interesting design. Mixing and matching different types of backsplashes is also a great way to add personality to the space. A popular trend is to pair a natural stone backsplash with a glass backsplash. This can add both color and texture to the space and can be a great way to create a cohesive and interesting design.
Another trend is to mix and match different types of hardware. This can include pairing a polished chrome finish with a brushed nickel finish. This can add both color and texture to the space and can be a great way to create a cohesive and interesting design.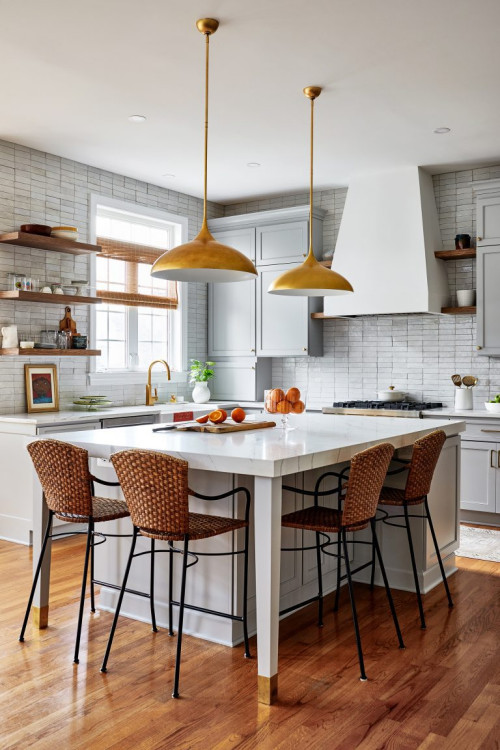 ID# 155028 | Houzz.com – Credit | © Case Design/Remodeling Halifax
---
Mix and Match Materials for
Kitchen Design Trends 2023
This kitchen design evokes a feeling of luxury and elegance, thanks to the gleaming brass hardware used throughout the space. Those warm tones brighten the room and give it an upscale feel. Meanwhile, the natural look of the wood floorboards seeps continuity with the surrounding environment, almost as if the kitchen were an extension of the home. It's a beautiful combination of different design elements that create cohesive and highly stylish spaces. The brass hardware, medium-toned wood, white countertops, and matte stacked tile all come together and stir a remarkable emotion of opulence, sophistication, and also warmth.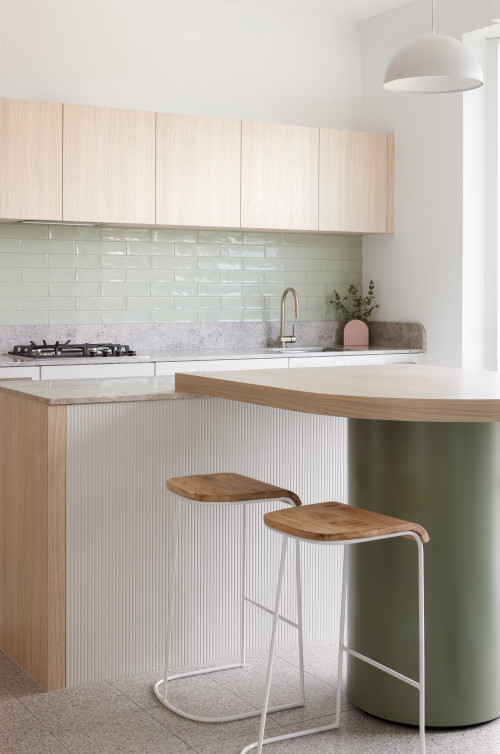 ID# 155029 | Houzz.com – Credit | © smarterBATHROOMS+
---
Beachy Vibes with Wood Textures and Glass Tiles
The light wood cabinetry creates a sense of comfort as if wrapping you in a warm embrace of naturalness. The white lower cabinets and countertops allow the space to remain bright and airy, like a breath of fresh air. The backsplash is particularly remarkable, combining the soothing hues of pale green glass tile with the grandeur of a gray marble short slab. The pale green color of the tile feels peaceful, reminding you of the sublime colors of the sea and sky. The gray marble short slab adds a delightful contrast to the green while also exuding elegance. The matching gray marble countertops bring harmony to the color scheme while also giving the space a hint of luxury. To top it off, a white island with a green-legged and wood-topped table offers both function and finesse.
What makes a kitchen timeless?
A timeless kitchen evokes an atmosphere of comfort and homely familiarity; its classic, neutral colors and materials make it lasting and strong. Wood or white cabinets, marble or granite countertops, and simple hardware are all timeless pieces. The layout is practical and efficient, with no hint of passing trends. Materials and appliances are carefully chosen for their quality and durability – so your kitchen will be elegant and reliable for years to come. With the timeless kitchen, you can be sure of timeless beauty, along with optimal functionality for your family's needs.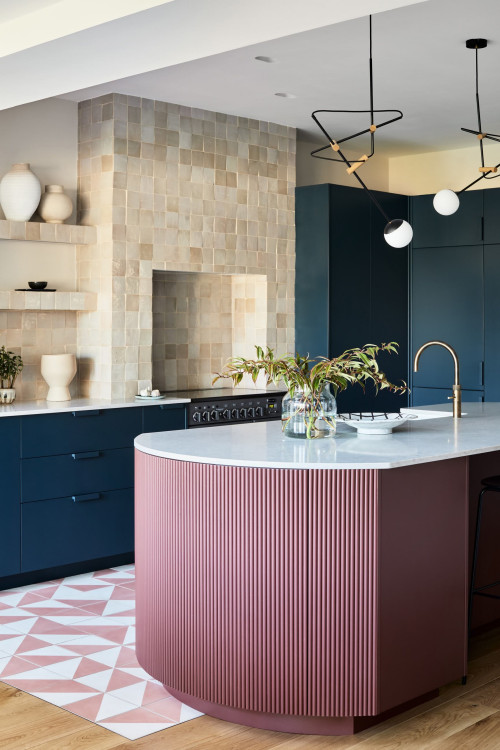 ID# 155030 | Houzz.com – Credit | © A New Day – Interior Design Studio
---
Mix and Match Materials in a Contemporary Kitchen
The rich navy blue hue of the cabinets exudes a bold and modern feel, bringing an upscale and distinct ambiance to the kitchen! The cabinets offer Endless storage options, making meal prep and entertaining an effortless and enjoyable experience. The island is a true showstopper; its subtle dry-rose shade and curvy silhouette weave together to bring a sense of softness and warmth, making the space feel more inviting and less austere. The white countertop on the island is a perfect complement to the dry-rose shade, providing a useful workspace and allowing for more room to create delicious dishes. Along with its extra counter space, the island brings an air of life and movement, making this kitchen extraordinary.
Earthy Colors
The warmth, comfort, and inviting feel of earthy colors is something that elicits human emotion in its inviting atmosphere. Bringing shades of brown, beige, and green into your kitchen design can create a cozy homey feel to the space. Wood is a natural material that can emanate classic character with a variety of earthy hues, from medium tones to light floors. Natural stones such as granite, marble, and soapstone also provide a unique texture in their own range of beige, brown, and green shades. Not only do these materials provide a sensory experience of comfort and elegance, but bring values of timelessness and homeliness. Whether it be a traditional kitchen, modern abode or anything in between, incorporating earthy colors is an enjoyable way of making your kitchen more inviting.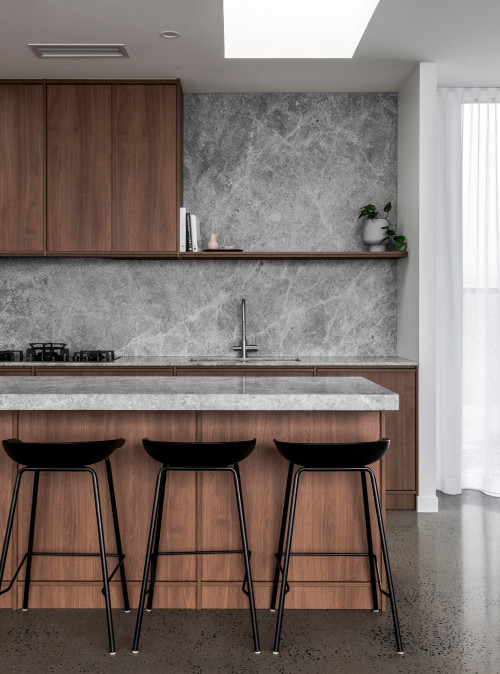 ID# 155031 | Houzz.com – Credit | © Big House Little House
---
Earthy Colors for Kitchen Design Trends 2023
 This kitchen evokes a feeling of warmth and comfort with its cozy color palette, natural and rustic wood flat-panel cabinets, and gray stone slab backsplash and countertops adding a sophisticated touch. The chrome faucet has a modern and sleek effect, reflecting light around the room, while the black stools provide a contrasting color and complement the gray and wood tones. The concrete flooring provides a clean, contemporary look and feels with durability and low maintenance.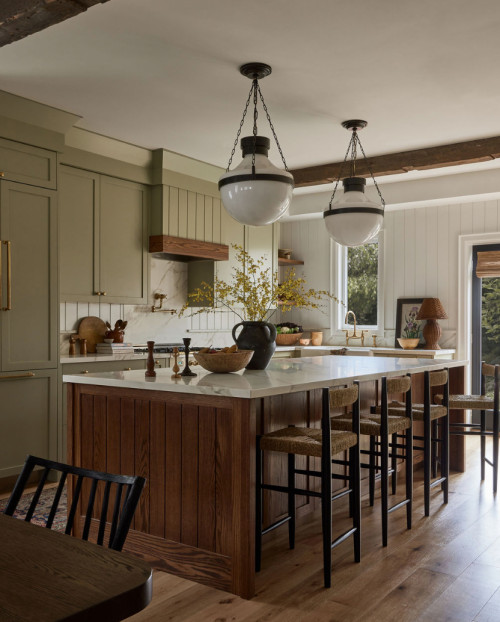 ID# 155032 | Houzz.com – Credit | © The Home Improvement Services
---
Country Kitchen with Olive Green Shakers and a Wood Island
This cozy country kitchen is warmly inviting with its olive
green shaker cabinets
as the focal point. The brass hardware gives a vintage touch of elegance, while the light wood floors provide a natural and organic feel that contrasts with the emerald green cabinets. The wood island with its white worktop offers a sense of balance, while the white countertops and
beadboard backsplash
exude a spacious and airy vibe. The exposed wood beams impart a rustic charm filled with character and texture that make the space feel alive with human feelings.
What backsplashes are in style 2023?
The backsplash trends for 2023 include backsplashes with geometric focal points, patterned tiles, striking patterns, concepts for full-height or ceiling-height backsplashes, natural stones, and glossy finishes!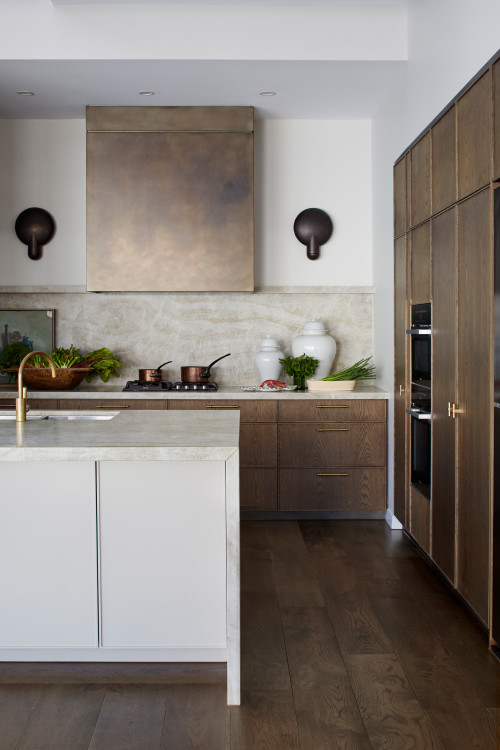 ID# 155033 | Houzz.com – Credit | © Brownlow Interior Design
---
Earthy Colors for a Contemporary Kitchen with White and Wood Cabinets
The wood tones lend a cozy, rustic, and natural feel to the kitchen, providing plenty of storage! The brass hardware provides an elegant and sophisticated touch, contrasting nicely with the cabinets. The hardwood floors give the kitchen an organic and natural vibe, complementing the cabinets and the unique brown-textured hood. The white island and white countertops give the room equilibrium and harmony, and also offer extra workspace and storage. The white surfaces and beige backsplash brighten and open up the kitchen, creating a fresh, airy feel. The brown textured hood stands out as a center of attention, bringing in depth, texture, and character to the area.
Overstated Cabinet Hardware
Designing a kitchen can be exciting, and two of the most alluring aspects – the cabinets and hardware – play a major role in the overall aesthetic! For those looking to make a bold statement, oversized cabinets, and striking hardware can make all the difference. Large and imposing cabinetry can add grandeur and drama to a kitchen, particularly in larger spaces, creating a sense of balance and proportion. An array of unique, oversized handles, knobs, and pulls can be used to craft an exciting and eye-catching look full of personality.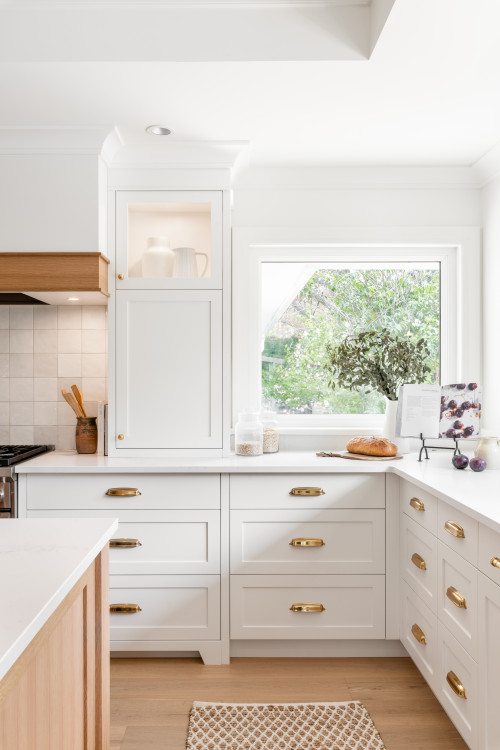 ID# 155034 | Houzz.com – Credit | © Jenny Martin Design
---
White Cabinets for Kitchen Backsplash Design Trends 2023
The cabinets offer a timeless, classic look, while the brass hardware brings a hint of sophistication and elegance! The pieces are striking, creating a dramatic contrast with the white cabinetry and becoming a centerpiece of the kitchen. With this small detail, this space gains a sense of drama and visual intrigue. Keeping the overall look tranquil and light-hearted, the white countertops, light wood floors, and white square tile backsplash create a balanced, calming ambiance. The floor's earthy tones offer a natural and organic feel, while the tile backsplash ties everything together. Evoking feelings of serenity and harmony, this space is welcoming and inviting.