32+ Kitchen Cabinet Ideas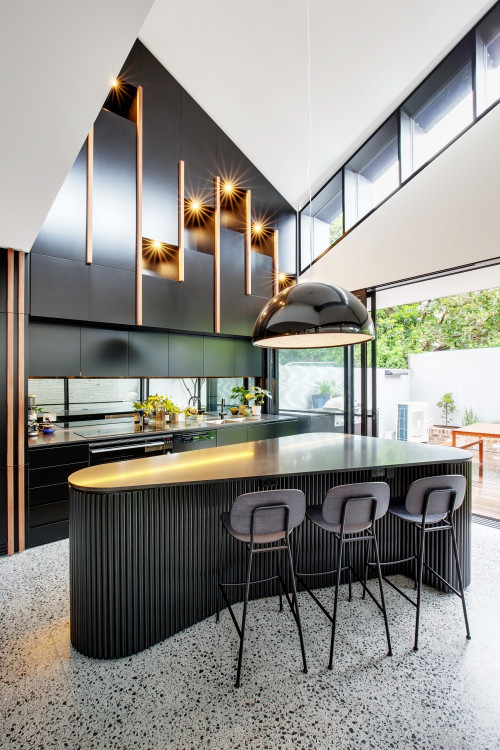 ID# 142120 | Houzz.com – Credit | © HBH Joinery
---
Reflective Black Flat Panel Kitchen Cabinets with Kitchen Window and Metallic Backsplash
This shiny black single-wall open-plan kitchen looks breathtaking. The black flat panel kitchen cabinets with black metallic backsplash and black laminate countertops give a vibrant and elegant look to the kitchen environment. The high ceiling with windows and black paneling with gold details make the space open and spacious. The black hardwood kitchen island adds movement and extra storage space to the kitchen. The open shelving adds visual interest. The kitchen window backsplash provides more light to the cooking area. Lastly, the large windows invite natural light and nature to the space.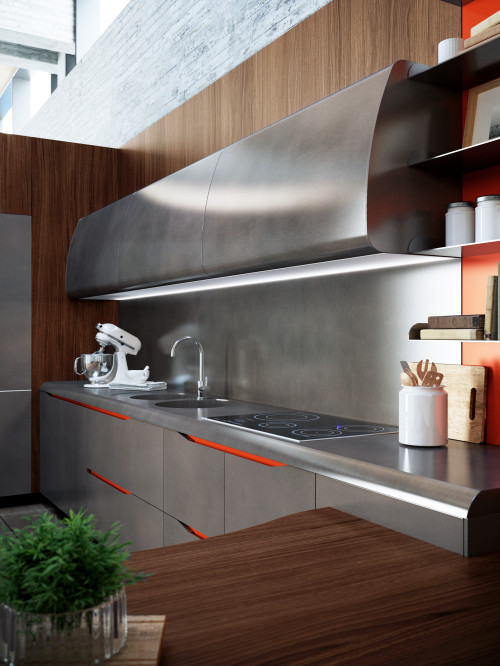 ID# 142139 | Houzz.com – Credit | © O.NIX Kitchens & Living
---
A Unique Kitchen with Metal Cabinets and Metallic Kitchen Backsplash and Medium Wood Kitchen Walls
The metal cabinets and metallic kitchen backsplash make the kitchen very unique. The cooking area with dark wood walls looks like a high-class restaurant kitchen. Blending the metallic countertops and wooden countertops completes the metallic and wood kitchen look. The stone floors add movement and a cool vibe to the kitchen space.
Kitchen Cabinet Ideas
Kitchen cabinet ideas vary from shaker to recessed-panel, glass-front, and flat-panel cabinets, while each one is more or less associated with a specific kitchen design. As the cabinets are the main bones of the kitchen, they are one of the defining assets of the design. Thus, kitchen cabinet door styles make a huge difference and translate the space into modern, traditional, and or something-in-the-middle design looks.
Additionally, kitchen cabinet ideas are not only influenced by the door styles but also hardware and colors that adjust them to the farmhouse or modern kitchens, for instance. But in this article, our focus will remain on the kitchen cabinet styles and materials such as solid wood and its substitutes to introduce more budget-friendly alternatives available in the market. If you are ready to discover some design project ideas, stay with us and scroll for inspiring favorite kitchen cabinet ideas.
How much does it cost to put new cabinets in a kitchen?
Cabinet prices vary by cabinet materials, door styles, and sizes. But the average cost per linear foot generally ranges from $100 to $ 300. Laminate and wood veneer cabinets overall can cost up to $ 15.000, while metal and solid wood counters amount to $ 38.000.
Kitchen Cabinet Styles
Kitchen cabinets are the main bones of the kitchen designs that define the outline of the interior space while hinting at the design's overall character, whether it is modern, traditional, or contemporary. For example, raised-panel cabinets are associated with traditional-style kitchens, while recessed-panel counters are mostly employed in transitional kitchens, which are replaced by flat-front cabinets in contemporary designs. In addition to those, display or glass-front cabinets and shaker cabinets are other popular options favored in beach-style and farmhouse kitchens. Now let's take a closer look at the kitchen cabinet styles to understand them better.
Shaker Style Cabinets
Shaker-style cabinets are one of the most favored cabinets that will never be out of style as they can be adjusted to any kitchen style, be it modern, traditional, farmhouse, beach-style, or transitional. They create a comforting architectural aesthetics which is eye-appealing thanks to their symmetric profile. Their overall profile is a flat center panel with square edges, thus offering a timeless and versatile look.
What is the cheapest way to do kitchen cabinets?
MDF and particleboard cabinets are some of the cheapest materials you find in the market. Ready-to-assemble cabinets and mass-produced ones are alternative options you can go for. However, if your kitchen cabinets are still in a good condition and you just need some change and refreshment, then things get much easier. For example, you can repaint your kitchen cabinets and replace their hardware with something more stylish. You can recycle some of the old wood products such as wood tables. While using their pieces, you can build counter doors and make something new from the old.
Flat-Panel or Slab Cabinets
Flat-panel or slab cabinets have gotten pretty popular due to their minimalist and functional aesthetics and form that respond to the contemporary needs of homeowners. Mainly employed in modern, Scandinavian, and contemporary kitchens, they achieve sleek and clean looks that highlight the geometric forms of the cabinets. Also, their clutter and pattern-free designs emphasize their minimalist aesthetics. Most of them don't even feature any hardware, which is rather replaced by lip pull notches and tiny cut-outs to allow grabs. Thus, they prevent any visual intervention. As for the material options, plywood and laminate cabinet materials are favored for flat-panel door styles.
What are the most popular kitchen cabinets now?
The world changes fast; so do the contemporary needs of the people. As the main architectural focus revolves around minimalism and functionality nowadays, flat-panel cabinets have dethroned the shaker-style cabinets that have been by far the most popular counters as they can get adjusted to any design theme effortlessly. Though they are still popular, the flat-panel cabinets garnered attention too in recent years and are heavily used in our kitchens. Especially, the adapted sleek and clean architectural lines have risen the popularity of flat-panel, also known as, slab door cabinets.
In addition, floating shelves are another popular alternative that substitutes for the upper cabinets to offer the illusion of spaciousness and make more room for ceiling-height backsplashes.
Can I install kitchen cabinets myself?
Yet, you can, but you need to consider and plan everything to make sure that everything goes smoothly. First of all, don't forget that you might need somebody else to hold up the heavy cabinet pieces while you are attaching the screws and screwing the hinges. Such small and nuanced details need to be well-considered to nail the installation of kitchen cabinets.
On the other hand, ready-to-assemble cabinets make things easier for you. They are pre-cut with holes already drilled. All you need to do is to bring the pieces together and assemble them as the name suggests. Given that we all live in a world where knowledge is very accessible through online videos, instructions, and DIY blogs, sure, you can install kitchen cabinets. It only requires research, knowing what you want and how you do it.
Raised-Panel Cabinets
Raised-panel cabinets are mostly preferred in traditional kitchens that emphasize the robust look of the kitchen cabinets. They introduce a level of formality and regularity, which is hard to break up. In that sense, they are a bit restrictive, which makes them look outdated. But they have many decorative options, including moldings and grooved edges to create dramatic effects.
How hard is installing cabinets?
Installing cabinets by yourself saves you money for sure, but how hard is it? Though it could be challenging, it is something manageable. Just keep in mind that the cabinet pieces could be heavy, and the measurement part could be a bit tricky. Also, as aforementioned, installing cabinets needs more than one person and requires some level of collaboration. If you are a handy person and have the professional tools that will help you get the cabinets assembled professionally, it won't be as hard as it is supposed to be.
Beadboard Cabinets
Beadboard kitchen cabinets are composed of vertical slats of wood pieced together, which are heavily preferred in farmhouse or cottage-style kitchens. Yet, their popularity and impact are well-appreciated. As such, they are also used in contemporary, modern, beach-style, and mid-century kitchens. They not only add a sense of movement but also bring rustic vibes and a timeless classic appeal to the kitchens. Aside from that, these vertical wood slats of the beadboard cabinets create an interactive surface that let the interplay light and shadow. Lastly, they also expand the kitchen visually on the vertical axis, which can be used as a trick in small kitchens.
Glass-Front Cabinets
Glass-front cabinets are favorite pieces, especially in traditional, beach-style, and classic kitchens that develop a sense of intimacy, offering glimpses into what is kept inside the cabinets. Thus, they bring a level of transparency behind the glass, allowing homeowners to exhibit their favorite items proudly. To highlight the kitchenware, the interior cabinet lighting can be used to improve the ambiance. As a luminous surface, glass doors also reflect the kitchen and flirt with natural lights playfully. If wished, users also can add X-details, diamond patterns, etc. to the glass doors to make visual statements. As such, glass-front cabinets are very flexible and propose different design ideas to add character to the interior space.
What is the most popular color for kitchen cabinets?
In today's consumerist world, everything changes so fast, that it feels hard to keep up with the trends. Though, certain things never change, for example, the need to feel close to nature and designs that offer comforting aesthetics. White, light-gray, and light wood are some of the favored combinations that create a sense of calmness and a soothing atmosphere. Especially with the Scandinavian-inspired designs, natural wood, especially plywood, has regained its popularity for its minimalist aesthetics, functionality, and clean lines that come with a clutter-free look. In such a hectic world, when we come home, all we need is just a sense of calmness that comes with a neutral color palette and warming elements.
Material Options for Kitchen Cabinets
Among the most popular material options for kitchen cabinets, we can count solid wood, plywood, laminate, metal, and MDF. Priced differently, each one has distinct features that come with its pros and cons. But overall, they are all high-quality materials that guarantee longevity and stability, while their aesthetic values show more variance. Let's explore each one of them one by one in a more detailed way.
Solid Wood Cabinets
High-durable solid wood cabinets supply the kitchen with a robust look that executes a sense of warmth. Encompassing maple, oak, cherry, and more, solid wood cabinets have many colors and types, featuring intriguing inherent grains and stains that add depth and visual drama to the wood. As such, they develop a sense of intimacy and create an alluring environment, helping the kitchen design gravitate toward nature. As an example of biophilic design elements, they inject a healthy dose of organic softness. They can be combined with black, gray, and white colors to add depth, lightness, and extra dimension.
Another advantage of these cabinets is their high customizability. They can be given any shape you want, and with the finishes you choose, you can achieve any look you have dreamed of. However, they are a bit costly. For those seeking alternatives, MDF is a high-quality substitute.
Laminate Cabinets
Laminate cabinets are engineered wood products, composed of compressed wood and melamine, which makes the laminate harder and more durable. As the laminate cabinets are man-made, they are versatile in color options and customizable for this very same reason. Among the advantages of the laminates, we can count their ease of maintenance, versatility, durability, variety of color and pattern options, and, of course, affordable prices, especially when compared to solid wood cabinets. For sleek and contemporary looks, again, laminate cabinets are among the favored options. The finishes available for laminate cabinets guarantee their longevity. Though laminate cabinets have a bad reputation, it is misleading given that in today's market, laminate provides a great substitute for solid wood cabinets.
Medium Density Fiberboard Cabinets ( MDF )
Medium Density Fiberboard Cabinets (MDF) are made from recycled wood, which makes them an eco-friendly option. Just like laminate cabinets, they are affordably prized popular cabinet materials when compared to solid wood. They are customizable, too. For example, you can make a wide range of cabinets that will fit your kitchen's style such as shaker, raised-panel, and recessed-panel cabinets. What distinguishes them from solid wood cabinets is that they don't feature veins like natural wood but rather a smooth finish. This quality also makes them paintable to any color easily. Another distinguishing feature is also that MDFs are water-resistant while solid wood is susceptible to moisture.
Should kitchen cabinets be lighter or darker than walls?
There isn't such a rule of thumb. You can always build contrasts to make statements, which is more about personal taste and what kind of look you want to go for. To build a sense of spaciousness, light colors are always better options. For example, you can choose light-colored cabinets and couple them with darker walls that will add some depth, while white cabinets alleviate the overall look. Or, you can do the opposite to anchor the design and keep the eye level lighter.
Plywood Cabinets
Plywood features multiple layers of wood veneer brought together and weighs less than other wood cabinets or their substitutes, which makes them easy to work with. They are famous for their stability and longevity thanks to the layers of wood veneer glued together. Thus, as a long-lasting material and product, plywood is a great option available in the market. Its soothing texture and natural flavor lend the material a sense of softness and subtle beauty. Contemporary kitchens also favor plywood for its sleek and clean edges and lines. Plus, they are easy to paint and very stable, and can hold screws well. There are also variable finishing options for the plywood so that you can adjust them to your kitchen theme easily.
Metal Cabinets
Metal cabinets merge aesthetics and functionality while championing function and form. Due to their sleek and interactive surfaces, they are great for industrial and contemporary kitchens. Depending on the complimentary decorative elements, they can also be a good fit in transitional kitchens. To neutralize their glossy effect, black, gray, and wooden elements can be incorporated into the design to achieve a well-balanced and upscale atmosphere.