29+ 2023 Kitchen Color Trends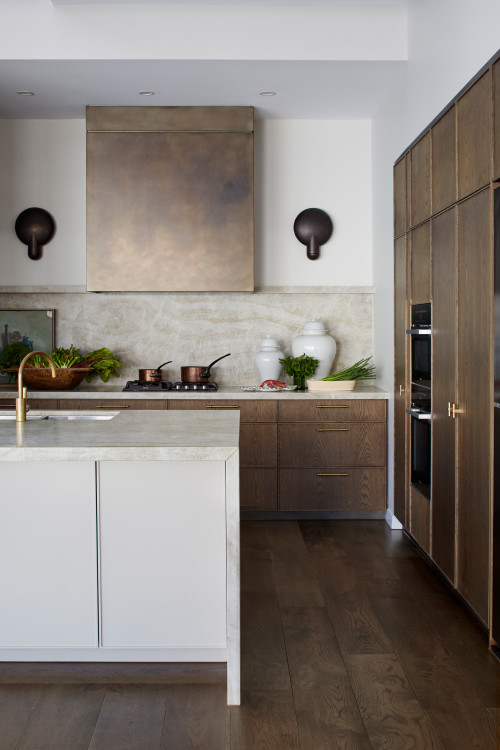 ID# 155105 | Houzz.com – Credit | © Brownlow Interior Design
---
Earthy Shades for a Contemporary Kitchen
Warm wood tones give the room a natural, rustic character while offering plenty of storage! The contrast between the brass hardware and the wood cabinetry provides a sense of beauty and class. The wood cabinets and the specially constructed brown textured hood are complemented by the hardwood floors, which give off a natural and organic feeling. The white island with white countertops gives the room a feeling of symmetry and balance while also acting as extra workspace and storage. The kitchen seems open and airy thanks to the white worktops and light beige slab backsplash that keep it bright and fresh. A prominent point in the room, the brown, textured, custom made hood gives it depth, texture, and personality.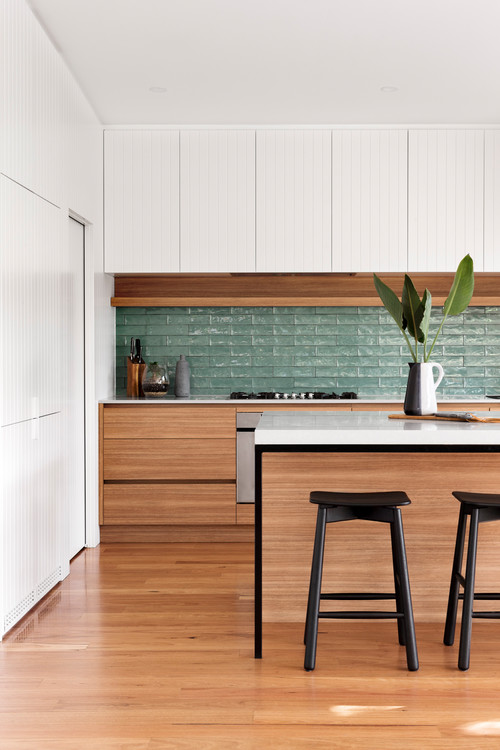 ID# 155115 | Houzz.com – Credit | © GIA Bathrooms & Kitchens
---
Contemporary Kitchen with Wood Flat-Panel Lowers and White Countertops
This contemporary kitchen features a combination of medium-tone wood and white finishes, creating a warm and inviting space. The flat-panel lowers on the cabinets are made of medium-tone wood, while the countertops are a crisp white. The green glass tile backsplash adds a pop of color and visual interest to the space. The beadboard upper cabinets add a touch of traditional charm. Also the vertical paneling of the upper cabinets creates contrast with the subway tile layout and adds dimension to the space.
2023 Kitchen Color Trends
A single fresh coat of paint may completely transform the appearance of your kitchen. If you want to change your space in the next year, choosing the proper hue may make a big difference in how your kitchen looks. Choosing the proper color is crucial since it has a significant impact on how people perceive style, mood, and space. It's also crucial to keep in mind that painting a kitchen might be trickier than painting a bedroom or a living room, mostly because of the numerous grooved cabinets, appliances, and fixtures you'll need to work around. Therefore, it's crucial that your kitchen seems modern, but it's also crucial that the color you pick has lasting power and is not simply a fleeting fad. 2023 kitchen color trends offer timeless options for us!
Hottest Color Trends for 2023
In 2023, neutral colors like white, cream, gray, and greige will be fashionable. A harmonious combination of hues, materials, and textures that are reminiscent of nature and have a peaceful aesthetic is on display. The chilly hues on the color wheel are a useful starting point. Blue, green, and sandy tones are particularly well-liked colors and will be popular in 2023 color trends. Ocean blues are a prominent highlight color in kitchens nowadays. Royal Blue, which never truly disappeared, and lighter Baby Blues will return in 2023. For a relaxing color scheme, people frequently use shades like mint and sage green. Whites are beginning to give way to more earthy hues like those of sand and the desert.
What color cabinets will be in style in 2023?
Nature-inspired colors are top of the lists for 2023 kitchen color trends. There will be a lot of deep greens, warm neutrals, and soft pink accents. Fortunately, these kitchen cabinet colors won't go out of style anytime soon due to their neutrality and classic charm.
What Are The New Kitchen Colors For 2023?
When creating your ideal kitchen, it's crucial to strike a balance between classic elements and fun colors, patterns, and textures that express your style and vision. We're looking ahead to the trends and fashions that will characterize the new year now that 2023 has arrived. Neutral hues like white, cream, gray, and greige will be in vogue in 2023. On exhibit is a harmonic fusion of natural-inspired colors, materials, and textures with a calming vibe. The cool tones on the color wheel are a good place to start.
Particularly popular hues for 2023 color trends are blue, green, and sandy tones. Ocean blues are a common accent color in modern kitchens. In 2023, Royal Blue, which never really vanished, and lighter Baby Blues will be back. People typically employ hues like mint and sage green for a calming color palette. More earthy colors, like those of sand and the desert, are starting to take the place of whites.
Earthy Shades
Because they give the room a feeling of warmth and nature, earthy shades are becoming more and more fashionable in kitchen design. These hues, which frequently come in brown, green, and beige variations, may be employed in a variety of ways to make a kitchen feel cozy and welcoming. Using wood for the kitchen's cabinetry and flooring is one method to add earthy hues to the room. Natural materials like wood, which may be stained or painted in a range of earthy tones, lend warmth and character to the room. For instance, a light wood floor may make the room feel brighter and more open, while a medium-toned wood cabinet can give the kitchen a homey and natural appearance.
Warm Natural Charm of the Earthy Shades
Natural stone countertops are a further way to bring earthy shades into the kitchen. Natural stones like granite, marble, and soapstone are available in a range of earthy hues including beige, brown, and green. These countertops give the room a natural and organic vibe in addition to adding a feeling of elegance and refinement. Additionally, earthy hues can be added with the help of wall paint and backsplash tiles. For instance, a warm beige or taupe paint color may make the kitchen feel cozier and more inviting while choosing a green or beige-colored tile backsplash can lend a touch of nature to the room.
What is the color of the year 2023?
Pantone has chosen Viva Magenta as the Color of the Year for 2023, encouraging everyone to make a bold statement this year. The striking crimson shade takes inspiration from the red of cochineal, which is one of the most vivid and potent dyes globally.
Blue Shades
In recent years, we have seen a rise in the ocean blue shades in the kitchen as a strong feature color. This trend is expected to continue in 2023 kitchen color trends, with a particular focus on the comeback of Royal Blue and the popularity of lighter Baby Blues!
What color is replacing gray?
You might be wondering what color is taking the place of gray now that it is no longer the preferred paint color. After years of being associated with blandness or tedium, beige is making a comeback in 2023 kitche color trends.
Are white walls in for 2023?
Since it blends well with a variety of colors, including neutrals, earth tones, and pastels for a lovely and homey appearance, white is still a favorite choice in 2023.
Greens
Green shades are a popular choice for kitchen color palettes because of their calming and soothing properties! Mint and sage greens are particularly popular choices for creating a serene space. These light and subtle shades of green can be used on walls, cabinets, or even as accents on backsplashes or countertops. They work well with neutral colors such as white, beige, and gray and can help to create a fresh and inviting atmosphere. Darker and bolder green hues, such as forest green, olive green, and hunter green, can also be used in the kitchen to create a statement and drama.
What is the most popular kitchen backsplash color for 2023?
While white tiles still maintain their popularity in kitchens in 2023, very natural-looking hues will also be very popular. In fact, the majority of designers think that in 2023, green will be the dominant hue.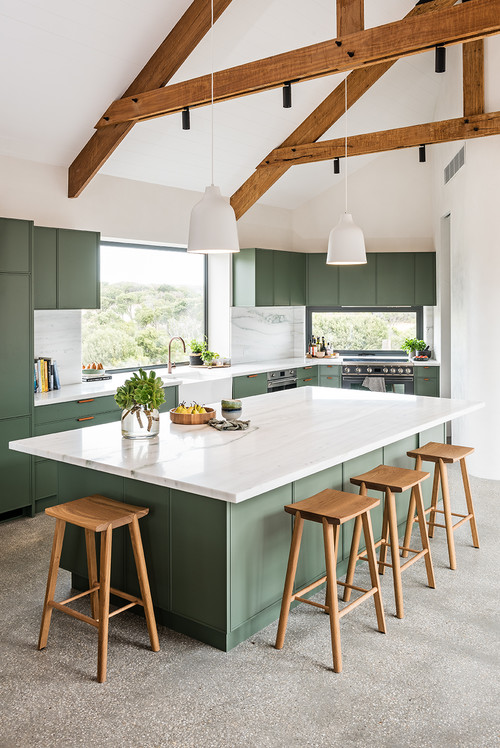 ID# 155116 | Houzz.com – Credit | © Let's Talk Kitchens & Interiors
---
Vaulted Ceiling and Exposed Beams with Greens
The vaulted ceiling and exposed wooden beams give the kitchen a light feel, enabling the use of color for the cabinets and island! The green cabinets and green kitchen island are given an upscale touch by the white marble worktops and slab backsplash. The brightness of the marble countertops and backsplash is countered by the gray floorboards.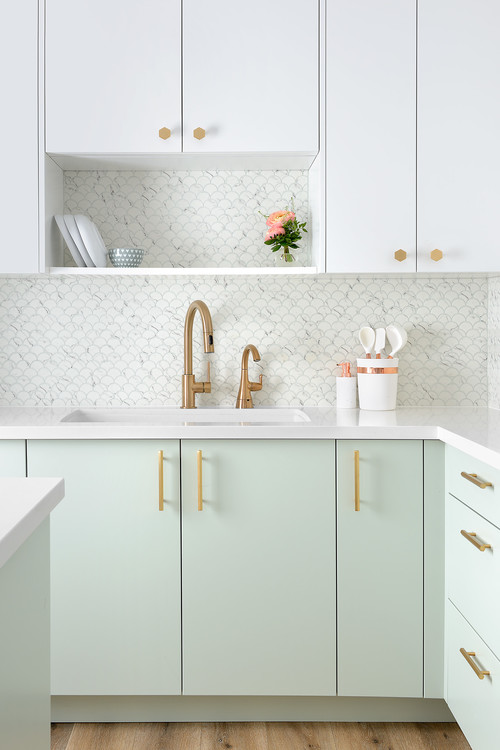 ID# 155117 | Houzz.com – Credit | © Michelle Berwick Design
---
Flat-Panel Cabinets with Brass Hardware and White Countertops
This contemporary kitchen serves a stylish appeal with its refined elements! The light blue kitchen cabinets offer a joyful atmosphere while the brass hardware makes a luxurious twist and adds glamour. The marble mermaid tiles make a unique touch and complement the luxurious feel of the cabinet hardware. The wood flooring brings warmth to the space while the white quartz countertop enhances the brightness.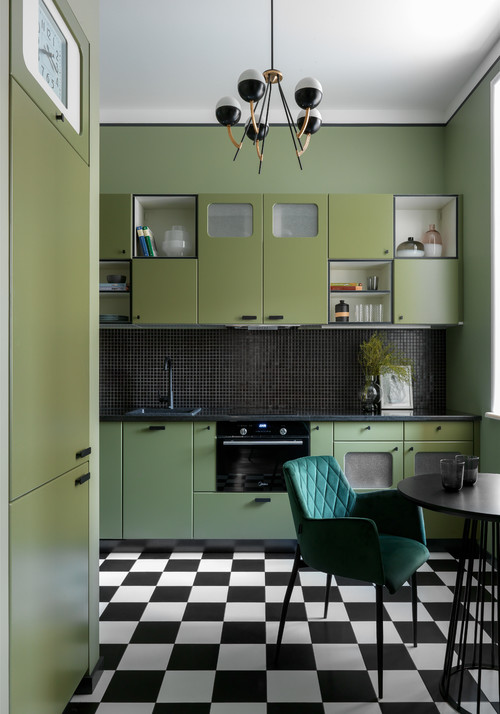 ID# 155118 | Houzz.com – Credit | © propertylab+art
---
Black Mosaic Tile Backsplash with Green Cabinets
This kitchen boasts a bold and dramatic aesthetic, with a black and white checkerboard pattern on the porcelain tile floors that sets the stage for the rest of the space! The black mosaic tile backsplash and counters continue the monochrome theme and add a touch of visual interest. The black hardware throughout the kitchen enhances the overall black aesthetic, creating a cohesive and well-coordinated look. The walls and flat-panel kitchen cabinets in olive green lend a touch of nature and add a fresh and natural feel to the space. The olive green color of the walls and cabinets helps to break up the black-and-white theme and adds a warm and inviting feel to the kitchen.
Soft Beiges
Soft beige colors have become a popular choice for 2023 kitchen color trends, and it's easy to see why. These warm and cozy tones create a welcoming and relaxing atmosphere that's perfect for spending time with loved ones, entertaining guests, and cooking up a storm. In addition, soft beige colors can be incredibly useful in making a small kitchen appear more spacious. By reflecting light and brightening up the space, beige walls and cabinets can create the illusion of a larger area.
Another advantage of using soft beige tones in the kitchen is their versatility. These colors can be combined with a variety of other materials and colors to achieve different looks. For example, pairing beige cabinets with white countertops and a subway tile backsplash can produce a classic and timeless aesthetic. On the other hand, combining beige walls with black and white accents can create a more modern and contemporary feel.
To achieve the desired look, it's crucial to choose the right shades of beige. Lighter beiges can produce a more tranquil and subtle ambiance, while darker tones can add warmth and depth to the space. Additionally, beige colors can come with different undertones, such as pink, yellow, or gray, which can significantly alter the overall appearance of the room.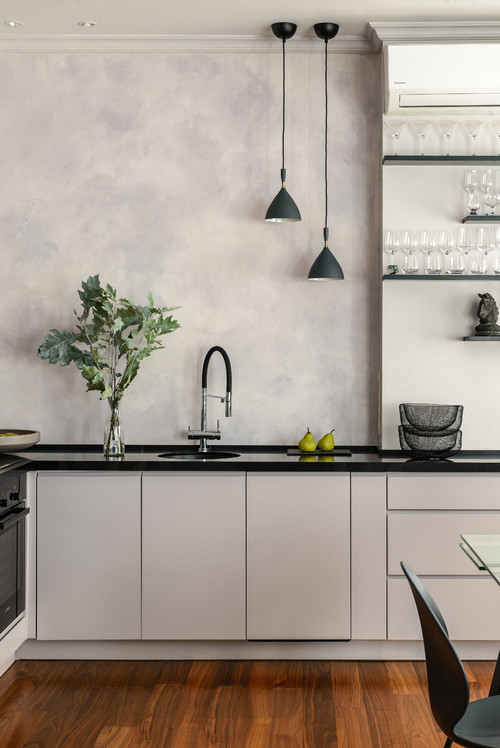 ID# 155119 | Houzz.com – Credit | © Lana Kharitonova
---
Contemporary Kitchen with Soft Beiges and Black Accents
The cabinets beneath the countertops have a soft beige color, which acts as a neutral foundation for the design and helps to reflect light throughout the kitchen! The black countertops provide a bold contrast to the beige cabinets, which creates a visually striking effect. The medium toned wooden flooring complements the beige cabinets and imparts a warm and natural ambiance to the space. The black tapware and pendant lighting fixtures installed above the countertops are an excellent design choice, as they add a touch of sophistication and elegance while maintaining the color scheme's consistency. The black hardware provides a cohesive look and lends a modern and sleek appearance to the kitchen. The textured wall paint and full-height beige backsplash add depth to the kitchen's design and create visual interest while keeping the color scheme consistent and coherent.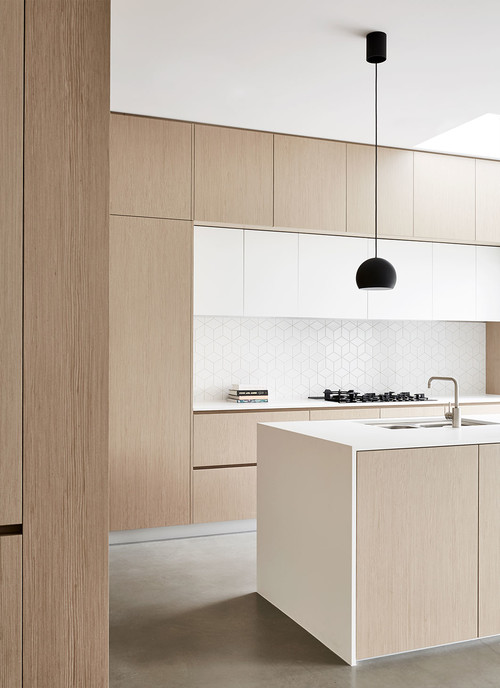 ID# 155120 | Houzz.com – Credit | © Zunica Interior Architecture & Design
---
Light Wood Flat-Panel Cabinets and White Countertops
The wood flat-panel cabinets in soft beige imbue the space with a warm and natural atmosphere, while the white flat-panel upper cabinets produce a clean and crisp contrast! The white countertops provide a sleek and polished surface for food preparation and contribute to the minimalist aesthetic of the space. The white ceramic hexagon tiles utilized in the backsplash present a unique design choice that introduces a subtle geometric pattern to the area and adds a modern and visually captivating element. The light gray flooring complements the neutral color palette and brings a touch of sophistication to the space.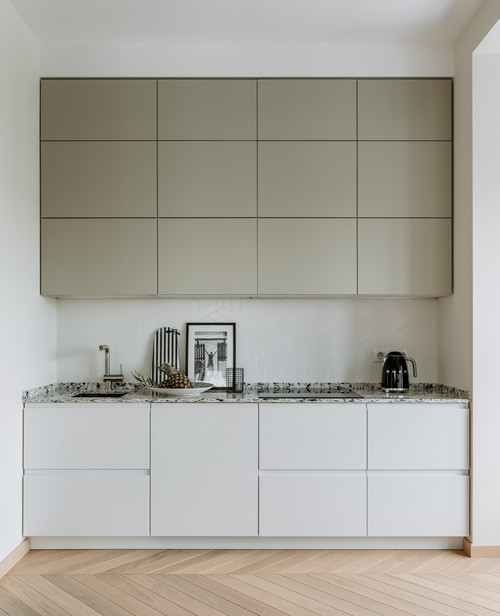 ID# 155121 | Houzz.com – Credit | © Flats Design / Евгения Матвеенко
---
Two-tone Kitchen Cabinets with Granite Countertops
The dark beige flat-panel upper cabinets contrast beautifully with the light beige flat-panel lower cabinets, creating a visually stunning and sophisticated look! The white countertops with gray veins introduce an element of elegance to the space and provide a polished surface for food preparation. The gray veins on the countertops contribute a natural and organic vibe to the area and also offer a subtle contrast to the white color. The white tile backsplash complements the white countertops and lends a clean and polished feel to the space.
Bold Shades
Bold colors are becoming increasingly popular in kitchen design as homeowners seek to make a statement in their cooking space. These striking hues can be used in various ways to create a unique and visually captivating kitchen design. Dark-shaded cabinets like navy blue, forest green, and deep purple can create a striking contrast with neutral countertops and backsplashes. When paired with metallic hardware and fixtures, they can also create a modern and sophisticated look.
Another popular kitchen color trend for 2023 is using bold shades on the walls, such as a deep red or bright yellow. These hues can be used to create a focal point in the kitchen, like a feature wall or a statement backsplash. This is a great option for homeowners who want to make a big impact in their kitchen without making permanent changes to their cabinets or countertops. Bold colors can also be incorporated in the flooring, such as black and white checkerboard tiles or vibrant geometric patterned tiles, to add visual interest and personality to the space. It's important to balance these bold colors with neutral shades, however, to create a cohesive and elegant look that doesn't overwhelm the room.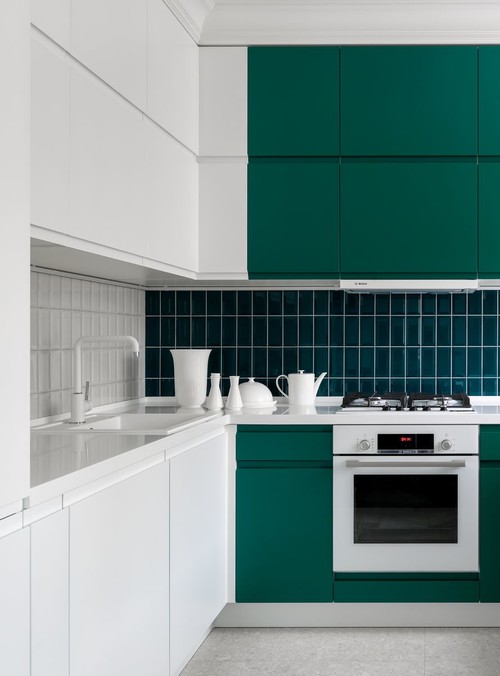 ID# 155122 | Houzz.com – Credit | © «Точка дизайна»
---
Green Shades for 2023 Kitchen Color Trends
This unique L-shaped kitchen design is a great example of how to incorporate multiple colors and styles cohesively The short part of the L-kitchen features a clean and crisp white color scheme, with white cabinetry, white countertops, and a white tile backsplash. This creates a neutral and timeless look that serves as a great backdrop for the bolder colors in the long part of the L-kitchen. The long part of the L-kitchen features vibrant green cabinets, which instantly add a pop of color and personality to the space. The green cabinets are contrasted by navy blue tile backsplash, creating a bold and striking visual contrast. The white countertops in this area provide a balance to the bold colors, making the space feel cohesive and elegant.
The use of the different colors and styles in this kitchen shows how to create a unique and interesting space without overwhelming it, the white countertops and neutral color in the short part of the L-kitchen balance the bold colors in the long part of the L-kitchen creating a cohesive and elegant look. This kitchen is a great example of how to incorporate multiple colors and styles cohesively, creating a functional and beautiful space.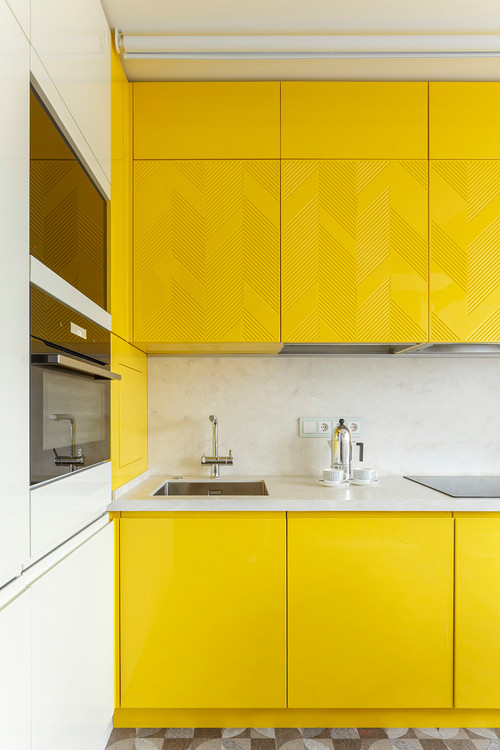 ID# 155123 | Houzz.com – Credit | © Студия "Атаманенко, Архитектура и Интерьеры"
---
Bright Yellow Cabinets with White Cabinets
This kitchen has a vibrant and sunny atmosphere, thanks to its striking yellow color scheme that takes center stage with flat-panel cabinets in this bright hue. These yellow cabinets are complemented by white appliances, backsplash, and countertops, which combine to create a polished and pristine aesthetic. To amplify the space's airy and radiant feel, the white backsplash reflects light and adds to the room's open and fresh vibe. The floor tiles feature an eye-catching mix of colors and patterns in shades of brown and beige that lend a playful and dynamic feel to the kitchen, while also bridging the natural wood tones of the cabinets. These tiles form a neutral backdrop, ensuring that the yellow cabinets remain the kitchen's standout feature.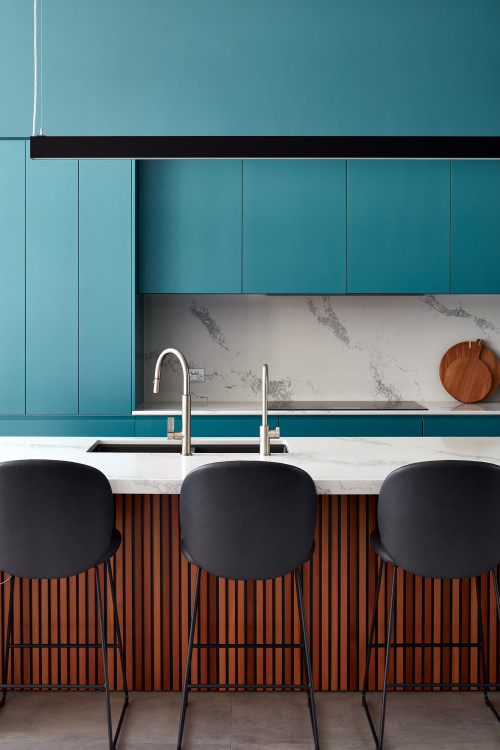 ID# 155124 | Houzz.com – Credit | © Vanda Constructions "Custom Homes & Renovations"
---
Bold Shades of Blue Cabinets with a Wood Island
This contemporary kitchen boasts a stunning blue color scheme, with blue flat-panel cabinets as the main focal point. The blue cabinets are a fresh and modern take on a traditional kitchen color and provide a bold and striking contrast against the white slab backsplash and countertops. The white surfaces help to reflect light and make the space feel larger, while also providing a clean and crisp backdrop for the blue cabinets. The wood island with a white worktop serves as a functional and stylish center point in the kitchen. The natural wood tones of the island contrast the blue cabinets, creating a warm and inviting feel.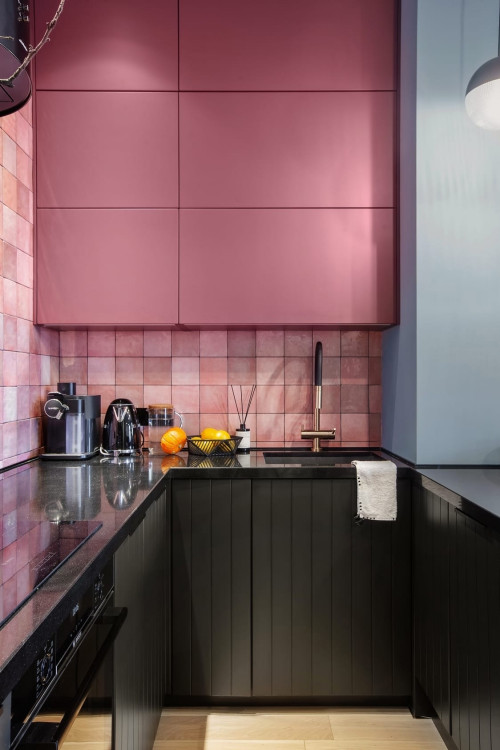 ID# 155125 | Houzz.com – Credit | © Kraska Store
---
Black and Pink Cabinets for 2023 Kitchen Color Trends
This kitchen is a perfect example of how a color scheme can create impactful looks even in tiny spaces! Here, the pink upper cabinets provide a playful and unexpected pop of color, while the black countertops and lower cabinets create a sleek and modern contrast. The pink square tile backsplash complements the upper cabinetry while making a retro twist. The blue walls serve as a backdrop for the cabinets, adding depth and dimension to the space.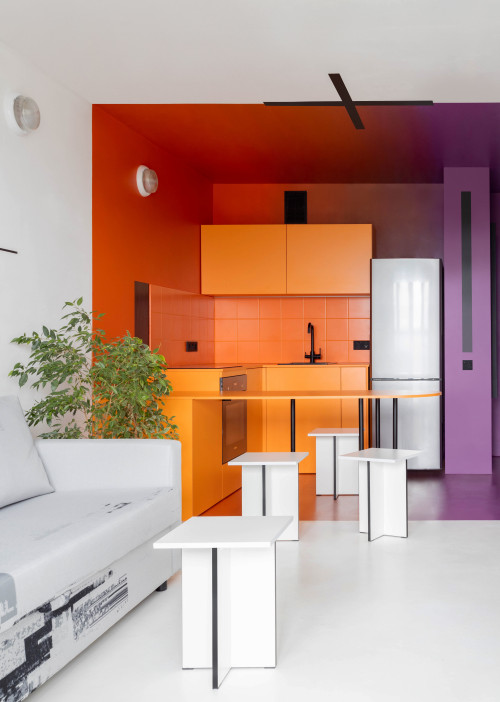 ID# 155126 | Houzz.com – Credit | © Уразметов Рустэм
---
Bold Shades for 2023 Kitchen Color Trends
This kitchen has an unusual color scheme, with various vibrant hues creating a lively and dynamic atmosphere! The orange to purple transition suggests a gradient or blending of colors across the space. The use of ceramic orange backsplash tiles adds an additional layer of visual interest, as they offer a contrasting texture and pattern that breaks up the smooth transition of colors. Overall, this kitchen is designed to be bold and modern, with a strong emphasis on color and visual impact.
Muted Grays
Muted grays in kitchens are a popular trend in interior design, offering a sleek and sophisticated look that is both timeless and on-trend. From light gray to almost black ones, gray shades are extremely versatile! They can be paired with a wide range of other colors and materials to create a variety of different design styles. For example, a kitchen with muted gray cabinetry and countertops can be paired with white walls and a white subway tile backsplash for a classic, timeless look. On the other hand, pairing muted gray cabinetry with a black marble countertop and dark wood flooring can create a more modern, industrial-inspired space.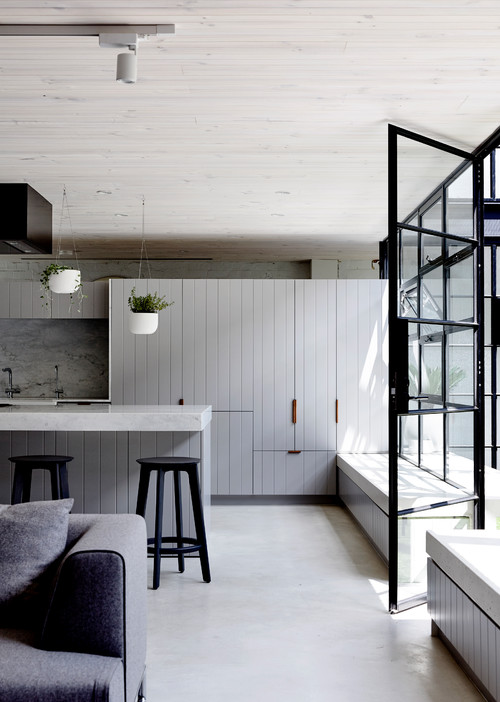 ID# 155127 | Houzz.com – Credit | © Architects EAT
---
Muted Grays for 2023 Kitchen Color Trends
This transitional kitchen is a beautiful blend of classic and contemporary design elements! The muted gray beadboard cabinets provide a timeless, farmhouse-inspired look that is both warm and inviting. The addition of copper hardware adds a touch of shine and elegance, while the white stone countertops and slab backsplash help to brighten up the space.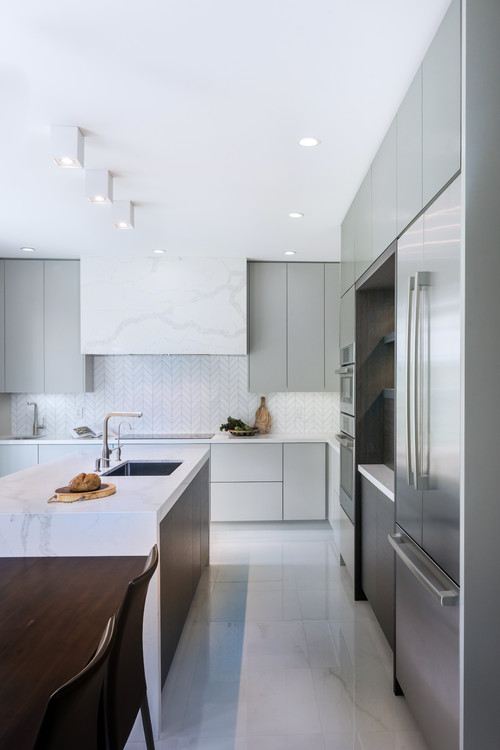 ID# 155128 | Houzz.com – Credit | © Bobeche Interiors
---
Chevron Porcelain Tiles for the Backsplash and White Countertops
Gray flat-panel cabinets and white quartz countertops combine to create a clean and attractive appearance in this modern kitchen. The white porcelain chevron backsplash gives the room visual appeal and texture, while the white flooring reflects light and gives the impression that the kitchen is larger. The white porcelain chevron backsplash adds an interesting visual element to the kitchen. Chevron patterns are a popular design choice and are known for adding visual interest and texture to a space.