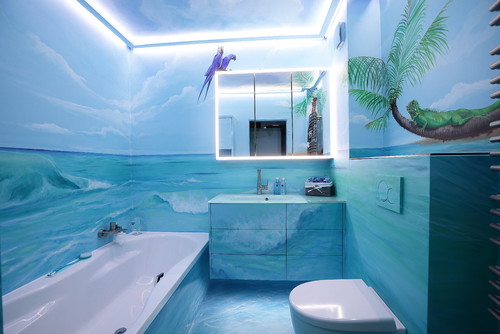 ID# 107105 | Houzz.com – Credit | © Moreno Licht mit Effekt
---
Contemporary Bathroom with Ocean Wall Paints
This tropical paint literally brings the ocean to the bathroom. This paint is used not only on the walls but also on the floor, ceiling, and cabinets, thus the beautiful seaside view surrounds everywhere. Mirrors on the upper cabinets add depth to the bathroom.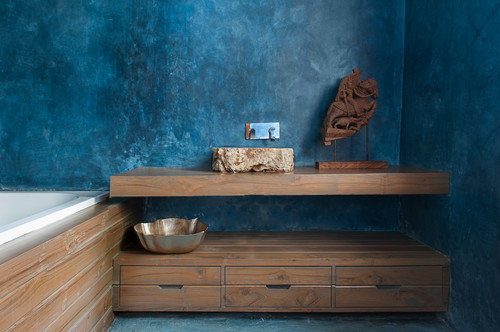 ID# 107107 | Houzz.com – Credit | © Untitled Design
---
Asian Bathroom with Navy Blue Wall and Wood Drawers
In this Asian bathroom wood floating shelf, wood drawers, and navy-blue wall paint create a beautiful rustic look. Beautiful decoration objects on the shelf support and completes this serene atmosphere.
Colorful, Chic and Elegant Bathroom Paint Ideas
Choosing bathroom paint colors can be tricky but if you've been longing for a serene, eye-catching, and personalized bathroom, these beautiful bathroom paint ideas, will help you to create a dreamy bathroom and find beautiful color ideas!
Don't afraid to use color in your bathroom!
Generally, we are used to seeing bathrooms with clean lines and intensities of white. So why don't we include vibrant colors in our bathrooms? Carefully selected bathroom colors intimately take your bathroom to the next level. Whether you go with bluish colors to catch an ocean feeling or choose more vibrant colors, you can design beautifully your bathroom in an outstanding way with bathroom paint.
Check out these best bathroom paint colors before to get inspired for your bathroom!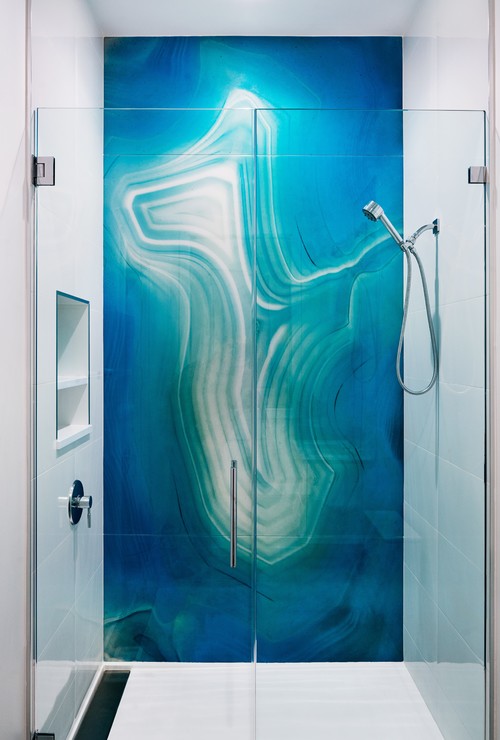 ID# 107101 | Houzz.com – Credit | © Z+ Interiors
---
Serene Bathroom Design with Blue Wall Paint
We loved this abstract wall panel in the alcove shower. It brings the ocean feeling while you are taking shower and creates a serene and eye-catching atmosphere between the white walls.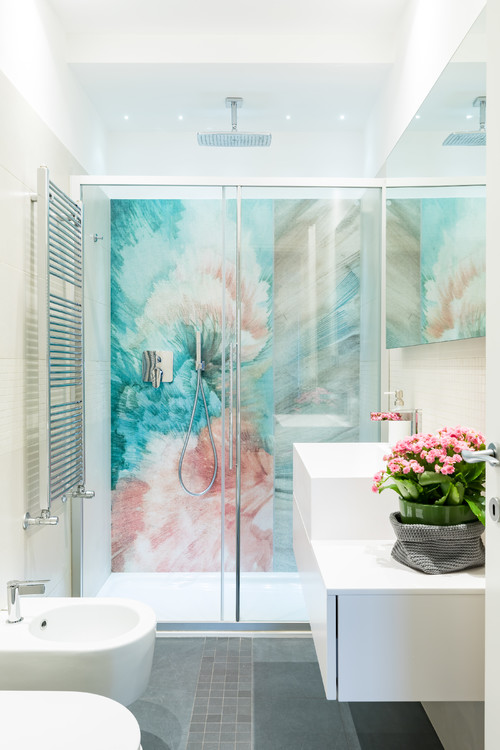 ID# 107102 | Houzz.com – Credit | © Officine Norma
---
Eye-catching Bathroom Wall Paint Ideas with Soft Color Palette
A fabulously soft and artistic approach to a shower! The soft color palette of the wall paint creates a focal point while providing a visual feast. Bright white bathroom features and gray floor allows to shine wall paint out.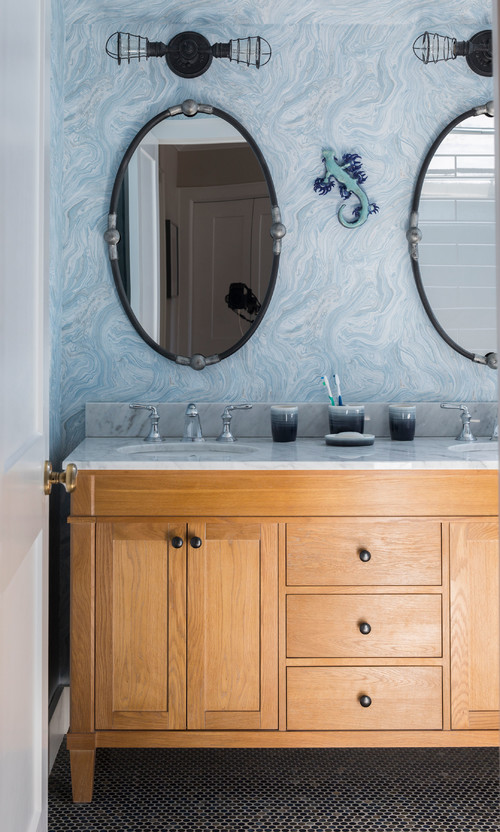 ID# 107103 | Houzz.com – Credit | © Cami Weinstein Designs, LLC
---
Beach Style Bathroom Ideas with Blue Bathroom Paint Color and Wood Cabinets
The cozy bathroom with wood cabinets, marble countertop with undermount sink, blue wall paint, black-framed oval mirrors, black wall-mounted lights, and mosaic floor tiles. This serene color scheme offers a calm and spa-like atmosphere.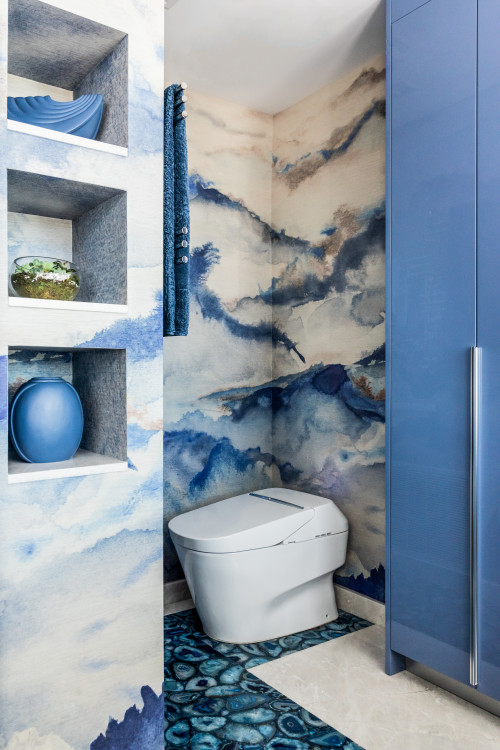 ID# 107106 | Houzz.com – Credit | © Fava Design Group
---
Blue and White Bathroom Paint Ideas with Blue Cabinet
Even if you have a small bathroom, you can create a personalized look with colored walls. This blue and white wall paint covers whole walls and gives a sense of sky. Blue cabinets and blue decors in the recessed niches complement the bluish paint.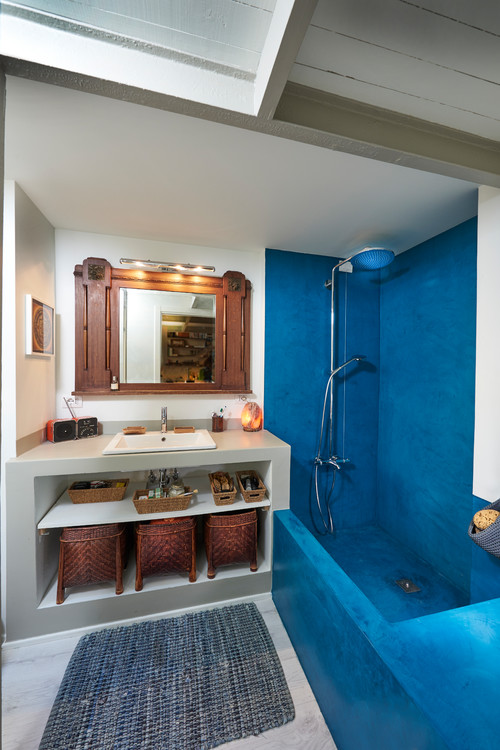 ID# 107108 | Houzz.com – Credit | Clarissa Orsini Architetto | © Franco Lombardi
---
Mediterranean Bathroom with Blue Bathtub and Gray Cabinets
A combination of blue and neutral colors creates a serene Mediterranean look. Blue bathtub and blue wall paint popping up next to the light gray vanity. Wood mirror and wicker baskets in the cabinets make a natural touch.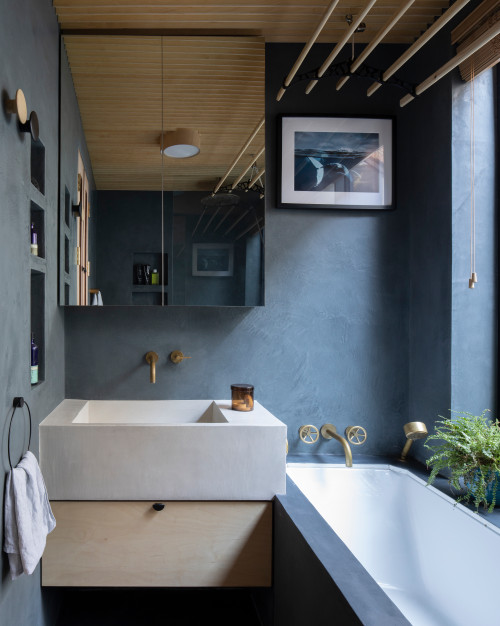 ID# 107109 | Houzz.com – Credit | © RISE Design Studio
---
Mirrored Cabinets with White Bathroom Sink and Brass Faucet
Although it is a small bathroom, thanks to the mirrors used on the upper cabinets, a wider and more spacious view are created. Blue-gray paint in beautiful harmony with wood ceiling. The white bathroom sink and white bathtub bring a fresh look with clean lines. Recessed niches provide additional storage space to this small bathroom.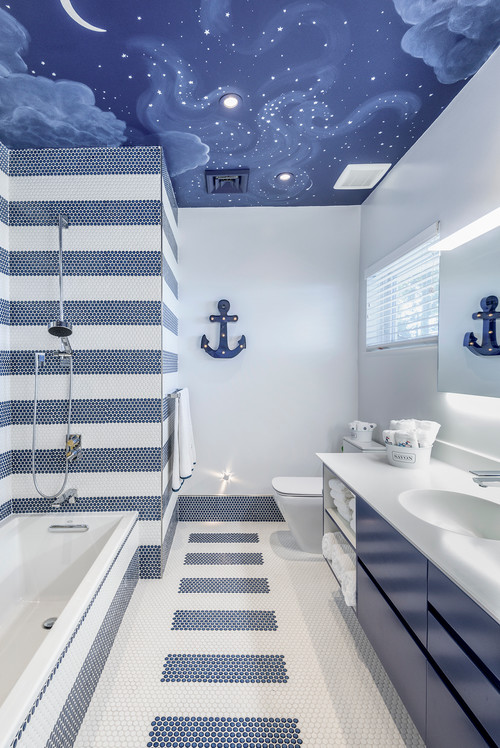 ID# 101711 | Houzz.com – Credit | © Eclipse Design Studio LLC
---
Blue and White Kids Bathroom with Sky Painted Ceiling
Sky painted ceiling and lovely use of blue and white tiles create a stylish blue and white bathroom for little sailors! Usage of the blue and white tiles on the walls and floor adds texture. Blue cabinets paired with a white countertop and create a clean and fresh look.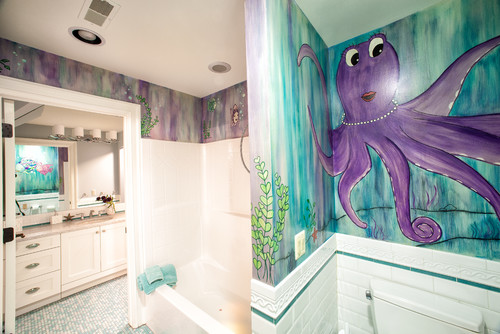 ID# 107112 | Houzz.com – Credit | © M.J. Whelan Construction
---
Entertaining Bathroom Paint Ideas with Rainbow Fish Mural
This Rainbow Fish Mural runs throughout the walls of the bathroom and offers entertaining space for kids with its pink, purple, blue, and green shade. Round penny floor tile with metallic silver grout, wave light fixtures & watery glass wall tile finish off the theme, make this bath so much fun for kids!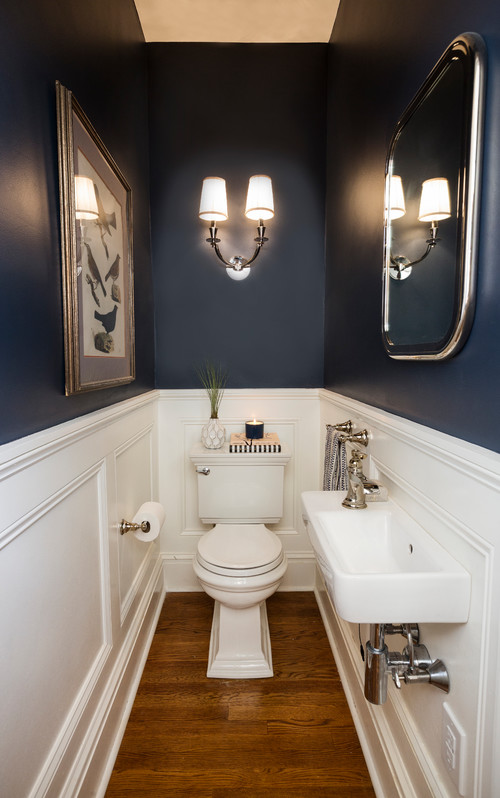 ID# 107110
---
Transitional Powder Room with Blue Bathroom Paint Ideas and Wainscoting
A small wall-hung basin makes the small room feel larger by exposing more of the floor footprint. Bathroom wainscoting was installed to create balance, scale, and contrasting finishes. Benjamin Moore dark blue wall paint creates strong contrast with the white features and gives a sense of eloquence while sconces making a warm glow.