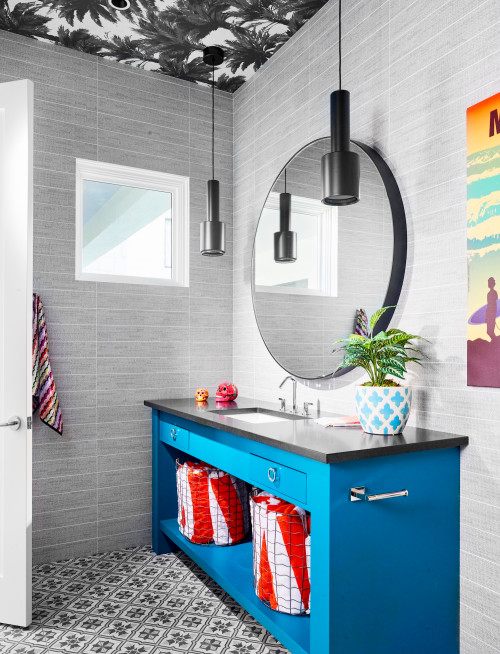 ID# 106302 | Houzz.com – Credit | © Mark Ashby Design
---
Blue Vanity with Gray Countertop and Frameless Mirror
Blue vanity steals the show in this gray bathroom. Wallpaper on the ceiling, gray tiles, and traditional ceramic floor tiles add texture to the atmosphere and creates harmony with the blue vanity. Frameless circular mirror brings a clean and simple look.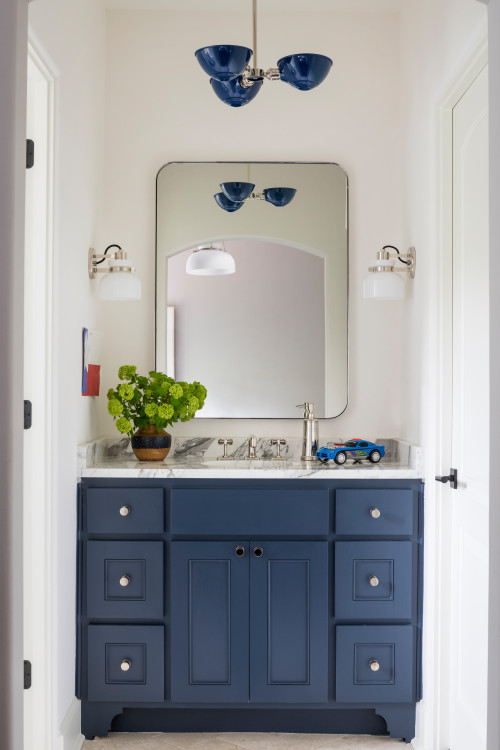 ID# 106328 | Houzz.com – Credit | © Becky Fuller Homes
---
Transitional Boys Bathroom Ideas with Navy-Blue Vanity and Marble Countertop
Adding a navy-blue vanity to the white bathroom can instantly transform the ambiance inside the space. The marble countertop adds a sense of luxury. Blue light complements the vanity. A large mirror brings depth to this small space and makes feel larger.
Entertaining, Cozy and Handsome Bathroom Ideas for Boys
If you are designing a bathroom for boys, you can create an efficient, handsome space with playful accessories, functional storages, and the right color choice. These boy's bathroom ideas will give you some inspiration to decorate a dreamy bathroom for your boys!
Include creative and youthful decor design ideas!
Which kid wouldn't want to have their very own cool bathroom? Creating a man's cave bathroom for boys of any age provides a fun experience for them. You can choose a theme for your little boys or create something more elegant and something that feels both youthful and grown-up for teens. The following ideas share playful tips for boy's bathroom that all family wants to use it!
You can combine functional features with fun colors or patterns to encourage kids to spend time in the bathroom establishing a routine.