25+ Cream Kitchen Backsplash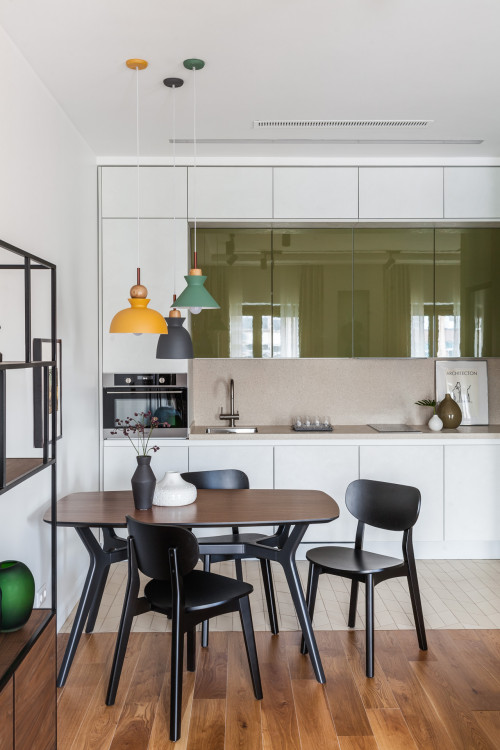 ID# 140010 | Houzz.com – Credit | © ANDdesign / Александра Дашкевич
---
Harmonious Kitchen design with Cream Kitchen Backsplash
In this Kitchen, simplicity achieves a very nice harmony and balance by combining different colors and materials. The kitchen backsplash, kitchen countertop, and part of the floor covering are the same color: Cream. It provides unity in the whole area. The cream kitchen backsplash and the kitchen countertop, which are in the same color and material as the backsplash look very soft and it does not stand out at all, on the contrary, the other details emphasize more. It adds a different atmosphere to the white kitchen cabinets with a very nice shade of green and bright structure.
The dining section of the kitchen continues as a wooden covering on the floor, thus making a warm transition to this side. The pendant lights in pastel tones are beautiful details of the space and add a warm atmosphere to the kitchen. The cream kitchen backsplash, kitchen countertop, and floor have with all other colors a balanced appearance.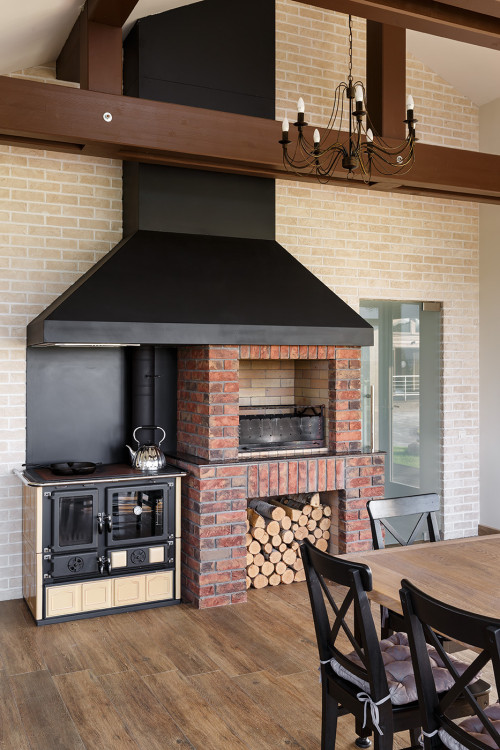 ID# 140033 | Houzz.com – Credit | © АВИЛА. Студия интерьера и архитектуры
---
Cream Subway Tile Kitchen Backsplash in harmony with nostalgia
A small nostalgic kitchen unit standing in a large and high space. The Whole Kitchen consists of a stove and fireplace under the big black hood. The cream tile backsplash covers the entire wall and creates a clean backdrop for the rest of the kitchen. The wooden ceiling details and the pendant lamp emphasize the nostalgic atmosphere of the environment, while the glass door on the right symbolizes modernism. The perfect harmony of black, cream, and wood adds warmth to this environment.
Cream Kitchen Backsplash
The cream kitchen backsplash is great for any type of space, in kitchen decors. Because it is easy to combine these colors. Cream fits into almost all possible color schemes and styles. It is also possible to find many different materials in this color, for example, glass, stone, marble, and ceramics. This color can add warmth to your kitchen. With a cream kitchen backsplash, it's possible to combine unlimited colors and patterns for kitchen cabinets.
Different desired effects can be also used together with this color. The backsplash is important for a kitchen and is an element that changes the whole atmosphere of the space. For this reason, it is a choice that should be made carefully, so a Cream kitchen backsplash can be a risk-free choice.
What color cabinets are good for a cream backsplash?
For the cream backsplash, you can use almost any color of kitchen cabinets. For those who love colorful kitchens, having a cream backsplash can bring colors to the fore. It can be combined very well with white or black kitchen cabinets for more simple and modern styles. For traditional styles, wood and cream are always a nice alternative.
Should the backsplash be lighter or darker than the cabinets?
It can never be said exactly which one is right or should be better. Generally, it is a darker backsplash for light cabinets or vice versa, a lighter backsplash for dark cabinets. That is, to create contrast. Contrasting choices create visual depth, especially when it comes to small kitchens. Depending on the general design of the kitchen, the backsplash can have the same color as the cabinets, or it can be used in many different forms and patterns. It all depends on the ambiance and taste that is desired to be created.
Material Options for Cream Kitchen Backsplash
There are many different material alternatives for the cream kitchen backsplash. It can be in many different tones and easily adapts to many environments. According to the material used, the cream kitchen backsplash can stay in the background and highlight the other elements of the kitchen. For example, with a plain pattern less ceramic or glass material. On the other hand, cream kitchen backsplash can be the focal point of the kitchen, again depending on the material selection. For example, in the use of stone materials.
Cream Ceramic Kitchen Backsplash
Ceramic is a material that is easy to apply due to its structure and is widely used as a backsplash in kitchens. It is possible to use this material in many different models and colors. Ceramic backsplash can accompany traditional, metro, modern, or contemporary designs in many different forms. The cream color is an easy and beautiful color that can be included in the design that can fit all these alternatives. There are a lot of types of ceramic, for example, patterned tiles are among the ideal options to create different looks in their kitchens.
Cream Stone Kitchen Backsplash
Natural stone is widely used as a backsplash. Again, it is quite easy to find this material in cream and include it in the design. The continuation of natural stones such as quartz, granite, and marble, which are frequently used in kitchen counters, on the kitchen backsplash creates a very stylish look. Using natural stone backsplash provides ease of cleaning. Also, these long-lasting stones create a very high-quality ambiance.
Is cream backsplash good for kitchens?
Here we can say definitely, yes. Cream color can be applied to many different models. It is easy to match with any style of kitchen. The cream color can be a very complementary tone for modern styles, or it can easily adapt for those who love colorful kitchen cabinets. It is possible to find cream tones in many building materials, and as it offers a wide range of options, it adapts to many designs.
Cream Glass Kitchen Backsplash
A glass panel kitchen backsplash is a model between countertops formed by placing glossy surface glass panels on the wall. The main advantage of this model is that it is easy to clean. The glass panel kitchen backsplash, which creates a very stylish appearance when used with small lighting fixtures, can be either plain or patterned. There are also 3d designs available. The glass material combined with the cream color adds a pleasant atmosphere to the place.
Tile Styles of Cream Kitchen Backsplash
Tiles can be found and laid in many different styles. In rectangular form, square form, metro, and hexagonal form. Decoratively, the tiles you choose for your backsplash showcase the color scheme and theme of your kitchen, whether contemporary or traditional. Ultimately these tiles are the focal point. And it allows you to be creative, but most importantly it should fit your lifestyle. Depending on the choice of Tile Styles for the Cream Kitchen Backsplash, it can become the star of the kitchen unit at this point, or it can be completed in the background. One of the tile models that has remained popular since the past is mosaic stones.
These mosaic stones, which are usually made of ceramics, can be a great choice to complement solid white kitchen cabinets. Mosaic tiles can add movement to the kitchen. It is also possible to have sparkling kitchen tiles like mirrors. Of course, choosing such a tile may seem risky, but for this, modern or minimalist is the best option in terms of style. In general, this material can appear in many different styles.
Cream Subway Tile Kitchen Backsplash
Metro ceramics, which are highly preferred for kitchen backsplash, are textures that create a nostalgic look. These can be used in any size desired today. Metro ceramics create a warm ambiance. Metro ceramics can be arranged in different ways to add movement to the space! For example Right Angle, Traditional Herringbone, One-Third/Cross/Cross half Offset, Basket Weave, etc. Among them, it can be chosen according to the ambiance desired to join the space or how much you want to highlight the backsplash.
What countertops are good for a cream backsplash?
Countertops can be used in the same material and color as the cream backsplash. This gives a very nice whole and clean look. In addition, the cream backsplash can be used with wooden countertops because the cream fits perfectly with every shade of wood. These are just two possible examples. Many materials and colors like this can be added because the cream is a very comfortable color and adapts to everything.
Cream Hexagon Tile Kitchen Backsplash
Tile kitchen backsplash can also appear hexagonal. Although this usage is not very common, it is a nice alternative for those who like diversity. This type of backsplash is among the ideal options for creating different looks. According to the figures and patterns, modern looks or more natural looks can add to the kitchen.