27+ White Cabinets with Granite Countertops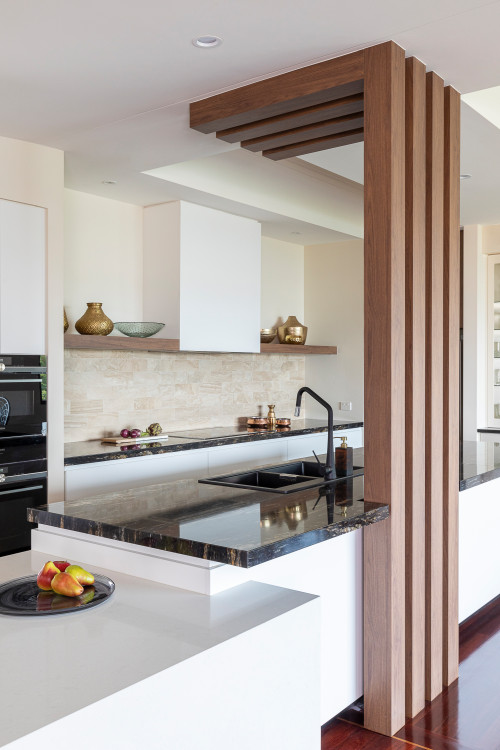 ID# 146307 | Houzz.com – Credit | © Popham Interiors
---
White Cabinets with Brown Granite Countertops and Beige Stone Tile Backsplash
In this contemporary kitchen, the warmth and naturality of the beige stone tile kitchen backsplash harmonize with the wood accents. The brown granite countertops' naturality stands out between the soft and light shades. Having plain design lines for a contemporary style with natural material elements is a great idea to provide a combination of both modern and classic design looks!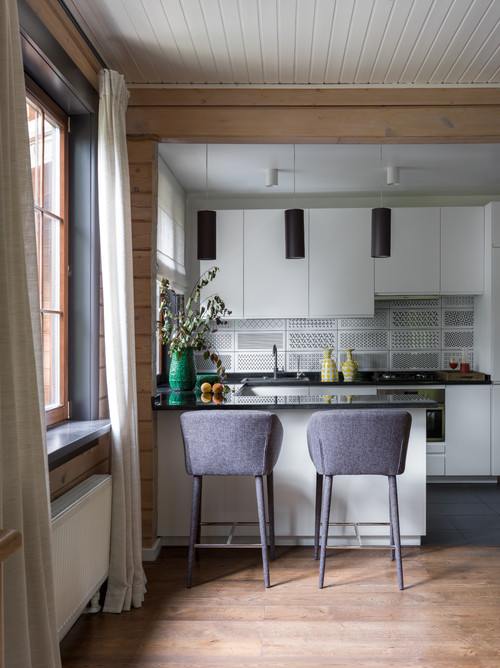 ID# 146322 | Houzz.com – Credit | © propertylab+art
---
Multicolored Ceramic Tile Backsplash for a Contemporary Style Kitchen Design
The multicolored ceramic tile backsplash draws attention with its eye-catchy look. The white flat-panel kitchen cabinets and the black granite countertops provide a stylish contrast that adds movement to the simplicity of the kitchen. The wood floors and gray floor tiles complement each other bringing a natural harmony to the environment.
White Cabinets with Granite Countertops
Let's first talk about the granite itself before we get into the pairing of white cabinets with granite countertops. Despite being expensive, granite countertops are some of the high-quality material countertops that offer a variety of finishing options, edge finishes, and patterns for a distinctive appearance. Granite countertops have gained a reputation for their long lifespan, extreme durability, and unscratchable nature. In other words, you may redefine white cabinets with granite countertops to capture the appearance you want, whether your kitchen is rustic, elegant, or luxurious, with the correct finish.
As a classic and versatile choice, white cabinets will enlighten the kitchen's environment, and you will be able to create a focal point since white cabinets will behave as a black canvas for countertops and backsplash. Let's scroll down and see the design alternatives of white cabinets with granite countertops.
What type of granite goes with white cabinets?
Cabinets in white. enduring, novel, and flexible They remain a kitchen staple, whether you install new cabinets or simply paint the ones you already have for a cheery change of pace. A wide range of granite pattern combinations goes nicely with white cabinetry. You can always rely on white-on-white and black-and-white combinations, or you may choose a strong color like blue or green. White granite with black patterns or veins is perfect with the white cabinets.
Top Granite Countertop Colors
Although there are many color and shade possibilities for top granite countertop colors, black, white, and brown continue to be the most popular choices. Each hue has subtypes that may be identified by its aesthetic qualities and the location of its quarries. For the combination of white cabinets and granite countertops, there are countless color possibilities, just like there are for the materials. Make all of your features white if you want to create a vibrant appearance. Modern trend charts place all-white kitchens at the top. Additionally, you may create a striking contrast by pairing lighter whites with top granite countertop colors like black, brown, or gray. Accents with a beige hue can help to soften the stark appearance of your white cabinetry. To learn more, let's check the top granite countertop colors
White Cabinets with Gray Granite Countertops
Among all the different colors and material options, gray granite is one of the most popular countertop materials for all types of kitchens. They offer a timeless style that works with any kitchen arrangement. Gray is a versatile neutral hue that complements a variety of cabinet and other kitchen accessory colors. White cabinets with gray granite countertops are one of the neutral and spacious alternatives you can go with for your design ideas. The many shades of gray granite look fantastic as countertops for either the kitchen or bathroom. The other advantages that granite offers in addition to its beauty are truly amazing, and most of them are durable and low maintenance. Indeed, it is simple to understand why so many homeowners like gray granite. Consider working with white cabinets and gray granite countertops to enhance the opulent design look of your interior.
How do I match my cabinets to granite?
Beiges, grays, and creams, which are neutral hues, complement the majority of granite countertop designs. Given that granite is a natural substance, neutral paint colors go well with it. Choose paler hues for a more harmonious appearance or mid-tone hues for a more daring appearance.
White Cabinets with Brown Granite Countertops
The colors of brown granite countertops are rich mixtures of organic tones that provide cozy, earthy tones. Brown granite stone is incredibly adaptable and comes in colors ranging from deep chocolate to cappuccino, with brown occasionally making up more than 50% of the main color. This elegant stone is ideal for homes in both urban and rural areas because lighter stone deposits catch the light and give shine. You can work with white cabinets with brown granite countertops to brighten your brown granite slab and have an elegant charm in your room. From dark sparkles to gold honey shines there are so many alternatives for white cabinets to brown granite countertops.
White Cabinets with Black Granite Countertops
The ageless design color meets the grandeur of black granite. Although black and white have traditionally been viewed as opposing colors, they combine nicely in trendy kitchen decor! Ying-Yang is the finest example of this design concept, albeit being fairly cliche. The relationships between these hues are harmonious. When red is mixed with black, white, brown, or any other hue, we can observe their utilization in numerous design styles. Try white cabinets with black countertops to alter your room's mood with a contrasting touch.
Granite countertops in black are elegant and fashionable. Depending on the available finish options, they can have various appearances. For instance, black granite countertops with a honed matte texture are popular in kitchens with a farmhouse theme and resemble soapstone. Give them a glazed polish for a more opulent appearance; this will redefine granite without a doubt. Some of the most well-liked black granites include Agatha black, Black Galaxy, Nero mist, and Black Pearl. Check out these chic white cabinets with black granite countertops for your design ideas!
White Cabinets with White Granite Countertops
The delicacy and beauty of white granite may be seen in its countertops. They complement the majority of kitchen cabinet colors and look fashionable on top of them in terms of color compatibility such as white cabinets with white granite countertops. Although it is difficult to get "pure" white slabs, their specks and asymmetrical marks give them a certain charm. It's simple to pick a stone that matches your style choices because they come in a variety of hues.
White granite countertops are warm, welcoming materials that bring a feeling of beauty to the kitchen. They are flecked and speckled with gray veins and have small black grains and streaks. The patterns do, however, take on diverse shapes and have various names. To provide a few examples, Colonial White with jet-black Indian speckles, delicately streaked Andromeda White with subtle patterns, and Alaska White with dark, prominent minerals are all quite well-liked varieties. Each has distinct qualities that convey refinement. If you go with an easy and stylish design option, you can use white cabinets with white granite countertops and have a timeless appearance.
Is granite outdated for kitchens?
Economists predict that sales of countertops made of granite and other natural stone will increase until 2025. Over the past 20 years, granite has won the hearts of consumers and homeowners, and this trend is here to stay! Because granite is made entirely of natural materials, it won't date. These materials—wood, stone, and plants—never go out of vogue. Long before there were any design trends, the colors and patterns in each block of granite were brought together by natural processes.
White Cabinet Types for Granite Countertops
When someone enters your white kitchen, they frequently notice the style of your cabinets first. The white cabinet types for granite countertops you chose when renovating your kitchen will decide whether it looks conventional, transitional, or contemporary. You might not be aware of the vast array of choices available when deciding the kind of cabinet doors you want. Choosing the appropriate design of cabinet door for you and your kitchen can be difficult since there are so many different variations. Although some cabinet door types—like flat-panel doors, which are the most popular option for modern designs—work well for particular design themes, many white cabinet types may look stunning in a range of designs. If you are stuck in endless combinations, let's learn more about white cabinet types for granite countertops.
White Shaker Cabinets with Granite Countertops
The shaker style originated in a religious movement that began in the American colonial era in the 1770s. The design tends to shy away from any aesthetic flourishes in favor of a simple and useful appearance. White shaker cabinets with granite countertops, although having classical roots, work well in modern or contemporary designs thanks to their simple, streamlined lines. Kitchen or bathroom cabinets made in the Shaker style are renowned for their flat paneled doors with rail frames, sturdy construction from premium wood, and useful ideas. Premium native American woods, generally available in the northeastern United States, are frequently used in Shaker-style cabinets. Durable timbers include quartersawn oak, cherry, maple, and hickory. Having white shaker cabinets with granite countertops is one of the most classical design ideas that brings elegant and opulent looks.
What backsplash goes with white cabinets and granite countertops?
The combination of white cabinets and granite countertops is classic and versatile for all design aesthetics. That means you can use different types of backsplashes from classic subway tiles to natural stone slabs.
White Raised-Panel Cabinets with Granite Countertops
A raised-panel cabinet, as the name indicates, has a center panel that is elevated or higher than the surrounding wood or the door's primary surface. Since they were more expensive to build, raised-panel cabinets gained favor during the American colonial era when having them in a home was a display of wealth. Because they offer a sense of refinement to any kitchen design, white raised-panel cabinets with granite countertops are quite popular. They provide a positive and assured attitude. Additionally, white raised-panel cabinets with granite countertops design is quite adaptable and may be utilized in both traditional and contemporary kitchen layouts.
White Flat-Panel Cabinets with Granite Countertops
Flat-panel cabinets are solid slabs. They don't have the frame, beadboard, or elevated areas that classic or shaker-style cabinets usually feature. Additionally, there are no glass accents. After World War 2, when mid-century modern design valued streamlined and uncomplicated design solutions, flat-panel cabinets became a prominent style. Flat-panel cabinets come in two grades: paint grade (built of less expensive materials with the understanding that they will be painted) and stain grade. The modern or contemporary design style is the style definition of these cabinets. They are the signature pieces of those interior design styles. Consider having white flat-panel cabinets with granite countertops to bring both classic and contemporary design looks together.
Backsplash Options for White Cabinets with Granite Countertops
If you're looking to create a classic and timeless look for your kitchen, pairing white cabinetry with a granite countertop is an excellent choice. The beauty and texture of the granite can add richness and elevate the overall look of your white cabinets. However, it's important to consider the backsplash as well. Choosing the right backsplash can complete the look and tie everything together. In this article, we've gathered some of the most popular design suggestions for backsplashes that complement white cabinets with granite countertops, so you can find the perfect one for your kitchen.
Are white kitchen cabinets worth it?
The shorth answer is yes. With their timeless and versatile appeal, white cabinets are definitely worth it! From shaker style to flat panel, you can find different door styles in the market.