13+ Damask Tile Backsplash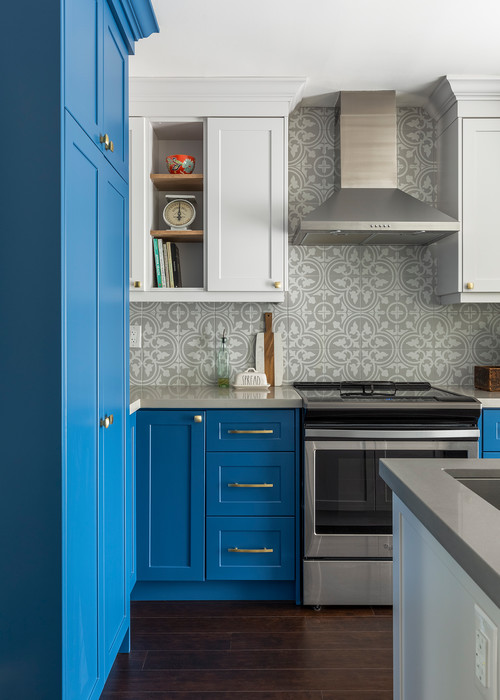 ID# 138101 | Houzz.com – Credit | © Urbanest Construction
---
Gray and White Color Effect for Damask Tile Backsplash in White and Blue Kitchen Cabinets Design
The kitchen design, which consists of blue and white shaker cabinets, is accompanied by a gray countertop. Stainless steel appliances and under-counter sinks take their place. The island in the middle is valued as six storage areas and the top is a preparation and breakfast bar. A large bar stool settles in. Glass, minimal design pendant lighting takes their place. Brass hardware cabinet handles add an elegant flair. The damask tile backsplash behind the counter, consisting of gray and white, creates a stylish effect. The sophisticated harmony of gray and white gives a stylish look while providing a calm and cool effect away from exaggeration. Blue cabinets add energy to the space. It is a beautiful kitchen design.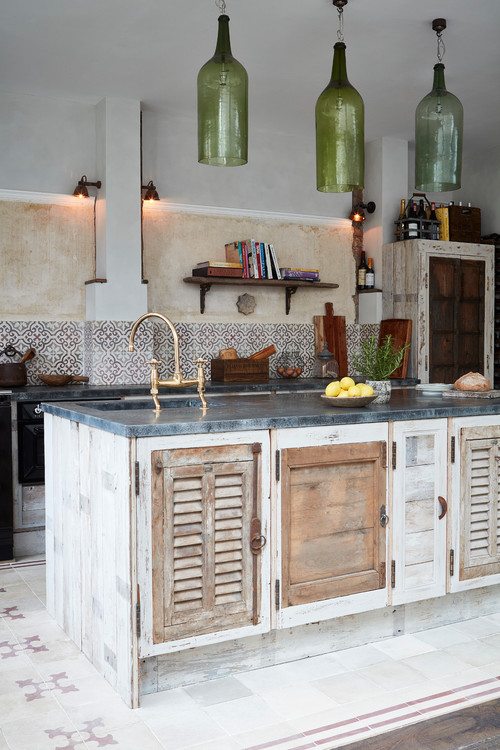 ID# 138108 | Houzz.com – Credit | © Maitland & Poate Ltd
---
Black and White Effect for Cement Damask Tile Backsplash in Stylish Mediterranean Kitchen Design
In a stylish Mediterranean-style kitchen, aged textured cabinets, the luxurious effect of the green marble countertop, and the patterned cement damask tile backsplash create a magnificent concept. In this place, which was designed with an authentic air effect, the island in the middle is valued with the preparation bench and storage areas. The under-counter washbasin is resolved here, and the brass hardware classic-style basin mixer creates an airy effect. The walls are covered with some aged paints and some brick coatings, beautifully completing the concept. On the floor, square, patterned tiles are added. Bottle-shaped pendant lights create beautiful details of the space. It is a cool and characteristic design.
Damask Tile Backsplash
Backsplashes are one of the most important elements that reveal the character of the applied space. It creates unique spaces with various alternatives according to the style and colors of the space. There are various materials such as marble, ceramic, and glass. Each type of material feels different effects. The Damask tile backsplash options are unique with their embroidered designs to create stylish spaces. Scroll down and find beautiful kitchen backsplash ideas with eye-catching damask patterns.
Successful spaces are formed with motifs of various shapes and different styles of different colors. By using contrasting colors, sharp looks, or choosing a softer pair, creating neutral effects, varieties are formed according to the desired design. Damask tile backsplashes create impressive products with their quality stances.
Material Options for Damask Tile Backsplash
Damask tile backsplash, with its various motifs, blends beautifully with every style, from modern to traditional, from Scandinavian kitchens to transitional kitchen designs. Ceramic and cement are the two most commonly used material types to have motifs. Because the desired patterns can be easily given, it has unlimited varieties. They are easy to use and durable materials. In this way, they settle into many designs, creating unique effects. They increase the variety by making them in desired sizes and shapes, and each color creates a different effect with an unlimited range of colors.
Ceramic Damask Tile Backsplash
Ceramics is a type of material that is very easy to use and apply. It has a wide range of desired sizes, shapes, and colors. It appeals to a wide range of users with its production of different qualities. Everyone has products that are suitable for their budget and that satisfy everyone because they can easily reach the product.
Ceramic damask tile backsplashes, on the other hand, help to create unique spaces with options that can adapt to every color and style. Its beautiful options leave a dazzling effect. It successfully complements kitchen designs.
What is a damask tile?
Damask tiles are types of tiles with floral motifs and more Turkish-style patterns. It can be used easily in all kitchen types, from modern to traditional, according to its design. It has various alternatives in different sizes and colors. Ceramics and cement are the main material types.
Cement Damask Tile Backsplash
Cement tiles are a popular choice for kitchen backsplashes with their many unique styles and their ability to protect walls from splashes, and spills. These backsplashes are elements that add durability and efficiency to your kitchen.
Between cement tiles, damask tile backsplashes will give a bold look wherever you use them. It is a favorite of kitchens with its options in various sizes, colors, and patterns.
Color Options for Damask Tile Backsplash
Damask tile backsplashes are one of the most important elements to create unique spaces thanks to their unlimited color options. They all leave different effects. According to the general concept of kitchen design, each color gives a different image. Gray, blue and colorful colors are among the most trendy colors. In addition, black, white, and beige tones provide visual shows with their neutral effects. Damask tile backsplashes capture different characters with each color.
Gray Damask Tile Backsplash
Gray is a color that provides sophisticated effects. They offer unique looks with a variety of shades. You can take your kitchens in any direction, from the modern backsplash to the contemporary and elegantly traditional.
Thanks to the unique effects of Damask tile backsplashes, successful space designs emerge with the characteristic elegance of the gray color. The style and atmosphere of the space are established by the pattern shapes and the tone of gray of the damask tiles. Gray damask tile backsplashes are very useful and simple designs.
Blue Damask Tile Backsplash
The blue color adds depth to the space, giving the feeling of the sea and the sky, and giving a fresh, open image. Whether you're creating a contemporary kitchen or a more modern space, the color blue adds a charming touch.
Blue damask tile backsplashes, on the other hand, create unique spaces from modern to traditional, contemporary to eclectic designs according to various pattern alternatives and combinations made with blue color.
While providing fresh and lively effects with white cabinets, cool-looking space designs are created with dark tones such as gray and black.
What cabinets go with a damask tile backsplash?
With Damask tile backsplashes, it fits almost any style with comfort. They are added in harmony according to the desired color alternatives, from flat cabinets to shakers, from raised panels to glass front cabinet types.
Colorful Damask Tile Backsplash
Colorful damask tile backsplashes are a wonderful variety that adds movement and energy to applied spaces. Thanks to its color, it gives the chance to use many alternative colored elements in the space. It gives interesting looks with its patterns. Colorful damask tile backsplash examples with beautiful patterns, sizes, and colors can be applied in kitchens with many colorful alternatives from white to dark tones.
What countertops go with a damask tile backsplash?
According to the Damask tile color options and the general kitchen concept, it harmonizes with most types of countertops. It is one of the favorite options that gives good results on plain marble counters or wooden counters according to the design concept.