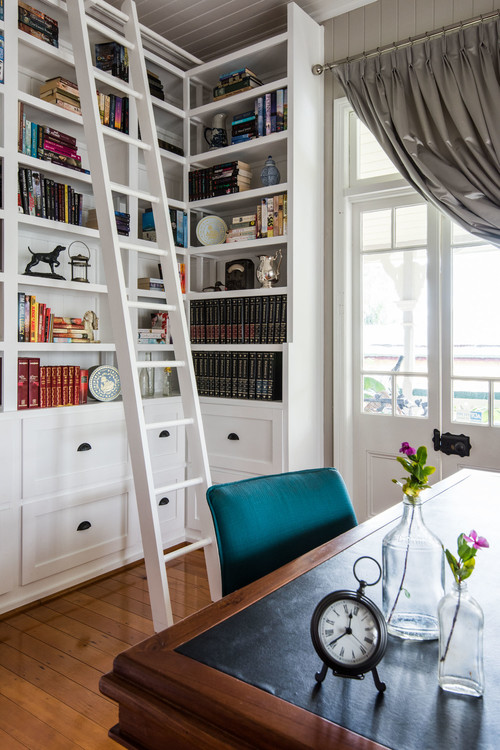 ID# 108101 | Houzz.com – Credit | The Builder's Wife | © Hannah Puechmarin
---
Traditional Home Office with White Built-in Library
When designing a home office, there is no better backdrop than a beautiful library. In this traditional home office, a white built-in library adds visual interest to the design and brings a clean and fresh look with its white color. The wooden desk is paired with a green chair.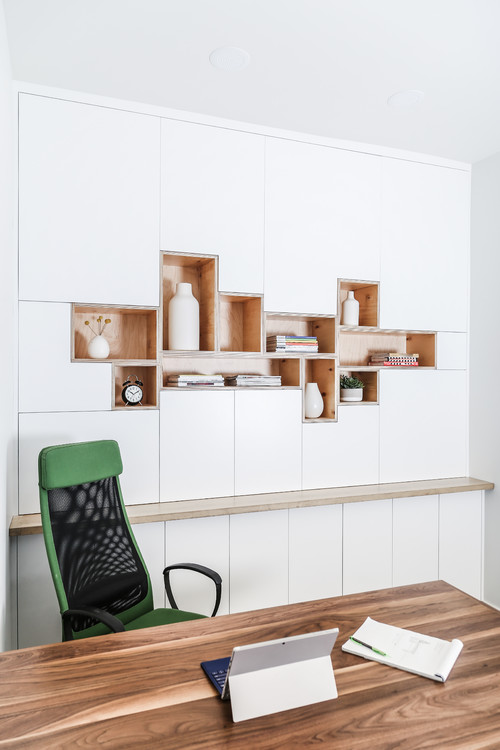 ID# 108113 | Houzz.com – Credit | © Finic Cabinetry and Design Studio
---
Home Office with White Cabinets and Small Home Library
A well-designed office may cost a little more, but it is much cheaper than a poorly designed one. This modern room features built-in cabinets, wood-open units, a wooden desk, and a green chair. Built-in cabinets provide plenty of space for storage and wood niches for display some decors.
Small Home Library Ideas for Tiny Spaces
Just because you live in a small house doesn't mean that you can't have a library at your home. Libraries, even the smallest ones, can be the most magical place in the entire home. You can find some inspiration in our small home library gallery for your home.
Improve small spaces with shelves.
Libraries are a great choice to maximize the functionality of your small or slopped spaces as under the staircase or rooftop. You can create a library with even small shelves to display your book collection or pop up your small libraries using different color schemes and materials. You will be able to create a beautiful space for your collection that won't cost a small fortune with the help of our small home library ideas.
The home library could be our respite from gadgets and screens!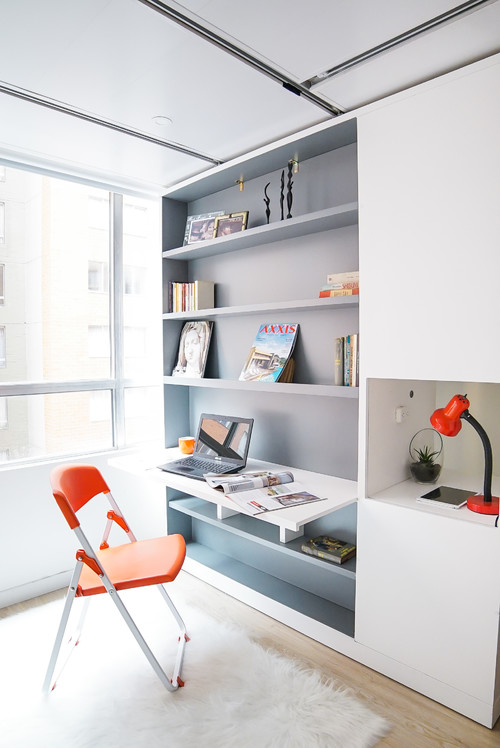 ID# 108102 | Houzz.com – Credit | © Vitali Arquitectura
---
Contemporary Study Room with Gray and Orange Accents
If you have small spaces, clever designs like this one are a great way to maximize functionality and space usage. In this contemporary study room, gray shelves and a white floating desk are recessed into the wall. The compact yet functional design makes space feel larger and provides everything that you need in a study room. The gray paint of the library brings depth to the room and orange accents create a contrast against the grays. This strong contrast offers a minimalist yet impactful look.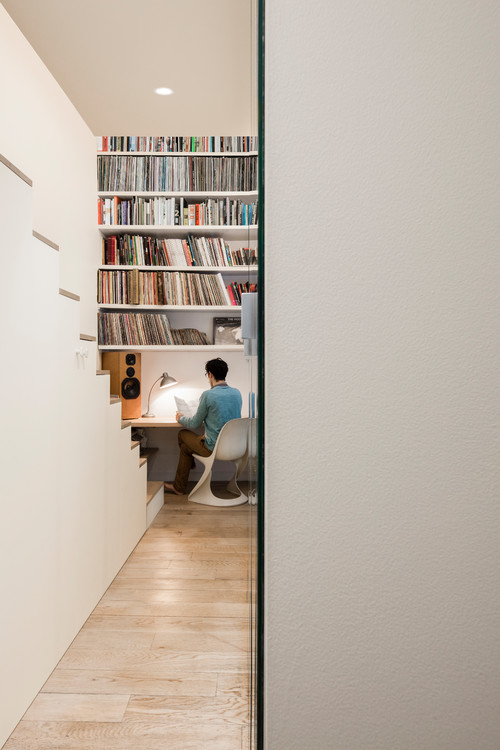 ID# 108103 | Houzz.com – Credit | © Giorgio Marafioti
---
Small Home Library with White Floating Shelves
There is no certain place to create a library in homes. In this design, a small home office is placed in the hallway and completed with a small library. The beautiful book collection stands out on the white floating shelves and creates a stunning look. The white floating desk is placed under the shelves that create a continuous look.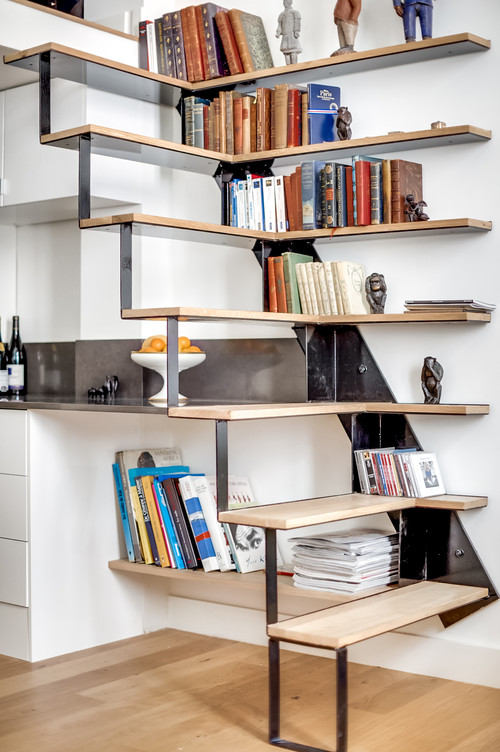 ID# 108104 | Houzz.com – Credit | Nelson Architecture Interieure & Design | © Shoootin
---
Contemporary Staircase with Small Home Library
In general, staircases are not seen as a design element and are left as empty and plain spaces. But if your staircase is insight, you can liven up this space with a library. This contemporary staircase design features wooden steps that continuous as shelves on the other wall. The book collection and decorative objects bring visual beauty to the white blank walls. The combination of the thin wooden steps and black structure offers a minimalist and beautiful design.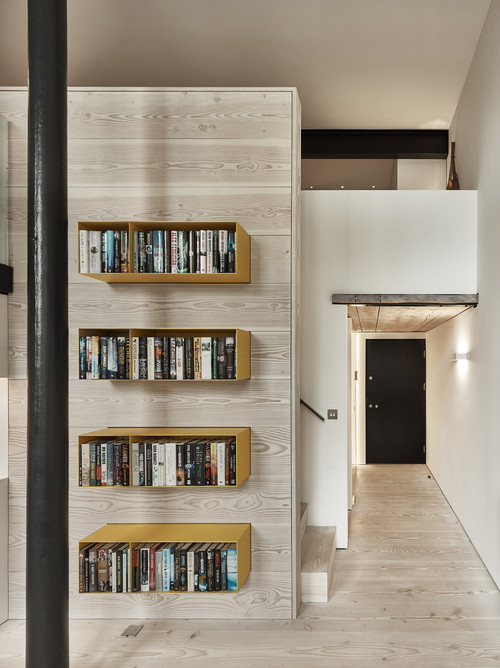 ID# 108105 | Houzz.com – Credit | Scott Donald Architecture | © Andy Haslam
---
Gold Wall Mounted Bookcases with Wooden Wall
To save your hallway from vapidity, you can add boxes or shelves to the walls and turn them into a small bookcase. Gold units create an elegant and clean look on the wood wall and bring mobility to this hallway.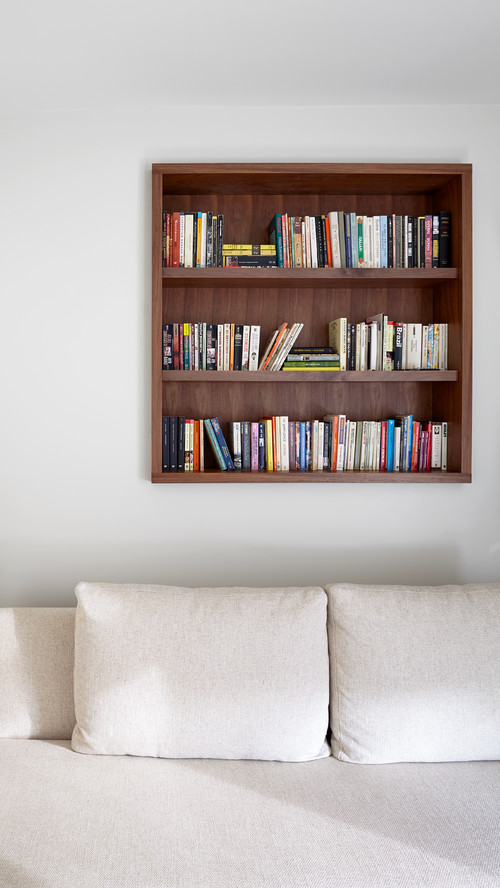 ID# 108106 | Houzz.com – Credit | TACT Design | © Terence Tourangeau
---
Dark Wood Recessed Bookcase with White Sofa
If you have limited space, recessed niches can save your design. In this modern design, the dark wood recessed niche turns into a small home library with a book collection, and it acts as a piece of art. The compact size of the niche offers a minimalist and elegant look. The dark wood material of the niche stands out between the whites while it creates a focal point above the white sofa.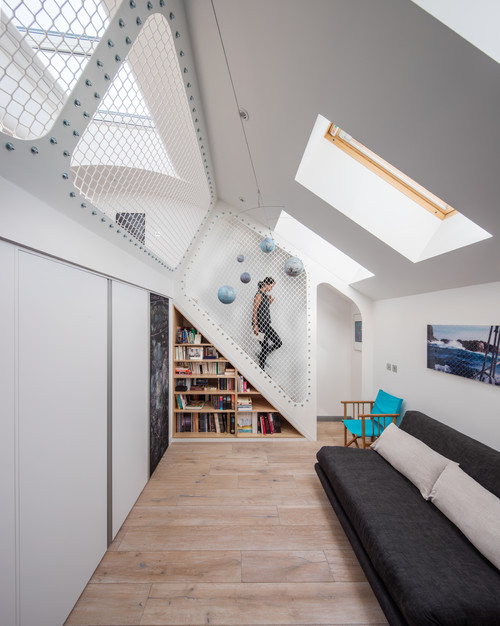 ID# 108107 | Houzz.com – Credit | Scenario Architecture | © Luke Hayes
---
Playful Attic Room Ideas with Gray Sofa and Wood Bookshelf
The attic room was transformed into a cozy resting nook with a dark gray sofa, a blue chair, and a small built-in bookshelf. The wooden bookshelf perfectly evaluates the unused area under the staircase and creates a focal point. This playful space is brightened by skylights. The curved steel walls are lined with fishnets to protect kids. These fishnets become a beautiful architectural element.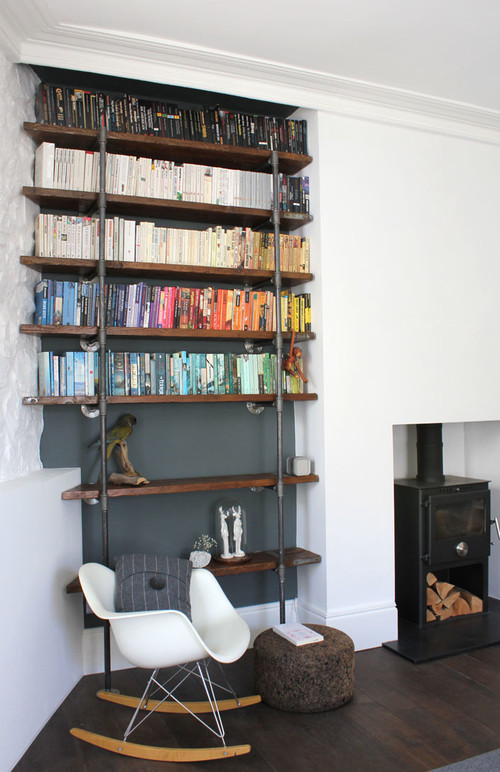 ID# 108108 | Houzz.com – Credit | © Urban Grain
---
Small Home Library with Reclaimed Wood Shelves and Steel Pipes
In this contemporary living room, the bookcase features reclaimed scaffolding boards and steel pipes, and it brings a vintage industrial look to the casual living space. The gray paint allows this beautiful design to stand out between the white walls. Colorful book covers add visual interest and bring the joyfulness of the rainbow. Also, adding a swinging chair and a fireplace creates a cozy resting nook. Take a coffee and a good novel, lie down on the couch, and get lost in the novels!
---
Gray Bookcase with L-shape Sofa and Pink Ottoman
Built-in cabinets are the best way the evaluate unused and awkward areas under the sloped ceiling. A gray built-in library is perfectly placed under the ceiling in this transitional family room and provides plenty of storage space for books. The l-shaped gray sofa offers a comfortable reading nook while the pink pouf and blue patterned rug bring a traditional feel.