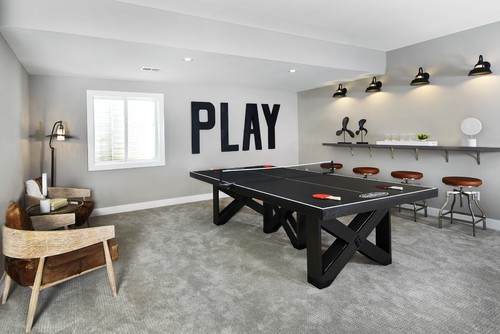 ID# 109218 | Houzz.com – Credit | © Dream Finders Homes
---
Custom Black Ping-Pong Table with Gray Carpeted Floor
Love this wall decor that spells out "play"! It is matching perfectly with the game room's atmosphere. Black Ping-Pong table popping up in this white room. Wooden armchairs with brown cushions bring a cozy look. Wall-mounted bar table and bar chairs with leather seating shine out under the black barn lights.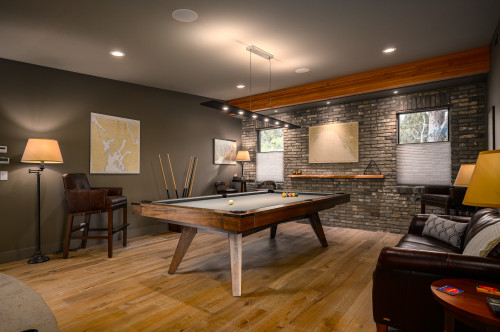 ID# 109201 | Houzz.com – Credit | © Underwood & Associates LLC
---
Pool Table Room with Stone Wall and Wood Shelf
A taste for tradition can be complemented with stone wall decorating. Look at this custom-designed pool table with wooden details. The leather sofa and armchair complete the rustic look. Love the idea of combining different shades of wood on the floor, single floating shelf, and ceiling lining. The light of the Swing arm floor lamp reflects perfectly on the gray wall.
Creative Basement Game Room Ideas with Elegant Styles
If you have a basement, you can use it for various purposes: make a basement bar, a kitchen, a bathroom, a family room, a home cinema or realize your dream game room! A game room will be a great idea for everybody. You can spend time with your family! Check our basement game room ideas before you start the design.
Choose remarkable lightning designs.
There is an endless option to create a game room. You can design the playroom of your dreams with a well-chosen theme. Lighting is a key component of the game room. There are lots of choices of color effects to use for your game room. The effects of light and ambiance contribute maximally to the gaming experience. There are game rooms that are exclusively for video gaming, others with pole tables, ping-pong tables, and even arcade games. The game room can be more spectacular with more playful activities and allows a space for the entire family.
Here are some fun ideas in our basement game room gallery to decorate your gaming room!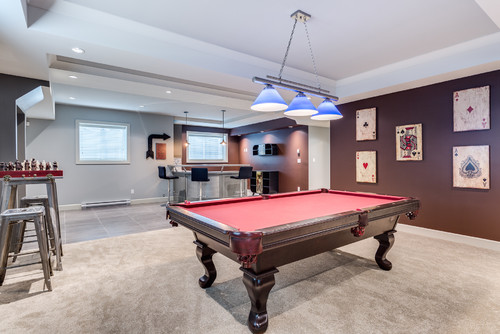 ID# 109202 | Houzz.com – Credit | © Noura Homes
---
Classic pool Table in Basement Game Room Ideas
Classic pool table absolutely the focal point of the room. The pendant light right on the pool table allows a lighter playing area. You can make a chess tournament on the red-grey chess table. Large charts on the claret red painted wall matching perfectly with the game room's atmosphere. The small bar area provides a relaxing space between the games!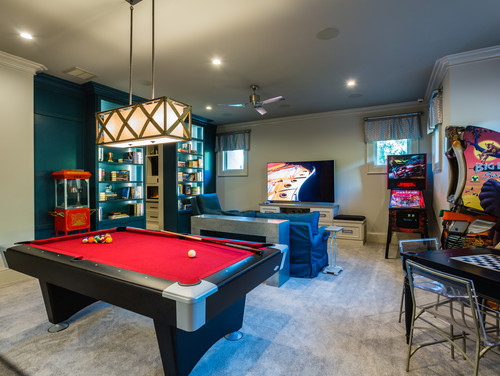 ID# 109203 | Houzz.com – Credit | © Walcott Adams Verneuille Architects
---
Contemporary Game Room with Gray Carpeted Floor
This game room gathers technological and classic game activities together. Bringing together many activities makes the room suitable for everyone. You can play video games on the tv while sitting on the comfortable blue sofa, play billiards on the pool table, or experience nostalgia with the retro cabinets! Even placed a chess table for mind games! Blue bookshelves are placed on both sides of the wall and provide extra storage with the under cabinets around. You can make popcorns in this sweet popcorn machine for move nights.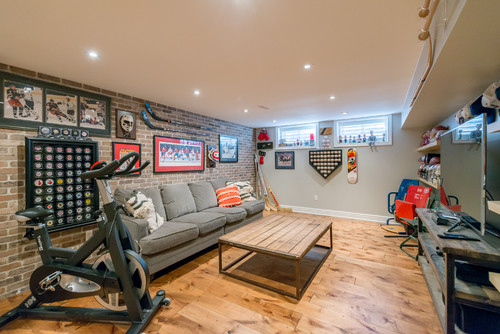 ID# 109204 | Houzz.com – Credit | © Summit Development Group
---
Basement Game Room Ideas with Light Wooden Floor
Gray cozy sofa allows comfortable seating for playing video games or movie nights! Sports equipment can be a great wall decor in your game room, in this design hockey stick was used on a brick wall. Hockey players' photographs complete this theme perfectly. If you don't have extra space for a gym you can place a bicycle in your game room. Spot lightings are a perfect choice in this room with small windows.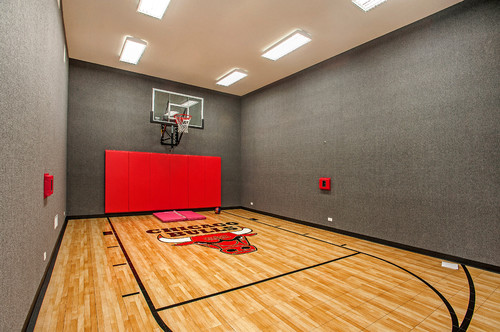 ID# 109208 | Houzz.com – Credit | © Heritage Luxury Builders
---
Basement Game Room Ideas with Basketball Court
If you have enough space and also a fan, transform your basement into your favorite team-inspired basketball court! This functional simple indoor court with red color accents is perfect for contentious matches!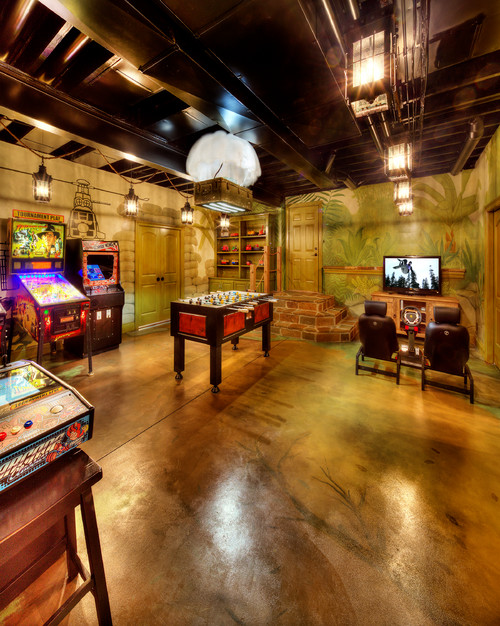 ID# 109210 | Houzz.com – Credit | © ALH Home Renovations, LLC
---
Tropical Style Game Room with Black Open Ceiling
Dark brown open ceiling, tropical wallpapers, and green door make you feel like you are in a tropical forest! A brown-green floor with a drawing of the trees completes this look. You can sit on leather car chairs and race a car on the computer or feel the nostalgia with a pinball machine. You can even make matches on the football table. Lantern lamps providing the lighting with this remarkable pendant lighting.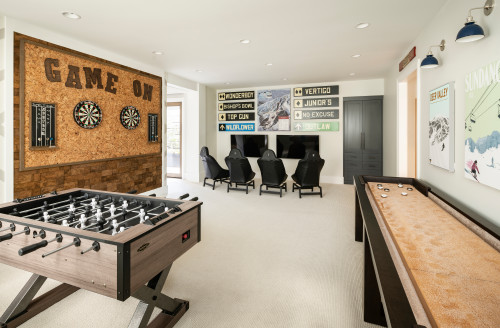 ID# 109211 | Houzz.com – Credit | © Magleby Construction
---
Elegant Game Room with Video Gaming Area
Custom-designed car seats are a dream for every gamer! This way, gamers can be more comfortable and feels like sitting in the actual car while playing a car race. Wall decorations are a great way the color up your game room's walls. You can hang attractive words on your walls. Direction signs placed above the televisions can help you while you are racing! Large pinboard great choice to hang darts and score tables. The table soccer provides the additional activity.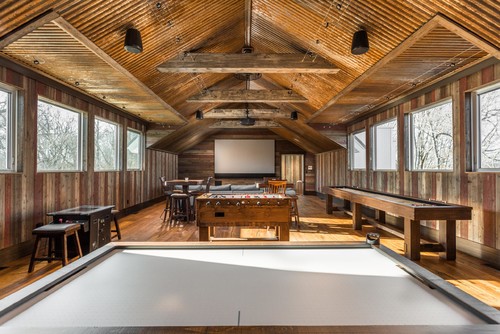 ID# 109212 | Houzz.com – Credit | © Western Window Systems
---
Farmhouse Basement Game Room Ideas with Small Movie Theater
Who doesn't want to spend time with their family in this rustic farmhouse game room! Love this natural atmosphere. The furniture definitely complementing the rustic space. A screen is present in which everyone can watch from whichever activity they are in, whether that would be playing billiard or table football. You can also gather together and make a movie night with the whole family!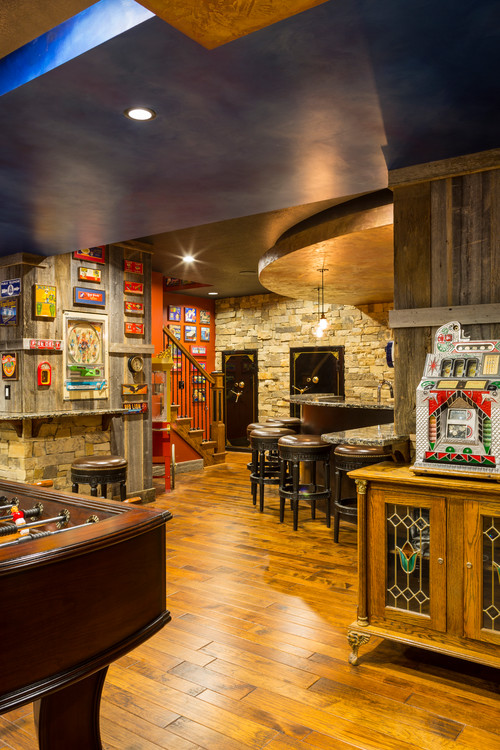 ID# 109214 | Houzz.com – Credit | © CHC Design-Build
---
Rustic Game Room with Wooden Ceiling
The rustic style of the room is complemented by the wooden floor, wall panels, and colorful wall decors. Wooden cabinets provide storage space for board games. Blue ceiling and orange wall creating contrast. The dark brown bar for sip your drinks!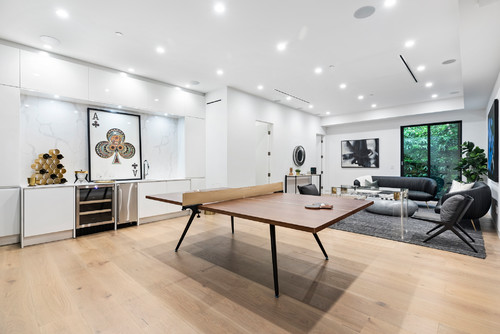 ID# 109215 | Houzz.com – Credit | © JNO Construction and Design
---
Modern Living Room with Wood Ping-pong Table
If you spend a lot of time in your game room, why you are not adding an open kitchen? White kitchen cabinets perfectly fit in this minimalist game room. Giant playing card popping up on the marble backsplash. The gray sitting group allows a comfortable area in which you can play board games! Plain Ping-Pong table looks gorgeous on the light wooden floor.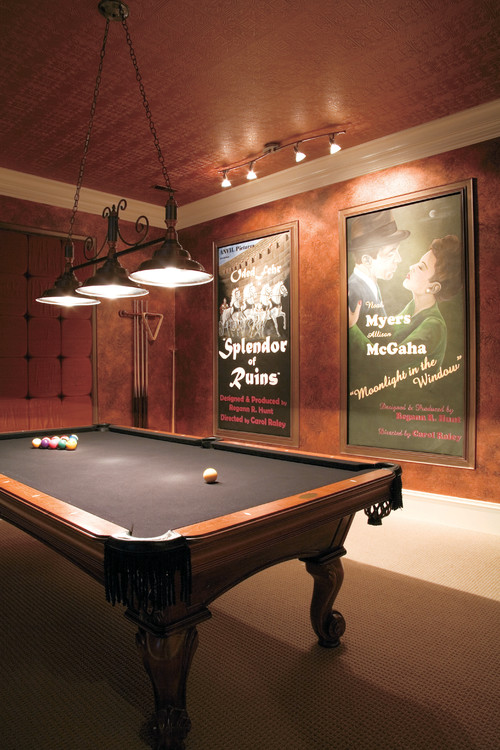 ID# 109216 | Houzz.com – Credit | © Frank Betz Associates, Inc.
---
Traditional Basement Game Room Ideas with Pool Table
Lighting is the most important feature in dark spaces. in this design bronze pendant lighting and track lighting perfectly placed and take attraction to the pool table and movie poster. Brown wallpapers and ceiling make an elegant touch.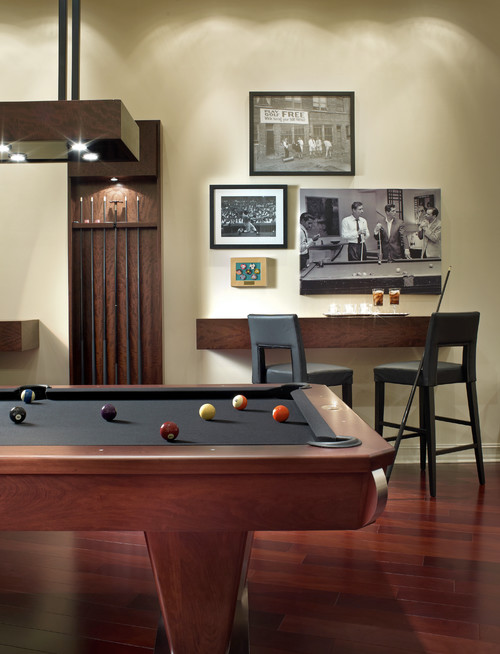 ID# 109217 | Houzz.com – Credit | © Jeffrey King Interiors
---
Chic and Elegant Pool Table Room with Bar Area
Being a basement remodeled into a game room, this room looks chic and elegant with the fine furnishing. We love this minimalist design! Black bar chairs and wall-mounted table in a harmony with vintage pictures. Wooden wall apparat to hold bats. Rectangular pendant lighting over the pool table makes elegant touch with sharpened edges.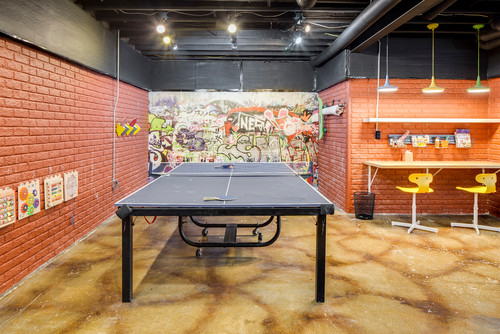 ID# 109219 | Houzz.com – Credit | © ReStyled by Valerie
---
Basement Game Room Ideas with Brick and Graffiti Walls
Look at this gorgeous underground atmosphere! It feels like you are on the subway. Graffiti wall and black open ceiling complete this look thoroughly. You can make contentious matches on the Ping-Pong table with your squad!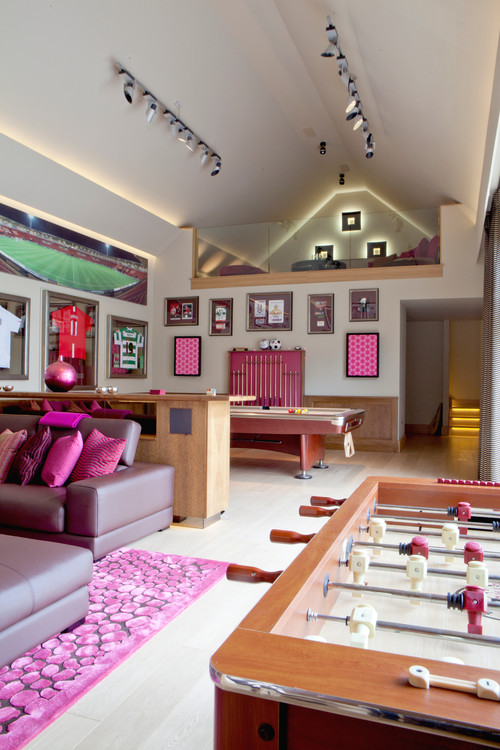 ID# 109220 | Houzz.com – Credit | © Carolyn Parker Interior Design Ltd.
---
Remarkable Contemporary Game Room with Pink Details
If you have decided to transform your high-ceiling attic into a large game room, then here is an idea! Each part was designed perfectly in this room. Pool table and table soccer allow different activities. Light wooden console separating game area and seating area. Pink details like pillows, carpet, and wall decors are eye-catching. Additional loft designed with the help of the high-ceiling. LED lightings providing a comforting atmosphere.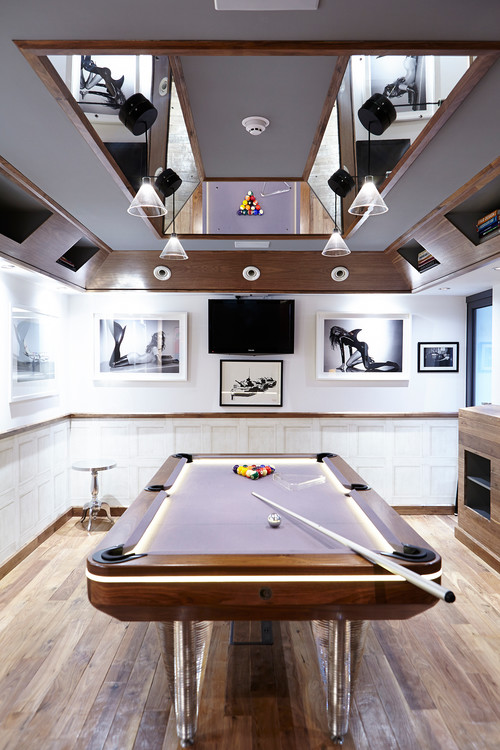 ID# 109222 | Houzz.com – Credit | © Ben Rousseau Design
---
Modern Game Room with Mirrored Ceiling
Look at the reflection of the pole table and picture frames on the ceiling! LED lights getting the attraction in the pool table. Square-shaped panels and wooden laths bring mobility to white walls. Upper built-in cabinets provide extra storage and maximizing the functionality of the room. Wooden flooring completes this look thoroughly.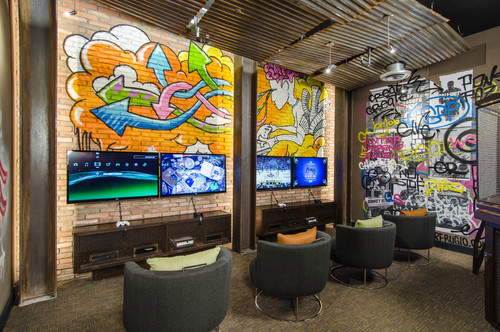 ID# 109223 | Houzz.com – Credit | © T2thes Design + Build
---
Gaming Room with Individual Gaming Sections
You can dedicate separate sections for each gamer. This way, every family member can have their own choice of video game to play. Televisions are placed on the stone walls with graffiti art. Gray circular sofa seats, placed in front of individual gaming screens. Brown identical decor units create a harmonized look.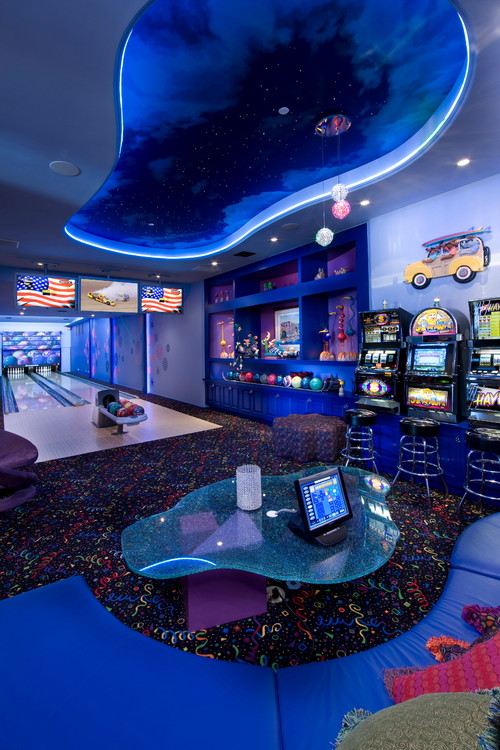 ID# 109226 | Houzz.com – Credit | © Bliss Home Theaters & Automation, Inc
---
Blue Bowling Alley Design with Custom Ceiling
Look at this custom-designed ceiling! You can track your bowling scores on the blue comfortable sofa. The edgeless coffee table fits perfectly on the colorful carpeted floor. built-in display cabinets provide storage space and also you can show off your bowling bowls on them. Vintage arcade games are also available for leisure.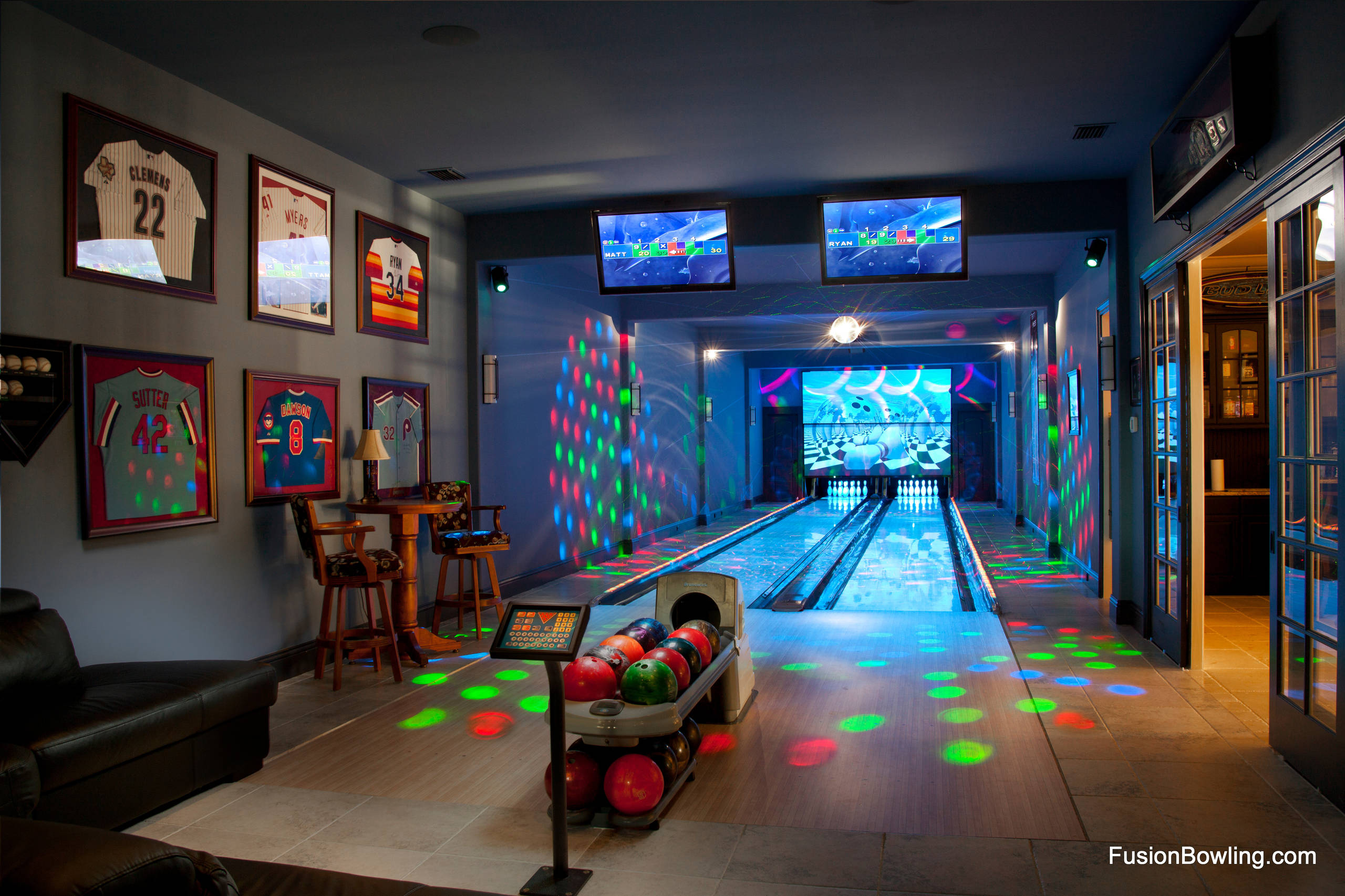 ID# 109205
---
Basement Bowling Alley with Disco Effect Lighting
Which one of us wouldn't want to have a bowling alley in our home! A great activity to spend time with your family. The game room features a pinsetter masking unit with bowling-themed graphic panels, a computer scoring system with overhead TV monitors, and a pedestal-mounted keypad. Disco effect lighting spirit up the room. You can sit on the wooden chairs while other members playing.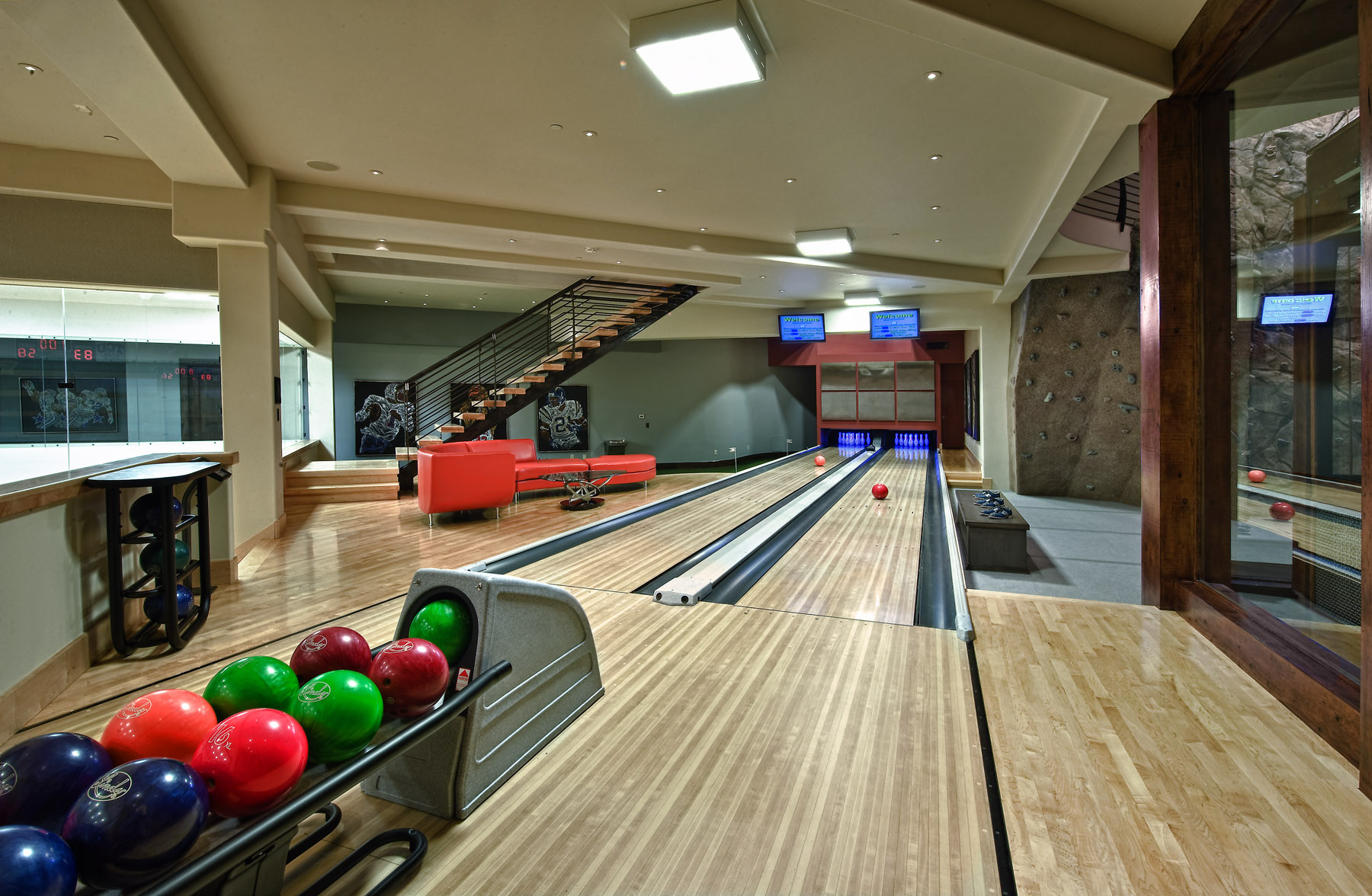 ID# 109206
---
Contemporary Game Room with Bowling Alley and Red Couch
This beautiful house has quite an extensive game room in the basement. Not only does this home have a bowling alley, but it also has a climbing wall. Red l-shaped sofa next to the alley. Small spotlights allow more bright space beside the square-shaped lightings.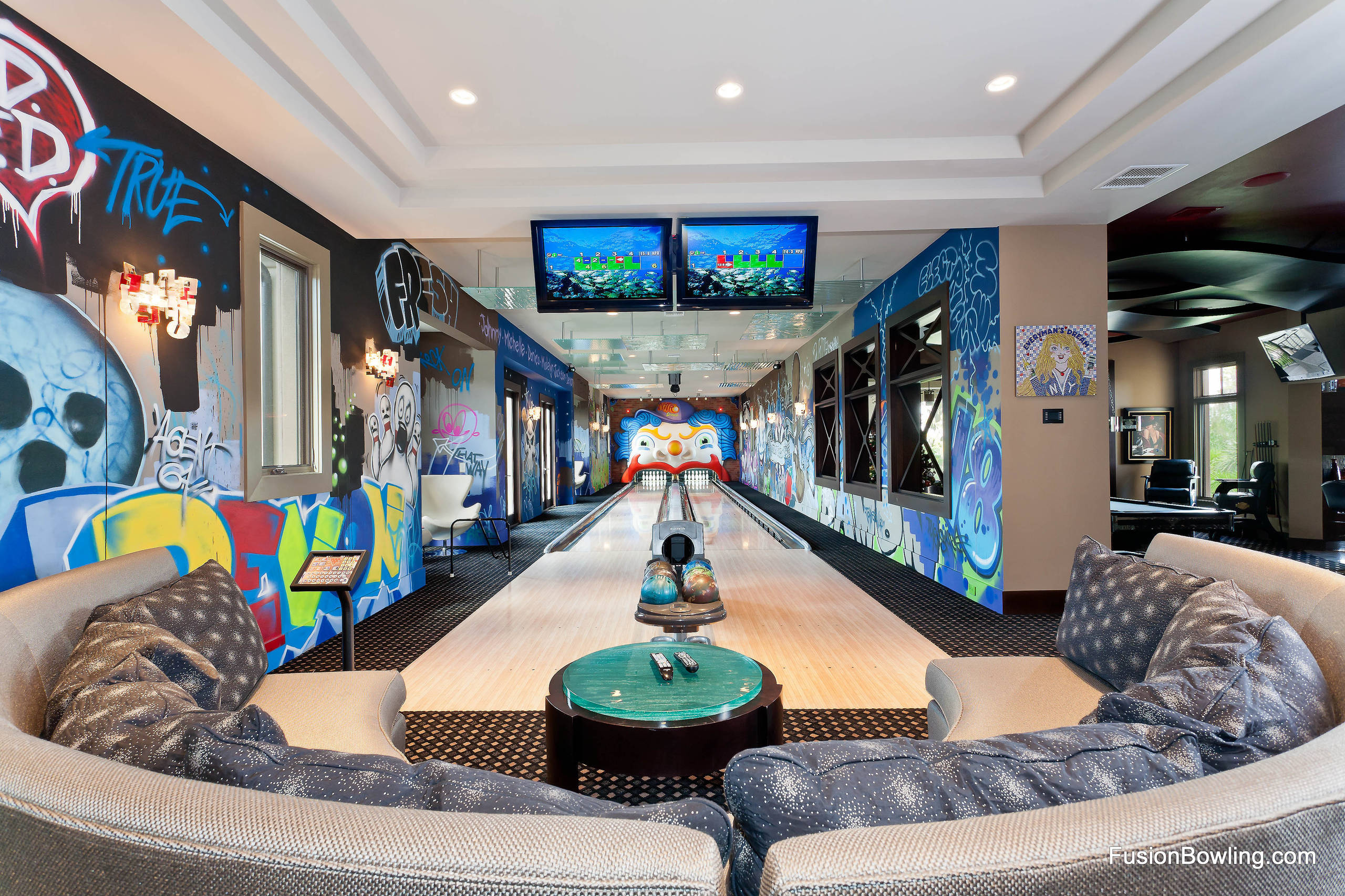 ID# 109207
---
Fun Bowling Alley with Colorful Graffiti Walls
Love this unique game room design! Walls covered with graffiti art. Giant clown face waiting to eat your bowls at the end of the alley. A whole floor covered with dotted carpet. U-shaped large sofa provides a comfortable seating area while playing bowling. Spotlights shining between the glass panels on the ceiling.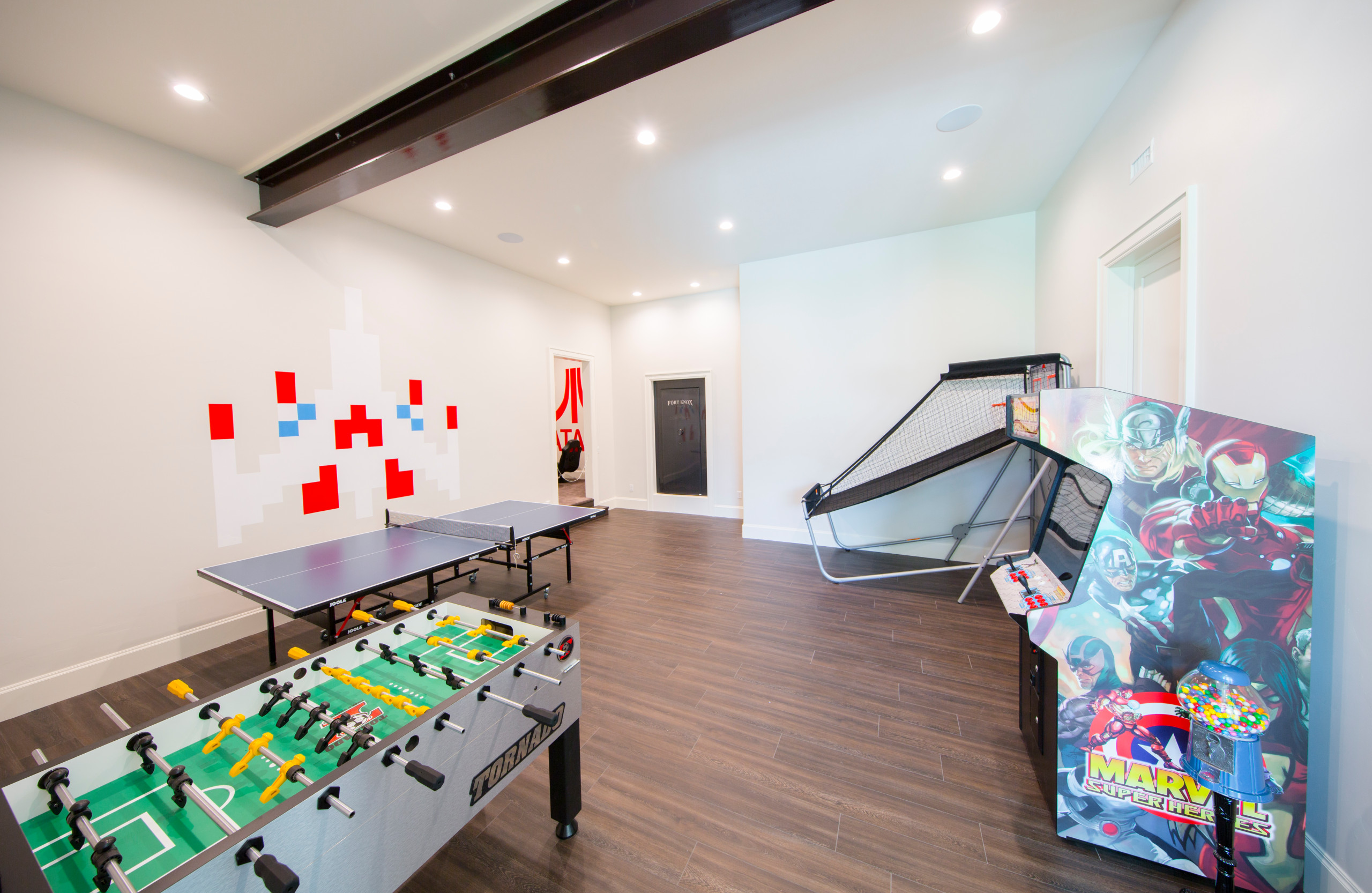 ID# 109209
---
Plain Basement Game Room Ideas with Table Football
Game rooms like this allow different activities with the help of features. Ping pong table, arcade machine, mini basketball, and table football! White, blue, and red-colored warplane design brings mobility to these white walls.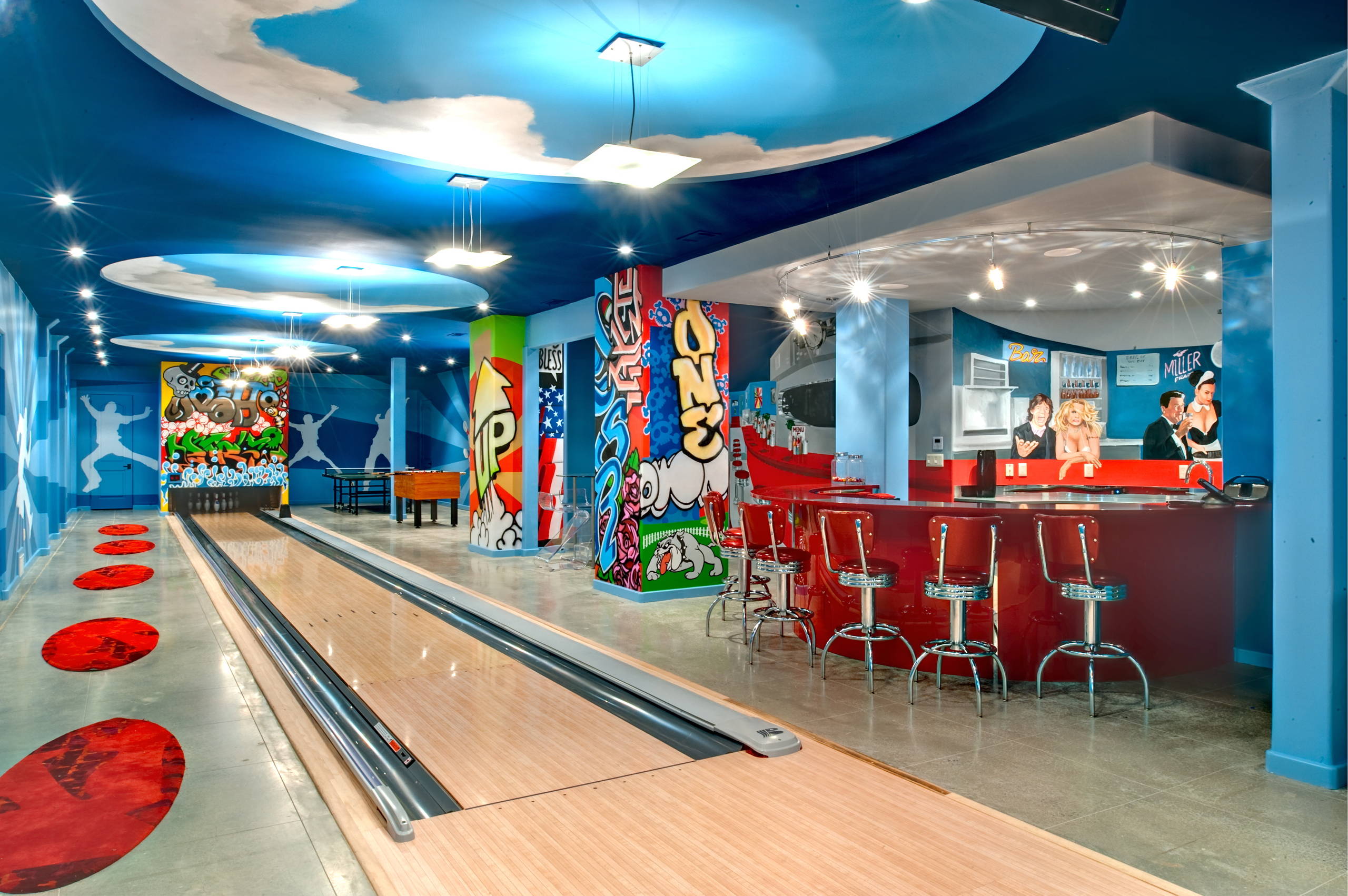 ID# 109213
---
Entertaining Basement Game Room Ideas  with Colorful Graffiti Walls
Nobody wants to live in this custom-designed game room! Graffiti arts are popping up on the columns and at the end of the alley. A light wooden bowling alley shines out under these gorgeous sky-viewed ceiling panels with the help of pendant lightings. You can relax and sip your drinks at this red bar between the games.
ID# 109221
---
Colorful Game Room Design with Bubble Pendant Lights
Love the color palette popping up on the gray room. Each detail was chosen conscientiously. You can sit and play games or watch a movie with your family on the colorful l-shaped sofa. You can sit also on the soft carpeted floor. Wooden detailed coffee table and floating shelves bring a cozy look and match with the stone fireplace. Green stickers are designed as a forest.
---
Indoor Bowling Alley with Bar with Red Countertop
If you feel you're not satisfied with a movie theater, the house comes equipped with a bowling alley, too. Bowling is an entertaining and playful activity that you can play with your family. You can watch your kid's games while you sipping your drink at the bar. Bowling themed carpet floor complete the look. Blue LED lightings are the perfect choice to put you in game mode.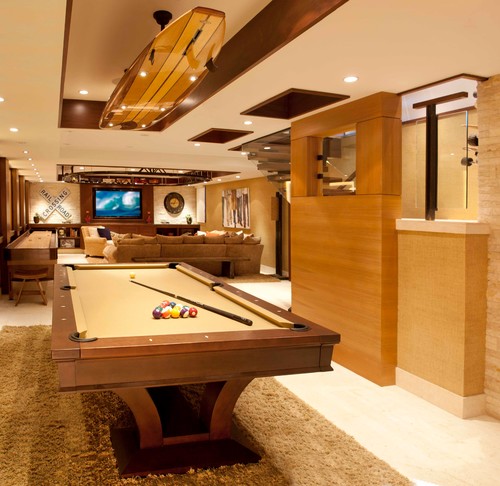 ID# 109225
---
Basement Family Room with Pool Table
A singular pool table stands in the center of the room with remarkable custom-designed lighting. Beige carpet defining the gaming area. A TV room with lounging sofas connects to the room. Shuffleboard placed next to the sitting group. Spotlights providing a brighter atmosphere in this basement.