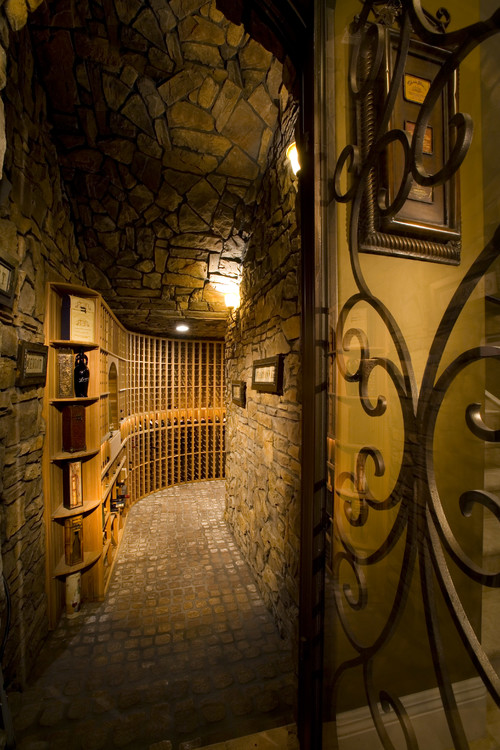 ID# 122608 | Houzz.com – Credit | © Pinnacle Architectural Studio
---
Mediterranean Brick Floor With Rustic Basement Wine Cellar
The stone walls are accompanied by a curving wooden wine cabinet. Huge Mediterranean brick was used on the floor. rustic air prevails with its motif gate.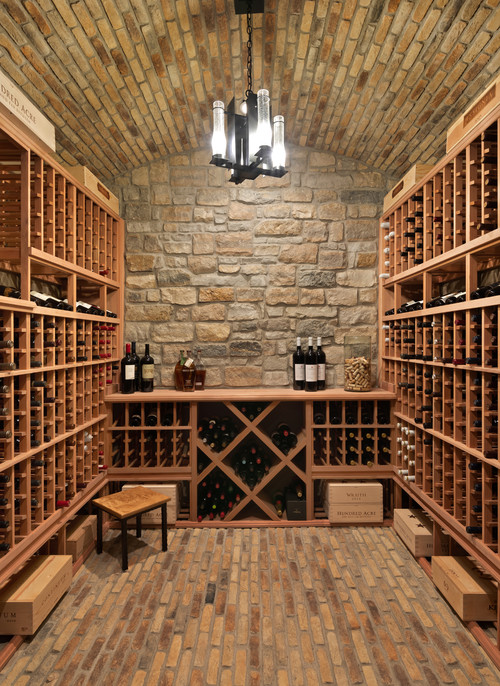 ID# 122638 | Houzz.com – Credit | © Hensley Custom Building Group
---
Classic Brick Walls With Wood Wine Racks
Classical brick was used in the ceiling and floor. Stone was used in the walls. Brick and Stone are mixed. The classic style wine cellar is again completed with a classic style chandelier.
Modern, Rustic and Traditional Stone Wine Cellars!
The wine cellar, made of stone, is not only glamorous. In addition to being very stylish, stone wine cellars control all the criteria of stone wine storage. The stone material controls the ambient temperature. That's why you can make your personal wine cellar out of stone material. Designing a wine cellar can be tricky but now, you can find some inspiration according to your taste with our stone wine cellar ideas!
Choose brick, limestone, slate, and more stone wine cellar ideas.
Here you will find stone wine cellars that meet your needs, your wishes. The stone material balances the moisture and temperature required. Now, to incorporate it into your home, you can test our stone wine cellar ideas.
They are brick, limestone, slate, and more stone wine cellar that suitable for all styles.