43+ Mosaic Tile Backsplash with White Cabinets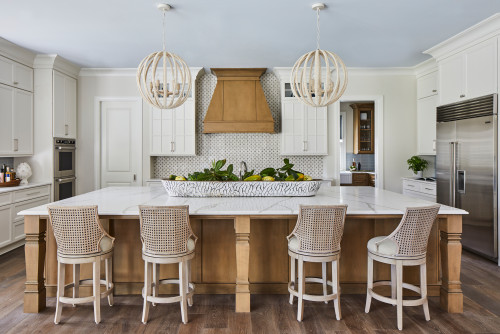 ID# 131601 | Houzz.com – Credit | © Guenther Designs & Consulting LLC
---
White Mosaic Tile Backsplash with White Cabinets and Wood Island
The elegance welcomes you with its soft and warm look. White cabinets and white marble countertops create an amazing harmony. The transition between the wood surfaces and the white cabinets is provided by the white mosaic tile backsplash. The gray patterns of the white tiles add movement to the kitchen and bring a stylish look.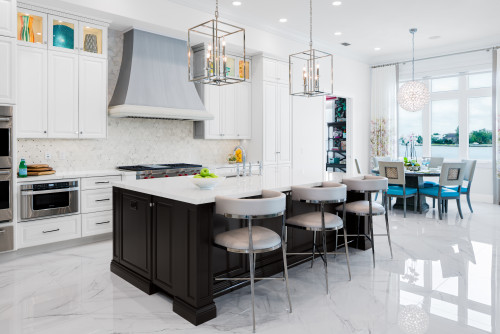 ID# 131624 | Houzz.com – Credit | © Europa Stone
---
Black Island and Stainless Steel Appliances with White Floors
Such a sleek contrast is created by the black island, black handles, white cabinets, and quartz countertops. Thanks to the white floors the black island stand out more and black handles draw attention. Using chrome knob handles for the uppers can help you to complete the white marble mosaic backsplash stylishly. You can balance the luxurious look with the chrome chandeliers.
Mosaic Tile Backsplash with White Cabinets
The word "mosaic" can make you think the little pieces of stone or glass come together that create art. Mosaic tiles have such a long history, they were applied in mortar to create a pattern or picture of something. The early examples of it were found in Egypt, 3,500 years ago. They went to Greece and then the Byzantine Empire. Nowadays, you can find stone, glass, or glass pieces that can be in many shapes, and sizes on sheets. Thanks to their variety of sizes, materials, and colors you can be creative in many ways. They can be applied on floors, and walls, or used as backsplashes. If you like white themes for kitchens, a mosaic tile backsplash with white cabinets will be perfect for you to create such an absolutely stunning look with them.
Using mosaic tiles can offer you many design possibilities, especially the kitchens can have such a stylish and elegant look for the cabinets. Also, there are endless possibilities to create a mosaic backsplash that offer one-of-a-kind appeals! Their durability is a plus and they are waterproof. Since mosaic tiles are sold in sheets you can apply them yourself easily. Let's check the mosaic tiles for the backsplashes!
Mosaic Tile Materials
Mosaic tile materials can offer aesthetic surfaces with many styles, colors, and materials. You can get lost in the sea of mosaic tile materials! Their sleek opportunities can help you to create a pleasant interior with aesthetic appeal. Also, they are timeless design elements, which is a plus. You can use glass, ceramic, or marble mosaic tiles for backsplashes to create movement and a stylish look. These materials and others can offer you infinite combinations of colors, sizes, shapes, and materials options that can add luxurious appeal.
Glass Mosaic Tile Backsplash with White Cabinets
The glass mosaic tile backsplash has a long history and they are still popular! They are in use since the times of ancient Egypt! This material has a variety of colors, patterns, and styles that can help you to be creative! You can use glass mosaic tiles for backsplashes in the kitchens, thanks to the glass mosaic's durability and moisture resistance. Glass mosaic tile backsplash with white cabinets can be one of the options for your kitchen design.
Ceramic Mosaic Tile Backsplash with White Cabinets
You can create a unique design and add identity with a ceramic mosaic tile backsplash with white cabinets. Whether your design style is contemporary or classic, retro or modern, these ceramic mosaic tiles can offer you many options. They are moisture resistance, durable, water-resistant. You can find a variety of pre-set ceramic mosaic tiles for your interiors.
Marble Mosaic Tile Backsplash with White Cabinets
If you like a down-to-earth feel in your kitchens, marble mosaic tiles are one of the best ones for it. Using a marble mosaic tile backsplash with white cabinets can provide you stylish, bright, and familiar look. You can use wood floors to increase the naturality with a marble mosaic backsplash. It is a plus to be able to add movement with these mosaics.
How to install mosaic tile backsplash?
For the installation, the first step is preparing the materials. It is better to measure the place to determine the amount of material needed for the backsplash area. For waste and cuts add 10% to 15% extra material. The wall must be clean, dry, smooth, and flat so before starting you need the clean the wall if it is needed. You can use cement boards, too. Most of the items to install mosaic tiles can be found in any home improvement store or tile shop. You will need; Measuring type, mastic, square, utility knife, grease pencil, notched trowel, margin trowel, grout that is stain free, tiling float, spacers, towel, or rag, several sponges, a bucket of water, a wet saw with a fine-grit diamond blade.
Preparation
Before applying your backsplash to the wall, sand the surface by hand with sandpaper or steel to rough it. It is better to use a ready mastic, this way you do not have to mix anything. Before you start decide how you will finish your edges. Pencil moldings are one of the alternatives. It is better to draw a straight line for the place of the moldings, it will be applied after all the mosaic pieces are in place.
Installation
The next step is using a trowel and spreading the adhesive evenly over the wall surface. Do not spread all over the wall, just a small area is useful. Press the tile firmly into the adhesive and place a spacer below the row of tiles. This will provide a straight row and a grout joint to match the inner tiles. Insert spacers to shore up any uneven grout joints to ensure uniformity and even grout joints throughout your backsplash. After the mosaic panels are placed, use the float to tap the tile to be certain it is secured firmly and evenly on the wall.
The 3rd step is cutting the tiles. If there are spaces that you need to cut your tiles, you can cut them with a wet saw. Safety first! Always keep your hands as far away from the blade as possible. Always wear eye protection, pieces to tile are extremely sharp and there is always a risk of pieces flying into your eyes. It is better to use slow even pressure to push the tile through the wet saw's blade. After cutting tiles, dry off the tile with a towel or rag before installing. You must turn off the electricity in your kitchen prior if you install around electrical fixtures.
The next step is cleaning any excess adhesive with warm water and a sponge. Then you can pass to the 5th step which is about the borders. As mentioned above you can use a simple pencil molding border on the open edge. Apply mastic to the back of the pencil molding and install along the drawn lines. Press it firmly into place.
Grouting
The 6th step is grouting. Before this step, allow mastic or thin-set to dry overnight. Grout is for filling the spaces between the tiles. It is a little messy process so be sure to cover any area where you do not want to get any dirt. You can apply a clear sealer or enhancer to slate backsplash as before grout to avoid any grout residue sticking to the stone. Use a razor blade to remove any remaining mastic being careful not to scratch the tile. Use a margin trowel to mix the grout according to the manufacturer's instructions. Here is a tip, non sanded grout should be used for grout spaces of 1/8" or less, and polished stone, metal, and glass tile, to avoid scratching a tile during grouting use a rubber float to press the grout into the joints.
Use the edge of your float to skim off excess grout, avoid digging into the joints and move the float diagonally across the tiles. Wipe the backsplash in a diagonal direction to remove any excess grout then clean the tiles to remove any remaining grout haze. To do this use a damp sponge to wipe. Rinse the sponge frequently in warm water, and let the grout dry as recommended by the manufacturer.
Clean & Seal
The final step is about final cleaning, sealing, and caulking. Before sealing the grout let it cure completely as recommended by the manufacturer. Sealing the grout provides greater water resistance and helps to keep it from staining. Always check with the grant manufacturer for a sealer recommendation. Do not let the grout sealer dry on your tile, be sure to wipe off any excess with a damp sponge within 10 minutes. Glass or metal mosaic backsplash tiles do not require sealing, however, sealing is recommended for natural stones so check with your manufacturer for recommendations. Finally, squeeze a thin bead of caulk into the joints in any corner and at the junction points with cabinets.
Color Options for Mosaic Tile Backsplash
Color options for mosaic tiles can be endless since the mosaic tiles have a huge range of color options. If you want to go with white cabinets for your kitchens, you can create such a luxurious, bright, and fresh look with the mosaic tile backsplashes. There can be white, blue, gray, green, or even colorful mosaic tiles!
White Mosaic Tile Backsplash with White Cabinets
You may want to go with a timeless design for your kitchens. The best solution is to use a white mosaic tile backsplash with white cabinets. The white color and the mosaic tile have this uniqueness for the designs. The styles can change but the mosaics and the white color remain. You can create a sleek look with integrity for your kitchen cabinets. If you like to emphasize them more, using dark-colored floors can help you to do it.
Blue Mosaic Tile Backsplash with White Cabinets
The blue mosaic tile backsplash with white cabinets offers you a fresh look with an intimate welcome for the kitchens. They can provide an aesthetic view of the kitchen cabinets. The blue mosaic tile backsplash with white cabinets brings a clean and bright appeal. You can use dark or light blue color hues for the backsplash and make them draw all the attention. A blue focal point is a good idea to have movement for the kitchens.
What backsplash goes well with white cabinets?
This depends on a few things, for example, if you want to keep the white cabinet design integrity with white color, white, light gray colors perfect, or you can try light blue and green. If you need a contrast or a focal point, you can use darker colors such as black, dark gray, blue, or green.
Gray Mosaic Tile Backsplash with White Cabinets
The gray color is an amazing color for designers. If you will use a gray mosaic tile backsplash with white cabinets, you can create a continuous look with soft contrast and harmony. This color is neither black nor white. Thanks to this, the contrast and harmony come to life at the same time with the white cabinets. You can create a movement for the kitchen design with them, too.
How to choose grout color for mosaic tile backsplash?
It is better to keep the color hue of the grout the same or similar to the mosaic tiles. This will help you to create a continuous look. If you need more movement or contrast, or if you want to highlight the mosaic tiles, you can try darker colors. For example, if you have light-colored tiles, white grout will create a clean and fresh loo. On the other hand, using a dark grout will create a contrasting look and emphasize the pattern.
Green Mosaic Tile Backsplash with White Cabinets
The green color is associated with nature, thanks to the grass, plants, and trees. You can feel the freshness of the spring from this color. When you use a green mosaic tile backsplash with white cabinets you can add a natural look with a fresh welcome to the kitchens. The green color is one of the calming colors so your kitchen will welcome you with a familiar feel and intimate look.
Colorful Mosaic Tile Backsplash with White Cabinets
You may want to liven up your kitchen but not want to use one color for the backsplash. The colorful mosaic tile backsplash with the white cabinets can help you to create a cheerful, dynamic, and lively look for the kitchens. You can clash the colors with the colorful mosaic tiles. These are some of the design elements that can create a focal point in your kitchens.
How to finish the edge of the mosaic tile backsplash?
There are a couple of options to finish the edges of the mosaic tile backsplash. The first and the easiest one is caulking the edge. This is the most cost-effective solution, also. You can try rail moldings, they are usually readily available. You can have transitions between different tiles, or from tile to drywall. The 3rd one is using metal edges. They are available in many styles and finishes. You may like to use a bullnose edge which is the most challenging one. It is challenging because you need to find the same color as the tiles. If you can not find it, you can make custom bullnose edges from the tiles.