31+ White Cabinets with Glass Tile Backsplash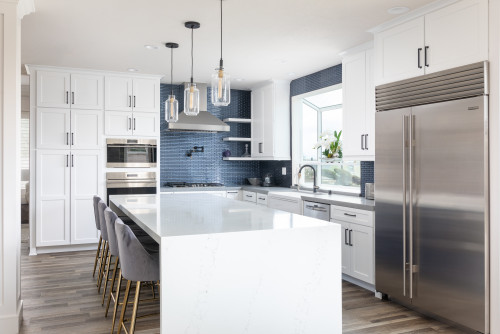 ID# 134801 | Houzz.com – Credit | © 27 Diamonds Interior Design
---
Blue Touch for White Cabinets with Glass Tile Backsplash
The white shaker cabinets and the black handles are always a stylish choice to create a movement with a contrast in the kitchens. The white quartz countertops, the white cabinetry, and the white farmhouse sink brighten the kitchen look whilst the blue glass tile backsplash draws all the attention. The glass surface of the backsplash and its dark blue color create a focal point.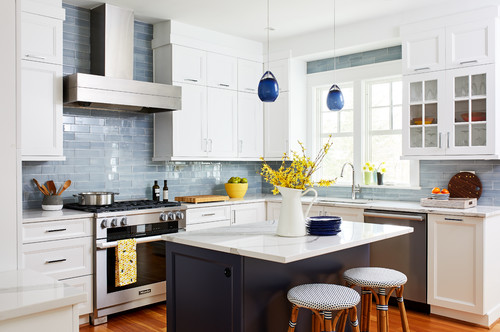 ID# 134826 | Houzz.com – Credit | © WINN Design+Build
---
White Cabinets with Blue Glass Backslash with a Dark Blue Island
The dark blue island and the blue glass tile backsplash create a monochromatic look with the blue hues. The freshness is complemented by the harmony of white cabinetry and blue glass tile backsplash. As always, the medium-tone wood floors create a contrast to the blue hues. This creates an aesthetic look for the kitchen.
White Cabinets with Glass Tile Backsplash
The backsplash is one of the simplest features to include when upgrading your kitchen, and it's ideal for adding a distinctive, personal touch to your design. There are various distinct things to consider when picking the ideal backsplash for white cabinets, with nearly endless options to choose from. When looking at your backsplash alternatives, you'll see that there are a lot of white backsplash designs. If you like to have good reflective material for your kitchen, white cabinets with a glass tile backsplash are an ideal element. There are so many alternatives to think about where to start, however, white cabinets with glass tile backsplash can be a good starting point for ones who want bright, clean, and stylish looks.
Glass tiles are constructed out of thin glass pieces with a translucent coating applied to the reverse. They are available in a wide range of colors, patterns, and designs, and may be readily incorporated into a variety of settings, including bathroom walls and kitchen backsplashes. You may discover numerous possibilities for your particular design idea. Their appeal stems from their propensity to reflect light and the fact that they can be made in a greater range of surface types than ceramic or porcelain. And, if you want to accentuate the brightness provided by the reflecting surface, white cabinets with glass tile backsplash are ideal to use to make the room appear larger!
Are glass backsplashes out of style?
Glass backsplashes are not going away anytime soon. The glass material is timeless, only trends change but the glass backsplash will remain.
Tile Styles
When you decide on what color you will go with for your cabinets, which is the easiest part, you may get lost in an unlimited array of colors, styles, and kinds for a backsplash. If you have white cabinets and search for a beautiful backsplash and do not want to take any risqué, a glass tile backsplash is one of the best fits for you. Subway tiles, mosaic tiles, hexagon tiles, and other types of tile styles can be used for a glass backsplash. Each of them can offer an artistically pleasing aesthetic perspective. They may give your rooms a trendy movement.
White Cabinets with Glass Subway Tile Backsplash
The subway tile style is named after the New York subway system. Subway tile types are often seen in ceramic or porcelain tiles. However, you can use this type with glass material, too. Glass tile backsplashes are one of the best methods to add beauty to kitchen designs, especially their reflective surface creates stunning views when they are used with white cabinets. You may use white cabinets with glass subway tile backsplash to give the kitchen décor depth, sleek appeal, and a clean look.
White Cabinets with Glass Mosaic Tile Backsplash
Mosaic tiles are included pieces of tiles that vary in different sizes. They provide chic looks with a movement for your kitchens. There are many materials for a backsplash to create a mosaic tile and one of them is glass. If you choose the white color for your cabinets and bring a movement to the kitchen with contrast, or harmony, there are various colors for your kitchen backsplash. Let's look at what can be done for white cabinets with glass mosaic tile backsplash!
Is glass tile good for a backsplash?
One of the most significant benefits of a glass tile is its durability. These lovely tiles provide stain-resistant and easy-to-clean surfaces. They're stunning, which makes them stand out and enhances the overall appearance of the area. Glass backsplashes are also quite adaptable. They look fantastic in modern and contemporary kitchens, but they are also highly customizable. So yes, a glass tile is good for a backsplash.
White Cabinets with Glass Hexagon Tile Backsplash
Six-sided Hexagon or honeycomb tiles may provide a trendy and geometric sleekness to the created room. They can be offered as single pieces or pre-assembled on a sheet to aid you with your application. Their distinctive design adds a charming flow to the cabinets. In general, they may be used with either contemporary or modern design styles. If you will go with white color for the cabinetry, it is a perfect choice to use white cabinets with a glass hexagon tile backsplash that may make or break your interior design.
Glass Backsplash Colors
You will have a consistent background for the glass backsplash with fashionable colors thanks to the white cabinets. Of course, there are a variety of color palettes, white cabinets may be paired with white, blue, gray, or green backsplash. These colors compliment the white cabinets beautifully and can help you achieve a fashionable look for your kitchen cabinets.
White Cabinets with White Glass Tile Backsplash
The white cabinets with white glass tile backsplash can be in any style creating a timeless look. The clean and pure aspect of the white color brings an indisputably stunning outcome. White cabinets with white glass tile backsplash are one of the options for adding an artistic style with an appealing outlook. Furthermore, because of glass tiles' mirrored surface, they may easily be used in tiny places to make the space appear larger with the help of the white color.
White Cabinets with Blue Glass Tile Backsplash
If you want a quiet aesthetic with a peaceful ambiance, go with white cabinets and blue glass tile backsplash for kitchens. With a blue glass tile backsplash, a summer breeze can fill the entire kitchen. White cabinets with blue glass tile backsplash may add a punch of color. The brilliant tones of blue can add a lively mood to the environment. They are commonly used with white cabinetry. To create a rich concept with the white cabinets with blue glass tile backsplash, add gold or brass hardware to the kitchen.
Does the glass backsplash need to be sealed?
Glass is a nonporous, low-maintenance material that does not discolor or absorb water. The grout lines surrounding the glass tiles should be treated with an impregnating sealer to keep the remainder of the tile installation looking outstanding.
Is glass backsplash hard to maintain?
Taking adequate care of the tiles is therefore essential, as this will assist in guaranteeing that they endure a long time and are in pristine shape. Cleaning the tiles does not take any extra care or supplies, and you can quickly obtain a brilliant appearance by utilizing a basic soft cloth, water, and soap. They are not hard to maintain.
White Cabinets with Gray Glass Tile Backsplash
If you prefer neutral hues and a traditional look white cabinets with gray glass tile backsplash might come in handy! In your kitchen, you can achieve a beautiful balance of white and gray hues. The ability of the white and gray hues to complement one other is positive. There are lots of gray color choices that will go great with white counters. Their harmony will entice you, and you will be impressed by the fashionable appearance that they will create!
What backsplash goes with white cabinets?
Of course, it depends on your design preferences, but there are several beautiful options for white cabinets. Because white is a timeless hue, you may choose the same material for the backsplash as you used for the white countertops. This will give you a contemporary and straightforward appearance. Another alternative is to complement the counters with a glass tile backsplash. For a glass tile backsplash, they provide a wide variety of color and pattern possibilities. White cabinets look great in a bright kitchen with gray, white, and blues, and they have a deep attractive appeal with dark gray, black, or deep blue backsplashes.