31+ Moroccan Tile Backsplash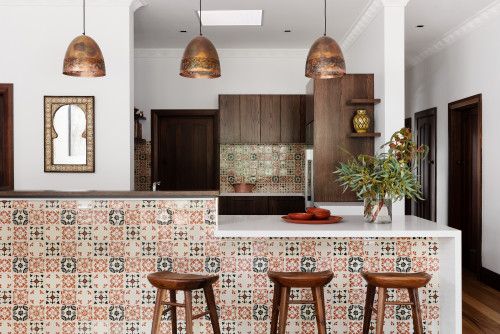 ID# 127801 | Houzz.com – Credit | © Peter Schaad Design Studio
---
Tuscan Kitchen Design with Moroccan Tile Backsplash
Let's welcome the warm Mediterranean atmosphere! This style gives energetic feelings to the interior, which you want to go to the seaside after breakfast. There are many variations of them that you can use in your kitchen design. Natural wood cabinets and the colorful backsplash creates lovely harmony together. A natural and warm look has been achieved in this kitchen.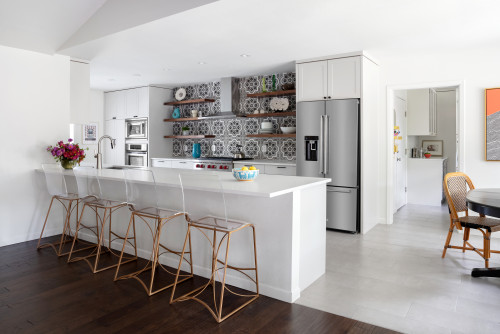 ID# 127817 | Houzz.com – Credit | © Point B Design Group
---
White Kitchen Design with Dark Wooden Shelves
The dark brown floors and dark wood open shelving create a beautiful harmony in the white kitchen. You can see the warm impact of these materials. The dark brown wooden shelving combines with a stunning grey Moroccan tile backsplash. White shaker cabinets and stainless steel appliances add modernity to this kitchen with the help of a minimalistic choice of black handles.
Moroccan Tile Backsplash
In the past, Moroccan tiles are truly historic pieces that be derived from Morocco, Spain, and Fez. Moroccan tiles typically feature bold and eye-catching patterns and vibrant colors. This beautiful visual feast is a great way to spice up the atmosphere. From bathroom floor tiles to fireplace surrounds, these tiles work great in many different places. In this article, we gather out the best and most stylish Moroccan tile backsplash ideas that will get you inspired!
Moroccan tiles are a statement in and of themselves. Complex patterns and vivid jewel-toned colors are the signature features of these tiles. Different geometrical shapes like squares, rectangles, triangles, hexagons, stars, diamonds, crosses perfectly come together with a vibrant color scheme and create art-like pieces that delight the eyes. Traditional Moroccan tiles are handcrafted pieces that are made from clays and glazes and they are fired in an oven. This process might be time-honored but the results are undeniably perfect. So, if you are looking for something different and unique, a Moroccan tile backsplash is a great way to create a striking focal point between the kitchen cabinets!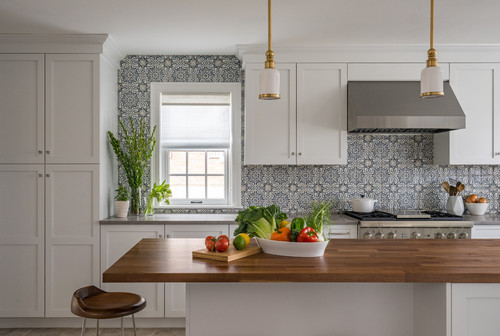 ID# 127802 | Houzz.com – Credit | © GMT Home Designs Inc.
---
Multicolored Ceramic Kitchen Backsplash in Contemporary Kitchen
Using grey and white colors creates a smooth contrast and puts pleasant harmony to the interior design. It is nice to add some brass materials to make it look more elegant. White shaker cabinets and multicolored Moroccan-styled backsplash add naturality. And this naturality continues with the wooden countertop on the white island.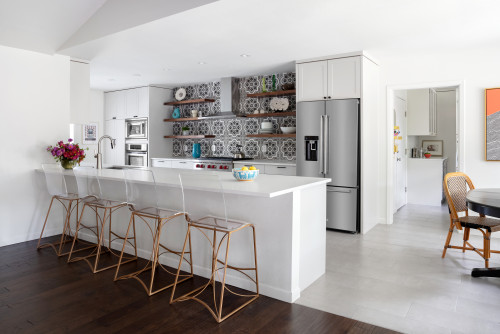 ID# 127803 | Houzz.com – Credit | © Design Shop Interiors
---
White Kitchen Cabinets and Black Knob Handles
Minimalistic knobs and lovely white shaker cabinets match brilliantly with the blue and white patterned backsplash, which has a Moroccan style. It is nice to use darker colors when you have white cabinets because it creates a beautiful contrast and gives a characteristic look to the interior. The stainless steel oven and hood add modernity to the kitchen. White cabinetry and white countertops make look like clean a place always.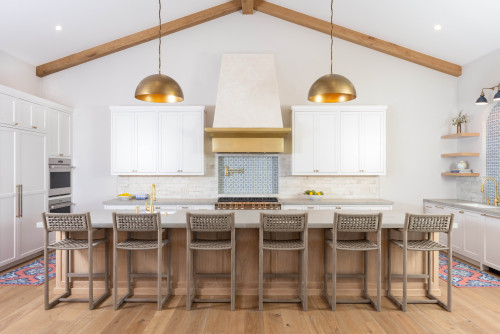 ID# 127804 | Houzz.com – Credit | © In the Deets
---
Mediterranean Kitchen with White Shaker Cabinets and Wood Island
Spacious and modern kitchen design made for Mediterranean style, stone horizontal beige backsplash, and brown floors make the kitchen look warmer. There is a nice contrast between the light brown colors and the blue patterned backsplash, and this contrast empowers the warm look of the kitchen. The brass lighting fixtures and brass part of the hood have a beautiful harmony with the white shaker cabinets.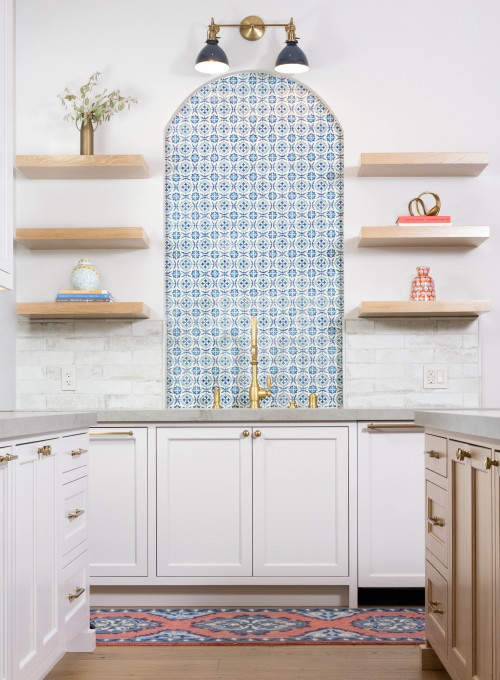 ID# 127805 | Houzz.com – Credit | © In the Deets
---
White Cabinetry with Blue Moroccan Tile Backsplash and Gray Countertop
Blue and white patterned Moroccan tiles, brass fixtures, wooden shelves, and white cabinets all of them show off to the eye. The light beige color of the stone-like backsplash and blue backsplash in the niche have a smooth harmony. Their harmony continues with wooden shelves and white shaker cabinets. You can feel the warm vibes from brown wooden floors and the beautiful rug. Blue backsplash tiles point out the brass tap, and they create the exact look of a Mediterranean Style.
What is Moroccan-style tile?
Moroccan-style tiles which are inspired by encaustic tile from the period, are one of the most popular interior design elements of the last few years. They are handmade and prepared with clay and glaze pigments. Geometrical patterns and vibrant colors are the hallmarks of the Moroccan tiles. These complex art pieces offer one-of-a-kind appearances and have a big impact on designs.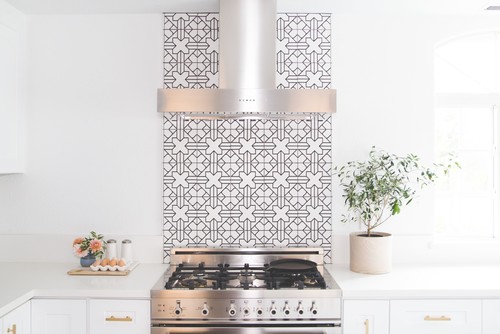 ID# 127806 | Houzz.com – Credit
---
White Marble Countertops with Black and White Backsplash
Simplicity with an eye-catchy design element contrast carries your design to the upper level, of course. The white wall for a backsplash and white countertops look simple but added black and white patterned Moroccan styled backsplash to them blows up the design. Brass handles suit well to black and white colors, they add a more modern and minimalistic design look.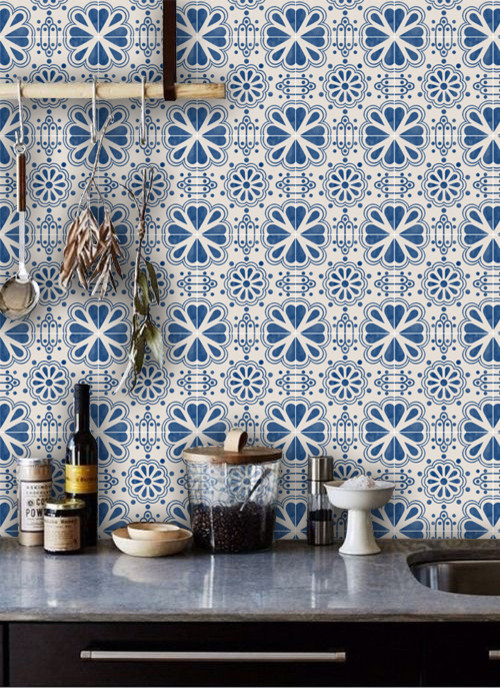 ID# 127807 | Houzz.com – Credit | © Quadrostyle
---
Blue and White Patterned Backsplash for Kitchen
You can lose yourself in the Moroccan-style backsplash alternatives. Grey countertops and dark-colored cabinets stay in the background when using these tiles. You will love the energy and movement that comes from them. The smooth-lined patterns create a relaxed atmosphere and you just feel like you are at home.
White Moroccan Tile Backsplash
White is the most popular color for kitchen backsplashes. The clean, fresh, and bright look of the white backsplash is a great way to create a timeless look safely. However, a simple white tile might not be the best option for your taste and you might be searching for something different. That's why using a white Moroccan tile backsplash can create an impactful look without sacrificing the fresh appeal of the white!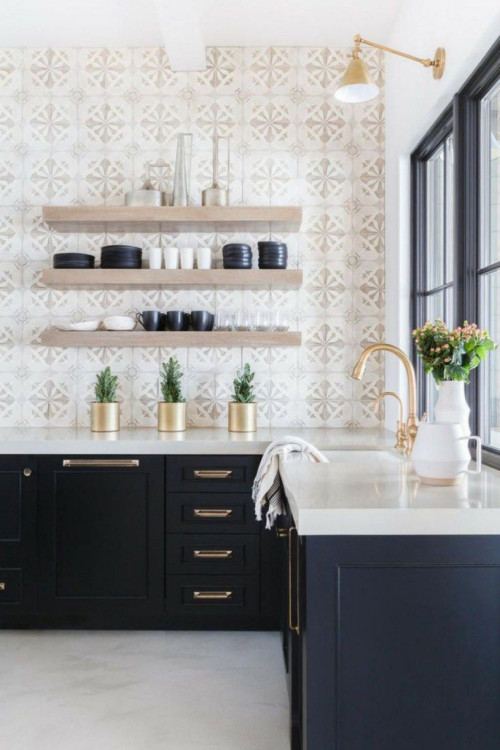 ID# 127808 | Houzz.com – Credit | © Everingham Design
---
Navy Blue Kitchen Cabinets with Brass Hardware
The idea to have a dark-colored element within a whole light-colored environment always creates a beautiful black and white kitchen design. You can see the powerful emphasis of the navy blue cabinets and the solid transition to the white color. Brass handles winkle from the surface of the cabinets, and a white Moroccan single-wall backsplash matches them perfectly. It is nice to have wooden shelves on the backsplash wall because they create pleasant harmony together.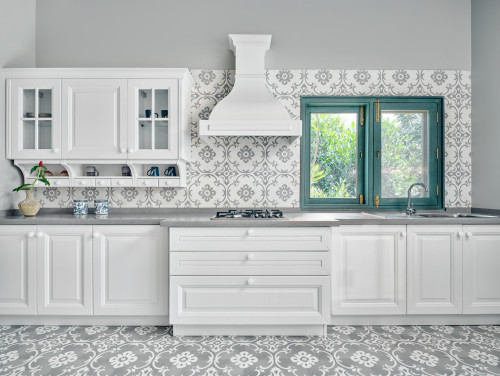 ID# 127809 | Houzz.com – Credit | © Fadd Studio
---
Grey and White Kitchen with Moroccan Tile Backsplash
The soft look of the white and grey color adds a character to the kitchen. The white and grey patterned Moroccan backsplash tile keeps the harmony of the interior. The lovey green window frame is a beautiful detail on the backsplash wall, and the spacious and well-thought kitchen creates a suitable working space for preparing food.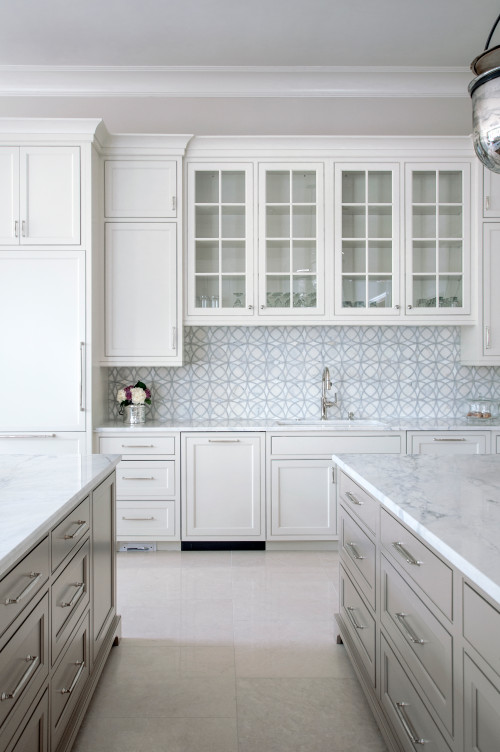 ID# 127810 | Houzz.com – Credit | © Terri Sears, Kitchen and Bath Designer
---
Light Color Backsplash and Beaded Inset Cabinets
The soft effect of beaded inset cabinets and stainless steel hardware match well. This transition kitchen looks luminous and airy with the help of white color. The light colors of the backsplash and its patterns add movement to this kitchen design. The soft monochromatic transition of the white and light grey colors catches the harmony with the white quartzite countertops.
Blue Moroccan Tile Backsplash
Blue is the reminiscence of the ocean and sky which gives a serene feel. When this beautiful color meets with the eye-catching patterns of the Moroccan style, the result is undeniably perfect! You can pair your blue Moroccan tile backsplash with white cabinets to make it the centerpiece of your design. Also, metallic accents like brass hardware are a great way to add a dose of sparkle!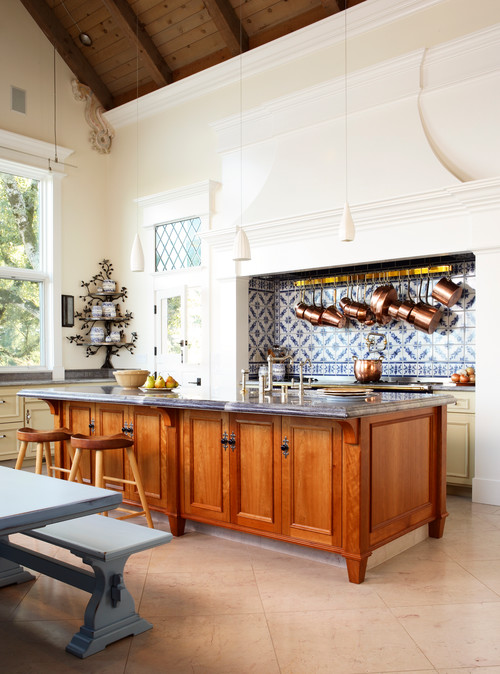 ID# 127811 | Houzz.com – Credit | © J.P. Lindstrom, Inc.
---
Traditional Kitchen with Wood Island and Granite Countertop
The airy kitchen has a characteristic look in terms of design style. It has beautiful rustic elements combined with lovely blue patterned backsplash tile. The contrast between the blue and the wooden lower cabinets of the island creates a striking impact. It adds movement and energy, and wooden color takes great attention especially.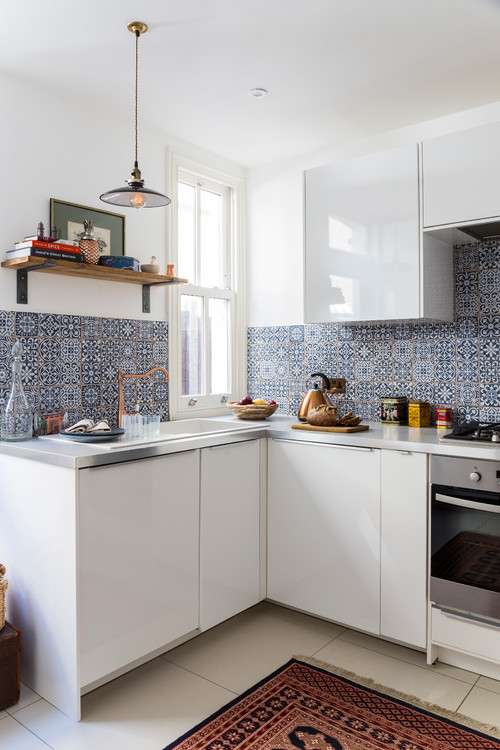 ID# 127812 | Houzz.com – Credit | © Anouska Tamony Designs- Architecture & Interiors
---
Minimalistic Kitchen with Moroccan Tile Backsplash
Simplicity and other design styles can combine in a variety of ways. This way always works when you want to add a different movement to the design. Blue-colored backsplash with its intense patterns takes all attention when you look at the kitchen. The patterns of the rug and the backsplash create a powerful impact, and you can feel the dynamic energy that comes from them.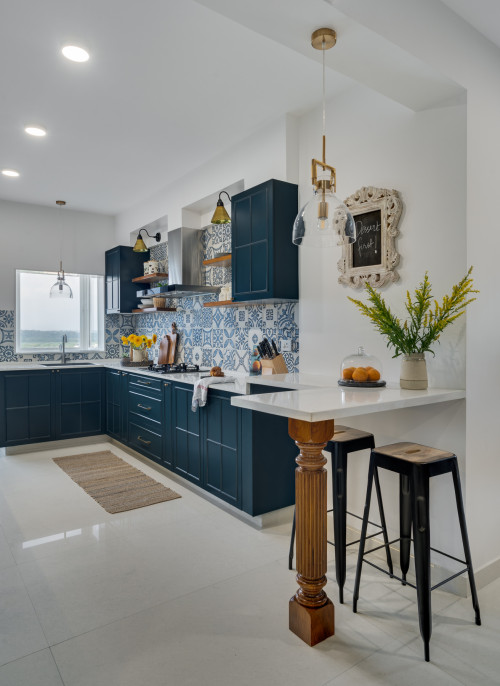 ID# 127813 | Houzz.com – Credit | © Weespaces
---
Modern Mediterranean Kitchen Design with Blue Patterned Wall Tiles
This style always makes you feel like you are in a beachside city. Lovely navy blue cabinets, beautiful blue-colored backsplash tiles, and wooden shelves are a perfect combination for Mediterranean design style. The harmony between the Moroccan backsplash tiles and navy cabinets look stunning together. White walls and the simple ceiling make the kitchen can take more attention.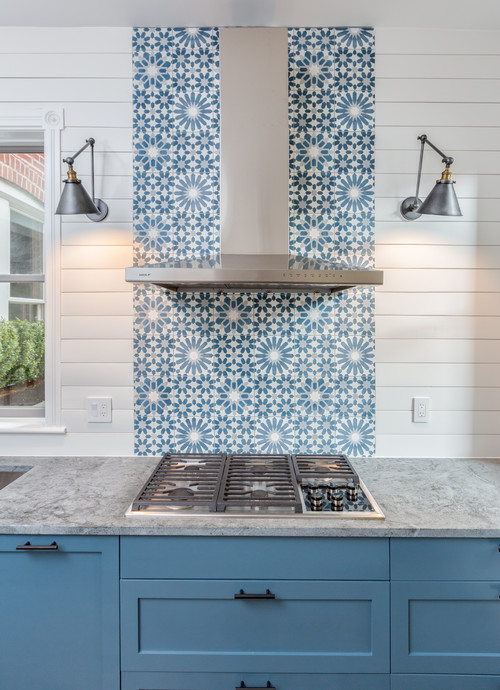 ID# 127814 | Houzz.com – Credit | © DesignHAUS 24
---
Blue Shaker Cabinets and Blue Moroccan Tile Backsplash
Minimalistic black handles and blue shaker cabinets create beautiful harmony together. Stainless steel hood, oven, and light fixtures add modernity to design. The stunning impact of the blue Moroccan tiles is undeniable when you look at the kitchen. Vertical lines of the backsplash wall and grey countertop have their harmony, and they match the blue color perfectly.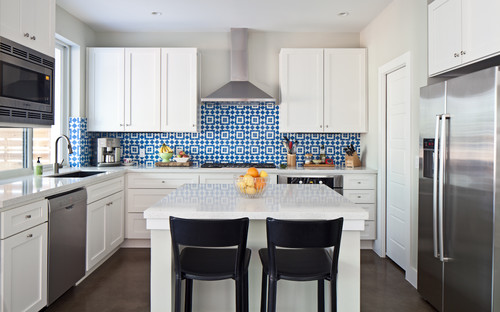 ID# 127815 | Houzz.com – Credit | © PSW Real Estate
---
Transitional Kitchen with Multicolored Backsplash
When we see farmhouse design styles, our eyes look for subway tiles. However, if you want to make a difference, the Moroccan-styled design elements are perfect for it. In this kitchen, you can see every must-do element, such as the contrast between the dark brown floors and blue backsplash, the harmony of the white cabinetry and simple handles, etc. White countertops and stainless steel appliances add modernity to the kitchen design.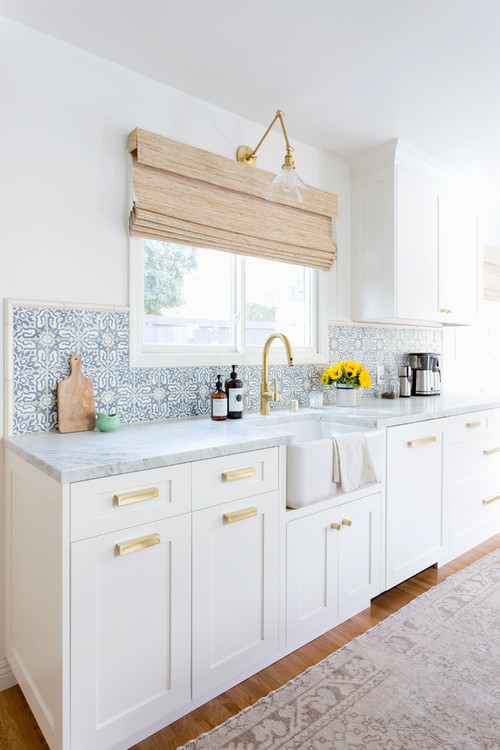 ID# 127816 | Houzz.com – Credit | © Jennifer Muirhead Interiors
---
Beach Style Kitchen with Blue Moroccan Tile Backsplash and Marble Countertop
The luminous open kitchen has stunning backsplash tile in Moroccan Style. Brass materials and white shaker cabinets match perfectly with the blue backsplash tiles. White farmhouse sink and marble countertops are must-be elements for this kind of design style. The matching rug and blue tiles keep the Mediterranean look with the help of the nice curtain on the window.
Gray Moroccan Tile Backsplash
Thanks to its versatility, gray can work with every color scheme and if you are looking for something strong but not as much as black, gray can be a perfect alternative for your backsplash. A gray Moroccan tile backsplash will add a nice texture and create an impactful look! You can complete the neutrality of the gray with other natural shades like black, white, or wooden textures.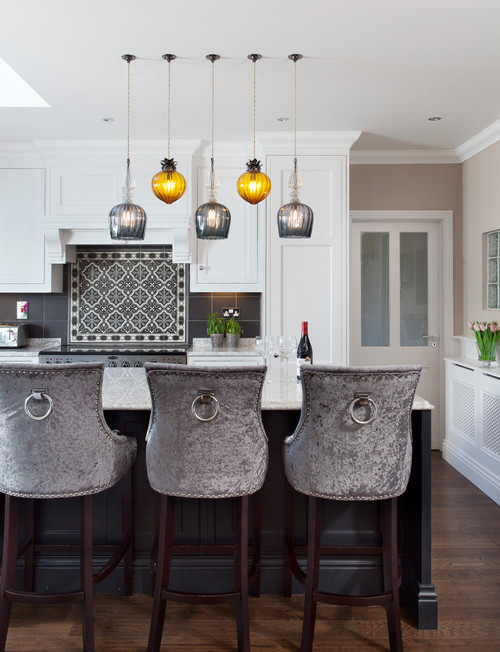 ID# 127819 | Houzz.com – Credit | © Jonathan Williams Luxury Kitchens
---
White Kitchen Cabinets with Black Island and Gray Granite Countertops
This contemporary kitchen has a character with white and black contrast. You may like the idea of using dark brown floors to have a warmer look. The black backsplash tiles and Moroccan tile backsplash have a stunning match. They give a movement to the interior and the elegant island chairs combine with them. The white granite countertops complete the fresh look of the white cabinets.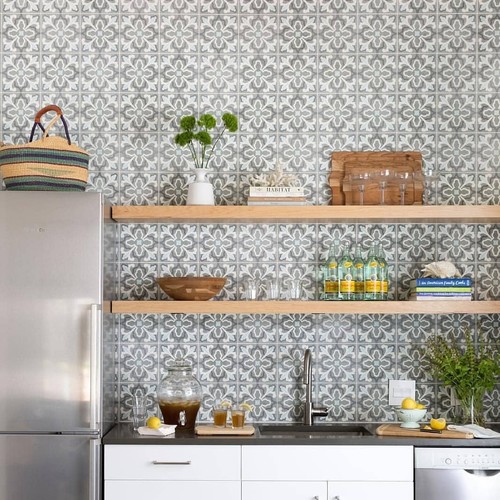 ID# 127818 | Houzz.com – Credit | © LiLi Cement Tiles
---
Wooden Shelves with Grey Moroccan Tile Backsplash
Perfectly matched wooden shelves and grey Moroccan backsplash tiles create a simple and completed look. Dark grey countertops emphasize the tiles with the monochromatic transition of the grey color. Light brown wooden shelves make the kitchen look softer on the top. The modern aspect of the stainless steel appliances catches the harmony with them.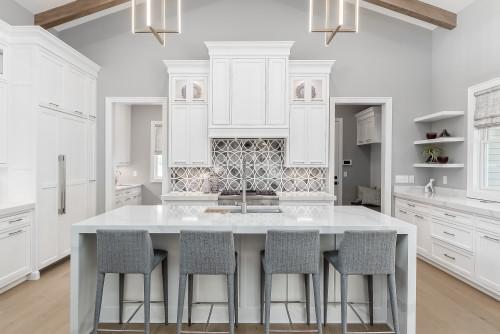 ID# 127820 | Houzz.com – Credit | © Instyle Interiors
---
Modern Kitchen with Marble Backsplash
The black and white marble patterns are eye-catching when combined with the simplicity of white kitchen cabinets. The luminous environment keeps its simplicity with stainless steel appliances. Grey walls and light brown wooden floors fit well with this modern kitchen. Grey counter stools and black and white marble backsplash have a pleasant harmony.
Green Moroccan Tile Backsplash
If you are looking something for more adventurous, a green Moroccan tile backsplash is the way to go. Green shades work well with the natural wooden textures and you can finalize the design with metallic accents!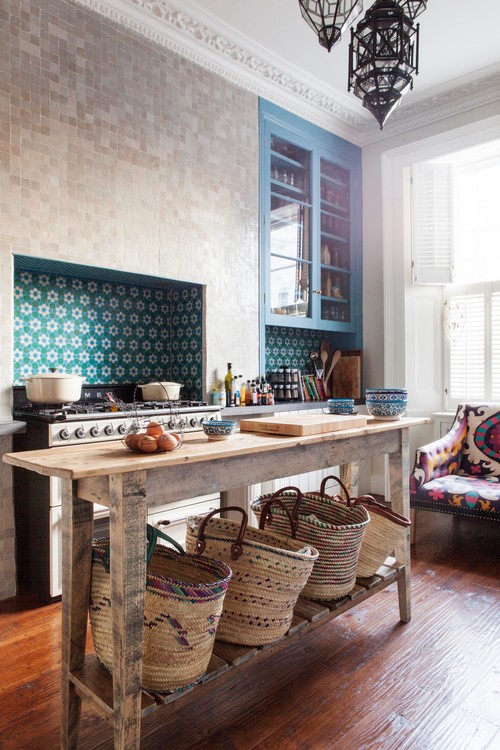 ID# 127821 | Houzz.com – Credit | © Studio Morton
---
Eclectic Kitchen with Flower Patterned Niche Tiles
When you look at this kitchen, you can see the space plannings of old houses. The hearth niche looks like in old houses, but of course, they wouldn't have stainless steel materials. Green framed glass cabinet doors and the green Moroccan Backsplash tile of the niche wall fit perfectly, while the beige wall tiles add soft contrast to them. The island and baskets in the middle of the kitchen complete the entire eclectic style in this kitchen.
Black and White Moroccan Tile Backsplash
The black and white combination is the most classic and timeless option for all interior design projects and also for kitchens. With a black and white Moroccan tile backsplash, you can perfectly emphasize the beautiful Moroccan pattern and create a contrasting look.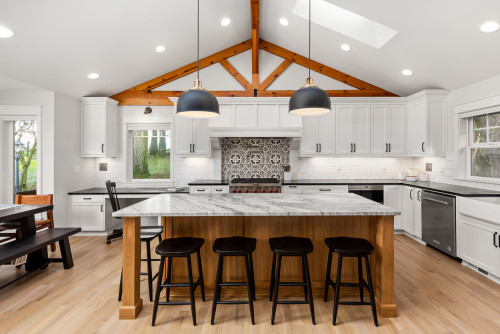 ID# 127822 | Houzz.com – Credit | © Northland Design & Build
---
Modern Farmhouse Kitchen with Moroccan Tile Backsplash
High ceilings make the interior look airy, and this kitchen has this look. Luminous and modern interior with the farmhouse style has stunning black and white Moroccan Backsplash Tiles on the back of the oven. Stainless steel appliances and black hardware combine harmoniously with the black patterned backsplash tiles. The idea of having a ceiling window helps to add brightness to the kitchen.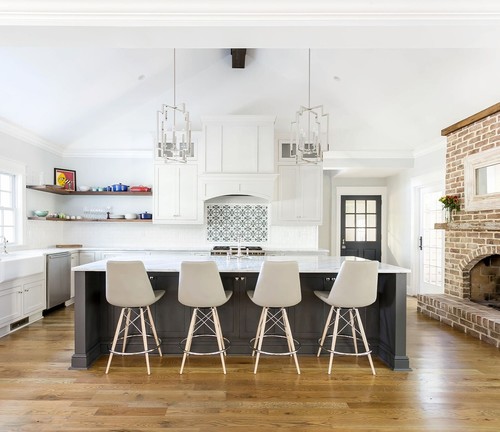 ID# 127823 | Houzz.com – Credit | © LiLi Cement Tiles
---
Cement Backsplash Tiles in Transitional Kitchen
Spacious look kitchen with the help of high ceilings creates a fresh and luminous environment. Dark grey lower cabinets of the island and white and black colored backsplash tiles match beautifully, and light grey island chairs keep that effect. Wooden shelves on the wall pair with medium tone wood floor nicely and add naturality to the atmosphere of the kitchen.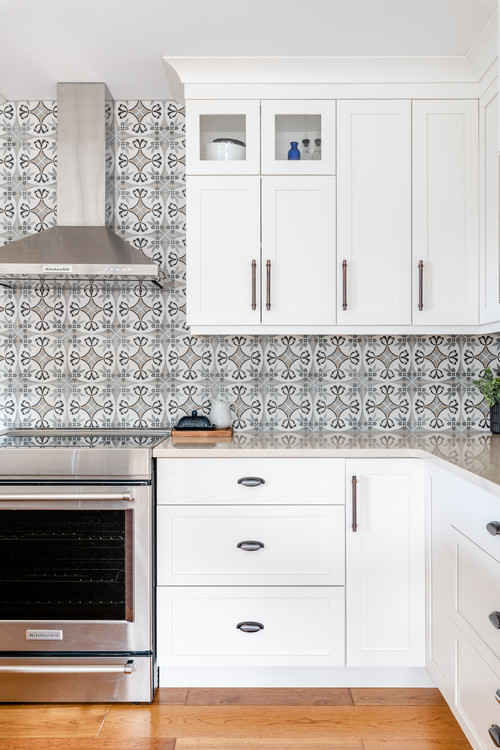 ID# 127824 | Houzz.com – Credit | © Thomas and Birch Boutique
---
Unique Backsplash Tiles For White Kitchen
Dark grey handles, stainless steel appliances, and white shaker cabinets create a perfect combination. The unique pattern of the black and white Moroccan-styled backsplash tiles take all the attention, thanks to the simple design of white cabinets. Wooden floors put naturality and have a nice harmony with the white kitchen cabinetry.
Are Moroccan tiles good for the kitchen?
There is nothing to say about the stunning appeals of Moroccan tiles, but are these tiles can work as a backsplash? The short answer is yes. You can incorporate a Moroccan tile backsplash in your kitchen. However, because of their naturally porous surfaces, these tiles require more maintenance. They are susceptible to staining which means you need to clean the food and water spills immediately and need to seal your backsplash regularly. If you threaten them correctly, you can maintain their beautiful appearance. But if you are looking for a material that required less maintenance, you can check ceramic or porcelain tiles with Moroccan-inspired patterns.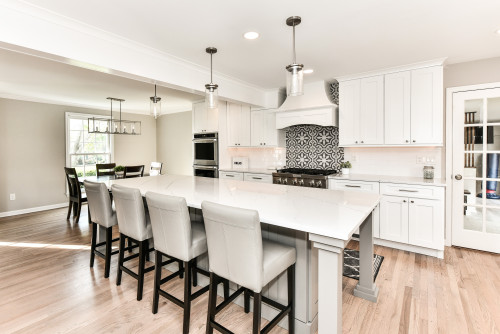 ID# 127825 | Houzz.com – Credit | © Synergy Design & Construction
---
Modern Farmhouse Kitchen with White Quartz Countertops
White kitchen designs always look clean and fresh. The white color helps the daylight to enlighten the interior. White quartz countertops keep this clean look, and black and white backsplash tiles create a beautiful contrast. The spacious and luminous kitchen design approach makes the interior atmosphere airy.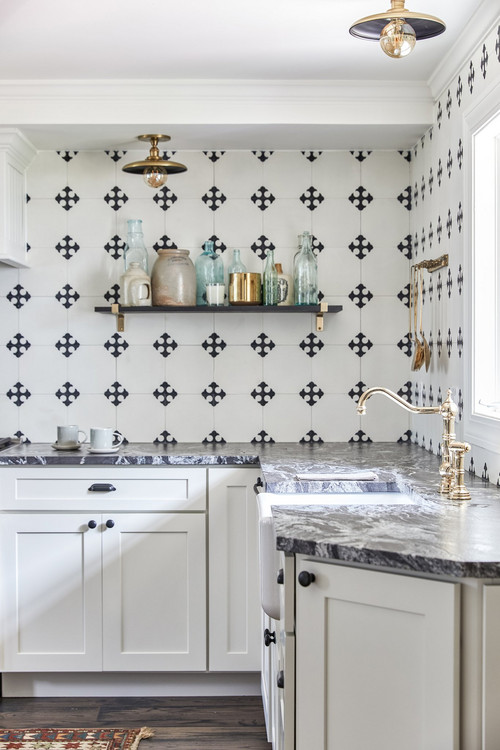 ID# 127826 | Houzz.com – Credit | © CaroM
---
Black and White Patterned Backsplash Tile with Granite Slab Countertop
Black marble countertops and black shelves on the backsplash wall create a lovely match, and brass fixtures fit well. The white and black patterned Moroccan tiles add a Mediterranean atmosphere to this contemporary kitchen. The harmony between white shaker cabinets and black knob handles put soft touches.
Materials
The traditional Moroccan tiles are made from regional clays and glaze pigments. These attractive tiles are created with time and effort. However, in today's market, ceramic and porcelain tiles come in a wide range of Moroccan-inspired patterns. So, if you are looking for a more affordable alternative for a handmade cement tile, you can check the ceramic tie options. Also, ceramic or porcelain tiles require less maintenance than clay tiles which is an important feature for a backsplash You can check the different options from your local home improvement store.
Ceramic and Porcelain Moroccan Tile Backsplash
While the traditional method of the Moroccan tiles is time-honored, in today's market, ceramic and porcelain tiles offer the unique patterns of Moroccan style. The other important advantage of these Moroccan-inspired tiles is that they offer endless color, pattern, and texture options and they have more affordable price tags than handmade options.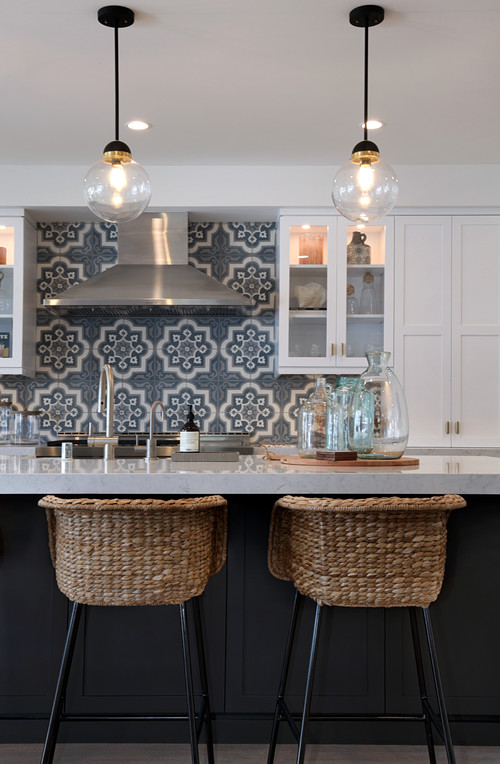 ID# 127827 | Houzz.com – Credit | © Sailhouse
---
Moroccan Ceramic Tile Backsplash in a Cozy Kitchen
The harmony of the color of the basket knit island stools with the dark gray tones looks great. Daylight was chosen as the lighting color and this increased the cozy effect. White shaker cabinets and ceramic Moroccan tile backsplash add harmony smoothly, stainless steel appliances and dark grey color usage have a beautiful match.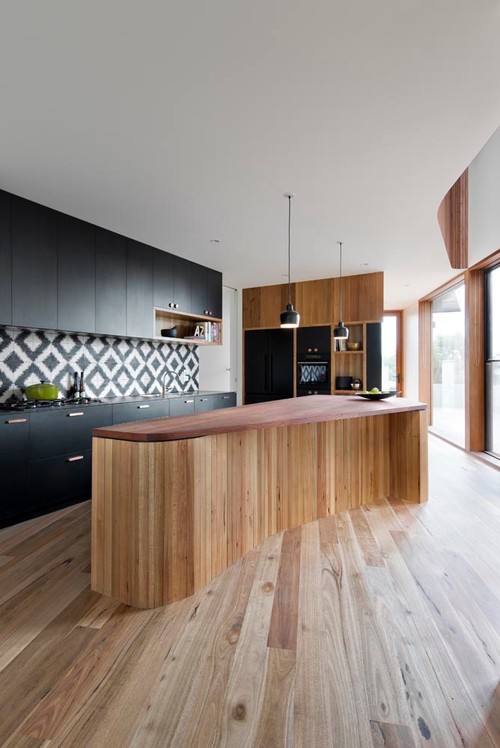 ID# 127828 | Houzz.com – Credit | © Auhaus Architecture
---
Contemporary Kitchen with Black Cabinets
The perfect harmony of black and wood colors is eye-catching. The contrast of these colors defined the space differently. Black and white ceramic tile backsplash added a movement in the kitchen, which was made with a contemporary design approach. The spacious kitchen has created a nice effect with its different design approach. The modern black cabinets serve a sleek and elegant look.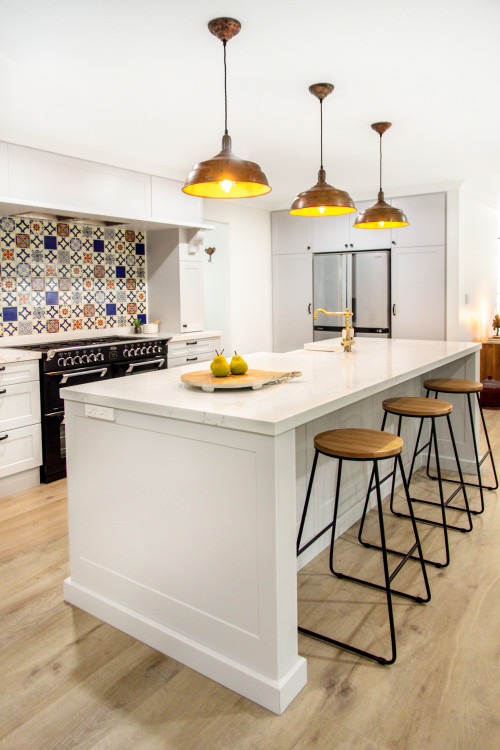 ID# 127829 | Houzz.com – Credit | © Linda Woods Design
---
Multicolored Backsplash and White Kitchen
An energetic and dynamic kitchen winks at us. Multicolored backsplash has a perfect contrast with white shaker cabinets, and all attention goes to it. Lovely pendant lights add a nice effect in terms of design style. Vintage and modern contrast are done well in this kitchen design with the help of vintage material usage.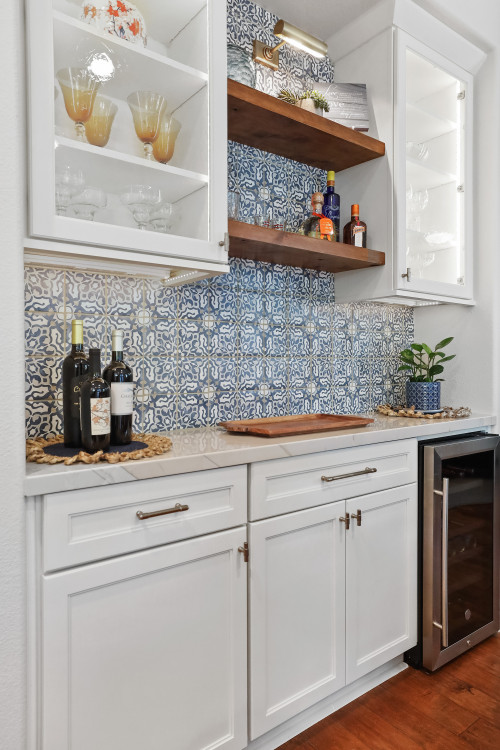 ID# 127830 | Houzz.com – Credit | © Linen and Orchid
---
Mediterranean Kitchen with White Shaker Cabinets
Wooden shelves on the multicolored backsplash tiles have a stunning match together. Shaker cabinets and stainless steel appliances add a modern Mediterranean atmosphere. Lighting the inside of the cabinetry put the modern look with the quartzite countertops.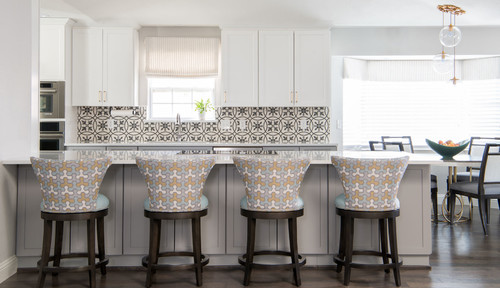 ID# 127831 | Houzz.com – Credit | © Presidio Tile, LLC
---
White and Charcoal Ceramic Tiles in Transitional Kitchen
Charcoal is a soft and elegant color that matches with white color perfectly. The smooth contrast between white and charcoal creates lovely interiors. You can use this color with wooden elements and their harmony brings naturality. Soft grey lower cabinet and white and charcoal ceramic tile backsplash complete each other. These Moroccan-styled ceramic tiles are very useful when you want a nice movement in your kitchen design.