35+ White Cabinets with Green Backsplash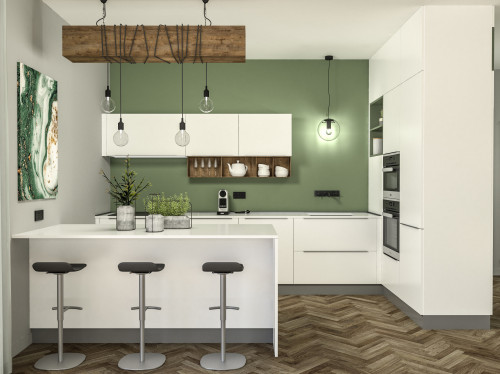 ID# 132204 | Houzz.com – Credit | © APrenderingstudio di Eleonora Aonzo
---
Modern Kitchen with Non-tile Backsplash and White Cabinets
This open-plan, small modern kitchen is well-appointed with slab-front door cabinets punctuated by black lip pull notches. The green non-tile backsplash adding a dash of color is the statement piece in the kitchen, while the black electric layouts punctuate this beautiful green surface. As the kitchen is relatively small, smart solutions are applied to save space. Wood is broadly used to soften the sleek modern look. For instance, the light bulbs loosely dangling from a reclaimed wood log pendant gives an untidy and raw look, emitting rustic vibes. Chevron pattern wood flooring and an open wooden shelf support the log's rustic flair.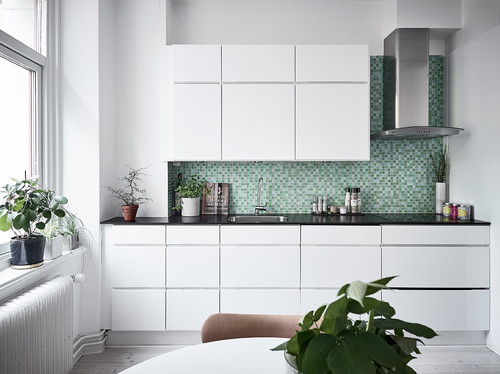 ID# 132227 | Houzz.com – Credit | © Entrance Fastighetsmäkleri
---
White Cabinets with Green Backsplash and Black Countertops
A Scandinavian kitchen is all about functionality. But just because the functionality is the fundamental tenet, it doesn't mean that it is not aesthetic or lacks color.  Its simplicity comes alive with sleek cabinets featuring clean lines and smooth surfaces. These white slab-front door cabinets are in full contrast with a black countertop. The black electric stove is camouflaged on the black countertop. The square mosaic tile backsplash in shades of green is the most playful element, adding a splash of color, while the white-painted narrow wood planks with stains bring a modified organic element to maintain the white concept of the kitchen.
White Cabinets with Green Backsplash
Be it a transitional, modern, farmhouse, traditional, or contemporary kitchen; white is always present and favored in every style as it offers a neutral backdrop and saves you from investing a lot of thinking to complete the other design elements in the kitchen. And if you need a pop of color and can't decide which color is better, green will certainly serve as one of the best options. White cabinets with green backsplash elevate the overall look of the kitchen effortlessly while bringing a sense of freshness.
So, let's assume that you have decided on green, but which one? Sage, emerald, olive, mint, or forest green? The versatility of green hues and their application on kitchen walls create diverse impacts in the kitchen. Not to even mention the tile patterns. As green always suggests nature, stimulates our five senses, making us feel close to nature. In the nutshell, white cabinets with green backsplash always manage to evoke homey feelings and cozy vibes. Also, while mimicking a natural environment, this beautiful combination helps us to maintain our well-being. Keep reading and find stylish green backsplash ideas to spruce up your white cabinetry!
Green Tile Materials and Layouts
Green tile materials include ceramic, glass, natural stone, and cement, while their layouts range from herringbone pattern to chevron, horizontally or vertically stack subway, mosaics, hexagon, rectangular, and square in various formats. Also, it's important to remember that each material type achieves a unique expression with different patterns.
White Cabinets with Green Subway Tile Backsplash
Subway tiles as a timeless pattern have always been part of the kitchens' plot designs. Since they can be tiled horizontally, vertically, and even diagonally, they serve as statement pieces and add a solid character to the kitchen walls. When it comes to a green subway tile backsplash with its texture and shade-wise rich repertoire, it achieves a variety of impacts when combined with white cabinets: Elegance, freshness, cozy vibes, warmth, and more.
What backsplash goes with white cabinets?
As white cabinets provide a neutral backdrop, one can be freer while choosing a backsplash, which can be multi-colored or monochromatic and come in various patterns and designs. However, one feature that needs to be taken into consideration is the style of the cabinets, whether they are slab-front, raised-panel, or shaker-style, in addition to the overall theme of the kitchens.
White Cabinets with Green Hexagon Tile Backsplash
If you are looking for more modern touches, then a hexagon tile backsplash might be your thing. Hex tiles or known as honeycomb tiles are a pattern borrowed from nature, thus a green hexagon tile backsplash will surely make a great couple to bring a modern allure with rustic feelings into your kitchen.
White Cabinets with Green Herringbone Tile Backsplash
Resembling fish bones, herringbone tiles achieve impactful expressions effortlessly. Even though we come across them mostly as floor tiling, they are also used on the kitchen walls as a backsplash. With their eye-popping zigzag pattern with interlocking rectangles, they elevate the overlook of the kitchen easily. Especially, a green ceramic herringbone backsplash makes great pair with white cabinets.
White Cabinets with Green Glass Backsplash
Glass backsplashes add value to your kitchen walls. They are aesthetic, durable, and easy to clean. Coming in a wide range of shapes, colors, and designs, they bring appealing looks to the kitchens, complementing white cabinets perfectly thanks to their luminous surfaces.
White Cabinets with Green Ceramic Tile Backsplash
Ceramics are one of the best options to tile your kitchen walls as they are versatile and highly customizable. With different combinations and polished or matte finishes, they achieve different impacts, adding a dynamic character to the kitchen.
White Cabinets with Green Stone Backsplash
You would be surprised to find out how refreshing and inspiring it can feel with the combination of white cabinets and a green stone backsplash. The natural patterns of a green stone feature an unavoidable flow, thus creating a soothing and inviting ambiance effortlessly.
White Cabinets with Green Mosaic Tile Backsplash
Mosaics leave you with the impression of pure artworks, while their highly customizable feature in many different colors, shapes, and designs keep them always trendy. Especially with green mosaic tile backsplash, kitchens achieve a glittering look that refers back to nature, bringing a sense of glamour.
Different Cabinet Door Styles for Green Backsplash
Kitchen cabinets are essential for their capacity to define the look of the kitchen. Whether their doors feature partial or full overlay or whether they are flat-panel and lacquered, all these details help your kitchen get associated with a particular style. Since the mid-century with the advancements in technology, cabinets have been given more streamlined looks and manufactured in various shapes, colors, and textures and have become important parts of our homes. In contemporary and modern kitchens, for instance, flat-panel cabinets are favored for their minimalist and sleek look, while transitional kitchens offer a more classic touch with shaker cabinets to be embellished by bold accents.
Of course, when we talk about cabinet door styles, we also shouldn't underestimate the effect of the hardware as they are another style-defining feature. Bearing all these in mind, cabinets' long-established fellowship with backsplash becomes another dynamic element that reframes the overall look of the kitchen. Green, for instance, depending on its tone, can evoke different feelings and vibes when combined with wood or contemporary touches. To discover the true nature of these combinations, you can look at some examples shared for you below.
White Shaker Cabinets With Green Backsplash
White shaker cabinets are the most popular kitchen cupboards for their not too modern and not too traditional look. For instance, modern kitchens prefer their painted versions, particularly white, to offer a sleeker look, while classic-themed kitchens mostly prefer their original wood versions. Yet, the question is how they look with green backsplash. Well, green can communicate different levels of vibes, and its combination with materials modifies its impact drastically. So, let's see some examples.
What countertop goes with white cabinets and green backsplash?
When the two categories are fixed, you might think that it will be hard to find what suits both. However, when it comes to white cabinets and green backsplash, you have a larger scope than you think. Lacquered quartz are granite surfaces particularly popular with white cabinets and green backsplash. The darker tones of green such as emerald are a perfect match for quartz. However, its lighter and modest hues go better with natural granite surfaces.
Another great option is the butcher block or wooden countertops. If you seek a warming and more neutral tone to accompany your white cabinets and green backsplash, you can go with stain-free light tones. But in case you are looking for a more dramatic look, then you can choose dark wood.
White Flat-Panel Cabinets With Green Backsplash
We come across white flat-panel cabinets mostly in contemporary, modern, and Scandinavian-inspired minimalist kitchens that emphasize functionality and a clutter-free look with a neutral color scheme. While choosing your backsplash, you can either comply with this color scheme or act more adventurous by making a green backsplash a statement piece. To do so, you can choose an eye-catching pattern and apply a bold color. Or, even better, you can combine both.