30+ Gray Cabinets with White Backsplash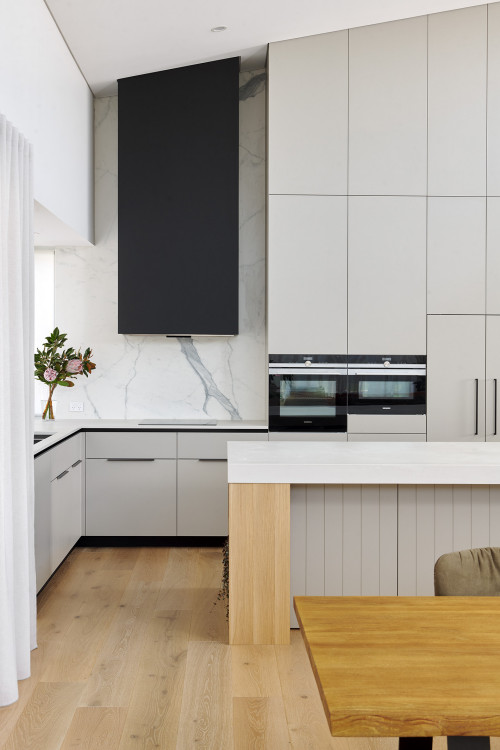 ID# 147602 | Houzz.com – Credit | © Western Cabinets
---
Gray Cabinets with White Backsplash for Scandinavian Kitchen
To integrate negative space which is especially present in kitchens with sloping ceilings, use custom-design full-height cabinets to utilize it as potential storage. This Scandinavian kitchen applies the same strategy, living up to its ideal functional space. While doing so, it goes with white flat-front cabinets that blend with the white-painted walls seamlessly. This way, it prevents any visual clutter. And in the rest of the space, the white marble backsplash, the black range hood, and the black oversized pulls proportioned to the cabinets build extra sophistication and elegance. Wood accents on the island legs and light wood floor envelop the space with a sense of warmth.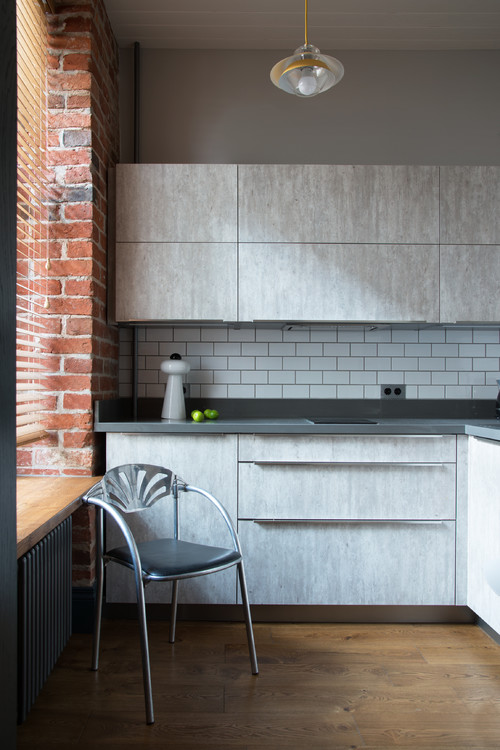 ID# 147619 | Houzz.com – Credit | © propertylab+art
---
Gray Cabinets with White Backsplash and Gray Countertops
This industrial-contemporary kitchen ties together different textures and looks. Though the flat-front cabinetry asserts its contemporary character, the brick feature wall and wood floor finish give the space a rustic-industrial allure. The light gray weathered-looking cabinets and dark gray countertops create a distant and cool look, while the white metro tile backsplash reminds its users of the New York subway stations and busy city life. And for one final touch, the chrome chair placed by the window and radiator gives the kitchen a sense of life.
Gray Cabinets with White Backsplash
Gray cabinets with white backsplash are a classic that creates an effortless timelessness together. Though gray is considered a bit moodier and edgy, when it is combined with a white backsplash, it feels lightened up and balanced out. Considering that in today's market, we have a wide range of cabinet door styles and white backsplash materials from natural stones to engineered materials like quartz, we have limitless design options opened up for us. The same richness goes for gray cabinets with white backsplash, too.
Even though they already make a great pair together, there is always room for another statement complementary element, be it chrome, gold, glass, or wood. To give you a better idea of what the further enriching design options are for gray cabinets with white backsplash, here we have compiled several design projects. All you need to do is to read on to discover some inspiring looks and fire up your imagination.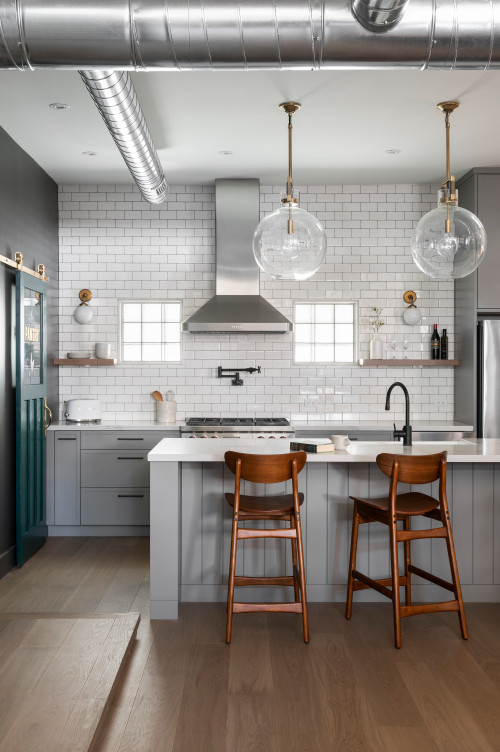 ID# 147601 | Houzz.com – Credit | © Studio Z Design
---
Industrial Kitchen with Gray Cabinets and Subway Tile Backsplash
This kitchen borrows from industrial and farmhouse looks that create a contrasting harmony. First, the V-groove gray island and green pantry door with timber floating shelves provide the kitchen with a country feel. By contrast, the exposed brushed stainless-steel pipes deliver a fresh industrial feel, creating a factory atmosphere. In the background, the white ceramic subway tile backsplash taken up to the ceiling places the kitchen in an urban context, while glass globular pendants and brass hardware further puncture the design.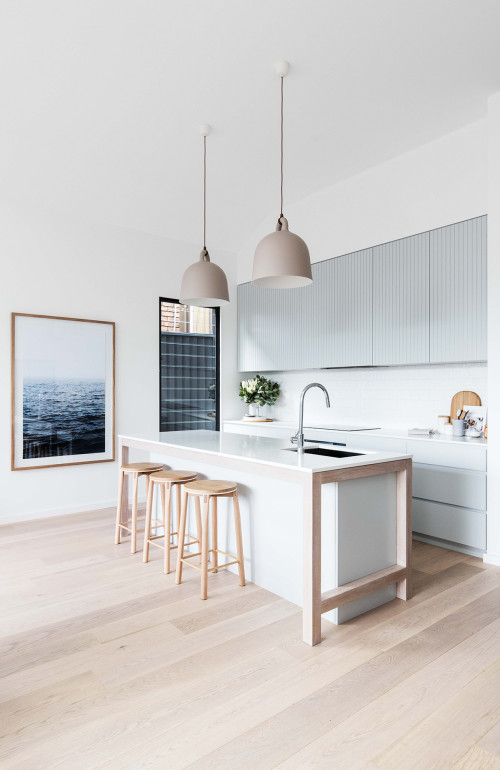 ID# 147603 | Houzz.com – Credit | © Relm Furniture
---
Modern Kitchen with Fluted Design Cabinets and Wood Stools
This modern kitchen in Melbourne feels calm and tranquil with its light gray cabinets with blue undertones and white countertops. Thus, it plays with the textures and cabinet door styles to build extra interest, which explains the fluted design of the upper units. This overhead joinery makes a strong visual statement, while the light wood plank floor and wood stools deepen the soft aesthetic mood of the kitchen.
What backsplash goes well with gray cabinets?
Popular materials options for gray cabinets include quartz, marble, ceramics, glass, and porcelain since they are very functional and durable with heat resistance. As for the patterns, white subway, chevron, herringbone, hexagon, and mermaid tiles go well with gray cabinets. In terms of color, the most popular shades include white, black, wood, light gray, and brick. The glass sheets also give the kitchen an instant modern update.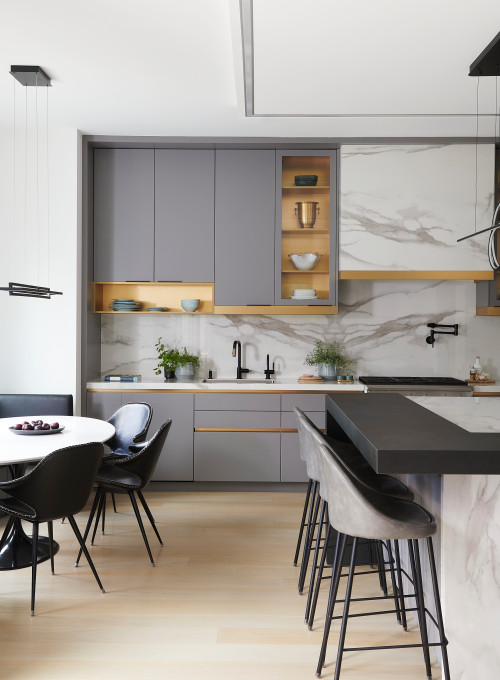 ID# 147604 | Houzz.com – Credit | © avenue design inc
---
Marble Slab Backsplash with Gold Accents and Gray Cabinets
This spectacular contemporary kitchen feels austere and glamorous all at once. The gray flat-front cabinets paired with an opulent marble backsplash orchestrate a rhythmic yet calm look. Adding to them are the brass cabinet shelves and brass inlays on the cabinets that spice up the look, asserting a glam aesthetic. As for the island and banquette, the black-and-white combinations set their tone to create a contrasting theme, while the main cooking zone stands out with its gray and gold juxtaposition.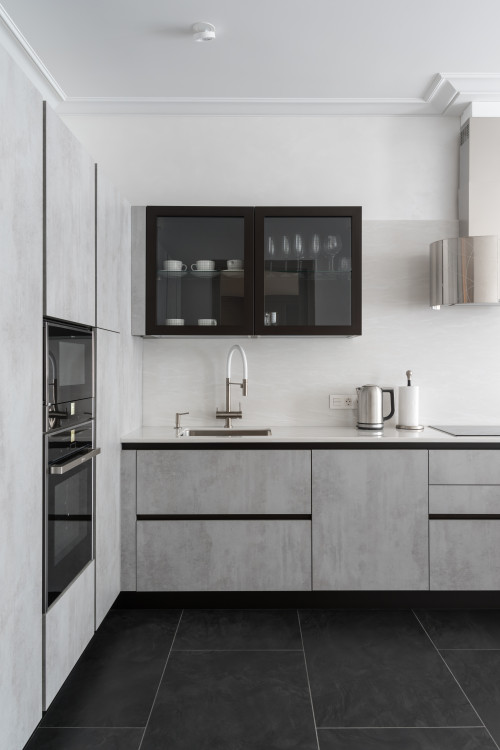 ID# 147605 | Houzz.com – Credit | © Константин Никифоров (812 studio)
---
Contemporary Kitchen with Gray Cabinets and Black Appliances
This contemporary kitchen is probably one of the coolest designs you could ever see. It is well-appointed with concrete-look gray cabinets with matching countertops and a backsplash that create a uniform look. Overhead, the black glass display cabinets and a top-notch curved range hood add plenty of interest. The black appliances and large floor tiles solidify the gray shades' bonding with the kitchen while grounding the overall design aesthetic.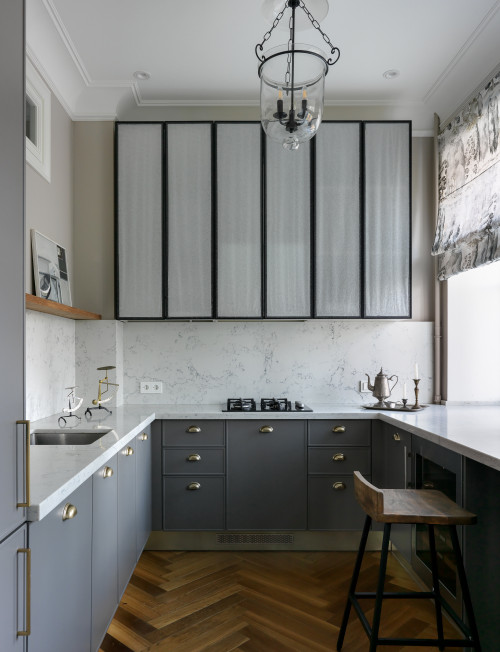 ID# 147606 | Houzz.com – Credit | © Мария Пилипенко
---
Gray Cabinets with White Backsplash and Brass Hardware
This U-shaped transitional kitchen in Moscow has a light but ostentatious look. The rosy cup pulls accentuate the gray flat-front cabinets, while the marble slab backsplash extends from cabinet to cabinet to add elegance. The timber floating shelves and herringbone wood floor nourish an organic feel. To create a seating area, this kitchen uses one arm of cabinetry as a peninsula reserved for only 1 person. Overall, it is stylish and functional enough, providing enough space for storage and a benchtop.
White Backsplash Materials for Gray Cabinets
Among the most popular white backsplash materials, we can count ceramics, marble, quartz, and glass. Each one has a texture of its own and makes various contributions to the overall feel of the kitchen. For low budgets and those looking for low-maintenance materials, ceramic backsplashes are the best option. Though quartz and glass are also easy to maintain, they are pricier. As for the marble backsplashes, they are very durable with a long lifespan, heat resistant, and expensive. They also require annual sealing to preserve their best version.
Gray Cabinets with White Ceramic Tile Backsplash
Available in a wide range of patterns, white ceramic tile backsplashes are also affordable as well, which makes them budget-friendly. They are easy to clean and heat-resistant. You can confidently install them behind the stove. But if you want an advanced version of them, give a try to porcelain tile backsplashes. They are fired at higher temperatures and contain additives that make them stronger and less water/stain absorbent.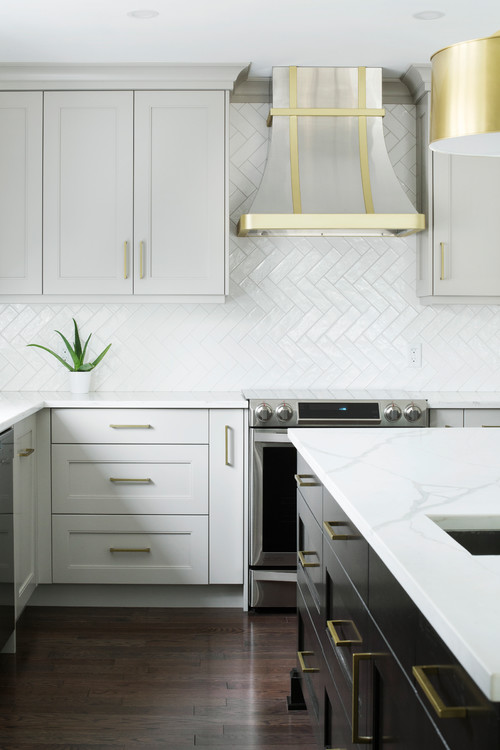 ID# 147607 | Houzz.com – Credit | © Cody and Co
---
Transitional Kitchen with Gray Shaker Cabinets and Dark Espresso Island
This open-plan transitional kitchen feels modern while still maintaining its classical style. It is outfitted with warm gray finish shaker cabinets topped by white quartz countertops. In the center, the dark espresso island adds a strong contrast, introducing a second color that matches the wood floor finish. By contrast, the gold hardware and gold strips on the cutting-edge induction range lend warmth and glamour. And finally, in the background, the white ceramic herringbone tile backsplash gives the kitchen a modern spin.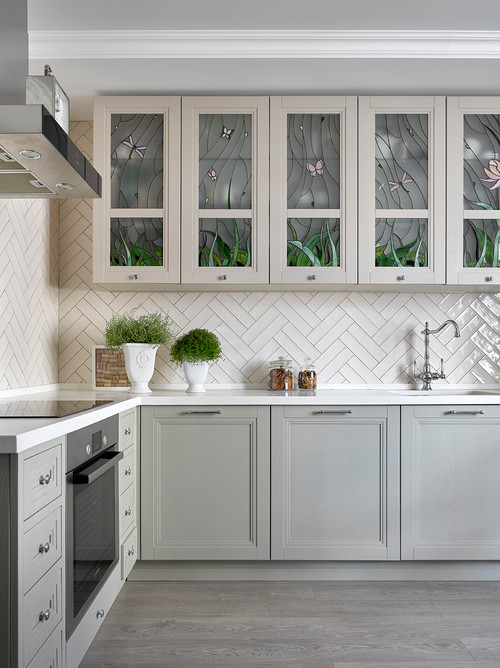 ID# 147608 | Houzz.com – Credit | © Vera Tarlovskaya Interiors
---
Gray Cabinets with White Countertops and Herringbone Tile Backsplash
Have you ever seen any backsplash like this one? Here, this contemporary kitchen experiments with the herringbone and basketweave patterns and makes a mélange of them that creates an eye-striking look full of movement and vibrancy. In the rest of the space, the gray base counters with slight millwork add a classic feel, while the upper glass-front units are dotted with glass and butterfly patterns reminiscent of spring. Altogether, they execute an expressive design lightened up with white quartz countertops. Additionally, brushed nickel hardware adds a tiny gesture to the cabinets, coordinating perfectly with the wood floor with gray undertones.
Should the backsplash be lighter or darker than the cabinets?
If you want your cabinets to function as an anchor, then it is better to keep them darker and the backsplash lighter. However, if you prefer to keep it darker on the background, darker backsplashes add further depth and create a visual drama. In other words, it is mostly dependent on what kind of look you go for. But if you decide on a darker backsplash, make sure that the benchtops receive enough sunlight and plan a good lighting system to create an efficient working environment. For example, you can use benchtop lamps and LED-strip lighting.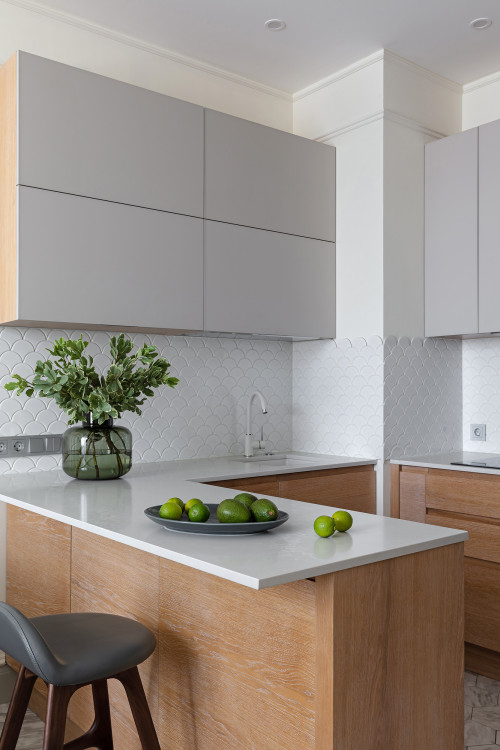 ID# 147609 | Houzz.com – Credit | © Osterman studio. Дизайн интерьеров.
---
Gray Cabinets with White Backsplash and White Countertops
This U-shaped kitchen is mainly characterized by wood base counters coupled with gray upper wall units. This soothing and warming combination is added extra interest with a white mermaid tile backsplash. This cabinet-to-cabinet backsplash consists of easy-to-clean and heat-resistant ceramic tiles, which makes it a very convenient and practical option for homeowners. The white countertops with the backsplash lighten up the kitchen and provide a soft transition between gray and wood. On the floor, the white marble hexagon tiles introduce a biophilic pattern, demarcating the kitchen from the lounge area in this combined-concept room.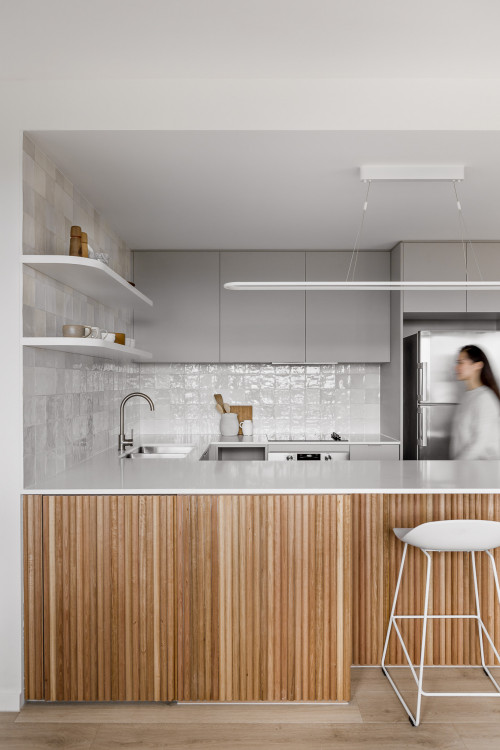 ID# 147610 | Houzz.com – Credit | © TP Interiors
---
White Polished Square Tile Backsplash with Statement Island and White Countertops
Here we have a natural modern design that aligns itself with beach-style looks, thanks to the satin finish square tile backsplash and ribbed front panel of the island. The backsplash adds a shimmering effect that lets lights bounce off around the room, while the upper light gray cabinets provide a calming contrast with the wood screening of the island. The stainless-steel appliances, white floating shelves, and a white linear lighting fixture enhance the stylish look of the kitchen without overcomplicating it or creating visual clutter so that the kitchen can retain its modern vibe.
How do you make a grey-and-white kitchen feel warm?
Wood and gold are the two key elements that can easily warm up a gray-and-white kitchen. Whether you go with wood floating shelves, butcher block countertops, or a wood island, it elevates the overall feel of the kitchen instantly. However, if you want something more luxurious rather than casual and rustic, gold lighting fixtures, gold hardware, and brass inlays for the cabinets both add warmth and ooze opulence.
On the floor, again, wood floor finishes and runners bring texture and warmth underfoot, making it extra comfortable for kitchen users.
The lighting system is another key feature to define the overall feel of the room. Getting Led-strip lights, wall sconces, and interior lighting fixtures in glass-front cabinets add depth and dimension to the space. Creating a 2- or 3-dimensional well-planned lighting system makes the kitchen feel cozier and more intimate.
Try Farmhouse Style
If you love farmhouse looks, salvaged logs and exposed ceiling beams make strong additions that emanate warmth. In industrial kitchens, you can consider brick feature walls. In today's market, you find a wide array of faux brick backsplashes that feel very close to the originals.
As for the backsplashes, wood panel splash-backs and window backsplashes make the kitchen more inviting. Especially if your kitchen opens toward the garden views, then with a window backsplash, you can make a drastic change in the overall design aesthetic. Wallpapers used to create feature walls and visual focal points could be an alternative option. You can also paint the top half of the walls in a warm shade such as light cream.
In short, there is a plethora of ways to make a white and gray kitchen look warmer and more approachable. Just focus on personalizing the space with a painting, a vintage lighting fixture, or an antique brass accessory. And try to make it more engaging by bringing in something that has value for you and a vintage accessory that brings a history of sorts with it.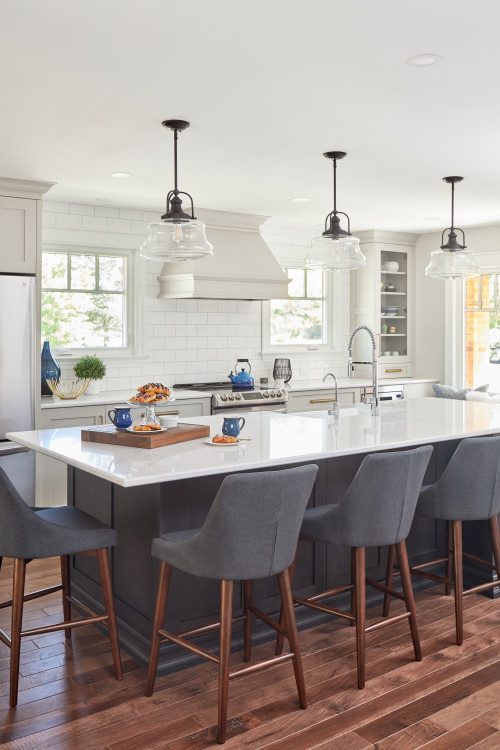 ID# 147611 | Houzz.com – Credit | © Paragon Kitchens
---
Gray Cabinets with White Backsplash and Glass Pendants
This transitional kitchen is filled with fail-safe materials and patterns that ensure its longevity and timelessness. From the white subway tile backsplash to the gray island, and shaker cabinets, each piece comes together harmoniously, promising a neutral set-up that can be spiced up with any addition. And this kitchen goes with glass pendants, white countertops, and a bespoke display cabinet to further stylize the kitchen. One final touch comes with a medium-tone wood floor finish that brings the right amount of warmth to break up the monochromatic color scheme.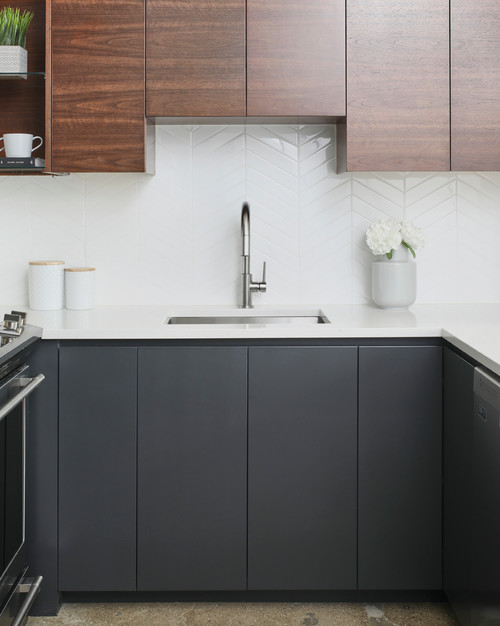 ID# 147612 | Houzz.com – Credit | © Britt + co Interiors
---
Chevron Tile Backsplash with Gray and Wood Cabinets
One of the best ways to add movement to any kitchen is the right choice of backsplash. This modern kitchen, for example, goes with a white chevron tile backsplash that is given a polished finish as well. This way, it reflects the light around the room while making the wood and gray combination more attractive. The white quartz countertops inject optimism, expanding the impact of the white splash-back. The light brown concrete floor finish develops a natural vibe, alongside the top veneer cabinets, without feeling contrived and balancing the white backsplash at the same time.
Gray Cabinets with White Marble Backsplash
White marble backsplashes are always ready to honor your kitchen with their feathery or pronounced striations. Available in slabs and tile versions and honed and polished finishes, they can leave different impacts on your kitchen. If you wish, you can clad the countertops and floors with marble to create a continuous look and achieve a high level of integrity. For a veiny design moment, you can't find something anything better than marble. But if you find annual sealing and regular upkeep routines too much, you can consider marble-look quartz slab backsplashes as a more practical substitute.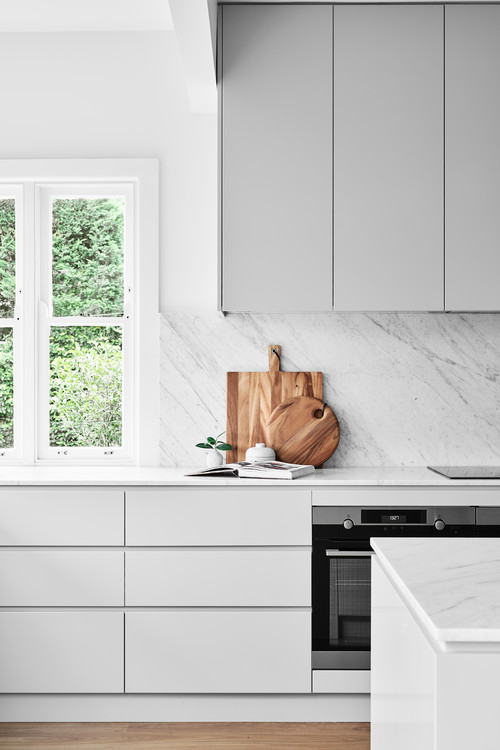 ID# 147613 | Houzz.com – Credit | © Henry and Co Interiors
---
Gray Cabinets with White Backsplash and Sleek Appliances
This contemporary kitchen has a very calm look characterized by light gray cabinets and a white marble backsplash whose feathery striations bring in undulating forms. The white countertops further brighten up the kitchen, while the white-framed windows with no shade expose the fascinating garden views and invite the lush greenery in. And to preserve the clean line look, the low-profile electric hob almost blends into the countertop. Other sleek appliances, wood floor finish, and timber cutting boards give the kitchen all that it needs: a little bit more texture, a bit more warmth, and a touch of technology to keep it contemporary and approachable enough.
Are grey cabinets out of style?
Grey cabinets are still popular and in style. Considering that they are versatile and neutral and have proven themselves to be classic, they will never be out of style, at least in the long term. You can use them in industrial, transitional, contemporary, and beach-style kitchens. Even if you get bored with how they look, you can change their hardware, which will give them a new, fresh vibe.
If you are worried that gray cabinets make the kitchen feel moody, there is no need to as gray shades show significant variances. For example, while some feature warm undertones, some have cooler undertones. So, you can choose accordingly, depending on the impact you look for. Plus, with gold cabinet pulls /knobs, pendants, and plumbing fixtures, you can always inject warmth to give the kitchen a healthier feel and break up the pale gray look.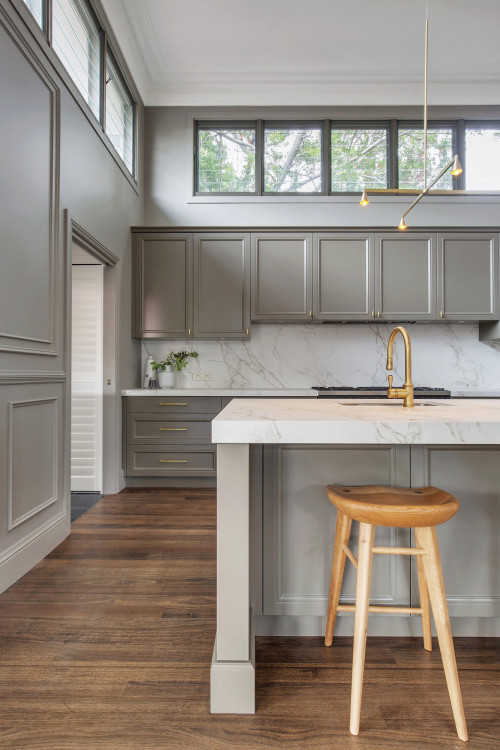 ID# 147614 | Houzz.com – Credit | © Dan Kitchens Australia
---
Marble Backsplash and Marble Countertops with Gold Hardware
Illuminated by clerestory windows, this kitchen in Sydney, though being defined as traditional, feels very modern too. It is outfitted with gray shaker joinery and a stunning white Carrara marble backsplash and book-matching countertops. The kitchen island placed in the center of the space mimics the perimeter counters, creating a continuous look. The gold pulls and knobs, backless wood stools, and gold faucet warm up the kitchen, while the gold metal elements encourage the space to enjoy a sense of luxury. The high ceilings and the beautiful clerestory windows that introduce green shades of nature to the indoor life easily turn this kitchen into the most favored room of the house. The final product is more than a room to cook but a room to hang out and spend time for self-contemplation.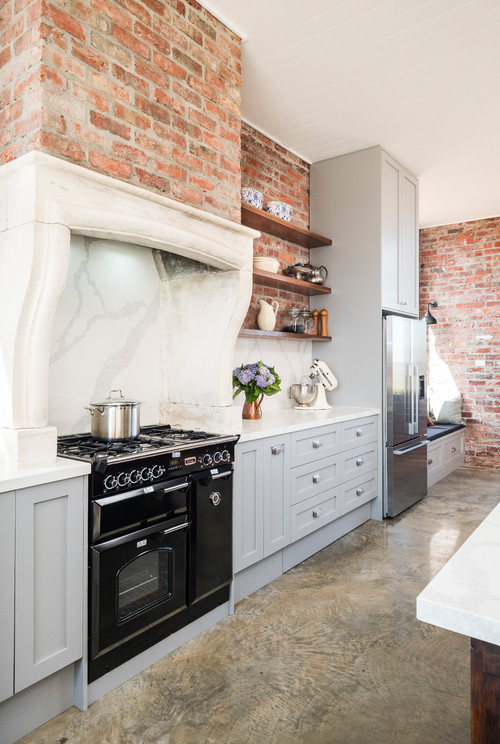 ID# 147615 | Houzz.com – Credit | © Smith & Smith Kitchens
---
Brick Walls with Marble Backsplash and Concrete Floor
From the brick walls to the concrete floor, and gray-painted oak cabinets, this country kitchen is filled with natural elements that expose themselves fully. First, in the background, the reddish-brown brick walls give the kitchen a rustic look supported by poured concrete floor finish that looks as if it were soil-washed. The gray shaker cabinets bring in a sense of lightness, which makes it perfect for the marble-look quartz backsplash. A trio of wood floating shelves exposes some eye-catching accessories to bring the design to life. The stainless-steel appliances and black stove give the kitchen a retro-modern feel that civilizes the rustic forms.
Design hint: If you are looking for more practical and low-maintenance materials, you can trade marble backsplashes with marble-look quartz splash-backs- as done by this country kitchen.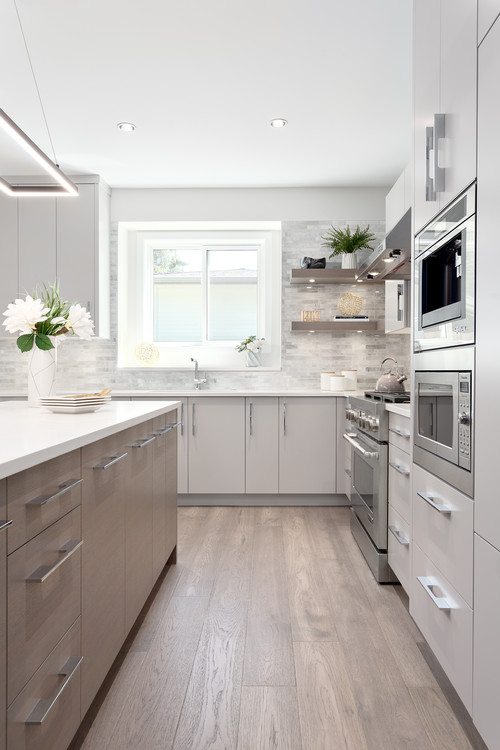 ID# 147616 | Houzz.com – Credit | © Kitchen Art Design
---
Marble Subway Tile Backsplash and Gray Cabinets with Chrome Hardware
In this contemporary kitchen design, the sleek look of the light gray cabinetry creates a cohesive and elegant look with the chrome hardware and stainless steel appliances. The marble subway tile backsplash laid in an offset pattern adds a sense of movement on the horizontal axis. A linear pendant above he wood island emphasizes the contemporary feel. Along with the spotlights, it also provides a 2-dimensional lighting system for the kitchen to build depth and dimension.
Gray Cabinets with White Glass Backsplash
Eco-friendly and pore-free, white glass backsplashes are one of the most low-maintenance materials. It is only that they are a bit more expensive and their installation – if you are planning it to be a DIY project- can be a bit tricky. But the final product never lets you down. They make the kitchen feel larger, come with a beautiful sheen, and are available in a wide range of options. From matte finish versions to extra glowing ones, glass sheets, tile options, and even recycled glass tiles, glass backsplashes vary significantly. As such, you can create any look with them and gray cabinets. Plus, their beautiful sheen is enough to enliven the gray cabinets and bring the design to life.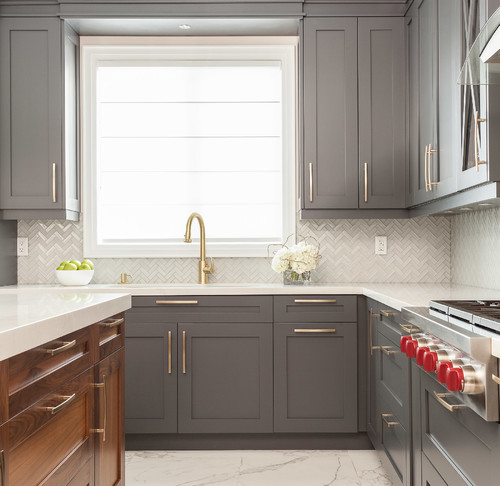 ID# 147617 | Houzz.com – Credit | © Creative Streak Interiors
---
Gray Cabinets with White Glass Backsplash and Wood Island
For a modern, shimmering, and extra charming look, nothing would be better than a glass backsplash. And in this context, it is especially great since it makes neutral gray cabinets wake up and further enliven the kitchen alongside the brass pulls. Coming in the small herringbone tiles, it creates a sophisticated and texture-rich background. The wood island placed at the heart of the kitchen and vertically to the sink injects a healthy dose of warmth. The white marble floor finish contributes to the upscale feel of the kitchen.
Gray Cabinets with White Subway Tile Backsplash
The best part of the gray cabinets with a white subway tile backsplash is that it is almost impossible to go wrong with them. You can complement them with white quartz countertops, chrome or brass hardware, and glass pendants. If you want to introduce a third color, you can integrate a kitchen island that will either add a splash of color or a touch of warmth with wood accents.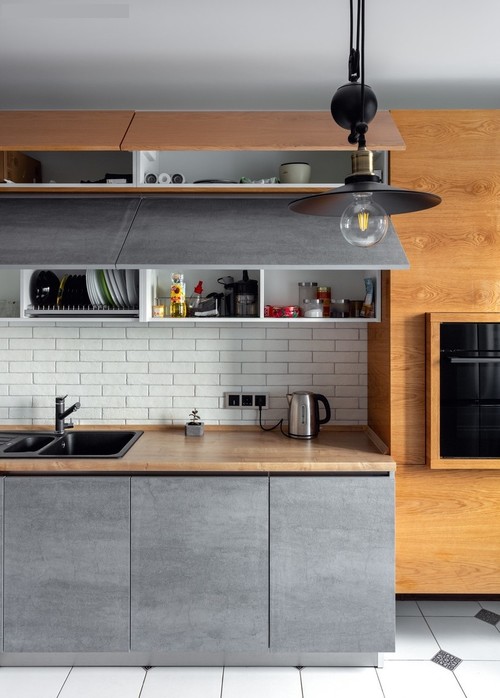 ID# 147618 | Houzz.com – Credit | © Фабрика Амбрелла (UMBRELLA)
---
Subway Tile Backsplash with Wood Countertops and Gray Cabinets
This contemporary kitchen employs a minimalist look with flat-front cabinets. The gray concrete-look door styles bring an industrial edge to the design. To soften them, the warm wood full-height cabinets and butcher block countertops take the lead as a game-changer. In the background, the white subway tile backsplash brings a clean and fresh look between the darker shades. The white floor tiles complement this bright appeal. The vertical opening of the upper wall units makes it super convenient and interesting. Also, these storage spaces maximize functionality.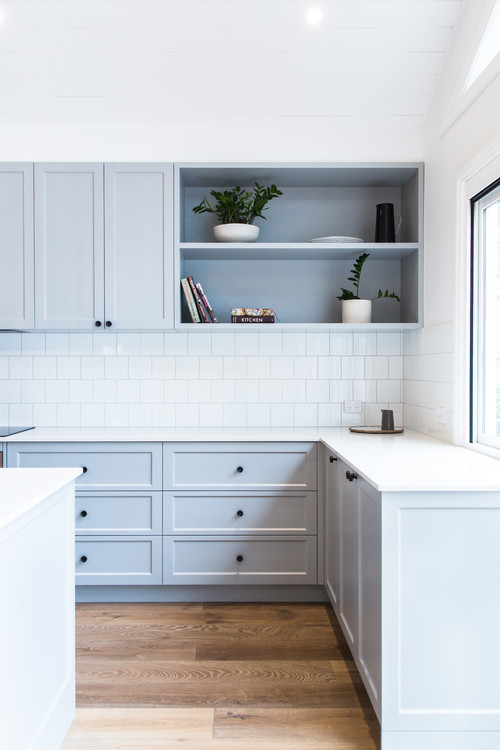 ID# 147620 | Houzz.com – Credit | © Blackburn Bathrooms and Kitchens
---
Square Tile Backsplash with Light Gray Cabinets and White Countertops
All-white looks can be upgraded with light gray cabinets. All you need to do is to replace them with the pristine white counters- as showcased by this kitchen. Here, these light gray cabinets punctuated by black knobs create a world of their own. The square subway tile backsplash gives the background a modern and graphite look, while the open cabinet shelf allows kitchen users to keep their most-used stuff at their fingertips. White countertops and a white-washed shiplap ceiling enhance the openness and brightness. The wood floor finish adds warmth.
Types of Gray Cabinets
Types of gray cabinets include shaker, flat-front, glass-front, and raised-panel cabinets. While traditional kitchens generally go with raised-panel cabinets, in contemporary kitchens, flat-front cabinets are preferred for their sleek look. As for shaker cabinets, all kitchen designs just love them, which makes them a fail-safe option. And when it comes to the glass-front cabinets, they are generally used in all kitchen types as upper wall units. But transitional and beach-style kitchens favor them extra.
Gray Shaker Cabinets with White Backsplash
Gray color and shaker cabinets make a great pair since both are very versatile and suitable for a wide range of looks. And when you pair them with a white backsplash, you can make the design a true classic with a timeless aesthetic. For the rest of the look, feel free to engage with different materials, complementary shades, and hardware to jazz up the look as you wish.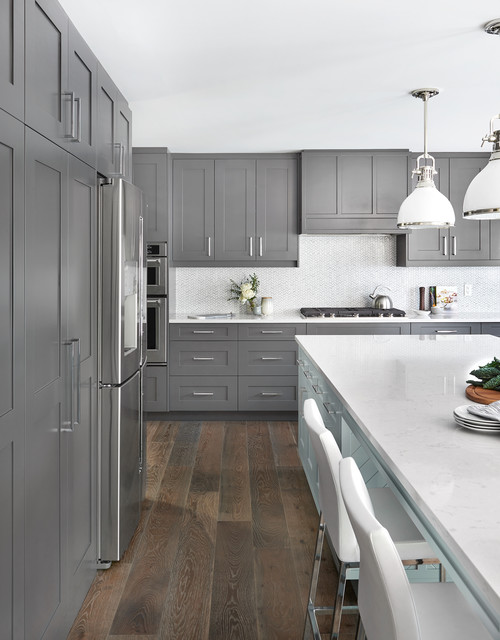 ID# 147621 | Houzz.com – Credit | © Soda Pop Design Inc.
---
Gray Cabinets with White Backsplash and White Countertops
In kitchen designs, floor design is as important as other elements and treated as a wall of sorts just like the ceiling (that is considered the 5th wall). And this transitional kitchen chooses a weathered-looking wood floor finish to give the space a lived-in feel. By contrast, the top half is modern and updated, fitted with gray shaker cabinets, a chevron tile backsplash, and stainless-steel elements. The alternating shades of the backsplash tiles resonate with the kitchen's overall color scheme. In the center, the generously sized light blue island not only offers an extra benchtop and cabinet but also a seating space that is designed for a more formal gathering. Overhead, chrome pendants add a statement element, pairing with the chrome legs of the stools and chrome cabinet pulls. As such, they help pull the space together.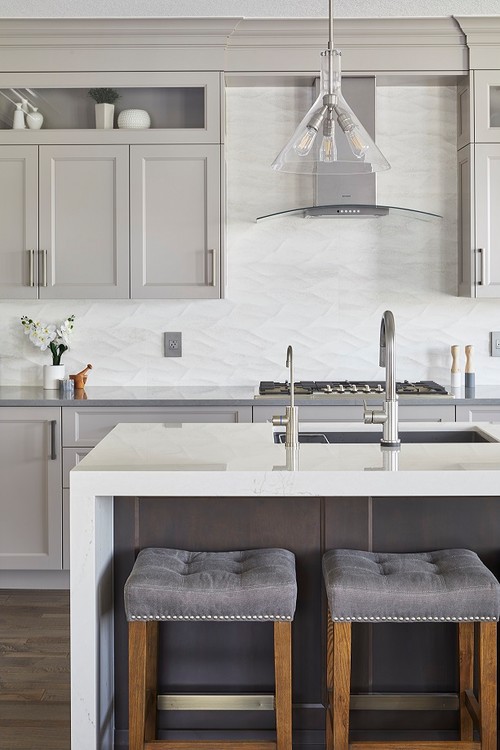 ID# 147622 | Houzz.com – Credit | © Paragon Kitchens
---
Transitional Kitchen with Gray Shaker Cabinets and Glass Pendants
This L-shaped kitchen abounds in neutral shades that give it a versatile and timeless feel. The light gray shaker cabinets configure an L-shape to integrate the corner into the design to make efficient use of every inch. The white textured backsplash reaches up to the ceiling, peeking out behind the exposed high-end range hood. With accents of glass pendants overhanging the island, this transitional kitchen also speaks luxury. In addition, the clever storage solutions range from drawers to cupboards, cantilevered shelves, and open cabinets to create a super functional design for homeowners. The waterfall island also brings a sense of flow to finalize the look by distinguishing the kitchen from the main lounge.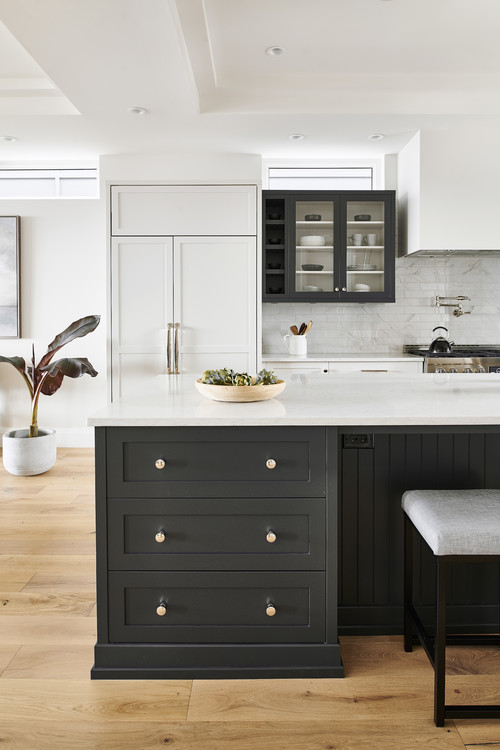 ID# 147623 | Houzz.com – Credit | © Jenny Martin Design
---
Marble Tile Backsplash with V-Groove Island and Chrome Hardware
This oversized contemporary kitchen creates the perfect balance with white and dark gray cabinets. While doing so, it reserves the white for the perimeter counters and utilizes the dark gray cabinets for the island and full-height and glass-front cabinets. In the background, what is complementing them is the white marble subway tile backsplash that adds a classic finish and honors this harmonious integrity. In addition, the caged pendant above the oversized V-groove island brings a country flair. The chrome pulls and knobs come together to evoke visual interest. And the final product feels engaging thanks to the combination of various statement features, creating a purposeful design with many notes.
Is a white backsplash a good idea?
White backsplashes are popular and timeless for good reason. They enhance the openness and brightness, making the kitchen feel larger as well. They also bring a bright finish that reflects lights around the room. If you want to make it more eye-catching, give the backsplash a polished finish. Then lights will bounce off around the room, adding a sense of playfulness.
Plus, just because it is white doesn't mean that it looks boring and has no character. By using intriguing patterns such as mermaid and arabesque or laying subway tiles in herringbone and chevron patterns, you can recreate your kitchen. This way, the white backsplashes gain a dynamic and generate a sense of movement. And they continue to make your kitchen feel larger and brighter.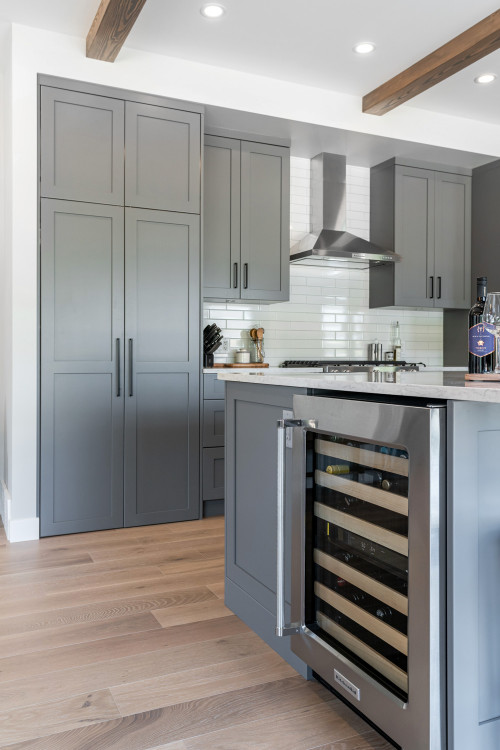 ID# 147624 | Houzz.com – Credit | © Inside Out Kitchens
---
Gray Cabinets with White Backsplash and Wood Beams
This transitional kitchen prides itself on the exposed ceiling beams that give it an effortless rustic flair. The gray shaker cabinets, white subway tile backsplash, and stainless-steel appliances create a more modern setup. The custom design features and the pantry hidden behind one of the full-height cabinets make the kitchen more dynamic, dimensional, and functional. The kitchen island also accommodates a beverage cooler, paired with stools, thus serving as a wet bar. As such, the kitchen turns into an entertaining and sociable spot where homeowners can host their guests.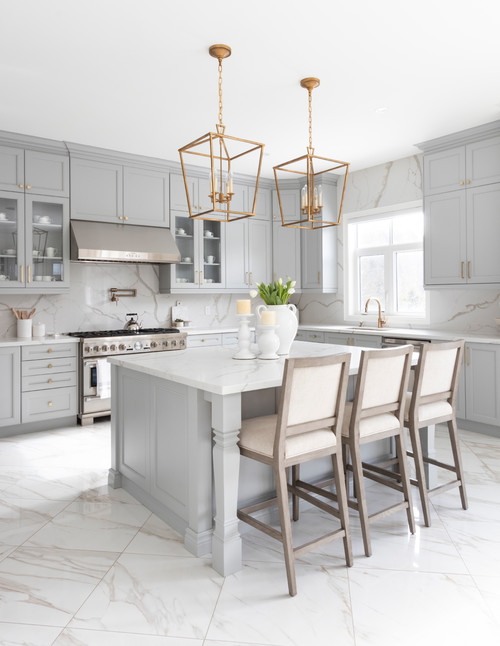 ID# 147625 | Houzz.com – Credit | © Jessica Mendes Design
---
Soothing Kitchen with Marble Backsplash and Gold Pendants
Looking for ways to add warmth to your stunning marble backsplash and light gray cabinets? Take cues from this contemporary kitchen which uses a duo of gold-caged pendants that carry an old-world charm. And it also complements them with other gold cabinet pulls and a gold faucet to create visual integrity.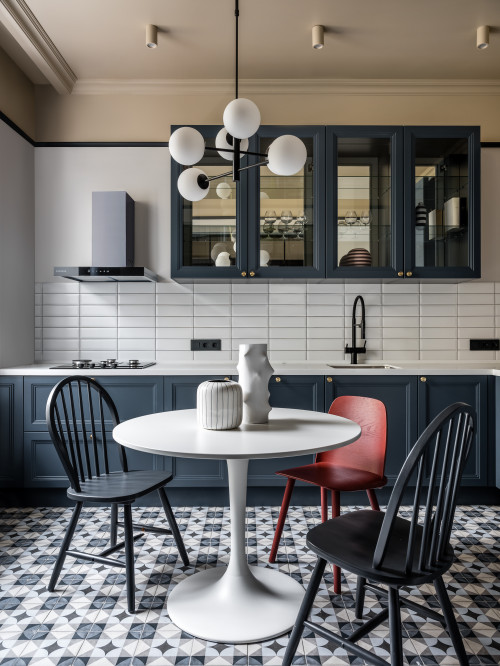 ID# 147626 | Houzz.com – Credit | © Зуева Анна
---
Stacked Subway Tile Backsplash and Dark Gray Cabinets with Beige Ceiling
This contemporary kitchen consists of a white stacked subway tile backsplash, dark gray cabinets, and white countertops. Thus, it feels like a typical kitchen. But the pop of red stool, the dark beige-painted ceiling, and the mirrored door upper cabinets change the overall aesthetic of the room immediately, making it look astonishing.
Gray Flat-Panel Cabinets with White Backsplash
Gray flat-panel cabinets with a white backsplash are a perfect pack for contemporary and modern kitchens. Linear lighting fixtures, cantilevered islands, rounded and upscale range hoods, and wood-carved stools with biomorphic forms can be integrated into these kitchens. As for the backsplash, marble slabs, quartz, and seamless glass sheet backsplashes are great options to consider.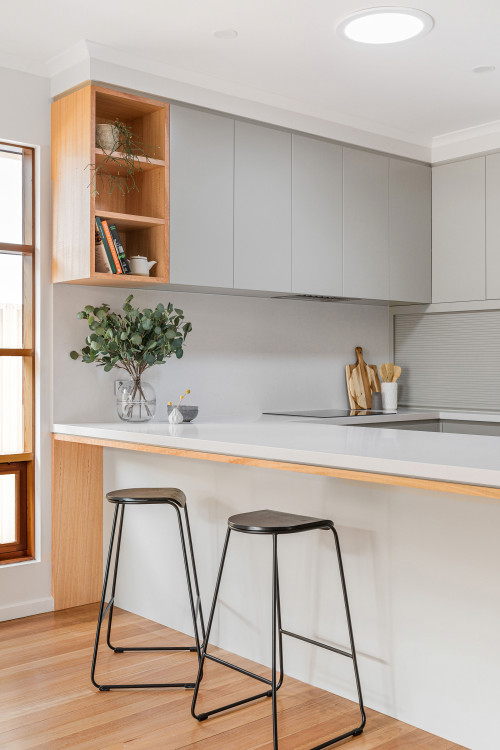 ID# 147627 | Houzz.com – Credit | © Design Fusion
---
Gray Cabinets with White Backsplash and Wood Accents
This neutral and serene kitchen uses wood to warm up its gray flat-front cabinets. The seamless white quartz countertops and backsplash let the lights bounce off around the room. The black bar stools create a storing contrast and enhance modernity.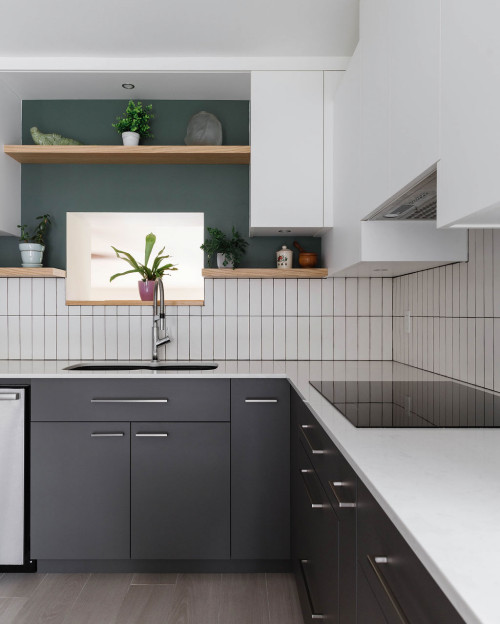 ID# 147628 | Houzz.com – Credit | © Rosa
---
Gray Flat-Front Cabinets with Timber Floating Shelves and Kitchen Plants
To give your gray flat-front cabinets a new life, use timber floating shelves and kitchen plants that deliver a sense of freshness and lend texture. Here, the white subway tiles create a strong contrast against the dark gray cabinetry. The vertically stacked layout of the tiles complement modernity.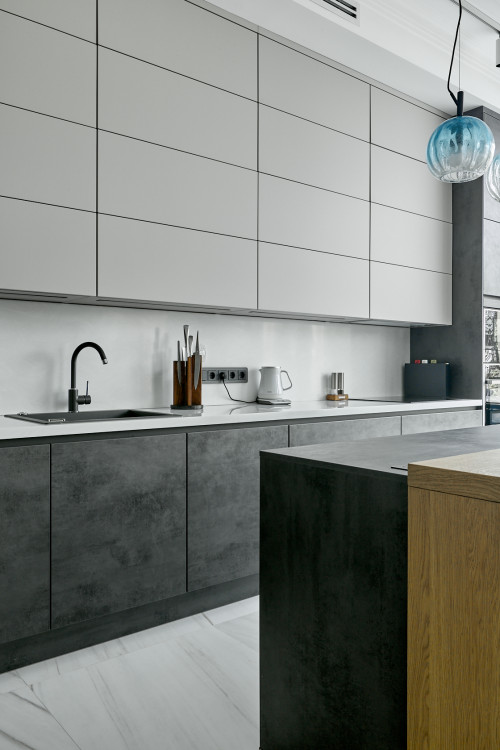 ID# 147629 | Houzz.com – Credit | © Анна Жемерева / ORT-interiors
---
Two-Tiered Island with Dark and Light Gray Cabinets
Juxtaposing different shades of gray cabinets makes the kitchen feel more authentic and less matchy-matchy. Also, consider using different textures even if they are faux or imitated. This contemporary kitchen, for example, goes with concrete-effect cabinets. And a two-tiered island adds a layered look as a bonus.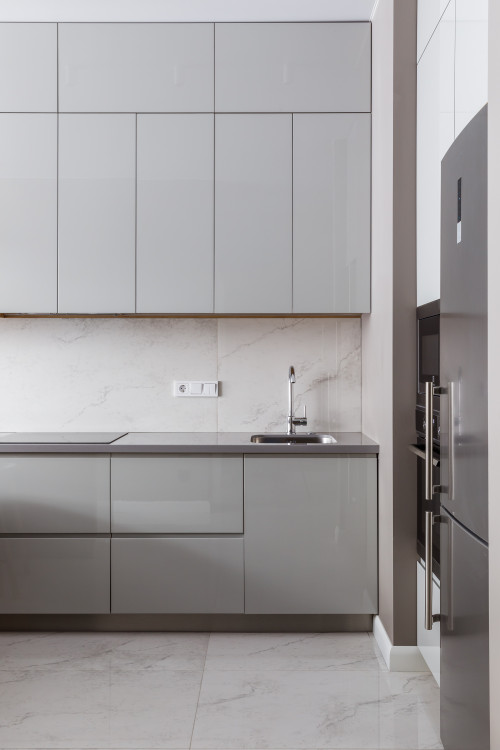 ID# 147630 | Houzz.com – Credit | © Анна Попова
---
Gray Cabinets with White Backsplash and Calm Aesthetic
This calm kitchen design slows the passage of time with its light gray cabinets and a white marble backsplash with feathery and almost invisible veins. The hardware-free flat-front cabinets and gloss finishes encourage the smooth and sleek profile of the kitchen, making it extra pleasing for those seeking peacefulness.