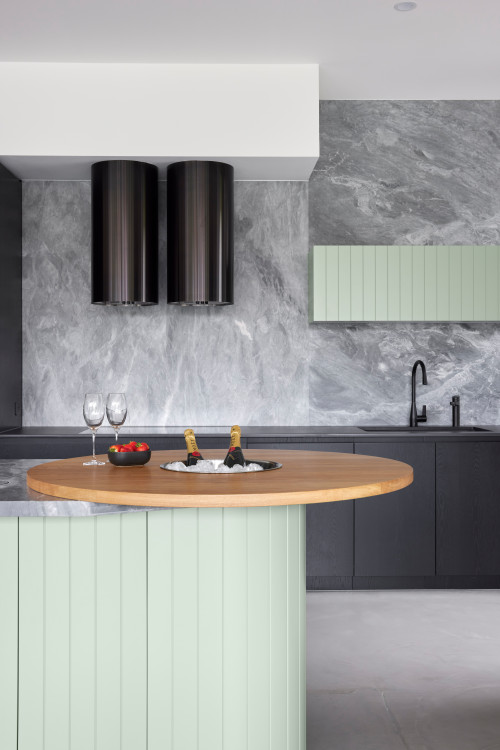 ID# 142421 | Houzz.com – Credit | © smarterBATHROOMS+
---
Contemporary Kitchen Design Where Black Plain Cabinets Combine with Green
Another good feature of black is that it can be compatible with every color and texture. We see this in a very stylish way in this kitchen. black plain The combination of under-counter cabinets with light coral green cabinets gives the space a very different air and elegance effect. The harmony created by the contrasts of the blue-gray color palette formed by the monolithic stone block used as the backlash is a successful example. The semi-stone half-wood bench that stands out on the island prefers the use of different materials in different functions while adding to the same element, providing the user with small but effective solutions.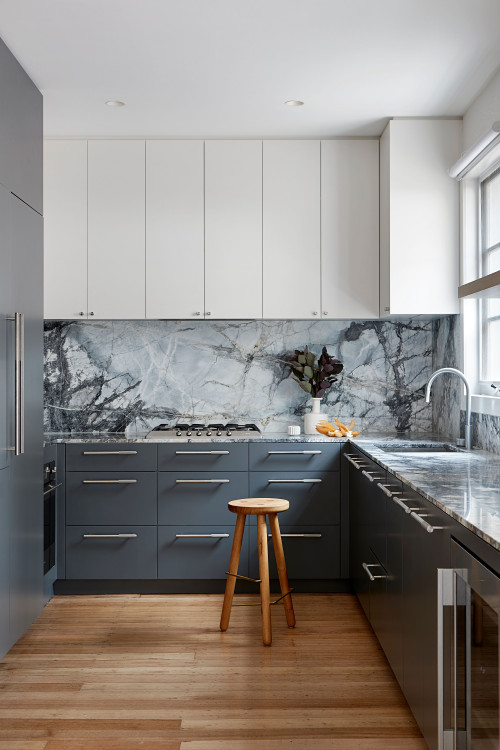 ID# 142434 | Houzz.com – Credit | © Anthology Studio
---
Contemporary Kitchen with Backsplash Embodying Every Tone of the Sea
This kitchen, which has unique material preferences, stands out with the material that combines the blue and black tones with the marble texture used in the counter and backsplash. This kitchen, which reflects the color transitions on the counter and backsplash to the kitchen cabinets, is reminiscent of the sea with its under-counter cabinets in blue tones, and the sky with its white cabinets. The floor and chair elements, which join these cold colors with their warm texture and color, bring warmth to the environment by breaking the cold colors in the space.
Luxury Kitchen Ideas
The kitchen is one of the most important parts of the house. It is a place where the family gathers and spends time, prepares, and eats meals, and has pleasant conversations. Having a luxury kitchen ideas that looks as good as it functions is becoming a priority for luxury home buyers, including those who rarely cook.
Whether it's for preparing family meals or entertaining events, today's luxury kitchens are often equipped with high-end and the latest premium appliances. While there is no single point about what constitutes a luxury kitchen, amenities such as custom cabinets, open-air doors, double islands, or a hidden pantry are all details that add flair to the individual kitchen.
Various variations can be tried in the designs that will be shaped according to the size, size of the space, and the general concept of the house. There are many design ideas for modern, farmhouses, double islands, apartments, and small luxury kitchens. And of course, while there are many color options available, the always trending black and white colors are among the timeless stylish options.
How much does a luxury kitchen cost?
If you want to build your kitchen with luxury, high-end technical features, there is no limit to the price you can pay. An average luxury-level kitchen ranges from $5,000 to $125,000 and more. The price also varies depending on factors such as the location and size of your project. For example, A basement wet bar starts at around $1,000. Homeowners pay $100,000 or more for full top-notch work.
How to make your kitchen luxurious?
Colors such as cream and beige are color variations that can make the kitchen look stylish and expensive. If you have a modern kitchen, you can use dark colors such as black and gray, this can make your kitchen look flashy and cool. The white color reflects the light and makes the space look bigger and more spacious, so you can create a stylish and heavy look by complementing the white with some wood and metallic accents.
White Luxury Kitchen Ideas
The kitchen is considered the most important place in the house, no matter where in the world and what kind of lifestyle you have. The look and feel of the kitchen have changed over the years, thanks to technology and ever-changing design trends. From cozy farmhouses to cutting-edge designs, the kitchen undoubtedly comes in many variations. However, for some, the kitchen is always best in white with its timeless and clean look.
White kitchens always have a stylish stance by easily completing all kinds of personal design preferences. White kitchens are also quite appropriate, especially in smaller spaces such as apartment corners or dim borders where the surface and height may not be very generous. It evokes a wider view in small spaces with a sense of spaciousness. A white luxury kitchen sets the stage and perfectly showcases the best you can offer.
What should be in a luxury kitchen?
Premium Appliances
A refrigerator that fits in a way, high-performance appliances, an environment where you can spend time with guests and family while cooking, trash, and recycling bins that are solved secretly, and surprising, functional cabinets should be preferred. In addition, the flooring on the floor not only needs to look great and blend well with your cabinets but also needs to be durable. Hardwood, bamboo, concrete, and vinyl flooring are durable options that can be used in the home industry.
Countertops
One of the most important details is the benches. There are many fantastic, high-performance, luxury countertops available on the market. For example, quartz countertops are top-notch in terms of durability. Traditional granite counters offer a classic, high-end look, while wooden counters are warm and perfect for meal prep. Each countertop material has its unique benefits.
Technological Tools
Today, luxury kitchens embrace technological innovation to create a more functional space. You can create a luxurious effect in your kitchen with various technological tools such as instant pots and automatic pan mixers with timers.
Functional islands create cool looks by being used in kitchens in many ways as ready-made, cooking, or dining areas.
Lighting
Another detail that should be in a luxury kitchen is integrated lighting. For example, the led lighting applied under the cabinets makes your work easier while working and at the same time creates a pleasant effect.
Sinks
In addition to these, the creation of purpose-built storage areas is also an elegant stance, while sinks are perhaps one of the most essential points in luxury kitchen designs. Because it is the most used place, it is also the focal point in the kitchen. For example, large farmhouse sinks are quite popular in upscale kitchens. They fit perfectly in your cabinets. According to the concept, it creates very stylish looks in built-in washbasins.

Black Luxury Kitchen Ideas
Black kitchens never cause regret in the applied areas, although not everyone can easily dare, and black is the right choice if you want a stylish and sophisticated interior design.
You can create impressive and luxurious kitchens with accessories, tiles, hardware, and more. It's also easy to pair with light color palettes around the house or black kitchens no matter your interior design style Colors completely change the atmosphere of a place. Cleverly used dark tones create an elegant elegance, adding refinement and drama to the space.
What is a luxurious kitchen?
The luxury kitchen is created with high-quality materials, as a result of beautiful interior design work, using cabinets, worktops, professional space planning, modern technologies, appliances, and appropriate lighting.
Modern Luxury Kitchen Ideas
When designing a modern and luxurious kitchen, it is necessary to consider aesthetics and functionality together. The new luxury modern kitchen requires a comfortable and interactive cooking space for the family. Modern kitchens are often open and spacious.
Modern kitchen designs are stylish and simple designs with minimal equipment, built-in cabinets, and flat surfaces. Kitchen cabinets can be designed in L-shaped, U-shaped, or parallel shapes. The overall concept and the size of the space are important factors for a luxury kitchen.
If you are planning an island and open kitchen in a large area, a well-crafted partition or sliding glass door can provide an aesthetic stance in the kitchen design. A luxurious kitchen design consists of clean lines, elegance, new technologies, and quality materials. Concrete, glass, wood veneers, marble, granite, Corian, quartz, and stainless are the most popular materials for luxury modern kitchens. Recently, designs with tiered kitchen islands, the lower counter as the preparation area, and the upper counter as the serving counter, have become quite popular. And again recently, two-tone cabinets have started to become a trend and give successful results in modern kitchen designs.
What are the best luxury appliances for a new kitchen?
When creating a new kitchen, if we rank the best luxury appliances.
La Cornue, Sub-Zero and Wolf, Miele, Gaggenau, and Dacor are brands that can be counted in the top five.

Farmhouse Luxury Kitchen Ideas
Farmhouse kitchen ideas can be considered the heart of the home. Creating a comfortable and inviting environment is very important. But it is also a must-have in the entire kitchen, practicality and utility are also very important. The farmhouse-inspired design strikes the perfect balance between the two, with the functional necessities of the farmhouse being both stylish and luxurious touches, making it a soothing, sensible, perfect option for anyone.
When most people think of a farmhouse kitchen, the first thing that comes to mind is the iconic farmhouse sink or shipyard wall treatments. These are certainly not the only options. The charm of the farmhouse style, its timeless elegance, and its ability to evoke nostalgic feelings can be uniquely combined with all other elements.
Luxury Double Island Kitchen Ideas
Double island kitchens aren't just the protectors of those with large kitchens. If you have a large kitchen, having two kitchen islands would be helpful.
Double kitchen islands help you to divide the preparation and dining, and work areas, breaking the monotony of the layout. It makes your space more functional and organized. For example, it is an ideal addition to a home that does not have a separate pantry room.
Kitchen island ideas are permanent and continue to trend day by day. Nowadays, kitchen islands are going to a new dimension and creating larger islands.
Kitchens have become the center of the house in recent years, creating a design area that continues to evolve. With kitchen islands, which have become the most important elements of luxury designs, magnificent kitchen designs are emerging.
Small Luxury Kitchen Ideas
Even if your kitchen is small, you can always create a luxurious look. It is important to use the space effectively. Apart from that, with the quality devices and materials used, it would be the right choice to leave it leaner since the area is small. Depending on the shape, size, and general style of the space, many small luxury kitchen designs can be created with matching accessories.
Luxury Apartment Kitchen Ideas
If you want to design an apartment kitchen luxuriously, then serious design studies are required to make a small kitchen look much larger than it is and at the same time make every corner stylish and functional at the same time.
While finding the right kitchen ideas for apartments is limited, compact living also has several benefits. To begin with, when designing a small kitchen for an apartment, you will understand that it is easy to have everything close at hand. Plus, there are lots of clever small kitchen storage ideas for you to make the most of every inch.
One of the advantages of an apartment kitchen is that everything needed is easily accessible. While creating the perfect kitchen layout suitable for your space, the color palette, cabinet, and kitchen storage ideas are designed in the most appropriate way for your space. Luxury apartment kitchens can be designed with quality materials, appliances, and cutting-edge technologies.
Backsplash Options for Luxury Kitchens
The backsplash is one of the most important elements of kitchen designs. In a designed kitchen, cabinets, and appliances, all details are perfect, high quality, and beautiful, a backsplash that does not fit there can ruin the whole space. For this reason, careful selection and harmony with the space should be taken into account.
There are many backsplash options available. There are many types such as ceramic, marble, quartz, glass, window backsplash, stone, and mosaic. In addition, there are unlimited color options, sizes, patterns, and flooring shapes. In this way, countless different variations can be created for a kitchen.
While making luxury designs, of course, works are done using luxury materials. Marble backsplashes are always the first choice with their luxurious-smelling stances. But of course, it attracts the attention of users and designers by obtaining stylish and cool results when applied, at least as much as marbles in many different materials.
Where to buy luxury kitchen items?
You can buy luxury kitchenware from their brand stores, as well as from certain brands. It is also very useful in terms of learning the features of the product you want to choose and seeing the model.