22+ Luxury Kitchen Backsplash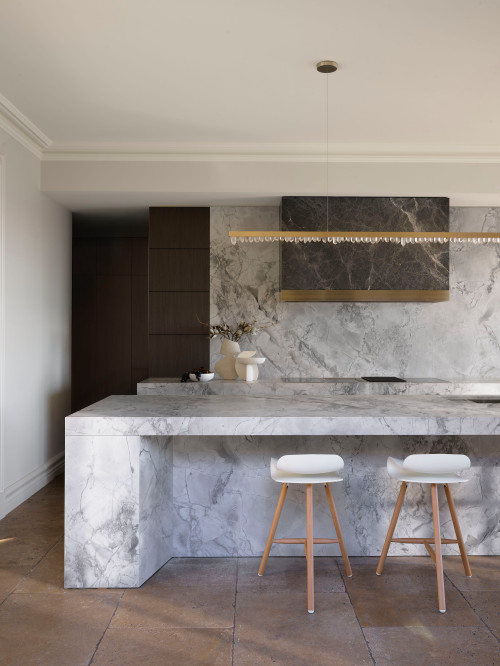 ID# 139917 | Houzz.com – Credit | © Studio Gestalt
---
Marble Backsplash with Marble Island and Brass Accents
Contemporary kitchens love marble used throughout the space in various forms. Some even go extreme, cladding the whole kitchen in marble. But this one feels satisfied enough with a ceiling-height marble backsplash, marble-carved island, and marble range hood fixture. All come in light earthy and light gray shades with pronounced veins that embed a sense of rustic charm. The stone-finish floor in darker earthy shades, the wood legs of the stools, and the antique brass trim of the hood build extra interest, enriching the material and texture palette of the kitchen.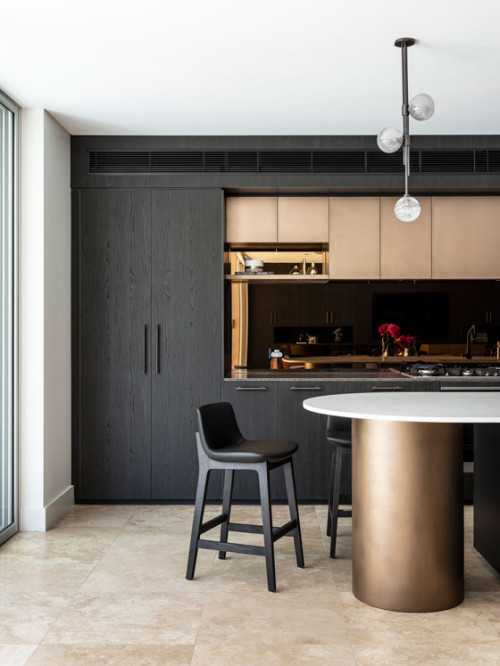 ID# 139922 | Houzz.com – Credit | © Woods & Warner
---
Glamorous Kitchen With Black Glass Sheet Backsplash and Black Cabinets
Minimalist looks almost always inhabit a sense of luxury that is delivered through the refined design vocabulary and sumptuous finishes, and this kitchen is no exception. Using a sophisticated color vocabulary abundant in black and subtle gloss finishes, it commands attention. Particularly, the black glass sheet backsplash right under the light brown cabinets steals the show, conversing with the rest of the space interactively. Right across is the kitchen island with a rounded edge and a curved oversized leg that introduces a fluid form that breaks free from the rectilinear forms with sharp edges. The pitch-black stools and white countertops accompany it, while the light brown tiles with undulating forms execute elegance and enhance the soft feature vocabulary of the kitchen.
Luxury Kitchen Backsplash
Luxury can mean different things to different people, but concerning the kitchen backsplashes, a luxury kitchen backsplash covers high-end materials such as marble, quartz, glass, metal, ceramic, and terrazzo which come at high costs but also with multiple aesthetic and functional benefits. And a luxury kitchen backsplash design can feature alternating shades for more depth and dimension or is characterized by undulating patterns like in natural stones. But in all scenarios, they make a statement and become a visual focal point effortlessly.
A luxury kitchen backsplash can consist of individual tiles and come in sheets and panels. This way, for those looking for grout-free backsplashes, the market offers plenty of alternatives such as marble slabs, quartz slabs, and glass sheet backsplashes. As for the tiles, luxury kitchen backsplash tiles comprise materials like glass, marble, granite, and metal like stainless steel. Not only beautiful but also easy to clean and heat-resistant, these tile backsplash materials can even add artsy vibes to the kitchen and can come in various finishes, allowing homeowners to navigate how these materials look and feel in terms of tactility.
This blog will walk you through various luxury kitchen backsplash ideas in a variety of settings and multiple design themes. All you need to do is to take a closer look at these luxury backsplashes for kitchens that will elevate the overall look of the kitchen instantly.
What is the most expensive backsplash?
The most expensive backsplashes consist of natural stone, glass, and stainless-steel backsplashes. While stainless steel cost 20 USD per square foot, glass costs between 7 and 30 USD. And the installation costs for stainless steel and glass are around 36 and 32 USD, respectively, which is again pricier when compared to other materials. As for the natural stones, the costs vary, depending on the type of natural stone. But they cost around 7 and 10 USD per square foot.
How can I make my kitchen look luxurious?
One of the ways to make your kitchen look luxurious is to give it enough space to breathe. To achieve that, you can minimize the number of wall units and use a ceiling-height backsplash to emphasize the empty states of the kitchen.
Secondly, some materials just speak volumes of luxury, and marble, glass, and stainless-steel backsplashes are the most popular materials of sumptuous and high-end materials, that could create an instant luxury moment. But not everybody can or would like to spend that amount of money. So, instead, ceramic and porcelain tiles could also be used to make a statement. With a gloss finish, they can achieve a nice sheen which introduces luxury to the walls.
Another way is to have a timeless color palette. If your kitchen feels a bit outdated, dark, and confined, you can paint the cabinets in a timeless shade like white, off-white, and cream. This way, you can change the aura of the room instantly. In terms of style, you can stick to the shaker cabinetry and flat-front cabinets that provide the kitchen with a neat and clean look.
Choose the Material Carefully
Thirdly, material repertoire plays a key role in how your kitchen looks. For example, marble, metal, terrazzo, and glass backsplashes are very expensive materials that promise sumptuous finishes and contribute to the upscale and genteel ambiance of the kitchen. The wood could also make a great impression on the space and its users. Likewise, bespoke cabinets, paintings, and some anachronistic additions could deliver sophistication, a sense of wisdom, and an aged feel, which is safe to feel in luxurious kitchens. This also allows you to luxuriate in the memories. Additionally, smoked glass, bar stools with seating covered in velvet and intriguing fabrics, and stylish brass lighting fixtures add extra luxury to the kitchen.
Apart from those, you can upgrade the knobs and choose ones that are oversized and sparkling, such as brass and antique brass hardware.
Backsplash Materials for Luxury Kitchen Designs
Backsplash materials for luxury kitchen designs include natural stone, glass, terrazzo, metal, and ceramic tile backsplashes. Additionally, if the architecture of the kitchen allows, you can use window backsplashes for extra brightness and spaciousness. Plus, this way, you can blur the distinction between interior and exterior spaces and open your kitchen outwards.
Luxury Kitchen Marble Backsplash
The marble backsplash is one of the most popular high-end materials, quarried in different parts of the world. And each region has its unique marble distinguished by the color and pattern variations. Here are some of the most luxurious marble types:
Calacatta Gold: It is one of the most expensive marble types, featuring a white base with dramatic golden and dark brownish veins. The book-matched installations particularly work well with the Calacatta Gold.
Carrara Marble: It has a white base with less pronounced, feathery, and soft veins in subtle shades of gray and blue. It is as sophisticated as the other marble types yet more eligible to adjust itself to the surrounding design.
Calacatta Vagli: Calacatta Vagli is quarried in Italy and worldly recognized as a highly-valued marble. This stunning stone features a milky white base with grey and gold veins and occasional ribbons of green. It is available in honed and polished finishes. It has two different types, including Standard and Gold.
Arabescato Marble Slab: Considered an Italian masterpiece, Arabescato marble has a white vase colonized by bold and elegant veins. It also feels classic yet modern, making great worktops and backsplashes for kitchens.
What do luxury kitchens have?
In luxury kitchens, color palettes are well-considered and meticulously curated. And the most popular color schemes include monochromatic ones and well-balanced color palettes consisting of dark and white shades. Dark browns and dark blues, for example, are paired with crisp white backsplashes and countertops for a sense of balance. Likewise, warm shades such as wood and cream also couple well with white countertops and backsplashes for a statement look. However, if you love bold colors, you can also mix various shades and support them with sumptuous materials.
Islands
Another thing that luxury kitchens have is islands that are particularly used in contemporary kitchens with cantilevered forms. Additionally, the oversized galley-style islands with multi-functional assets make great additions. You can also incorporate a waterfall edge that is made of a high-end material such as natural and engineered stones for a luxurious feel.
Lighting Fixtures
Thirdly, lighting fixtures are significant to introduce opulence, setting the tone of the design, and dictating where you should focus on. That's why the top shelves and glass-front cabinets generally feature spotlights and LED-strip lighting to provide accent lighting. This way, you draw your upward, emphasizing the grandeur of the space. Likewise, if your backsplash is made of an upscale material, you can use LED-strip lighting to emphasize it and provide task lighting. Additionally, you can get dimmable overhead pendant lighting over the breakfast island to create a cozy ambiance for the dining space.
Backsplashes
As for the backsplashes, mirror backsplashes, available in various styles (tiled, antique, etc.) could be aligned with other high-end backsplash materials. They not only expand the kitchen visually but also brighten up the interior space, thus enhancing the luxury vibe of the kitchens.
A well-designed home bar could also serve a kitchen well, adding a luxurious feel and richness. Lastly, when it comes to the flooring, dark wood, concrete, terrazzo, and checkerboard flooring along with stone-finish floor options elevate the overall feel of the kitchens.
What is a luxurious kitchen?
Even though the definition of luxury varies from person to person, a luxurious kitchen refers to the designs consisting of statement-finish backsplashes, high-end materials, great layout configuration, a well-planned lighting system, and upscale appliances. Thus, they generally feature a genteel atmosphere that speaks volumes with high functional and aesthetic values.
Luxury Kitchen Glass Backsplash
One of the most expensive backsplash materials is without a doubt glass. Available in sheets and tiles, glass backsplashes are the recently popular additions favored especially by the contemporary designs for their sleek and clean look. They make the kitchen feel larger and brighter. And if you want to make a true statement, you can consider glass kit kat mosaic tile backsplashes that exude elegance and sophistication.
As for the glass sheets, they can be painted in the color of your choice. As such, they are highly customizable, offering great alternatives to natural stone and ceramic tile backsplashes (even though they are pricier). You can pair them with luxurious glass pendants with brass accents, glass floating shelves, and even wooden accents to create soft contrasts that will enrich the overall look of the kitchen.
In functional terms, again, glass provides an easy-to-clean surface and heat resistance, which makes it a user-friendly material. Plus, it can be repurposed, thus an eco-conscious material. So, if you would like to go green in your kitchen, you can confidently use a glass backsplash. Or better, if you wish, wood and marble-look recycled glass backsplashes are also available.
What are high-end kitchen backsplashes made of?
Glass, natural stone, metal (particularly stainless steel), quartz, and terrazzo are some of the most popular high-end kitchen backsplash materials. You can get them in tiles and sheet versions, depending on whether you love seamless or grout-free versions.
Luxury Kitchen Ceramic Tile Backsplash
For those with a low budget, ceramic tile backsplashes can serve as luxury splash-backs as well. You can especially get them in alternating shades of white and gray to create more depth and dimension in the background. Likewise, white square subway tiles and handmade ceramic subway tiles stacked vertically can give the kitchen a modern spin and stylize the walls effortlessly. If you wish, you can use a gloss finish backsplash to bring extra luxe into the space.
Modern Luxury Kitchen Backsplash
Square subway, quartzite, quartz, glass sheet, and kit kat mosaic tile backsplashes are some of the most popular backsplash material types used in modern kitchens. Each one has a distinct vibe, integrating something unique into the kitchen and modernizing the interiors at the same time.
White Luxury Kitchen Backsplash
Luxury kitchens love monochromatic and all-white looks that feel airy and light. And to honor this achromatic color scheme, the best way is to incorporate a white luxury kitchen backsplash. To do that, you can utilize white marble, quartz, glass sheet, and porcelain tiles that could create opulent backsplashes and will upgrade the overall feel of the kitchen immediately.