22+ Luxury Kitchen Backsplash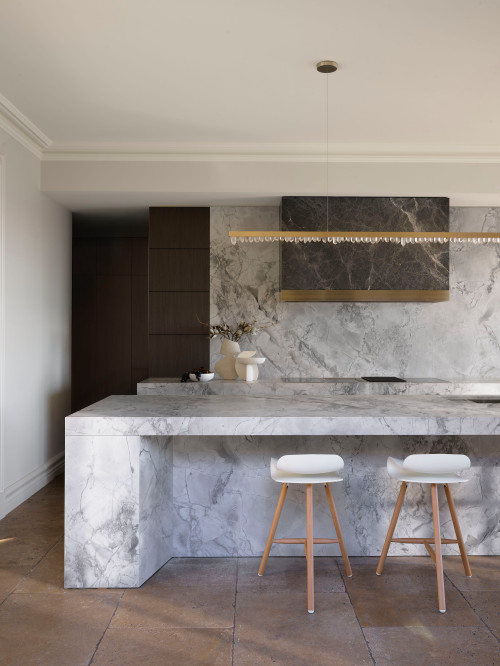 ID# 139917 | Houzz.com – Credit | © Studio Gestalt
---
Marble Backsplash with Marble Island and Brass Accents
Contemporary kitchens love marble used throughout the space in various forms. Some even go extreme, cladding the whole kitchen in marble. But this one feels satisfied enough with a ceiling-height marble backsplash, marble-carved island, and marble range hood fixture. All come in light earthy and light gray shades with pronounced veins that embed a sense of rustic charm. The stone-finish floor in darker earthy shades, the wood legs of the stools, and the antique brass trim of the hood build extra interest, enriching the material and texture palette of the kitchen.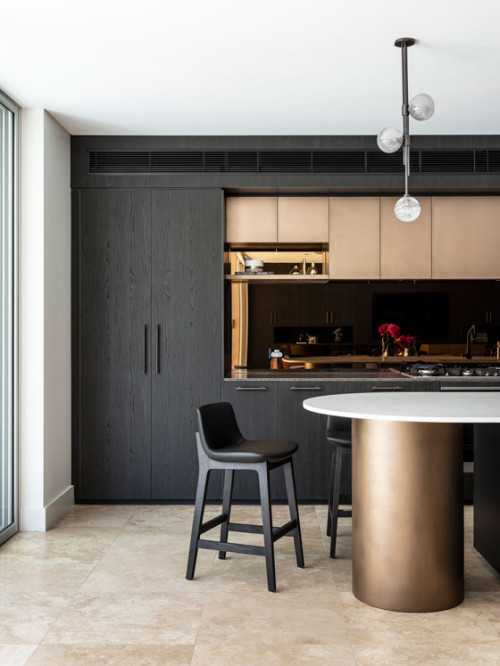 ID# 139922 | Houzz.com – Credit | © Woods & Warner
---
Glamorous Kitchen With Black Glass Sheet Backsplash and Black Cabinets
Minimalist looks almost always inhabit a sense of luxury that is delivered through the refined design vocabulary and sumptuous finishes, and this kitchen is no exception. Using a sophisticated color vocabulary abundant in black and subtle gloss finishes, it commands attention. Particularly, the black glass sheet backsplash right under the light brown cabinets steals the show, conversing with the rest of the space interactively. Right across is the kitchen island with a rounded edge and a curved oversized leg that introduces a fluid form that breaks free from the rectilinear forms with sharp edges. The pitch-black stools and white countertops accompany it, while the light brown tiles with undulating forms execute elegance and enhance the soft feature vocabulary of the kitchen.
Luxury Kitchen Backsplash
Luxury can mean different things to different people, but concerning the kitchen backsplashes, a luxury kitchen backsplash covers high-end materials such as marble, quartz, glass, metal, ceramic, and terrazzo which come at high costs but also with multiple aesthetic and functional benefits. And a luxury kitchen backsplash design can feature alternating shades for more depth and dimension or is characterized by undulating patterns like in natural stones. But in all scenarios, they make a statement and become a visual focal point effortlessly.
A luxury kitchen backsplash can consist of individual tiles and come in sheets and panels. This way, for those looking for grout-free backsplashes, the market offers plenty of alternatives such as marble slabs, quartz slabs, and glass sheet backsplashes. As for the tiles, luxury kitchen backsplash tiles comprise materials like glass, marble, granite, and metal like stainless steel. Not only beautiful but also easy to clean and heat-resistant, these tile backsplash materials can even add artsy vibes to the kitchen and can come in various finishes, allowing homeowners to navigate how these materials look and feel in terms of tactility.
This blog will walk you through various luxury kitchen backsplash ideas in a variety of settings and multiple design themes. All you need to do is to take a closer look at these luxury backsplashes for kitchens that will elevate the overall look of the kitchen instantly.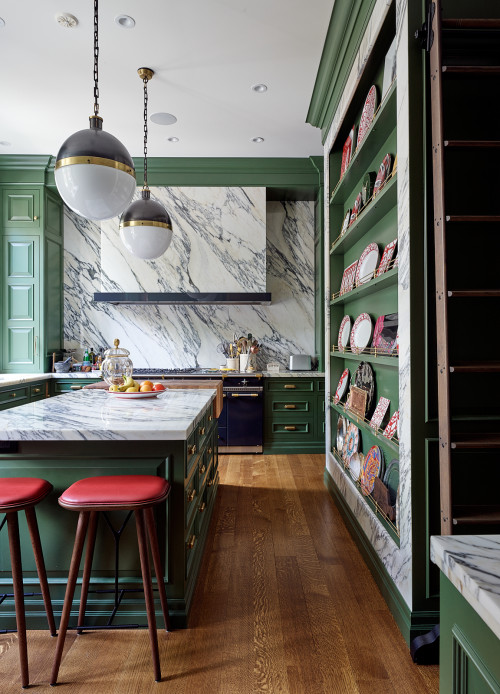 ID# 139910 | Houzz.com – Credit | © Whitehall Homes
---
Traditional Kitchen with Green Cabinets and Luxury Kitchen Backsplash
Filled with statement features and bold shades from top-to-toe, this traditional kitchen offers a one-of-a-kind look. The green raised-panel cabinets, an indigo-blue vintage stove, red stools, and brass hardware craft a multi-colored and memorable design, while the luxurious marble kitchen splash-back manages to create a visual focal point among these extraordinary pieces. Additionally, the full-height open cabinet provides a second focal point, creating a space to exhibit the plate collection of the homeowners and adding a punch of character. Lastly, the orb lighting fixtures add extra dimension overhead, tapping into the spirit of mid-century kitchen designs.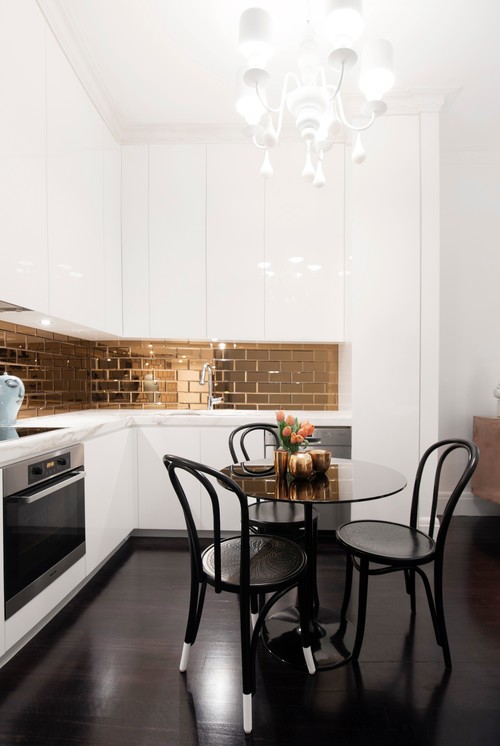 ID# 139911 | Houzz.com – Credit | © Yvette Philips Interior Design
---
Brass Tile Backsplash with White Cabinets and White Quartz Countertops
What breaks up the all-white look in this L-shape contemporary kitchen is the brass tile backsplash that makes a statement, oozing opulence. It is flanked by white flat-front cabinets and white quartz countertops that draw attention to the backsplash. The all-time favorite subway tiles probably haven't been treated like this before! The cabinets reach the ceiling to optimize the use of storage and add grandeur to the kitchen, making it look taller. The sleek appliances, on the other hand, preserve the clean look of the cabinets. The dark wood floor also comes with a seamless finish, hosting a glass dining place reserved for three people.
What is the most expensive backsplash?
The most expensive backsplashes consist of natural stone, glass, and stainless-steel backsplashes. While stainless steel cost 20 USD per square foot, glass costs between 7 and 30 USD. And the installation costs for stainless steel and glass are around 36 and 32 USD, respectively, which is again pricier when compared to other materials. As for the natural stones, the costs vary, depending on the type of natural stone. But they cost around 7 and 10 USD per square foot.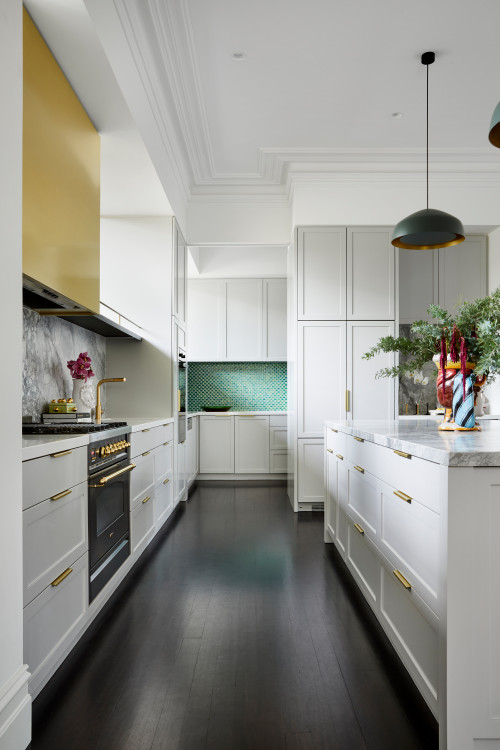 ID# 139912 | Houzz.com – Credit | © Cranberry Design
---
White Cabinets And Brass Hardware with Gray Marble Backsplash
Crafted to high standards, this modern kitchen occupies a large space with distinct arms of cabinetry, featuring the perfect scale for large families. It can also be used to host guests and as a social hub to cook and entertain. Since the kitchen has an abundance of cabinets, they are kept white not to overwhelm the space. And to accompany them, two types of backsplashes are used: gray marble slab and blue-green mosaic tiles. The gray marble backsplash serves as a stove splash-back that delivers cool and sophisticated aesthetics, pairing perfectly with the black stove. The yellow range hood fixture, brass hardware, and yellow buttons of the stove synchronize beautifully, pulling the design scheme together. And at the very back, the mosaic tile backsplash adds a splash of color to create a more dynamic atmosphere.
How can I make my kitchen look luxurious?
One of the ways to make your kitchen look luxurious is to give it enough space to breathe. To achieve that, you can minimize the number of wall units and use a ceiling-height backsplash to emphasize the empty states of the kitchen.
Secondly, some materials just speak volumes of luxury, and marble, glass, and stainless-steel backsplashes are the most popular materials of sumptuous and high-end materials, that could create an instant luxury moment. But not everybody can or would like to spend that amount of money. So, instead, ceramic and porcelain tiles could also be used to make a statement. With a gloss finish, they can achieve a nice sheen which introduces luxury to the walls.
Another way is to have a timeless color palette. If your kitchen feels a bit outdated, dark, and confined, you can paint the cabinets in a timeless shade like white, off-white, and cream. This way, you can change the aura of the room instantly. In terms of style, you can stick to the shaker cabinetry and flat-front cabinets that provide the kitchen with a neat and clean look.
Choose the Material Carefully
Thirdly, material repertoire plays a key role in how your kitchen looks. For example, marble, metal, terrazzo, and glass backsplashes are very expensive materials that promise sumptuous finishes and contribute to the upscale and genteel ambiance of the kitchen. The wood could also make a great impression on the space and its users. Likewise, bespoke cabinets, paintings, and some anachronistic additions could deliver sophistication, a sense of wisdom, and an aged feel, which is safe to feel in luxurious kitchens. This also allows you to luxuriate in the memories. Additionally, smoked glass, bar stools with seating covered in velvet and intriguing fabrics, and stylish brass lighting fixtures add extra luxury to the kitchen.
Apart from those, you can upgrade the knobs and choose ones that are oversized and sparkling, such as brass and antique brass hardware.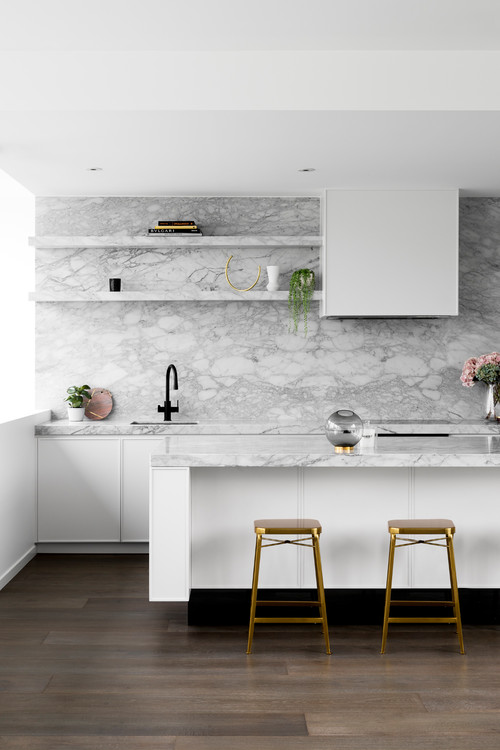 ID# 139913 | Houzz.com – Credit | © GIA Bathrooms & Kitchens
---
Gray Marble Full-Height Backsplash and Countertops with White Cabinets
If you are going with a marble backsplash and have the budget for it, you can take it up to the ceiling to create a true focal point as this contemporary kitchen does. Here, the gray marble backsplash brings an upscale feel with marble-carved floating shelves. The book-matched countertop installations also increase the impact of the marble that is surely the protagonist of this kitchen. Right across is the kitchen island elevated on a black platform, thus giving the illusion of a buoyant feature. The brass-black delicate stools give the kitchen an ethereal vibe that contrasts the longevity of the marble splash-back, while the kitchen plants inject subtle shades of color here and there.
Backsplash Materials for Luxury Kitchen Designs
Backsplash materials for luxury kitchen designs include natural stone, glass, terrazzo, metal, and ceramic tile backsplashes. Additionally, if the architecture of the kitchen allows, you can use window backsplashes for extra brightness and spaciousness. Plus, this way, you can blur the distinction between interior and exterior spaces and open your kitchen outwards.
Luxury Kitchen Marble Backsplash
The marble backsplash is one of the most popular high-end materials, quarried in different parts of the world. And each region has its unique marble distinguished by the color and pattern variations. Here are some of the most luxurious marble types:
Calacatta Gold: It is one of the most expensive marble types, featuring a white base with dramatic golden and dark brownish veins. The book-matched installations particularly work well with the Calacatta Gold.
Carrara Marble: It has a white base with less pronounced, feathery, and soft veins in subtle shades of gray and blue. It is as sophisticated as the other marble types yet more eligible to adjust itself to the surrounding design.
Calacatta Vagli: Calacatta Vagli is quarried in Italy and worldly recognized as a highly-valued marble. This stunning stone features a milky white base with grey and gold veins and occasional ribbons of green. It is available in honed and polished finishes. It has two different types, including Standard and Gold.
Arabescato Marble Slab: Considered an Italian masterpiece, Arabescato marble has a white vase colonized by bold and elegant veins. It also feels classic yet modern, making great worktops and backsplashes for kitchens.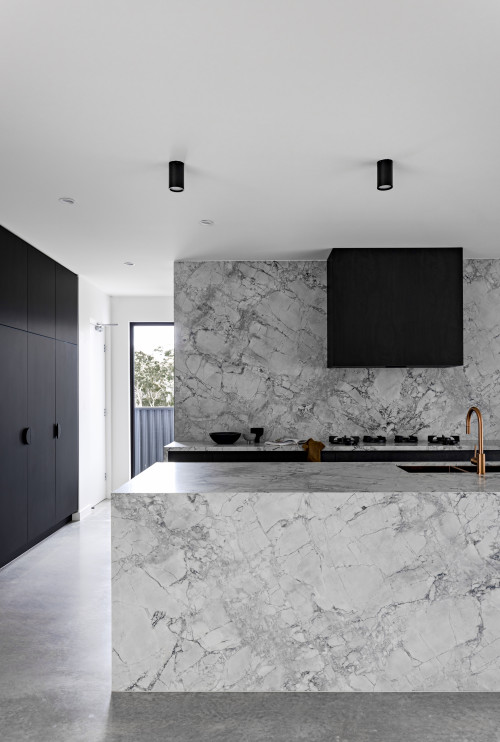 ID# 139914 | Houzz.com – Credit | © Dion Group Projects
---
Luxury Kitchen Marble Backsplash with Marble Island and Black Cabinets
Marble is a luxurious material rich in crystals that give the kitchen an effortless upscale feel, and this contemporary kitchen is no exception. It is outfitted with a marble slab backsplash and an island carved out of marble that oozes opulence. The black flat-front cabinets bring solidity, hiding the range hood to preserve the uniform look. Even the sink is integrated into the island to maintain the sleek profile of the kitchen. And to keep the main focus on this part and leave more space for the backsplash, the walls are kept free of upper cabinetry. And what compensates for it is the full-height black cabinets aligned on the adjacent wall, while the gray concrete floor suits the overall feel of the kitchen. It not only provides a sleek and seamless look but also creates a direct reference to the outdoors.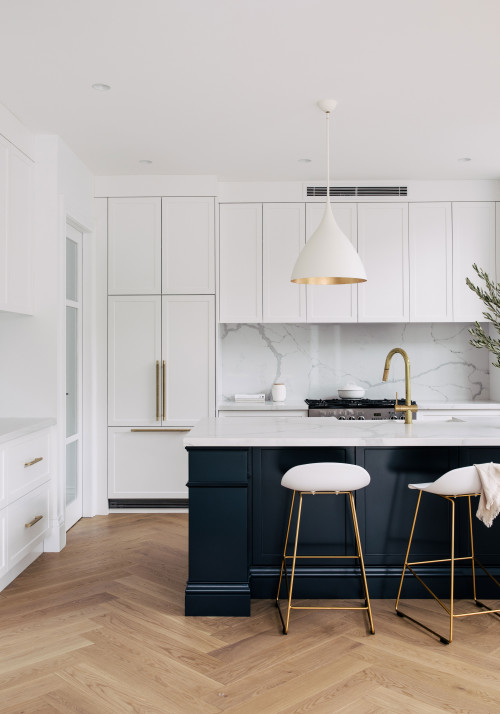 ID# 139915 | Houzz.com – Credit | © BCD Building Pty Ltd
---
White Cabinets And Blue Island with Luxury Kitchen Backsplash
Slab backsplashes have a way of their own to articulate luxury. Here, for example, the white slab backsplash with dramatic veins instills a sense of calmness and soothing aesthetics, framed by white cabinets. The brass hardware, on the other hand, gives the kitchen a healthier look, injecting warmth, along with chevron hardwood flooring. And the dark blue statement island exudes elegance, introducing a color rich in pigments, paired with ultra-modern stools with brass legs. Overall, this contemporary seaside-inspired kitchen employs statement finishes and gold accents that speak volumes of luxury.
What do luxury kitchens have?
In luxury kitchens, color palettes are well-considered and meticulously curated. And the most popular color schemes include monochromatic ones and well-balanced color palettes consisting of dark and white shades. Dark browns and dark blues, for example, are paired with crisp white backsplashes and countertops for a sense of balance. Likewise, warm shades such as wood and cream also couple well with white countertops and backsplashes for a statement look. However, if you love bold colors, you can also mix various shades and support them with sumptuous materials.
Islands
Another thing that luxury kitchens have is islands that are particularly used in contemporary kitchens with cantilevered forms. Additionally, the oversized galley-style islands with multi-functional assets make great additions. You can also incorporate a waterfall edge that is made of a high-end material such as natural and engineered stones for a luxurious feel.
Lighting Fixtures
Thirdly, lighting fixtures are significant to introduce opulence, setting the tone of the design, and dictating where you should focus on. That's why the top shelves and glass-front cabinets generally feature spotlights and LED-strip lighting to provide accent lighting. This way, you draw your upward, emphasizing the grandeur of the space. Likewise, if your backsplash is made of an upscale material, you can use LED-strip lighting to emphasize it and provide task lighting. Additionally, you can get dimmable overhead pendant lighting over the breakfast island to create a cozy ambiance for the dining space.
Backsplashes
As for the backsplashes, mirror backsplashes, available in various styles (tiled, antique, etc.) could be aligned with other high-end backsplash materials. They not only expand the kitchen visually but also brighten up the interior space, thus enhancing the luxury vibe of the kitchens.
A well-designed home bar could also serve a kitchen well, adding a luxurious feel and richness. Lastly, when it comes to the flooring, dark wood, concrete, terrazzo, and checkerboard flooring along with stone-finish floor options elevate the overall feel of the kitchens.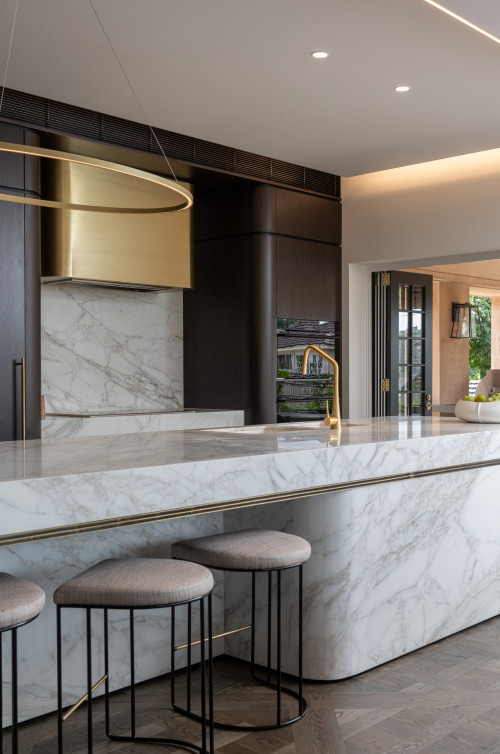 ID# 139916 | Houzz.com – Credit | © Avant Stone
---
Calacatta Vagli Backsplash and Island with Dark Brown Cabinets
Dark brown cabinets couldn't have looked more sophisticated! This modern kitchen ties them together with brass hardware and Calacatta Vagli backsplash that introduces patterns oozing in different directions, each inch of the stone unique to itself. This marble is not only used as a backsplash but also to clad the countertops and the island from top-to-toe. As such, it is almost impossible to keep our focus somewhere else. It is paired with an oversized ring-shaped golden lighting fixture, a brass tap, and ivory-cushioned backless stools for extra interest and luxury. Yet, the real luxury lies in the curved corners of marble and dark brown cabinets that introduce soft aesthetics and undulating and fluid forms, which are proven to improve human psychology and offer extra comfort for the eyes.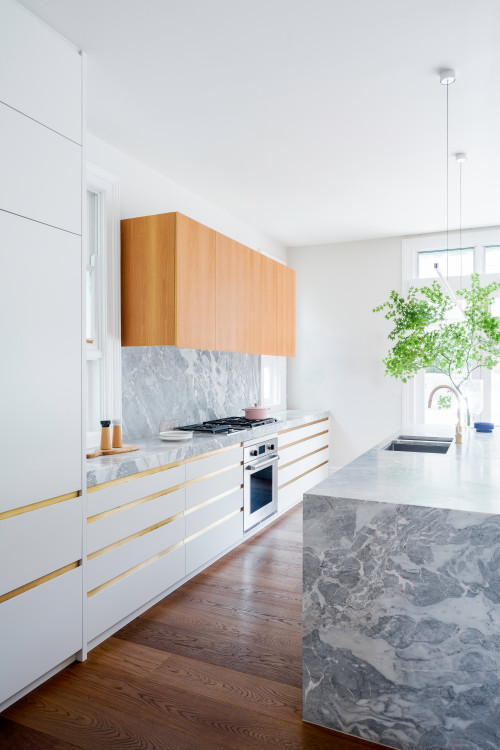 ID# 139918 | Houzz.com – Credit | © Nathan Gornall Design
---
Two-Tone Cabinetry with Marble Backsplash and Island
In luxurious kitchens like this one, color palettes play a key role. You can either go with different shades of the same color to create a sophisticated outfit or make a mélange of various textures that lend elegance. This contemporary kitchen prefers the latter, using two-tone cabinetry: wood and white. And adding to that is also the island made of gray marble that is put into dialogue with the book-matching marble backsplash and countertops. To spice up this natural look and combination of wood and marble, the inlay of brass in the drawer pulls off the white custom joinery are used, adding sparkle for the sake of a healthier look. These brass inlays are also coordinated with brass fixtures to tie the perimeter counters with the island.
What is a luxurious kitchen?
Even though the definition of luxury varies from person to person, a luxurious kitchen refers to the designs consisting of statement-finish backsplashes, high-end materials, great layout configuration, a well-planned lighting system, and upscale appliances. Thus, they generally feature a genteel atmosphere that speaks volumes with high functional and aesthetic values.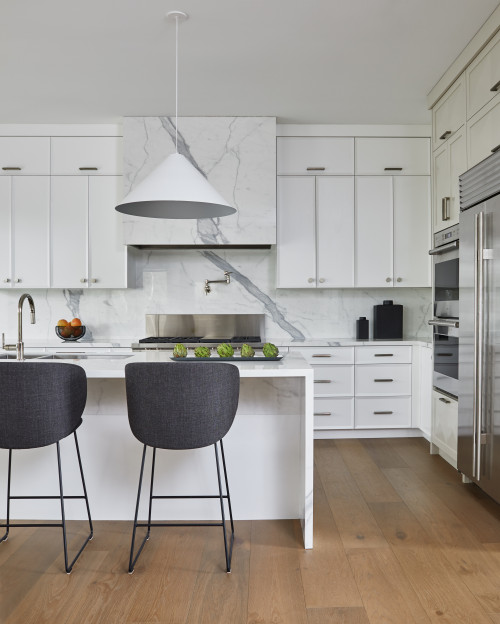 ID# 139919 | Houzz.com – Credit | © Madison Taylor
---
Contemporary Kitchen with White Cabinets and Waterfall Island
Here we have another luxurious design that uses marble as the protagonist! The white marble backsplash not only clads the countertops but also the range hood in this contemporary kitchen to preserve the clutter-free character. The white cabinets and waterfall kitchen island with chrome hardware complement the overall look, while the wooden floor finish casts a sense of doubt to the otherwise too-neutral color scheme. Lastly, the stainless-steel appliances create a chef's kitchen of sorts, bringing unparalleled durability and longevity.
Luxury Kitchen Glass Backsplash
One of the most expensive backsplash materials is without a doubt glass. Available in sheets and tiles, glass backsplashes are the recently popular additions favored especially by the contemporary designs for their sleek and clean look. They make the kitchen feel larger and brighter. And if you want to make a true statement, you can consider glass kit kat mosaic tile backsplashes that exude elegance and sophistication.
As for the glass sheets, they can be painted in the color of your choice. As such, they are highly customizable, offering great alternatives to natural stone and ceramic tile backsplashes (even though they are pricier). You can pair them with luxurious glass pendants with brass accents, glass floating shelves, and even wooden accents to create soft contrasts that will enrich the overall look of the kitchen.
In functional terms, again, glass provides an easy-to-clean surface and heat resistance, which makes it a user-friendly material. Plus, it can be repurposed, thus an eco-conscious material. So, if you would like to go green in your kitchen, you can confidently use a glass backsplash. Or better, if you wish, wood and marble-look recycled glass backsplashes are also available.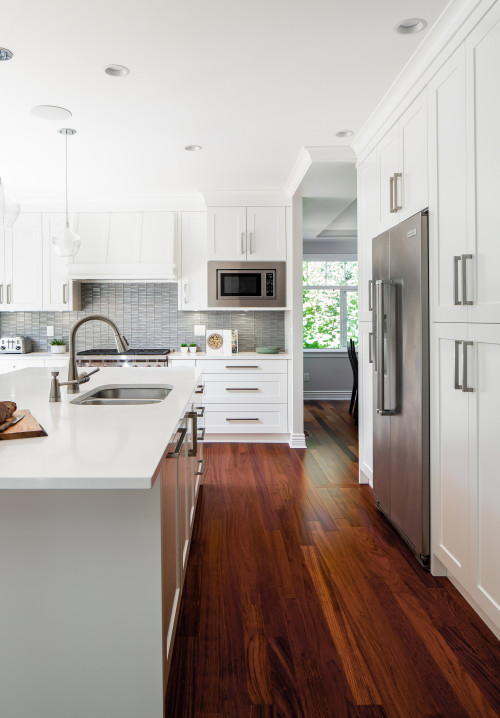 ID# 139920 | Houzz.com – Credit | © My House Design/Build/Team
---
Glass Kit Kat Backsplash with White Cabinets and Chrome Hardware
Glass is another luxurious backsplash material just like natural stones, offering heat resistance, an easy-to-clean surface, and a beautiful sheen. Here, the glass kit kat mosaic tile backsplash stacked horizontally provides a texture-rich and sophisticated background. It is complemented by white shaker cabinets and an all-white galley-style island unit that create a blank canvas for the glass backsplash to shine. And the medium-tone wooden floor brings warmth to offset the white-and-gray color scheme.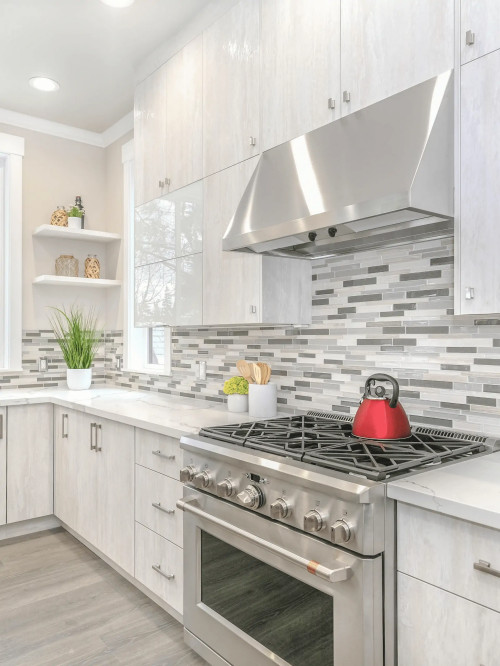 ID# 139921 | Houzz.com – Credit | © BlueKey Design + Build
---
Slender Tile Backsplash with White Cabinets and Stainless-Steel Appliances
The glass slender tile backsplashes are associated with luxury, and here they are used in a neutral color palette. The white cabinets and modern chrome hardware along with stainless steel appliances enrich the modern look. Small shelves add an extra dimension to the walls; kitchen plants add a ripple of green and a breath of fresh air. The built-in spotlights ensure the lights diffused throughout the space evenly.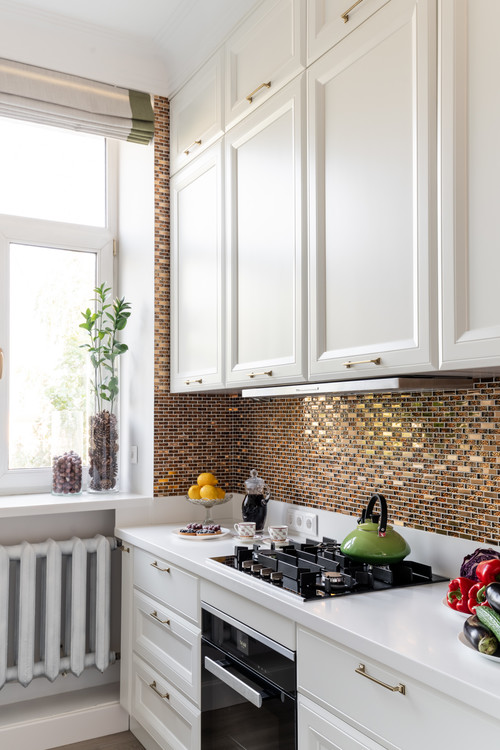 ID# 139923 | Houzz.com – Credit | © Наталья Широкорад
---
Transitional Kitchen with White Cabinets and Luxury Kitchen Backsplash
This luxurious kitchen screams opulence with its copper and glass mixed backsplash. The use of two different forms achieves a layered material complexity that defies the conventional backsplash tile narrative. To complement it, the white shaker cabinetry provides the best setup with clean lines and a neat look for this stunning glamorous backsplash to steal the show. It is only the brass hardware punctuating the white joinery to bind the backsplash to the rest of the space for a sense of coherence, while the black stove and appliances bring contrast to the mostly white-brass color scheme. If you would like to achieve a sleeker look, you can use a low-profile stove that almost melts into the countertops for a unified look.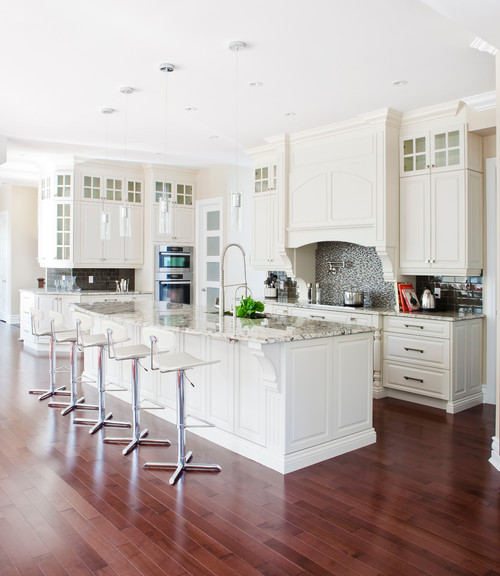 ID# 139924 | Houzz.com – Credit | © Rebecca Mitchell Interiors
---
Mosaic Tile Backsplash And White Cabinets with Granite Countertops
You can luxuriate in this comforting kitchen thanks to its impeccable style, while the statement finishes introduce patterns and textures that can take its users on a visual journey. To start with, the alternating shades of white, gray, and black on the glass mosaic tile backsplash spell luxury and contribute big to the upscale character of the kitchen. Granite countertops used to clad the island and perimeter countertops give this transitional kitchen a classic spin. The white cabinets reaching up to the ceiling draw attention to the vastness of the space, while the top glass-front cabinets evoke more interest and draw eyes upward. The diagonal turns of the cabinets, corbels of the range hood, and galley-style kitchen island are among the stand-out features that make this kitchen design functional and suitable for large families with children and pets.
Luxury Kitchen Ceramic Tile Backsplash
For those with a low budget, ceramic tile backsplashes can serve as luxury splash-backs as well. You can especially get them in alternating shades of white and gray to create more depth and dimension in the background. Likewise, white square subway tiles and handmade ceramic subway tiles stacked vertically can give the kitchen a modern spin and stylize the walls effortlessly. If you wish, you can use a gloss finish backsplash to bring extra luxe into the space.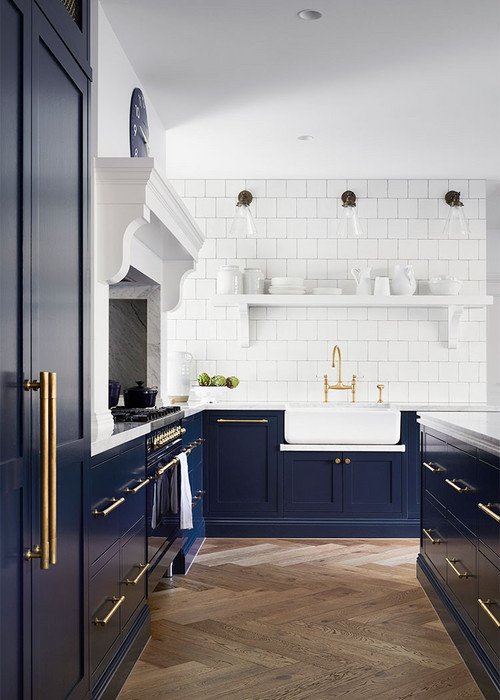 ID# 139925 | Houzz.com – Credit | © The English Tapware Company
---
Traditional Kitchen with Blue Cabinets and Butler Sink
This stunning traditional kitchen is designed as a family kitchen to offer a functional and luxurious dining and cooking space. That's why the color palette is chosen accordingly, and the kitchen is outfitted with dark blue cabinets punctuated by brass hardware. To accompany them, white quartz countertops and the ceiling-height ceramic square subway tile backsplash are used, opening up the kitchen and creating a more welcoming atmosphere that is light and airy. In the background, the white floating shelf supported by corbels and the fireclay butler sink tap into the spirit of traditional kitchens, while the same corbels also decorate the range hood for visual integrity. Glass wall sconces add little silhouettes to the wall, while herringbone hardwood flooring casts a sense of doubt.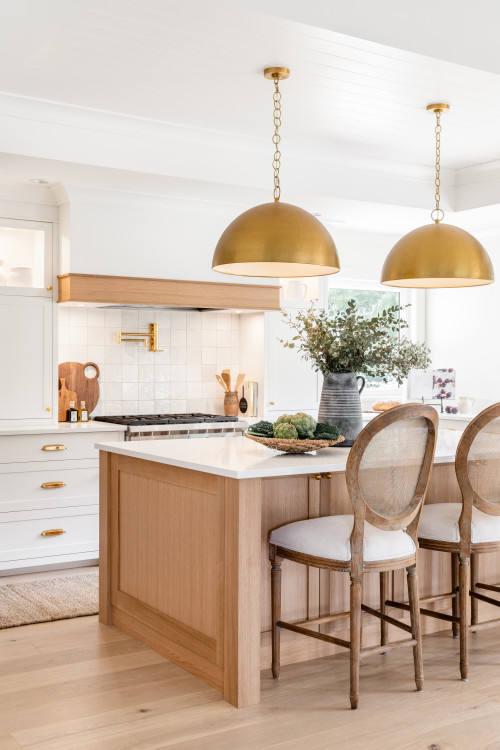 ID# 139926 | Houzz.com – Credit | © Jenny Martin Design
---
Luxurious Kitchen Backsplash with Ceramic Tiles for White Cabinets
If you can't give up on natural looks but also want your kitchen to look luxurious, this modern kitchen shows how to create one. It starts by combining white shaker cabinets with brass hardware to generate a sense of movement throughout. The white square subway tile backsplash defines the stove zone, peeking out behind the wood trim of the range hood. Right across what captures our attention are the kitchen island with a wooden base and white countertops. The semi-circular brass pendants hanging above the island unit create a focal point effortlessly. The statement stools with a wooden skeleton add more organic forms and textures, while the overall feel feels modern, approachable, and something real with a genuine atmosphere.
Modern Luxury Kitchen Backsplash
Square subway, quartzite, quartz, glass sheet, and kit kat mosaic tile backsplashes are some of the most popular backsplash material types used in modern kitchens. Each one has a distinct vibe, integrating something unique into the kitchen and modernizing the interiors at the same time.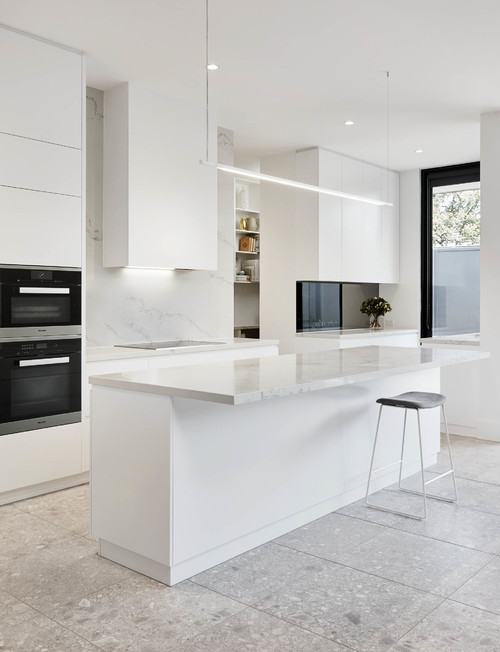 ID# 139927 | Houzz.com – Credit | © LSA Architects
---
Modern Luxury Kitchen Backsplash with Monochromatic Palette
This all-white modern kitchen gives its users a different time set where the passage of time slows down thanks to the monochromatic color palette. Plus, this all-white look creates the illusion of an alleviated visual scheme that is emphasized with spotlights and a linear contemporary lighting fixture. Adding to that are the white flat-front cabinets paired with white marble backsplash and book-matched countertops that deliver soothing aesthetics. Though, in the other sections of the kitchen, the marble backsplash is replaced by a mirrored glass sheet that adds extra luxury to the background. And the black built-in appliances just blend with the surrounding, while the range hood is kept out of view for a clutter-free look. Lastly, the grayish-white terrazzo tiles in large formats clad the floor to ooze opulence and provide functional and aesthetic floor coverage for homeowners.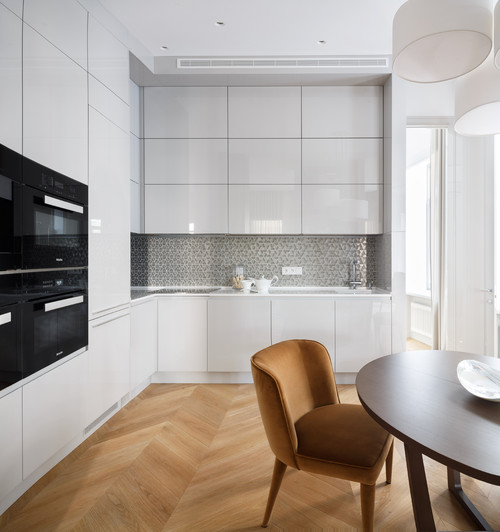 ID# 139928 | Houzz.com – Credit | © TS Design | Тарас Безруков и Стас Самкович
---
L-Shaped Kitchen with White Cabinets and Patterned Backsplash
This contemporary kitchen belongs to a Moscow apartment that is finished in sleek and decluttered lines softened by chevron wood flooring. The plain geometric forms of the cabinets aligned in rows come with a nice sheen with them thanks to their gloss finish. And their L-shaped configuration allows for optimized storage and acts as a singular body. Between these basic forms what stands out is the gray patterned backsplash that jazzes up the background while staying loyal to the overall color scheme. The black appliances, on the other hand, offer a striking contrast, demanding attention, while the dining table and the dining chair come in earthy shades to offset the white-gray-and-black combination with a sense of warmth.
White Luxury Kitchen Backsplash
Luxury kitchens love monochromatic and all-white looks that feel airy and light. And to honor this achromatic color scheme, the best way is to incorporate a white luxury kitchen backsplash. To do that, you can utilize white marble, quartz, glass sheet, and porcelain tiles that could create opulent backsplashes and will upgrade the overall feel of the kitchen immediately.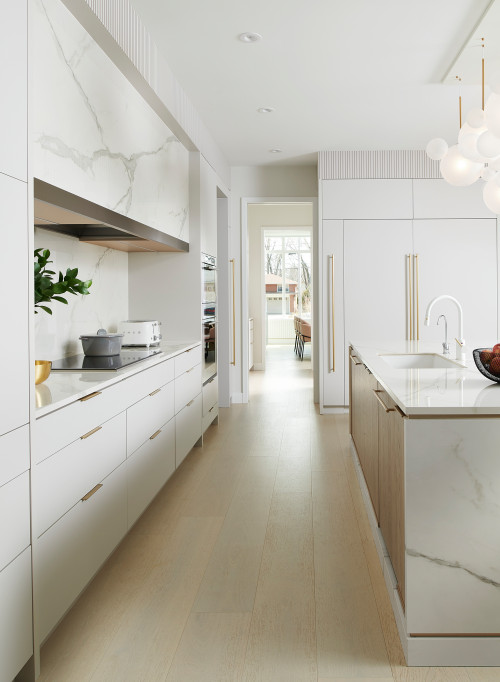 ID# 139929 | Houzz.com – Credit | © avenue design inc
---
Achromatic Contemporary Kitchen with White Luxury Kitchen Backsplash
This visually soothing and achromatic contemporary kitchen in Toronto consists of white cabinets, a white marble slab backsplash, and lip-pull notches that are barely there, offering a sleek profile. The marble is used in abundance, sheathing the range hood dressing as well for the sake of a uniform look. The gloss finish on the cabinetry and countertops ensures ease of maintenance, providing easy-to-clean surfaces that feel smooth and genteel. The white glass globular pendants forming a cluster accentuate the island, tinged with brass detailing for extra interest. To finalize the overall look, the light wooden floor brings a gentle touch, pulling the entire space together.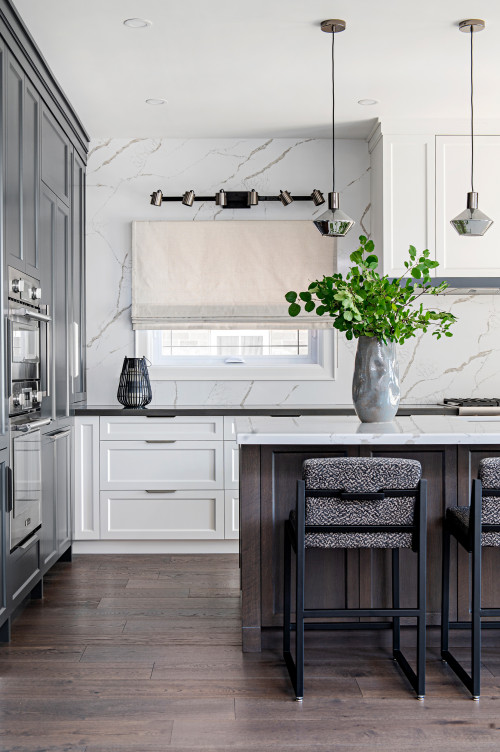 ID# 139930 | Houzz.com – Credit | © Pizzale Design Inc.
---
Transitional Kitchen with Ceiling-Height Backsplash And Gray Countertops
What grabs our attention first in this transitional kitchen is the visual drama constituted by the white-and-dark-gray union. If you are not fond of pitch-black color schemes, you can replace them with dark gray palettes that offer more breathable space as this kitchen does. Here, for instance, the dark gray full-height cabinetry converses with the dark gray quartz countertops, while the white marble luxury backsplash traverses the entire wall. In the center is the kitchen island with a dark wooden base oozing a sense of drama. The dark wood planks with gray undertones cohere with the rest of the design features. But above all, what modernizes this kitchen at most are the lighting fixtures: the black tracking spotlights and 3-dimensional geometric pendants hanging above the island.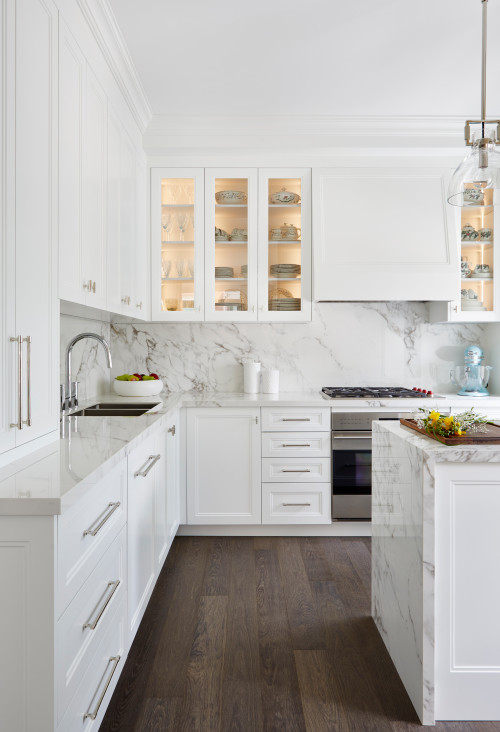 ID# 139931 | Houzz.com – Credit | © Condovate Interiors Inc.
---
White Luxury Kitchen Backsplash Ideas with Marble and White Cabinets
Here we have another monochromatic kitchen that features white shaker cabinets and a white marble slab backsplash. Used as a backsplash and countertops, marble also creates a waterfall edge for the white kitchen island. To preserve the sleek and modern look, the appliances are kept modern, and the range hood is hidden from view. Apart from those, the interior cabinet lighting provides accent lighting and emphasizes the exhibited glassware and essentials of the homeowners.