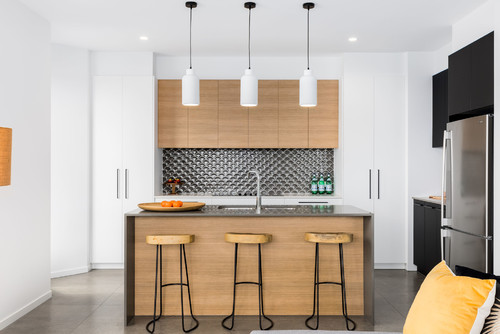 ID# 135101 | Houzz.com – Credit | © Blue Ribbon Homes
---
Dark 3d Backsplash in Minimal Modern Kitchen
In this kitchen, where 3 different cabinet colors are applied and yet its simplicity does not deteriorate, it consists of black, white, medium wood, flat cabinets. Large pieces of dark gray ceramics were applied to the floor, and all the walls were made white. In this way, it shows itself very well in kitchen cabinets. The island countertop is gray, the other countertops are white. The sink is designed on the island and under the counter is used. The modern line with metal legs and wooden stools around the island continued to be preserved. In this kitchen, which has a very calm atmosphere despite the use of different colors, the applied 3d black backsplash has managed to attract all the attention.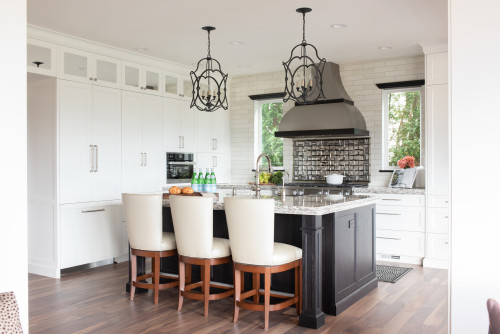 ID# 135130 | Houzz.com – Credit | © Six Walls Inc
---
Eye-catching Glass Backsplash with Transitional Kitchen Design
In this spacious kitchen, which consists of two different color cabinets, the harmony of black and white is perfectly applied. By using recessed-panel cabinets, the island cabinets are black and the other cabinets are white. A luxurious air effect is created in the space by using white and intense black veined marble countertops. While the Farmhouse sink and panel appliances are used, metal is preferred for the sink mixer and cabinet handles, and harmony is achieved. While the environment has a traditional elegance by using a white subway brick backsplash from the wall to the ceiling where the hood is located, the gray tone 3d glass backsplash applied behind the stove has created a stylish and distinctive kitchen by attracting all the attention.
3D Backsplash
3D Backsplash plays a remarkable role in the areas where it is used. It creates an artistic effect and directly affects the spirit of the place. Good results are obtained with light movements from different angles due to its mobile structure. It not only adds pattern and color to the area where it is applied but also adds texture. So, if you want to try something different for your kitchen walls, check these unique 3d backsplash ideas to get inspiration!
It is available in many different shapes from various materials such as metal, marble, glass, mirror, and tiles. Each type of material leaves a different effect. For example, if an assertive stance is desired, bright colors and original textures can be used, or modern and unusual spaces can be created by combining plain and 3d backsplashes. An intriguing space can be created by using different arrays on a plain, straight wall. These unusual design elements take their place correctly in well-thought-out spaces.
3D Tile Backsplash Types and Colors
3d Backsplashes are products used by many designers. They look very impressive in the areas where they are applied. It has a variety of options, from modern to rustic. Backsplashes such as subway and hexagon are some of the most popular types. For example, 3D ceramic in a herringbone pattern is also a beautiful tile and can add dimension and depth to any kitchen. Different effects are created with various color options. 3D backsplashes are a must-have for an eye-catching and extraordinary space.
3D White Tile Backsplash
A timeless color, white leaves an indispensable effect in all kitchen types and all backsplash models. It provides a clean, spacious look. The 3D Backsplash leaves a cool effect, which also manifests itself in white. It looks quite remarkable in the areas applied by adding movement to the simplicity of white. It is one of the ceramic types that many designers use easily.
3D Subway Tile Backsplash
Subway tile is an example of a versatile backsplash. It can be used in many different styles of kitchens such as modern, traditional, and contemporary. There are patterns such as Running bond, Stacked, Herringbone, Chevron, Basket Weave, Diagonal. A subway tile backsplash is a timeless classic. It is always preferred, easy to apply and its stance creates a magnificent effect.
How do you install a 3D backsplash?
To install a 3D backsplash, you first need a sander, sponge, painter's tape, fine-tuning grout, notched trowel, tape measure, wet saw, grout float, grout sealer, and caulk gun. Then you need to clean and sand the application area to create a smooth surface. Then, the boundaries of the area to be made are determined with the separator tape.
Before you start building, place tiles to be made elsewhere and create the layout to be applied. In this way, you can determine which parts need to be cut. When cutting tiles, if you are using ceramic or porcelain tile, a simple tile cutter will do the job. However, if you are using natural stone tiles such as marble, a wet saw with a diamond blade can be used to prevent cracking.
You can lay the tiles on the mortar by spreading the adhesive mortar in small sections with a notched trowel. If it is a product that needs to be made using grouting, place spacers between the tiles to fix it (this is not necessary if you are using tiles with small tile mesh.) and follow these steps until you have covered all surfaces and wait until it dries and the tiles adhere. Next, remove the spacers, if you are using a sealant, you can do this after the tiles are completely dry. Apply the joint mortar you have prepared with a trowel and wait for it to dry. After the mortar dries, you can clean the tile surfaces with a damp cloth.
3D Hexagon Tile Backsplash
Hexagonal backsplashes, one of the basic elements of modern design, reflect a retro style while at the same time, they are a dynamic and fun design product. This honeycomb tile design is in harmony with all tastes and wins the hearts of everyone.
It is one of the varieties that creates a different effect in 3d Hexagonal tiles. These backsplashes, which reflect great effects in almost every place and every look, are the number one part of the ambitious designs that designers apply in many places.
3D Tile Materials
3d wall tiles are available in many designs and finish thus adding a very unique touch to the area they are applied to. They can be used in the kitchen, living room, bedroom, and even the bath or shower. These tiles, whose moving textures create a unique effect in the environment, are among the very popular products of recent times. It consists of many different types such as marble, mirror, wallpaper, ceramic, stainless steel, and glass. All of them have different appearances and effects.
3D Marble Backsplash
Marble is a very useful and high-quality material that can appeal to every homeowner. Also, marble gives a sense of luxury to the applied area. It is a type of backsplash that can be used easily anywhere on flooring, walls, countertops, and has many types. Yes, it is more expensive than other materials such as ceramic or porcelain but this investment will never fail you down!
It looks very cool and is high quality in the places used in the 3d marble backsplash. Composed of various sizes and patterns, this backsplash has various costs according to its sizes and models.
3D Stainless Steel Backsplash
3d stainless steel backsplash is one of the best options for users who want different effects out of the ordinary. This backsplash, which adds an industrial atmosphere, is the product that is preferred in modern kitchens, reflecting its quality and a certain style. Since it is very easy to clean, it can be preferred in terms of use and visual. Thanks to its reflective glossy surface, it adds shine and sparkle to spaces.
3D Mirror Backsplash
Among the backsplash types, the 3d mirror backsplash is one of the most original products. It creates a spacious atmosphere by adding a great depth to the places where it is applied. Thanks to its moving texture, it can produce beautiful results by making reflections with lights coming from different angles. These backsplashes, which are available in various colors, sizes, and shapes, can be easily applied to any design. The fact that it can be prepared as desired according to the cabinet colors and the general space also increases the rate of preference. It is very easy and comfortable to clean.
Of course, the way it is used is very important. The right design makes these backsplashes useful, successful, and stylish.
3D Glass Backsplash
3d glass backsplash is very durable and easy to use, just like ceramic tiles. There are no problems such as mold and stains. Glass tiles are very useful in rooms where there is not much lighting, thanks to their reflective properties. Because glass backsplashes can look brighter and larger by taking advantage of the natural light entering the room. This is an issue that many designers evaluate, and the fact that they also have a wide range of colors and combinations makes them among the popular products.
Are 3D tiles so trendy?
3D tiles are getting popular day by day. They are among the preferences of designers as they can be easily harmonized with different styles with their different varieties. There are many types of materials such as marble, glass, ceramic, as well as color and pattern varieties. In this way, it can be used in many areas. 3d tiles can also be used as a very stylish painting on the walls of hotels, business centers, and large houses. It started to be known more and more by everyone day by day and it started to be seen more often.
3D Ceramic Backsplash
Ceramic is the most used type of material in backsplashes. It puts its signature on design kitchens with its options in many different shapes, sizes, and colors. It is preferred because the way of application and use is very easy and comfortable.
There are quite a lot of models in 3d and are used by many designers. It can be used not only between the counter, but also in many various areas, and even on a large wall such as a painting, in many areas such as homes, hotels, and business centers.
3D Wallpaper Backsplash
3d wallpaper backsplash is the most practical backsplash product. These products, which are available in many varieties, can be applied by cutting in desired dimensions. Since it is water-resistant, it can be easily used, wiped, and cleaned. With its quality surfaces, it gives the feeling that it can be a material such as ceramic, marble, and stone until it is touched by people. On the other hand, it can be used easily in many places with its unlimited options and has recently started to be preferred more by everyone.
How do I give a 3D effect to my backsplash?
Backsplashes have many types of 3d tiles. You can find these tiles from your local home improvement store or check our website to find different options. On the other hand, you can also give a 3D effect with wallpapers. In today's market, there is an endless variety of wallpaper options that you can use as a backsplash. But, if you are going with wallpaper, you need to consider its features of it. Because, if you want to use wallpaper as a backsplash, it needs to be waterproof.