32+ Blue Kitchen Cabinets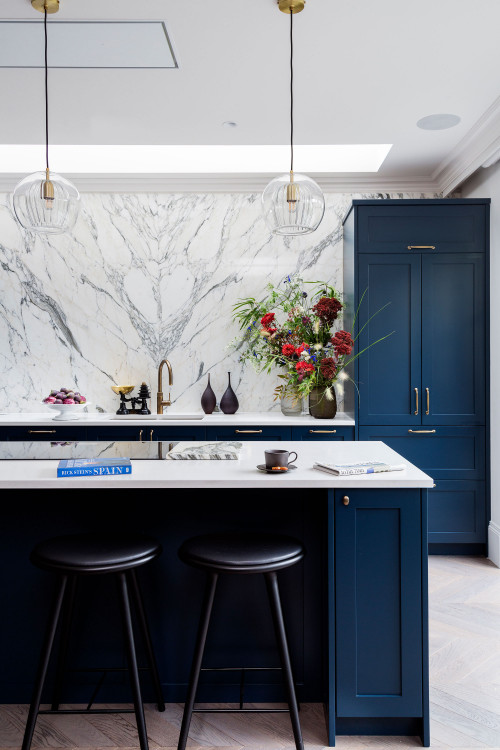 ID# 142610 | Houzz.com – Credit | © Zulufish
---
Kitchen Design with a Stylish Look With Blue Cabinets
Blue kitchen cabinets add freshness and energy to kitchens. The resulting images make the spaces more livable. This kitchen, combined with white marble countertops and a white all-marble backsplash, gives a cozy and stylish atmosphere. The gold details on the handles of the blue kitchen cabinets appear in most corners of the kitchen as lighting and faucets. These little details make the kitchen feel more stylish and complete. The herringbone flooring on the floor also adds a warm wood texture to the kitchen and its harmony with blue is visually satisfying. While the simple solutions applied on the ceiling highlight the kitchen and the blue cabinets, they offer a bright space and life.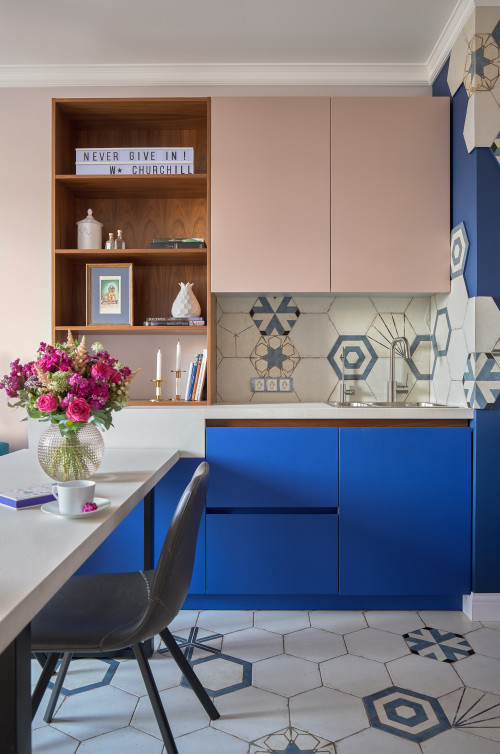 ID# 142627 | Houzz.com – Credit | © VerbaHome
---
Small Modern Kitchen Design with Two Tone Blue Kitchen Cabinets
It is formed by the sweet combination of pink upper cabinets and blue lower cabinets in a fun, lively mini-modern kitchen design. A flat cabinet style is used. The same hexagonal tiles are used on the floor and between the countertop, and the fact that they are scattered between the countertop like a puzzle piece adds an interesting visuality. Between these white tiles, the blue motifs blend beautifully with the blue cabinets. These cabinets, which attract attention with their assertive tone, create also a pleasant appearance by being balanced with the pink cabinet and white countertop.
Blue Kitchen Cabinets
Blue color triggers feelings of relaxation, peace, quiet, grandeur, and spaciousness. When applied in a space, it creates the same feelings of peace, emptiness, and luxury. It is also a well-known stress reliever, helping to slow your heart rate and lower your blood pressure. Blue is a color that brings personality and life to a space. It adds vitality and energy. It manages to attract the attention of even color minimalists and creates a different ambiance for areas that feel dull. A wide range of different tone options is available. The most suitable blue tone can be applied if you want to create what style and what kind of feeling you want. So, if you want to incorporate this beautiful shade into your kitchen, blue kitchen cabinets will be a great option!
Blue kitchen cabinets make the kitchen look bigger, look cooler, and feel more comfortable. For example; You can create bold styles by using navy blue tones while relaxing fresh designs can be created in light blue tones. Together with the backsplash and countertops suitable for the chosen tone, very successful and different designs are created with the serene feeling of blue. In this article, we gather plenty of different blue kitchen cabinet ideas that will inspire you and help you to create your dream kitchen with the character of blue.
Best Blue Shades for Kitchen Cabinets
Kitchen cabinets in blue tones are one of the trends of recent times. It creates magnificent designs with its energizing and dynamic effect. Designs in various tones such as navy blue, light blue, and dark blue can be applied. While dark colors offer a cooler and more stylish look, they leave a fresh effect when you go to light colors. In addition, successful designs are created with blue-white cabinets or a combination of two different tones of blue. A tone of blue that you use bravely will never let you down.
Navy Blue Kitchen Cabinets
Navy blue is among the most popular color options in modern kitchen designs. It is very important to achieve balance with bold colors. This classic and smart shade of blue creates a lively and sophisticated look. The colors used completely change the atmosphere of a space. Used wisely, the darker shades of blue give the space sophistication and drama. Especially when combined with assertive metallic hardware and well-positioned lighting, excellent results can be achieved.
Light Blue Kitchen Cabinets
Light shades of blue create a lively, clean look. It is the perfect choice for kitchen cabinets. It blends well with all types of cabinets. Pale blue paint colors are very popular today. Light blue kitchens create a relaxing design. For example, when paired with light tones such as white countertops and backsplash, the space feels more spacious and bright. The small details to be used, together with the luminaires, can easily take on the desired air. It is an ideal blue tone for all stylish, fresh and natural concepts.
What color goes with blue cabinets?
Blue cabinets go well with white and gray colors. Nude colors can also create beautiful combinations with blue tones in the kitchen.
Dark Blue Kitchen Cabinets
Dark Blue kitchen cabinets are one of the sought-after colors of stylish designs. They are quite interesting with their cool stances. When they are used with metal and brass hardware, they create different designs. They have a lively, dynamic appearance. Dark blue, a bold color gives great results with good design details.
Blue and White Kitchen Cabinets
If you want to color your space at the same time without going too far from your comfort zone with white kitchen cabinets, which are always useful and stylish, blue is one of the most suitable colors. From deep navy to bright blues, there are shades of blue available to perfectly complement white cabinets.
It will not affect your design, it can be used with all different interior styles and you can be sure that you will enjoy using it for many years. Blue and white combination cabinets are a good pair that you will not regret.
How do paint kitchen cabinets blue?
Painting kitchen cabinets can save you the expense of a major remodeling project. Before you start painting kitchen cabinets, it is useful to prepare for work. If possible, take one of your cabinet doors off and consult a professional about which products will give the best results. You can start after you understand the materials and painting techniques you need and learn how to apply the shade of blue you want.
First, remove the adjustable shelves and you can paint them first so they're dry when you're ready to reinstall. You can hang them on the saw bench by hammering nails into the pre-drilled holes at the ends so you don't have to wait for one surface to dry before painting the other. You should make sure to remove the shelf supports before painting the inside of the cabinet.
Also, you can paint the cabinet doors on or off the cabinet, but removing them makes painting easier. Remove hardware from both cabinets and doors. After you paint them all piece by piece, you can let them dry.

Two-Tone Blue Kitchen Cabinets
With different hues, culinary perfection involves using different saturations of color to add contrast and movement. Combining colors is a great option for those who don't want a plain look. For example, a combination can be used by using a lighter tone in areas with less light and choosing a darker tone in other areas. A color transition can be made by using a dark tone for the lower cabinets and a lighter tone for the upper cabinets. By providing harmonious combinations according to the design and requests, the serene atmosphere of blue can be experienced. In addition, successful designs can be created by using different materials and different color tones together with blue cabinets. For example, a combination of blue cabinets and wooden cabinets, or blue cabinets and white, with different vibrant colors depending on the concept, can be created in completely different spaces.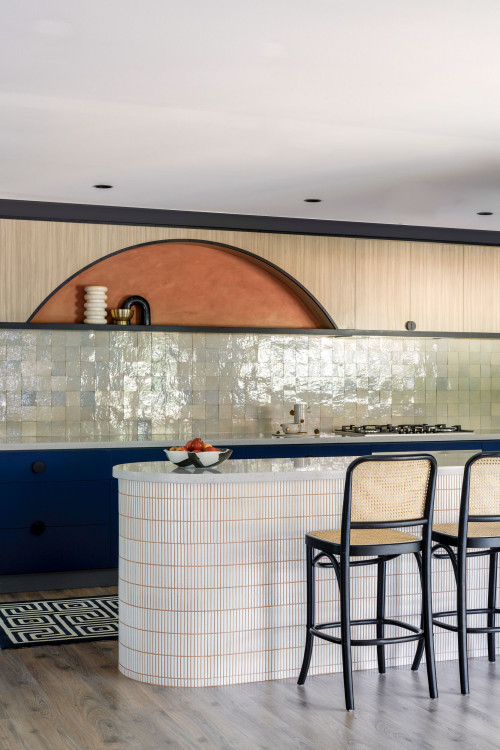 ID# 142628 | Houzz.com – Credit | © Kaiko Design Interiors
---
Bold Contemporary Kitchen Design Blended with Blue and its Tones
This kitchen with a contemporary design offers a reference to modern minus-style kitchens in its language. Although the materials and color choices used seem to be from another time, it finds itself in a more modern line in general. Combining blue cabinets with different colors and tones, the kitchen stands out with very bold choices. The highly reflective aged tiles used as white marble countertops and backsplash combine with the upper kitchen cabinets, moving away from the blue tone and making the space warmer. While the white ceramics used on the island wink across the kitchen with their orange joints, a wonderful combination emerges with different color tones.
Backsplash Colors for Blue Cabinets
Blue is a color that gives a feeling of serenity, and calmness and evokes the sea and the ocean. We can often see this color in areas such as bathrooms, laundries, bedrooms, and kitchen cabinets. Blue kitchen cabinets are one of the most popular design trends right now. You can create a sophisticated atmosphere with navy blue cabinets or create a romantic ambiance with light blue tones. Blue cabinet designs will never let you down. However, the kitchen backsplash is an important element that pulls the overall look together, and finding the right backsplash for blue cabinets is essential when creating your dream kitchen.
While a well-chosen backsplash works wonders, the wrong choice can overshadow all the beautiful cabinetry and other accessories, leaving a bad impression. For this reason, it is a subject that should be chosen carefully. When designing a kitchen, you need to consider different backsplash options to find one that fits your design.
When we think of blue cabinets, there are many different materials, colors, and style options, from classic white subway tiles to luxury marble. White, gray, and blue backsplashes are among the most preferred color options.
Blue Cabinets with White Backsplash
One of the most popular backsplash colors, white harmonizes perfectly with kitchens of all styles and colors. Whether it's classic white subway tile or white stone flooring, there are many varieties and sizes available. If you want to create a timeless appeal with blue cabinets, a white backsplash will be the right choice. It creates successful designs with its dark blue tones and contrast harmonies. Fresh designs are also created with light blue cabinets.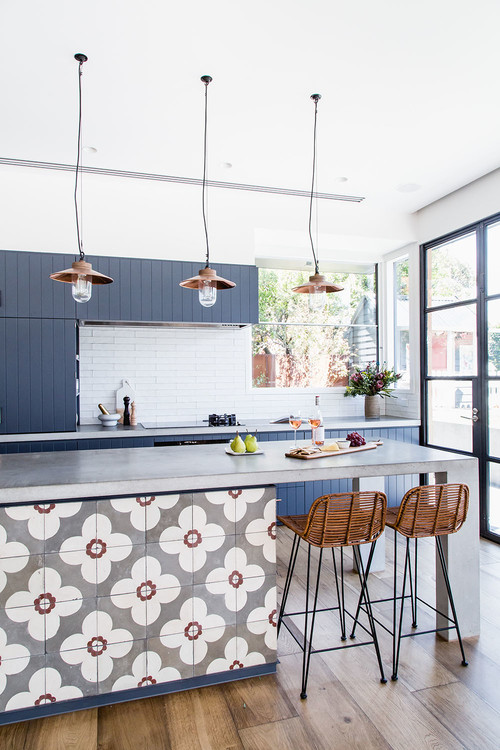 ID# 142629 | Houzz.com – Credit | © Suzi Appel Photography
---
White Backsplash Effect on Beach Style Kitchen With Blue Cabinets
The white backsplash combined with the blue cabinets gives the kitchen both a bright air and a beautiful appearance. White, which is one of the colors that blue fits best in, is a great color to create a spacious atmosphere in kitchens. While the resulting kitchen is made even more pleasant with the gray concrete countertop, the materials, and designs are used to emphasize the beach style. Additionally, this kitchen, where natural light is abundantly added to the space, looks attractive and full of life with its visual and inviting appearance.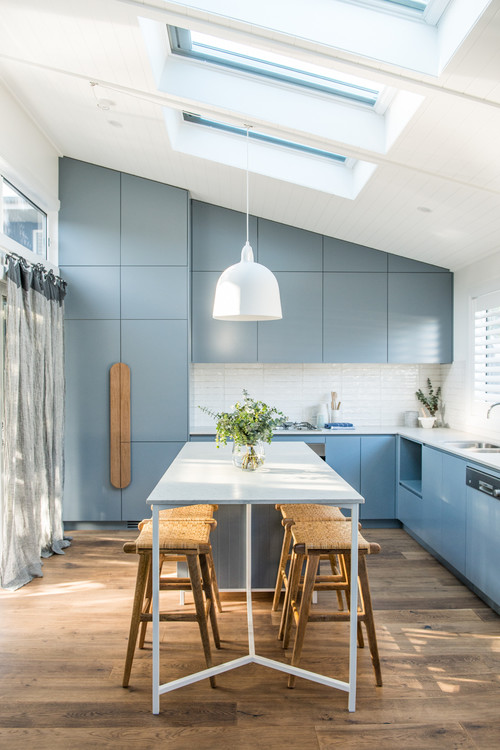 ID# 142630 | Houzz.com – Credit | © Wideline Windows & Doors
---
Kitchen Design Complete with Blue Cabinets and White Backsplash
This kitchen, which has plenty of storage space surrounded by cabinets with its wonderful blue tone, does not compromise on elegance while bringing us the sea breezes. The thoughtful material choices in the space, together with the visual pleasure created, radically affect the design and ensure that the kitchen has a complete appearance. While the white countertop and white ceramic backsplash make the blue cabinets stand out, they provide a bright environment and make it easier for us to perceive the space more deeply. The kitchen, which has a warmer atmosphere with the wood and wooden furniture on the floor, provides a unique feeling with its white backsplash and blue cabinets and creates also a lively space.
Are blue kitchen cabinets in style?
Recently, blue cabinets have been one of the hottest trends in kitchen cabinetry. You can see it in many creative kitchen designs. The color blue is so appealing that even the most astute color minimalists can see why it's a popular choice. It can help create quality looks by changing the mood in kitchens or areas that feel boring.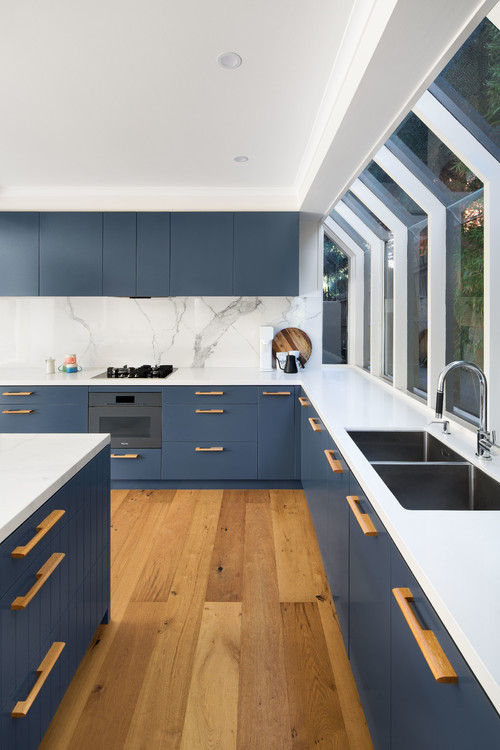 ID# 142631 | Houzz.com – Credit | © GIA Bathrooms & Kitchens
---
Contemporary Kitchen Design with Dark Blue Cabinets and White Marble Backsplash
This design, which is an example of the combination of dark kitchen cabinets with white backsplash and countertop, combines dark colors and white warmly and pleasantly. The design has plenty of storage space and great solutions in terms of use. The kitchen, which has plenty of space with large cabinets and an island, is a paradise for the user. While the kitchen, which receives plenty of light, gains a bright appearance with its white backsplash line, the monolithic backsplash provides convenience to the user. Also a great choice in terms of cleanliness and durability, the marble backsplash provides both visual and functional support to the kitchen.
Blue Cabinets With Gray Backsplash
With elegance and stylish, the gray color has a perfect stance in kitchens. With unlimited tone options, it can easily match different color schemes. Very beautiful designs can be created by adjusting gray backsplashes and blue cabinets following the tone of blue. For example, if you are using cabinets with dark blue tones, you can choose lighter gray tiles to create a contrasting look. On the contrary, dark gray, and light blue cabinets can also be the right match. The concept, the width of the space, and the brightness of the space are among the factors that will affect the choices.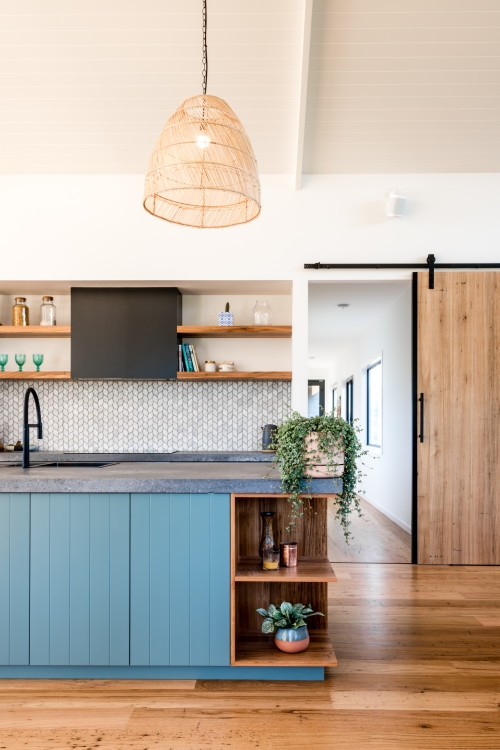 ID# 142632 | Houzz.com – Credit | © Holman Designs
---
Blue Cabinets And Gray Backsplash in Contemporary Kitchen Design
The meeting of blue cabinets with concrete countertop and patterned backsplash is visually pleasing. While the blue cabinets harmonize first with the concrete countertop and then with the backsplash, these transitions look as smooth and natural as possible. The space, which includes wooden shelves and floors, contains a balanced atmosphere with both warm and cold textures. The backsplash is the most binding material in the kitchen by harmonizing with both wood and countertops and cabinets and stands out as also an important part of the design.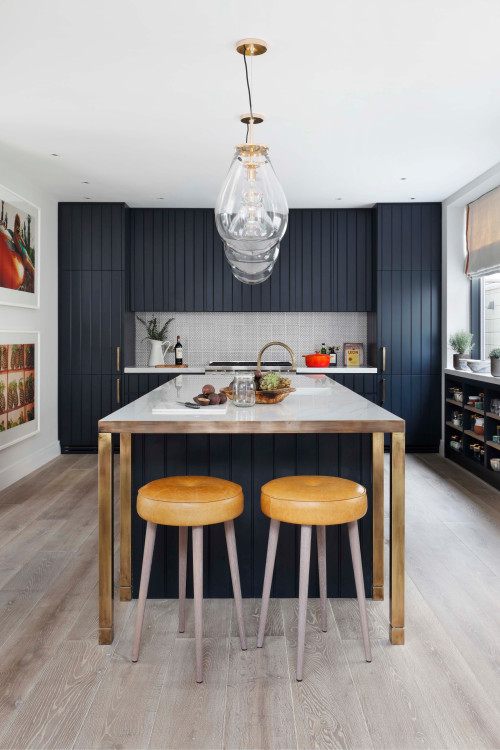 ID# 142633 | Houzz.com – Credit | © Turner Pocock
---
Blue Cabinets with Gray Backsplash in Transitional Kitchen Design
In the kitchen design, which consists of dark blue flat-panel cabinets and white countertops, a contrasting harmony is achieved with a gray porcelain backsplash. In this modern kitchen design, the gray backsplashes applied between the dark cabinets add fresh air. Under-counter sinks and stainless steel appliances are used. Wooden parquet in gray tones is laid on the floor. Island legs, cabinet handles, and pendant lighting details are given a stylish look by using brass hardware. The yellow bar stools are used to fit well as a detail that also adds color to the space.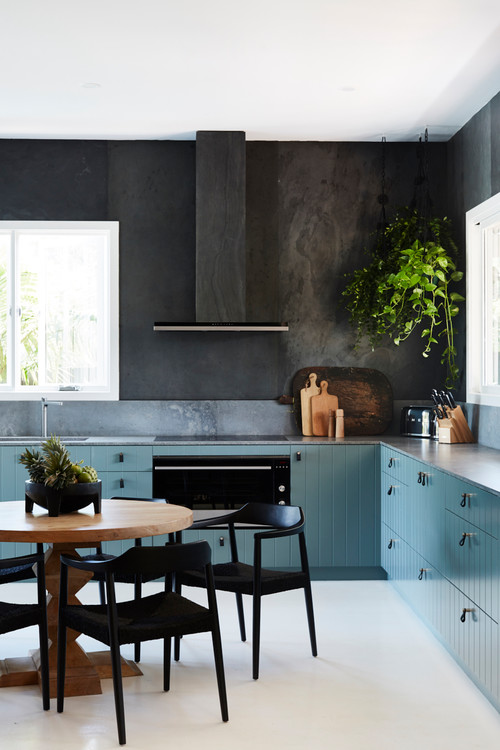 ID# 142634 | Houzz.com – Credit | © The Designory
---
Kitchen Design where Blue Cabinets Meet Gray Backsplash
Continuing with the color palette of blue and gray combination, the walls are combined with a tropical design. The kitchen, which is formed by using the wonderfully colored kitchen cabinets together with the gray backsplash and the counter, is presented to the user in a unique style. Starting with a clean white floor and ending with a black wall and white ceiling, the kitchen has a great choice in the same color palette. Used as a half, the backsplash is both user-friendly and visually stunning. Also, the backsplash, which softens the black and white transitions, shows itself in the kitchen and both stands out and makes the kitchen more harmonious.
Blue Cabinets with Blue Backsplash
With an endless choice of hues, blue is one of the most popular colors for kitchen backsplashes. Blue has many options that give a feeling of modernity, luxury, mystery, and serenity. Therefore, excellent results can be achieved with a blue backsplash. And these blue backsplashes can create very cool designs when combined with blue cabinets. Considering many factors such as its location, user requests, the width of the space, how much light it is, and the blue color used inappropriate tones, designs that add depth and give peace can be created.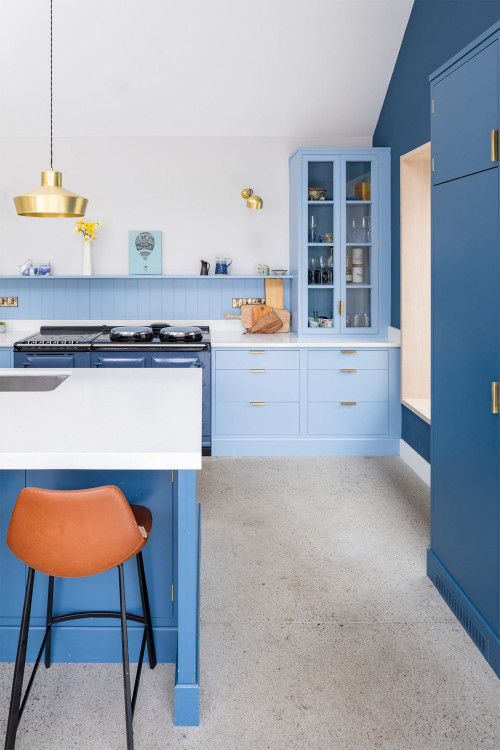 ID# 142635 | Houzz.com – Credit | © Mullan Lighting
---
Blue Cabinets with Blue Backsplash with Gold Details
The kitchen design consists of two-tone blue cabinets, light-toned blue recessed-panel cabinets, and blue island cabinets, and tall cabinets are used. The wall where the tall cabinet is placed is painted with the same color blue, neutralizing each other and creating a sweet appearance. White cement tile flooring is used on the floor. The kitchen with floor-to-ceiling windows is very bright and spacious. Under-counter sink and farmhouse cooker are used. Brass hardware cabinet handles, brass hardware appliqués on the counter, and pendants on the island catch a stylish look. Additionally, between the bench, sweet integrity is achieved by using the same color blue backsplash with the light blue cabinets. They complement each other with white countertops. Together with the blue tones, a sympathetic kitchen design is also formed.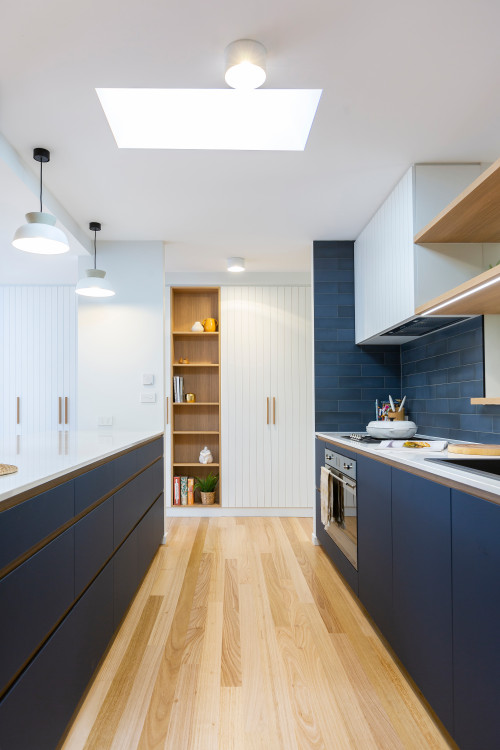 ID# 142636 | Houzz.com – Credit | © Built By Drew
---
Modern Kitchen Design with Blue Cabinets and Blue Backsplash
Achieving a strong design with the use of blue in every area, the designers make bold choices in this kitchen. The combination of blue cabinets with blue backsplash adds depth to the environment, while the white upper cabinets and luminous wooden parquet give the environment both a bright and warm atmosphere. The simple lighting details on the white countertop and ceiling are just small choices made to increase the interaction with blue and make the kitchen more inviting. While blue cabinets and blue backsplash bring the space to integrity, its also bold design dazzles.
Is blue a bad color for a kitchen?
Blue is a good tone to work in kitchens. For example, a lively, clean look can be achieved by using darker materials, especially heavier blues with softer gray tones. The soothing, refreshing blue color works well when used with care.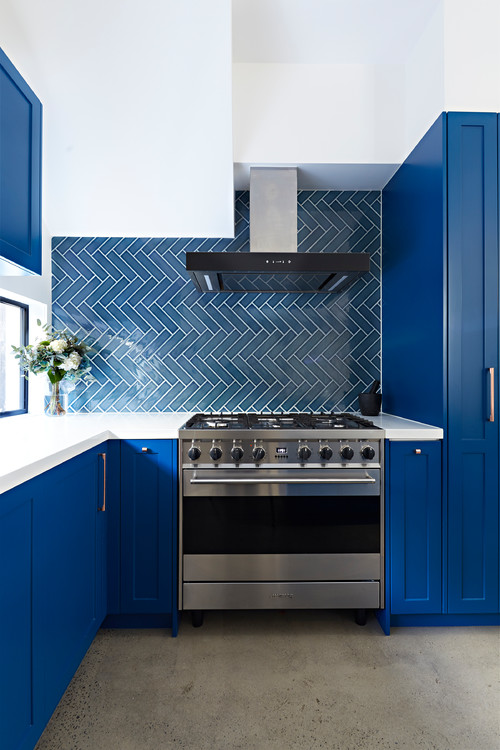 ID# 142637 | Houzz.com – Credit | © smarterBATHROOMS+
---
Kitchen Design that Looks like a Piece of the Ocean with Blue Cabinets and Blue Backsplash
This kitchen, where blue is felt strongly like an ocean, provides us with depth and elegance with its shades of blue. While the kitchen, which is made brighter with the white countertop, stands out with its strong-colored cabinets. The blue herringbone tiled backsplash allows us to see the blue effect throughout the design. The backsplash, which is used in bright and darker tones to avoid the repetition of blue, adds movement to the kitchen and also provides a stylish look away from boredom.
Styles for Blue Cabinets
The blue color is a dynamic color type that gives calmness, comfort, and energy at the same time. With unlimited color tones, it can easily convey the desired feeling to the users. Especially recently, blue has been used frequently as one of the most preferred color types by designers and users. It produces good results with different effects in every cabinet type.
It can be easily adapted to any style of the ken such as modern, farmhouse, transitional, traditional, rustic, Mediterranean, Scandinavian, or beach style. Considering many factors such as the style of the space, user requests, the size of the space, and how much light it receives, successful designs are created with the appropriate blue color and cabinet types.
Farmhouse Blue Kitchen Cabinets
Farmhouse kitchens create a warm, friendly and nostalgic atmosphere. Farmhouse-style kitchens offer inviting and authentically stylish spaces with painted cabinetry, rustic elements, industrial accessories, farmhouse sink, and exposed beams. Cabinets used in blue tones are also a great choice for farmhouse kitchens with an interesting effect. Vivid, dynamic, and especially dark tones create a cool elegance. Also, if you want to create a more modern look, you can create successful designs by combining clean and minimalist details with blue cabinets.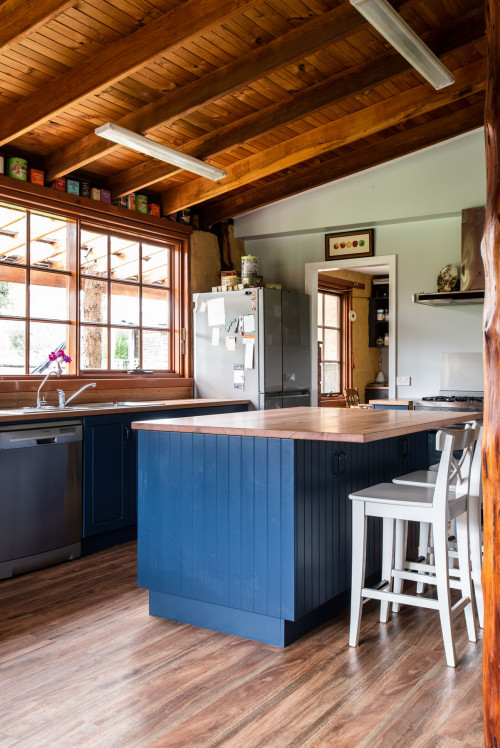 ID# 142638 | Houzz.com – Credit | © Kitchen Centre
---
Farmhouse Kitchen Design that Makes a Difference with its Blue Cabinets
The farmhouse kitchen, which has an inviting look with its blue cabinets and a warm feeling, has a wonderful design. The use of blue in cabinets combines with wood to add a wonderful warmth to the space, while the abundance of natural light sources presents the space with a more lively visual. The blue cabinets combined with the wooden countertop create a movement and difference between the wood texture that surrounds the kitchen, taking the design away from boringness. This design, which offers the user a wonderfully warm kitchen, is also striking with its wooden and blue cabinet combination.
What counters go with blue cabinets?
With blue cabinets, white, and gray, countertops are the most harmonious colors. Quartz, granite, and marble are all types of materials that suit each other quite well. It can be shaped according to the style of the design and the budget. Although the most used ones are white and gray, it is in harmony with blue cabinets with very beautiful designs on black and wooden countertops.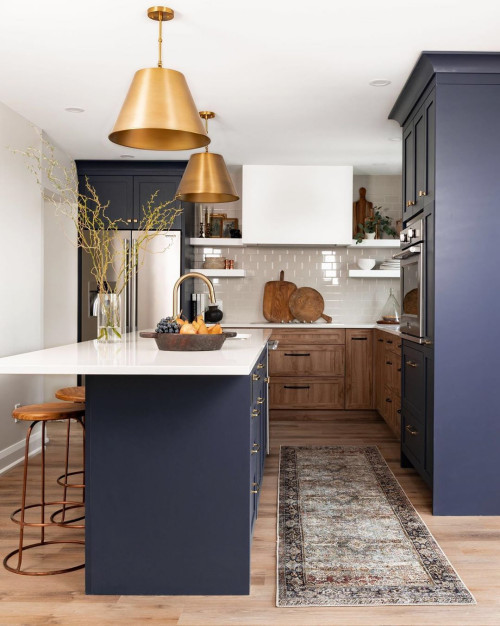 ID# 142639 | Houzz.com – Credit | © Deslaurier Custom Cabinets
---
Blue and Wood Cabinetry with Beige Subway Backsplash
In the kitchen design, which consists of dark blue and mid-tone wood and shaker cabinets, white countertops and white subway backsplash are used. While the hood box is preferred to white, it is accompanied by white shelves on both sides. While stainless steel built-in appliances and an under-counter sink are used, brass hardware is used for the sink mixer and the handles of the blue cabinets. Black cabinet handles are used in wooden cabinets. Sporty and stylish looks are intertwined, providing a cool and modern look. In this farmhouse-style kitchen, the brass hardware pendant lights on the island also create an authentic elegance.
Modern Blue Kitchen Cabinets
Blue color has started to be used in small details in kitchens and today, the most important element of the kitchen, cabinets, is used very popularly. Many designs can be made in a modern style by combining them with cabinets of different colors. It combines wonderfully with organic surfaces. It is also very suitable for modern minimalist designs. Whatever your design style, you can create a beautiful unity by using blue on walls, floors, cabinets, or backsplash accents. Additionally, blue tones become a very fashionable alternative to the gray or white kitchen bases of the past. You can easily use blue in many styles while kee modernity.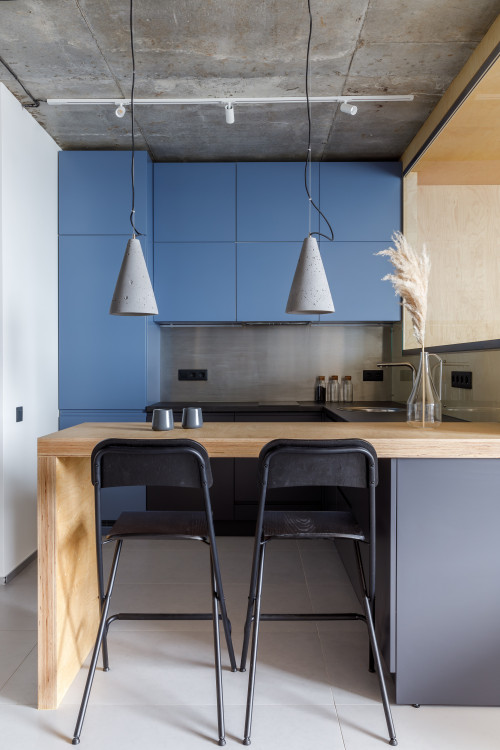 ID# 142640 | Houzz.com – Credit | © MAKEdesign
---
Modern Industrial Kitchen with Stainless Steel Backsplash
Blue and black flat-panel cabinets are used in this industrial-style kitchen. A natural wooden dining table is right at the end of the cabinets, and at the same time, the kitchen area is limited. Black countertops and gray paint backsplash are used. Concrete flooring is visible on the ceiling and gray tiles are used on the floor. Concrete pendant lights on the dining table are in harmony with this industrial structure. Black chairs create fine details in harmony with the kitchen. Additionally, built-in appliances and under-counter sinks are used. The blue adds color to the space and at the same time does not spoil its cool stance.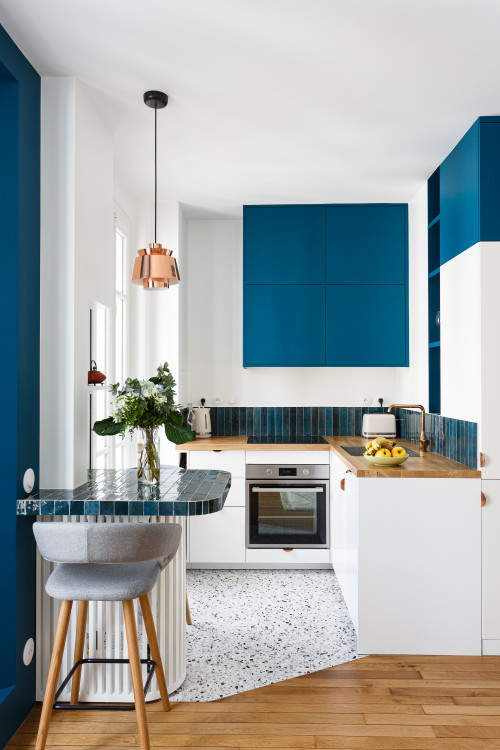 ID# 142641 | Houzz.com – Credit | © Emilie Melin architecte DPLG
---
White Base Cabinetry with Wood Countertop
In the modern small kitchen design consisting of blue and white flat cabinets, the wooden counter creates a warm effect, while the single-row, blue, vertical subway backsplash adds an original atmosphere. It creates a sweet unity by using the same tiles on the dining tabletop. Additionally, Terrazzo tiles on the floor combine quite harmoniously in this modern kitchen. Built-in appliances and under-counter sinks are also used. In this white-dominated area, the blue cabinets are more striking, while at the same time creating an energizing design.