13+ Recycled Glass Tile Backsplash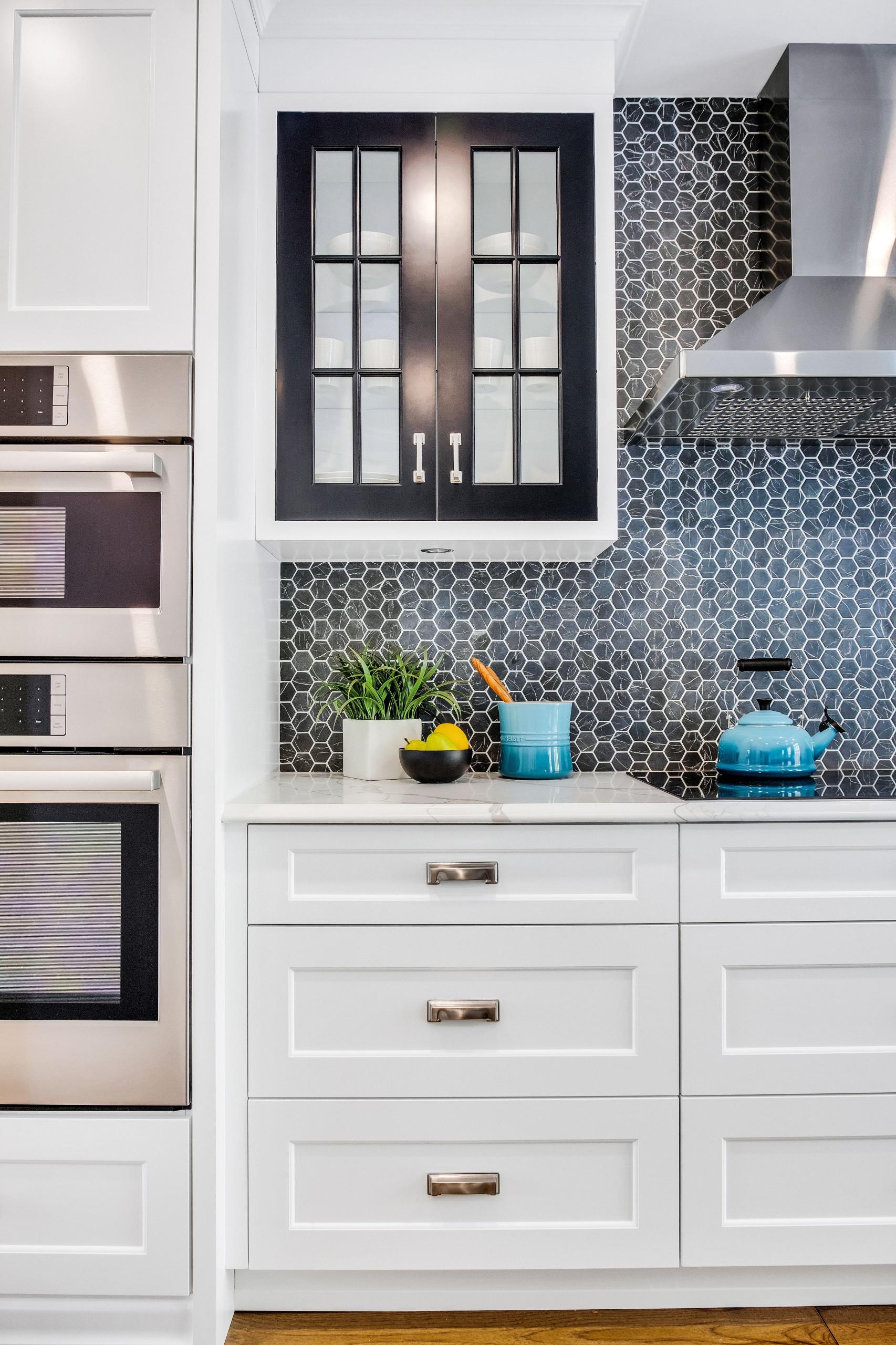 ID# 171703 | Houzz.com – Credit | © OakWood Designers & Builders
---
Black and White Kitchen with Hexagon Backsplash and Chrome Hardware
In this transitional kitchen visited by streaming lights, hexagon patterns are given form through a recycled glass tile backsplash that inhabits a black marble texture. White cabinets brighten up the interiors with a sense of freshness while the hexagon tile backsplash brings a striking contrast with its rich black shade. The light-colored wood flooring creates extra warmth and depth underfoot to seal the overall look. The black frames of the upper cabinets complement the backsplash tiles while the stainless steel appliances and the chrome hardware enhance the transitional aesthetic.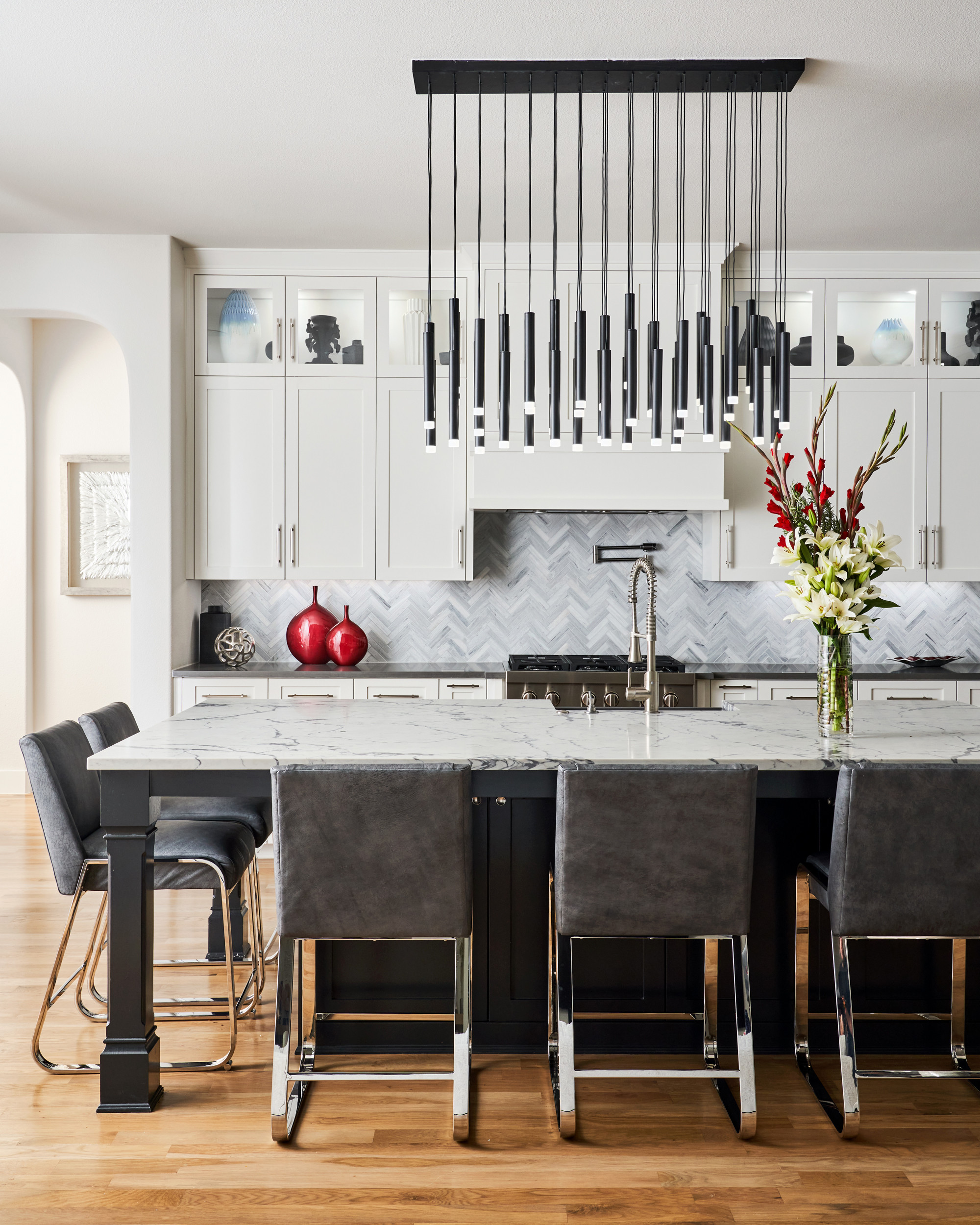 ID# 171712 | Houzz.com – Credit | © Wesley-Wayne Interiors, LLC
---
Pantry Design with Storage Solutions and Penny Tile Backsplash
When it comes to kitchen backsplashes, marble is one of the most luxurious materials but it has very high price tags. That's why, recycled glass backsplashes are a great alternative that can give the marble texture at more affordable prices, and they are eco-friendly too! Here, the herringbone backsplash tiles create a nice textural look between the plain white shaker cabinets. The gray countertop perfectly complements the tonal variations of the tiles while the black kitchen island brings a contrasting look. The unique lighting fixture above the island makes a modern touch to finalize the design.
Recycled Glass Tile Backsplash
If you are wondering how to go green in the kitchen, a recycled glass tile backsplash is one of the ways you can integrate a level of sustainability into your home. Recycled materials to be used as backsplashes and countertops are quite various, starting from ceramic to glass, aluminum, carpet tiles, porcelain, and more.
Starting from incorporating a potted plant into your house to getting a backsplash, every detail exerts influence on the space. In other words, design is everything, defining how we interact with our surroundings. As we do so, we make choices that leave significant and sometimes irreparable impacts on the environment and us as well. The transformable nature of materials such as glass guides us on how to be more sustainable and lower our carbon footprint on nature. Eco-conscious lifestyle stands out as one of the key issues that we can embrace to make a change, and if we have the chance to use recycled glass tile backsplash at an affordable price, why not have one to pay ode to the environment and minimize the burden on nature?
What is a green interior design?
When you think about sustainable and biophilic designs and architecture, what pops into your mind? Geen plants ornamenting buildings with natural cooling systems and micro-climates or green top-floor terraces, and solar panels topping the blocks? If those are some of the images you think of, yes, these are great examples of eco-friendly designs. But there is more to that.
Being aware of the consequences of human acts and the massive waste of resources drove people to think of alternative methods of designing and recycling. With sustainability in mind, from sofas to armchairs, countertops, and backsplashes, the essential furnishing items of our homes have taken modular, extendable, and detachable forms featuring responsible designs. Likewise, products free of volatile organic compounds (VOCs), formaldehyde, APEO, heavy metals, and other chemicals that pose a threat to human health and nature are favored more and more. In addition to them, the use of recycled materials such as glass is part of this "go green" living style. Recycled carpet tiles, glass backsplashes, and glass countertops are only some of those eco-conscious products that exemplify one side of green interior designs.
Now if you are ready, let's start our tour on recycled glass tile backsplashes!
ID# 171701 | Houzz.com – Credit | © Erin Interiors
---
Olive Green Cabinets with Chevron Recycled Glass Tile Backsplash and Stainless Steel Appliances
Brimming with sophisticated and filled-with white shaker green cabinets, this elegant kitchen design allures for longer stays. Celebrating both the materiality and color palette of the kitchen through the recycled glass tile backsplash, the design awards sustainability. The hexagon patterns featuring browns, light grays, and whites introduce wave-like patterns to make a statement. Brass-finish hardware, glass pendant lights above the island, and other iconic decorative pieces bring life to the kitchen, characterizing the space. Stainless steel appliances introduce modern vibes that accompany the white cabinets in integrated harmony.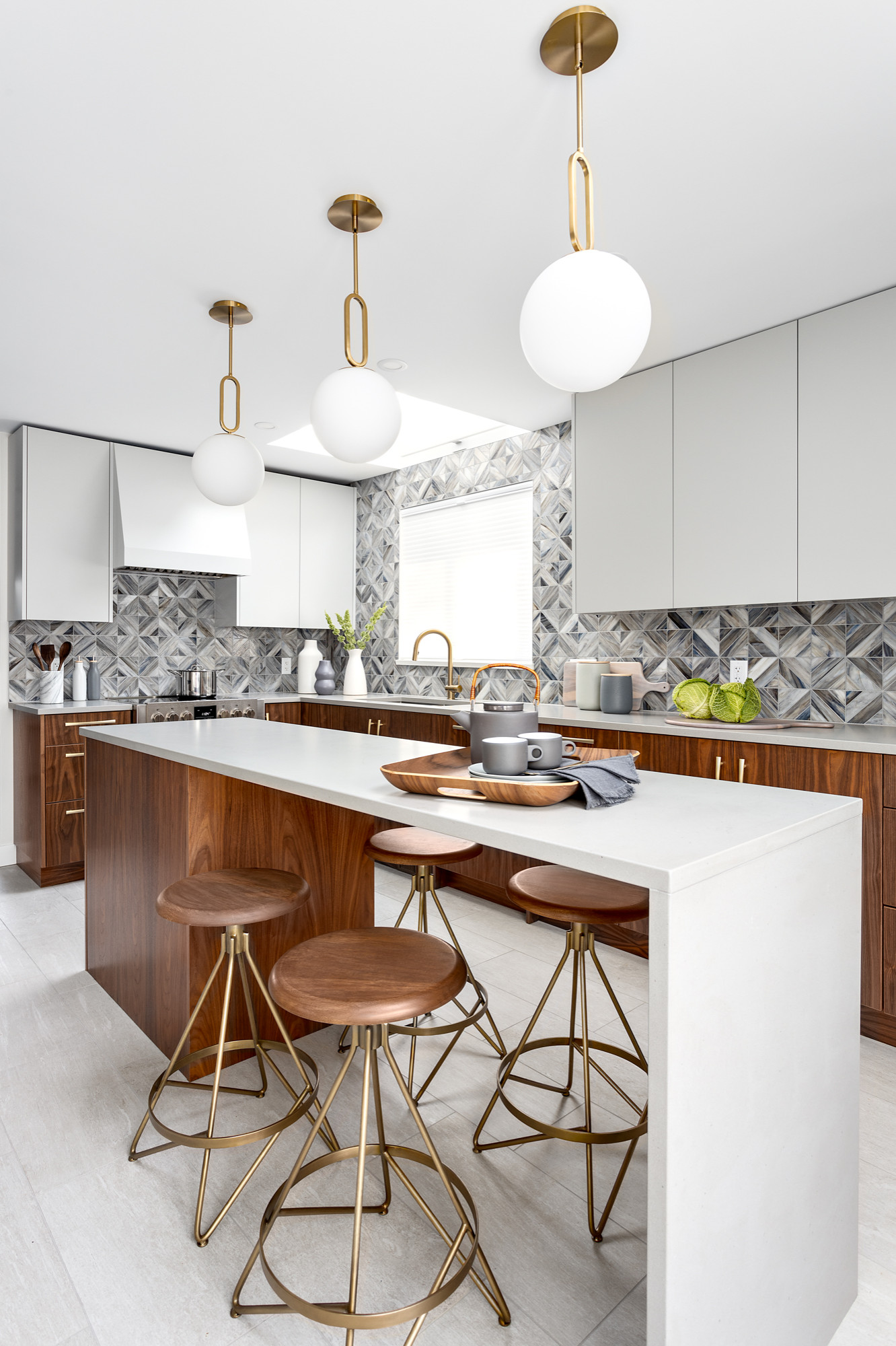 ID# 171702 | Houzz.com – Credit | © Simply Home Decorating
---
Contemporary Kitchen with Two-Tone Cabinets and Quartz Countertops
The natural dynamics of this gorgeous kitchen design are made possible with the incorporation of the eye-catching backsplash tiles! The color fluctuations of the backsplash almost make the grid pattern of the square tiles unrecognizable creating an eccentric and more natural vibe. The white flat-panel upper cabinets provide a sleek and plain appeal that allows the recycled tiles to be the star of the show! Enriched by a natural wood texture, the base cabinets and kitchen island add movement, topped with a white glazed countertop that lets the interplay of light and shadow. The light gray floor tiles and brass fixtures complement the white and brown shades, warming up the interior.
Is glass tile recyclable?
The best part of the glass tiles, which also makes them eco-friendly materials, is their recyclable nature which brings plenty of benefits to nature. But how do you recycle them? Recycled glass tiles are produced by melting the waste glass pieces at temperatures over 2000 degrees Fahrenheit and adding color. Then this liquid molten form of glass is given a new shape.
Additional benefits of recyclable glass tiles:
First, they save the old glass tiles from building up landfills. Secondly, these glass tiles can be used anywhere where ceramic tiles are applicable, though applying glass tiles requires a bit more attention for their translucence nature. Thirdly, even if they are recycled and don't look like the original versions, they are still beautiful and feel very unique.
Recycled Glass Tiles for Kitchen Backsplash
Responsibly made, recycled glass tiles come in various colors and patterns to make for impressive and authentic looks. Ranging from blue to green, gray, beige, Carrara, and more, the recycled glass tile backsplashes impress their users as much as the original ones!
Recycled Glass Subway Tile Backsplash
Subway tiles are everywhere, seen as a safe choice for their timeless look. If you want to go for a both sustainable and timeless look, check out recycled glass subway tile backsplashes which you can install in plenty of different ways to create diversity within the space.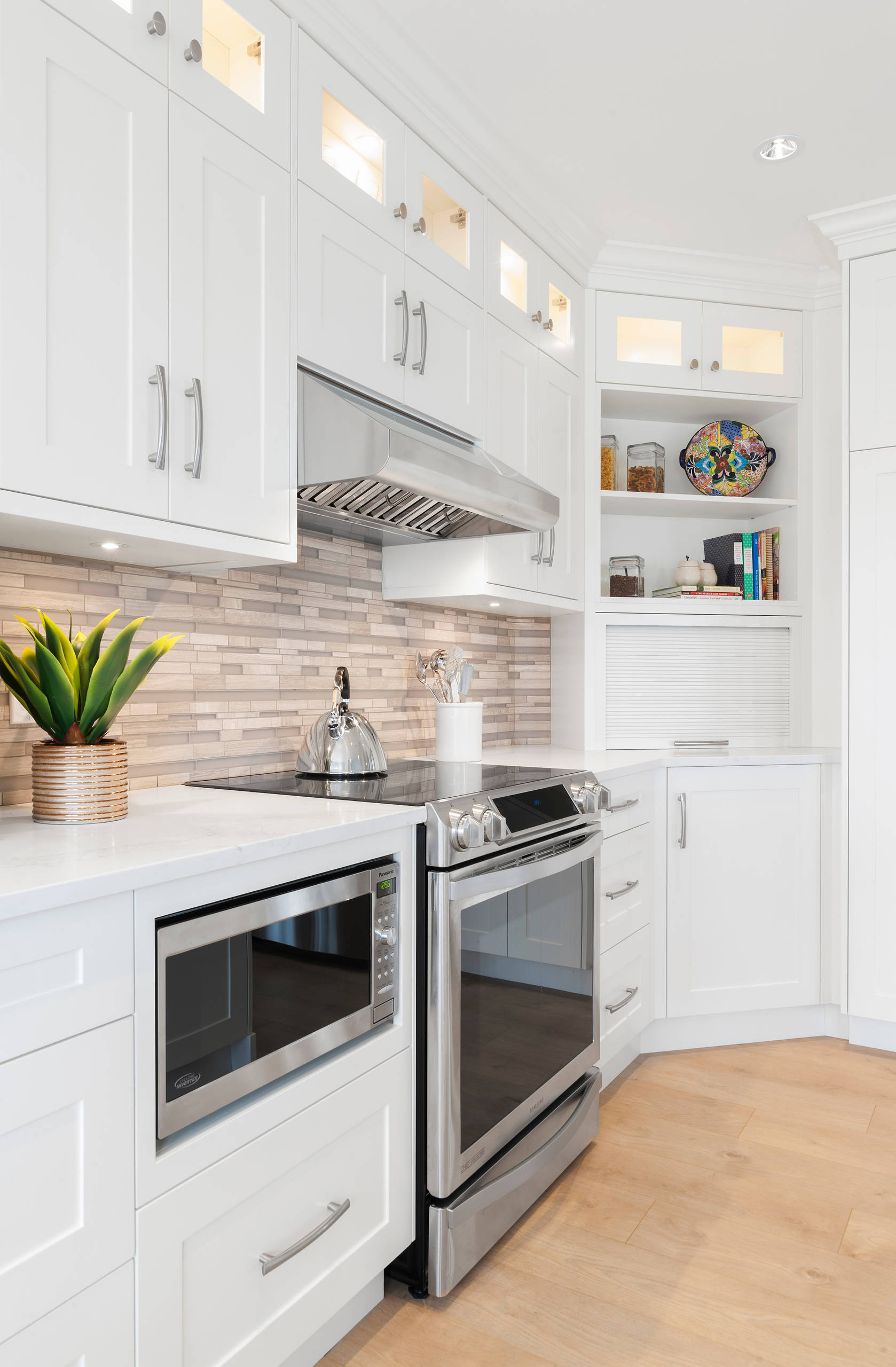 ID# 171704 | Houzz.com – Credit | © MAC Renovations LTD.
---
Recycled Glass Subway Tile Backsplash with White Countertops and White Cabinets
Abundant in beige shades, and carrying a soft appeal, the subway recycled glass backsplash becomes the visual focal point of the kitchen. Likewise, its subway tiles installed in a running-bond style capture a sense of movement, expanding the space horizontally as well. White cabinets and countertops provide a bright and spacious atmosphere while the stainless steel hood and cabinet handles harmonize with the transitional aesthetic of the kitchen.
Can you use recycled glass tiles for a kitchen backsplash?
Recycled glass tiles can be applied to many places, starting from walls to floors, tabletops, countertops, backsplashes and more! They provide high-quality and statement-making designs for your kitchens and bathrooms or any other room you would like to have them.
And yes, recycled glass tiles are great options for a kitchen backsplash especially if you would like to create a more sustainable design with aesthetic benefits as well! The recycled glass tiles come in a wide array of designs, patterns, and shades available as a kitchen backsplash. Their stain and chemical-resistant form also makes it easier for homeowners and expands the glass application areas in homes.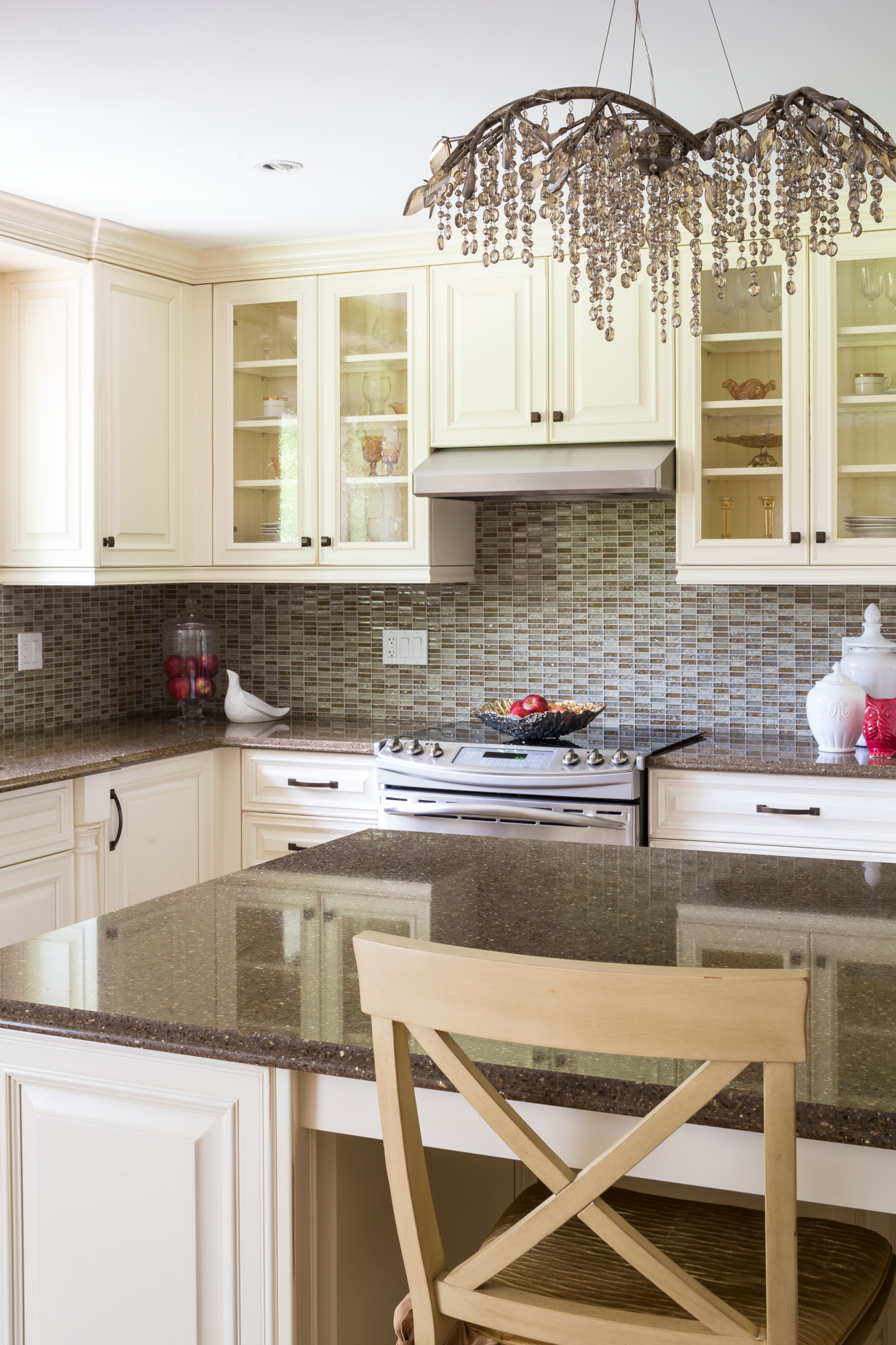 ID# 171705 | Houzz.com – Credit | © Paragon Kitchens
---
Eco-Conscious Design with Neutral Color Scheme and Recycled Backsplash Tiles
Consisting of glass and stone, this eco-friendly stacked subway tile backsplash creates a visually rich background with refreshing originality. As a nod to the environment, it not only uses recycled material but also brown granite countertops which enhance the opulence. All these features align this kitchen with a biophilic design. Further enriching elements come as stainless steel appliances, oil-rubbed bronze hardware, and white cabinets to keep the rest of the space simple.
Recycled Glass Hexagon Tile Backsplash
As hexagon patterns take reference from the bee hives and honeycombs, they are considered biophilic elements, introducing a nature-inspired form into our homes. They bring modern and contemporary appeal, allowing designers to creatively experiment with them as they come together as puzzle pieces with more edges!
Hexagons are available in plenty of materials, including recycled glass hexagon tile backsplashes. Their wood look versions with warm colors of beige and brown are popularly used to create a unique and expressive background. Plus, they not only bring a modern look but also something rustic and natural.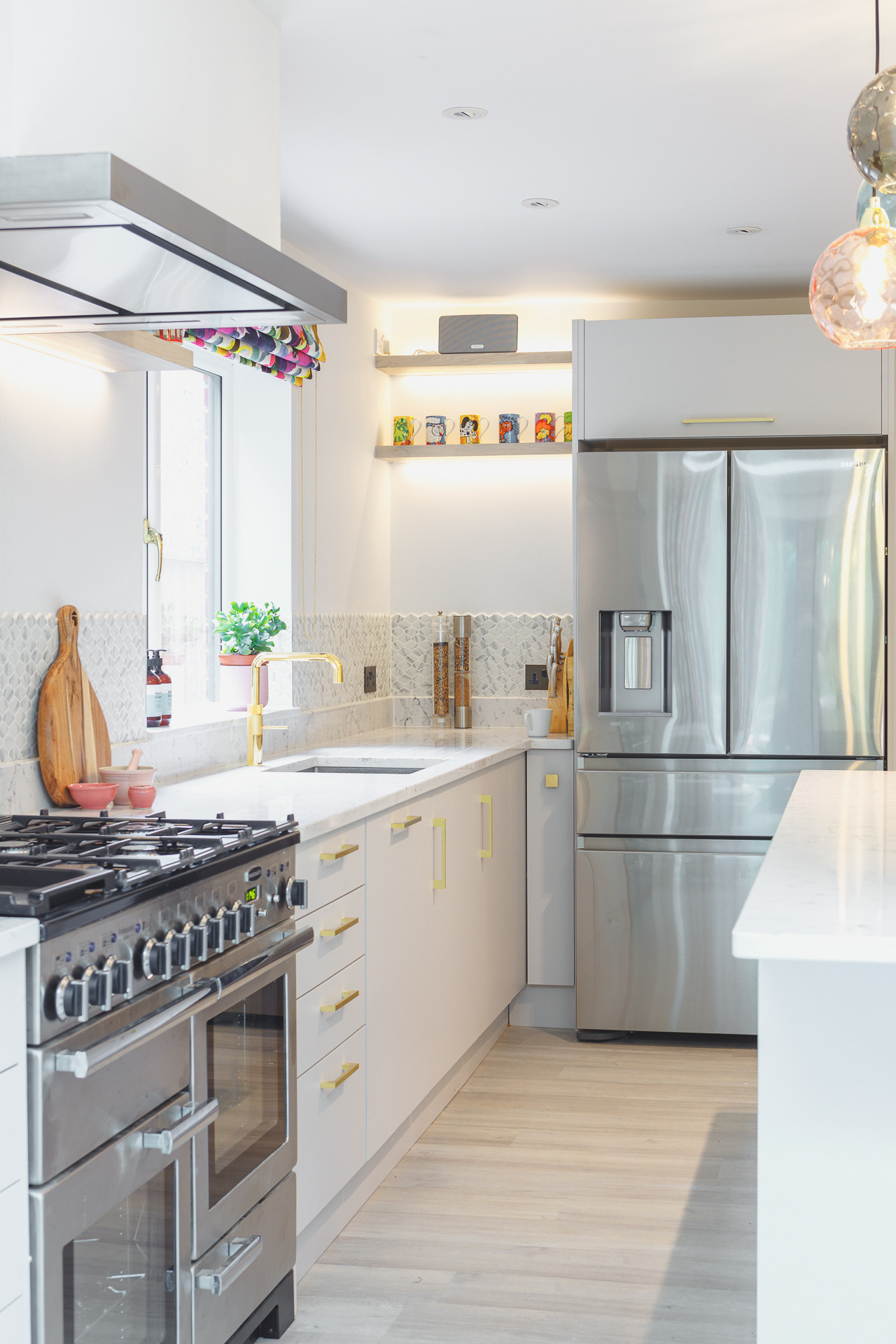 ID# 171706 | Houzz.com – Credit | © Reyne Design
---
Hexagon Tile Backsplash with White Countertops and Floating Shelves
Visually dynamic another eco-friendly kitchen welcomes you here. Walls are clad in recycled hexagon glass tiles featuring shades of gray and white. The tiles' strength provides a moisture-resistant, durable and easy-to-maintain background, which is especially important in high-traffic areas like kitchens. Also, its nature-inspired wood look evokes extra interest and adds a layer of intrigue and a calming shade. The white quartz countertops with delicate striations and white floating shelves enrich the total look and the oversized cabinet handles add a gesture to the white cabinets.
Will the glass backsplash go out of style?
Glass backsplashes are not very likely to go out of style at least anytime soon. Especially given that the eco-friendly approaches are more embraced day by day, the glass will distinguish itself from many other materials as being an eco-friendly and recyclable material. Plus, among its other functional materials, we can count the glass' poreless nature that makes it extra durable and easy to clean and maintain with no need for sealing.
As for their aesthetic benefits, glass backsplashes are adjustable to different design themes. You can encounter them in modern, contemporary, transitional, classic, and beach-style kitchens. But if you desire a coastal design kitchen, a glass backsplash with a glittering surface provides one of the best looks. Plus, in shower rooms and behind the vanities, the glass backsplashes are preferable in shades of green and blue to add depth to the space.
To cut it short, glass is resistant to stains, chemicals, moisture, and heat, in addition to its highly durable nature. And it is not a very demanding material, not to mention its recyclability and aesthetic benefits. When all those features come together, glass stands out as a reliable material in the long term, which will keep it at the top of the most popular material lists for more years.
Is glass tile eco-friendly?
If you are looking for something both eco-friendly and beautiful, glass tiles offer the best of both worlds. Also, based on the fact that eco-conscious movements are expanding their lists of "R" more and more, including "reuse, repurpose, recycle, remanufacture, etc," what is also getting more expansive is what you could do with repurposed materials. With glass tiles, for example, you can realize these "R" acts of reusing, repurposing, recycling, and remanufacturing, which makes them more than eco-friendly.
Besides the recycled glass tile backsplashes, if you want your kitchen to be sustainable and want to do more than integrate glass tiles, here are a few things you can integrate into your home for the health of the environment and yourself.
How do you make your kitchen more sustainable?
There are plenty of ways to make your kitchen " green" and to give it a more sustainable character. Let's see what those are.
First, optimize the natural light with the spatial arrangement of the space to lessen the need for artificial light. Use energy-efficient LED lights with a long lifespan.
Give old stuff a new purpose. If you love rustic kitchen designs, you can use reclaimed wood to build an island or floating shelves.
Focus on getting items made of recyclable materials and items that are also recyclable themselves.
Use a fast-growing plant like bamboo.
In addition to glass, though expensive, terrazzo is one of the most eco-conscious materials; and a very high percentage of terrazzo includes recycled materials. You can use it on the floor, countertops, or as a backsplash as well.
For cabinets, go for plywood and composite materials such as formaldehyde-free MDF to lessen the carbon footprint of your kitchen.
Go for green guard-certified products, and check products free of harmful chemicals.
How do you remove grease from glass tile backsplash?
Unfortunately, while cooking, things can get messy and backsplash tiles can end up looking as if they are dipped in oil, which might require more detailed cleaning. In such cases, to clean the glass tile backsplash, you can use non-abrasive, mild dishwasher detergent with a wet sponge and scrub it until it dissolves and gets removed completely. However, if the stain resists and is stubborn, then you can repeat the process or apply a mixture of vinegar and water or water and baking soda (sodium bicarbonate) as alternative cleaning products. They will provide a much stronger solution to battle the grease than mild detergents. Additionally, if you would like your tiles to be more stain-resistant, you can seal them, which is not necessary but recommendable.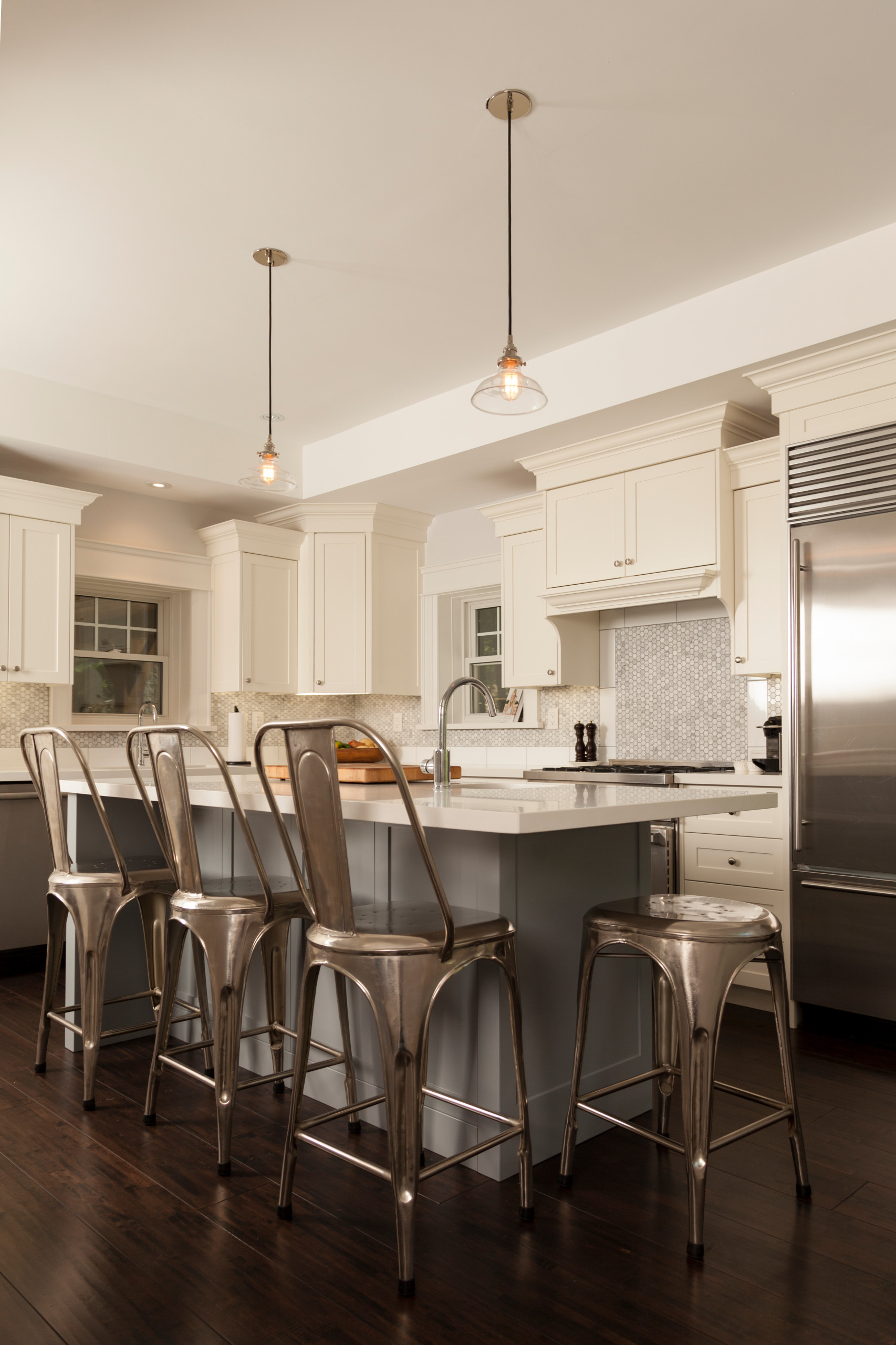 ID# 171707 | Houzz.com – Credit | © Imagine Inc — Home & Commercial Design
---
Transitional Kitchen with Recycled Glass Mosaic Backsplash Behind the Stove
Inspired by timeless elegance, the space integrates white quartz countertops, honeycomb tiles referring back to bee hives, and a soft gray-and-white color scheme. Not to mention the recycled glass mosaic backsplash that makes the design "eye-catchy". Stretching between the countertop and the bottom of the upper cabinets hood, the white mosaic backsplash with subtle tonal variations draws all the attention. The off-white cabinets with yellow undertones harmonize beautifully with the beautiful texture of the hex tiles.
Blue Recycled Glass Tile Backsplash
Blue is a statement color that effortlessly draws attention, taking center stage in interior designs. You can remodel your kitchen with blue-hued glass mosaic backsplashes and lessen its impact on the environment by getting one with recycled glass tiles.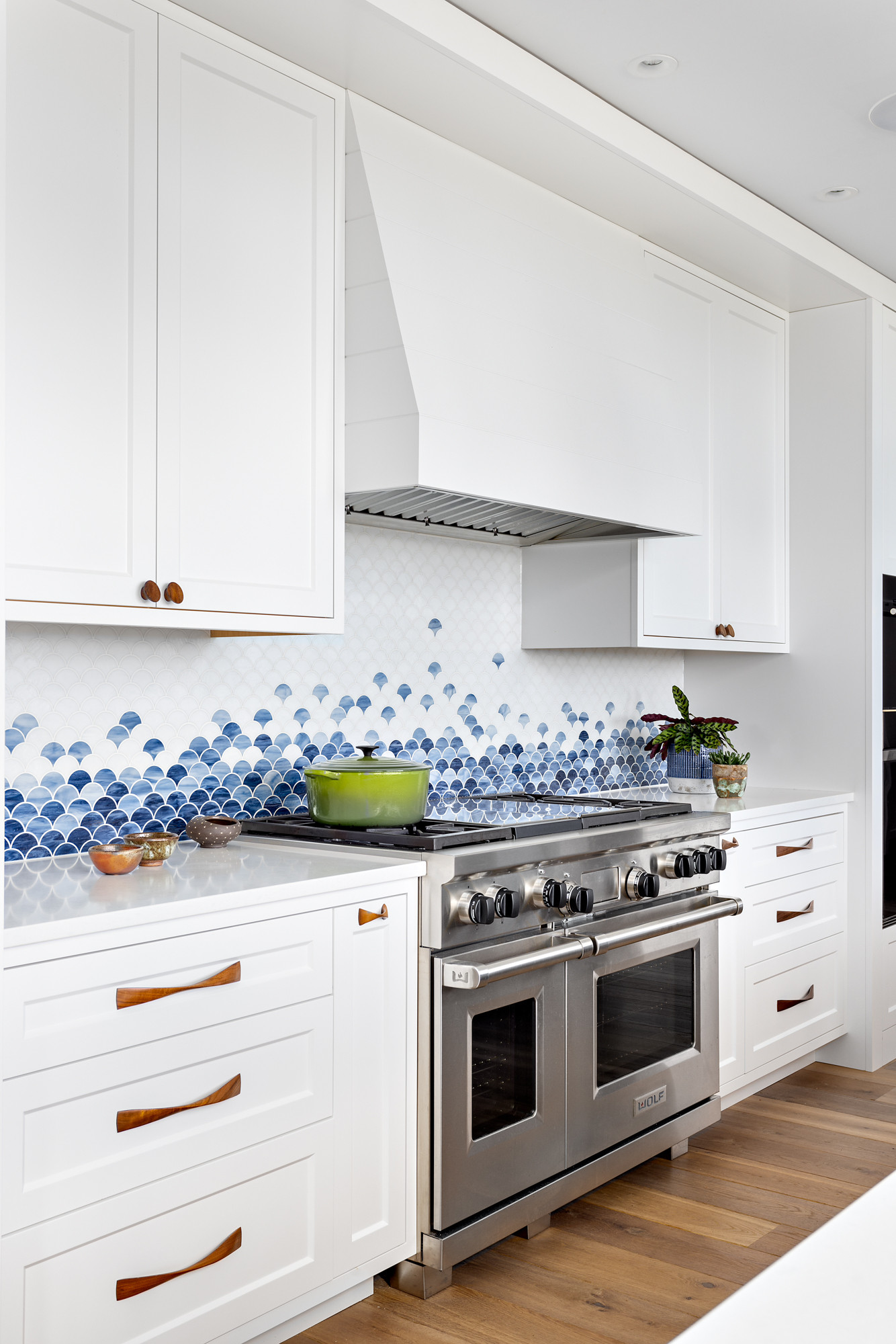 ID# 171708 | Houzz.com – Credit | © Simply Home Decorating
---
Blue Recycled Glass Tile Backsplash with White Shaker Cabinets and Brass Detailing
This ultra-stylish classic design kitchen manages to be eco-friendly as well thanks to the blue recycled glass tile backsplash! The blue backsplash's bold contrast to the surrounding white shaker cabinets, white backsplash, and countertops make it a statement piece. Coming as a conscious choice to make a recycled element as the centerpiece of the space reinforces the subtext of the design, which is that the recycled items are beautiful. The fluidity of the fish-scale patterns of the backsplash tiles in blue creates a dramatic impact, supported by the brass cabinet hardware. Overall, the kitchen shines, glowing in blues and golden touches with refreshing originality.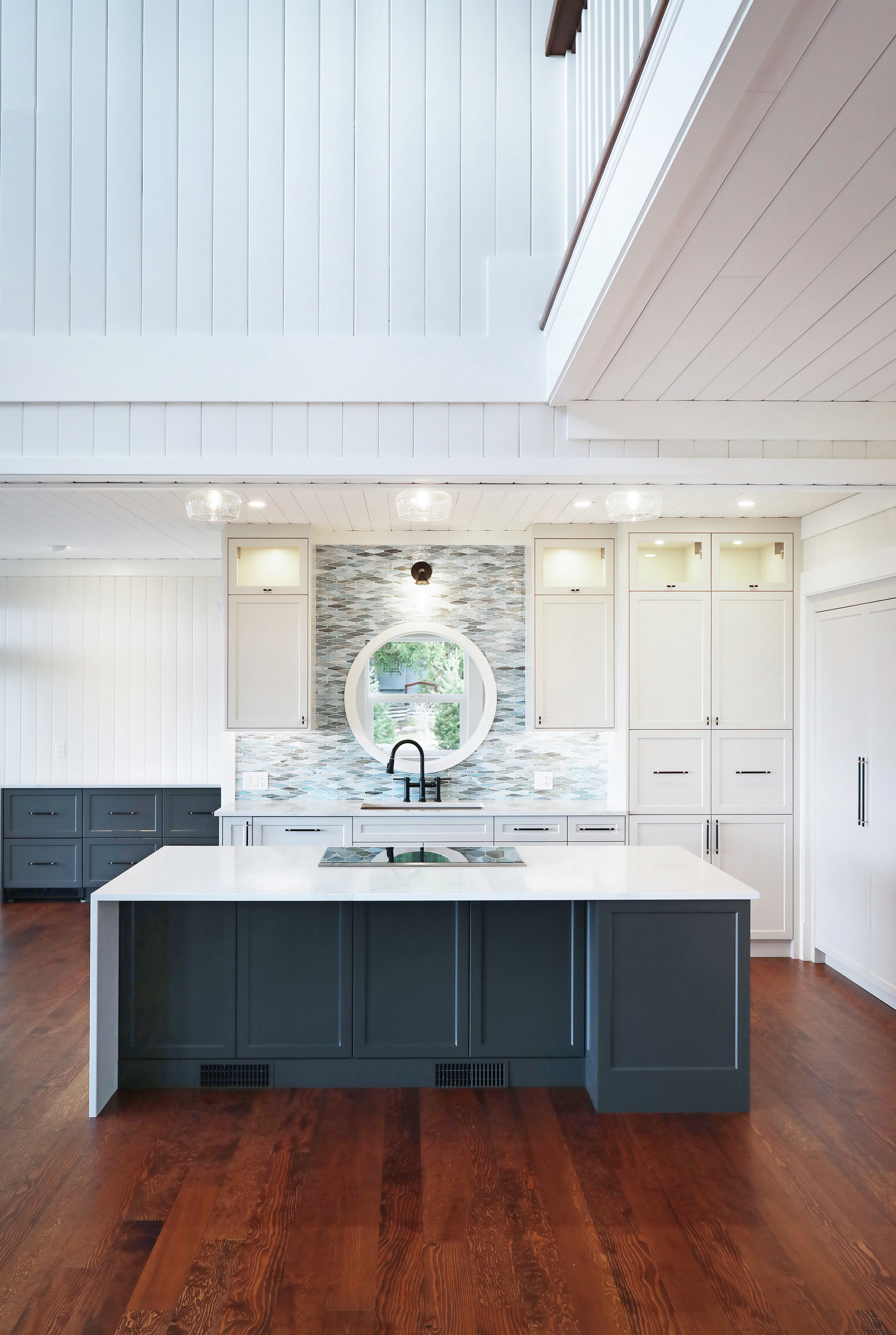 ID# 171709 | Houzz.com – Credit | © Cottage Fever Interior Design
---
Beach-inspired Kitchen with Blue Mosaic Backsplash and White Cabinets
Awash with blue shades, this beach-inspired kitchen calls for a sense of resilience! The blue recycled glass mosaic tile backsplash instills freshness and calmness that evokes the sea and the glass tiles' shimmering effect enriches the coastal vibes. Below, the white countertops harmonize beautifully with the white beadboard panel cabinets to lighten up the space while the wood floor brings an organic touch that carries warmth. The circular window behind the sink area creates a focal point and enhances the impact of the full-height backsplash tiles!
Gray Recycled Glass Tile Backsplash
Gray is such a versatile color that can be adjusted to any theme while sometimes creating an approachable and sometimes a distant and moody look. If you want to get a gray backsplash with a more expressive look, you can consider gray recycled glass tile backsplashes as they also feature added color to achieve a level of variety.
ID# 171710 | Houzz.com – Credit | © Leona Mozes
---
Gray Recycled Glass Tile Backsplash with White Cabinets and Gray Countertops
Featuring an eco-friendly glass tile backsplash, the kitchen presents a sustainable design integrated with biophilic elements in the company of a sense of floating lightness. The hexagon patterns of the backsplash create a natural backdrop that suits the overall theme of the design. White shaker cabinets and a chrome cabinet handle portray a rather simple and plain design silhouette to allow the backsplash to be the statement piece and consciously highlight the design's eco-purpose.
How do you install a recycled glass tile backsplash?
Recycled glass tile backsplashes show variances in color and patterns as beautiful as the original versions. But tiling them takes some effort and time, and here are some tips on how to install a recycled glass tile backsplash.
First, clear the working area remove any items you keep on the countertops, and cover the countertops with a plastic sheet, an old sheet, or cardboard to provide protection. Then, make sure that the application area is clean and flat without any gaps, damage, or uneven spots. If there is any, sand down the bumps with sandpaper.
Secondly, before installing the tiles, first, measure the application area, and get cardboard heavy enough to be able to bear the weight of the tiles and at the same size as the application area. Practice the layout of the tiles on cardboard just to make sure how the tiles will look and how much you will need to precut the tiles. Also, plan the cutouts for electric outlets. It is recommended to start tiling in the middle of the application area. You can measure the center by using a tape measure.
In case you need to cut the tiles, don't forget to use goggles or a face shield and gloves for your safety.
Installing the tiles:
Spread thin-set with a notched trowel on a small area of the application zone to place the tiles before the thin-set dries. The thickness of the thin-set should be even; try to keep it consistent and around ¼ inch. After spreading the adhesive with the flat edge, use the notched edge to remove the excess by pulling across the wall surface horizontally. As the glass tiles are rather transparent, it is important not to leave any comb marks and to smoothen the adhesive perfectly. This will prevent any visual interruption. Continue installing the tiles until you are done. Use spacers between the tiles to leave even gaps between the tiles.
After finishing the installation, wait until the tiles are fully set. After 24-48 hours, you can come back for grouting.
Grouting the tiles:
Grouting the tiles is the next step. For this step, you need a grout float, pre-mixed grout, sponges, soft cloth or old t-shirt, and warm water. The color of the grout could be anything. Depending on the style of your design project, choose a proper grout color. Gray and white are the most popular ones, while black is great for creating contrast.
Getting back to the main point, to apply the grout, hold your grout float at a 45-degree angle and spread the grout across the surface diagonally. Make sure that the gaps are filled. Remove the excess of the grout occasionally before it dries out. Lastly, by using warm water and a sponge, clean the tiles and wipe them with a dry soft cloth.
Caulking the tiles:
The last step involves caulking the perimeter of the tiles to seal the joint or gap where two surfaces meet. In this case, it is the gap between countertops and tiles. This sealing process also stops water from entering gaps and reaching the drywall and under the tiles, providing a professional and finished look as well.
Start this process by cleaning the gap between countertops and tiles. If you have an old caulk, use a utility knife to cut it. To re-caulk it, you need a caulk tube or caulk gun. If you have a caulk tube, all you need to do is to cut the head of the caulk tube at a 45-degree angle. Press the cut-face of the caulk tube in the join and start installing the caulk. Move it at a steady pace to make sure everything is even. After finishing caulking, use your wet finger to run along the caulked-join to press it and smoothen it. Repeat this process until it feels all smooth and properly set.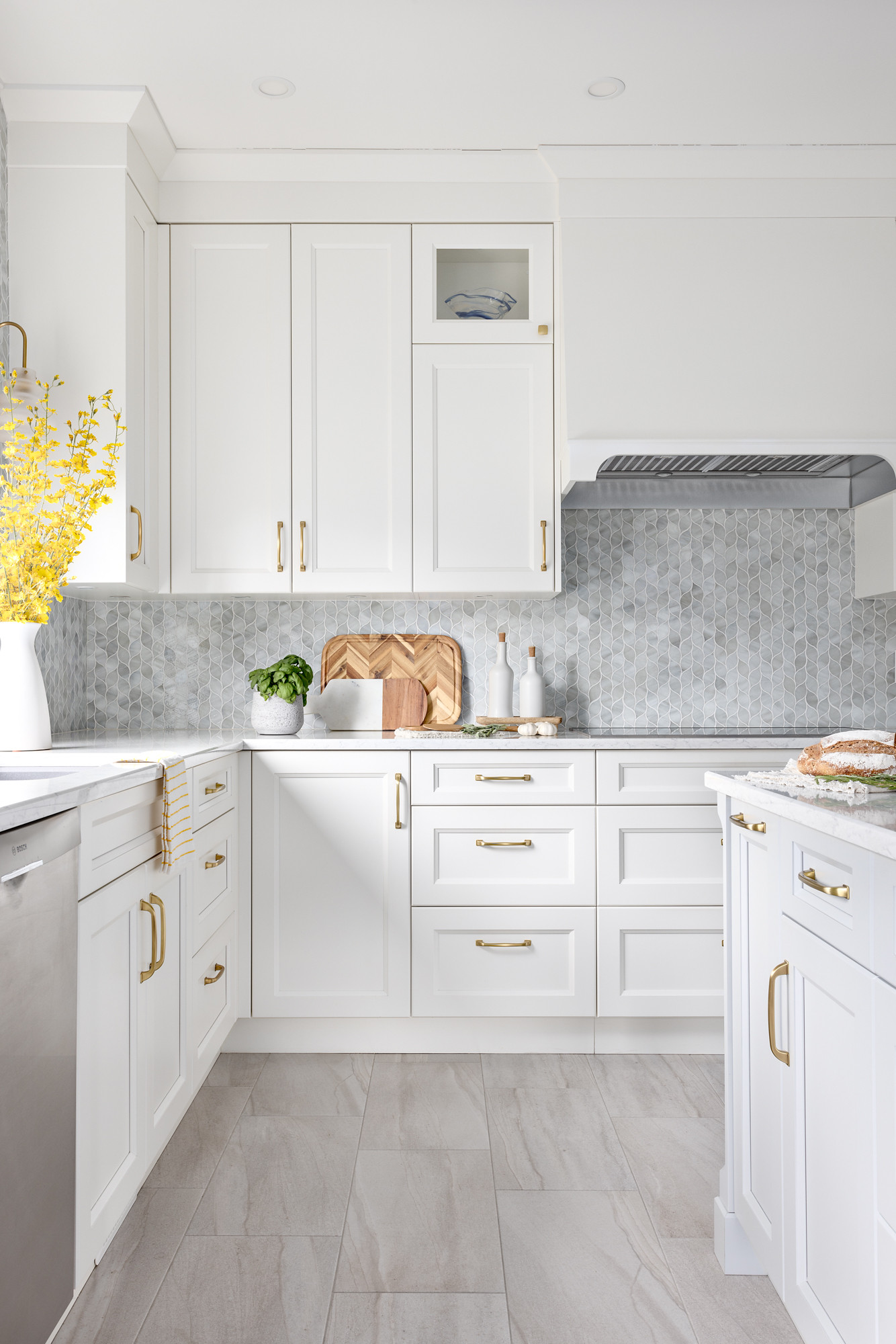 ID# 171711 | Houzz.com – Credit | © Simply Home Decorating
---
Sustainable Design with Glass-fronted Cabinets and Full-height Backsplash
The engagement of white and gray shades with a touch of gold exudes a sense of calmness, warmth, and softness! The gray leaf tile glass backsplash brings the space together, incorporating a sense of contrast to dwell over the place and proposing a counterpoint to the white and matte finish materials. Both the leaf pattern and recycled glass material are enough to bring a modern and environmentalist touch to align the kitchen with a conscious and responsible design. Furthermore, other enriching elements stand out as inset stainless steel appliances and brass cabinet handles that complement the cabinets. Lastly, the light tone and stone-look floor tiles add much-needed warmth to tie the space together.
Brown Recycled Glass Tile Backsplash
The wood look with glass tile backsplashes is very popular, and comes in various shades, particularly blue and brown. Whether it is brown or blue colors that resonate with wooden accents, the tiles instill a sense of unique flavors to the design in both scenarios. The best way to complement brown recycled glass backsplashes is to bring the solid wood cabinets in. The overall look can be complemented with brass detailing and fixtures for a sense of glow. Or to preserve a sense of distance and seriousness, black hardware and cylinder-shaped ceiling-mounted spotlights as ultra-modern features can be introduced to the space. Plus, the use of LED light for such lighting fixtures brings additional environment-friendly and energy-efficient elements to further the consistency of the eco-conscious attitude within the space.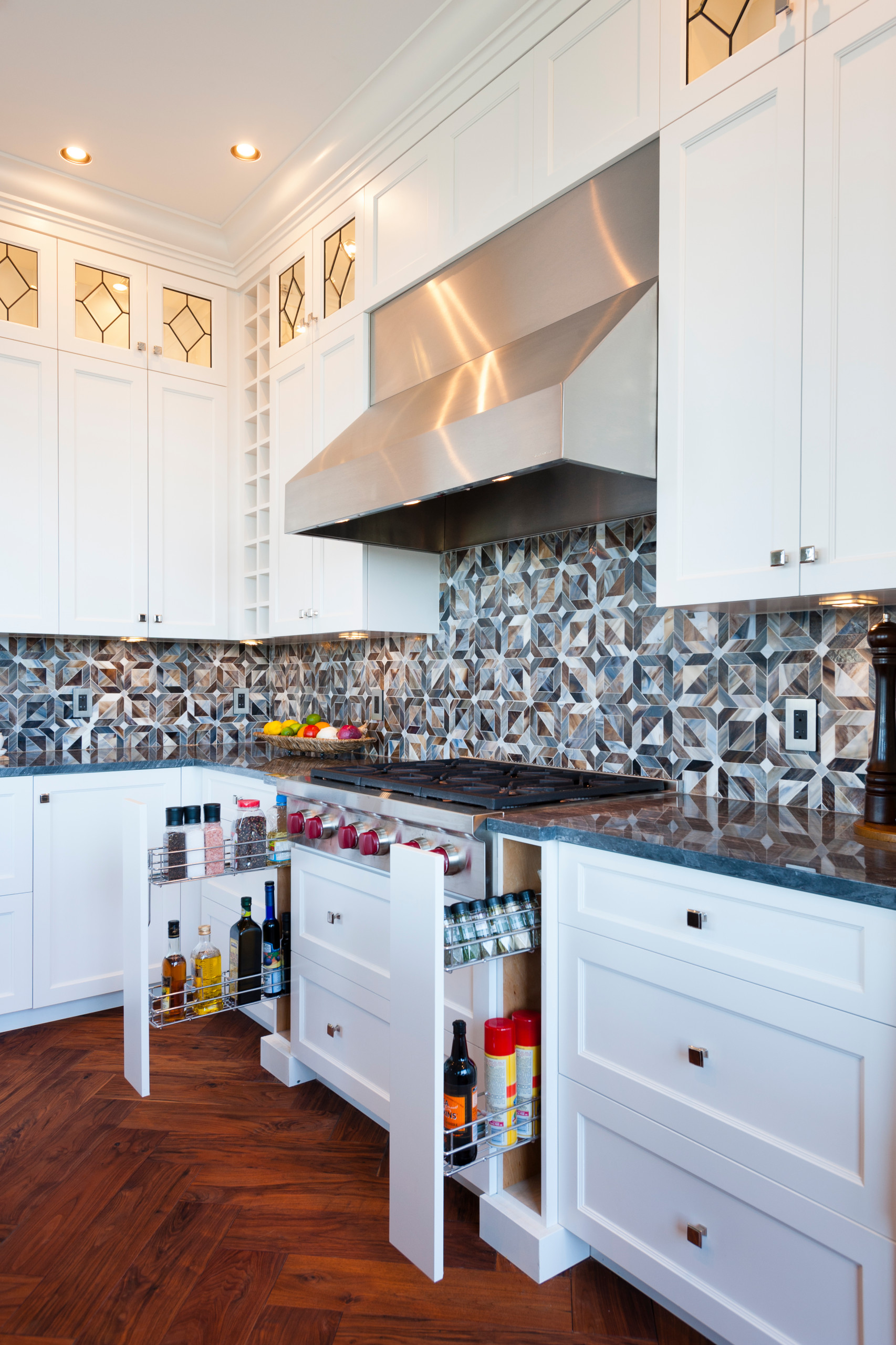 ID# 171713 | Houzz.com – Credit | © SGDI – Sarah Gallop Design Inc.
---
White Shaker Cabinets with Wood Look Recycled Glass Backsplash
The sophisticated and organic vibes of this L-shaped transitional kitchen set the tone of the space. Brimming with white cabinets and wooden textures provides a compact yet cozy place to be. The herringbone pattern wood flooring complements the solidity of the design, concretizing the kitchen's eco-friendly vibes with the integration of recycled glass backsplash tiles. Of course, nothing would complement this overall look better than a glass recycled tile backsplash with a wood look.