22+ Metal Kitchen Backsplash Panels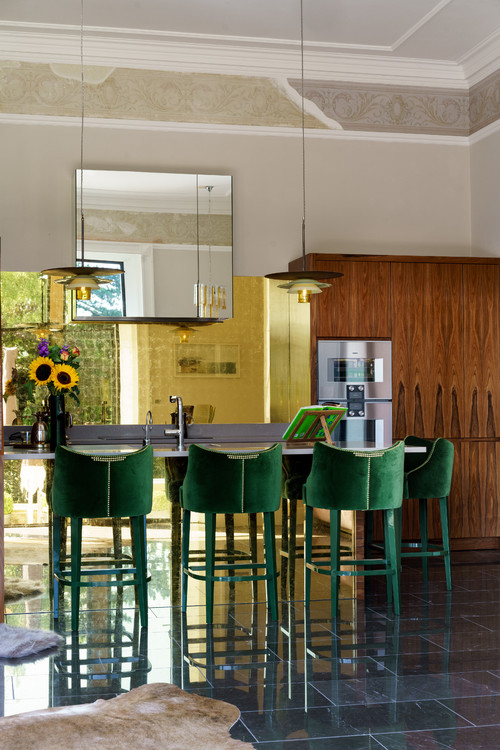 ID# 140113 | Houzz.com – Credit | © Mowlem & Co
---
Luxurious Kitchen with Brass Backsplash and Bespoke Cabinetry
This luxurious kitchen design abounds in sumptuous finishes, from the brass metal panel backsplash to green velvet-coated dining chairs, rosewood paneling, and bespoke cabinetry, luring its visitors for longer stays. Lights get plenty of space to play and bounce off around the room, while the layout of the cabinets and island ensure functionality and smooth human traffic. The gray quartz countertops downplay the gleaming surfaces for a sense of balance, and a duo of pendants creates a focal point with the brass backsplash peeking out behind.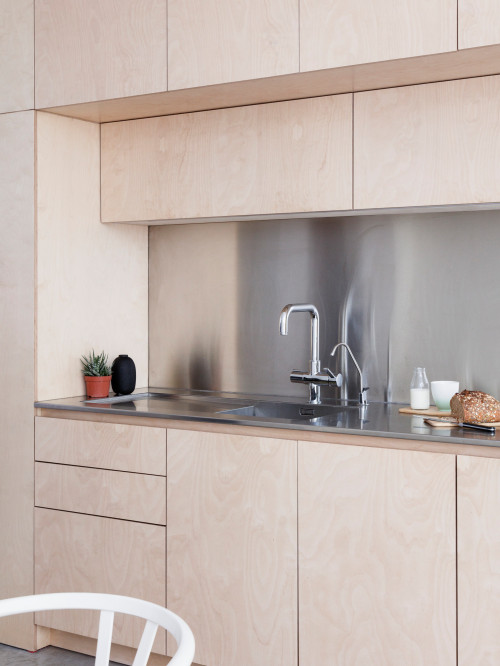 ID# 140125 | Houzz.com – Credit | © Larissa Johnston Architects
---
Light Timber Cabinets with Metal Sheet Kitchen Backsplash And Countertop
Visually soothing and tranquil, this contemporary kitchen utilizes contrasting materials such as timber and metal to converse with each other in harmony. While the timber flat-front cabinets serve as the epitome of the ultimate form of sophisticated simplicity, the metal sheet backsplash and countertops ensure the longevity and relevance of the design without sacrificing the modern and approachable look of the kitchen. The steel faucet and oven also come as little silhouettes, creating a little vignette with the metal backsplash. Right across this single-wall kitchen layout is a typical dining space paired with wishbone stools enjoying streaming lights driven by the full-height windows. And on the floor is the poured concrete floor that brings an industrial edge, creating an outdoor feel indoors.
Metal Kitchen Backsplash Panels
If you want to be adventurous in your kitchen design, backsplashes are the best ways to introduce colors, patterns, and intriguing materials. And if that's what you want, why not try metal kitchen backsplash panels? Coming in various colors and tile and sheet options, metal kitchen backsplashes mainly consist of zinc, brass, copper, and stainless steel; all of which are favored for their multiple aesthetic and functional benefits. And each one introduces a different color scale, bringing a glam and chic look that coordinates perfectly with dark and crisp white cabinets. Whether you have open-plan, separate, compact, or big kitchens, it doesn't matter since they feature a variety of looks and designs that will suit the needs of the variously sized spaces with different architectural features.
Also, thanks to advanced technology and a rich repertoire of design concepts, metals started to feature softer forms and take part in worldly-acclaimed collections. In other words, this inspiring take on the metals has enriched their design repertoire significantly. And today they can be used as stove backsplashes, ceiling height, and standard-size backsplashes, depending on the taste of the homeowners. Plus, the metal panels are also appreciated for their durability and hygienic qualities. So, if you are an avid cooker, you can use metal kitchen backsplash panels confidently.
In this round-out, we compiled plenty of inspiring designs centered on metal kitchen backsplash panels that will surely sparkle your imagination. To steal some ideas and find the perfect backsplash material, take a closer look at these projects for your next home-upgrading plans.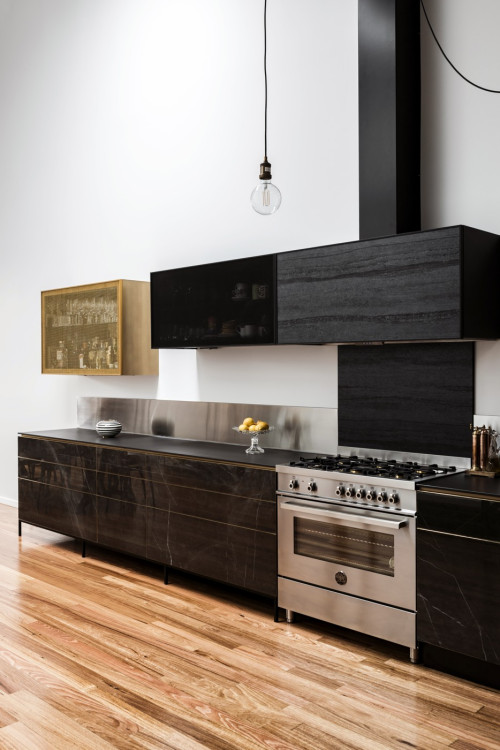 ID# 140110 | Houzz.com – Credit | © 5rooms
---
Industrial Kitchen with Metal Kitchen Backsplash Panels and Dark Cabinets
This industrial kitchen in Melbourne acting as the cool kid of the class accommodates black flat-front cabinets paired with a stainless-steel backsplash that provides unparalleled durability. It also couples with the steel stove perfectly, while the brass-finish freestanding wall unit with a wired front adds extra interest and introduces a different metal. This way, the design achieves a level of consistency in the execution of the material palette. The wooden floor finish casts a sense of warmth and a dropped-down Edison bulb comes as a very basic element tapping into the spirit of industrial kitchens.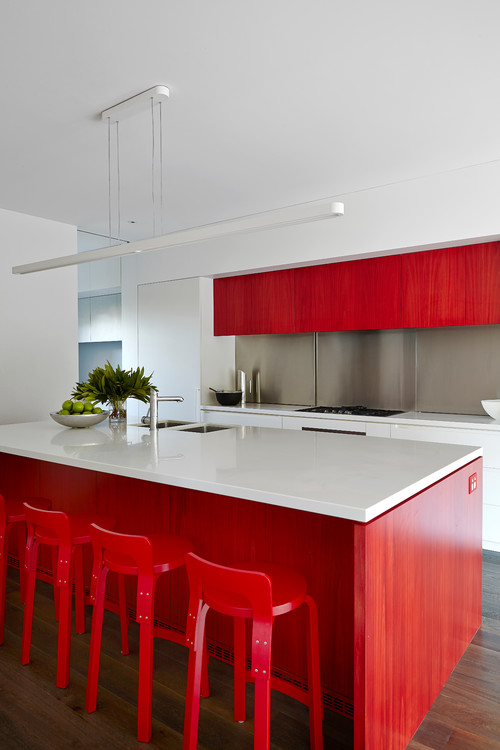 ID# 140111 | Houzz.com – Credit | © Nexus Designs
---
Red Cabinets with Stainless-Steel Backsplash and White Countertops
Designed to offer a streamlined look while still feeling welcoming and alluring, the kitchen responds to the growing needs of family life. To start with, it has an oversized kitchen island offering a hefty countertop, thus plenty of room to be used as dining space. And in the background, the stainless-steel metal kitchen splash-back panels create a heat-resistance and naturally anti-bacterial backdrop. Plus, their seamless and grout-free feature saves homeowners a lot of time and effort. To accompany them, red joinery gets integrated for extra color and a contemporary vibe, while the white countertops and the perimeter counters soften the combination of metal and red.
Can sheet metal be used as a backsplash?
Metal sheets can be used in a plethora of ways, and one of them is kitchen backsplash, providing multiple functional benefits. First of all, they are easy to install, easy to maintain, and durable. For example, stainless-steel metal sheets are used in chef's kitchens for all these qualities mentioned right above. But they have some disadvantages too such as being prone to scratching. Though, they can easily compensate for this disadvantage thanks to their high aesthetic values and long lifespan, which makes them a great alternative for kitchen backsplashes.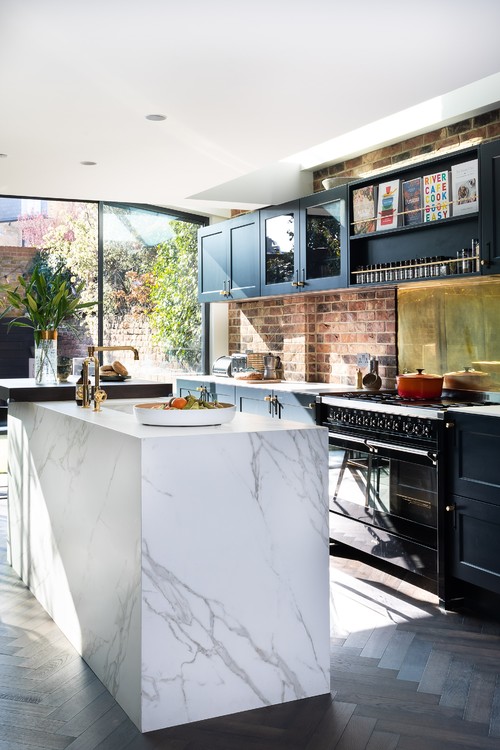 ID# 140112 | Houzz.com – Credit | © Kitchen Revolutions
---
Modern-Industrial Kitchen with Brass Backsplash and Brick Walls
Borrowing plenty of natural lights from the outdoors thanks to the oversized windows, this modern-industrial kitchen plays with streaming lights throughout the day. And its rich material vocabulary just plays up the setting. The brick walls, marble-carved island unit, and brass metal panel backsplash behind the stove confirm the standout character of the kitchen, while the black cabinets anchor all those various features. The golden veins on the marble synchronize harmoniously with the brass backsplash and taps, while the chevron wood floor adds another layer of warmth.
Design hint: If you would like to increase the utility of the island, you can put another layer of wood on the marble to use it as a large cutting board and practical eating space. This way, you also protect the island from etching.
Different Types of Metal for Backsplash Panels
Metals have plenty of subgroups, which include steel, brass, copper, zinc, and tin. Each has different characteristics and color scales that can turn dull walls into focal points effortlessly. These materials are available in tiled and sheet versions and various finish options, thus featuring a highly customizable nature. That's why homeowners have more design possibilities with metal backsplashes, probably much more than they can imagine.
Stainless Steel Kitchen Backsplash Panels
Available in a variety of sizes, gauges, and finishes, stainless-steel kitchen backsplash panels can be used in various kitchen designs, including modern, contemporary, eclectic, and transitional kitchens. Though, they are particularly favored in contemporary kitchens and book-matched with countertops for a seamless feel, since they offer a sleek and clean look. Plus, as they also come with a beautiful sheen, they create a more welcoming and inviting atmosphere.
Among the most popularly-used stainless steel types, we can count the grade 304. It offers one of the best performances thanks to its chemical composition and high corrosion resistance. And if you want to install one as part of your DIY project, it is recommended to go with a thickness of about 20 or 22 gauges.
Finish options for stainless steel:
As for the finish options, the most popular ones are the #8 mirror and #4 brushed or satin finish. These finish options are not only about aesthetics but also function. For example, while the mirror finish shows fingerprints and marks of water splashes, the brushed or satin finish is better at concealing fingerprints and watermarks. Plus, since the #4 finish is similar to most kitchen appliances, it allows for more integrated visual schemes. Additionally, if you love intriguing surfaces rather than mere plain ones, you can also consider embossed and textured steel finish options.
Functional benefits:
And lastly, in functional terms, stainless steel is easy to clean and isn't prone to staining and cracking. But they can be scratched or dented. But among all the metal backsplashes, steel is by far the most functional option.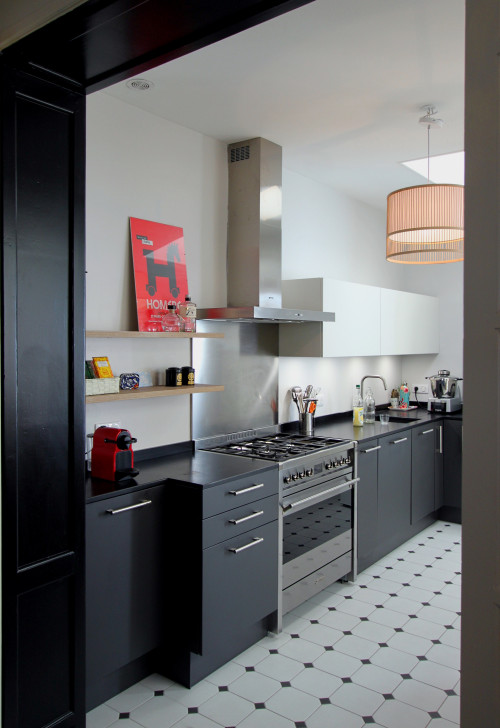 ID# 140114 | Houzz.com – Credit | © Ronan Cooreman Architecte d'intérieur
---
Contemporary Kitchen with Stainless Steel Metal Kitchen Backsplash Panels and Two-tone Cabinetry
This contrasting color scheme results in a contemporary look tinged with an industrial flair. The black flat-front cabinets paired with white upper cabinetry blend harmoniously, while the stainless-steel stove backsplash adds a strong finish to the walls. The timber floating shelves, accessories, and natural design lighting fixture add a dose of personality and spice up the look, while the skylight ensures that the kitchen is well-lit. Design hint: If you have a steel backsplash, you don't need to cover the range hood to preserve the clutter-free style since they both harmonize with each other without being that noticeable.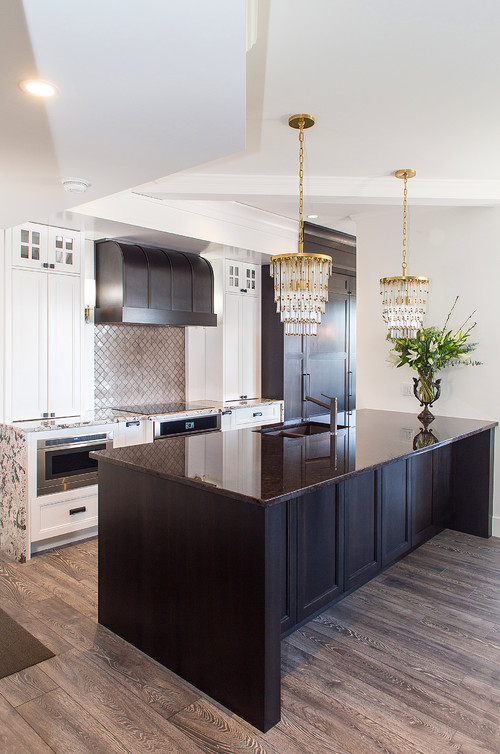 ID# 140115 | Houzz.com – Credit | © Majestic Cabinets 1990 LTD
---
Lantern Pattern Stainless Steel Kitchen Backsplash with Dark Kitchen Island and Chandeliers
This ornate and luxurious transitional kitchen has a bit of everything: patterns, metals, and a dramatic color scale. And each element works harmoniously to pull the design together. In the back, for example, the lantern pattern stainless steel backsplash adds an oriental flair, while the curved form of the range hood dressing provides an intriguing form. The book-matching island hosts the sink and offers a heft worktop for food preparation, paired with a duo of chandeliers with gold accents to ooze opulence. Lastly, the busy pattern granite countertops top the perimeter counters, giving the kitchen a traditional spin.
How do you install a metal backsplash panel?
Installing metal backsplash panels is easier than dealing with individual tiles even though they come in sheets for homeowners' convenience. And it is also easier because they are lightweight when compared to natural stones, while the procedure is more or less the same.
Like you do for other installations, start by calculating the installation area as accurately as possible to ensure that you will have enough supply to cover it. Clean the walls and check if there are any bumps and imperfections on the application area. If so, sand the wall and use a vacuum cleaner or soft cloth to remove the residual dust.
For the next step, remove the switches and turn off all the electricity since metal backsplashes can transmit electric shocks. Then you will be ready to install the backsplash.
Installation
Nowadays some backsplashes have already their adhesives at the back, making everything simpler. But in case yours don't have one, you can use a mortar and mix it by following the instructions and spread it to the wall evenly with a V-notch trowel.
For the next stage, you can take your backsplash, place it on the wall, and press it into the mortar while applying slight pressure. Make sure that everything comes together evenly. If you notice any unevenness, you will still have some time before the mortar dries and hardens. So, you can make certain changes before it cures.
After 10-15 minutes of the application, you can remove the protective cover on the backsplash panels. Then, gently wipe the surface of the backsplash with a damp sponge or cloth and dry it with another cloth.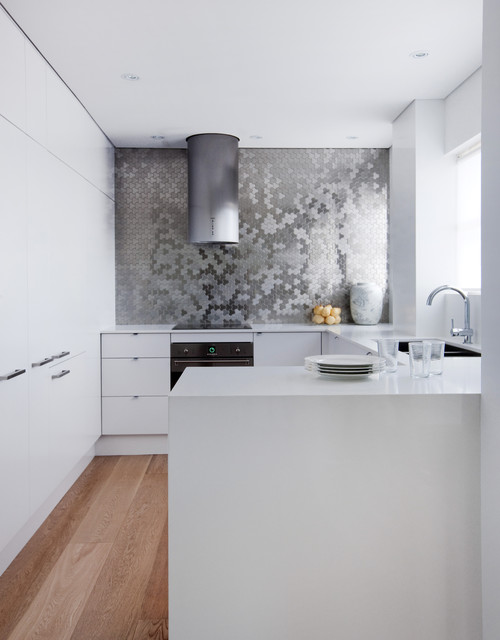 ID# 140116 | Houzz.com – Credit | © ALLOY Solid Metal Tiles
---
Contemporary Kitchen with White Flat-Front Cabinets and Steel Statement Backsplash
Nowadays, designers are looking for ways to break up the formal looks of rectangular forms and introduce soft and undulating features, exemplified by this stainless-steel statement backsplash. It consists of innovative organic-shaped metal cells that interlock with each other effortlessly to give a 3-dimensional feel to each piece. These future-focused forms traverse the entire swath of the wall, delivering sophisticated aesthetics, while the brushed-steel cylinder-shaped hood complies with the curvilinear forms of the steel tiles. The rest feels complemented with white-flat front cabinets that provide a blank canvas-like setting for the backsplash to shine. The light wooden floor casts a sense of warmth to bring an original natural form.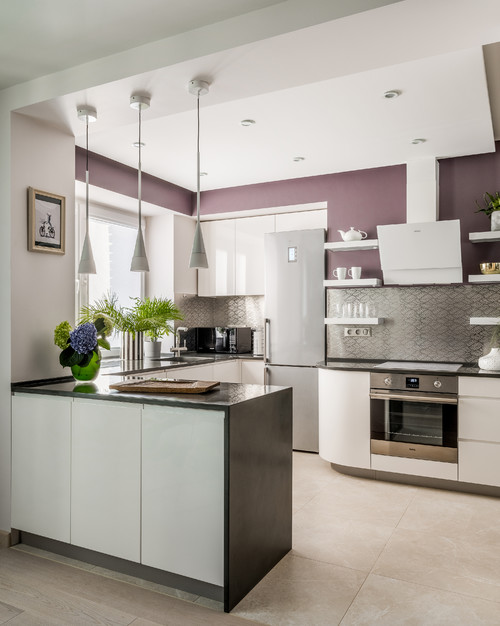 ID# 140117 | Houzz.com – Credit | © Projective studio
---
Patterned Steel Backsplash with Purple Feature Wall and Black Countertops
Nestled in the corner, this cozy kitchen has a space of its own that feels engaging and welcoming thanks to its material and color palette. It is mainly outfitted with dark quartz countertops and white cabinetry. And the purple-painted feature walls bring the right amount of color to wake up the white and green neutral color scheme, turning the dull walls into something more colorful and aesthetic. Adding to them is also the patterned stainless-steel backsplash that creates an effortless focal point with the help of white floating shelves and a fully exposed white upscale range hood. The trio of these small cantilevered shelves on both sides of the hood exemplifies a symmetrical installation that provides ease for the eyes that constantly seek order in the space. Lastly, the kitchen plants inject a healthy dose of green to enliven the kitchen and impart a sense of wellness to the interior.
Brass Kitchen Backsplash Panels
Brass backsplash panels are resistant to heat and corrosion and can be safely installed behind the stoves. They are easy to clean but demand regular cleaning and sealing since they tend to oxidize and rust over time. Thus, its glamorous color can transform into a less appealing dark color that starts to feel greenish. But with regular sealing and constant maintenance, you can avoid that.
When it comes to aesthetic benefits, brass is a charming material that instills a sense of warmth immediately. Their availability in various prints, stamps, and finish options increases design possibilities with them. Plus, the purposefully oxidized versions are also great options for those who prefer rustic and lived-in looks. You can pair them with a wide range of materials, including brick, ceramics, stone, and many more.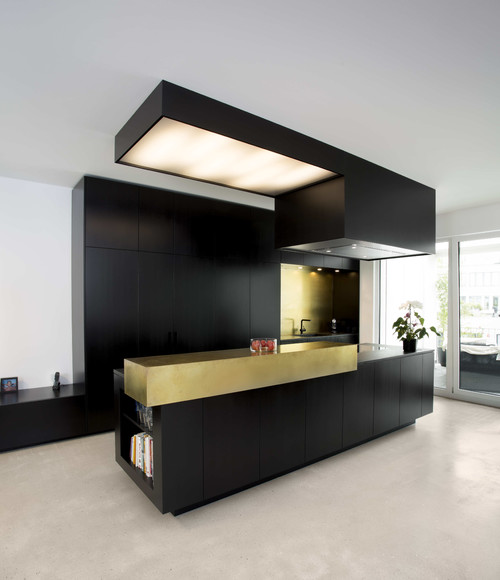 ID# 140118 | Houzz.com – Credit | © MTB-Schreinerei GmbH
---
Sophisticated Kitchen with Black Cabinets and Brass Metal Backsplash
This open-plan contemporary kitchen receives abundant natural light, which allows it to go with a darker color palette defined by black cabinets. And what breaks up this all-black look are the brass metal panel backsplash and brass-carved top layer on the island that bring gleaming surfaces while maintaining their consummate functionality. An important part of the design is also the good lighting system, consisting of under-cabinet spotlights that keep the attention on the brass backsplash. And overhead, the custom-design false ceiling features 2 boxes serving different functions. While one closed box hides the range hood in it, the second functions as a giant flush mount to provide task lighting for the island. And finally, on the ground level, the seamless poured concrete floor finish in light shades helps keep the kitchen feeling airy and bright, running across the open floor plan to tie the space together.
Are metal panels good for a kitchen backsplash?
Metal panels make great kitchen backsplashes for various reasons. First, they are seamless and easy to maintain and clean. Secondly, they are very durable and heat-resistant, especially stainless-steel backsplashes. Thirdly, they can serve as great aesthetic additions and work with various design styles, be it rustic, traditional, modern, or contemporary. You can pair them with contrasting materials as well to add more depth and character to the kitchen. The metal panels can also be oxidized to bring a lived-in feel and look, hammered, quilted, and ribbed for extra interest. As such, you give them different textures with different finishes.
Some designers prefer to use them as stove backsplashes. For example, if you have exposed original brick walls, wood panels, and rock backsplashes, you can just keep them as they are. But since the stove part is the zone that experiences the food splatters and grease at most, you can cover those sections with a metal panel backsplash for an easy-to-clean and heat and corrosion resistance wall surface.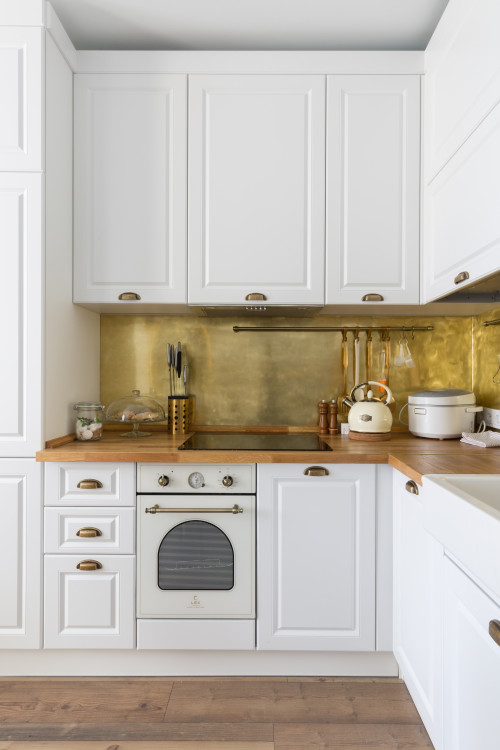 ID# 140119 | Houzz.com – Credit | © Шакирова Елена
---
White Raised-Panel Cabinets and Brass Backsplash with Butcher Block Countertops
In this eclectic kitchen, the brass kitchen backsplash feels like bling that pops between the white raised-panel cabinets. The butcher block countertop calms down this glamorous seamless backsplash, which is well-coordinated with oil-rubbed brass cabinet handles. The white fireclay butler sink and white appliances proportioned to the compactness of the kitchen just blend harmoniously with the counters, and the brass wall-mounted rails help organize the kitchen utensils, adding a dose of personality.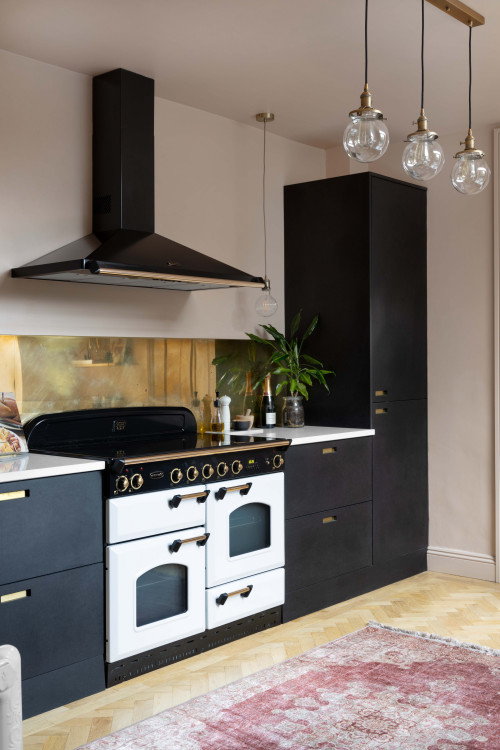 ID# 140120 | Houzz.com – Credit | © Danielle Lancaster Interiors
---
Metal Kitchen Backsplash Panels for Mid-century Kitchens with Dark Cabinets
Not all mid-century kitchens have wooden cabinets and shades. Some, on the contrary, feature darker color palettes enriched with glamorous elements just like in this kitchen. Populated by show-stopping dark cabinets and an intriguing retro-style stove, this mid-century kitchen has soft features that come with brass touches and crisp white countertops. The metal backsplash builds a sense of charm to accompany dark blue counters, offering a naturally anti-bacterial background and evoking a lived-in feel. The light bulbs used as pendants to provide task lighting tap into the spirit of the midcentury modern era, while the pink carpet with traditional patterns adds a subtle hint of color and warmth underfoot. In jewel tones enveloped by homey additions, this kitchen promises to never feel out of date.
Copper Kitchen Backsplash Panels
Available in sheets and tiles, copper is glam and chic and eligible for industrial, modern, traditional, farmhouse, and contemporary looks. And it is easy to mold and thus, can be given any form and pattern to introduce cozy and warm vibes to your kitchen. For example, if you have black cabinets, you can soften them with a copper sheet or copper tile backsplash easily. If you wish, you can even punctuate cabinets with copper hardware to pull the design together.
In terms of functionality, like other metal panels, copper also can withstand high temperatures and have a long lifespan. Since it is lightweight, you can easily install it, which makes it perfect for DIY enthusiasts. It is also easy to clean but discolors and rusts over time just like brass panels.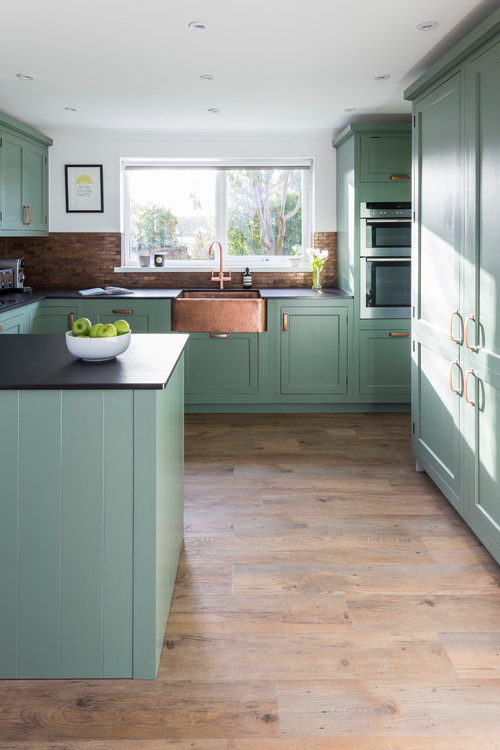 ID# 140121 | Houzz.com – Credit | © Woods of London ltd
---
Metal Kitchen Backsplash Panels with Copper and Green Cabinets
In terms of color and material palette, this traditional kitchen gets everything right! The soothing green shaker cabinets, copper subway tile backsplash, and black countertops orchestrate a farmhouse flair, while the clean line cabinetry brings a modern edge to the kitchen. The copper hardware and hammered copper sink pair perfectly with the backsplash, achieving integrity and a visual continuum throughout the space. The rustic wood planks add one last organic touch that suits the overall feel of the kitchen. Though, we would like to see a pair of lighting fixtures hanging above the peninsula that is black on the outside and copper on the inside to add something nice for the top half of the kitchen.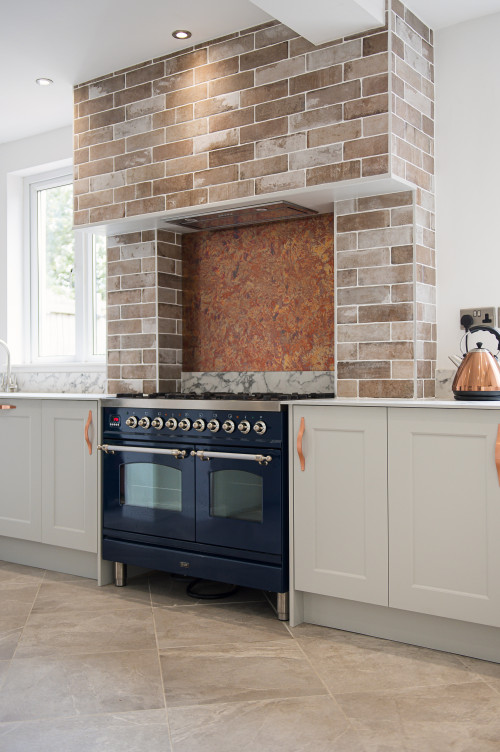 ID# 140122 | Houzz.com – Credit | © Shaun Davies Home Solutions
---
Copper Backsplash with Cream Cabinets and Blue Stove
If you don't have a fireplace in the kitchen but want to act as if you have one, you can follow in the footsteps of this kitchen. So, start by getting a blue dramatic stove that feels vintage and accentuate the range hood fixture by cladding it with brick-look subway tiles featuring earthy shades. For the background, a copper backsplash will do the trick for you. And for the rest of the space, you can go with cream cabinets with gray undertones punctuated by copper pulls to generate movement throughout. And for a high-end feel, you can incorporate white marble countertops, executing elegance and adding a classic touch.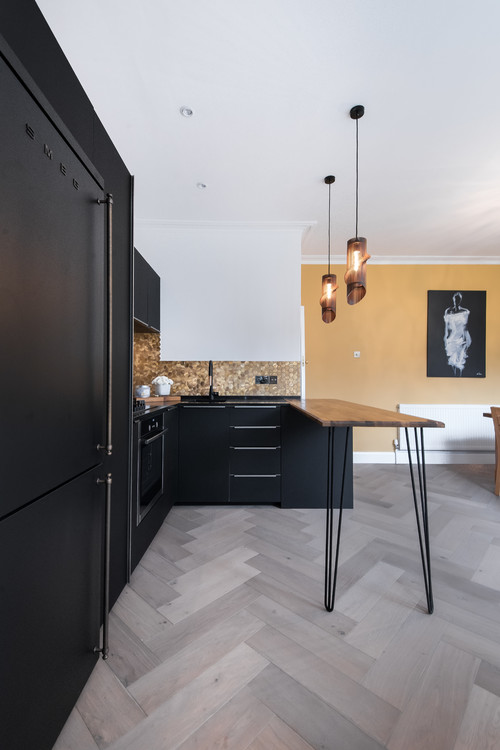 ID# 140123 | Houzz.com – Credit | © FG Interior Design
---
Hexagon Tile Backsplash with Black Cabinets and Countertops
Have you ever imagined hexagon tiles in copper? Well, this kitchen uses them as backsplash tiles, creating a glamorous background to shine between the black flat-front cabinets. The gloss-finish black countertops accompany these copper tiles in their shimmering effect, while the butcher block countertops topping the peninsula soothe and instill a sense of calmness to balance the glowing surfaces. Below the chevron hardwood flooring injects warmth into the dark color palette, while the bright orange walls approach the copper backsplash in their warm hues for a sense of integrity.
Metal Sheet Kitchen Backsplash Panels
Metal sheet backsplash panels are very practical options since they come pore-free and seamless with easy-to-install nature. To create soft contrasts with metal sheets, you can combine them with wood panel walls, timber cabinets, and brick walls. Some designers choose to go with book-matching metal sheet countertops as well, especially in contemporary kitchens, for a seamless look and to ensure the longevity of the design. Plus, since metal backsplashes have risen in popularity in recent years (they seem to be around in the coming years as well), they also ensure the relevance of the design in the long term.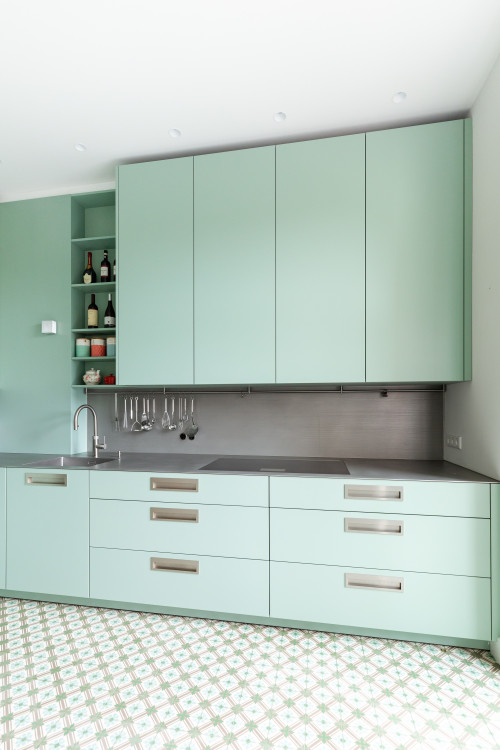 ID# 140124 | Houzz.com – Credit | © Lang Küchen & Accessoires
---
Contemporary Kitchen with Mint Green Cabinets and Metal Kitchen Backsplash Panels
Green is associated with wisdom, available in various shades and evoking different emotions. And here we have a mint green that imparts a sense of coolness to the kitchen. Coming in the form of flat-front cabinets, the mint green creates a soothing and genteel atmosphere and pairs perfectly with the metal sheet backsplash panels. These panels also continue on the countertops and even in the sink to achieve a sleek and seamless profile. Likewise, the in-built metal hardware serves the same aim, posing as recessed features for a change. The cabinet shelves painted mint green and black metal wall-mounted rail use different storage ideas to add personality to the kitchen. Lastly, the floor tiles mixing green and gray shades through geometric patterns echo the color scheme of the kitchen, adding a jazzy element to energize the simple and clean forms of the kitchen.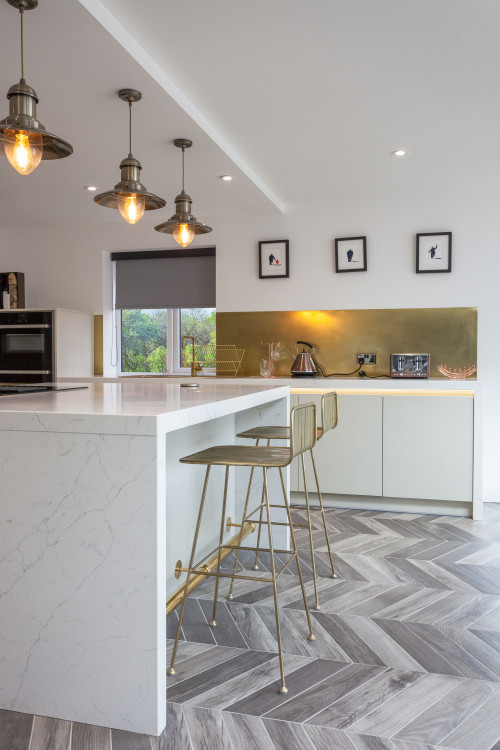 ID# 140126 | Houzz.com – Credit | © Kitchens by Kemp
---
White Cabinets with Brass Backsplash and Bar Stools
This contemporary kitchen knows how to deal with and jazz up all-white looks. And to do so, it goes with two tricks: introducing intriguing material and using a well-planned lighting system. For the material, it chooses brass, which is used in various forms, including backsplash, bar stools, and antique-looking lighting fixtures. And for the lighting system, it installs LED-strip lighting beneath the countertops and above the backsplash to highlight the spectacular brass backsplash. This way, it not only provides an efficient working space but also provides easy navigation inside the cabinetry. The rest is finished in white, consisting of white lacquered cabinets and 60 mm thick Lucca white worktops with a marble effect to add a sumptuous touch.
The black-framed prints hung in the same intervals bring a sense of order for extra personality and accent on the walls, and the alternating shades of white and gray on the chevron floor achieve balance by downplaying the brass touches used throughout.
Tin Metal Kitchen Backsplash Panels
Tin as a centuries-old material was used to clad the ceilings and has changed its form and usage purposes over time. And today, it is available in a range of patterns, including stamped and painted versions that are adjusted to the demands of modern spaces. Functional as much as decorative, you can benefit from tin backsplashes as kitchen backsplashes to create aesthetic wall surfaces and achieve durability that will last for years.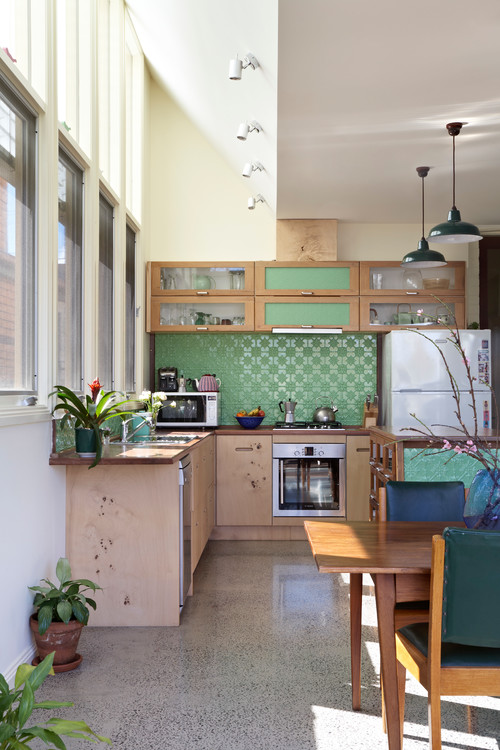 ID# 140127 | Houzz.com – Credit | © Positive Footprints Pty Ltd
---
Painted Tin Metal Kitchen Backsplash Panels with Wooden Cabinets and Countertops
Paying tribute to the high ceilings of this kitchen are the lighting fixtures, which are black vintage pendants and modern tracking spotlights. Though, the cabinet sizes are kept standard and human-centered, providing an ergonomic design. And the color palette just mimics a natural environment with the light wood cabinets and countertops. The green-painted tin metal backsplash supports this vibe, bringing in shades of green and coordinating with the indoor plants sprinkled throughout the kitchen. On the floor, the speckled-finish concrete floor modernizes the space immediately, elevating the overall look of the kitchen.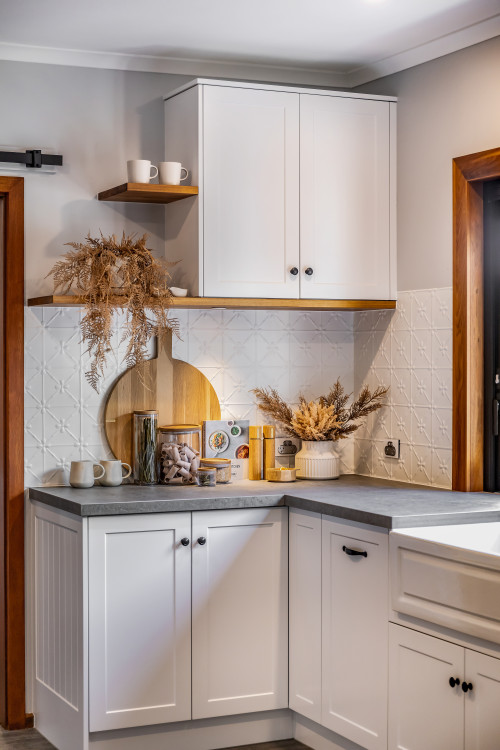 ID# 140128 | Houzz.com – Credit | © Transform-A-Space
---
Metal Kitchen Backsplash Panels with Tin for White Cabinets and Gray Countertops
A centuries-old material tin finds a new home in this modern country kitchen. Painted white and used as a backsplash, tin tile panels brings a clean and neat look to the walls, complemented by white shaker cabinets and gray sleek countertops. The cute black knobs accentuating the shakers and timber floating shelves of various sizes generate movement and orchestrate a choreography of sorts to personalize the walls and narrate an overall design aesthetic. Accompanying them in this mission are also the timber cutting boards, timber door/window beams, and dried plants put on display for extra interest that style the countertops.
Are metal backsplash panels easy clean?
Metal backsplash panels are easy to clean. First, it is because they are seamless and grout-free. Secondly, they are hygienic and naturally antibacterial.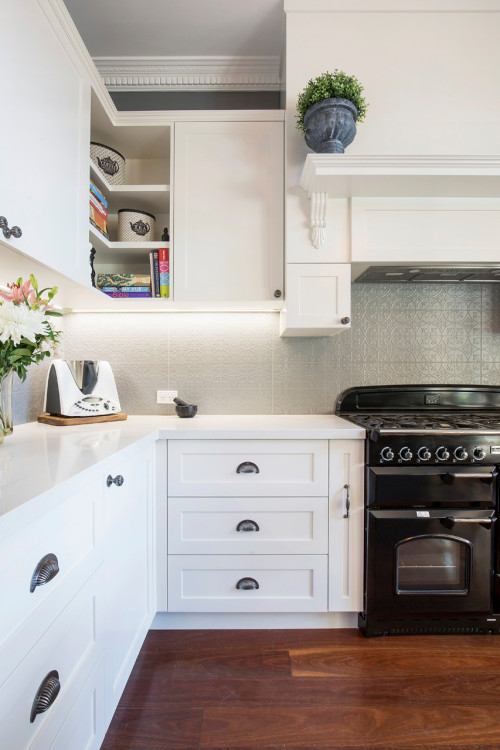 ID# 140129 | Houzz.com – Credit | © The Renovation Broker
---
Traditional Kitchen with Tin Backsplash and Black Stove
This traditional kitchen in Sydney feels modern and traditional in certain ways. The clean line shaker cabinets create a pristine set-up, while corner shelves exhibit personal accessories. The white quartz countertop cast a sense of optimism and cheerfulness that is contrasted with the black vintage stove paired with the tin backsplash. Right above, the range hood fixture blends with the cabinets, hiding the range hood from view for the sake of a uniform look, and its decorative corbels accommodate indoor plants in beautiful ceramic vases. The brushed nickel hardware makes the base counters feel oversized. As such, this kitchen showcases how tiny details build up an entire kitchen rich in character and style. And lastly, the medium-tone wood finish brings just the right amount of warmth to the otherwise too-neutral color palette.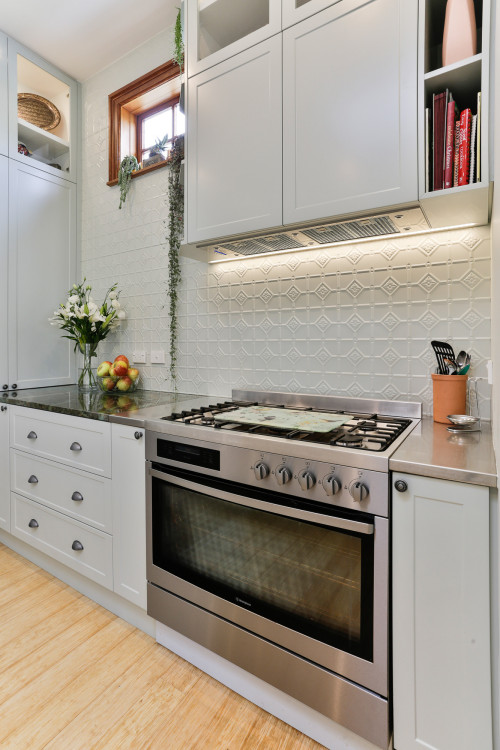 ID# 140130 | Houzz.com – Credit | © Sandy Eagle Design Ltd
---
Granite Benchtop with White Cabinets and Cabinet Shelves
This traditional kitchen is characterized by a smooth and light color palette rich in shades of white. The white shaker cabinets topped by granite benchtops in a polished finish make a great team, while the cabinet hardware matches perfectly with these countertops. The cabinet shelves add a nice detail to personalize the kitchen rather than concealing and removing everything from view and touch. And between the cabinets, the white tin metal panel backsplash works well; the kitchen plants placed in the window above drop their leaves down, adding movement to the walls. The stainless steel appliances create a harmonious look with the metal backsplash tiles.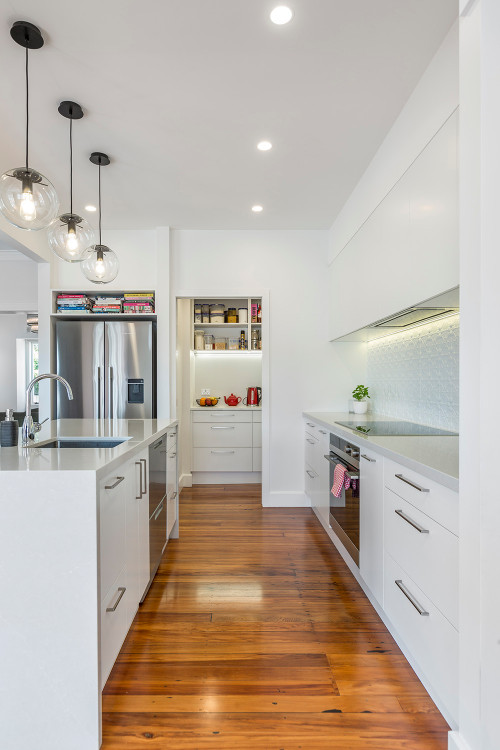 ID# 140131 | Houzz.com – Credit | © Kitchen Mania
---
Achromatic Kitchen with Metal Kitchen Backsplash Panels and Orb-Style Lighting
Not all kitchens are lucky enough to have a pantry, but this one is. Designed as a galley-style kitchen spanning a vast space, it leads to the pantry that is well-organized and accessed through a cased opening. The white flat-front cabinets lead the way, offering a streamlined profile, while the galley island runs parallel to them. The tin metal sheet backsplash finds its place between the white cabinets and countertops, and the LED strip lighting adds white cool lights to draw attention to the tin tiles. The rest of the kitchen feels complete with upscale appliances, chrome hardware, and a wooden floor finish that injects warmth into the otherwise all-white kitchen. Also, the built-in spotlights on the ceiling and the orb-style pendants add to the well-curated lighting system, ensuring lights diffuse evenly.