22+ Metal Kitchen Backsplash Panels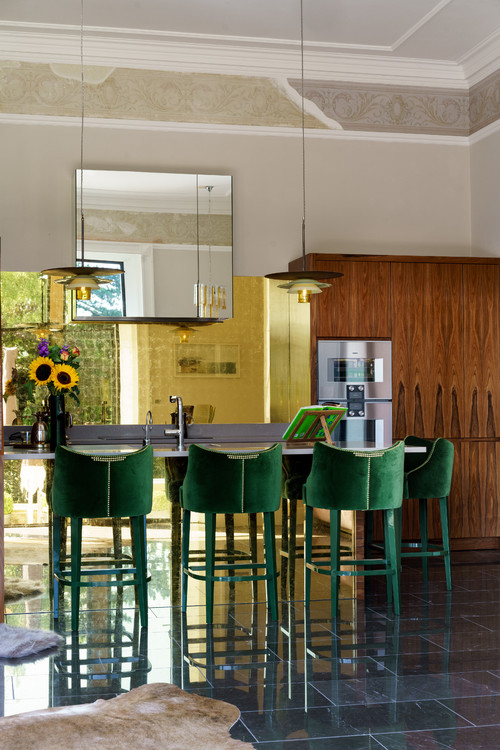 ID# 140113 | Houzz.com – Credit | © Mowlem & Co
---
Luxurious Kitchen with Brass Backsplash and Bespoke Cabinetry
This luxurious kitchen design abounds in sumptuous finishes, from the brass metal panel backsplash to green velvet-coated dining chairs, rosewood paneling, and bespoke cabinetry, luring its visitors for longer stays. Lights get plenty of space to play and bounce off around the room, while the layout of the cabinets and island ensure functionality and smooth human traffic. The gray quartz countertops downplay the gleaming surfaces for a sense of balance, and a duo of pendants creates a focal point with the brass backsplash peeking out behind.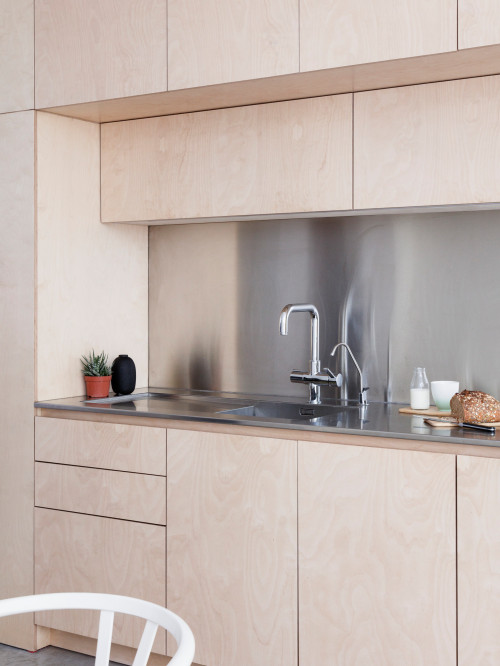 ID# 140125 | Houzz.com – Credit | © Larissa Johnston Architects
---
Light Timber Cabinets with Metal Sheet Kitchen Backsplash And Countertop
Visually soothing and tranquil, this contemporary kitchen utilizes contrasting materials such as timber and metal to converse with each other in harmony. While the timber flat-front cabinets serve as the epitome of the ultimate form of sophisticated simplicity, the metal sheet backsplash and countertops ensure the longevity and relevance of the design without sacrificing the modern and approachable look of the kitchen. The steel faucet and oven also come as little silhouettes, creating a little vignette with the metal backsplash. Right across this single-wall kitchen layout is a typical dining space paired with wishbone stools enjoying streaming lights driven by the full-height windows. And on the floor is the poured concrete floor that brings an industrial edge, creating an outdoor feel indoors.
Metal Kitchen Backsplash Panels
If you want to be adventurous in your kitchen design, backsplashes are the best ways to introduce colors, patterns, and intriguing materials. And if that's what you want, why not try metal kitchen backsplash panels? Coming in various colors and tile and sheet options, metal kitchen backsplashes mainly consist of zinc, brass, copper, and stainless steel; all of which are favored for their multiple aesthetic and functional benefits. And each one introduces a different color scale, bringing a glam and chic look that coordinates perfectly with dark and crisp white cabinets. Whether you have open-plan, separate, compact, or big kitchens, it doesn't matter since they feature a variety of looks and designs that will suit the needs of the variously sized spaces with different architectural features.
Also, thanks to advanced technology and a rich repertoire of design concepts, metals started to feature softer forms and take part in worldly-acclaimed collections. In other words, this inspiring take on the metals has enriched their design repertoire significantly. And today they can be used as stove backsplashes, ceiling height, and standard-size backsplashes, depending on the taste of the homeowners. Plus, the metal panels are also appreciated for their durability and hygienic qualities. So, if you are an avid cooker, you can use metal kitchen backsplash panels confidently.
In this round-out, we compiled plenty of inspiring designs centered on metal kitchen backsplash panels that will surely sparkle your imagination. To steal some ideas and find the perfect backsplash material, take a closer look at these projects for your next home-upgrading plans.
Can sheet metal be used as a backsplash?
Metal sheets can be used in a plethora of ways, and one of them is kitchen backsplash, providing multiple functional benefits. First of all, they are easy to install, easy to maintain, and durable. For example, stainless-steel metal sheets are used in chef's kitchens for all these qualities mentioned right above. But they have some disadvantages too such as being prone to scratching. Though, they can easily compensate for this disadvantage thanks to their high aesthetic values and long lifespan, which makes them a great alternative for kitchen backsplashes.
Different Types of Metal for Backsplash Panels
Metals have plenty of subgroups, which include steel, brass, copper, zinc, and tin. Each has different characteristics and color scales that can turn dull walls into focal points effortlessly. These materials are available in tiled and sheet versions and various finish options, thus featuring a highly customizable nature. That's why homeowners have more design possibilities with metal backsplashes, probably much more than they can imagine.
Stainless Steel Kitchen Backsplash Panels
Available in a variety of sizes, gauges, and finishes, stainless-steel kitchen backsplash panels can be used in various kitchen designs, including modern, contemporary, eclectic, and transitional kitchens. Though, they are particularly favored in contemporary kitchens and book-matched with countertops for a seamless feel, since they offer a sleek and clean look. Plus, as they also come with a beautiful sheen, they create a more welcoming and inviting atmosphere.
Among the most popularly-used stainless steel types, we can count the grade 304. It offers one of the best performances thanks to its chemical composition and high corrosion resistance. And if you want to install one as part of your DIY project, it is recommended to go with a thickness of about 20 or 22 gauges.
Finish options for stainless steel:
As for the finish options, the most popular ones are the #8 mirror and #4 brushed or satin finish. These finish options are not only about aesthetics but also function. For example, while the mirror finish shows fingerprints and marks of water splashes, the brushed or satin finish is better at concealing fingerprints and watermarks. Plus, since the #4 finish is similar to most kitchen appliances, it allows for more integrated visual schemes. Additionally, if you love intriguing surfaces rather than mere plain ones, you can also consider embossed and textured steel finish options.
Functional benefits:
And lastly, in functional terms, stainless steel is easy to clean and isn't prone to staining and cracking. But they can be scratched or dented. But among all the metal backsplashes, steel is by far the most functional option.
How do you install a metal backsplash panel?
Installing metal backsplash panels is easier than dealing with individual tiles even though they come in sheets for homeowners' convenience. And it is also easier because they are lightweight when compared to natural stones, while the procedure is more or less the same.
Like you do for other installations, start by calculating the installation area as accurately as possible to ensure that you will have enough supply to cover it. Clean the walls and check if there are any bumps and imperfections on the application area. If so, sand the wall and use a vacuum cleaner or soft cloth to remove the residual dust.
For the next step, remove the switches and turn off all the electricity since metal backsplashes can transmit electric shocks. Then you will be ready to install the backsplash.
Installation
Nowadays some backsplashes have already their adhesives at the back, making everything simpler. But in case yours don't have one, you can use a mortar and mix it by following the instructions and spread it to the wall evenly with a V-notch trowel.
For the next stage, you can take your backsplash, place it on the wall, and press it into the mortar while applying slight pressure. Make sure that everything comes together evenly. If you notice any unevenness, you will still have some time before the mortar dries and hardens. So, you can make certain changes before it cures.
After 10-15 minutes of the application, you can remove the protective cover on the backsplash panels. Then, gently wipe the surface of the backsplash with a damp sponge or cloth and dry it with another cloth.
Brass Kitchen Backsplash Panels
Brass backsplash panels are resistant to heat and corrosion and can be safely installed behind the stoves. They are easy to clean but demand regular cleaning and sealing since they tend to oxidize and rust over time. Thus, its glamorous color can transform into a less appealing dark color that starts to feel greenish. But with regular sealing and constant maintenance, you can avoid that.
When it comes to aesthetic benefits, brass is a charming material that instills a sense of warmth immediately. Their availability in various prints, stamps, and finish options increases design possibilities with them. Plus, the purposefully oxidized versions are also great options for those who prefer rustic and lived-in looks. You can pair them with a wide range of materials, including brick, ceramics, stone, and many more.
Are metal panels good for a kitchen backsplash?
Metal panels make great kitchen backsplashes for various reasons. First, they are seamless and easy to maintain and clean. Secondly, they are very durable and heat-resistant, especially stainless-steel backsplashes. Thirdly, they can serve as great aesthetic additions and work with various design styles, be it rustic, traditional, modern, or contemporary. You can pair them with contrasting materials as well to add more depth and character to the kitchen. The metal panels can also be oxidized to bring a lived-in feel and look, hammered, quilted, and ribbed for extra interest. As such, you give them different textures with different finishes.
Some designers prefer to use them as stove backsplashes. For example, if you have exposed original brick walls, wood panels, and rock backsplashes, you can just keep them as they are. But since the stove part is the zone that experiences the food splatters and grease at most, you can cover those sections with a metal panel backsplash for an easy-to-clean and heat and corrosion resistance wall surface.
Copper Kitchen Backsplash Panels
Available in sheets and tiles, copper is glam and chic and eligible for industrial, modern, traditional, farmhouse, and contemporary looks. And it is easy to mold and thus, can be given any form and pattern to introduce cozy and warm vibes to your kitchen. For example, if you have black cabinets, you can soften them with a copper sheet or copper tile backsplash easily. If you wish, you can even punctuate cabinets with copper hardware to pull the design together.
In terms of functionality, like other metal panels, copper also can withstand high temperatures and have a long lifespan. Since it is lightweight, you can easily install it, which makes it perfect for DIY enthusiasts. It is also easy to clean but discolors and rusts over time just like brass panels.
Metal Sheet Kitchen Backsplash Panels
Metal sheet backsplash panels are very practical options since they come pore-free and seamless with easy-to-install nature. To create soft contrasts with metal sheets, you can combine them with wood panel walls, timber cabinets, and brick walls. Some designers choose to go with book-matching metal sheet countertops as well, especially in contemporary kitchens, for a seamless look and to ensure the longevity of the design. Plus, since metal backsplashes have risen in popularity in recent years (they seem to be around in the coming years as well), they also ensure the relevance of the design in the long term.
Tin Metal Kitchen Backsplash Panels
Tin as a centuries-old material was used to clad the ceilings and has changed its form and usage purposes over time. And today, it is available in a range of patterns, including stamped and painted versions that are adjusted to the demands of modern spaces. Functional as much as decorative, you can benefit from tin backsplashes as kitchen backsplashes to create aesthetic wall surfaces and achieve durability that will last for years.
Are metal backsplash panels easy clean?
Metal backsplash panels are easy to clean. First, it is because they are seamless and grout-free. Secondly, they are hygienic and naturally antibacterial.